Ios or Niós, as the locals call it, is one of the most beautiful islands of the Cyclades, like a flower, as its name "Ion" denotes. According to the ancient tradition, Ios was the homeland of Homer's mother and the final resting place of the great epic poet.
The most important of Ios '365 churches is Panayia Gremiótissa, standing on Hóra's highest spot. It is built literally on the edge of a cliff, affording an amazing view of the open sea. This place is the centre of one of the biggest religious feasts on the island, taking place on August 15, and involving a procession in Hóra with the icon of the Mother of God placed at the forefront. Later on, a traditional festival takes place with local island-style singing and dancing till dawn!
Taste!
A feast of local tastes awaits the lucky visitors: chickpea balls, sun-dried picarel –a taste of the Aegean Sea–, tsimétia (stuffed vegetable marrow flowers), vegetable marrow omelette, dolmadákia using fresh vine leaves from the numerous vineyards where the famed niotiko (i.e. from Ios island) wine is produced. Try also soúgli with tsiarídes (traditional breakfast), panáda (home-made bread sopped in red sauce – an ideal snack!), and goat soup. For desert try the local pumpkin pie made of sweet pumpkin, Mosénta (watermelon pie) and pastotá figs (dried figs with sesame seeds).
Don't leave without getting some of the local cheeses like skotíri (soft goat cheese with herbs), local kefalotýri (hard salty yellow cheese) and myzíthra (soft white creamy, almost sweet cheese) as well as some of the excellent thyme honey, pastélia (honeyed sesame bars), watermelon confiture, myzithra pie and pomegranate liqueur.
AGE 18-35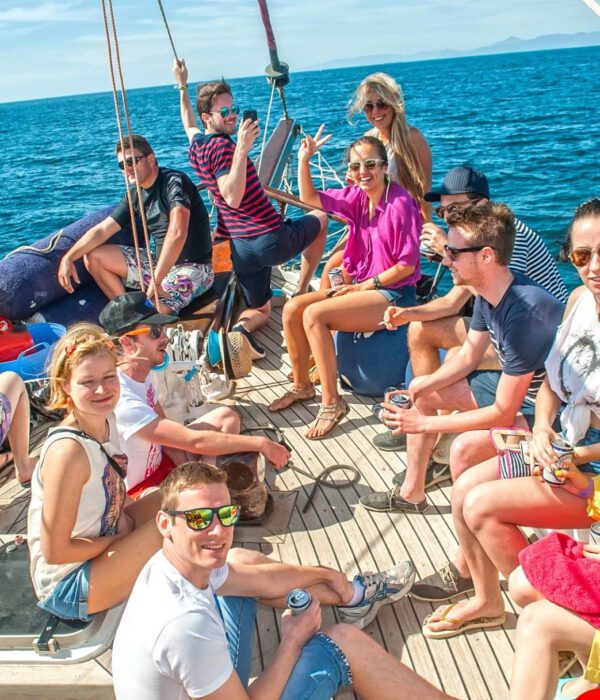 8 Days
Min Age : 18
Max People : 40