Aga Hamami Turkish Bath
As it has been for centuries, feel like a sultan in one of the most luxurious Turkish baths, a historic place of great beauty. An excellent escape at any time of the year, to meditate on life, wash your worries or simply offer you a break of well-being with water, tea or coffee offered with the package of Kese Köpük (cleaning, peeling and bubble bath) (Entrance fee and 15 minutes massage, peeling and bubbling , hammam cloths, towels and a tea/coffee at the end included).  Kese (special bath glove): It is a cleaning method which has been used since the initial years of Ottoman Empire. Your skin gets softer as the result of perspiration in the hammam, with the help of a kese dead skin is removed and skin pores are opened. Bubble bath: It is a method used to clean the body following the kese process. Leave yourself into the hands of the masseur/masseuse and feel the comfort.
Aga Hamami is a historical hammam, also known as Turkish Baths, and one of the oldest in Istanbul. The hammam is beautifully decorated, extremely authentic, and very well priced.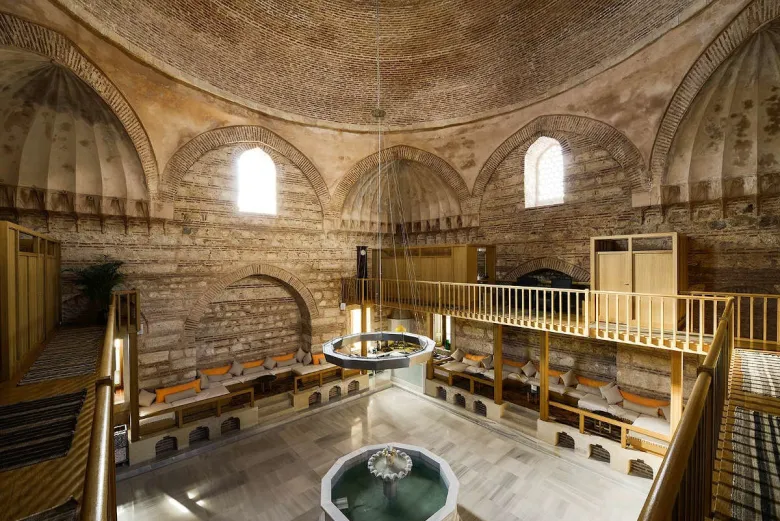 The
traditional option
 used since the early years of the Ottoman Empire, includes 
admission to the hammam
, use of the 
towels and peshtemal 
(a traditional towel used in a hammam), a 
body scrub
 with a 
kessa glove
 and an agreeable and relaxing 
soap bath
. This option lasts one hour.
If you want to complete your visit to this popular Turkish Bath, you can add one of the following options:
20-minute relaxing oil massage: This oil massage, of Chinese origin, will feel very pleasant as your muscles and body relax.
Head massage: This package includes a peel, a bubble bath, an oil massage and then a relaxing head massage.
Massage and face mask: The face mask will close your pores and leave your skin feeling clean and soft.
Read more about Hammam Tradition and rituals.