Alacati Travel Guide
Introduction
Alacati Travel Guide – Alacati (pronounced "Ala-cha-ti") is a small town just a hop and skip away from Izmir on the west coast of Turkey. The charming town is a hidden gem that most people haven't heard of, and the majority of first-time visitors leave Alacati off their Turkey itinerary.
Alacati is a popular Aegean holiday resort, is a vibrant and dynamic area that combines entertainment, peacefulness, greenery, and the sea. You will not realize how quickly time passes as you lose yourself strolling in the stone streets. You have come to the right spot for a unique vacation full of nature, cuisine, serenity, and fun. Here is a guide to help you make the most of your vacation to Alacati.
How to Get to Alacati?
Alaçatı is in the province of Çeşme, located in Western Turkey and a short ride from the country's third largest city of Izmir.
Most visitors get to Alaçatı through Izmir city. From the port city, you'll need to hop on the train towards Kaymakamlik (which is also the last stop, and where you need to get off). The bus ride is around 50 minutes. Once you get off, you'll need to take a bus to Çeşme for another hour out. The bus is only 8 TL and the scenery along the way is beautiful. Now the actual bus is tricky to find, it's not right by the train station. You'll find a busy gas station straight ahead; you'll need to walk past it then around it to the right where you'll find the buses parked. Here's a link to Izmir's railway map to help you plan your trip.
Best Things to Do in Alacati
Walk through Alacati Streets.
Alacati is well-known for its walkability. The area where the renowned streets are located is also known as Köyiçi. The streets of Alacati have such a genuine atmosphere that it is hard not to adore them. The majority of the dwellings in this area are from the nineteenth century. The stone houses with bay windows, surrounded by bougainvillaea, retain their original architectural forms. Newer structures are built in harmony with the old houses, forming a stunning unity. The houses, which become more magnificent with each step, attract you with their nostalgic atmosphere.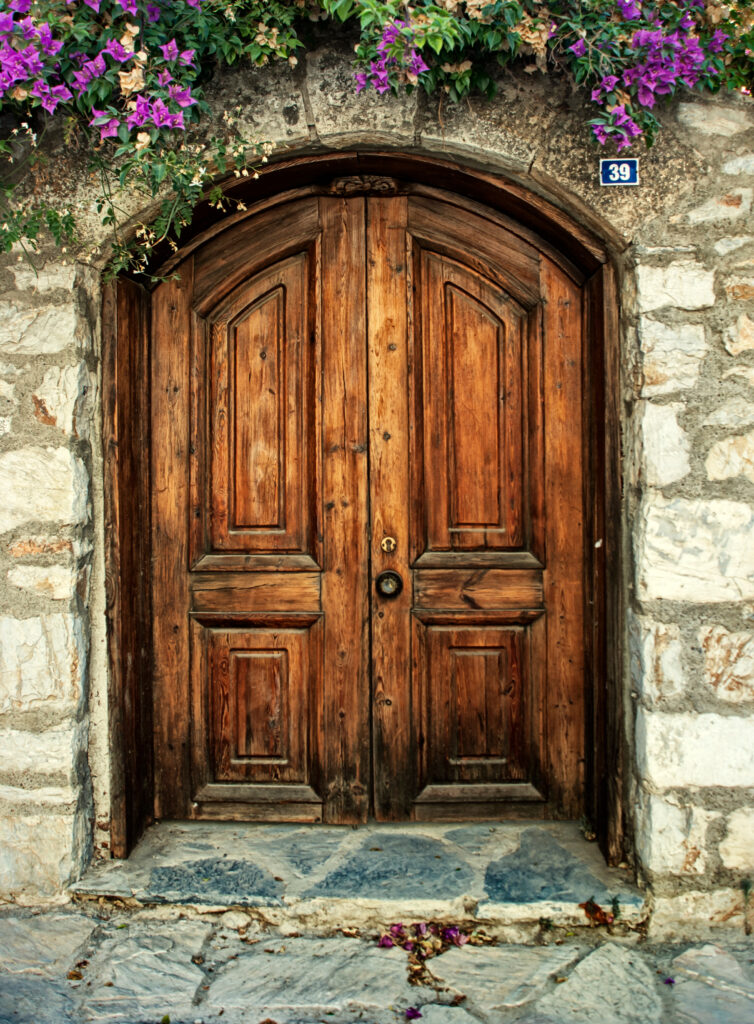 Kemalpaşa Street, one of Alacati's symbols, deserves special notice during your visit. It is the starting place for exploring Alacati's streets. It may be challenging to meander since the cobblestone street can get a bit crowded. There are several nice spots in the streets that are decorated with Alacati houses. You should reserve a table at one of the restaurants here as soon as possible for a nice dinner.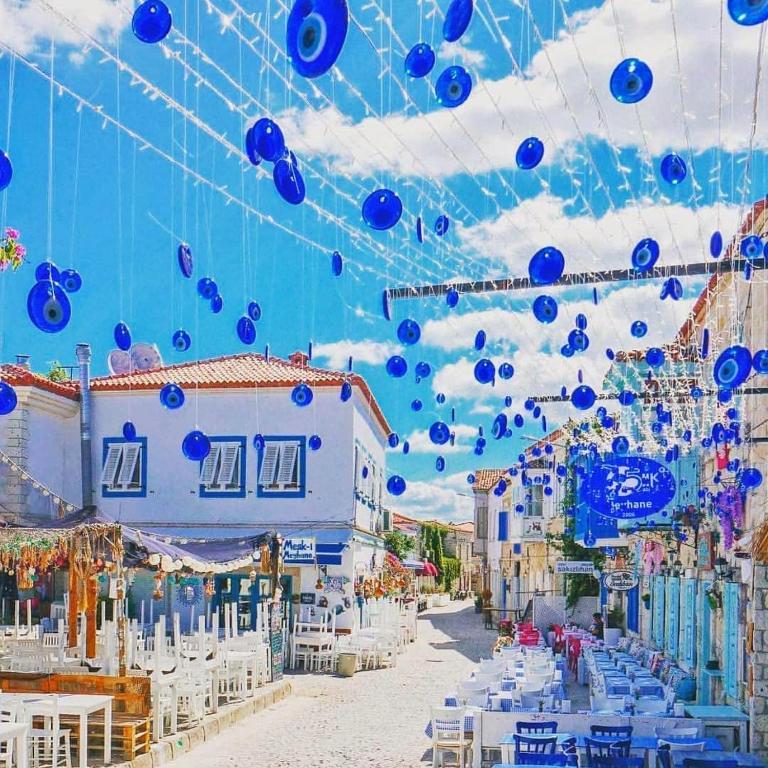 Talking about the streets for a long time without discussing the houses which contribute these distinguishing elements to the streets is unthinkable. If possible, consider staying in these houses. The Greek culture has left tremendously rich remains here, particularly in architecture, as in many other areas. You will find it difficult to choose from among the gorgeous stone buildings and mansions that lend to the atmosphere of the period. Stone houses are the most enjoyable option for an isolated holiday here, whether you come with a group of friends or just two people.
Alacati is right place for windsurfing
Alacati, which has hosted a leg of the Windsurf World Cup, is one of the greatest places on earth to windsurf. The bay's confined form prevents waves. The wind is also at a reasonable level. The fact that it is a windy location, in general, makes it simpler for surfers. In Alacati, you may also try kitesurfing. We can state that it is an excellent location for beginners. Aside from the schools where you may take courses, you will find that there is plenty of equipment available. Our suggestion for the best beach in this area is Cark Beach. We can confidently state that Alacati is the first spot that springs to mind when the word windsurfing is discussed.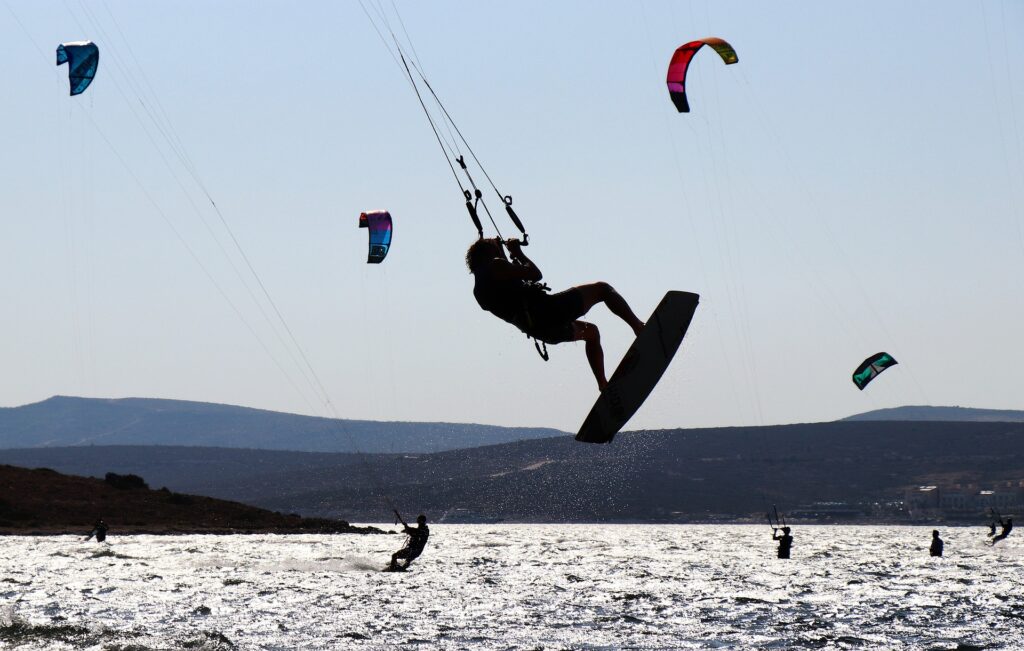 Join to Alacati Herb Festival
The Alacati Herb Festival, held since 2010, is a colorful event that begins the summer season early. Many plants that grow in this area take their place in the stands. Herbs, an essential component of Aegean cuisine, are exhibited for travelers in a welcoming ambience. Many events are held within the scope of the festival: one can enjoy meals prepared with herbs, discover healthy eating suggestions, attend talks about gastronomy, biodiversity, and the practice of gardening. Outdoor concerts and cooking competitions contribute to the festival's movement and fun. Discovering the rich Aegean culture and food with a new activity every day will provide you with unforgettable memories.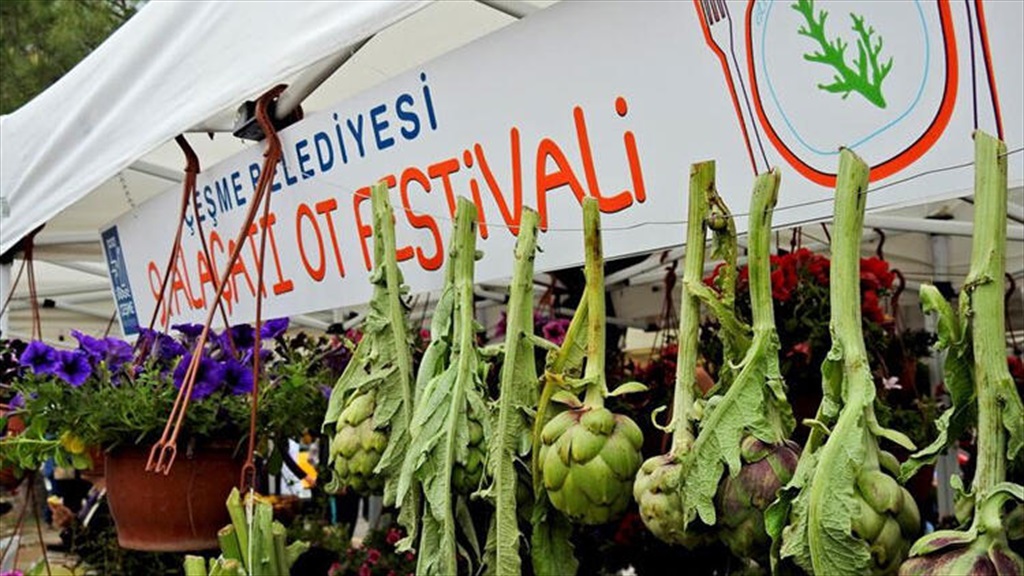 Start your day with a delicious Alacati breakfast
You will find great breakfast spots on Çamlık Road. We suggest that you start your day with the delicacies that are particular to this location in the garden at these sweet shops. It will be difficult to forget the taste of these breakfasts, which include handmade jams and warm pastries with Aegean herbs.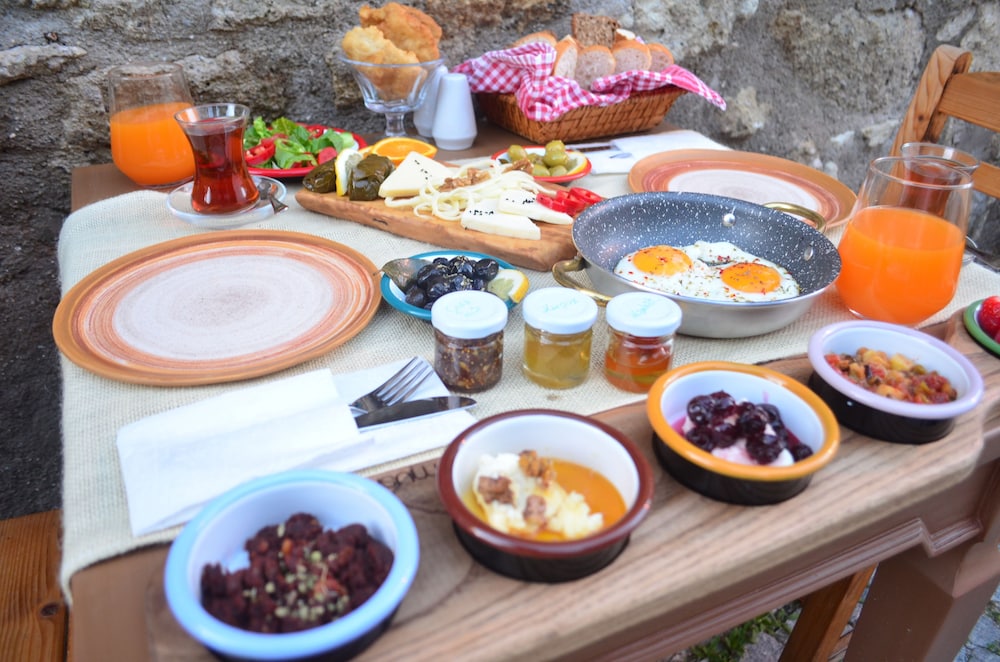 As you continue to explore Köyiçi, you will come across appetizer (meze) restaurants. Sit in a place you like and try some appetizers. Numerous appetizers that demonstrate Aegean cuisine in its most natural form can be found here.
Visit Agios Constantinos Church (Pazaryeri Mosque)
The structure, which is located near Köyiçi in Alacati, was previously a church, as the name implies. When the village's Muslim population grew, it was converted into a mosque. The Christian community of Alacati continues to pray in the modest chapel remaining inside the Pazar Yeri Mosque. You may have heard its name previously because of the special permission given to the Fener Greek patriarch to perform a ritual here. The structure is still used as both a mosque and a church today.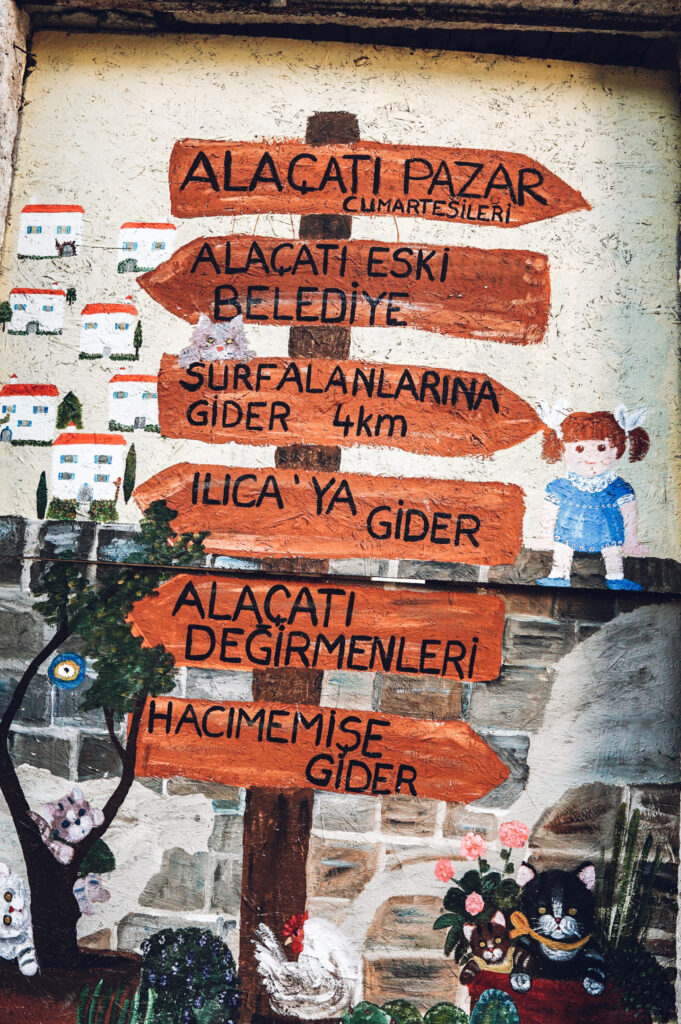 Port Alacati
Site formation Port Alacati, a marina and life centre, was designed and built in keeping with the region's texture. In front of each house, there is a pier. As they are lined up in front of the houses, the boats appear quite beautiful. On the same beach, there are some seafood restaurants. It's worth remembering for a delicious evening with a breath-taking view.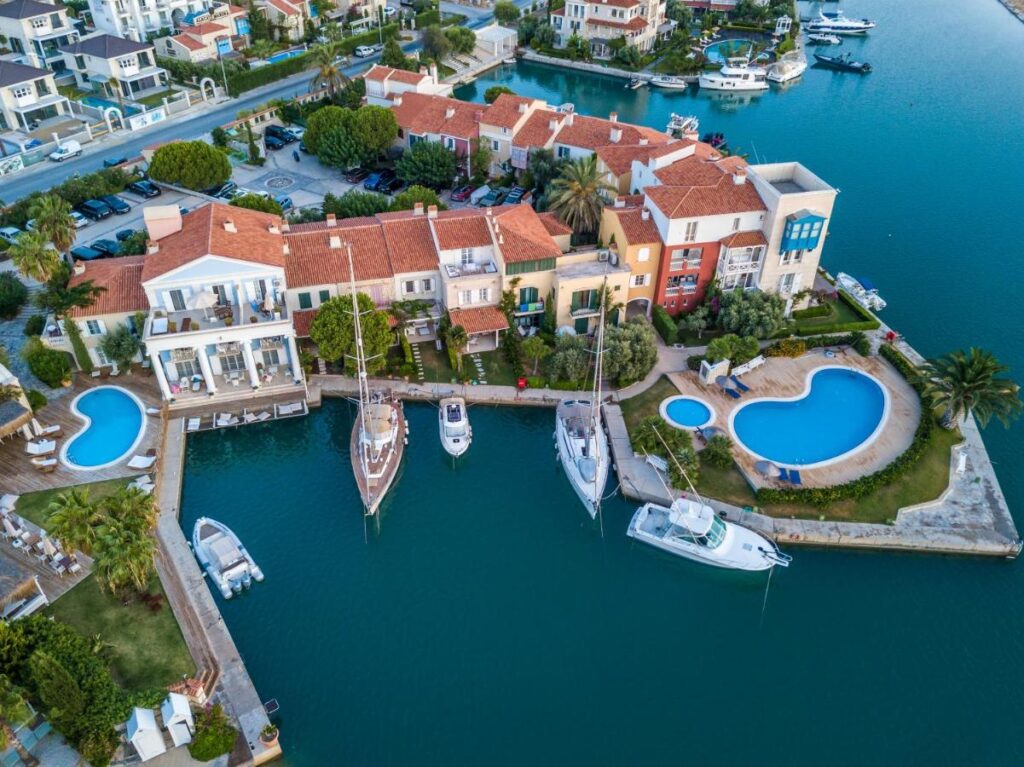 Alacati Windmills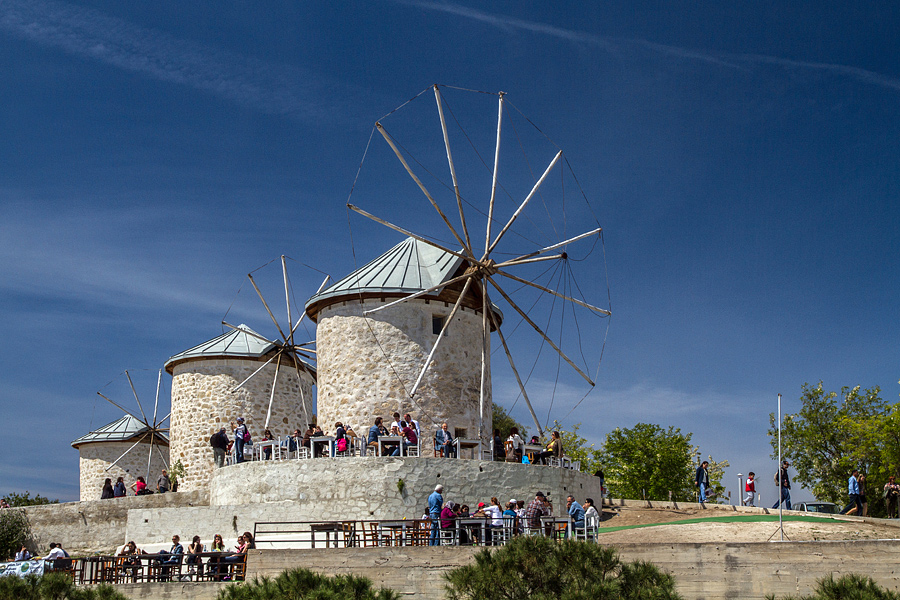 The mills, which are one of Alacati's most magnificent symbols, were built over 150 years ago. Taking advantage of Alacati's windy weather, the residents built four mills to grind wheat. There is a breath-taking view of the site where the mills are situated. Some of the mills have been converted into restaurants and cafes. You can grab a drink and have a rest while admiring the scenery. If you choose to stay until the sun sets, you will be treated to some fantastic photo opportunities.