Best Time to Visit Paros Island
Introduction
Best Time to Visit Paros Island In terms of the best time of year to visit Paros Greece, it's always a great idea to plan your trip to the Greek islands in the shoulder months of April/May or September/October.  Paros is a Greek island, part of the Cyclades and located south of Athens. It is a romantic destination and packed with tourists from all parts of the world – especially during the summer months. The weather in Paros is typically Mediterranean where it gets hot during the summers and the winters are mild. The best time to visit Paros is between the months of April and October as the weather is good to enjoy beach activities. While peak summers can get quite hot, it is also most favorable for swimming.

These months bring pleasant (and not boiling hot) weather, great for meandering the alleyways, plus most tourists visit the Greek islands during the summer months of June-August. So, you will have more quiet while visiting Paros island. Another perk of visiting in the shoulder months is lower rates on places to stay in Greece Paros, too.If you do plan to visit the island in the summer months, just make sure to book your accommodation Paros in advance, I'm talkin' springtime. This includes both boutique hotels in Paros and apartments in Paros, but even the budget accommodation options. As the popularity of Paros grows, it will get harder to nail down your favorite Paros hotel if you don't plan ahead.

In regards to winter months, November through March, ferry and flight itineraries will drastically reduce, plus a lot of the island's shops and accommodation shut down for the season. So, if you do decide to visit Paros island in the winter months, prepare for a very quiet trip.
Spring (March to May)
The cheerful months of spring is a lovely time to go for a vacation. The weather is fresh and the flowers are in bloom. The temperature averages at a cool 15°C in March and goes up to 22°C in May. Tourists are lesser, hotels are more affordable and attractions are aplenty. April and May are good months to enjoy beach activities.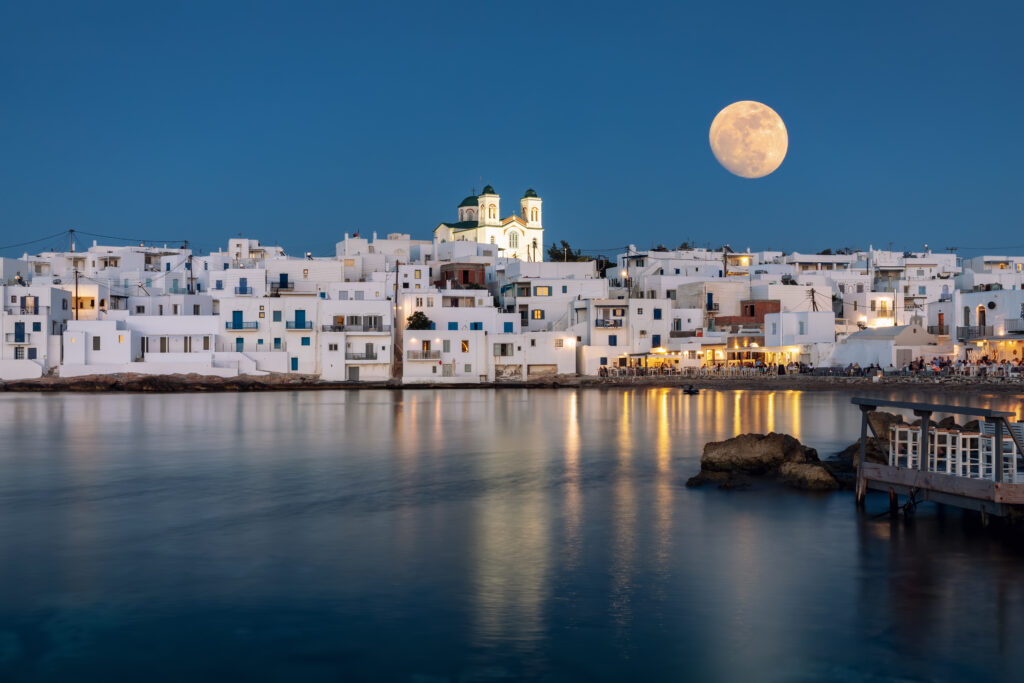 There are many religious festivals celebrated in Spring like the festival of Agios Ioannis Theologos in Drios on the 8th of May, the Festival of Agios Georgios in Agairia in April and of course Good Friday and Easter holidays. Greek independence day is celebrated on March 25th.
Summer (June to August)
Summertime is probably the best time to go to the beach. So to holiday on an island like Paros would definitely be awesome. However, with good sunny weather comes great crowds, and if that puts you off, then better stay away – as June, July and August are the most populated months of the year. The beaches are throbbing with activity and nights are filled with a lot of excitement. The average temperature in summer is 28°C.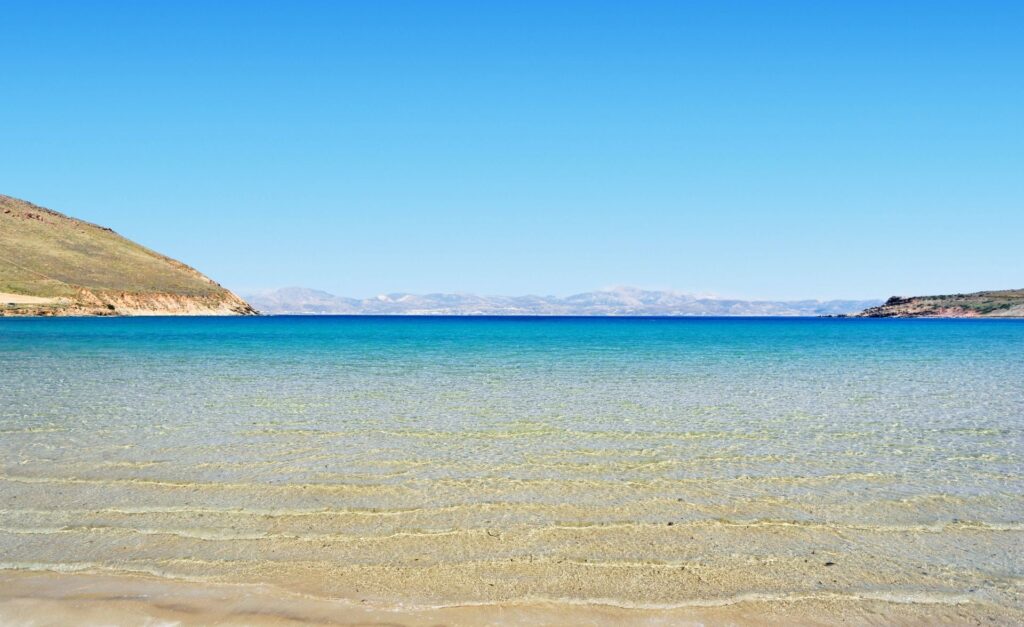 Throughout July and August, there are many holy festivals celebrated. An interesting day to witness is the Festival of Pirates celebrated on 23rd August where boys dress up as pirates at the village of Naoussa. These months are also filled with a lot of cultural activities like musical shows, dance performances, food festivals etc.
Autumn (September to November)
September is still a busy month at Paros, however, the crowds do start thinning. The weather is still good for swimming and other watersports as the average temperature is around 26°C. The wind catches up in October and there's a nip in the air, but it is still a good time to visit. By November, it can get too chilly to want to go for a swim – with temperatures averaging 18°C. Many resorts shut down in October and you may not have the widest choice, so be sure to book well in advance.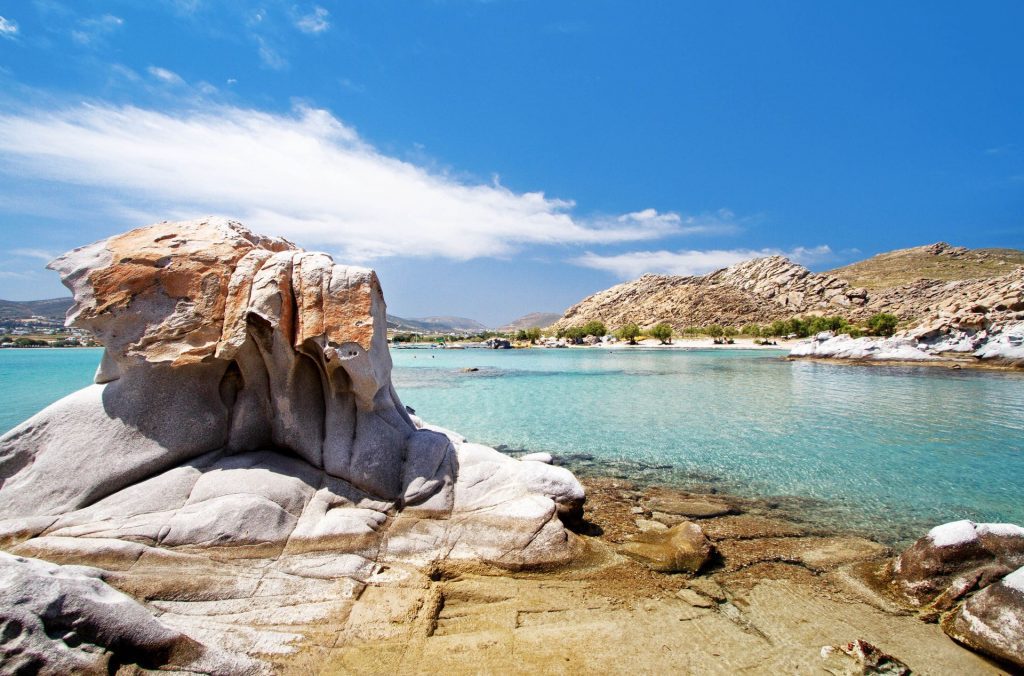 In early September, people celebrate the festival of Trata with seafood and wine in the town of Parikia. Other festivals include Ochi Day, Antistaseos – Resistance and Polytechnio; all remembrances of Greece's rich history.
Winter (December to February)
inters can be a bit dull and gloomy, however, it is equally romantic and you do find a lot of honeymooners here. The temperature ranges between 13°C and 17°C and 10-12 days of rain is expected in each month. Many beach resorts are closed during the winter, but there is still lots to enjoy on this beautiful island.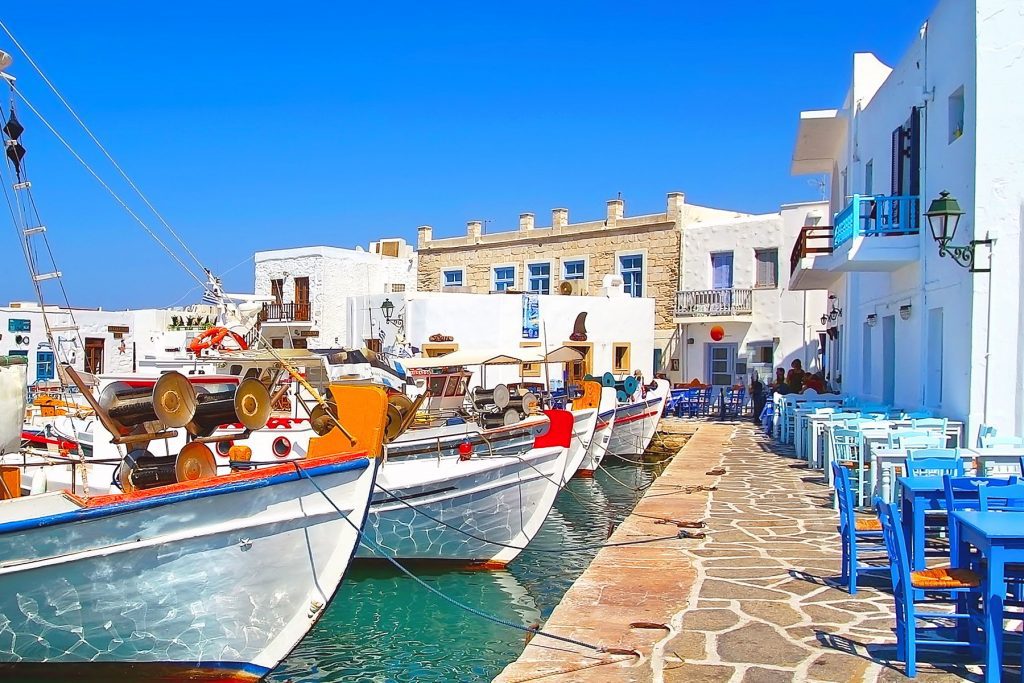 The carnival feast is celebrated in winter and the villages best known for their costume parties are Naoussa Marpissa and Parikia. A sporting-festival called Epiphany is celebrated on the 6th of January every year – best to be witnessed in Parikia or Naoussa.