Jerusalem Travel Guide
Introduction
Jerusalem Travel Guide – Jerusalem's Old City is a spiritual lightning rod, sacred to Jews, Muslims and Christians. Wide-eyed with awe, pilgrims flood into the walled city to worship at locations linked to the very foundation of their faith. Church bells, Islamic calls to prayer and the shofar (Jewish ram's horn) electrify the air with a beguiling, if not harmonious, melody, and fragrances of incense, coffee and candle smoke drift through the thrumming souqs (markets). Muslim, Christian, Jewish and Armenian quarters each add their own spice, but this diversity grew from millennia of bloody sieges and transfers of power, leaving still visible deep wounds. Destroyed and rebuilt over thousands of years, Jerusalem's spiritual magnetism endures. With interlacing histories, clashing cultures and constant reinvention, the city is an intense, multisensory experience.
Layers of history continue to be unearthed in Jerusalem, a city where ancient worlds are tantalisingly close. Guides lead groups beneath the Western Wall, and candlelit church crypts hold treasured shrines. At the City of David, visitors are ushered through watery passageways and past active dig sites. Hardly a month goes by without a significant discovery being made in and around the Old City. Unsurprisingly, the city's archaeological sites are highly contentious, in particular the bitterly controversial expansion of the City of David site into Palestinian communities. In Jerusalem, history isn't a closed chapter.
How to Get to Jerusalem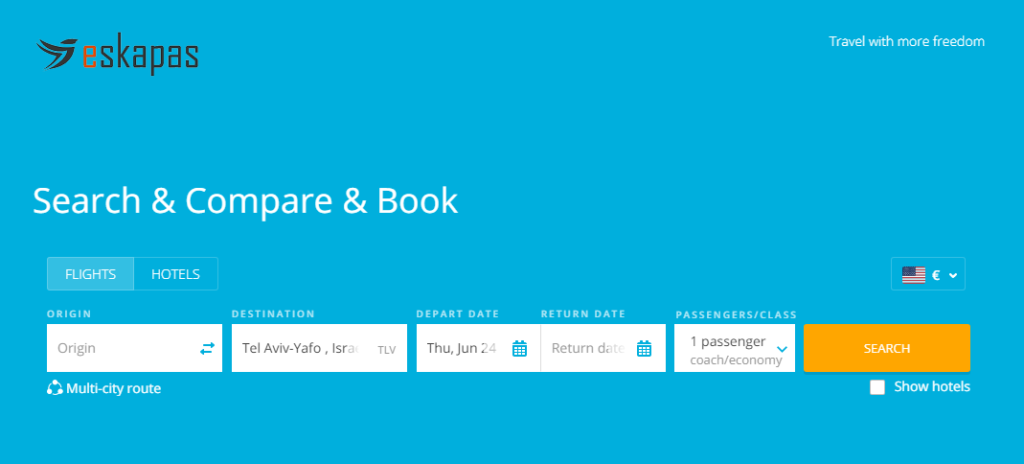 To travel to Jerusalem, first take a flight to Tel Aviv's Ben Gurion International Airport (TLV). The distance from Tel Aviv to Jerusalem is about 36 miles by car, and the drive takes less than an hour. When you arrive at Ben Gurion Airport, your passport won't be stamped. Instead, you'll receive a stamped piece of paper that you must carry until you depart from Israel. This is because people who travel to Israel and get stamps in their passport are not allowed to visit certain Arab countries that have diplomatic problems with Israel. Without Israeli stamps, that shouldn't be an issue. Use our search engine to compare and find the best flight deals to  Israel.
Shuttle Bus From the Airport
To get directly to Jerusalem from Ben Gurion Airport, look for shuttle bus No. 485. The bus runs 24 hours a day, six days a week, and costs about $6. Pick it up outside either Terminal 1 or Terminal 3. Buy the ticket as soon as you get on the bus.  The coach bus provides a comfortable one-hour journey from the airport to Jerusalem's Central Bus Station. It also stops at other central drop-off points in the city. From the Central Bus Station in Jerusalem, it's easy to get to the Old City via the light rail, which you can pick up right outside the station's main entrance.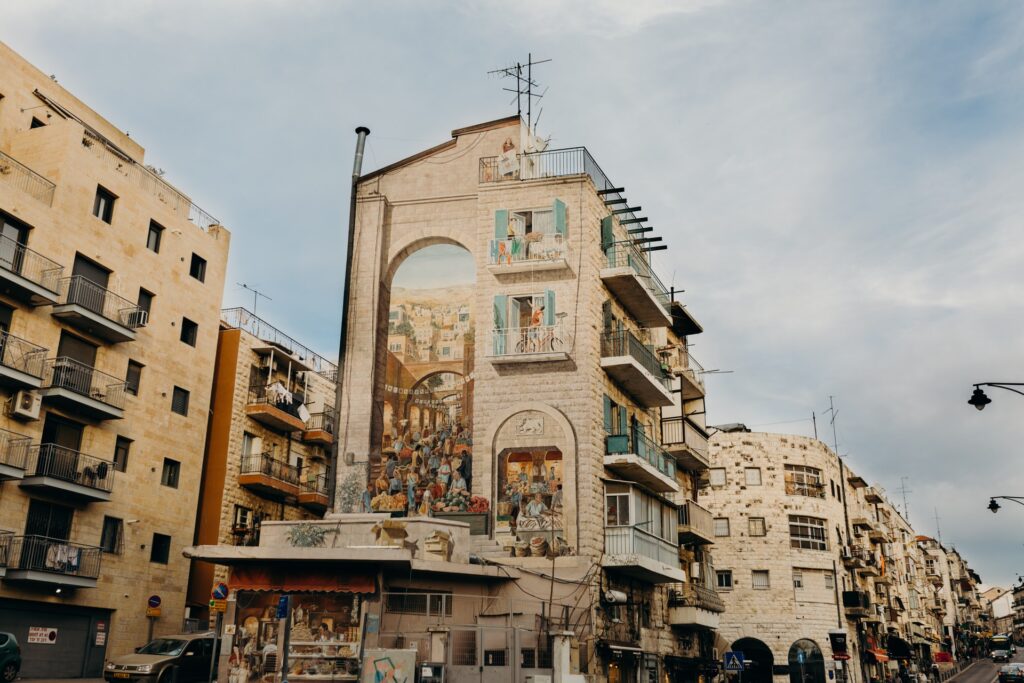 By Train
A network of trains runs between Tel Aviv and Jerusalem, connecting various parts of each city. Israel Railways' website offers a "Trip Planner" tool to help determine the best route for your specific journey. The easiest route is from Tel Aviv-Ha'Hagana to Jerusalem-Malha (or vice-versa), which takes one hour and 30 minutes with a changeover at Bet Shemesh. Trains run frequently throughout the day during the week, but it's important to note that there are no trains on Friday afternoons or most of the day on Saturdays due to the Jewish Shabbat. Check the timetables online ahead of time.  There are several ticket options when traveling on Israel Railways. Purchase a one-way or return ticket, or select a Rav-Kav​ card, which lets you buy unlimited travel between two destinations for seven days. Be sure you have a valid and correct ticket, since Israel Railways is known for strict penalties if you are caught without one. An adult one-way ticket between Tel Aviv-Ha'Hagana and Jerusalem-Malha costs 20.00 Israeli New Shekels, which is a great bargain.
Best Time to Visit Israel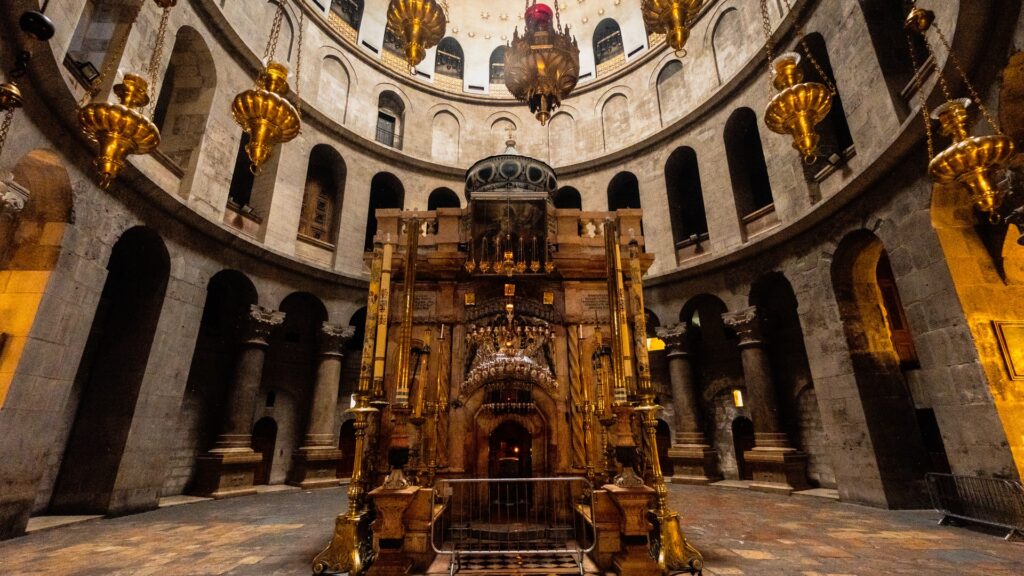 The best times to visit Israel are in spring or fall, because the days are pleasantly warm, with temperatures around 25-26 °C (79°F), and the nights are cool.  It can be quite hot during the day from June to August, with average temperatures of 32-33°C( 90°F) . However, the evenings are cooler and if you don't mind the heat, you'll enjoy smaller crowds at popular sites.  Temperatures are much cooler in winter, around 10 °C (50°F), with Jerusalem even receiving occasional snowfall.
Important Note: Avoid major holidays Jerusalem's prices skyrocket during major Jewish festivals, especially Passover (March or April), Sukkot (September or October), and the High Holy Days ( fall). You'll find better deals if you avoid these holidays.
Getting Around Jerusalem
The best ways to get around Jerusalem are on foot or by taxi. Many of the city's top attractions are within walking distance of one another inside or just beyond the Old City walls. When you're looking to expand your stomping grounds, taxis are extremely convenient (albeit a little pricey). The transportation company, Egged, provides public bus service within the city and many points around the country. Egged also services Ben Gurion International Airport (TLV), about 38 miles northwest of Jerusalem on the outskirts of Tel Aviv. However, the bus system isn't intuitive for foreign visitors. Travelers usually will have better luck with the new light rail system, which opened in 2011.
Best Things To Do in Jerusalem
Jerusalem is suspended between many different crosshairs. First and foremost, it serves as the Holy City for the three primary western religions: Christianity, Judaism, and Islam. The narrow streets and alleyways that make up the labyrinth-like Old City reverberate with the sounds of spirituality. Whispered Hebrew prayers uttered by tefillin-clad Jews at the Western Wall mingle with the hauntingly beautiful Muslim call-to-prayer sounding from Temple Mount. The voices from the Jewish and Muslim quarters are then accompanied by melodic bells sounding from the Christian Church of the Holy Sepulchre. For many visitors, the rumor of a constant Almighty presence suddenly becomes very real; even the most adamant non-believer will find it hard to deny that there's something ethereal about Jerusalem.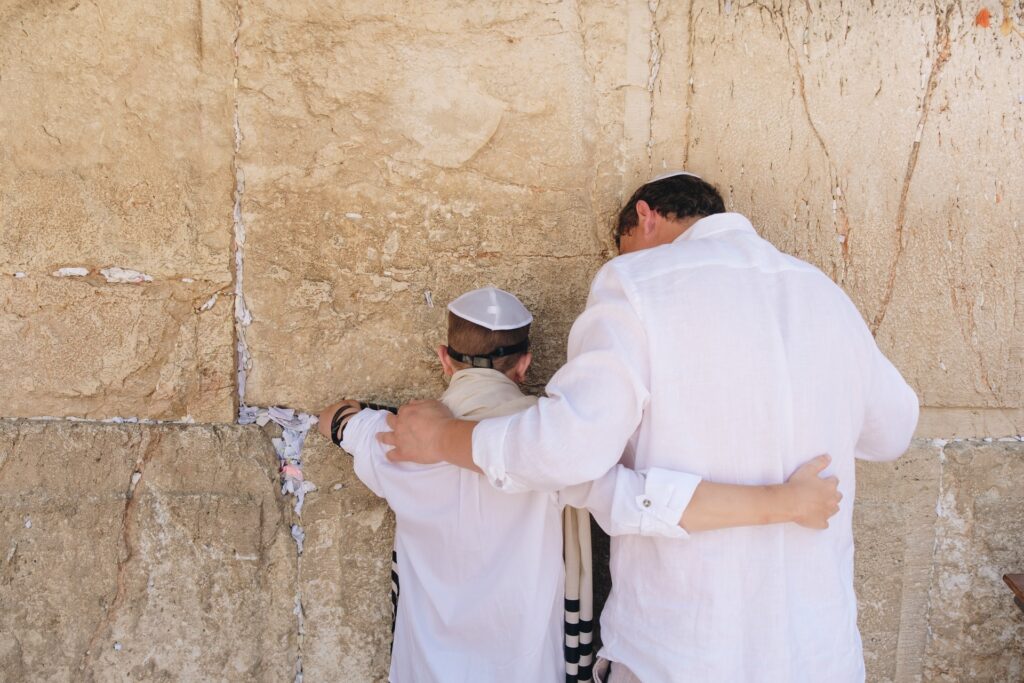 While the image of ancient Jerusalem—a city still ruled by King David and his followers—is what most travelers expect, you'll find instead a destination in flux. Beyond the historic walls of the Old City lies a buzzing metropolis where traditional lifestyles collide with cosmopolitan developments. West Jerusalem is littered with trendy restaurants and bars, while East Jerusalem resonates with the cries of market vendors. The city's diverse offerings have transformed Jerusalem from a pilgrimage spot to a well-rounded vacation destination. So whatever your reason for visiting, you can be sure that this is a city you'll never forget.
Jerusalem can be divided into three sections: the Old City, West Jerusalem, and East Jerusalem. Ancient stone walls encase the Old City. You can access the grounds via seven different gateways. Within these walls, you'll find the city's most prominent attractions, including the Western Wall, the Dome of the Rock, and the Church of the Holy Sepulchre. Outside of the Old City, you'll discover Jerusalem's thriving yet laid-back metropolis. West Jerusalem buzzes with life, with much of the action centered on Jaffa Road and Ben-Yehuda Street. Here, you'll find a variety of shops, restaurants, and bars. East Jerusalem is the hub of the city's Arab community. Not as modern as West Jerusalem, the East—especially the areas right outside the Old City's Damascus and Herod's Gates—brims with lively markets.
Old City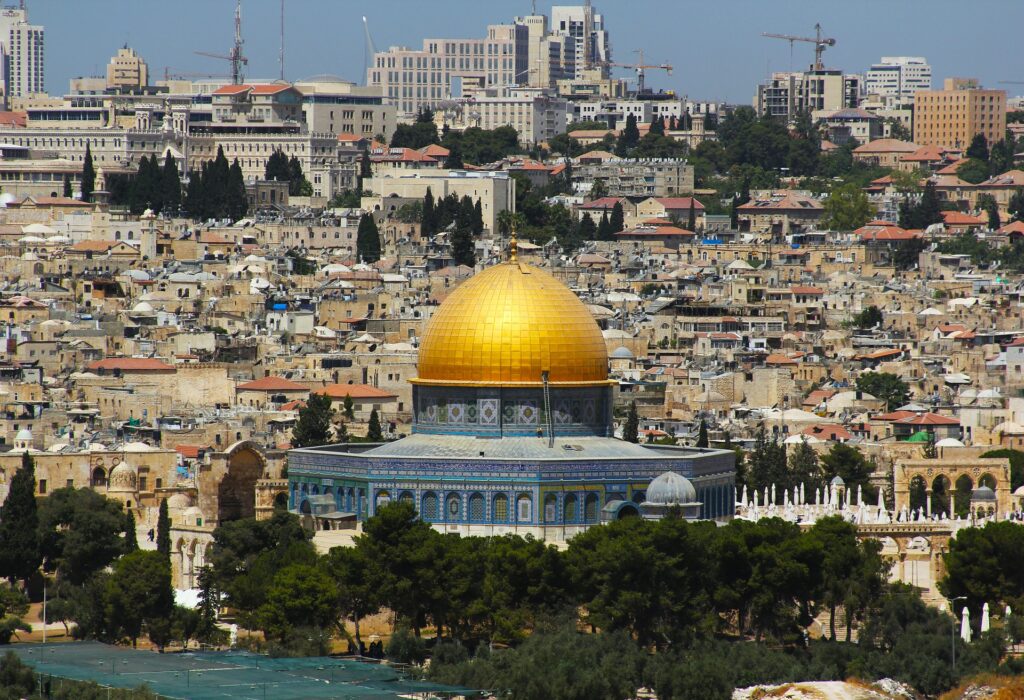 Chances are that you'll spend much of your time here. The Old City is home to many of Jerusalem's most sought-after attractions, including the Western Wall, the Church of the Holy Sepulchre, and Temple Mount. Originally built by King David in 1004 B.C., the walled Old City comprises four distinct areas: the Jewish Quarter (or the Cardo), the Muslim Quarter, the Christian Quarter, and the Armenian Quarter. Each quarter exudes its own unique atmosphere, with religious sites, shops, and food offerings reflecting its respective heritage. Yet the Old City's winding alleyways and ancient stone plazas allow mixing and mingling among these cultures, making a very eclectic environment.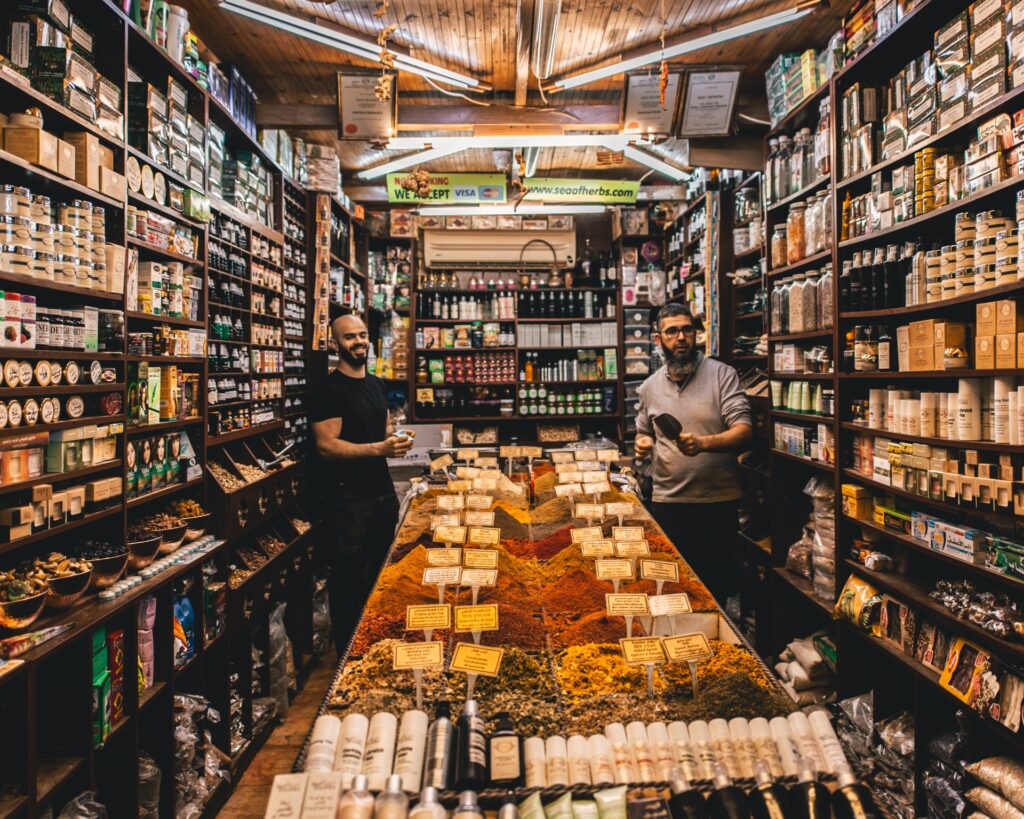 It's easy to lose yourself (both metaphorically and geographically) in the Old City, but make sure you devote some attention to its boundaries. You can access the Old City from seven entryways: the New Gate, Damascus Gate, Herod's Gate, Lions' Gate, Dung Gate, Zion Gate, and Jaffa Gate. Each doorway marks a significant era of Jerusalem's history. For example, Jaffa Gate is where the Tower of David (the city's primary defense point) can be found.
Mahane Yehuda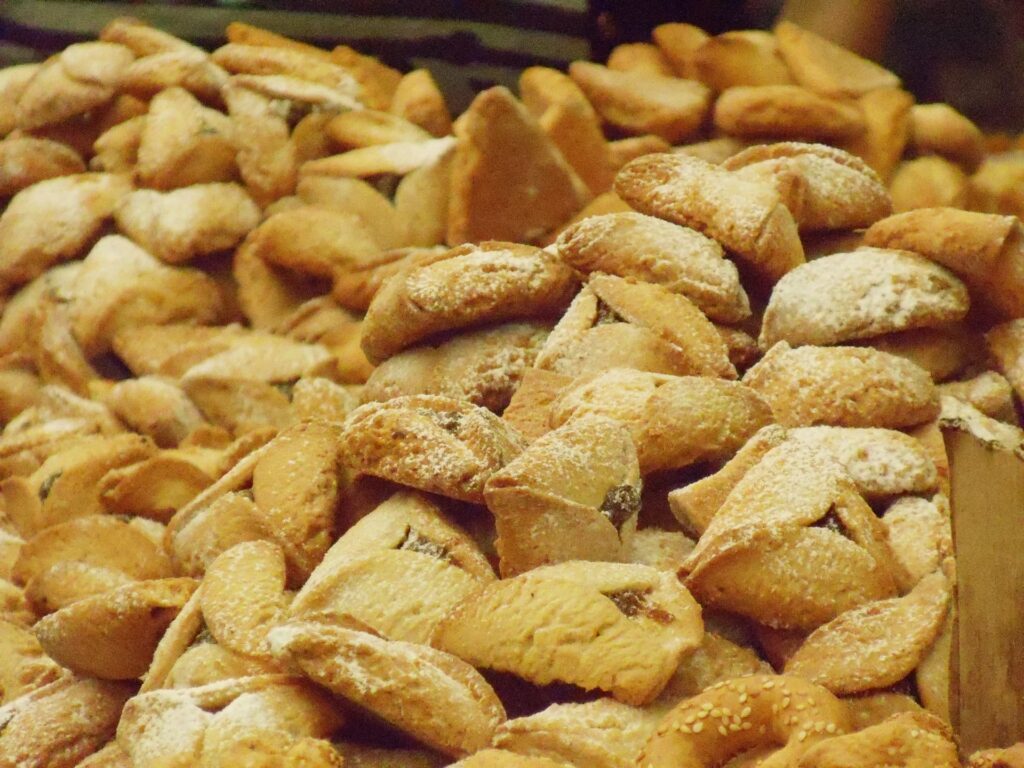 Sandwiched between Agripas and Yafo streets in West Jerusalem, Mahane Yehuda offers a glimpse (and a taste) of authentic life in modern Israel. This vibrant marketplace houses vendors selling everything from aromatic spices to souvenirs. The lively atmosphere is thick with the scent of fresh falafel and the sound of more than 250 haggling merchants. Although you're sure to find the market crowded no matter when you visit, be prepared for extremely heavy crowds on Fridays, when Jerusalem residents are stocking up for the Sabbath (which is observed from Friday at sundown through Saturday night).  Mahane Yehuda is open from Sunday morning through Friday afternoon, and it's free to explore (although you'll want some cash in case you find something appetizing)..
Western Wall (Wailing Wall)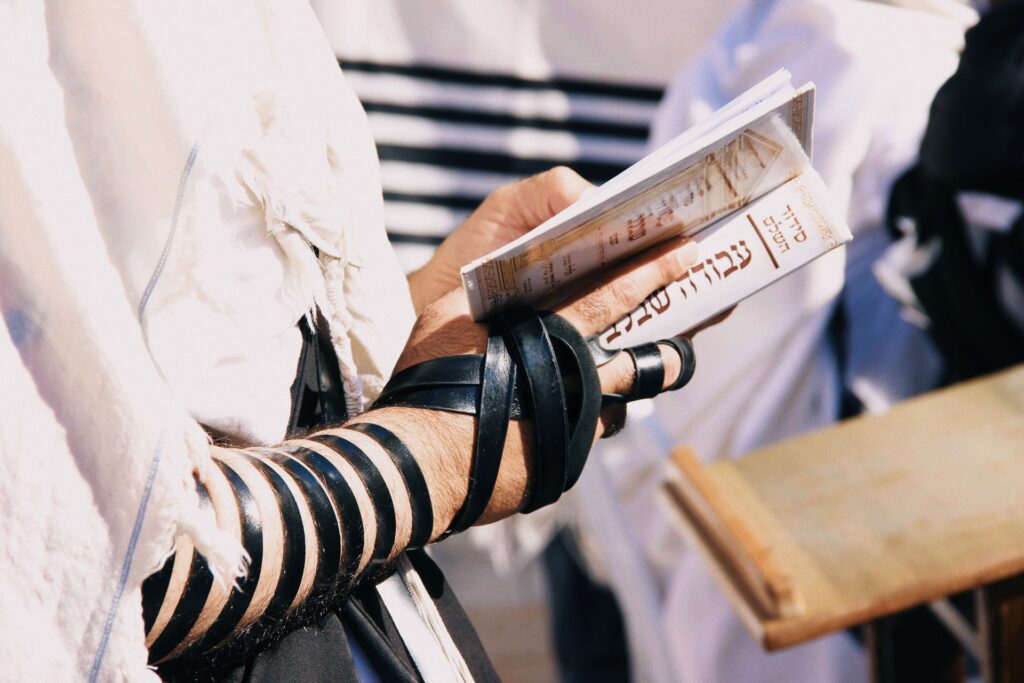 The Western Wall, also known as the Wailing Wall or the Kotel, is the most significant historic site for the Jewish faith. This wall, located in the heart of the Old City, is a remnant of King Herod's renovation of the Second Temple and dates back to the first century B.C. Millions of pilgrims (Jewish and non-Jewish) make their way to the Western Wall each year to pray, writing their wishes on small pieces of paper before placing them between the cracks in the stone for God to answer. The most prominent part of the wall measures 187 feet long and can be accessed via the Prayer Plaza. This famous portion is divided into two areas, one for women and one for men. The Prayer Plaza section of the Western Wall is open to all visitors at all times. Admission is free, but modest dress is required. The tunnels are open Sunday through Thursday from 7 a.m. well into the evening (closing time depends on tour times), and Friday from 7 a.m. to noon.
Temple Mount and the Dome of the Rock
Temple Mount is one of the holiest sites in Jerusalem for both Jews and Muslims. Historians have associated it with Mount Moriah (where the binding of Isaac took place) and Mount Zion (where the original Jebusite fortress once stood); however, neither theory has been proven. Jews believe that this section of the Old City is the resting place of the Divine Presence on earth and the source of the dust that God used to create Adam. Meanwhile, Muslims believe that Muhammad's ascent to heaven took place at Temple Mount. Even if you're not a believer, travelers say that Temple Mount is worth visiting for its resounding historical significance.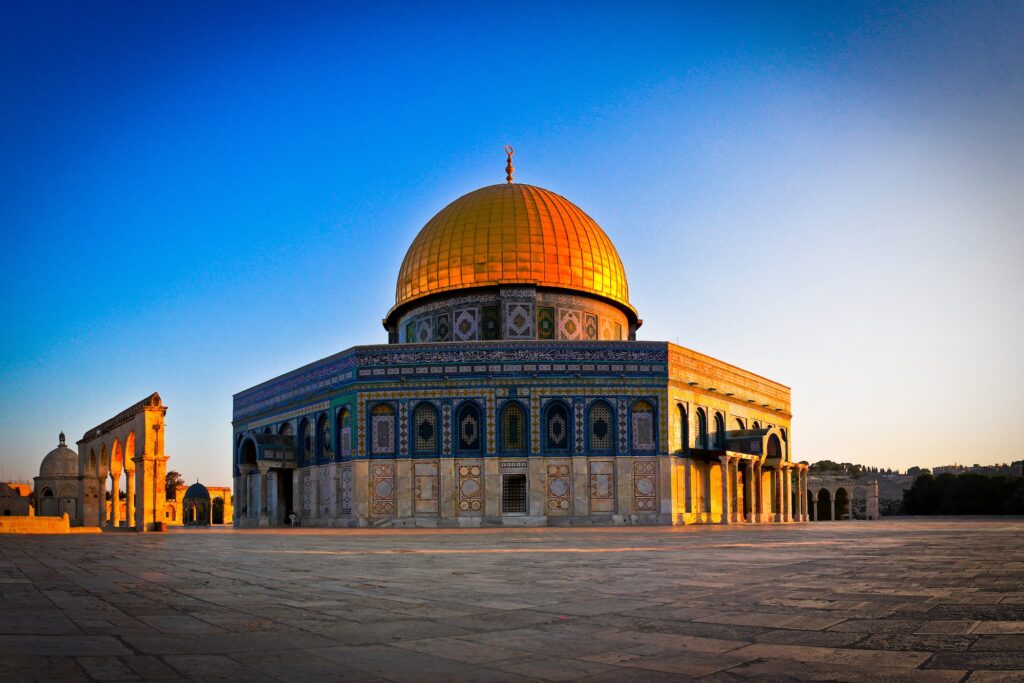 Despite its importance to both religions, Temple Mount's most notable feature is distinctly Muslim: the Dome of the Rock. Encased in this golden-topped structure is the rock where Muhammad prayed with Gabriel. It is also said to be the exact location of his ascension. You should also pay a visit to the Al Aqsa Mosque, the third holiest place in Islam behind Mecca and Medina. Constructed in 720 A.D., Al Aqsa is described by many as one of the most beautiful mosques in the world.
Mount of Olives
Named after the olive groves that once covered its slopes, this 2,900-foot mountain stands opposite the Old City across the Kidron Valley. For more than 3,000 years, the Mount of Olives has served as Jerusalem's primary burial ground and the final resting place of notable biblical figures, such as Zechariah and Absalom.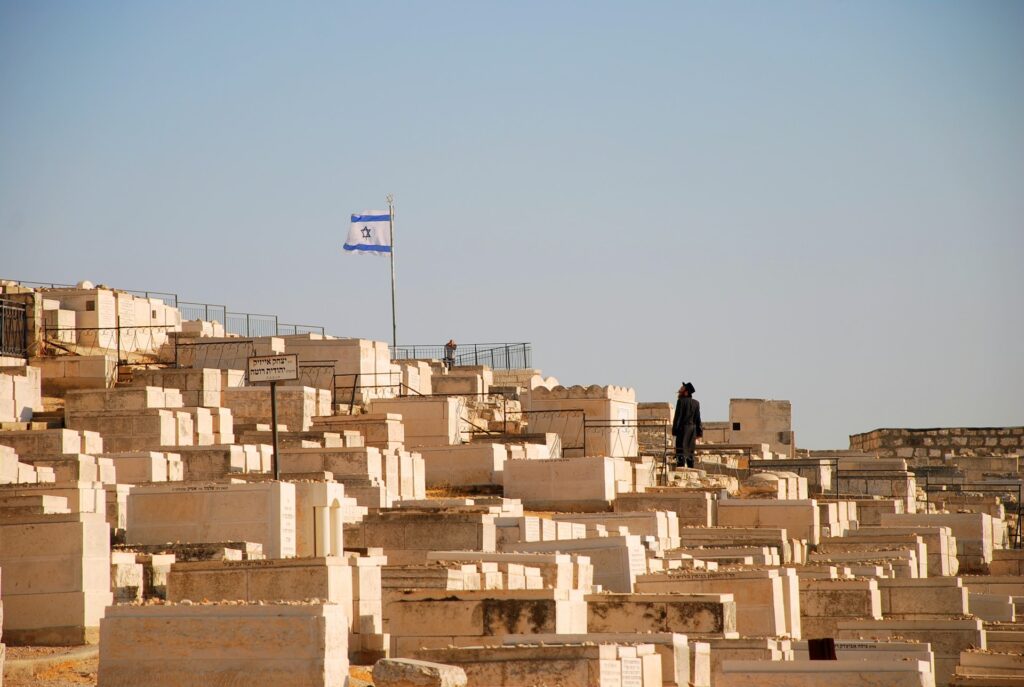 Church of the Holy Sepulchre
Believed to stand directly above Jesus Christ's tomb, the Church of the Holy Sepulchre is considered one of the world's holiest Christian sites. Emperor Constantine originally built the church in 326 A.D. as a Byzantine place of worship. Since its formation, the Church has been destroyed twice, first by the Persians in 614 A.D. and then by the Egyptians in 1009. Today's church is a product of 12th-century Crusaders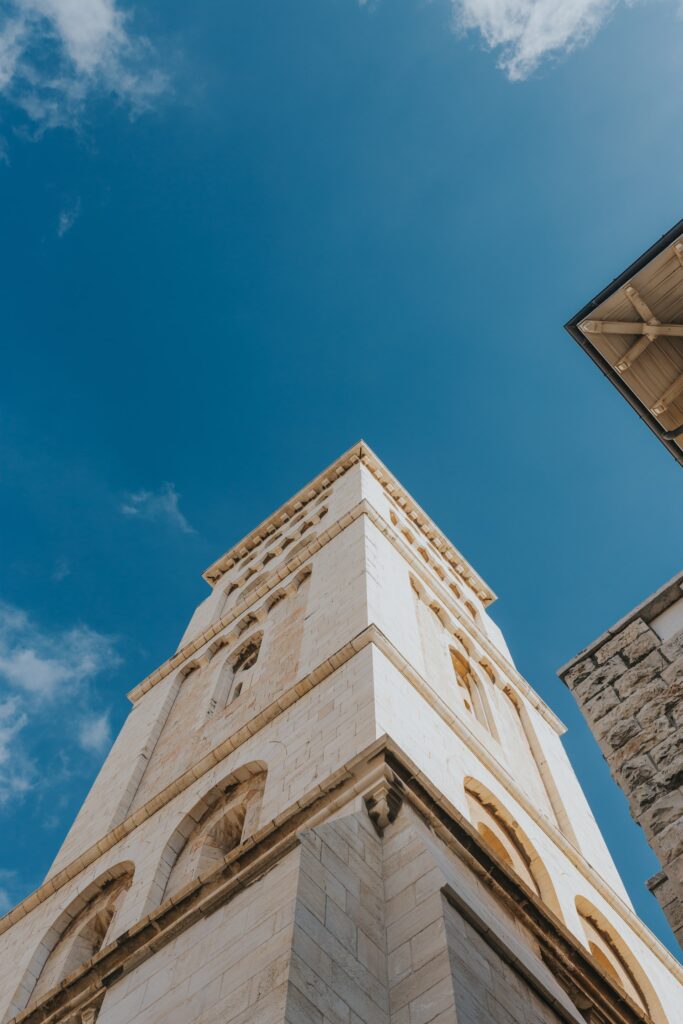 Via Dolorosa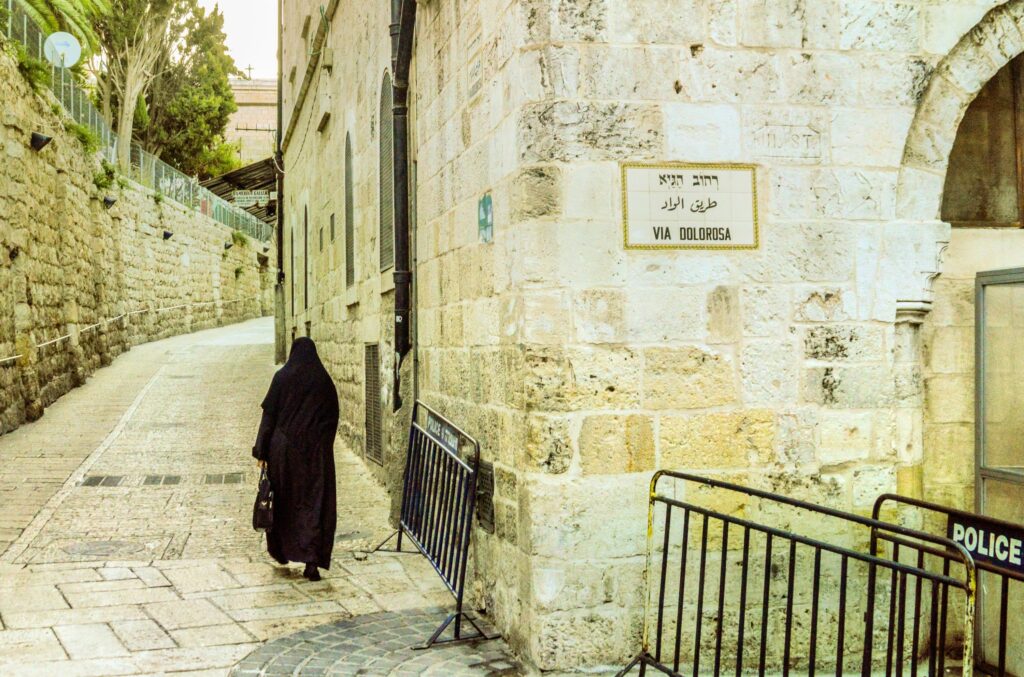 This passageway led Jesus from Pontius Pilate's sentencing to Golgotha, where the crucifixion is believed to have taken place. While Christian hymns depict this road as quiet and lined with olive trees, today's Via Dolorosa can oftentimes feel crowded and noisy as it brims with ancient stone buildings and souvenir shops. The street leads to many notable sites (all of which are marked) that Jesus passed, including the Praetorium, where he was sentenced, and the Church of the Holy Sepulchre, where he is believed to have been laid to rest.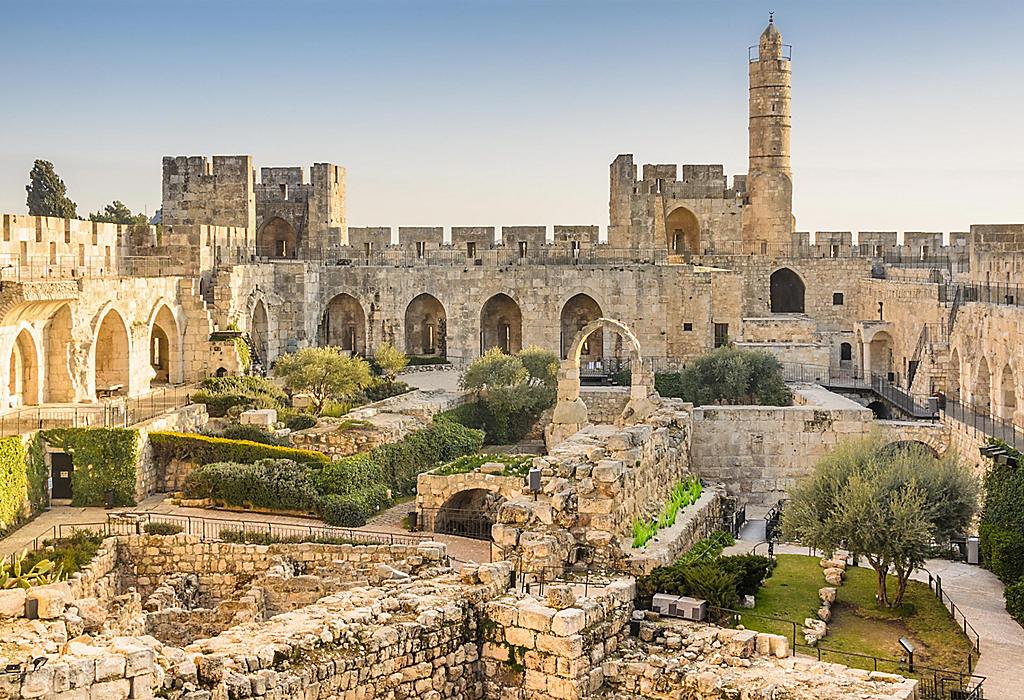 The Tower of David Museum inhabits the medieval Tower of David. Despite its name, the Tower of David did not actually have anything to do with Kind David. While the tower's original purpose was to defend Jerusalem, it now contains an extremely comprehensive museum the details Jerusalem's history. While walking through the citadel, you'll find informative panels and miniature models depicting Jerusalem at different points of its existence. The Tower of David Museum overlooks Jaffa Gate on the western edge of the Old City. Hours of operation and the lightshow schedule vary greatly depending on the day and the season; you can find a detailed timetable on the Tower of David Museum website. General admission to the museum costs 30 ILS (around $8 USD) for adults and 15 ILS (roughly $4 USD) for children. The lightshow costs 55 ILS (about $15 USD) for adults and 45 ILS (around $12 USD) for kids.
Garden Tomb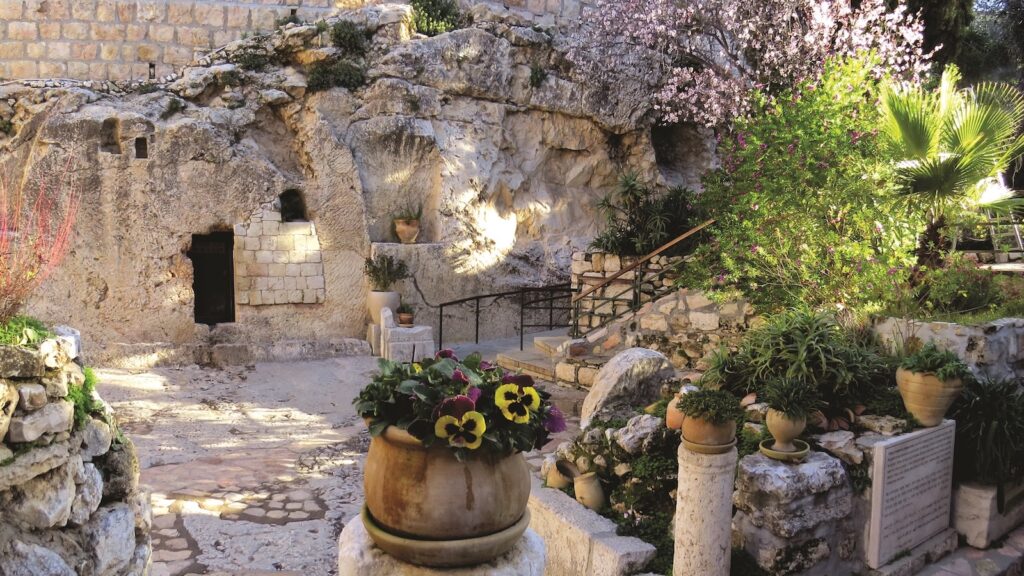 The Church of the Holy Sepulchre may have a shrine, but it is widely believed that Jesus Christ was actually buried and then resurrected in the Garden Tomb. Located just a short walk from the Old City's Damascus Gate, this lush garden contains ruins said to be the sepulcher of Joseph of Arimathea. The Garden Tomb is open to visitors Monday through Saturday from 8:30 a.m. to noon, and from 2 p.m. to 5:30 p.m. Admission is free, as are guided tours and pamphlets.