Marrakech Less Than 48 Hours Challenge
Introduction
Marrakech Less Than 48 Hours : Marrakesh is a city that sums up all of Morocco's exotic North African charm. The city's name provided the root for the name of the country itself, spelling out this town's importance through the ages. Within the hustle of the medina, you'll find the city's main points of interest in a dizzying meld of ancient and new. Just soaking up the atmosphere here tops the things to do list, with snake charmers and smooth shop touts both competing for your attention amid a noisy, colorful bustle that encapsulates Morocco's vibrant soul. For shoppers, this city is famous as a frenzied hub for bargain hunting. For history-loving tourists, the many museums and monuments are some of the country's sightseeing must-dos. And for those who just want to dive into local culture, the medina offers Moroccan life in all its hectic glory. Marrakesh is also the gateway to Morocco's High Atlas region, where you can relish the scenic mountain beauty after your Marrakesh metropolis adventures. For ideas on the best places to visit, see our list of the top attractions in Marrakesh.  Prepare for your senses to be slapped. Marrakesh's heady sights and sounds will dazzle, frazzle and enchant. Put on your babouches (leather slippers) and dive right in. Contact us for a tailor-made Marrakesh program
Faith & Culture
You'll understand how religion permeates the rhythms of daily life when you hear the sonorous call to prayer echo out from the mosques. As an old imperial capital, Marrakesh is home to some beautiful examples of Islamic architecture, most impressively the Ali Ben Youssef Medersa and the Koutoubia minaret. The city also holds on to a heritage of the other religious communities that once helped it become a vibrant caravan town. Head to the old Jewish district of the mellah to visit the Lazama Synagogue and the Miaara Jewish cemetery to gain a greater understanding of Marrakesh's cosmopolitan past.
Souq Shopping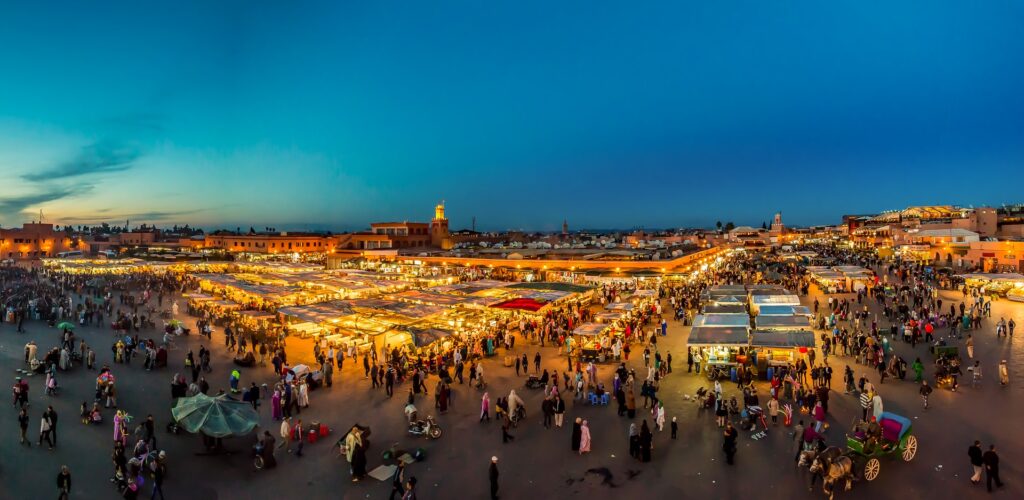 Think of the medina's souqs as a shopping mall, but laid out according to a labyrinthine medieval-era plan. Whether you want to spice up your pantry with North African flavours or buy a carpet to add Moroccan-wow to your house, this magpie's nest of treasures is manna for shop-til-you-drop fanatics. The main market streets are Souq Semmarine and Souq El Kebir. If you see something you really like there, fine – but understand prices will be higher. Smaller souqs and souqs dedicated to artisan workshops such as Souq Haddadine (Blacksmith's Souq), where you can buy direct from the producer, generally have the best deals.
The Medina
Got your map ready? Well, it's probably of little use to you here. Wrapped within the 19 kilometers of powder-pink rammed-earth ramparts, the medina is Marrakesh's show-stopping sight of crowded souqs, where sheep carcasses swing from hooks next door to twinkling lamps, and narrow, doodling ochre-dusted lanes lead to nowhere. The main artery into this mazy muddle is the vast square of Djemaa El Fna, where it's carnival night every night. Stroll between snail vendors, soothsayers, acrobats and conjurers, musicians and slapstick acting troupes to discover the old city's frenetic pulse. The party doesn't end until the lights go out.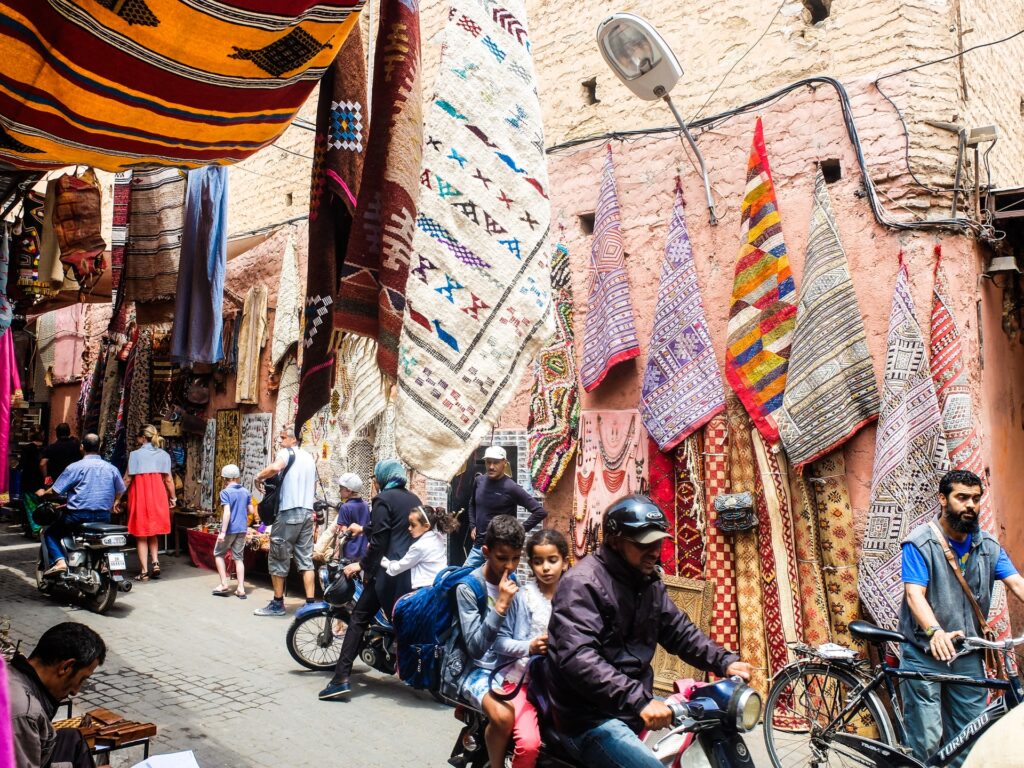 Lets Start The Challenge
Day one
Morning : Start by discovering the city's history at the 16th-century Saadian Tombs (Rue de La Kasbah), where Sultan al-Mansour spared no expense decorating his mausoleum with imported Italian Carrara marble and a gilded honeycomb muqarnas ceiling that still dazzles those who look upon it. The entrance to the tombs is unmarked and hard to spot. You'll find it at the southern end of the Kasbah Mosque, opposite the Kasbah Café. Note you should arrive when it opens to see it at its most peaceful.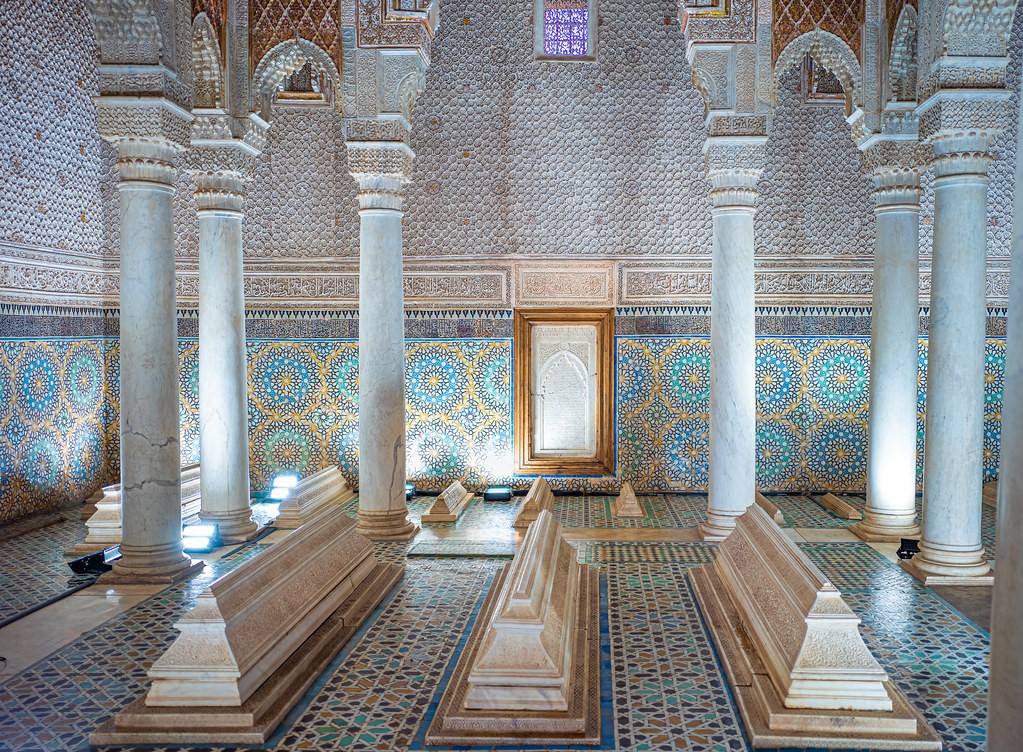 Move on to al-Mansour's once magnificent Badi Palace (Ksibat Nhass), now a monumental ruin with vast reflecting pools and impressive views of the city from its ramparts. Don't scrimp on your ticket here as the additional MAD 10 (80p) to view the Koutoubia's original minbar (prayer pulpit) is worth every cent.From here it's a short hop to the beautiful Bahia Palace (Avenue Imam El Ghazali), a vast, gorgeously decorated palace once owned by slave-turned-vizier Abu 'Bou' Ahmed. Allow plenty of time to enjoy the different spaces, the most impressive of which are the quarters of Bou Ahmed's favourite concubine, Lalla Zineb. The Badi Palace is a monumental ruin with vast reflecting pools and impressive views of the city and towards the Atlas Mountains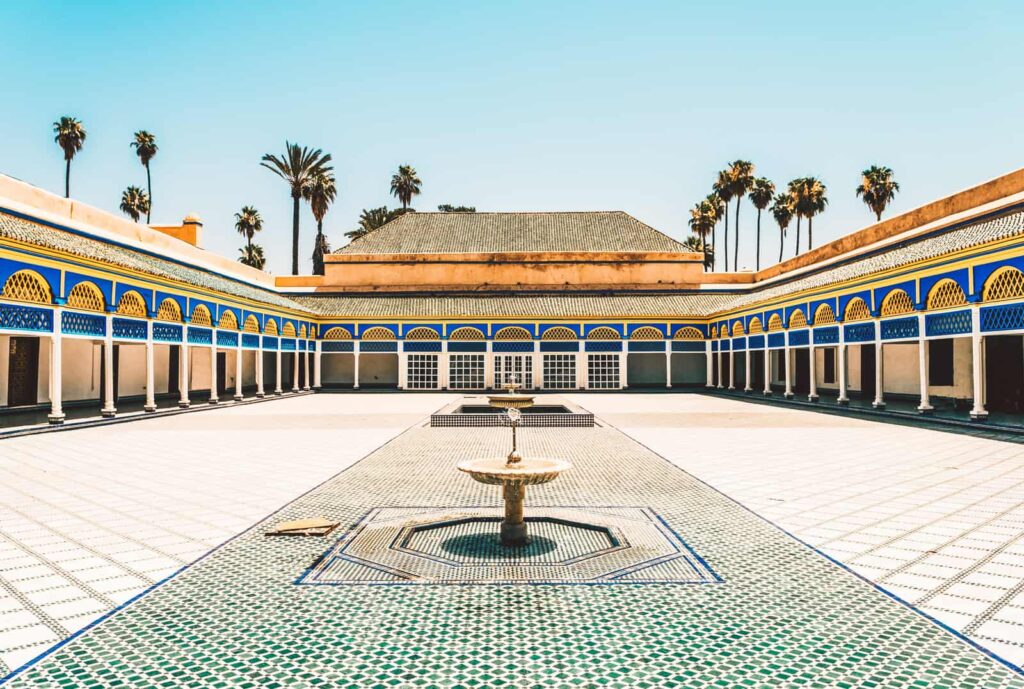 Afternoon:  Lunch on exotic salads and vegetarian tarts in the shady patio of La Famille (34 Derb Jdid; 00 212 524 385 295), before heading northwest across the Djemaa el-Fna and picking up Rue Mouassine, which is lined with some of the souk's chicest shops. Just past the landmark mosque and Mouassine fountain, you can slip into Le Jardin Secret (121 Rue Mouassine; 00 212 524 390 040), one of the Medina's largest and most important gardens set out in the shell of a 19th-century palace. Divided into two distinct areas, the gardens are a triumph of Islamic design. The first area faithfully recreates a Persian 'paradise' garden, featuring tufty grasses and traditional fruit trees such as olive, pomegranate, fig and date; while the second, smaller garden nurtures exotic plants in a fourfold layout. Just as interesting is the elaborate irrigation system that weaves through the gardens, part of an ancient network that once distributed water from artesian wells (fed by the ring of mountains around Marrakech) throughout the city.
Late: Dining in the Medina is an adventure wherever you choose to eat. Like a magnet, everyone is drawn to the Djemaa el-Fna where smoke rises from hundreds of barbecues and storytellers, Gnawa musicians, acrobats and fortune-tellers attract throngs of Marrakshi's out for their evening constitutional. You can eat here on long trestle tables, but regardless you should come for the show. Carry a handful of coins so you can tip the performers (a few dirhams is appropriate). If you do decide to eat in the square, stick to your own bottled water and use your bread instead of rinsed utensils.
Afterwards, you can head to the famous Pâtisserie des Princes (32 Rue Bab Agnaou) for ice cream and sweet treats. For a more refined Moroccan dining experience, hunt down Le Trou au Mur (39 Derb el Farnatchi; 00 212 524 384 900), where you can sample traditional dishes in a beautifully renovated traditional house; or, for something more contemporary, head to the rooftop restaurant of Riad El Fenn (2 Derb Moulay Abdullah Ben Hezzian; 00 212 524 441 210), where Fouad Ajili serves an inventive modern Moroccan menu.
Day two
Morning: When fashion icon Yves St Laurent first arrived in Marrakech in 1964 he was overwhelmed by the city's vivacity. The experience changed the way he saw the world and he ditched his previously rigorous monochromatic look in favor of an outrageously bold palette of Fauvist colors. It comes as no surprise then that Jardin Majorelle (Rue Yves St Laurent; 00 212 524 313 047), the home where he lived with his partner Pierre Bergé, is painted an intense shade of ultramarine blue. Arrive early to enjoy the extraordinary desert garden filled with giant cacti, palms and bamboo groves.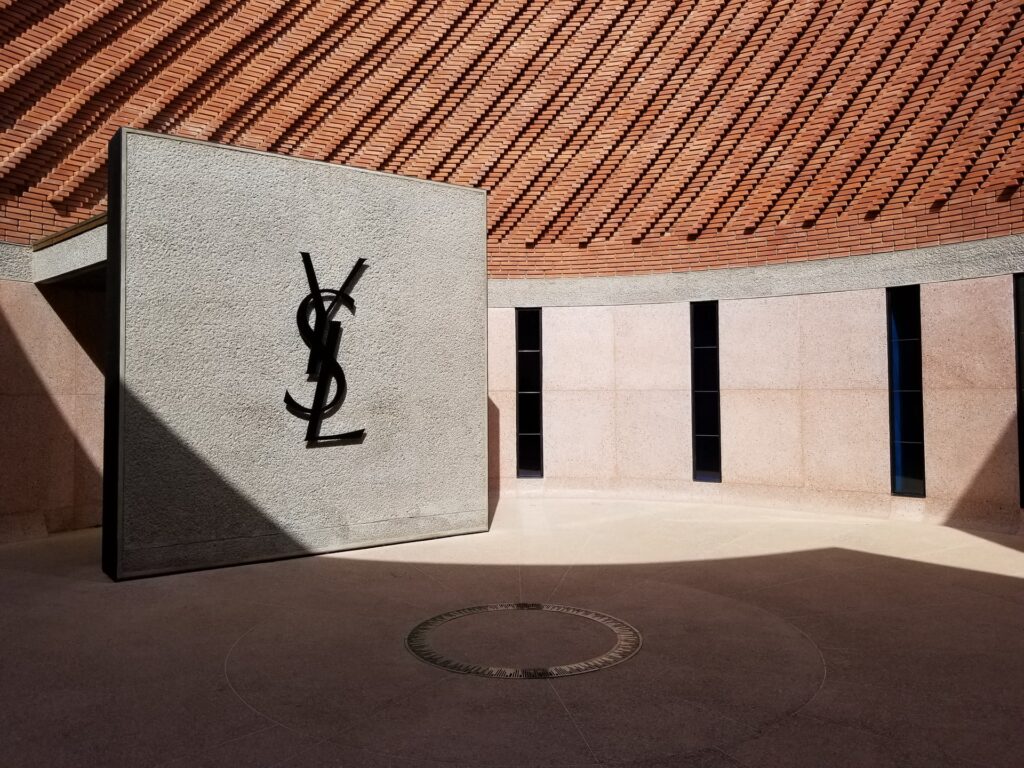 Then tour the gorgeously curated Berber Museum, which is filled with St Laurent's personal collection of indigenous jewellery and fashion from which he drew much of his subsequent inspiration. Stay in the garden and enjoy a salad at Café Majorelle or, if its busy, pop across the road to 16 Kawa (00 212 524 310 016) for a plate of crunchy briouat (pastried stuffed with spinach and cheese, or meat) and a smoothie.
Afternoon: Continue following St Laurent's development in the Musée Yves St Laurent (00 212 524 298 686) next door. Christophe Martin's stunning choreography presents the clothes in a dramatic all-black hall where dresses stand like paintings and echo the outrageous silhouettes and embellishments of the garments you've just seen in the Berber Museum. Suddenly, you can see that the strikingly bold jewelery, shapely clothes and extravagant accessories do just as well at New York dinner parties as Berber weddings.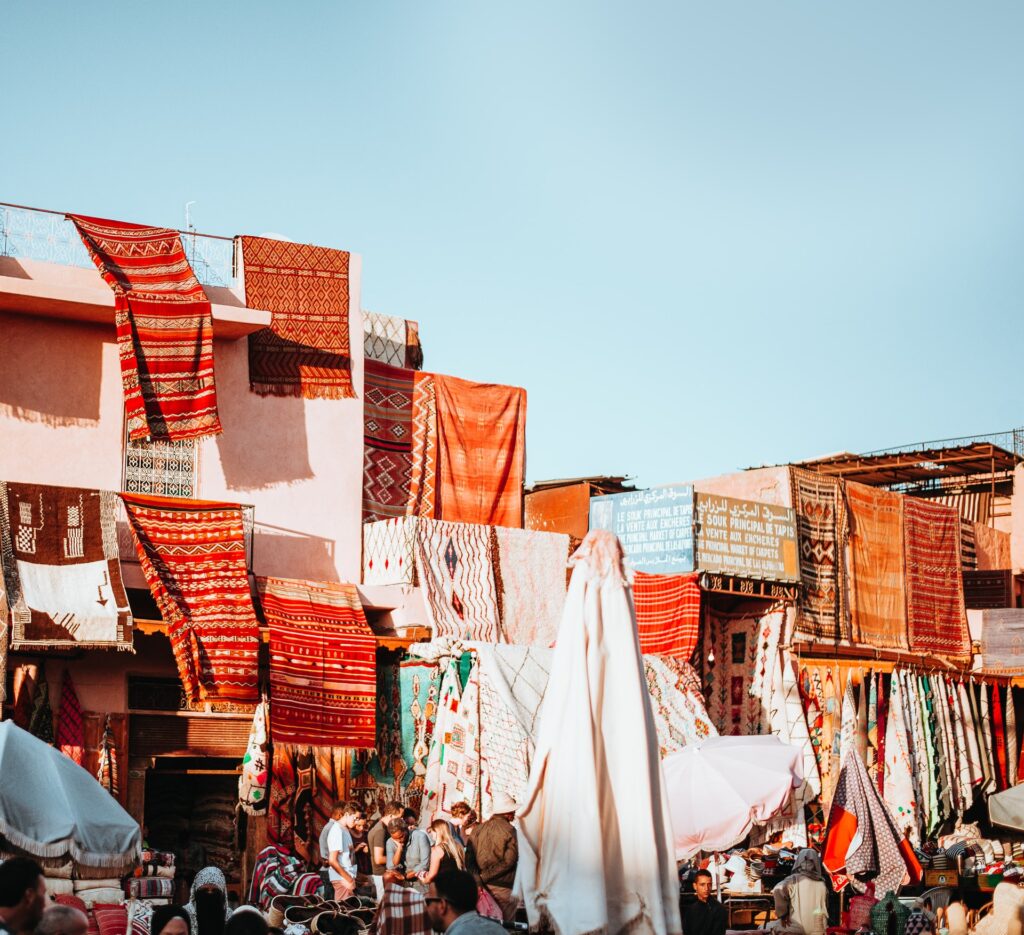 After such inspiration, it only makes sense to go shopping in Gueliz, where young Moroccan designers like Artsi Ifrach (96 Rue Mohammed el Beqal; 00 212 524 430 124) are now attracting international attention. Other makers to look out for are Lalla (35 Boulevard el Mansour Eddahbi; 00 212 524 447 223) who does a chic line of slouchy bags, Atika (34 Rue de la Liberté; 00 524 439 576) for beautifully made leather shoes in rainbow colours, and Moor (Rue des Vieux Marrakchis) for chic homewares.
Late: As the sun sets follow the crowd to the terrace of the Grand Café de la Poste (Avenue Imam Malik; 00 212 524 433 038) for a glass of rosé on its chic, secluded terrace or beneath the slow-moving fans in its beautiful bistro-style interior.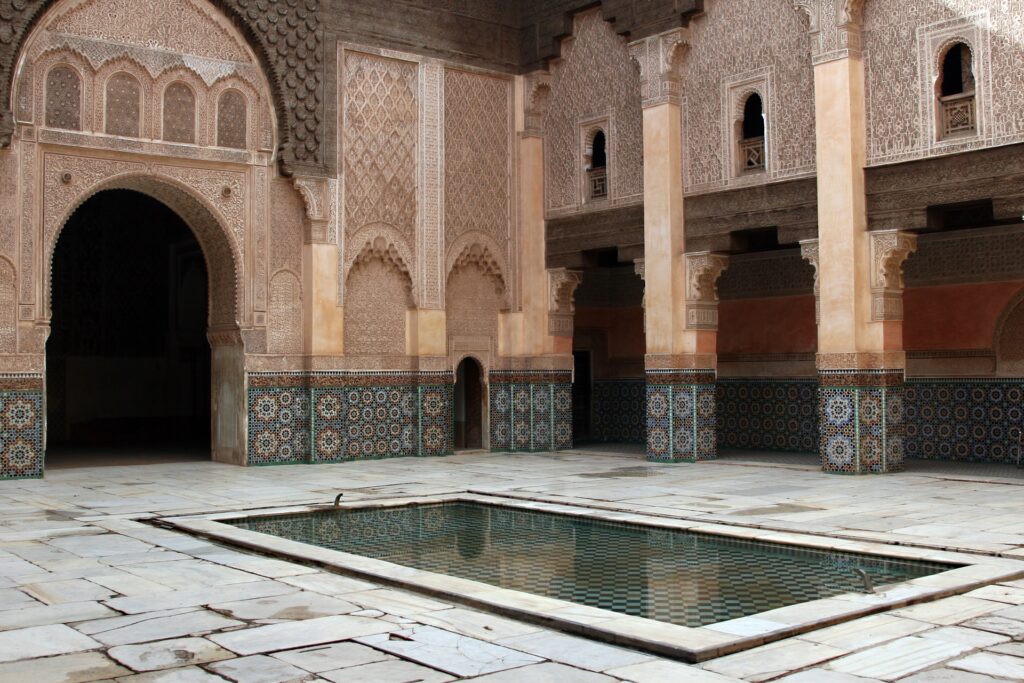 Then push on to Chez Mado (22 Rue Moulay Ali; 00 212 524 421 494) for Oualidia oysters and towering seafood platters, or Al Fassia (55 Boulevard Mohamed Zerktouni; 00 212 524 434 060) for a high-brow Fez-style feast in one of Marrakech's most highly respected Moroccan restaurants. Afterwards, pop in to Le 68 (68 Rue de la Liberté; 00 212 524 449 742) for late-night drinks and an arty intellectual vibe.
Flights to Marrakesh