Sicily 

Travel Guide
Introduction
Sicily Travel Guide – Picture a tropical island – gentle waves spilling onto sandy shores, sunshine gleaming off a sparkling sea and volcanoes spurting steam in the distance. Add to that image: lush, rolling hills, topped by ruins from antiquity like those at the Valley of the Kings near Luxor, Egypt. And then you need to imagine the rich tastes of fresh seafood, decadent pastas and desserts. This is Sicily – a balmy, laid-back refuge with an Italian mentality, especially seen in its cuisine and zeal for life. You'll find this large, triangular island, which happens to be the largest island in the Mediterranean, at the toe of Italy's boot, surrounded by the Tyrrhenian, Mediterranean and Ionian seas.
How to Get To Sicily?
By Plane : Sicily is served by four airports: Palermo Falcone-Borsellino Airport (tel. 091-7020111; www.gesap.it) at Punta Raisi 31km (19 miles) west of the city, Trapani Vincenzo Florio Airport (tel. 0923-842502; www.airgest.it) at Birgi 15kms (9 miles) from Trapani, Catania Vincenzo Bellini Airport (tel. 095-7239111; www.aeroporto.catania.it), the third largest airport in Italy, at Fontanarossa 7km (4 1/2 miles) from the city center. The newest airport is in the town of Comiso in the region of Ragusa, Comiso  Aeroporto (www.aeroportodicomiso.eu/en).
By Boat & Ferry : As an island, Sicily is well linked via sea to mainland Italy. The major connection is from Villa San Giovanni in Calabria, the last mainland city approached before the ferry trip over to Messina, in eastern Sicily. Ferries (traghetti) depart frequently from Villa San Giovanni, making the trip of 12km (7 1/2 miles) across the straits. If you don't have a car, you can also make the crossing by hydrofoil (aliscafo) from Reggio Calabria, which is faster but does not allow passengers to stand outside during the trip. If you have time to spare, take the ferry, and watch the crossing from the deck.
Travel Tips:

Avoid a summer trip While a summer visit is ideal for sunbathing, it can be less than ideal if you're hoping to explore ancient archaeological sites that offer little to no shade.
Eat your heart out Sicily is full of local specialties like arancini (stuffed rice balls) and fresh seafood.
Bring walking shoes Some of Sicily's top attractions, including the Valley of the Temples and Mount Etna, will require a lot of walking, and thus, a quality pair of shoes.
Getting Around Sicily
The best way to get around Sicily is by train, as it allows you to quickly and affordably get from the island's various cities while still enjoying the scenery. Be sure to validate your ticket before boarding to avoid fines. Buses are another affordable transportation method and may be your next best option. They're less expensive than trains; however, they don't get you there as quickly. You can purchase bus tickets in many places, including newsstands, bars and tabacchi shops, but be sure to bring cash to pay for your ticket.
Escorted Package Tours of Sicily
Best Attractions in Sicily
Aeolian Islands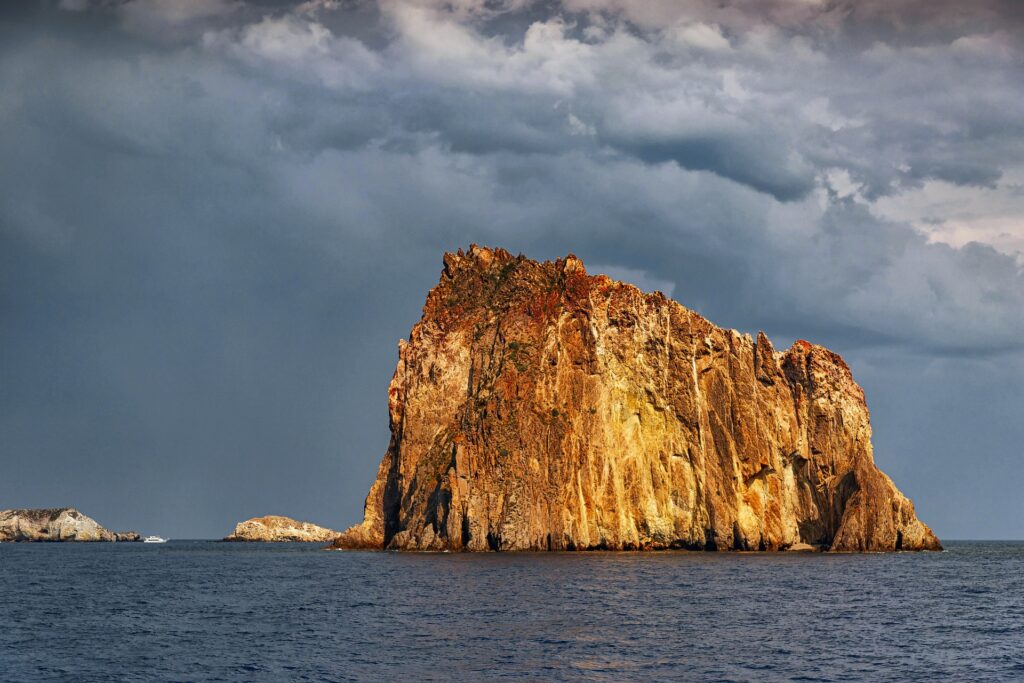 There are many lovely islands off the coast of Sicily, and the hardest part may be choosing which ones to see. A popular choice is the Aeolian Islands, located near Messina and composed of seven main islands, which were created by active volcanoes. There you will find incredible sites like a Greek acropolis, a Norman cathedral, beautiful beaches, volcanic vents and even lava running into the sea. Past visitors recommended visiting Stromboli volcano (seeing it at night when erupting is extra spectacular), the Museo Archeologico Regionale Eoliano on Lipari, the Scalata al Cratere on Isola Vulcano and Chiesa Vecchia di Quattropani on Lipari, as well. To reach the islands, you can take a hydrofoil, ferry or helicopter from various cities in Sicily. By hydrofoil, you can reach the islands in as little as 40 minutes. The islands do have some hotels and resorts for overnight stays (Lipari is one of the most popular), but they also make for a great daytrip.
Mount Etna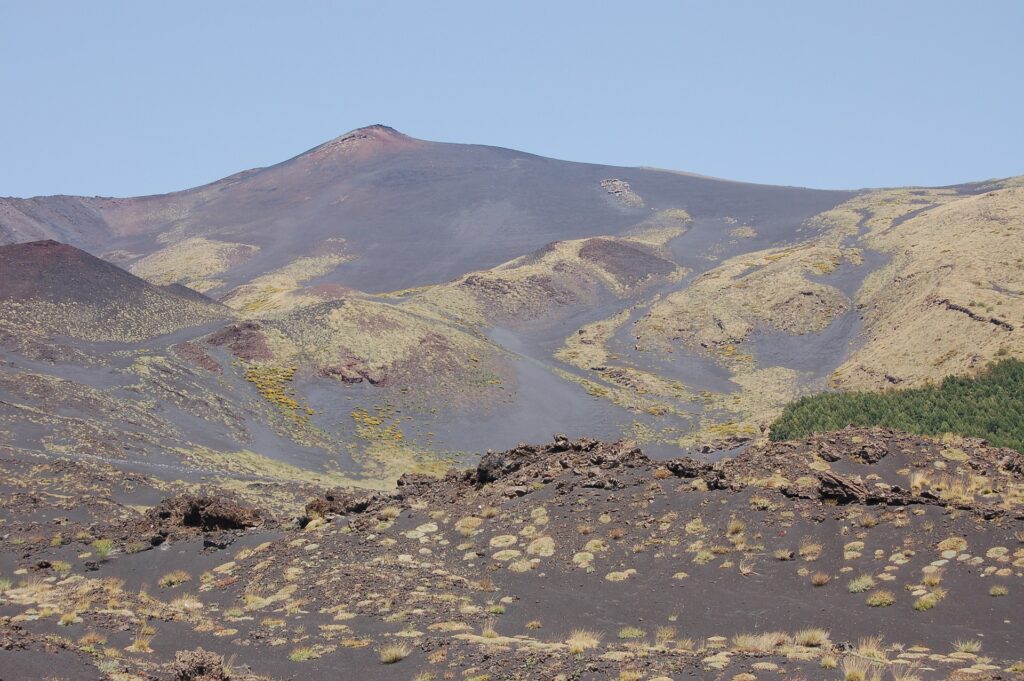 Located on the island's east coast, Mount Etna is perhaps Sicily's best-known geological feature encompassing nearly 48,000 acres within Etna National Park. A UNESCO World Heritage Site and the highest volcano in Europe known for its frequent activity (it's erupted as recently as spring 2019), Mount Etna hosts hikers in the summer months and skiers during the winter. It is a great stop for nature lovers. In addition to the volcano itself, there are several interesting geological features like caves, grottos and even a glacier. The Etna Park Visitor Center offers naturalist-guided tours that depart from the center.
Greek Theatre of Taormina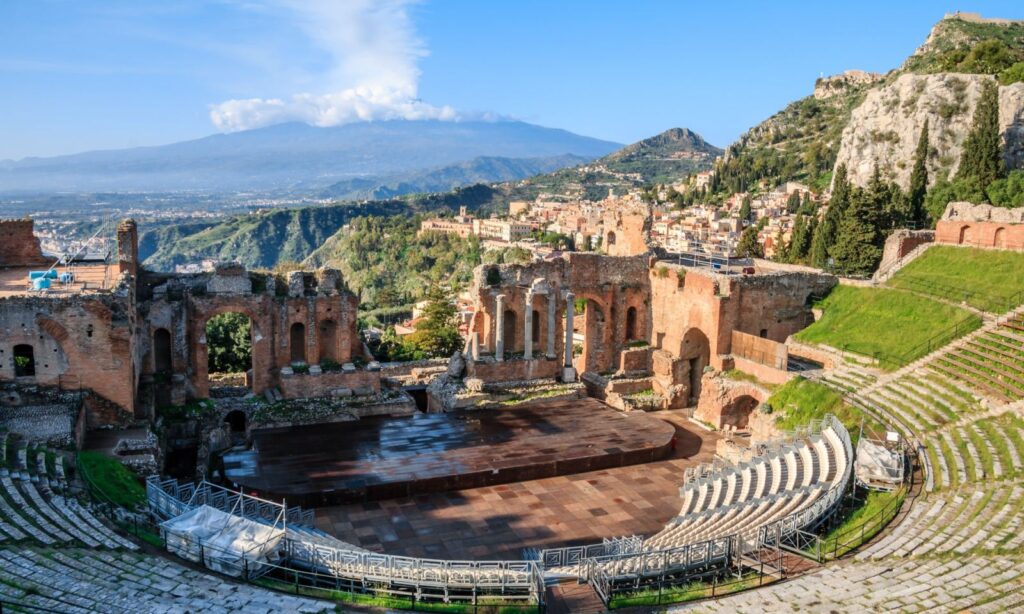 History buffs will want to visit this ancient Greek theater, overlooking the Ionian Sea. Built in the third century B.C., the theater could hold thousands of people attending ancient Greek performances and later gladiatorial games. The structure is built out of rock and is designed so attendees could hear well from any part of the theater. Today, it hosts modern concerts and events.  The theater is located on Sicily's northeastern coast. Tickets cost 10 euros (or about $11) to visit the site, which is open varying hours depending on the time of year, but typically from 9 a.m. to 4 or 6:30 p.m. daily. For more information, visit the official website.
Selinunte Archaeological Park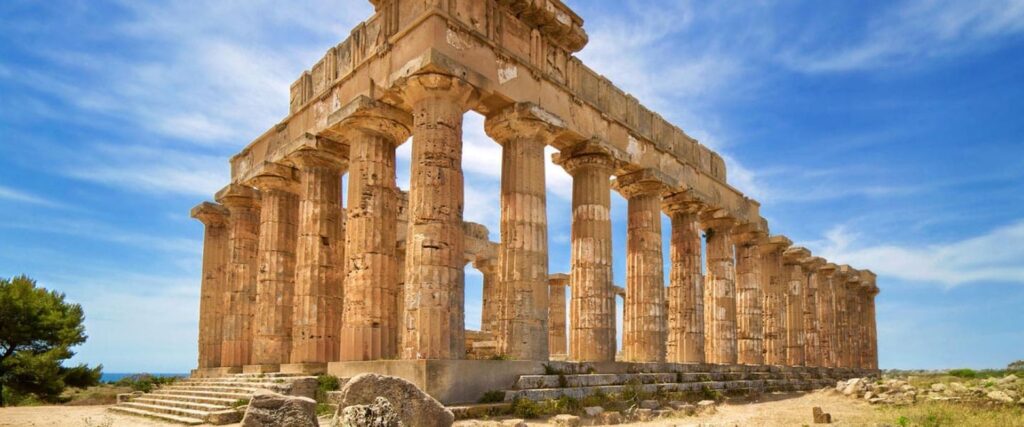 The largest archeological area in Europe at about 670 acres, this site was once home to one of the largest Greek colonies on the island, dating to 600 B.C. Today, visitors can tour the ruins of seven Doric temples, as well as the necropolis and caves. There are different hiking routes to see the various structures that range from about a quarter-mile to about 3 ½ miles. Recent visitors said the site does require a lot of walking on uneven ground, and they recommended hiring a guide to fully explain the history of the area.
Monreale Cathedral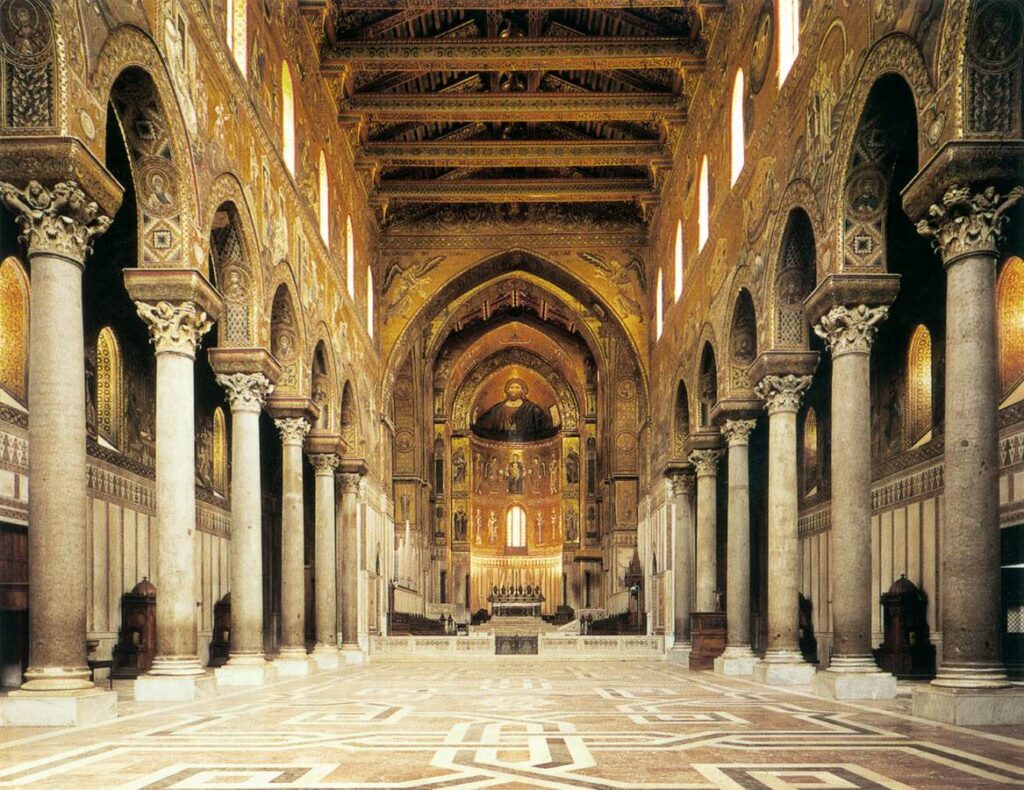 Monreale's cathedral, built by William II, dates to 1172 and is now part of a larger UNESCO World Heritage Site that also encompasses the Royal Palace and the Palermo Cathedral, among other sites. Designed by Islamic architects, the cathedral's walls are filled with gilded mosaics depicting Old Testament events, the life of Jesus Christ and the life of the apostles. There's also a Benedictine cloister on site with a courtyard and garden built during the same time period.
Villa Romana del Casale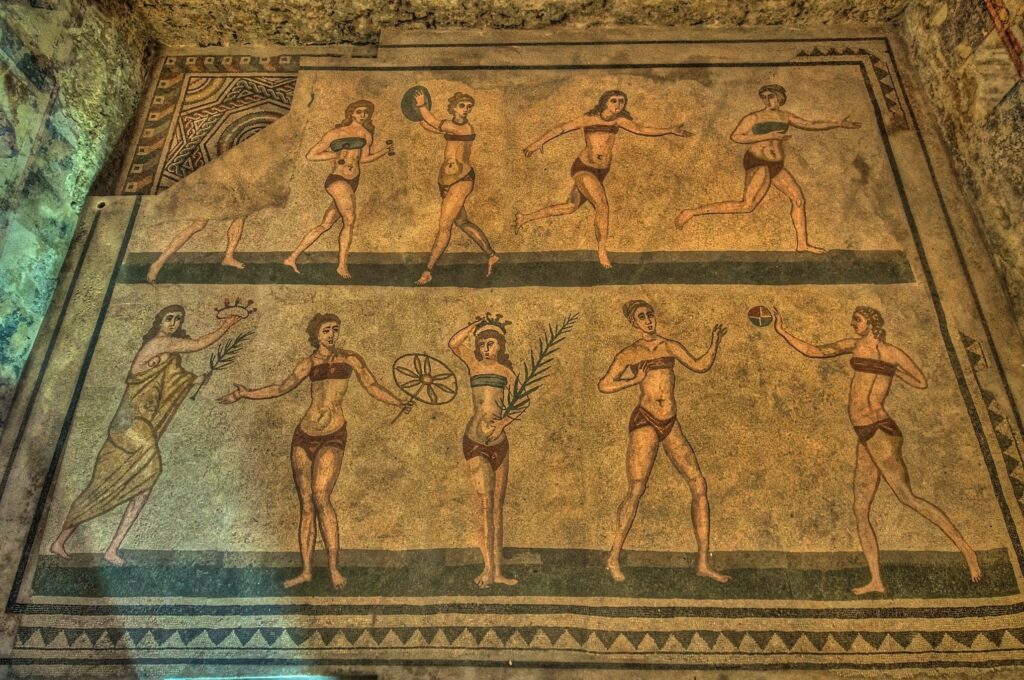 Stroll through the villa of a wealthy Roman family filled with well-preserved mosaics on both the floor and walls. The UNESCO World Heritage Site, which dates back to the fourth century, also contains columns, capitals, statues, coins and the remains of thermal baths. The villa is located in the center of Sicily with Enna to its north as the closest major city (24 miles away). It is open daily from 9 a.m. to 11:30 p.m. from the end of March to the end of October and from 9 a.m. to 5 p.m. from the end of October through the end of March. The last entry to the villa is an hour before closing time. Tickets cost 10 euros (about $11) per person. For more information, visit the official website.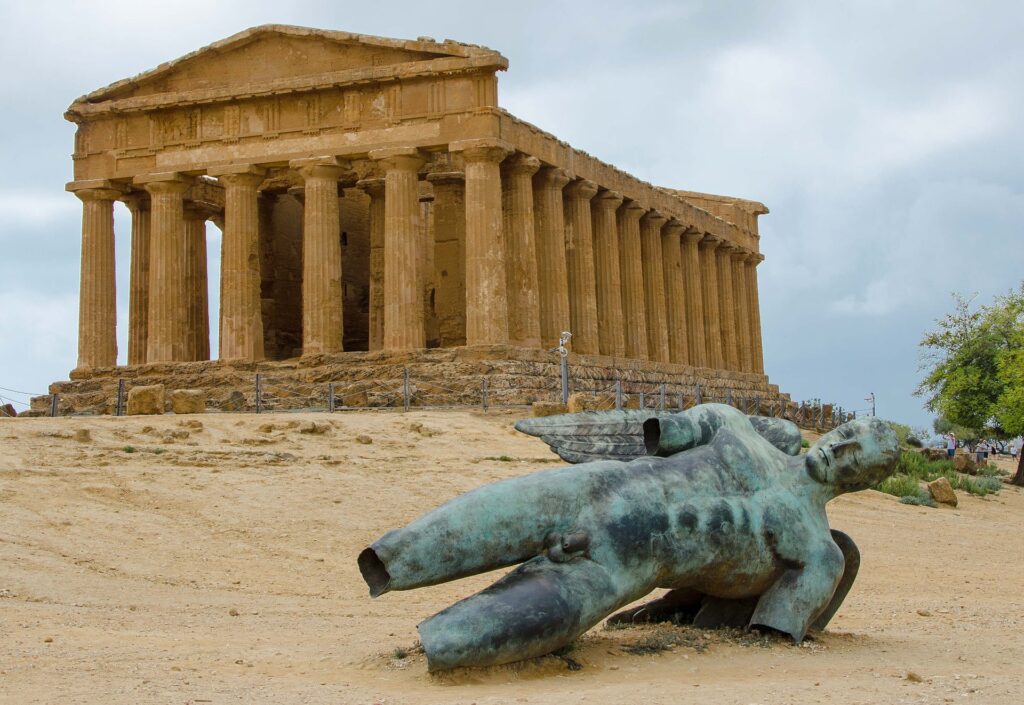 Located in Agrigento in southwest Sicily, this more than 2,000-acre archeological site dates back to the sixth century B.C. and includes the remains of numerous Greek temples. A highlight is the Temple of Concordia, which is known as one of the greatest remaining Doric temples (along with the Parthenon in Athens) and which was later converted to a Christian church. Other highlights include the remains of aqueducts, mosaic floors and a tomb. The site is open daily from 8:30 a.m. to 8 p.m., and tickets start at 12 euros (about $13.40) per person. Admission is free the first Sunday of every month. Audio guides are available for an additional 5 euros (around $5.50). A bookshop, restrooms and a cafe are located on-site, though reviewers say the cafe prices are expensive. You can reach the area by car, train or bus. Many visitors choose to make a daytrip from Palermo to Agrigento; it's about a two-hour drive or a two-hour train ride. For more information, visit the official website.
Royal Palace and Palatine Chapel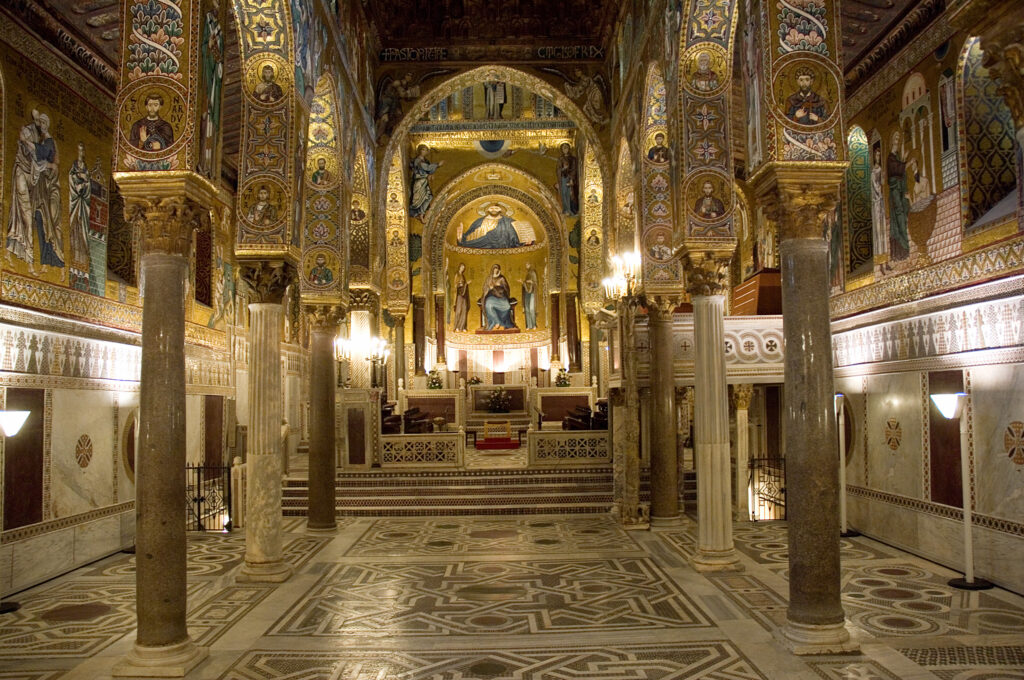 Completed in 1143, this chapel is part of the Royal Palace complex in Palermo and was once described by the French author Guy de Maupassant as "the finest religious jewel ever dreamed up by the human mind." It is a mix of various styles, including European, Sicilian, Byzantine and Arabic, and features Byzantine mosaics and an Islamic-style wooden stalactite ceiling. You can also tour the Royal Apartments area, though they are closed Tuesday through Thursday, as well as the Royal Gardens. The palace also features rotating exhibits. Tickets to see the palace and chapel cost 12 euros (about $13.40), and it is open from Monday through Saturday from 8:15 a.m. to 5:40 p.m. Add a tour of the garden for another 2 euros (around $2.16). For more information, visit the official website.
Teatro Massimo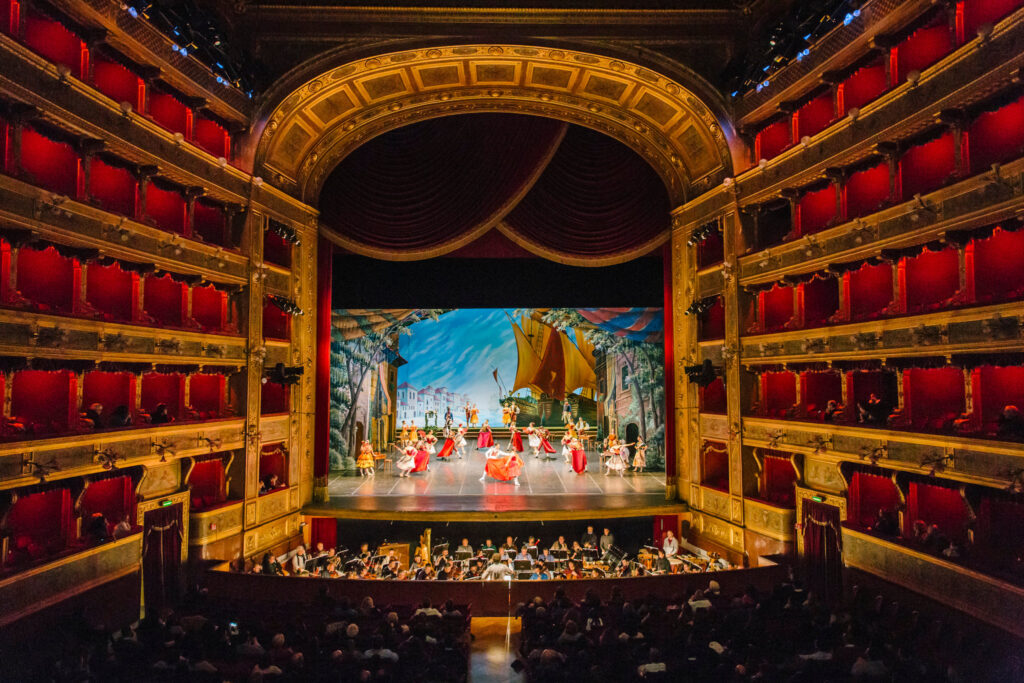 The largest theater in Italy, Teatro Massimo is located in Palermo and opened in 1897. The theater, which is known for its exceptional acoustics (and its appearance in "The Godfather: Part III"), hosts opera, ballet and music performances throughout the year. Ticket prices for guided tours start at 8 euros (about $9) for adults and 5 euros (about $5.60) for those ages 6 to 25. Entrance is free for visitors 6 and younger. Thirty-minute tours are available daily from 9:30 a.m. to 6 p.m. Tours that include a visit to the theater's rooftop and backstage area are also available. You'll find the theater in Palermo's Piazza Verdi. For more information, visit the theater's website.
Mondello Beach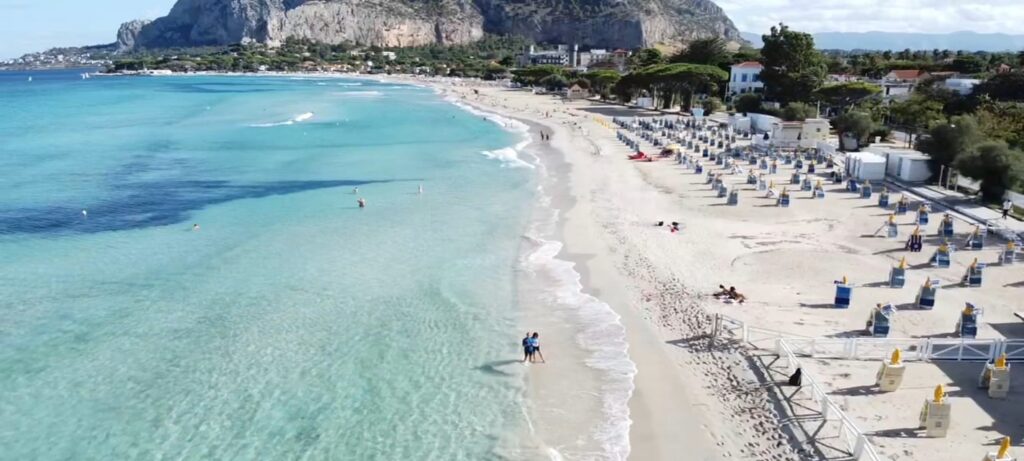 When in Sicily, you must visit some of its beautiful beaches, including Mondello, a popular beach in Palermo. Palm trees line this beach with pale sand and emerald waters. Dotting the beach are art nouveau villas and colorful cabins with an old fishing village filled with brightly-colored boats just around the corner.  Past travelers highly recommended a visit to this beach thanks to its clear waters and advise that you can rent chairs and an umbrella for a day in the sun. They also say it's easy to reach from Palermo via bus, although several reviewers warn of inconsistent bus frequency and a crowded ride in the summer. If you're willing to pay for the convenience, travelers suggest you take a taxi from Palermo to the beach. Part of the beach is free to visit (though according to reviewers, it's a very small section). For more space and access to amenities, you'll have to fork over some euros.
Zingaro Reserve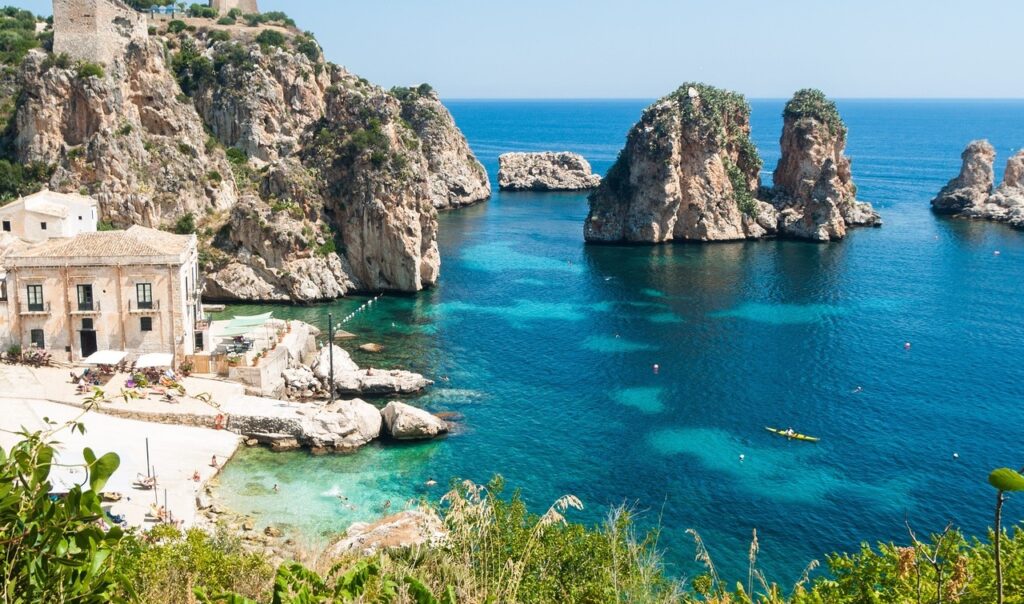 Outdoor enthusiasts won't want to miss the Zingaro Reserve. Stretching for more than 4 miles along the Gulf of Castellammare on Sicily's northwestern tip, the reserve has been left largely untouched by human hands since it was established in 1981. The reserve offers spectacular ocean views, many lovely bays, small beaches and plentiful hiking among abundant flora and fauna. The Zingaro Reserve is located between San Vito Lo Capo and Scopello. There are two entrances, one located at the northern end and one located at the southern end. It is most easily reached by car. The reserve is open from 8 a.m. to 4 p.m. daily and entrance cost 5 euros (about $5.60) for adults. For more information, visit the official website.
Palermo Cathedral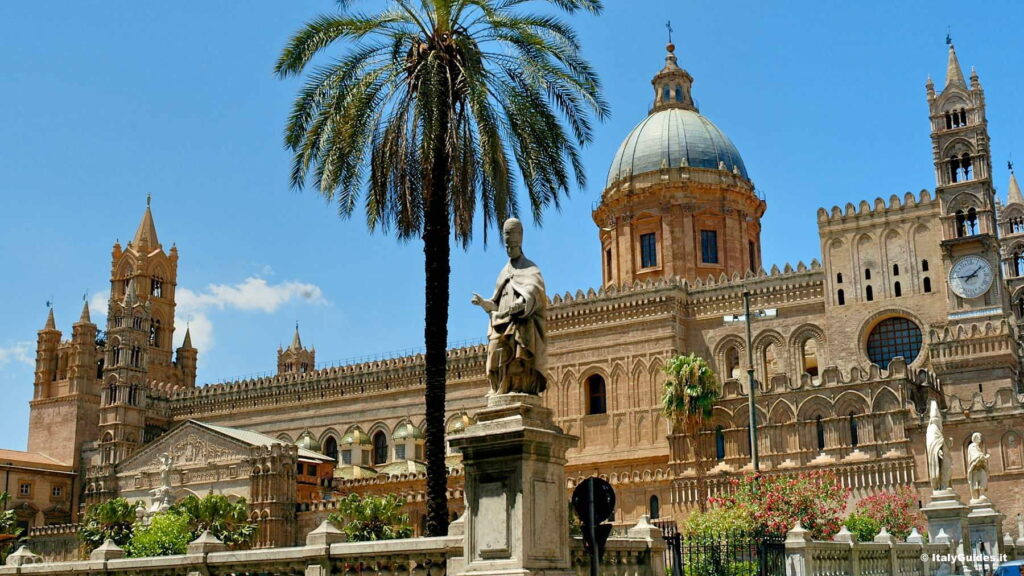 Built by the Normans beginning 1184, the Palermo Cathedral is a must-see for the many architectural styles incorporated into its façade. Altered throughout the centuries since its inception, the cathedral demonstrates Catalan Gothic architecture and features hints at its past life. The site the cathedral now occupies once housed a mosque (among other religious edifices), and you'll see an inscription from the Quran on one of the cathedral's columns. Inside, you will find a crypt, the crown of Constance of Aragon and the tombs of several royal figures. It's free to visit the cathedral, though a ticket is required to access the tomb, crypt and roof areas. Prices depend on which areas you want to visit and start at 1.50 euros (about $1.70). The cathedral is open from 7 a.m. to 7 p.m. Monday through Saturday and 8 a.m. to 7 p.m. on Sunday. Access to the crypt, roof and tombs is available Monday through Saturday from 9 a.m. to 5:30 p.m. and Sunday from 10 a.m. to 6 p.m. These areas of the cathedral operate on shortened winter hours. For more information, visit the cathedral's website (in Italian).
Castello Maniace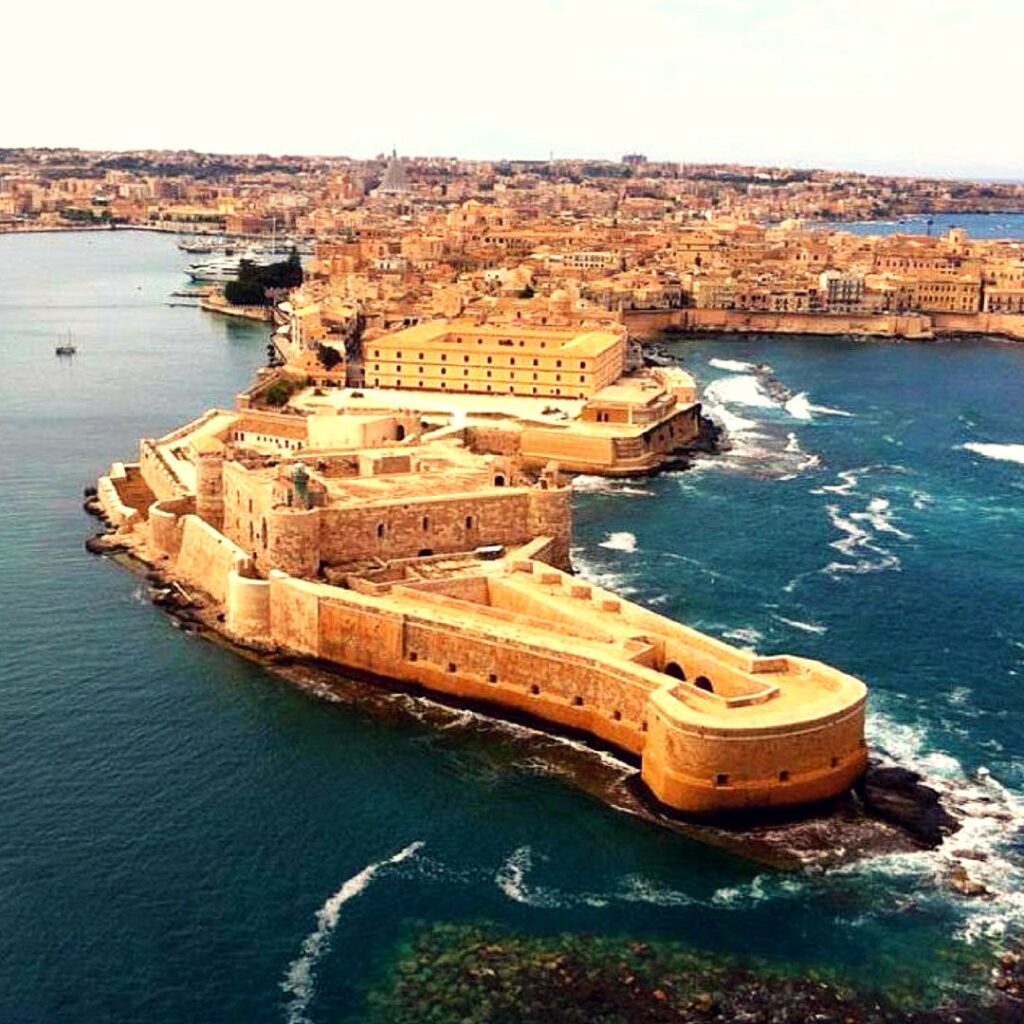 The Castello Maniace is a citadel and castle in Syracuse, Sicily, southern Italy. It is situated at the far point of the Ortygia island promontory, where it was constructed between 1232 and 1240 by the Emperor Frederick II. It bears the name of George Maniakes, the Byzantine general who besieged and took the city in 1038. Originally, one could only enter the castle over a bridge spanning a moat (now filled). A feature of the castle is the decorated portal. Today the castle is open to public and is a local tourist attraction in Syracuse.
Buy Attraction Tickets