Granada Less Than 48 Hours
Introduction
Granada Less Than 48 Hours- Drawn by the allure of the Alhambra, many visitors head to Granada unsure what to expect. What they find is a gritty, compelling city where serene Islamic architecture and Arab-flavoured street life go hand in hand with monumental churches, old-school tapas bars and counterculture graffiti art. The city, sprawled at the foot of the Sierra Nevada, was the last stronghold of the Spanish Moors and their legacy lies all around: it's in the horseshoe arches, the spicy aromas emanating from street stalls, the teterías (teahouses) of the Albayzín, the historic Arab quarter.  Most spectacularly, of course, it's in the Alhambra, an astonishing palace complex whose Islamic decor and landscaped gardens are without peer in Europe.  There's also an energy to Granada's streets, packed as they are with bars, student dives, bohemian cafes and intimate flamenco clubs, and it's this as much as the more traditional sights that leaves a lasting impression.
How to Get to Granada?
By Air: If you want to fly to Granada airport, you need to catch an international flight to Barcelona or Madrid and then a domestic flight to Granada. There are many more flights to Málaga so many people fly to Málaga and then catch a bus or hire a car Málaga is the closest international airport to Granada and there are many direct international flights. Málaga airport is 125km from Granada and it takes about 90 minutes to drive from Malaga to Granada. From there, it is best to use public transport to get to Granada. If you are coming from Madrid or Barcelona, Granada airport is 12km from the city center. On arrival it is best to get a taxi from the airport so that you can get to your accommodation without walking through the streets with your luggage. The taxi costs about 30 euros.
By Train: There are high speed rail link is now open. The train station is fairly central and is in Avenida de Andaluces off Avenida de la constitución. The phone number is  958 27 272.
By Bus: There are many buses each day to and from other large Spanish cities. The bus station is slightly out of town and you will need to get a taxi or a bus to get to the center
Granada Short Break Package
Let's Start our 48-Hour Challenge
Day 1
Morning:  With two days in Granada, start your first day with a traditional Spanish breakfast of eggs, pan con tomate y jamón, fresh orange juice, coffee and pastries from Cafetería Lisboa (Calle Reyes Católicos, 67). Granada is a city full of history – the area has been populated since at least around 5500 BC, after all – So explore between Plaza Nueva , the city's elegant churches, old souk and Islamic architecture and walk until the Plaza San Nicolás which has a spectacular view of the Alhambra.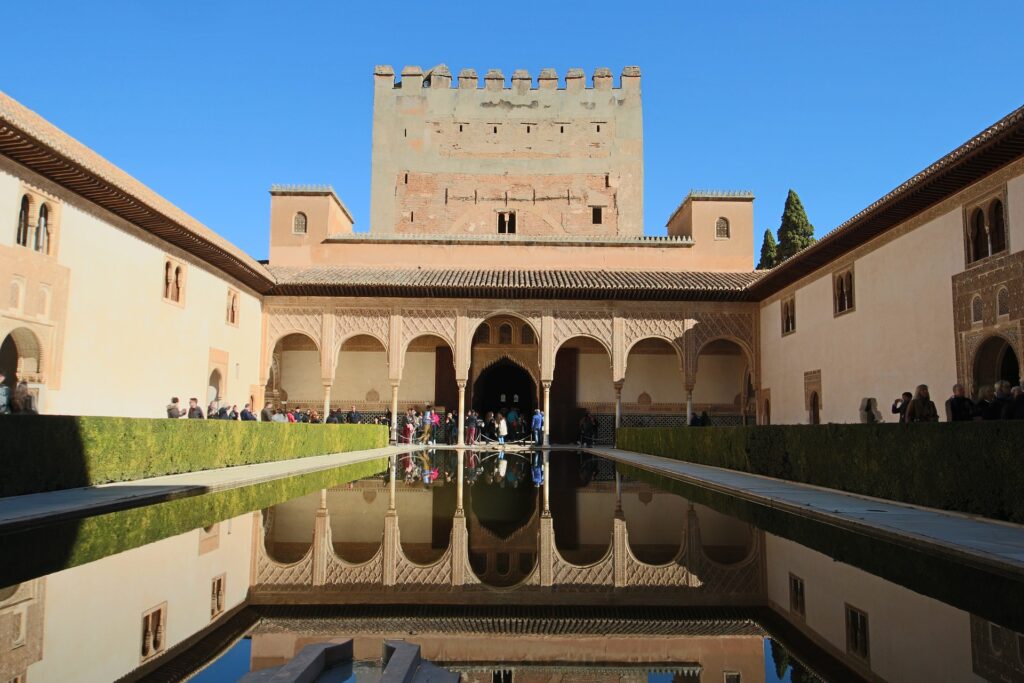 Afternoon: In the afternoon, spend some time ducking down the streets of the Albaicín, Granada's charming cobblestoned neighborhood. Stop by the Monasterio Santa Isabel la Real to buy some sweets from the nuns. You'll never see them, though, as these cloistered nuns avoid direct contact with the public. Ring the buzzer and give your order, then place your money on the lazy Susan that's in the wall and it will turn around with your purchase on it. It's one of the most unique things to see in Granada! Walk further to Sacromonte (which means Sacred Mount) to explore this unique barrio. The area is dotted with cave homes, many of which are rented out for accommodation, or serve as shops or bars. Stop by one of the cave bars for an afternoon drink. Don't miss the Sacromonte Abbey which overlooks the valley. This area is a little further out, but should definitely be included on any Granada itinerary.
Satisfy your afternoon sugar craving with a plate of Spanish churros dipped into a mug of hot chocolate. The best churros in Granada can be devoured at: Alhambra Cafetería (Plaza Bib-Rambla, 27), Café Fútbol (Plaza de Mariana Pineda, 6), Torres Bermejas (Plaza Nueva, 6)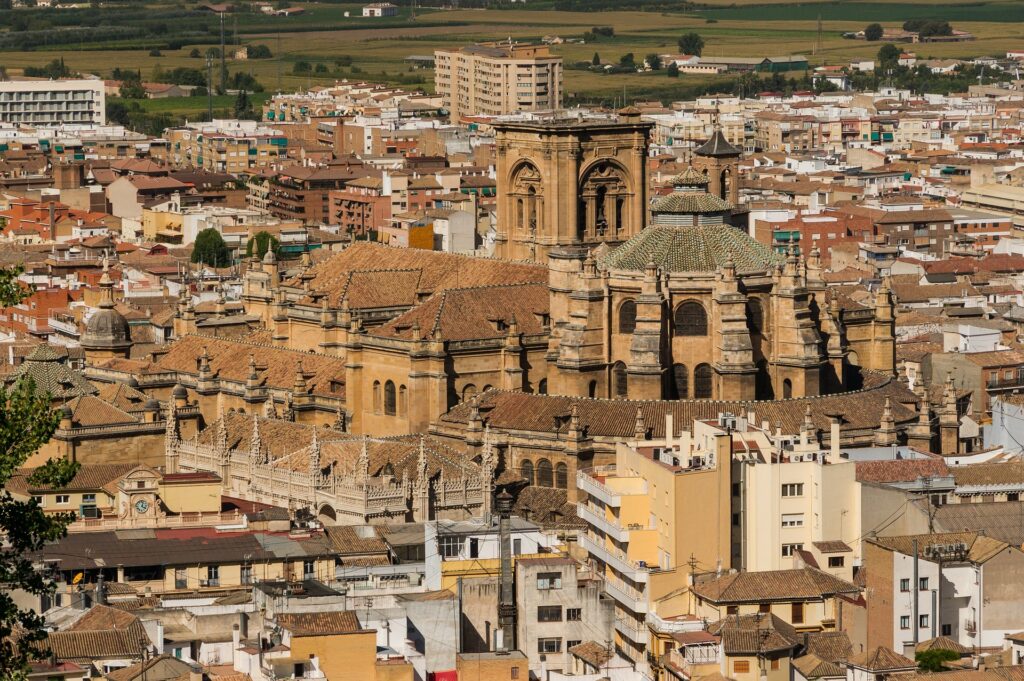 Evening: Exploring the food scene is one of the best things to do in Granada. Explore the bars and the best tapas in Granada, or discover Granada's locally made delicacies with Spain Food Los Jardines de Zoraya is conveniently situated in the historic Albaicin quarter of Granada, not far from the Mirador de San Nicolas. Surrounded by narrow streets and quaint houses on the hills facing the Alhambra, the area in itself makes a visit to this restaurant a must. Their standard 'Jardines de Zoray' menu includes a flamenco show, of which there are two nightly, as well as a choice of a three course meal, from cured meats with goats cheese, to flavorful grilled Iberian pork, and a mojito sorbet for dessert.
Not exactly unique to Granada, but nevertheless a must-visit, Cien Montaditos highlights Spain's expertise in 'bocadillos', typical sandwiches much loved by the Spanish. With a wide range of sandwich fillings, from Spanish tortilla to chorizo sausage, and even dessert options with fillings like cookies and cream, these bite size rolls make it a guilt-free experience to order more than your standard number of sandwiches in an attempt to sample a range from the extensive menu.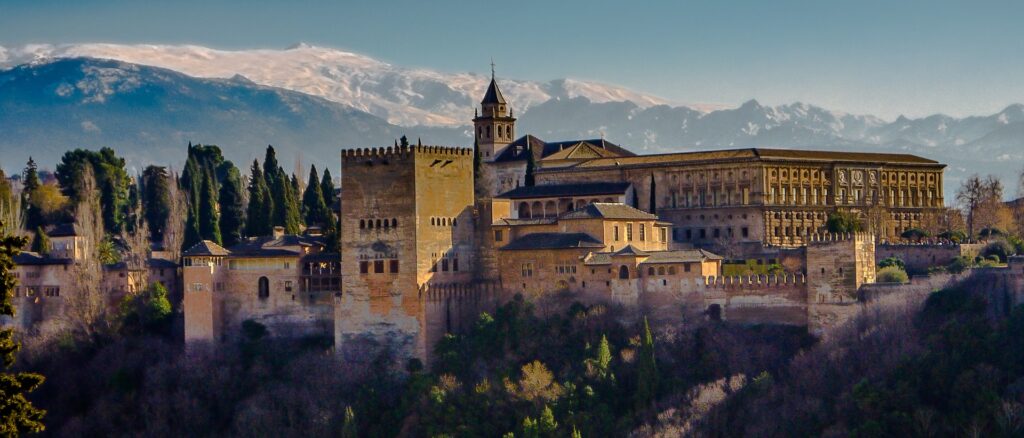 Day 2 
Morning: The Alhambra is Granada's biggest draw card and cannot be missed. You MUST book your tickets for the Alhambra well in advance –no kidding  2-4 months in advance. Before you head up to the Alhambra, begin with a good breakfast – you've got a lot of walking ahead of you so you'll need sustenance. Grab a seat on the terrace at Café 4 Gatos (Placeta Cruz Verde, 6). To get to the Alhambra, take the C3 bus and get off at the Puerta de la Justícia. Alternatively, you can walk up to the Alhambra through the forest. Start at Plaza Nueva and follow the street signs. It's a fairly steep walk. Taxis also regularly go up and back.
Afternoon: Depart the Alhambra via the Puerta del Arrabal and make your way back to town along the Rio Darro and the Paseo de los Tristes. There's a great plaza along the way with many options for lunch. Grab dessert at one of the many ice cream shops – there's seemingly one on every corner doling out creamy scoops of helado. In the afternoon, revive those weary legs with a visit to Hammam Al Ándalus (Calle Santa Ana, 16). Indulge in one of the many luxurious services on offer (you can book online) before dipping into the warm waters of the baths. Bathing suit required.
For the best sunset view in Granada, you'll find a lively vibe at the Mirador de San Nicolás. You can even eat dinner as you watch the sun go down over the Alhambra at El Huerto de Juan Ranas (Calle Atarazana Vieja, 6). For a quieter sunset view, hike up to San Miguel Alto, the highest viewpoint in Granada. Fewer tourists make the steep climb up to this local secret spot.
Evening:  Granada is one of the last places in Andalucía where tapas are served for free with a drink (although this isn't the case in every bar), so make the most of it on your last night in Granada. Go bar-hopping and after two or three bars, you'll find yourself satiated – and all for very cheap. Choosing where to eat in Granada can be challenging.  Some of the best tapas in Granada can be found at:  Bodegas Castañeda (Calle Almireceros, 1-3) – chaotic and a great place to people watch, Los Manueles (Calle Reyes Católicos, 61) – there are two restaurants called Los Manueles and they're just across the road from each other, so make sure to choose this one with the outdoor terrace, Los Diamantes (Calle Navas, 28) – teeny tiny tapas place that is always packed, La Milagrosa Irreverente (Calle Jáudenes 1, corner of Plaza de la Alhóndiga) – bright space serving modern tapas