Street Cats of Istanbul
Street Cats of Istanbul – In the narrow streets of Istanbul, cats perch on roofs and window sills, crouch by the door and rest at almost every corner. Whether in the sun, grooming or shopping for food, cats are now an integral part of life in Europe's largest city. They are so ubiquitous that no one catches the eye of a cat that passes by the hall of an office building or when you lie down to sleep on a nearby bar stool. Traders and locals often know and tell stories about cats in their neighborhood, as if they were chatting with a friend.
Istanbul wouldn't be the same without its many stray cats, which have become part of the city's soul. Sometimes it really does feel as if the felines own the city, and their human counterparts are just visiting. Here's a look at the unique friendship between Istanbul and its four-legged residents, which has roots in both culture and religion.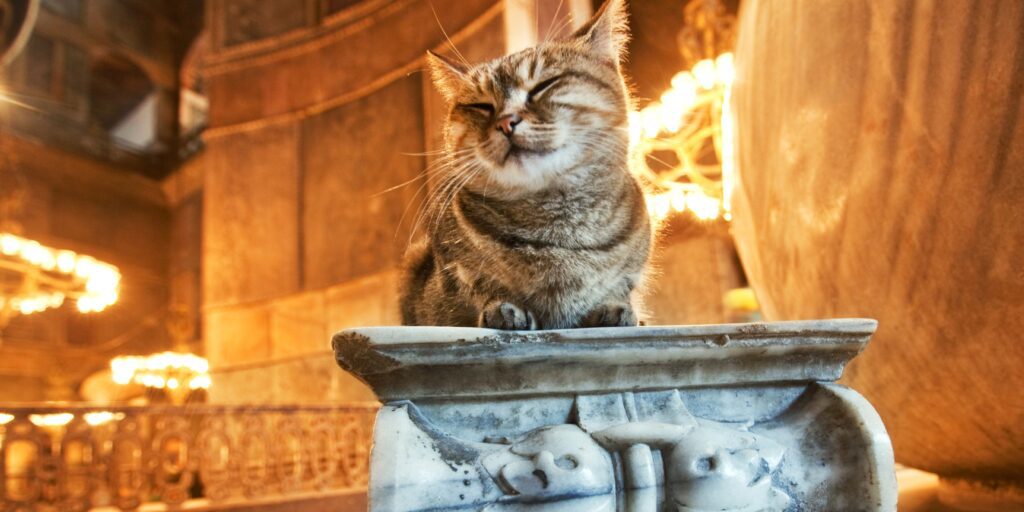 Some people, fond of cats, buy small feline houses so that their furry neighbors stay warm during the cold nights. Some even bring these cats home when it is very cold. In the trendy Cihangir district, where the streets are lined with such small cat shelters, it is not uncommon for cats to take the last available seats in crowded bars, nor is it unusual to see cats jump into the knees of restaurant patrons, hoping to find a comfortable place to rest – and a chance to grab a bite of food.
Hundreds of thousands of cats wander the streets of Turkey's cultural capital, take long naps on every available comfortable surface, and add a cute interruption to the daily grind of city life. You'll often see people lugging big bags of cat food, feeding the strays in parks or certain corners of neighborhoods, while municipalities have helped build little houses for felines to take shelter in during the colder months. But where did all these animals come from? The story goes all the way back to the Ottoman Empire. During this time, it's believed the many ships that docked at Constantinople had cats onboard to manage pests such as mice. The creatures were thought to disembark at the capital and flourished over the years, intermixing breeds and multiplying in population.
Last year, director Ceyda Torun took on Istanbul's street cats in her documentary Kedi, which sparked worldwide interest in this peculiar feline phenomenon. Over the course of 80 minutes, Torun follows the story of seven of the city's furry residents, beautifully expressing not only the deep integration between Istanbul and its cats, but also the deep friendship between humans and their four-legged friends. The charming film premiered at the 2016 Istanbul Independent Film Festival and has had screenings all over America, as well as in Sweden, Finland, Australia, and Singapore.