Your guide to Turkey's best grape harvest routes
Turkey Wine Routes
Bridging eastern Europe and western Asia, Turkey is one of the world's oldest wine countries. Local legend holds that Noah's ark ran aground on Mount Ararat and that on those hillsides he planted the first vines after the flood. Wine-making on Anatolian soil dates back 7.000 years, and the Hittites used wine in offering rituals. Viticulture (or the art of making wine) was protected by Hittite law, and each vintage came with a holiday celebration. After the Hittites, the Phrygians considered wine as an essential part of their diet and introduced it to the Greek colonists. By the 6th century BC, the wine export trade reached as far as France and Italy, which is how the Anatolian Misket grape gained fame as Muscat in Europe.

Its long wine history has given Turkey a diverse gene pool of grapes, with more than 600 indigenous varieties. Since the beginning of the 14th century and during most of the Ottoman Empire, Turkey maintained a strong wine trade and was a major exporter to its colonies. However, with the fall of the empire at the end of World War I, Turkey became politically unstable for much of the 20th century, disrupting its wine industry, especially in the Thrace and Aegean regions. With the increasing integration of the Turkish economy with global economies, and the ever-growing tourism sector, wine sales boomed in the late '80s, and wineries started investing in meeting international standards.
Nowadays, Turkish wine comes from a wide variety of grapes, both indigenous and international varieties.
Production
Turkey has a huge amount of land under vine—502,000 hectares, 10 percent more than the U.S.—but the vast majority of those vineyards produce table grapes. Turkey's annual wine production comprises approximately 615,000 hectoliters, compared with 23 million hectoliters in the U.S., and just 5 percent of that is exported. In the last two decades, though, a growing number of premium producers have been trying to change that by placing an increased emphasis on exports.
Main Wine Regions in Turkey
There is no official appellation system in Turkey, so many in the industry simply identify wine production areas by zones—the Aegean Coast, Marmara, and Anatolia.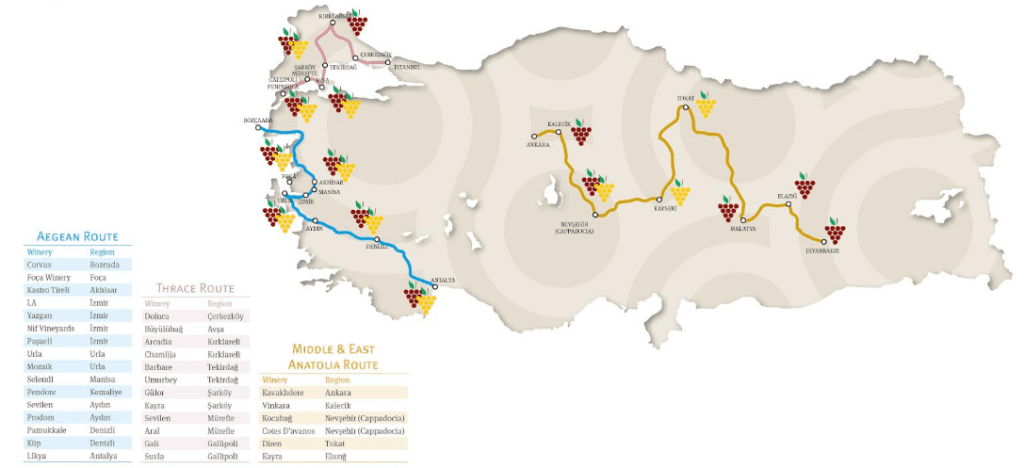 Marmara or Thrace Wine Route
The Marmara region is the other chief wine area in Turkey, home to more than a third of Turkey's wine producers. The Marmara wine route or Thrace wine route is the most popular Turkish wine route, with its vineyards delivering just under 15% of all Turkish wine. You'll find the region has a variety of grapes such as Adakarası, Cabernet Franc, Cabernet Sauvignon, Chardonnay, Cinsault, Gamay, Kalecik Karası, Merlot, Papazkarası, Riesling, Sauvignon Blanc, Semillion, Shiraz (Syrah), and Viognier.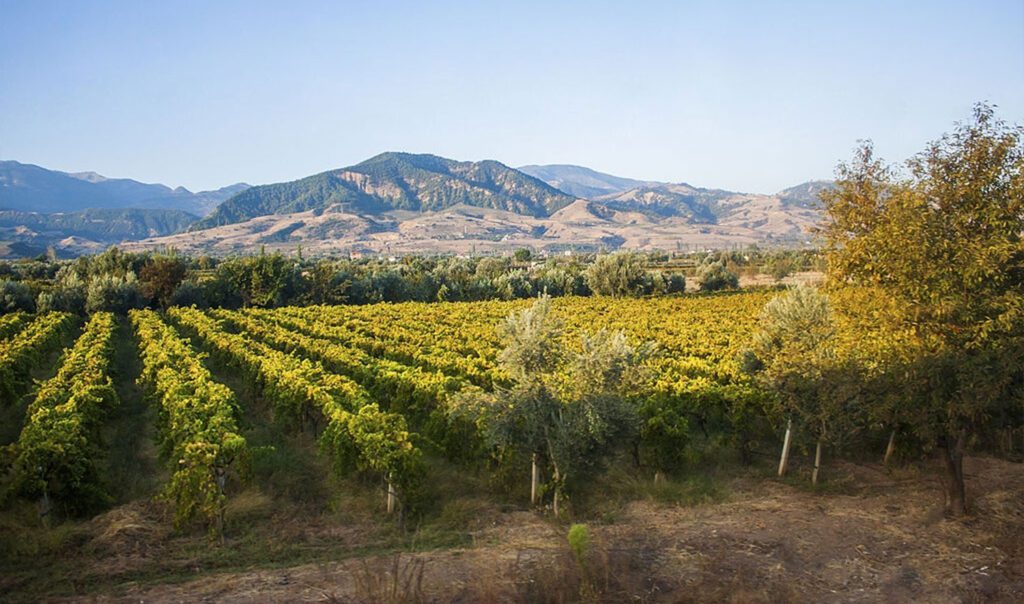 The air is filled with the smell of tea—linden and jasmine, which are widely planted. On three sides, you can see water—Aegean, Black Sea, and the Sea of Marmara—although the vineyards feel more continental in influence. The coastal influence not only helps define the character of the wines but also attracts a large number of wine-imbibing tourists, making this Turkey's most-visited wine destination.
Varying micro-climates allow producers here to make wines ranging from bright whites to rich reds. The coolest sub-region of Marmara is Kırklareli, whose vineyards are planted at higher altitudes. Some of Turkey's most traditional viticulture is located on the windy island of Bozcaada, where bush vines are common.
Aegean Wine Route
The Aegean wine route takes you past the vineyards that are responsible for little over half of all Turkish wine production. You will enjoy the lovely and moderate Mediterranean climate with hot summers and mild winters, and an almost endless selection of grapes: Alicante Bouchet, Boğazkere, Bornova Misketi, Cabernet Franc, Cabernet Sauvignon, Carignan, Chardonnay, Çalkarası, Çavuş, Dimrit, Grenache, Kalecik Karası, Karalahna, Kuntra, Malbec, Merlot, Mourvedre, Narince, Öküzgözü, Petit Verdot, Pinot Noir, Sangiovese, Sauvignon Blanc, Shiraz (Syrah), Sultaniye, Tempranillo, Vasilaki, and Viognier.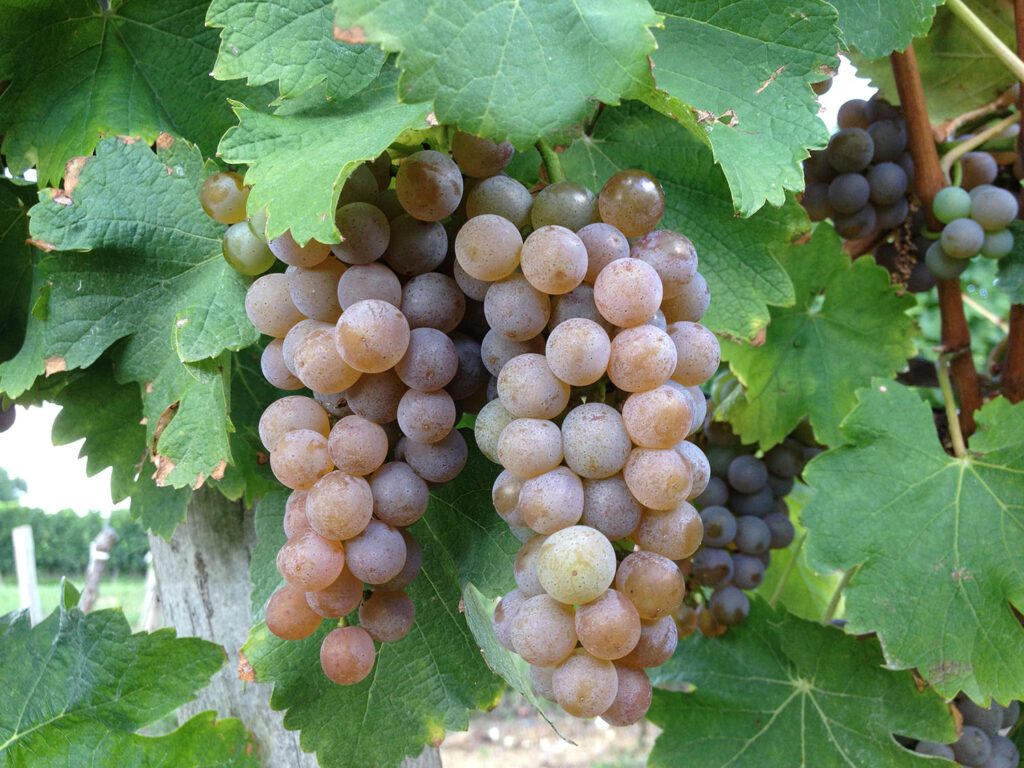 Boasting more than half of Turkey's wine production, the Aegean Coast zone in the country's western reaches has a moderate Mediterranean climate, although inland, areas of higher altitude—up to 800 meters—become more continental. A diverse range of native varieties are grown, but international grapes, like Cabernet Sauvignon, Syrah, and Merlot, are also planted in the Aegean Coast's vineyards. Western Turkey is great for international wines that are rich in fruit character without being overly jammy.
Anatolian Wine Route
Anatolia is a large region that can be divided into central, eastern, and southeastern zones. The Anatolian wine route is very stretched out. It takes you from Turkey's capital Ankara, through Cappadocia, all the way up to Tokat, and then back down again until you reach Diyarbakır. This route goes past vineyards that enjoy either a continental or a terrestrial climate. As a result, they deal with big differences in temperature between day and night, and also between summer and winter. This diversity of climate and soil provides an interesting variety of Turkish wines, mostly from indigenous grapes, as well as a unique landscape for you to explore.
In central Anatolia, vineyards are concentrated either along the Kızılırmak River, which moderates the otherwise challenging continental climate, or at elevations up to 1,500 meters on the volcanic soils of Cappadocia. The riverside vineyards are best known for soft and fresh red wines, while Cappadocia is better known for its whites.
Vineyards in eastern Anatolia are also planted along the Euphrates river, although the altitude is markedly higher, hovering around 1,000 meters above sea level. With hot summers and cold winters, this region has a continental climate that's best known for producing good-quality Öküzgözü, a medium-bodied, fruit-forward red wine with fresh acidity. The lower elevation in southeastern Anatolia features a warmer climate with hot summers, and the better vineyard sites are generally found on hillsides.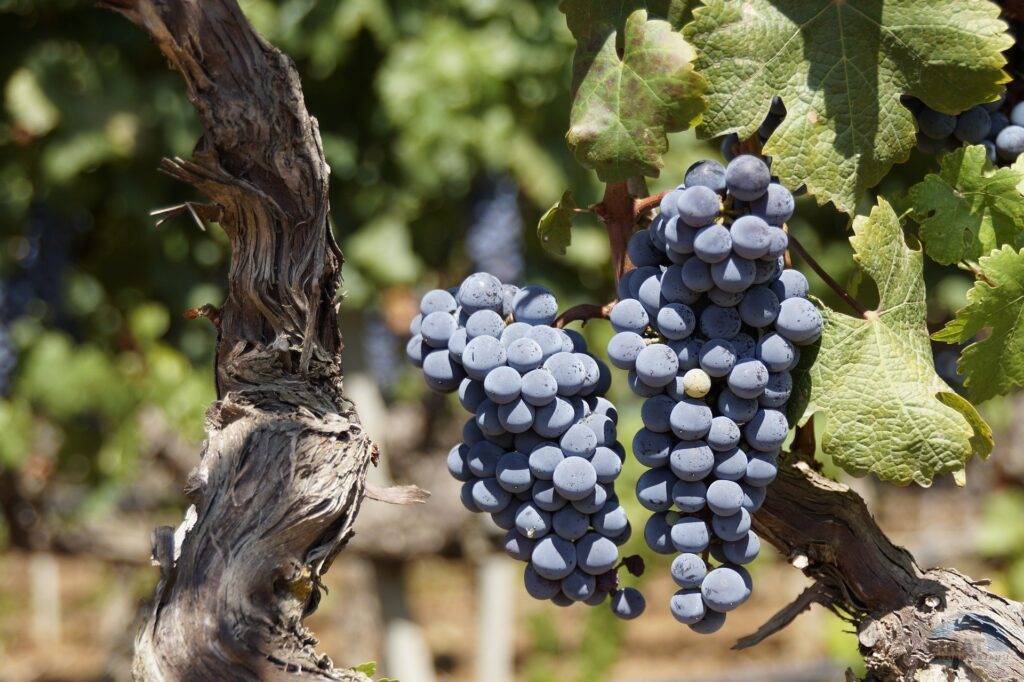 The Anatolian wines originating from the wider Cappadocia area are made from grapes such as Chardonnay, Dimrit, Emir, Kalecik Karası, Malbec, Narince, Öküzgözü, Sauvignon Blanc, and Tempranillo. Northern Anatolia delivers Boğazkere, Kalecik Karası, Öküzgözü, Shiraz (Syrah), while eastern Anatolia (Tokat, Malatya, and Elazığ) are known for Boğazkere, Narince, Öküzgözü. Diyarbakır is Boğazkere country. Related: Turkey Wine Routes
Key Grape Varieties in Turkey
Turkey has more than 1,500 named grape varieties of which 800 are genetically different. There are around 30 outstanding wine grape varieties among all these types. The indigenous grape varieties below are those that are widely used for wine making.
The most suitable Turkish grape varieties for making wine are Bogazkere and Okuzgozu grown in eastern and southeastern Anatolia. One of the world's best red wines is made from these two types of grapes. Another variety called Emir, which is grown in western Anatolia, is one of the best grapes in the world to produce white wine.
Kara (known as the Papazkarasi in Thrace, Calkarasi in Denizli, Horozkarasi in Kilis, Adakarasi on the island of Avsa in the Marmara Sea and Kalecik Karasi in Ankara) is another renowned grape variety indigenous to Turkey.
White Wine Grapes
Emir: The total production of Emir Grape is around 5,500 tons. The major planting is in the Central Anatolia region of Turkey.
Narince: The total production of Narince Grape is around 6,150 tons. The major planting is in the Eastern Anatolia region of Turkey.
Sultaniye: The total production of Sultaniye Grape is around 14,000 tons. The major planting is in the Aegean region of Turkey.
Bornova Misketi: The total production of Bornova Misketi Grape is around 910 tons. The major planting is in the Aegean region of Turkey.
Red Wine Grapes
Calkarasi: The total production of Calkarasi Grape is around 5,000 tons. The major planting is in the Aegean region of Turkey.
Kalecik Karasi: The total production of Kalecik Karasi Grape is around 6,885 tons. The major plantings are in the Aegean and Central Anatolia regions of Turkey.
Okuzgozu: The total production of Okuzgozu Grape is around 11,830 tons. The major plantings are in the Eastern Anatolia and Aegean regions of Turkey.
Bogazkere: The total production of Bogazkere Grape is around 8,850 tons. The major planting is in the Southeastern Anatolia region of Turkey.
Our Selection
A number of native Turkish varieties are gaining recognition, including the Aegean grape Çalkarası, used to make rosé; rich, full-bodied Karalahna; and fresh, orchard-fruited Emir. Here are three additional varieties to become acquainted with.
Karasakiz
Native to Turkey, although also found in Greece, where it is known as Kuntra, Karasakiz is a light-bodied red variety. The variety is light and fruitful with great acidity from the high mountain of Kaz Dağları, near the ancient ruins of Troy, which is an epic place to have grapes.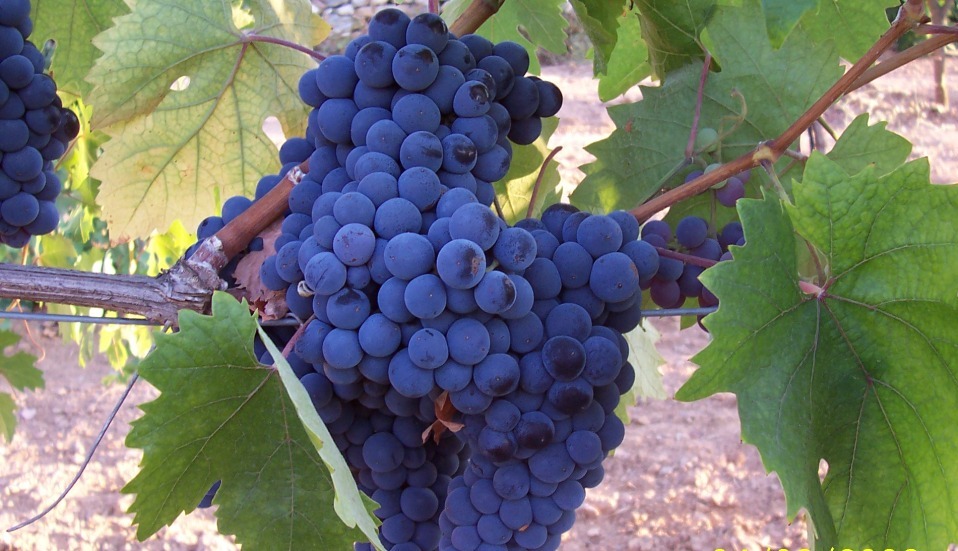 Narince
This native white variety is mainly found in Anatolia. Its stone fruit, citrus, and blossom aromas , a similar profile to Chardonnay, with a slightly lighter density. An unoaked version can be crisp and saline, almost like Chablis.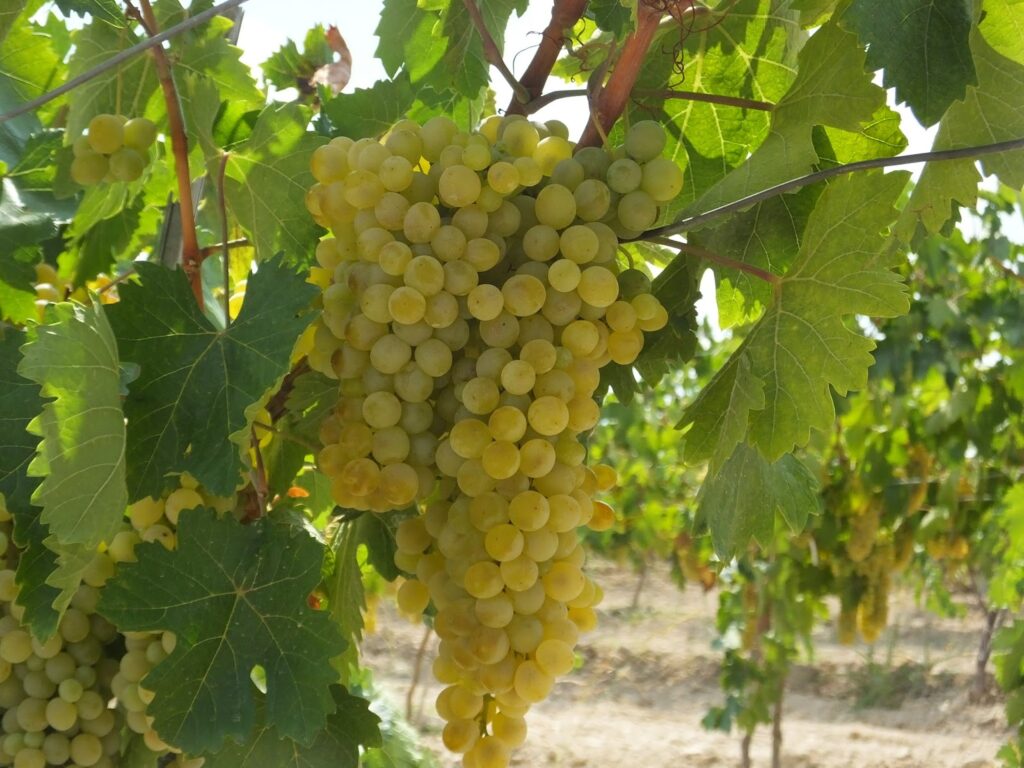 Boğazkere
The name of this highly tannic red variety that's found mainly in southeastern Anatolia translates in English as "throat burner." For those looking for more complexity and old-vine character, Boğazkere benefits from  bottle aging. Because of their tannic character, the Boğazkere berries age gracefully, much like Burgundy or Barolo.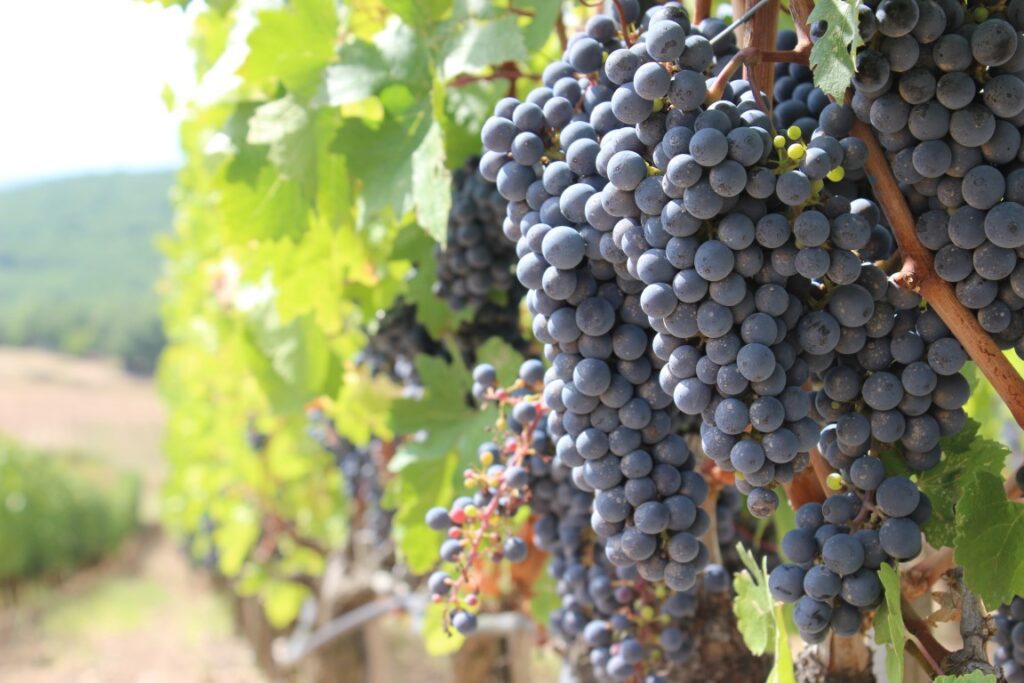 Harvesting and Festivals
Every year during the month of September, some of Turkey's coastal and central towns have festivals to celebrate the grape harvest. Traditionally, this takes place in early fall, but as the harvest date depends on how ripe the grapes are, some grape harvest festivals may take place in late August or even October. Town residents prepare for days of madness and the atmosphere reaches a climax with music and entertainment. Related: Turkey Wine Routes
In Turkey, each region has its own grape harvesting traditions, but they all herald the arrival of fall. Bunches of grapes are placed in large baskets after the vines are cut with scissors and knives. They are dried according to their purpose, one of which for example is making "pekmez" (molasses-like syrup made from the boiled down juices of grapes) or wine.
Tekirdağ Grape Harvesting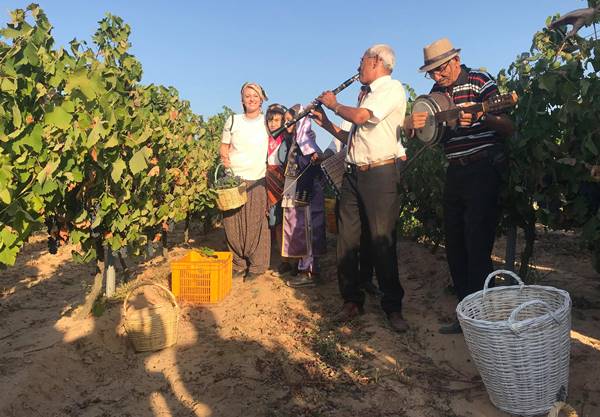 Located in the Şarköy district of western Tekirdağ province, Mürefte is a major grape production area. The town has the first and only viniculture museum and with its unique grapes, it should definitely be included on your travel list. This year, the 2nd Thrace Grape Harvesting and Ecology Festival will be held between Sept. 2-4 and will feature music from local and foreign bands. Various activities from workshops for children to grape harvesting, animations to action stands and competitions will all be available at the festival venue.(Related: Turkey Wine Routes) Among the festival guests are Macedonia Folk Dance Show and Kavala Folk Music Group, Ahırkapı Roman Orchestra and Şubadap Group Children's Concert. Children may attend puppet making workshops, a clown puppet making workshop, illustration workshop and a cake baking workshop.
Elazığ Grape Harvesting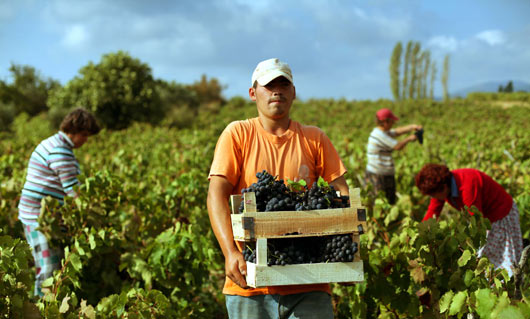 In Elazığ, the city's indigenous grapes – Öküzgözü and Boğazkere – are squeezed to make molasses. "In the hills outside Elazığ, it is heated and combined with wheat flour. Once sufficiently thickened, strands of walnuts are dipped into the liquid, then hung to dry. The resulting product is called orcik. The city hosts a grape harvesting festival each year at the end of September. The smell of grapes on the slopes of mountains shows us that both the nature and the efforts of mankind pay off. The Aydıncık Village in Elazığ has also some of the best special vineyards in Turkey.
Cappadocia
In Cappadocia, viniculture dates back 3,700 years. Here local women gather to boil down the fruit in big vats. From September to October, tours are available in Cappadocia to experience the grape harvest with locals. During a full day tour, you can experience the entire process of making molasses; beginning with harvesting the grapes from local fields and then watching the molasses boiling process with local women of the village. In Cappadocia, the Ürgüp International Grave Harvest Festival, which aims to introduce and promote the grapes of Ürgüp, is a culture festival organized annually for the past 44 years. This year, the festival will be held from Sept. 9 to Oct. 11. Concerts, various competitions and talk sessions will take place throughout the festival. Related: Turkey Wine Routes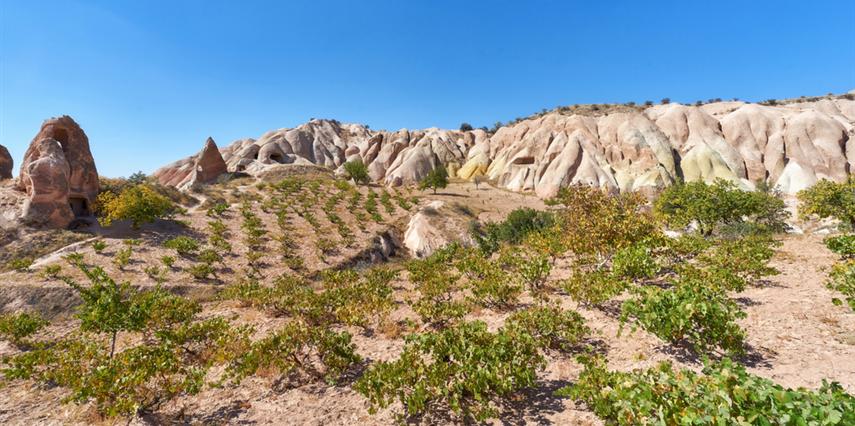 Kırklareli
The grape harvest in western Kırklareli city is organized usually in the third week of September as the grapes are first collected for consumption and therefore, the grape harvesting takes place later. Like other places in the Thrace region, during grape harvesting times, the mood of the city changes immediately. Related: Turkey Wine Routes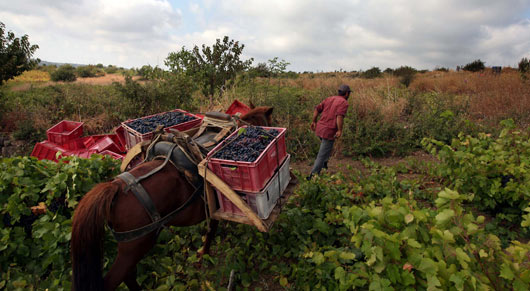 Bozcaada
Bozcaada is a must stop on the grape harvesting route. The grape heaven of our country, Bozcaada is full of vineyards. During the four-day festival from Sept. 2 to Sept. 5, the producers organize representative grape harvesting in their own fields and people are taken to the vineyard together with the workers of the vineyard. Like in the old days, the grapes harvested are transported by tractors or small trucks to the area where live music takes place. Each year, panels, art exhibitions, grape competitions, backgammon and football tournaments and theater performances take place at the festival.
Mid- Eastern Anatolia Wine Region – Tokat Province
Tokat is a city well known with its viniculture during past centuries. After Fatih Sultan Mehmet conquered Istanbul, he had the gardeners brought from Tokat to establish fruit gardens and vineyards in Istanbul, Beykoz. The most beautiful vineyards of Tokat that are still available have been formed by school teachers upon establishment of Cizvit school in Tokat. In these vineyards built in the form of terracing, mostly Narince grape has been grown. Tokat, home to some of Turkey's best wine, has been the closely guarded secret of both Turkish and foreign diplomats. The wine is rarely seen in even the best Istanbul delicatessens, yet it appears on the men u of the Republic Day's celebration in Turkish embassies around the world, as well as on ambassadors' tables in Ankara.
Also, Tokat has a unique wine called Mahlep, characteristic only for this region. Mahlab is a spice extracted from the seeds of a variety of sour cherry known as the Mahlep or Mahlab tree. It is also sometimes called the Saint Lucie Cherry, and it yields distinctive, almost black and very sour cherry in the later summer. Mahaleb fruits are grown on mountains in the Tokat region, known for its aphrodisiac effect and also used for its medicinal properties and in food. The fruits of this tree are used in jams, preserves, and desserts, and they can also be dried. To extract the mahlab, the pits are cracked to reveal the small seeds inside. The spice has a distinctive flavor which tastes somewhat like cherries and slightly like almonds, with a hint of a sharp, sour and is exclusively produced by the Diren Winery.