Istanbul to Cappadocia
Cappadocia is of the biggest must-visit destinations in Europe, but Cappadocia is right in the middle of Turkey and Turkey is a big Country! So travelling from Istanbul to Cappadocia and visiting both places in Turkey in one trip is a great idea!
GOING TO CAPPADOCIA
Want to travel from Istanbul to Cappadocia – one of the most unique places in Turkey? Find out how to travel to the region by car, bus and plane.
Flying to Cappadocia from Istanbul
The distance between Istanbul and Cappadocia is 567 km, or by road, it is 756 km. A lot of people underestimate that distance! It's a long way, so our  advice is to fly if you can. Flying from Istanbul to Cappadocia is the simplest option, and this isn't where costs rack up. The flight from Istanbul to Cappadocia's Kayseri Airport takes 1 hour 20, and its cost varies between 30€ to 60 € depending on the season.  The Istanbul to Cappadocia flights depart from two airports: Istanbul Atatürk Airport and Sabiha Gokcen Airport. As a bit of advice, Istanbul Airport is considerably closer to the city centre and much easier to get to.
Both Turkish Airlines and Pegasus (low-cost Turkish airline) fly to Kayseri Airport in Cappadocia and Turkish Arilines goes to Nevşehir too. Please check the schedule via SkyScanner, a reliable flight booking and comparison platform.
Once you reach Kayseri Erkilet Airport, you'll need to sort transport to get to the region. Most hotels will arrange transfers from the airport for you, so definitely speak to them in advance of your arrival for peace of mind. You can expect to pay a max of 120 TL (15 EUR) for Kayseri Airport or 100 TL (8 EUR) for Nevsehir Airport.
Bus From Istanbul To Cappadocia
The bus journey takes around 10 hours (although sometimes as many as 12). There are night buses, which leave at 11.45pm and get to Goreme at 8.30am, so if you're good at sleeping on public transport, you could leave Istanbul in the evening and wake up in Cappadocia. The price is around 110-150 TL (12€-15€)
Istanbul To Cappadocia Train
No such thing :=(
Cappadocia Tours From Istanbul
If all of these options are sounding like a hassle, and you just want a few stress-free days in Cappadocia, consider booking a tour with Eskapas
VISITING CAPPADOCIA
Cappadocia increased its ranking 5th on the Times' list of "25 New Wonders of the World," and it has been on UNESCO's World Cultural Heritage list since 1985. While fairy chimneys are something that you can see in other places in the world, they are more densely concentrated in Cappadocia making it a one-of-a-kind landscape. You will feel like out of Alice In Wonderland.
GÖREME VALLEY
Göreme , located among the "fairy chimney" rock formations, is a town in Cappadocia, a historical region of Turkey. It is in the Nevşehir Province in Central Anatolia and has a population of around 2,000 people.
LOVE VALLEY
Love Valley has the best panorama view of any valley in Cappadocia , a good place to propose! The valley is about 4.5-5 kilometers, so it will take about 1 hour on average walking speed.
Uçhisar Castle
Uçhisar Castle is the highest fairy chimney, and you'll be able to see surrounding and its fairy chimneys from inside the castle. You can come here to watch the sun rise or set, with a glass of cold white Capapdocian vine which is highly recommended.
PLACES TO VISIT IN CAPPADOCIA
AVANOS
Avanos is a province of Nevsehir, and the evolution of its name tells the story of this area. The name Avanos was originally "Venassa-Nanassa" during the Assyrian period, then changed to "Zu-Vinessa" during the Hittite era, which then evolved into "Enez – Evenez – Uvenez" during the Seljuk times, and to Vanote during the Byzantine rule. It was changed to Avanos during the Ottoman times, which came from Evranos Bey, which was a commander for the Seljuk Turks. While you're in Cappadocia, you'll see a lot of paintings named "Venassa" or "Evranos," which are known to be the old names of Avanos." Avanos is only 10 km far away from Ürgüp.
Known for its lunaresque landscape, this landmark valley has a variety of whimsical rock formations.
All the valleys in Cappadocia have their own distinguishing characteristics, and this valley is known for its fairy chimneys that resemble animals. The most prominent resembles a camel, which you can see in the picture.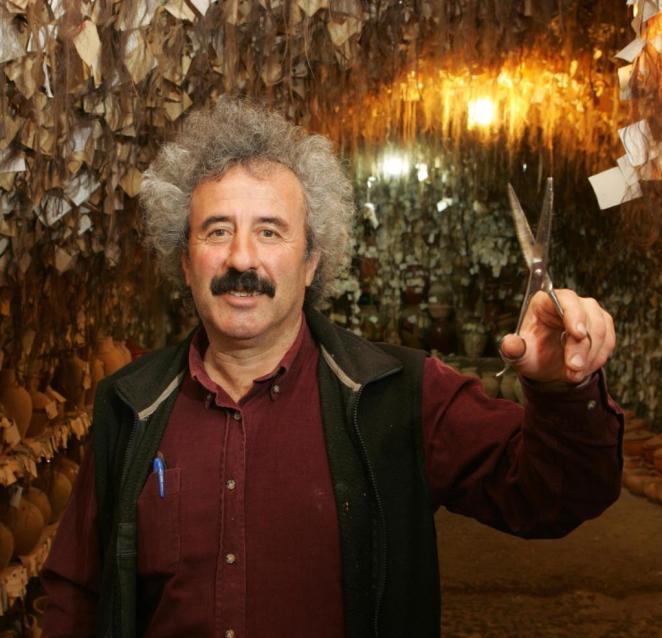 A pottery center/guest house has created the Hair Museum. Calling it a museum may be a bit of a stretch as its "displays" are thousands of locks of hair, all from female visitors.
The story goes that the local potter was bidding farewell to a dear friend of his when he asked for something to remember her by. She cut off a piece of her hair to leave as a reminder.
This bridge was built in 1898 with the contributions of Arif Bey. The bridge opened two years later in 1900. The stones used to construct the foot of the bridge were brought in from the Chech and the Montenegro regions. This bridge has 11 feet and has managed to continue standing today without any erosion.
The bridge was constructed in 1973, and it's 180 feet long and 2.30 meters wide. The bridge was made of wood, and its feet are made of iron. This bridge runs over the Kızılırmak River, and it's famous for shaking when you walk across it.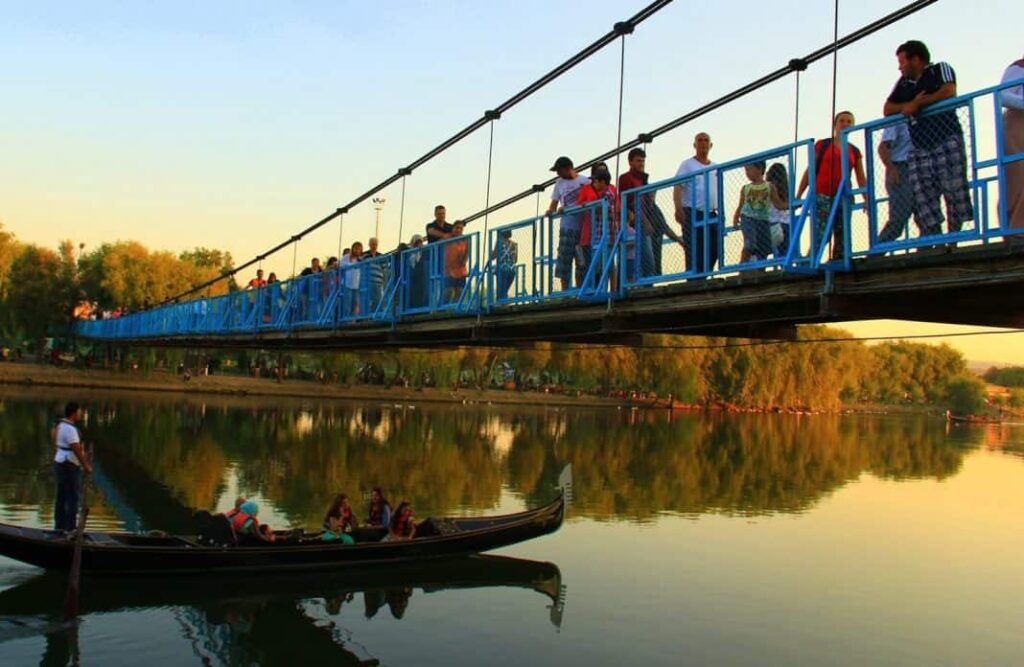 The Zelve Monastery is a Byzantine-era monastery that was carved into the rock in pre-iconoclastic times. It is part of the Zelve Open Air Museum, located between Ürgüp and Avanos.
Zelve Open-Air Museum is quite an incredible location, which once housed one of the largest communities in the region. Throughout the walk in the three valleys, you will find dwellings, religious chambers, secular chambers, stables, and even the town square.
GÖREME
Göreme is a town connected to the central district of Nevşehir, and it offers some of the best places to see in Cappadocia. Göreme is old – monastery life here dates back to the 4th century and can be traced to the 15th century. This is also the place that comes to your mind when you think of Cappadocia as it has the most hotels and restaurants made of rock. Göreme itself is also a good location as it overlooks the area where the hot-air balloons take off in the early hours of the morning. This is a great place to stay both due to its beautiful geography but also for its central location in Cappadocia.
The Goreme Open-Air Museum resembles a vast monastic complex composed of scores of refectory monasteries placed side-by-side, each with its own fantastic church. It is obviously the first sight to be visited by any traveler in Cappadocia, standing as it does in the very center of the region with easy access from all directions.
The Valley of Love has the best panorama view of any valley in Cappadocia – it's also place where people go to propose. Love Valley Cappadocia is a hidden valley with scenic formations to say the least. Despite the resemblance to man hood, these amazing rock formations are far from man-made. They are ancient structures that sit at over a thousand metres altitude. There is generally no rainfall in the area but the Cappadocia does have really hot, dry summers and cold, snowy winters. At Love Valley Cappadocia, you can visit the viewpoint from above or you can trek right down to the base of these huge structures. It's a safe and easy hike and you get a real feel of the Cappadocia magic.
ÜRGÜP
Ürgüp is another great place to see in Cappadocia as it was one of the first places that put Nevşehir on the map in terms of its historical and natural beauty. The highest peak of this place is known as Temenni Hill, which is where you can see everything in Ürgüp as well as the Mount Erciyes. At the entrance of the hill, there is a tomb on the right. It's called Wish Hill because people make wishes at this tomb and tie cloth in hopes that their wish will come true. There is also a tomb that is said to belong to Alâeddin Keykubat III.
If you have a lot of time and want to see what a traditional house looked like in Cappadocia, then you can stop by Asmalı Konak. This place is famous among Turks as there was a show that was filmed here, which makes it an entertaining place to see in Cappadocia for Turks.
Even though the Gomeda Valley might not be a popular place to see in Cappadocia compared to other destinations on this list, it still has its own unique features it brings to the table. The Gomeda Valley is famous for its pigeonholes that resemble a multi-story apartment building. During the Roman Empire, Gomeda had 600 houses, two churches, two cemeteries, and an underground city.
The Three Beauties are three fairy chimneys that have become a symbol of the region, making it an essential place to see in Cappadocia. They are set as the backdrop for many tourists taking pictures here. There is even a legend surrounding the Three Beauties: Once upon a time, the king of Cappadocia had a daughter who fell in love with a shepherd in the area. The king did not want his daughter to marry the shepherd, but she did anyway. She had a child with the shepherd, but the king refused to forgive her. He then sent troops to kill the family. The princess pleaded with Allah to save them, and he turned all three of them into stone. It's believed that the one on the right is the shepherd, the one in the middle is the child, and the princess is on the left. You can see the Three Beauties from many different angles, but you'll have to go up towards Ürgüp from Kızılçukur Valley to be able to see it. You can take pictures from an observation deck on the road.
Ortahisar Castle is the largest fairy chimney in all of Cappadocia. The Hittites first started forming this fairy chimney to use as protection, and it was later used as a fortification for the Romans, Byzantines, Seljuks, and Ottomans.
When entering the town, you will notice doors in the rock surfaces on both sides. These doors are the best example of the cool-air storages in Cappadocia. In these natural air-conditioned rooms, lemons and oranges from the Mediterranean region, apples from Nigde, local potatoes, quinces and onions are stored. Green lemons slowly turn yellow in these store-rooms.
ÇAVUŞİN
Çavuşin is a village in the district of Avanos in Nevşehir Province in the Cappadocia region of Turkey. It is on the road between Avanos and Göreme, about five kilometers north of Göreme. Cavusin old Greek village in the Cappadocia region of Turkey is rarely featured in travel articles. If it does appear, it garners a couple of sentences before the author talks about other more well-known places such as Goreme, the transport and accommodation hub.
The Old Mosque is one of the oldest mosque in Cappadocia and is a village mosque that dates back to the Seljuk era, XIIIth century. The mosque was closed down in 1958 after the village was evacuated due to a landslide. It was restored in 2011 and reopened. 
Paşabağ (Valley of the Monk) is one of the best places to see in Cappadocia for people who enjoy seeing sites that are tied to local legends. In one of the fairy chimneys, there was a chapel built called St. Simeon Church. Simeon had lived as a hermit near Aleppo during the 5th century. People heard that he could perform miracles, so they came to him. But he was uncomfortable with all the attention, so he decided to live on top of a column, and he only would go down occasionally to get food and drink.
One of the most ideal places for nature walks is the Güllüdere Valley, which is located between Çavuşin and Göreme. Here you'll be able to find rock carvings, wineries, and churches. If you want to go trekking through this valley, then it'll last around 1 hour (4 kilometers)
Kizilçukur is the kind of place that once seen is difficult to forget, no matter how hard you try. A great fissure in the plateau, it is a gaping hole into which you could suddenly fall if you didn't carefully watch where you were stepping. Extending over three kilometres, this mass of erosion-blunted tuff peaks, referred to by Americans as badlands, interspersed with the fairy chimneys for which Cappadocia is so famous, is a miracle of natural scenery.
The cave basilica of St. John the Baptist in Çavuşin is one of Cappadocia's oldest, largest, and most prestigious cave churches.The church dates to the early 500s, a time of church expansion in the Byzantine Empire. The large church was the central place of worship for the local community. According to the inscription trimming the front arch, the church was dedicated to John the Baptist. The church of St. John the Baptist is a fine example of early Christian architecture in Cappadocia.
UÇHİSAR
Uçhisar is a troglodyte village situated 4 km east of Göreme. It is famous for the huge rock formation once used as a fortification. This extraordinary rock is the highest peak in the region and offers a magnificent panoramic view of the whole of Cappadocia with Mt. Erciyes in the distance. Most rooms in the castle are connected to each other with stairs, tunnels and passages. At the entrances of many rooms, there are millstone doors, just like the ones in the underground settlements, used to control access to these places. Due to erosion it is unfortunately not possible to reach all the rooms.
Uçhisar Castle is the highest fairy chimney, and you'll be able to see everything in Göreme Valley and its fairy chimneys from inside the castle. You can come here to watch the sun rise or set, which is highly recommended. In terms of watching the sunset, this is in our top three spots in all of Cappadocia.
"Güvercin" means pigeon in Turkish, and the name comes from the pigeons that live in the rocks that were carved by people. Outdoor activities in this valley include trekking, cycling, running, and yoga. The only way to get into the valley is by walking, compared to other valleys in the area.
UNDERGROUND CITIES
These troglodyte cave-cities were excavated as early as Hittite times, and expanded over the centuries as various marauding armies traversed Central Anatolia in search of captives and plunder. Stout rolling-stone doors prevented invaders from entering. Deep wells provided water, and tall chimneys ventilation.
An eagle statue that was found here points to the Hittites being the first to use this place as an underground city. This city was different from other underground cities you'll see in Cappadocia. The unique features offered by Özkanak make it an essential place to see in Cappadocia. Unlike Kaymaklı and Derinkuyu, Özkonak had long holes that enabled communication between different floors. Another difference is that there were holes on top of where someone would enter so that they could pour hot oil in case an enemy came in. Another interesting difference between Özkonak and other cities is that elsewhere the stone doors were made outside and then installed. But at Özkonak, the doors were made inside.
The Kaymaklı Underground City contained eight floors of subterranean defense, but currently only four of the floors are open to the public. Dates back to Hittites circa 1200BC and used by the local people until the 13th century AD at which point it was not needed except for storage on the first couple of levels. Opened to the public in 1964.
Warnings: You will go through narrow tunnels that require you to hunch down but never crawl; lighting is good; if you get claustrophobic, you will be uncomfortable; watch your head as the low rocky roofs can be painful.
The Derinkuyu underground city is an ancient multi-level cave city in Cappadocia, Turkey. Stone used as a door in the old underground city. Derinkuyu Underground City is massive. It has eight floors, and it has a missionary school, a confessional, and a christening pool. The sheer size of it makes it another great place to see in Cappadocia. Under Derinkuyu, there were another 400-500 underground cities with more than 600 doors found. Some of these doors are still being used today as store things.