Best Hotels Near Disneyland Paris
Introduction
Best Hotels Near Disneyland Paris – Disneyland Paris has long ceased to be a one-day affair, and having somewhere to stay, either within the Disney confines or at one of the many hotels that have sprung up in the surrounding area, is essential. It is 40 minutes by RER train from central Paris, hence it's vital to know the geography of this outlying suburb, which is officially called Marne-la-Vallée. The area is roughly circular, with Disneyland at its hub, but none of our selection of hotels are more than 10 minutes' drive from the parks and most offer their own free transport. All Disney hotels come with the benefit of early entry into the Disneyland Park, at least one Disney character on hand in the lobby each morning and the convenience of being within walking distance of everything; however most of the hotels listed below outside of the park will be cheaper, substantially in some cases. Here's our pick of the best hotels near Disneyland Paris.
Vienna House Dream Castle, Magny-le-Hongre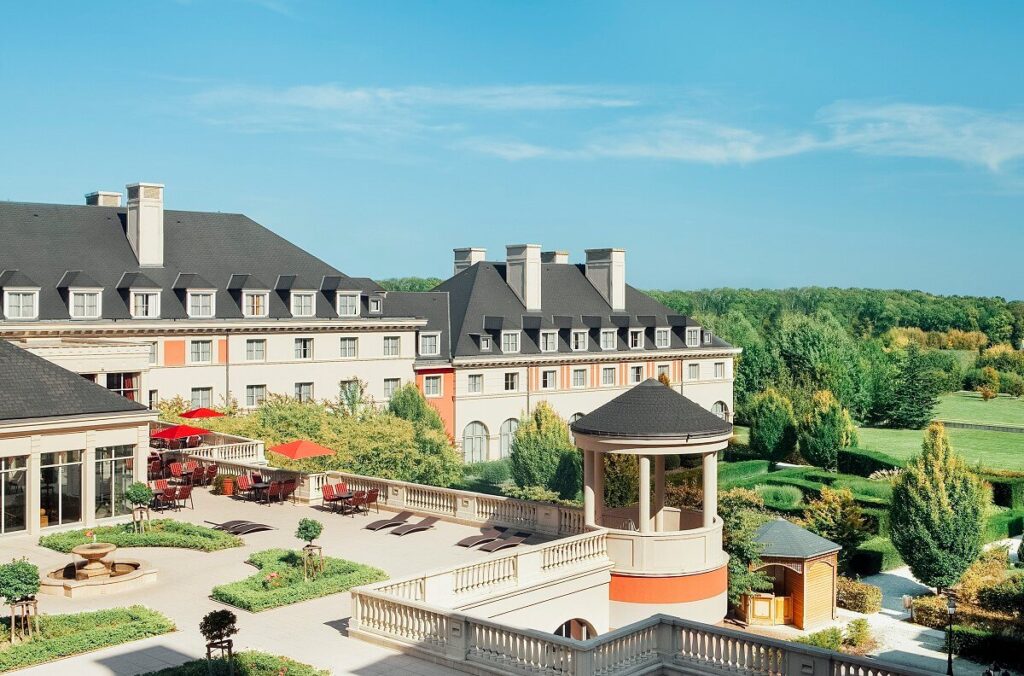 Dream Castle panders to wannabe princes and princesses with ample medieval drapery, imaginary play opportunities and grounds made for running around in. It's not actually inside the Disneyland parks, but a free shuttle bus ride (platform D) or 10-minute taxi trip from Chessy Nord bus station will take you there. While it might not quite live up to its name, extensive themed styling – starting with a sweeping wall mural behind reception of the coronation of French king Charles VII in Reims – does at least strive to transport guests to a dreamland of kings, queens and knights in shining armor. International dining is very much for toute la famille.
Explorers Hotel Algonquin, Magny-le-Hongre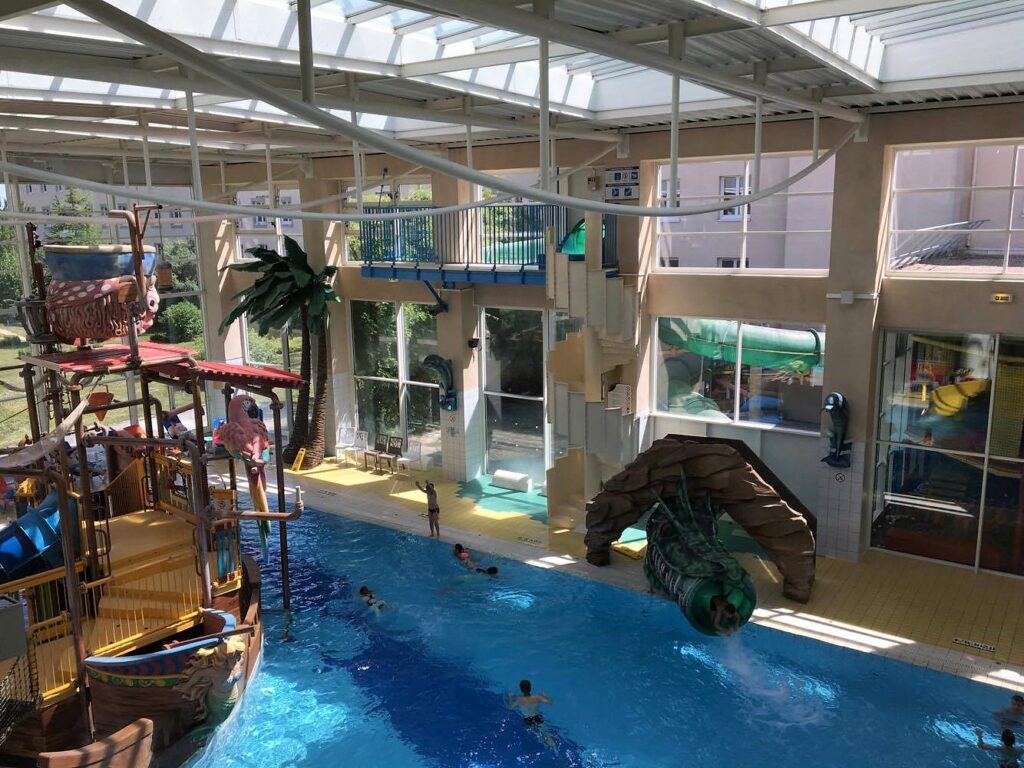 With Disney-esque features and a plethora of children's facilities it may be a struggle to tear kids away from this highly family-orientated address. Highlights include a water playground with slides and a pirate ship, a 6D cinema, video games room, and a huge indoor play area. There are three restaurants: a grab-and-go pizza parlour, a traditional à la carte restaurant and an all-you-can-eat buffet, plus two snack bars. Interconnecting rooms can sleep from two-10. Disneyland Paris entrance tickets can be booked at the reception desk, and there's a free shuttle bus to the parks and the TGV and RER station of Marne-la-Vallée.
Villages Nature Paris, Bailly-Romainvilliers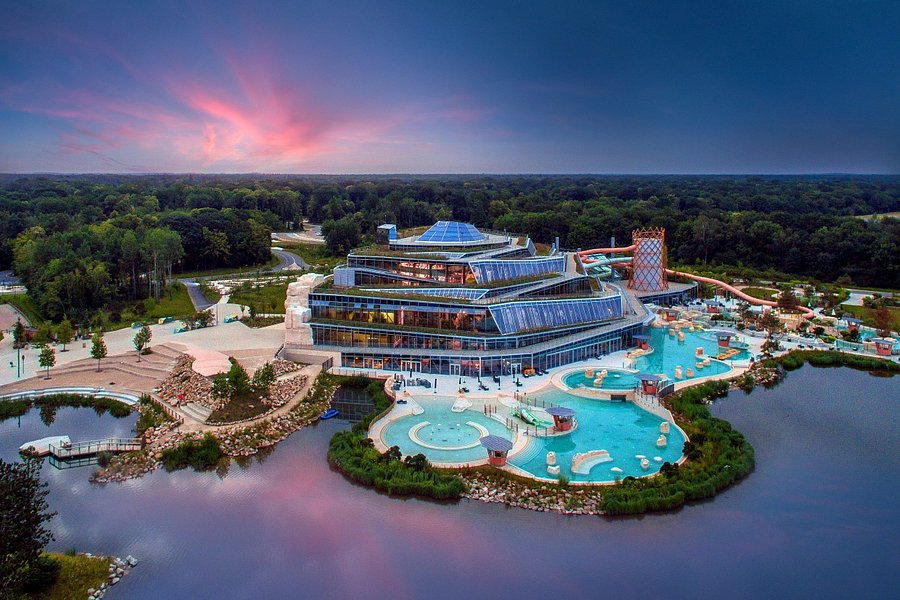 Villages Nature Paris is an eco-friendly resort with self-catering cottages and apartments overlooking a lake, lush gardens, a farm with animals, beach and restaurants. Relative peace and outdoor activities by the bucket-load make it a firm family favourite – and a revitalising breath of fresh air after a day at Disneyland. The property is sprawled between woods and fields, around five and a half miles from the Park, but it takes about 20 minutes to get there by bus. There are 866 self-catering apartments and cottages – a mixed bunch of sleek, wooden, contemporary warehouse-style buildings with the occasional tree-planted turret or rooftop terrace.
Magic Circus, Magny-le-Hongre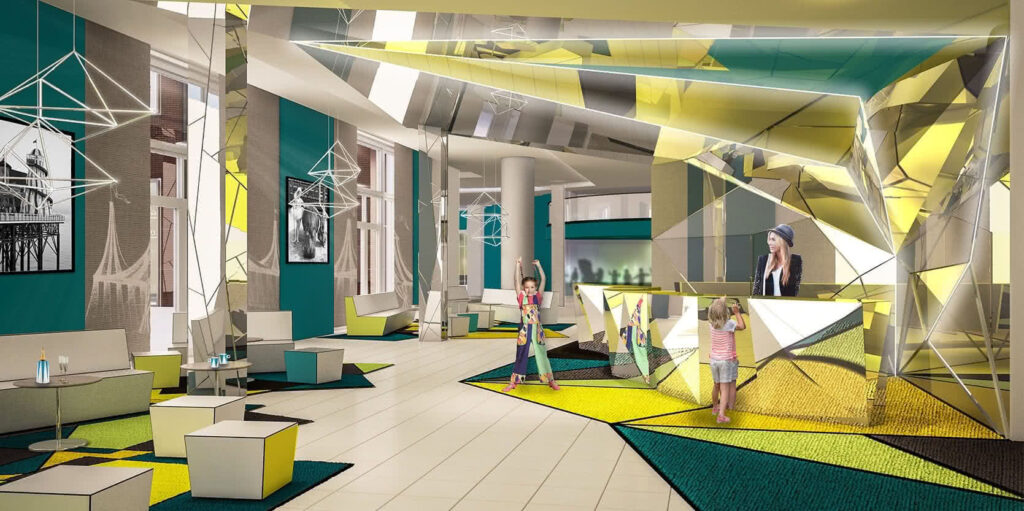 Magic, illusion and old-fashioned fun inspire the décor at this playful, circus-themed hotel on the doorstep of Disneyland Paris. Good-value rooms pander to families, with bunk beds, children's television and Italian dining, while a pool, garden, lake and playground promise bags of post-Disney entertainment. Free shuttle buses yo-yo every 15 minutes between the hotel and platform D at the Chessy Nord bus station beside Marne la Vallée-Chessy mainline train and RER station (opposite Disneyland Paris). Interiors are bright and airy, with bright colour palettes and ample quirky amusements and curios to entertain the whole family.
Disney's Newport Bay Club, Chessy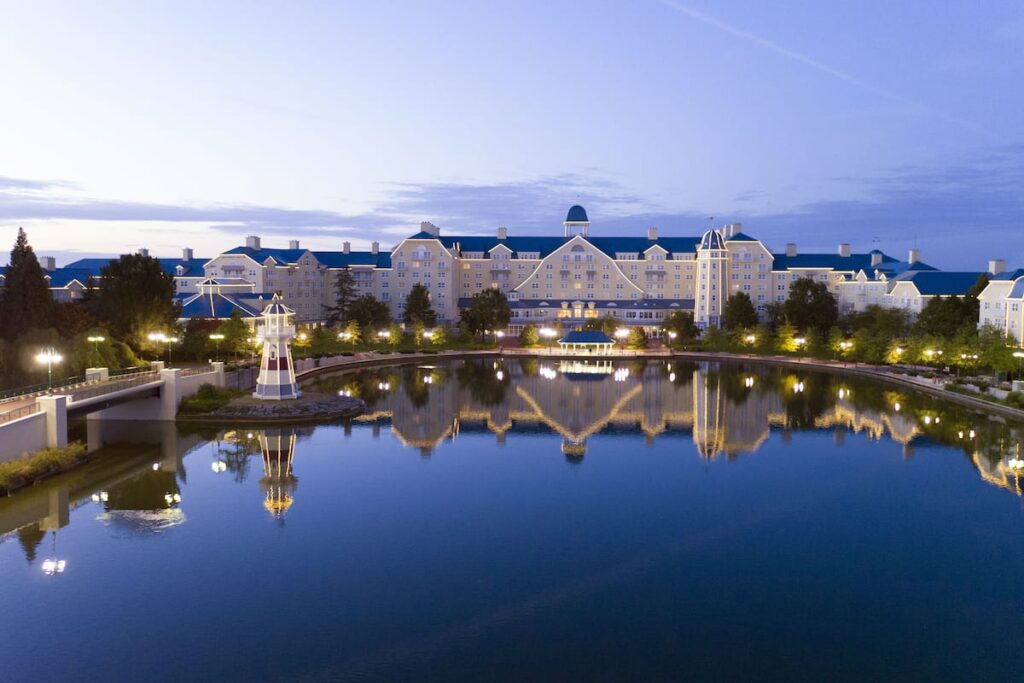 Retreating to this peaceful lakeshore hotel, evocative of a New England seaside resort from the 1900s with its buttermilk-yellow and dove-grey woodwork, is heaven after a busy Disney day. Rooms are all done out in a nautical theme which is most notable in the restaurants. Old and New World styles can be found at Cape Cod (for international buffets with a Mediterranean influence) while the Yacht Club and Captain's Quarters are more formal. Facilities include heated indoor and outdoor pools, steam and sauna rooms, and a full-service fitness centre. Count a 10-minute walk from the parks.
Radisson Blu Hotel Paris, Marne-La-Vallee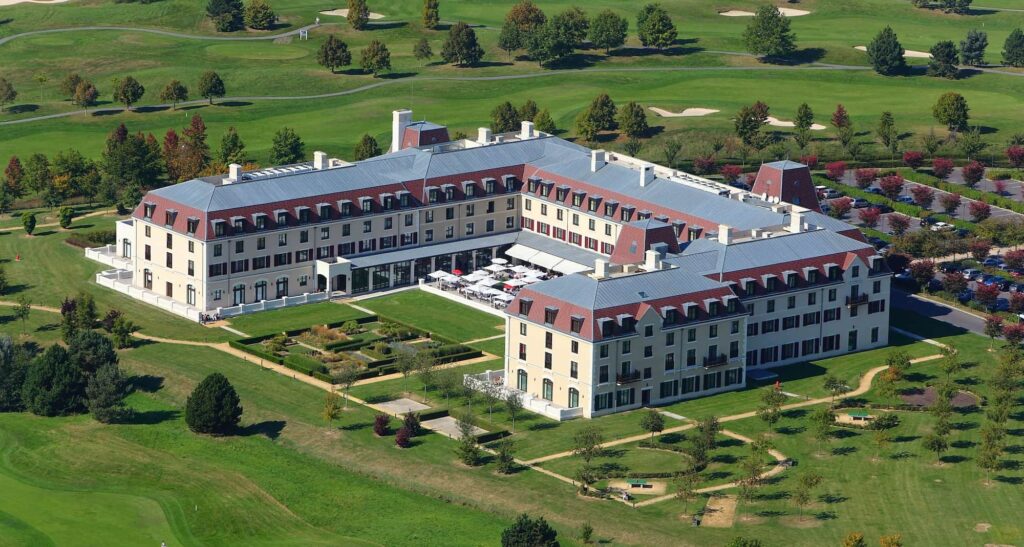 Anyone looking for more executive style and less overtly family-orientated hotels around Disneyland Paris should consider this Radisson property, which is located on the edge of Disney's extensive 27-hole golf complex. It has a far more relaxing vibe, and, while it also caters for convention business, it boasts a good range of facilities, notably its indoor pool and gym, plus treatment rooms for massages and beauty services. The two restaurants – Le Birdie and Le Pamplemousse – feature gourmet French fare as well as international cuisine to ensure families don't feel left out. Park-goers can get to Disneyland Paris in seven minutes via the free shuttle bus.
Campanile Val de France, Magny-le-Hongre
The fourth of the Val de France hotels, this is a comparatively cheap alternative but still features larger-than-average rooms, quality-conscious dining and a French country-house style that makes for a relaxing refuge after a day at the parks. Again, families are their stock in trade as most rooms are configured with a double bed and two bunks, and the lobby features a children's play area, video games room and merry-go-round. There's also a small farm with alpacas, ponies, rabbits, Guinea pigs, sheep, goats and donkeys. The evening buffet is surprisingly good, with an array of choice for most tastes and appetites. Free shuttle buses are available.
Hotel L'Elysée Val d'Europe, Serris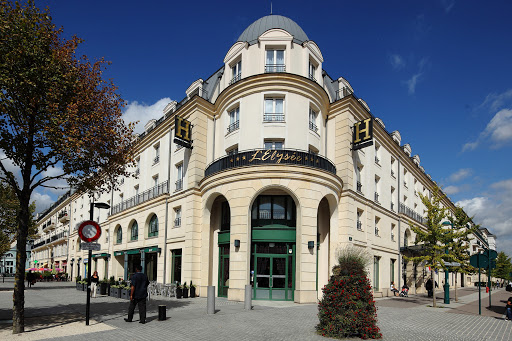 Looking for a hotel beyond the obvious ones closest to the parks might bring you to this smart little choice in the heart of Val D'Europe, which is just one stop from Marne-la-Vallée on the RER train line. While its main focus is couples, it still features some well-equipped family-style rooms in triple and two-double configuration. Its elegant restaurant offers Paris brasserie style but its real draw is being at the heart of this bustling modern town, which has fabulous shopping – including the designer outlets of La Vallée – and exquisite dining just a short walk from the front door.
Disney's Hotel Sante Fe, Marne-La-Vallée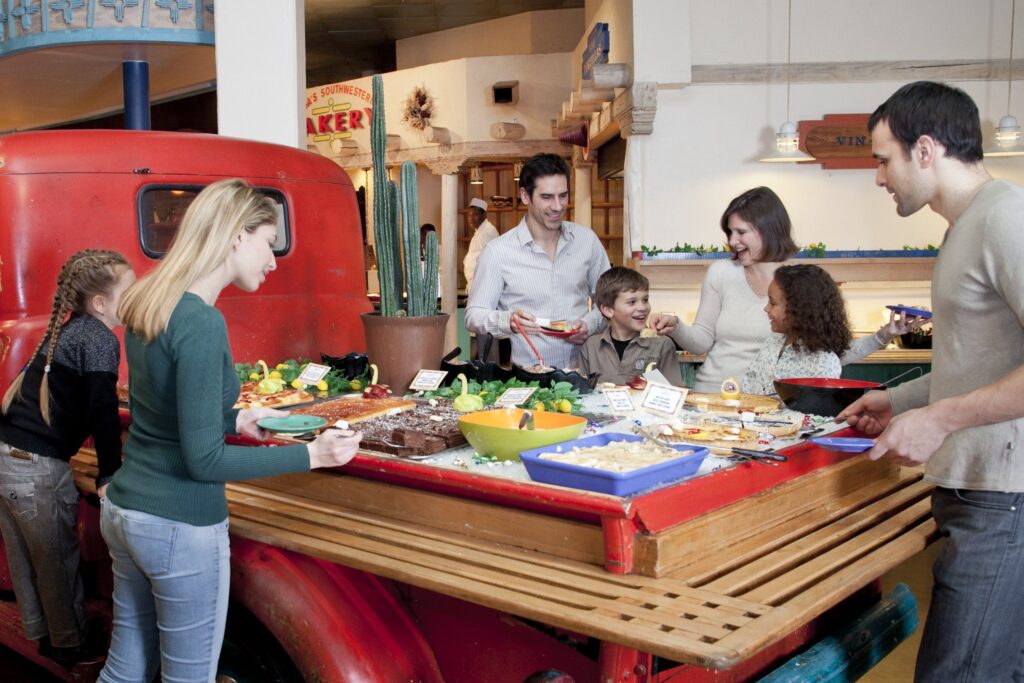 Pull up on Route 66 in America's southwest: this sweep of an ochre-red, 1,000-room hotel is a must for fans of the Disney film Cars or simply families seeking top-value, two-star accommodation inside the park. Expect live music and karaoke evenings at the buzzing Rio Grande Bar, Tex Mex and European buffets at La Cantina and a Pow Wow arcade room (for an extra charge) plus indoor kids' corners. An hour of Extra Magic Time is also offered for hotel guests before official opening times at both parks.
Disney's Hotel Cheyenne, Coupvray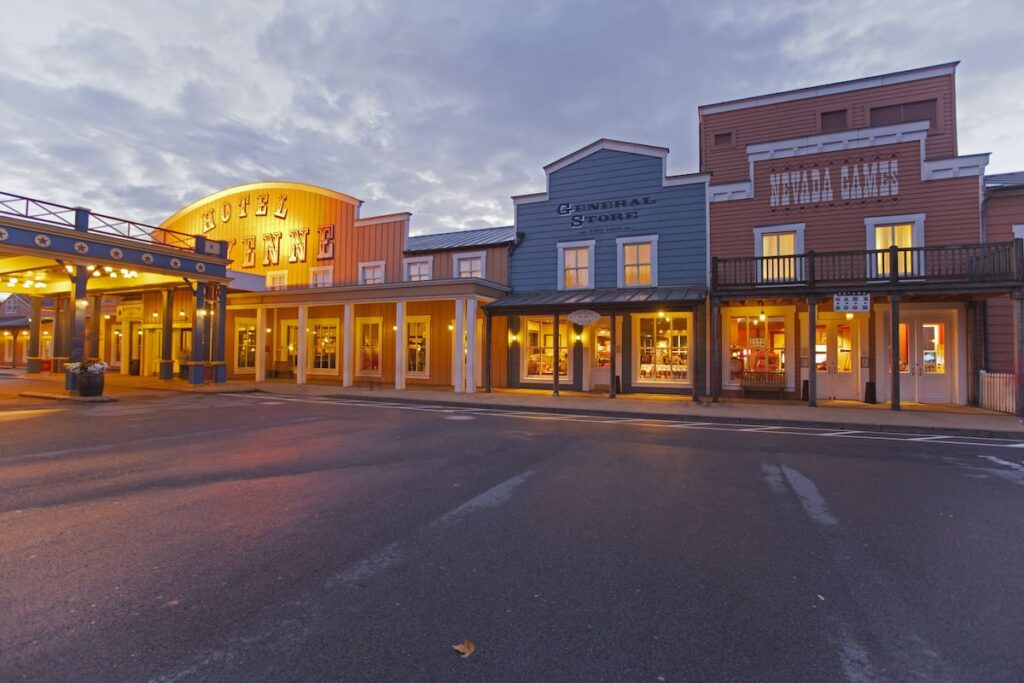 One of the most characterful hotels close to Disneyland Paris, fans of the Wild West will love this cowboy-themed resort. It is also a notch or two cheaper than some of the others in this list. Rooms and facilities are a bit plainer, but the main building is constructed like a western village, from the Goldrush-era claims office that serves as the lobby to the Red Garter Saloon, which often features live music at peak periods. The rustic-style rooms feature kid-friendly bunk beds and are all named after Woody from the Toy Story films. Free shuttle buses whisk guests to and from the theme park, and free parking is included. The two guest launderettes are a handy extra.
Disney's Sequoia Lodge, Coupvray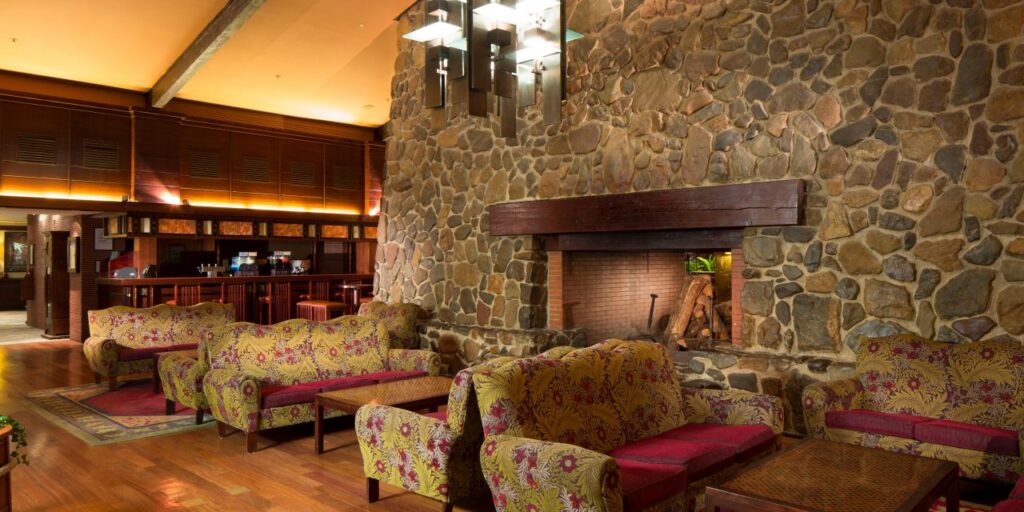 Taking its cue from America's national parks, this wood-and-stone edifice also overlooks Lake Disney and is surrounded by gardens and greenery. The interior is just as impressive, notably around the inviting Redwood Bar, where the flagstone floor and open fireplace provide an atmosphere of rugged gentility. It is big, though, with 1,011 rooms split between the huge main building and five lodges around it. The large freeform pool also has an indoor/outdoor aspect, and the two restaurants provide a wide variety of family-friendly options. Its outdoor terrace is a gorgeous place to sit with a drink of a summer evening.
Disney's Hotel New York – The Art of Marvel, Chessy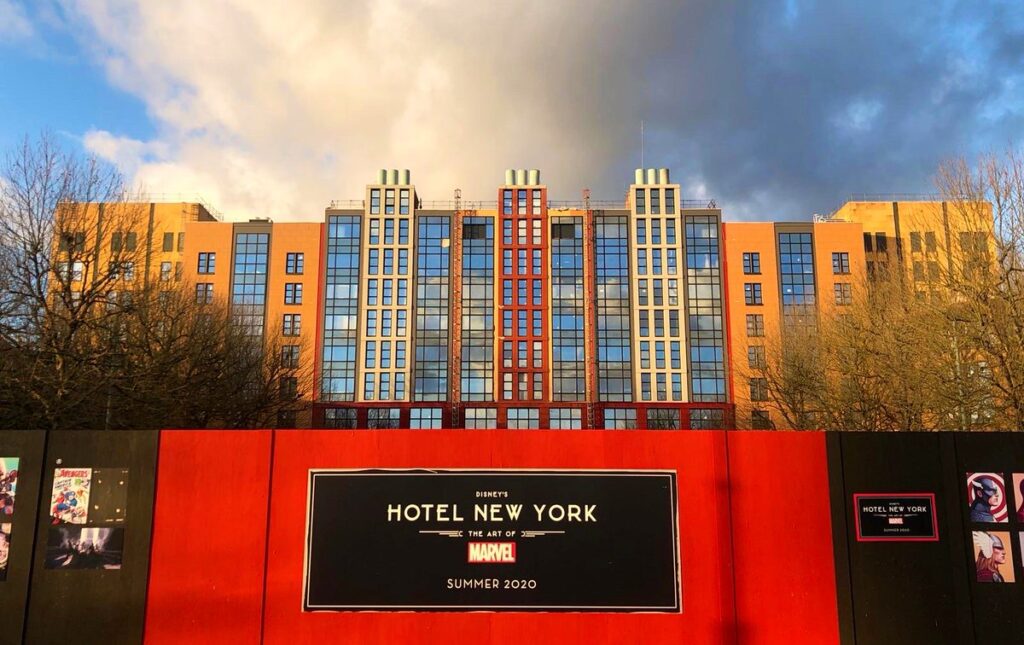 One of three hotels on the edge of Lake Disney, and within easy walking distance of the parks (10-minute walk). It has a 1930s Art Deco vibe with whimsical touches, and over 300 pieces of Marvel artworks. Good food and drink offerings include two restaurants (notably the trattoria-style Manhattan Restaurant), New York Skyline Bar with signature cocktails, trendy loft-style Bleecker Street Lounge, and the Empire State Lounge which offers complimentary breakfast, drinks and afternoon snacks for those in certain room categories. There's a fabulous pool plus a state-of-the-art gym, and tennis courts. Standard rooms comfortably sleep four, while a handful have king-beds only. The corner suites are huge.