Bodrum Travel Guide
Introduction
Bodrum Travel Guide : Bodrum is Turkey's Turquoise Coast at its most vibrant. This is a holiday destination du jour, with a marina full of bobbing yachts ready to whisk you out onto the Mediterranean; a handful of ancient attractions for sightseeing; and a town filled with photogenic, old, whitewashed houses.  Once the ancient city of Halicarnassus, by the late Ottoman era, Bodrum had turned into a simple fishing village, but all that changed in the 1940s when tourism entered the fold. Now during summer, this town buzzes with energy as tourists come from all over the world to soak up Bodrum's charm. If you happen to visit out of season, though, you can still catch a hint of the old village atmosphere. On this page, we'll take you on a tour of great day trips from Bodrum to places you may have overlooked. Expect stunning nature, authentic villages, and fascinating ancient sites.
Bodrum Town versus Bodrum Peninsula
All too often, people refer to the entire Bodrum Peninsula as Bodrum. If you are traveling to Bodrum, it's important to know that the Bodrum Peninsula consists of several resorts and towns, all with a totally different vibe and identity.  If you do your homework before traveling, you'll notice that there's something for all tastes and budgets on the peninsula. Having the perfect Bodrum Peninsula holiday is simply a matter of picking the resort that is right for you. Bodrum', to its regulars, is not precisely the town itself – rather, the name refers to the peninsula at large. On this coastal finger, you need to know where to go. Bodrum Town is where you can let off steam at night, where the club singers croon and corks pop across the shiny marina, and where summering show-offs swarm the boulevards. Beyond the town, quieter villages hug the northern, more exclusive shorelines.
The town of Bodrum is in its own rights, the true gem of the Aegean coast. Modern architecture sits with ancient ruins, and private yachts, Mediterranean houses and cobbled streets to highlight a destination that is renowned throughout Turkey as being the inspiration for artists and famous celebrities.  Bodrum town can be anything you want it to be, lively, relaxing, luxurious or traditional. Known in history as Halicarnassus, it can also claim fame as being the ancient home to the tomb of King Mausolus. Life in Bodrum town center revolves around the harbor front where narrow streets are lined with cosmopolitan bars, exclusive restaurants and traditional shops that are overlooked by the domineering appearance of St Peters castle.
Bodrum town center is the hub of the Bodrum Peninsula on the Aegean coast of Turkey. It faces the Greek island of Kos and is 30 minutes' drive away from Bodrum airport. From the airport, the town can be reached by driving south on the Bodrum-Mugla highway (D330).  Most international airlines will fly into the airport during the summer season. In the winter time, main transport through the airport is from internal flights within Turkey.  Bodrum town center belongs to the province of Mugla and there is a frequent bus system operating to Bodrum from other major destinations within Turkey.
The Fisherman of Halicarnassus
If you come to the top of this hill, you will see Bodrum. Don't think that you will leave the same person as when you arrived. To all those who came before you, it happened that way: they lost their hearts in Bodrum."
This quotation is the first thing visitors see on the main road into Bodrum. It is written large on a sign of welcome erected by the town council with a photograph of the smiling, weather-battered face of its author. He is Cevat Şakir Kabaağaçlı, known as 'Halikarnas Balıkçısı', the Fisherman of Halicarnassus, and his name will crop up again and again on a visit to the town he is credited for turning into Turkey's most famous resort. Read more about the article The Fisherman of Halicarnassus
Best Tour Packages to Bodrum
Bodrum Town
Castle of St. Peter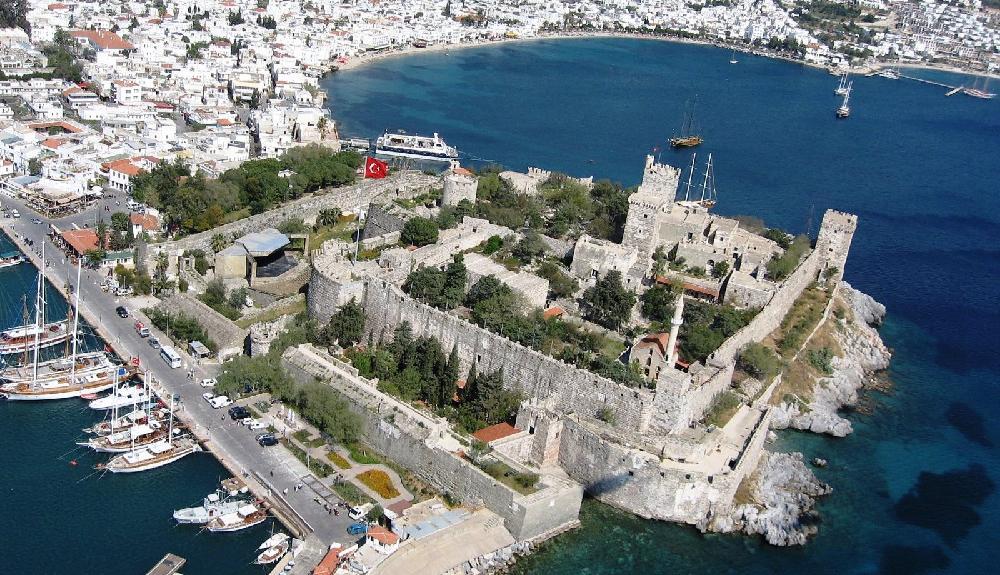 Lording over the seafront, the Castle of St. Peter is at the top of every visitor's things to do in Bodrum list. The Knights Hospitallers of St. John built the structure between 1402 and 1437, and knights of the various nationalities of the order were entrusted with the defense of particular sections of the walls. Among the various towers are the French Tower; English Tower, with a sculpted lion on its west wall; and the Gatineau Tower, which leads to the dungeons. During the reign of the Ottoman sultan Süleyman the Magnificent, the castle passed into Turkish hands and a mosque was built inside. Today, many of the vast halls inside the castle display the exhibits of Bodrum's Museum of Underwater Archaeology.
Museum of Underwater Archaeology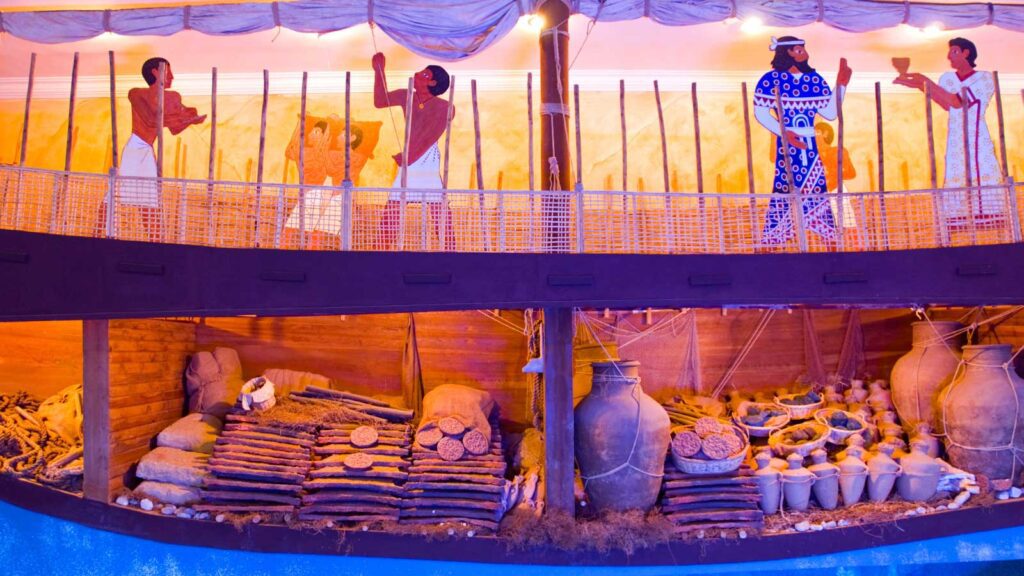 This absolutely brilliant museum inside the Castle of St. Peter is a must-see attraction, even if you don't have an interest in underwater archaeology. The layout of the exhibits is clearly organized, and the dazzling artifacts are complemented by slick multimedia displays. After the entrance, with its huge amphorae collection and a glass-blowing workshop that kids will find fascinating, you enter the Glass Wreck Hall, which displays a 16-meter ship that sunk in AD 1025. The French Tower is home to another dazzling underwater find — the cargo of a classical Greek ship that sunk in the 4th century BC. In the Uluburun Wreck Hall and adjacent Treasure room is the museum's crowning glory — the excavated finds recovered from several Bronze Age shipwrecks.

Bodrum is all about the sea. The vast amount of visitors that arrive are here for a lazy holiday of sun, sea, and sand. Boat trips are the most popular way to get out on the water, with hundreds of tours on offer during the summer months, ranging from a couple of hours to multi-day yacht trips down the coast. Many resorts also offer kayaking, fishing, and jet-skiing as well. Bodrum harbor is home to plenty of yachts ready to whisk you out onto the Aegean Sea for a boat trip. There are both half- and full-day trips on offer that promise hours of sunbathing on board, simply soaking up the scenery of the turquoise sea, the rocky coast of the Bodrum Peninsula, and the tiny islets offshore with lots of swimming stops included. A great option is the full-day Bodrum Peninsula Cruise with lunch, which includes a chance to swim, snorkel, and sunbathe, as well as explore the island of Kara Ada. If you don't fancy joining a group trip, and would like to make your own itinerary, you can also hire a yacht with crew for the day privately.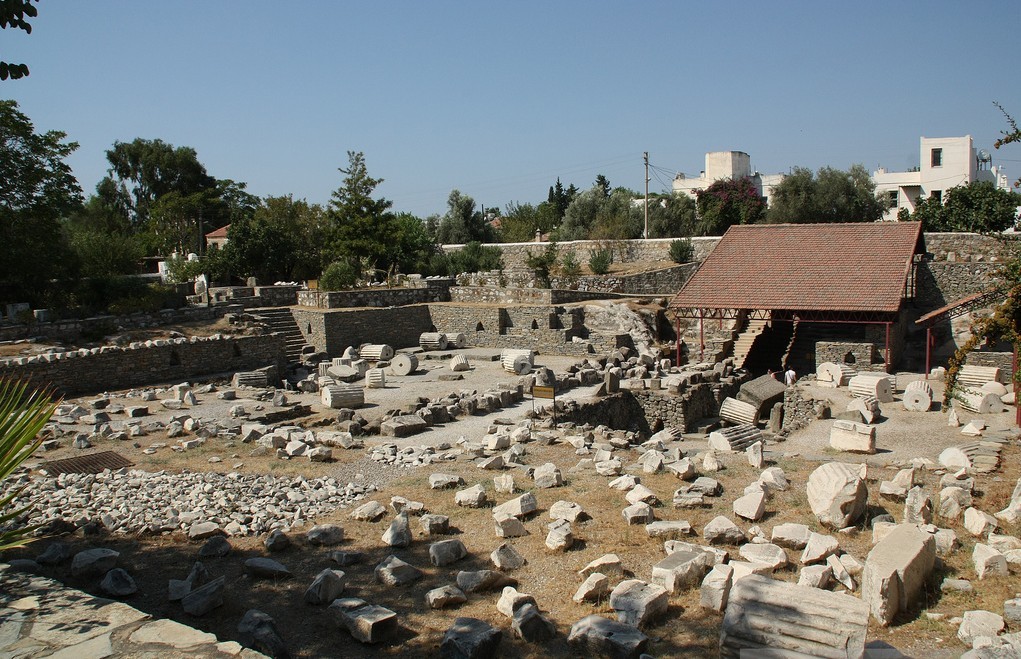 It doesn't look like much these days — you may need to put your imagination hat on — but this pile of ancient marble and rubble was once one of the seven wonders of the ancient world. The Mausoleum of Mausolus was built in Halicarnassus (Bodrum's ancient name) by the architect Pytheos as the final resting place of King Mausolus (376-353 BC). When finished, the impressive towering structure measured 46 meters high and was decorated with magnificent friezes by the most celebrated Greek sculptors of the day. Despite damage by earthquakes over the centuries, it was only finally destroyed by the Knights Hospitallers, who used its stones to build the Castle of St. Peter. The modern day site, in a peaceful garden setting, is worthy of a look if only just to say you've seen one of the seven ancient wonders. There's also a helpful scale model of the original mausoleum on site.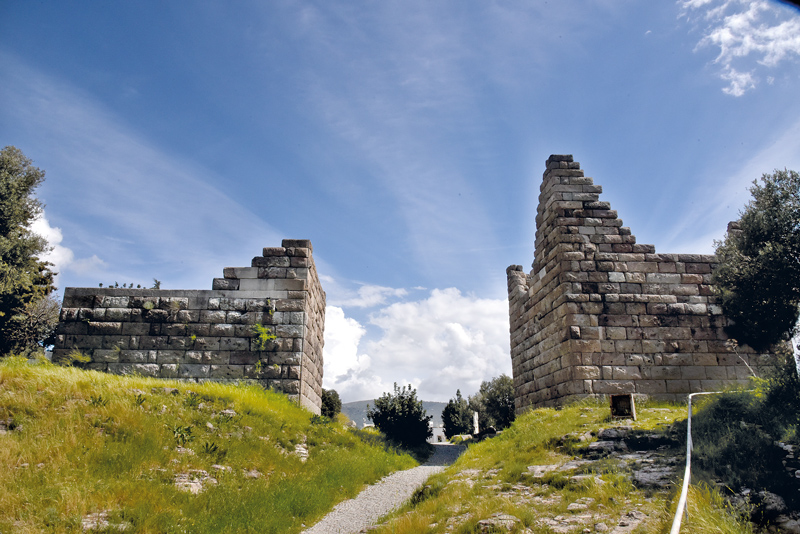 One for the supreme history fiends on a hunt for the remnants of Halicarnassus, this gate is the last remaining chunk of King Mausolus' once sturdy fortress walls, which wrapped around the ancient city for seven kilometers. For tourists who enjoy a bit of poking about, plenty of small ruins are nearby, including a scattering of tombs and mosaic fragments left in situ, as well as the sparse remnants of a 4th-century BC moat. None of these remains in themselves have a wow-factor, but combined they make an interesting hour or so of exploring.
Bodrum Theater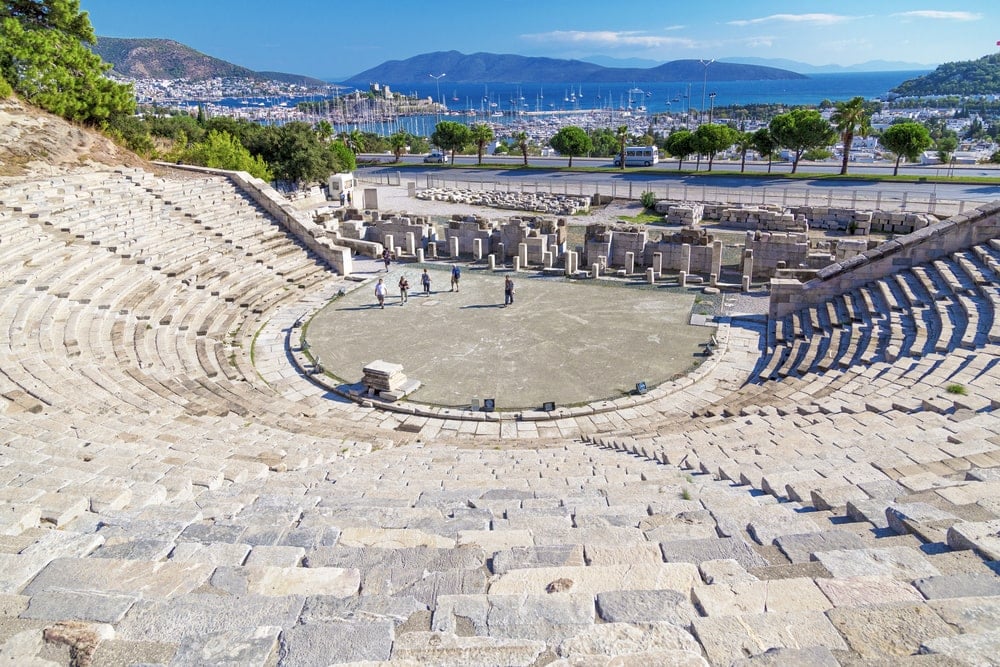 Bodrum's ancient theater may be small by Roman standards but it has been beautifully restored, and the views from the upper tiers, out towards the mountains, are superb. In its heyday during the 4th century, it would have held 13,000 spectators. If you're here in summer, Bodrum uses the theater for a program of events and concerts. Check out if there's anything on while you're in town, as seeing a performance within the theater is the best way of imagining how it would have been used in the grand era of Halicarnassus.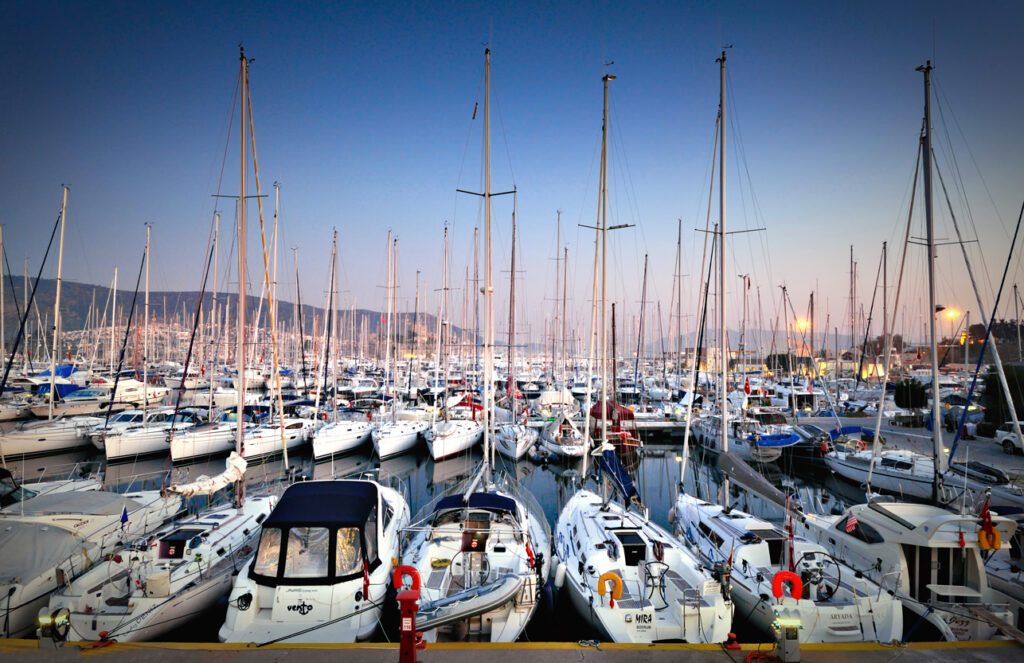 It's the crystal blue Mediterranean that calls most visitors to Bodrum, and yachting is big business here. The marina is a sailor's and sea-lover's paradise, crammed with bobbing yachts of all shapes and sizes. There are dozens of options to get out onto the water, with excursion vessels offering day trips (or longer) around the coast, visiting islands and hidden coves for sunbathing and swimming. If you follow the marina road farther west, you'll come to the Ottoman shipyard, which has some interesting tombstones and great marina views.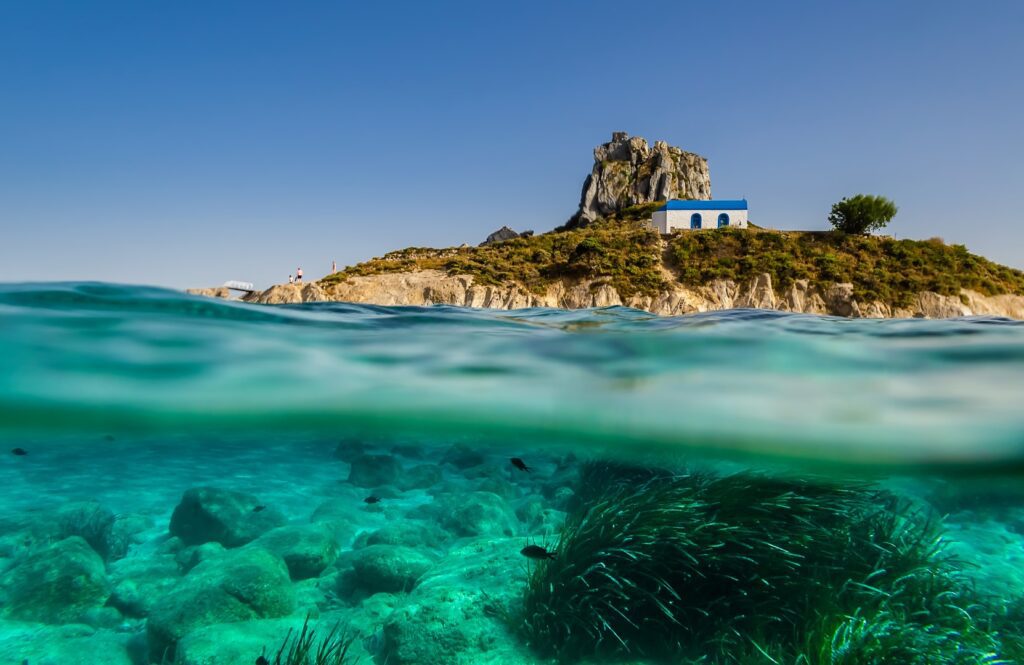 Just behind the Castle of St. Peter is Bodrum's most interesting area. The narrow pedestrian alleyways here are lined with vine-draped, whitewashed, and stone-cut cottages that look like they fell off a postcard. Much of Bodrum has been modernized, so this is one of the few parts of town where you can still get a feel for the fishing village it once was before tourism moved in. It's an incredibly charming place for a late afternoon wander, and heaven for photographers. There are plenty of cute boutiques and cafés in this area if you need to sit down and relax after strolling.
Windmills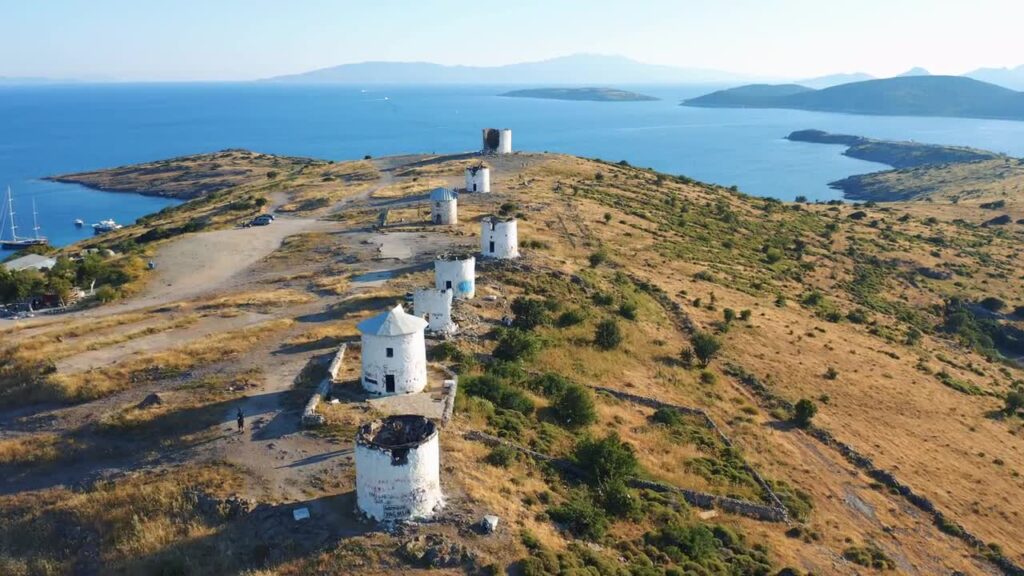 The windmills of Bodrum are famous landmarks of the whole Bodrum Peninsula. They are mostly situated on top of a hill between central Bodrum and nearby holiday resort Gumbet, overlooking the beautiful Bodrum Bay on one side and Gumbet Bay on the other side. There are seven windmills in the region. They were used from the 18th century till 1970s. The conditions of the windmills are not well but it worth a visit and see the panoramic views of the peninsula, and take pictures. On the top, visitors are able to see and enjoy Bodrum, Gumbet and also the Greek island of Kos. The scenery and panorama is spectacular, especially at nights.
Bazaars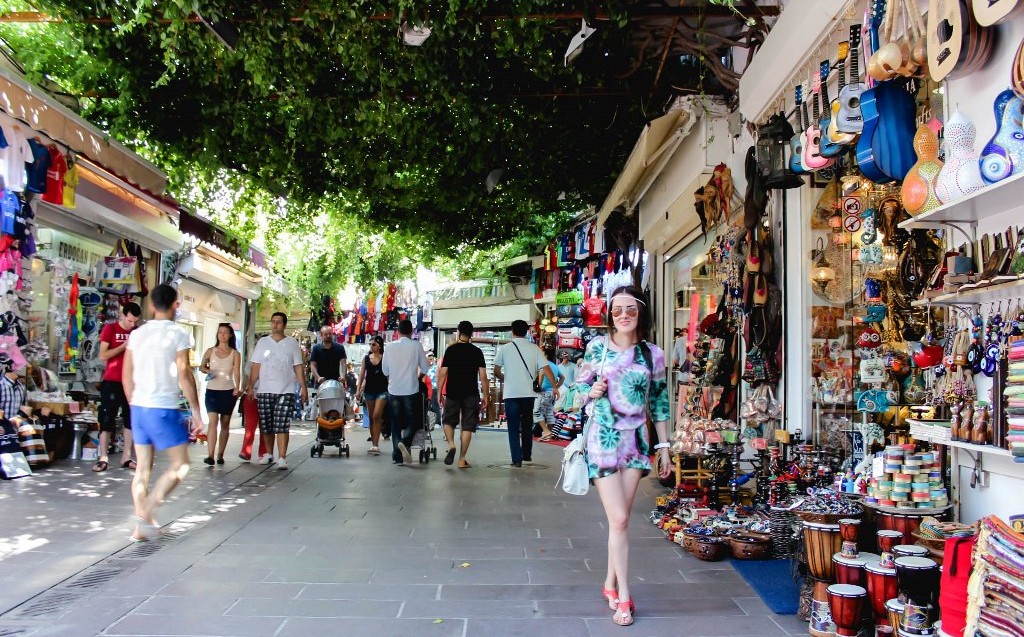 If you're looking for some retail therapy, Bodrum has it all. The modern bazaar area is an upmarket take on an original Turkish market, with proper shops rather than stalls. It offers less room for bargaining but what it loses in authenticity, it makes up for in choice. There's everything here, from gorgeous Turkish and Central Asian textiles and colorful local pottery to a bling-fest of gold shops and snazzy beachwear. A lazy afternoon meandering between the shops after a morning of sunbathing is what Bodrum is all about.
Where to Stay in Bodrum for Sightseeing
Mid-range : El Vino Hotel & Suites is a four-star boutique hotel in a peaceful location but still only a walk into Bodrum town. It has a panoramic rooftop terrace with a pool, and breakfast is included. The Marmara is one of Bodrum's most high-class hotels with views across the entire town stretching out to the sea, a vast pool area, top-end restaurant, and rooms bedecked with chic modern furnishings.
Family Friendly: The family-friendly Voyage Bodrum has a long private beachfront, big pool area, games room, and a popular spa and sauna offering a vast range of treatments. Manastır Hotel also is a very good first-class hotel in Bodrum Town.  Another affordable resort is the Forever Club, always popular with tourists due to its welcoming staff, big private beach, outdoor pool, basketball court, and spa with traditional Turkish bath facilities.
Budget Hotels: In a great central position, near St. Peter's Castle, the friendly Hotel Istankoy Bodrum has a sociable pool area, good-sized rooms with excellent facilities, and a restaurant.
Bodrum Peninsula Towns
Torba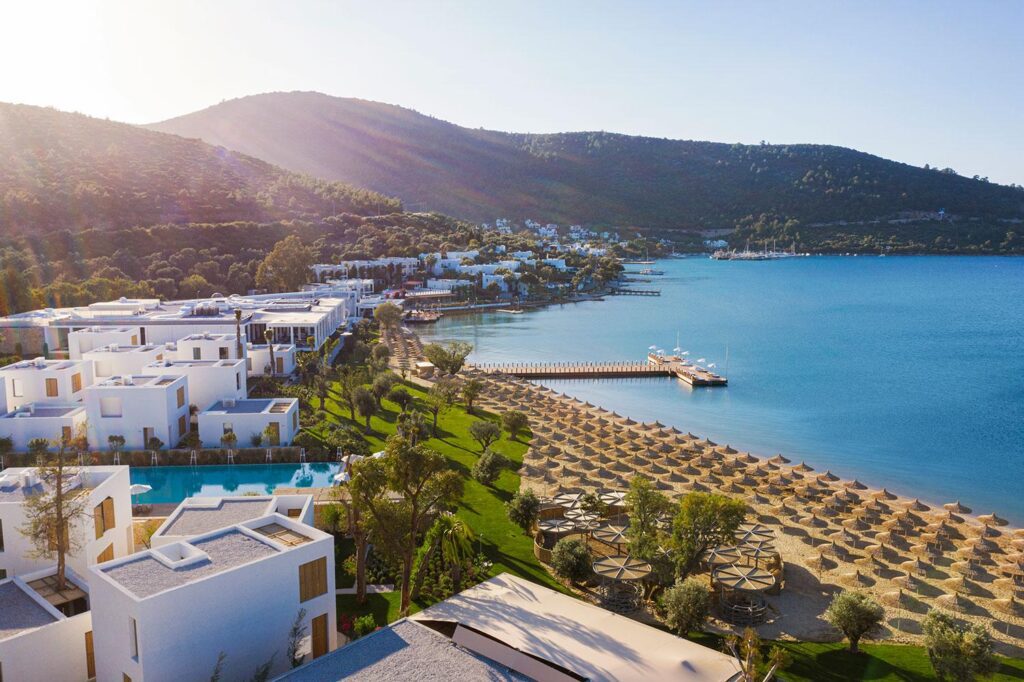 Coming from the airport, you reach Torba before arriving in Bodrum town. Torba has a beautiful bay with a healthy mixture of fishing boats and superyachts. As sleepy as it is over winter, it is quite lively in summer. Still, it qualifies as an escape from busier places like Bodrum town or Gümbet.  If you're planning to book your stay in Torba, you are spoiled for choice. Take your pick between the many all-inclusive clubs and resorts or the small boutique -style pensions along the beach. Beware! There are hotels on both sides of Torba Bay. If you are on the opposite side of the bay, you'll need to catch a dolmuş or a taxi to get to the center of the village.
Göltürkbükü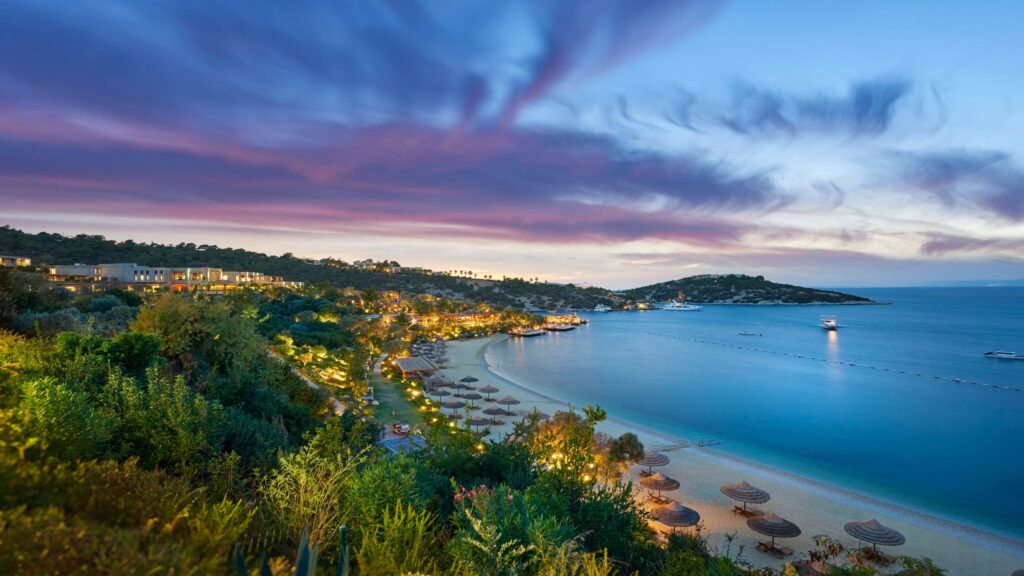 Göltürkbükü is, in fact, a non-existing place. It's the signposting merger of 2 connected bays, the ones of Gölköy and Türkbükü. Both places are positively different, yet it is hard for most people to say where one ends, and the other begins. Probably the crowds will give it away as you could say that Gölköy is more of a sleepy village and Türkbükü is the place-to-be for the rich and famous city-people who love the summertime DJ-sessions and upscale vibe.
Gündoğan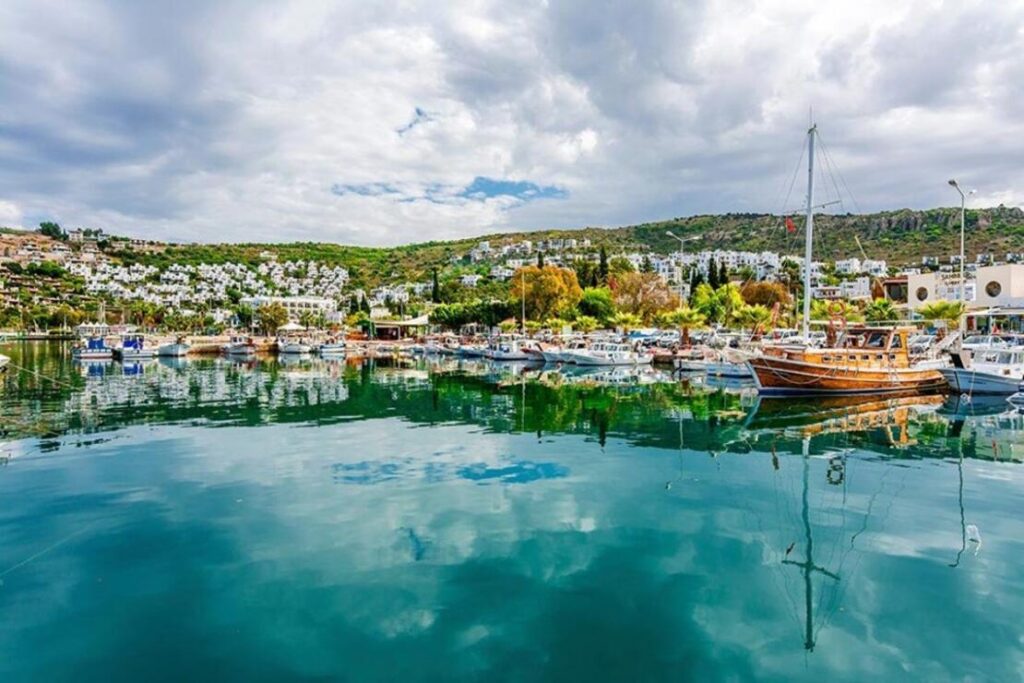 The best word to describe Gündoğan would probably be down-to-earth. This fishing town has kept an authentic feel of serenity. It is the perfect place to spend your holiday, whiling away the days on one of the many jetties purposely built for sunbathing. You'll appreciate the central sandy beach and the overall balance between peaceful with plenty of amenities for active and less active tourists.
Yalıkavak
There is so much to be said about Yalıkavak. It has a lively and slightly arty old center nestled around the old fishing harbor. You will find plenty of restaurants there as well as some charming little souvenir shops and crafts stalls. This is the Yalıkavak that we love. Just outside the old fishing harbor, a sort of new Yalıkavak has risen in the form of a marina of epic proportions. Some say this is the place to go for a style injection; others feel it has taken the soul out of the charming little place this once was. With a Billionaire Club for the jet-setters among you, the marina has expanded so much in recent years, and its size probably surpasses that of the actual village. Nevertheless, if you like a luxury environment and the chance of bumping into celebrities like Robert De Niro, Kate Moss, or Heidi Klum, you will love this place. In fact, one could say that Yalıkavak offers a bit of something for everyone.
Gümüşlük
Gümüşlük is undoubtedly the most bohemian place on the Bodrum peninsula. It has become almost world-famous for its waterside fish restaurants with colorful gourds and a most fairy-like atmosphere. The center of Gümüşlük is not at the seaside, but if you look at the village's pure soul, head for the waterside and immerse yourself in the most laid-back vibe on the peninsula. Some fish restaurants are overpriced, try and figure out where the locals go. And forget about the price and embrace the experience.  Gümüşlük's seaside is built on ancient Myndos, and as such, a protected area. We even heard someone mention once it wasn't finished yet. And it isn't, and hopefully never will be. At the seaside, there are no paved roads, no cars, no promenade. Prepare to walk on the dark sand or to while away the day on the almost improvised beach. If you're looking for fancy bars, speedboats, and some well-established tourist entertainment offers, you won't like it. If, on the other hand, you want to visit the place on the peninsula that has the most untouched seaside, this is your spot.
Kadıkalesi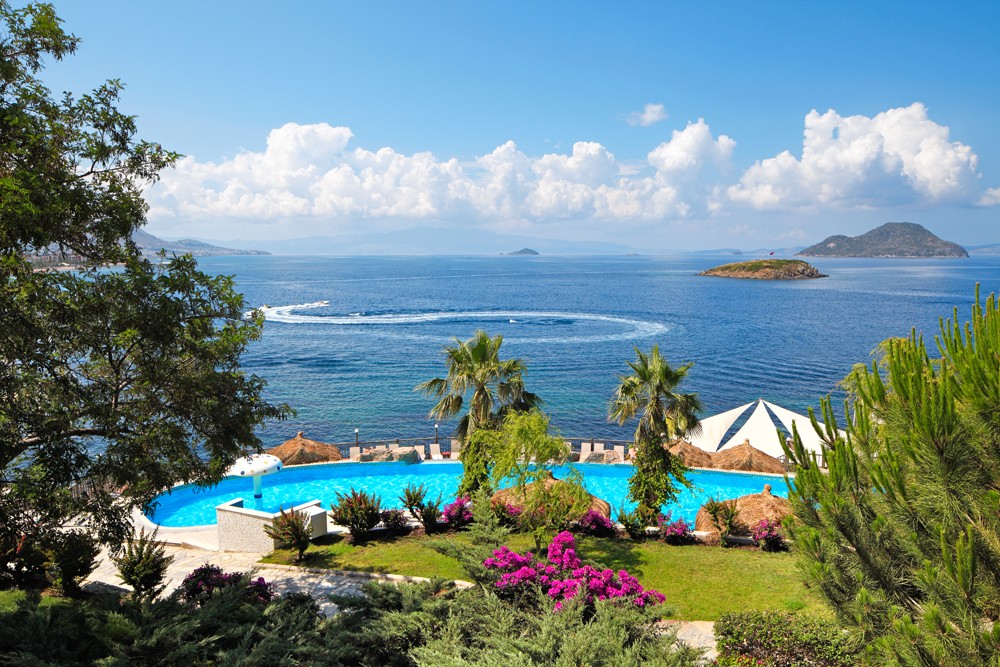 The first word that comes to mind when thinking of Kadıkalesi is small but in a good way. This tiny resort between Gümüşlük and Turgutreis has one short street leading to the beach and bay. Other than a few restaurants and some bigger club hotels, there's nothing there. Although it is tiny, it has a quite substantial jetty and plenty of facilities to please tourists looking for a more active holiday.
Turgutreis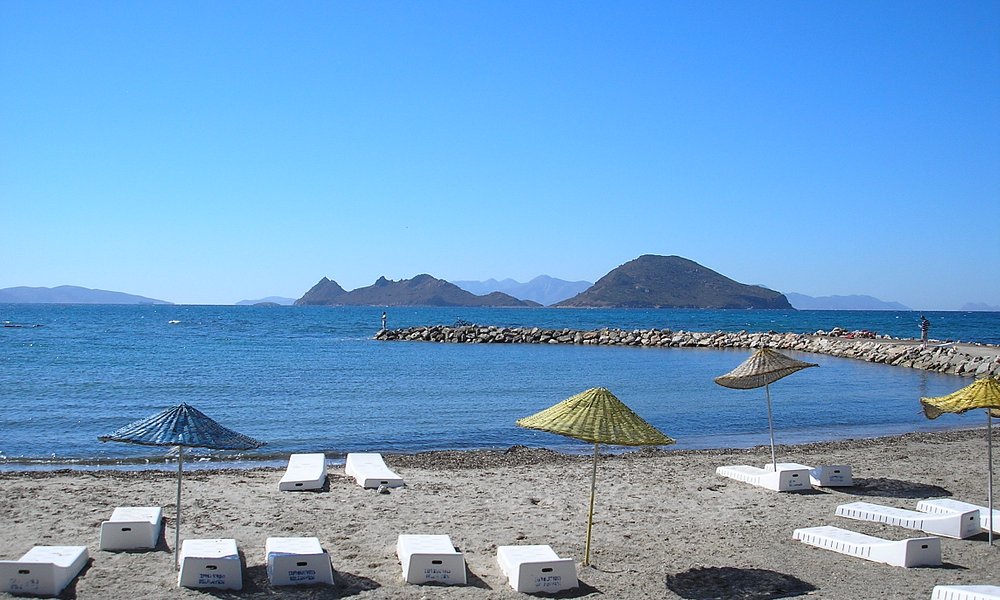 Apart from Bodrum, Turgutreis is the biggest city on the peninsula. It is a real functioning town, even in winter, with a large ex-pat community. There is a small fishing harbor, where you can also book your day trip boat tours and a large marina right next to it. Turgutreis is famous for its extensive weekly market, held on Saturday.  It is a lively place, with a mundane root. You'll find plenty of shops here, as well as a good selection of fish restaurants where they are happy to prepare the fish you've bought at the fishmongers for a small fee. Turgutreis also has extensive sandy beaches with mesmerizing island views.
Akyarlar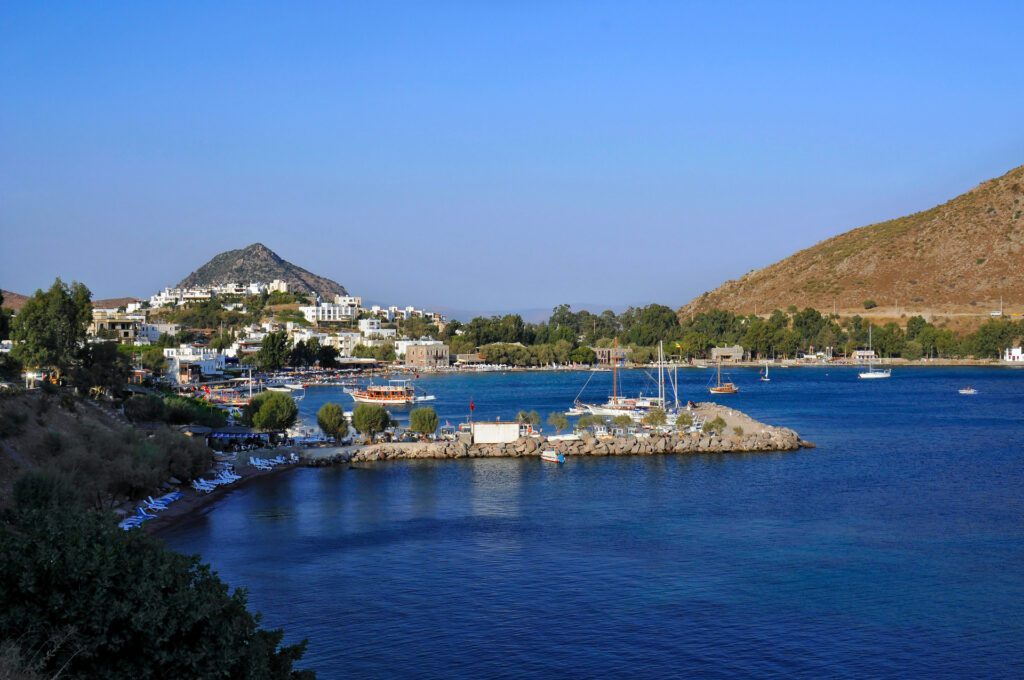 Akyarlar is an unusual destination to describe as it has a vivacious part with a stretched out, sandy and crowded beach, but also a more laid-back part near the old village where you'll find a secluded bay, a small beach, and some cafés and restaurants. Also in Akyarlar is the Xanadu peninsula, where an entire small peninsula became an exclusive all-inclusive hotel. We could say Akyarlar has a bit of something for all tastes, but you will most likely end up in the lively and touristy part if you have booked a larger hotel. Akyarlar is also the place closest to Kos Island, which is opposite the Aegean and clearly visible, especially from the abandoned lighthouse.
Ortakent – Yahşi
Ortakent – Yahşı is the merger of two municipalities that now share a beautiful Belediyesi çay bahçesi (Council tea garden) in between them. Yahşı on the west side is a well-established beach with facilities and restaurants that cater to all kinds of tourists. Each year, the beach becomes more tourist orientated, with a growing amount of restaurants, a jetty, shops, and many sunbeds.  Mid-way, after the harbor, you'll find the modern Council-run tea garden, after which you can head to the eastern section with a more low-key atmosphere, a public beach, and plenty of boutique-style pensions and hotels.
Bitez
Bitez is probably what you could call the most comprehensive tourist resort of the Bodrum peninsula. It has a long sandy beach with beach bars, restaurants, sunbeds, watersports, and open-air clubs. While it gets crowded, it maintains a friendly feel. As if party-people and sun-seekers have found the right balance by picking the place that suits their needs the best. There are no quiet corners on Bitez beach, but if you are looking for the ultimate Bodrum beach resort, then this would be it.
Gümbet
Are you coming to Bodrum to party? If your ideal holiday is a mixture of sun, sea, tattoos, cocktails, and party till you drop, then Gümbet is the place for you! Gümbet bay is essentially a cluster of bars, clubs, and shops. Those searching for a quiet little place might best avoid this place because if there is one thing that Gümbet is not, it's quiet.  Gümbet has so many open-air clubs; you could go to a different one each night and probably not even have visited them all by the end of your holiday.
Explore the Ancient Sites Near Bodrum
Are you a history buff? Do you like your culture shot during your travels? You won't be disappointed if you've picked the Bodrum Peninsula as your base. There are lots of fascinating ancient sites within easy driving distance from Bodrum. Check them out below, or click through to the detailed post to discover each ancient site in detail and add them to your list of things to do in Bodrum.
Pedesa
Visiting Pedasa? Well, yes, the heart of the Bodrum Peninsula hides an ancient site. And the hike up there alone is worth the trip! Bodrum is a famous tourist hub. It's all about the turquoise sea, sand, beaches, nightclubs, fancy restaurants, top-class hotels, and yachts for most people. Others are attracted by its rich history and can't wait to visit Bodrum Castle, the Mausoleum at Halicarnassus, and Myndos Gate, all high up on the famous Bodrum landmarks list.  Few people know about Pedasa, one of the oldest civilizations of the Aegean, nestled high up in the Bodrum hills, just off Konacık.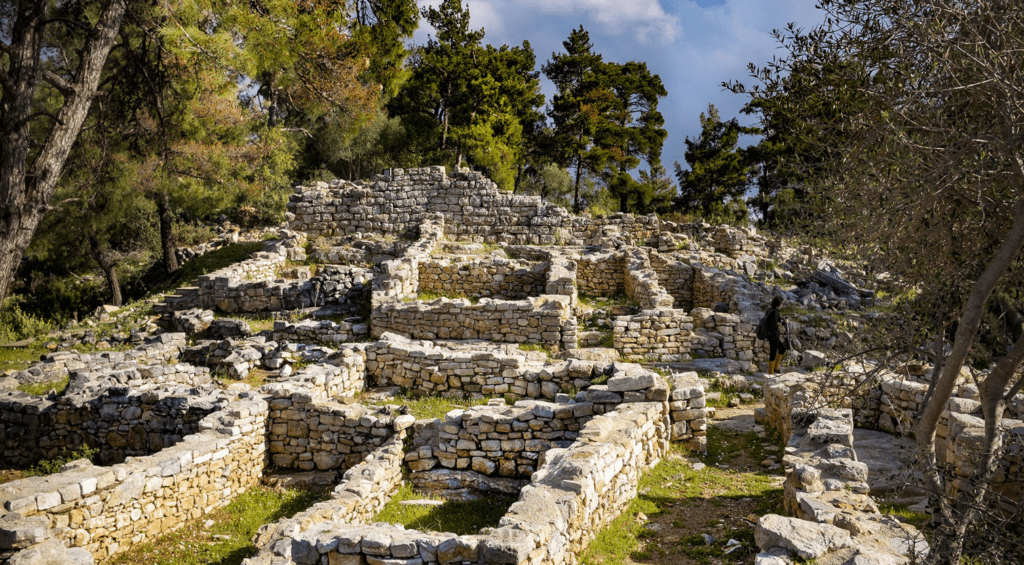 Granted, working your way up to Pedasa on a hot August day might not sound like the brightest idea. The good news is the hike to Pedasa offers plenty of protection from the sun by pine trees. And there are eleven more months to hike to Pedasa if August is too hot for you. But if you like history and ancient sites, especially when they are surrounded by nature, then you won't be disappointed.  There are several routes to Pedasa, all equally interesting and beautiful. We have highlighted two walks on the map at the bottom of this article, one of which starts from the Yalıkavak – Torba road, near the fire brigade station. The other one takes you past an improvised wish-tree. Be ready to be wowed and – once you start your climb up to Pedasa's inner Castle area – breath-taken!
Yediler Monastery
Some places you keep going back to. Yediler Monastery – and by extension – the entire area around Lake Bafa – is one of those places for us. We love to hike. And hiking in Turkey is always rewarding, and sometimes challenging. The hike up to Yediler Monastery, a Byzantine-era monastery located in the sacred Latmos Mountains, is short and sweet with otherworldly views from start to finish. Otherworldly? Well yes, we feel that this is the most suitable description for the boulder-dotted Latmos Mountains with Lake Bafa and its monastery-islands as a backdrop. Once you've arrived at Yediler Monastery, or Kellibaron Monastery as it is also referred to, you'll notice that it offers an open view down to Lake Bafa below. Still, trying to spot it from the shore, is virtually impossible. Yediler Monastery almost completely disappears into the landscape. The material with which it was built, as well as the construction methods used, largely contribute to that. And even once on-site, you may overlook the boulder that houses the frescoes!
You will find the remains of two chapels and a cave with an apse, probably also used as a chapel in the southeastern side of the big courtyard. The upper castle is located in the north of the western court. The upper castle is extremely well-protected with an almost impenetrable, rocky access refuge. Don't forget to make the climb up to check out the vaulted cell rooms! Nowadays, they offer a great view, but back in the days, the 'window' wouldn't have been larger than the size of a cannonball.
Stratonikeia
Mid-way, between Milas and Muğla in Turkey lies Stratonikeia, a well-preserved ancient site. Stratonikeia was one of the most important Carian cities, and it has been inhabited continuously since the Bronze Age. That's 1.500 BC! So how come you've never heard of it? You may even have driven past it and failed to stop! After all, it is conveniently located on the main road connecting Bodrum to Muğla. Granted, in Turkey, one is spoiled for choice when it comes down to ancient sites, and people are focusing on the more famous and bigger ones like Ephesus. Still, consider a stop at Stratonikeia for a different experience.  Stratonikeia offers the unique opportunity to combine visiting an ancient site with ongoing excavations and restorations while getting a taste of the day-to-day village life in Turkey. Well yes, when we said continuously before, that was exactly how we meant it. Even today, Stratonikeia is still inhabited.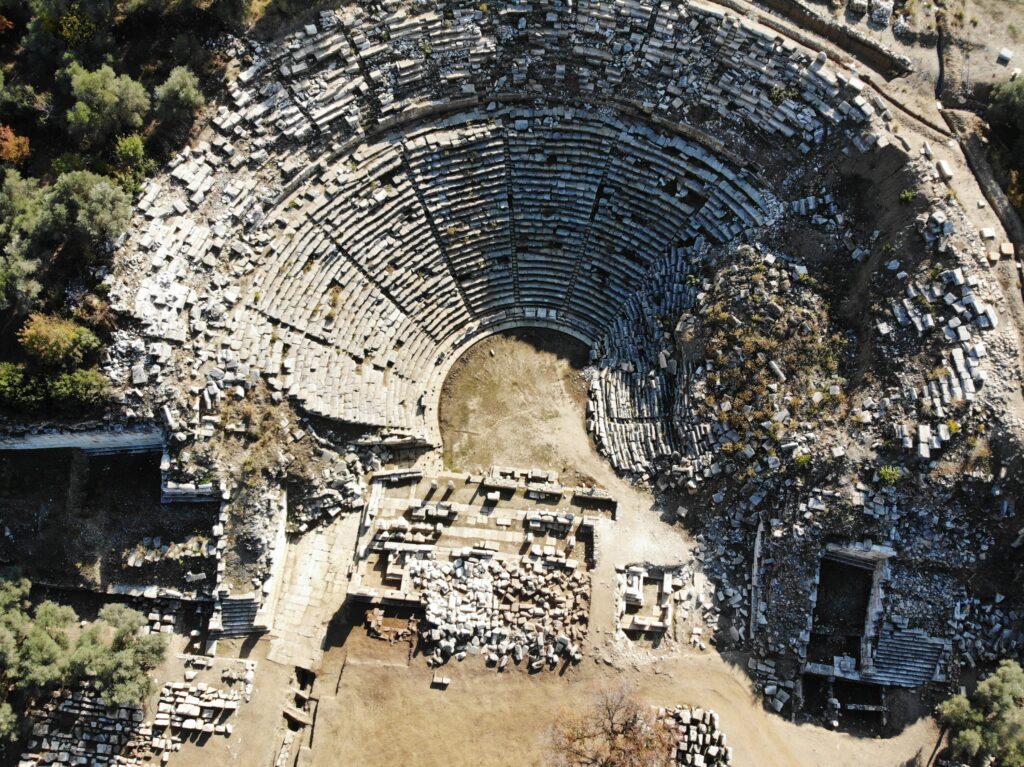 Labranda
Did you know there is a piece of Carian history, (or in this case lots of pieces) built with white marble, hidden in the mountains near Milas? It's called Labraunda (or Labranda, depending on the source) and it is home to the Sanctuary of Zeus Labraundos. Sounds impressive, doesn't it?  Well, it is! This solitary and sacred place was visited on foot by Carian pilgrims to honor Zeus during sacrificial feasts. The unique remains of the halls that served as a venue are still here. At no other ancient site in Turkey will you find such dining facilities. Labraunda is an archaeological site worth visiting. As it happens with those hidden gems in Turkey, we were the only visitors there. The other people we've encountered were archaeologists at work. It is fascinating to see them at work in this environment. Sitting in the striking heat of the sun, carefully cleaning the marble bricks to bring out the white again and showing the Greek inscriptions that they are carrying.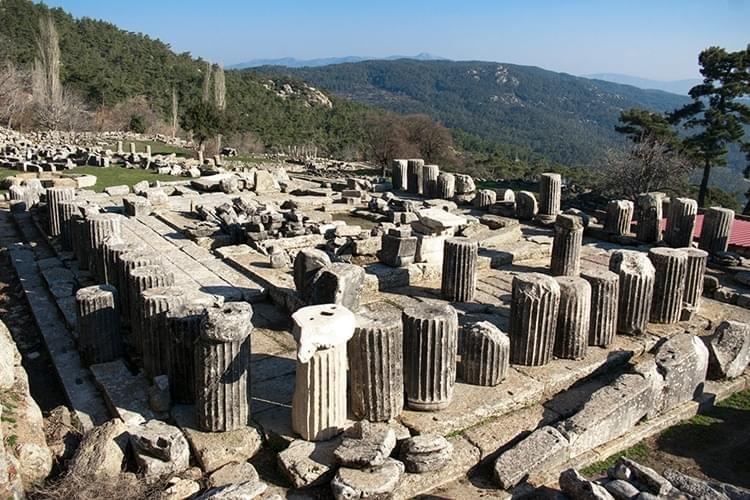 Knidos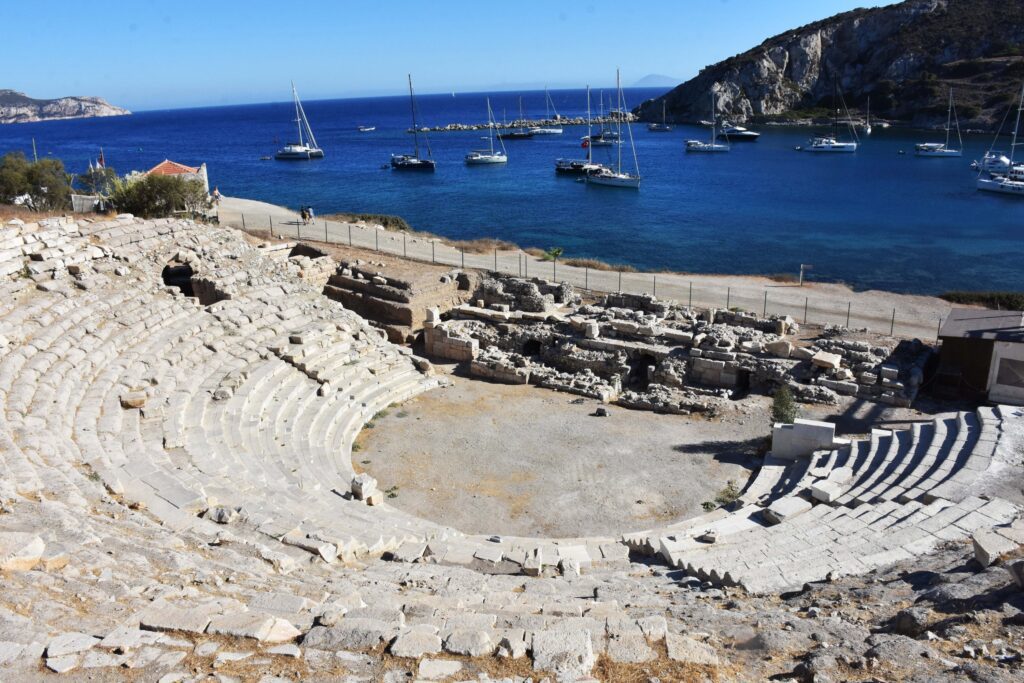 Some ancient sites seem to have it all: a spectacular setting, two harbors, a photo-bombing lighthouse, and a few good stories to finish it all off. Knidos fits into this category. It's the kind of place that makes you forget about the world, even if only for a brief moment. Situated right at the edge of the beautiful Datça peninsula, flirting with the Mediterranean and the Aegean, Knidos (or Cnidus) is an active excavation site. It is the end of a scenic ride and the start of an exciting journey exploring the ruins of this once glorious city. Read why people call it the city of Love, and why there is a church with 'Arabic graffiti'.  Knidos or Cnidus has always enjoyed a spectacular and strategic setting. Back in the days, the city was stretched out onto the terraces of the mainland of the current Datça peninsula, and on the little island opposite to it called Cape Krio. A bridge linked both parts of the city, also serving as a divider between the two harbors. The bridge is gone ever since nature – with a little help from the Knidians – created an isthmus instead. This narrow piece of land divides the small military harbor on the west side from the east side's commercial port. In a way, the commercial harbor hasn't lost its function, as it is now in use as a popular anchorage stop for sailing fanatics and gulet tours.
Iasos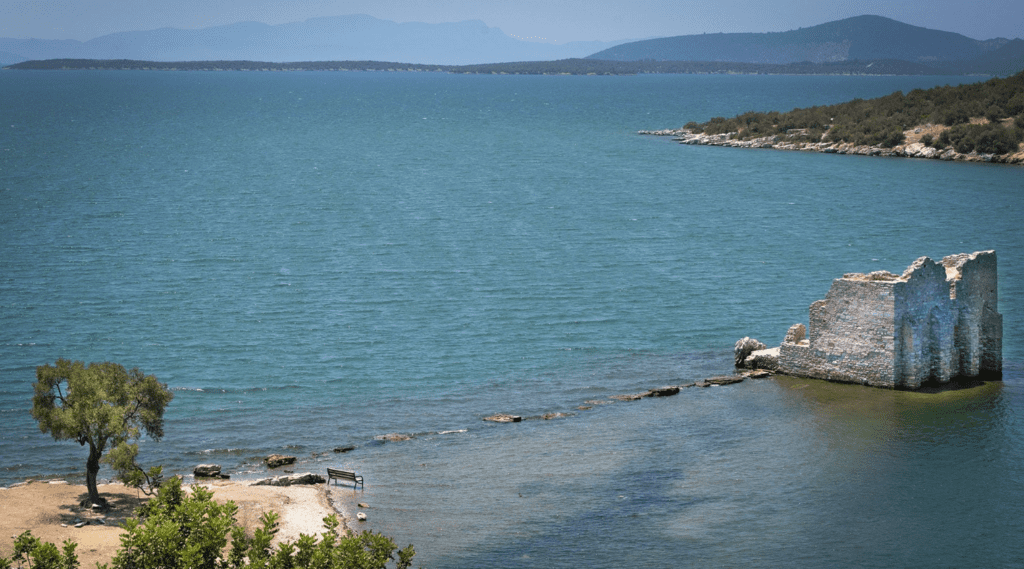 Iasos (or Iassos depending on the source) is over 4.000 years old, according to archaeological finds. It was a wealthy little town, with an income generated mostly from the flourishing fishing trade, which still thrives up until the present day. The Carian settlement was a colony of Argos and was founded with the help of Miletus. As a member of the Delian League, Iasos got caught up into the Peloponnesian War (431–404 BC).  It was first conquered and plundered by the Spartans, and later, in the 4th century by Alexander the Great followed by Philip V, king of Macedon. The latter was forced by the Romans to give Iasos to Ptolemy V of Egypt. After that, the city came under Byzantine rule before falling into Ottoman hands, when it was abandoned around the 15th or 16th century. The nearby village Asin Kurin (today's Kıyıkışlacık), remained populated until today.
Apollo Temple – Didyma
The Apollo Temple in Didyma is usually not the first thing people think of when looking at Didim or Altınkum as a destination. The stretched out beaches, and lively entertainment options are the big draw for most tourists. If like us, you want to do things a bit differently, then you won't regret dusting off the golden sand from your feet for a walk around Didyma. And if you are heading that way, make sure you look beyond the Temple of Apollo. The little streets of the old village are worth your time too, though of course, the sanctuary is getting most of the attention. Quite rightly so, as the temple is quite spectacular!