Dolce Vita
Gulet Cruises in Turkey : Gulet cruises in Turkey mean "sun, sea and snoozing on deck while the turquoise sea whispers under the keel…" This may just be the most relaxing  holiday you'll ever enjoy.
Itineraries
Between the major resorts are hundreds of hidden coves, secret beaches and pretty little ports and the best way to discover these is on what is sometimes called a Blue Cruise – a wonderfully laid-back week on a traditional wooden Gulet. We offer three start points: Bodrum, Fethiye and Kemer. Each itinerary is as scenic as the next, and the Gulets are virtually identical. Between them, they give you a choice of flights and departure dates.
A typical day
Whichever you choose, the days fall into an easy pattern of breakfast on deck, reading and sun-bathing while the boat gets under way, visiting a secluded bay for swimming and snorkelling before lunch; cruising again in the afternoon and dropping anchor in a safe harbour each evening.
This is a wonderful way to unwind, get a great tan and explore Turkey's astonishingly beautiful coast in good company. This is a laid-back, floating Houseparty, with no need to dress for dinner!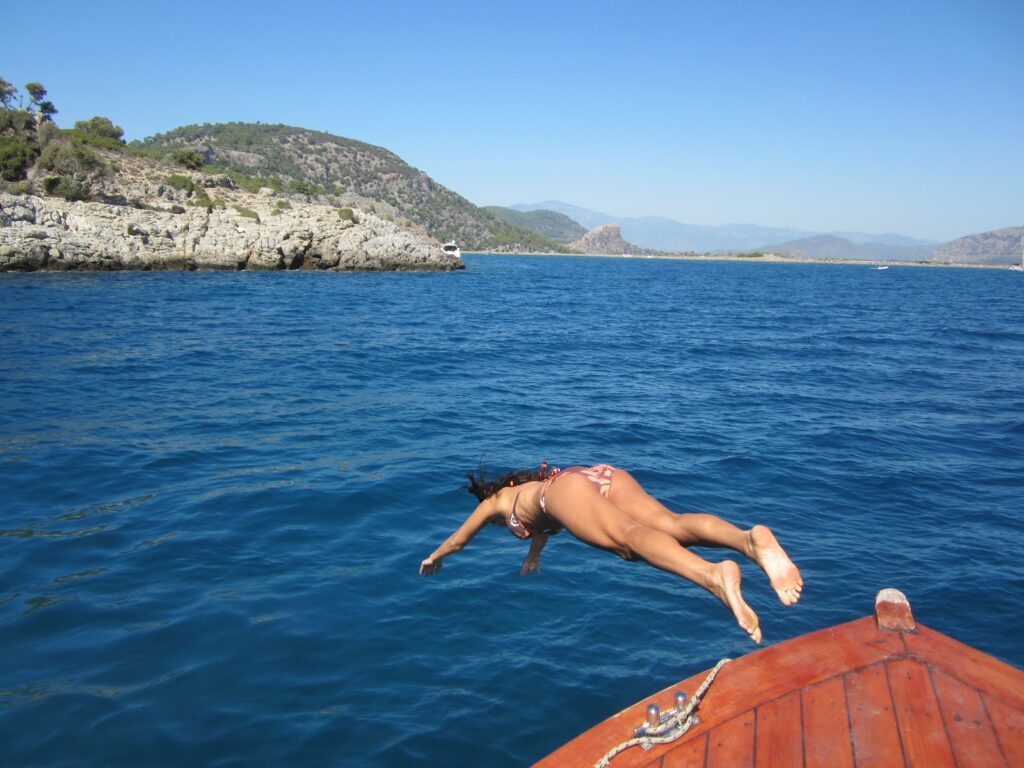 Gulets are some of the most amazingly comfortable boats anywhere in the world.
The word Gulet gave birth to the French "Golette" and the Spanish "Goleta", the Italian Gulletta, and probably the English "Cutter". There has been some discussion among academics as to whose loanword it really is, but it's really unimportant where the word originated; suffice to say that these beautifully designed wooden sailing ships were originally built milleniums ago by the diverse peoples who plied the Eastern Mediterranean coastlines trading their wares. Today, the Bodrum Gulet is still a work of art, with hulls and decks made entirely of wood, except, of course for the mechanical and electrical bits that are state of the art. They have also evolved into "motor-sailers" as opposed to sailing vessels, so many Gulets have twin diesel engines that can propel them at about 8 to 12 knots. These days, they mainly sail down wind and definitely do not point well into the wind. There is usually a spacious aft deck with a large table or tables where the guests eat their meals, There is usually a nice gathering space (good for cocktail hour) forward that is covered with an awning. Because the hulls and decks are made of wood, Gulets are amazingly cool inside even in the heat of the Mediterranean luxury charter. Equally when it's cooler outside, they will keep a nice toasty temperature inside. The design of today's Bodrum Gulet is straightforward. There is normally a huge master's or owners cabin in the poop (aft) then a long corridor running down the center of the vessel with staterooms or cabins on each side. There are Gulets that can accommodate 4 or 8 passengers all the way up to 8 or 18 passengers. Gulets can be rented by whole boat. Renting a whole boat is called chartering and there are many different flavors of legal charter contracts depending on the jurisdiction, the flag she's running under, her registration and the charter destination.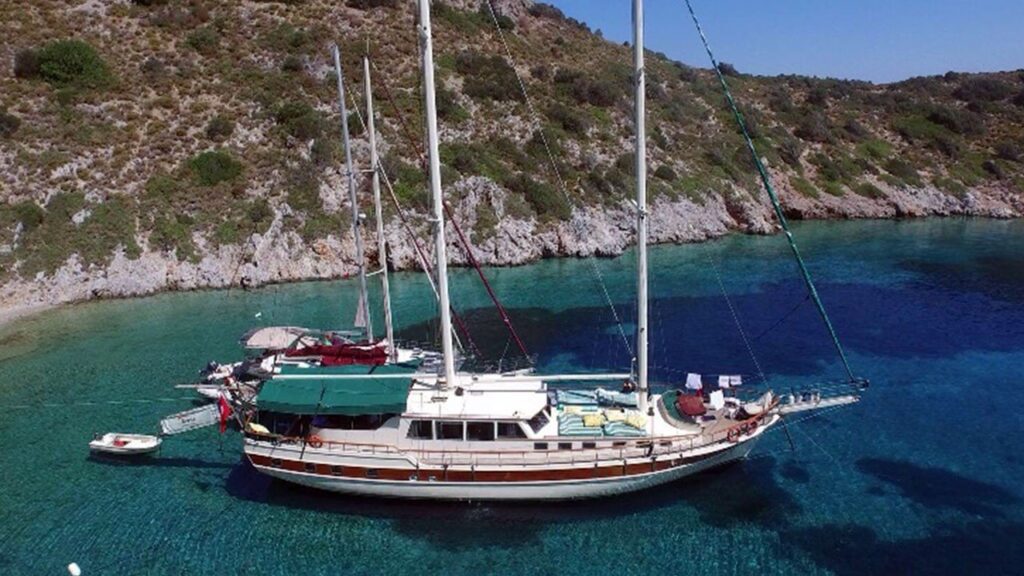 Turkish Gulet Classes
With 60-80 feet LOA, gulets have 2-8 cabins accommodating up to 12 guests. All cabins with en-suite bathrooms and shower, spacious indoor saloon and outdoor aft deck, fully equipped galley, separate crew quarters, fishing and snorkeling equipment, generator, 24 hour hot water, canoe, stereo music system and VHF radio, sails, and dinghy. Air conditioning is available on some gulets.
80-110 feet LOA, 2-9 cabins or up to 18 guests. All spacious cabins have large en-suite bathrooms and shower, large indoor saloon and roomy aft deck, fully equipped galley, separate crew quarters, fishing and snorkeling equipment, generators, 24 hour hot water, canoe, dinghy, sails, stereo music system, VHF radio, television, and ice maker. All vessels have individual air conditioning units in each cabin. Air condition can work maximum 8 hours in a day.
90-140 feet LOA, 2-16 cabins up to 36 guest. They have different size master cabins on board. All cabins resemble guests rooms in a fine home-beautifully furnished, comfortably arranged, and complete with the amenities one would expect form a thoughtful host: large port holes, individual air-conditioning, generous storage space, TV/VCR/DVD, mini refrigerator, and the tiled bathroom with shower. Extraordinary attention to details transforms the cruising and sailing into a unique experience in these gulets.
What is included in your Gulet Cruises Package in Turkey?
Full Board accommodation: Breakfast, lunch, afternoon tea / coffee & cookies, dinner.
A 0,5 lt bottled water per person is included only during the meals.
All charter & berth taxes, Harbour & Port procedures.
Transit log & related formalities for the shipping agents.
Mooring expenses.
Crew service.
Ship water.
Diesel & Gasoline expenses.
Clean bed linen and bath towels on arrival (Beach towels are not provided).
Use of equipment on board. (Flippers, snorkel and fishing tackle etc.)
Yacht insurance (We advise you to take out your own individual travel insurance).
A.T.
On Greek Islands Itineraries;
Harbour taxes and mooring fees in foreign waters for the yacht.
All port procedures & custom expenses in foreign waters for the yacht.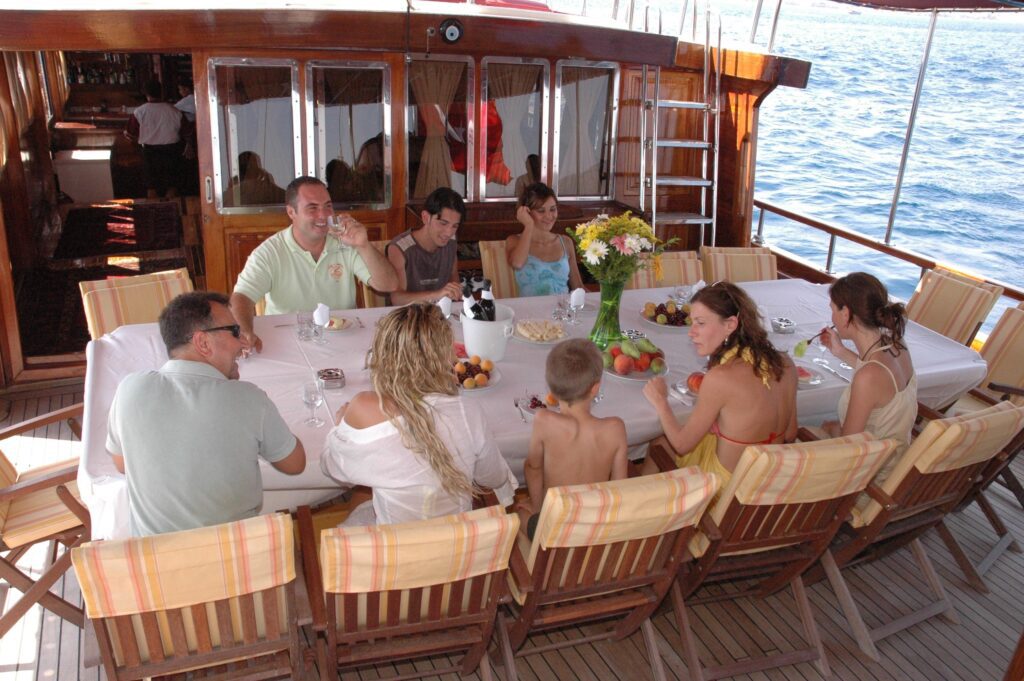 What is NOT included in your Gulet Cruises Package in Turkey?
Alcoholic & non-alcoholic beverages including bottled water. These can be purchased from the bar on board.
Optional land tours and entrance fees to historical places and museums.
Individual port taxes on arrival and departure in Turkey & also Greece.
Airport Transfers. (On request)
IMPORTANT NOTE
The A/C can be in use up to 8 hours daily, the use of the A/C in harbors is strictly forbidden.
Depending on sea and weather conditions, we reserve the right to make necessary changes to the tour itinerary to ensure the safety and comfort of our guests.