Castle Hotels in France
Introduction
Castle Hotels in France- If you've ever fancied being king or queen of your very own castle – here are best château hotels in France where you can do just that. Featuring regal interiors, turreted rooms, pools with vineyard views, Michelin-starred dining and more – in locations including the Dordogne, Provence and Normandy. Well, from Champagne to the Côte d'Azur, many of these castles have been constructed, ruined, and rebuilt, many times over. And nowadays, some of the most beautiful châteaux throughout the country have been reinvented once again. These stately homes that were once reserved for the nobility, have been lovingly restored and converted into hotels, allowing you the unique freedom to experience the life of the aristocracy. These château hotels in France range from indulgent luxurious lodgings, right through to surprisingly affordable B&B's and family-friendly apartments – so everybody can experience the royal treatment on offer when you stay in a château in France.  We've scoured the country to find the most beautiful accommodation with outstanding service so you can start planning your château holidays in France.
Châteaux in the South of France
From the medieval city of Carcassonne to the Southern French Alps, the South of France is home to some of the most beautiful château hotels in France. Discover them below.
Château Les Carrasses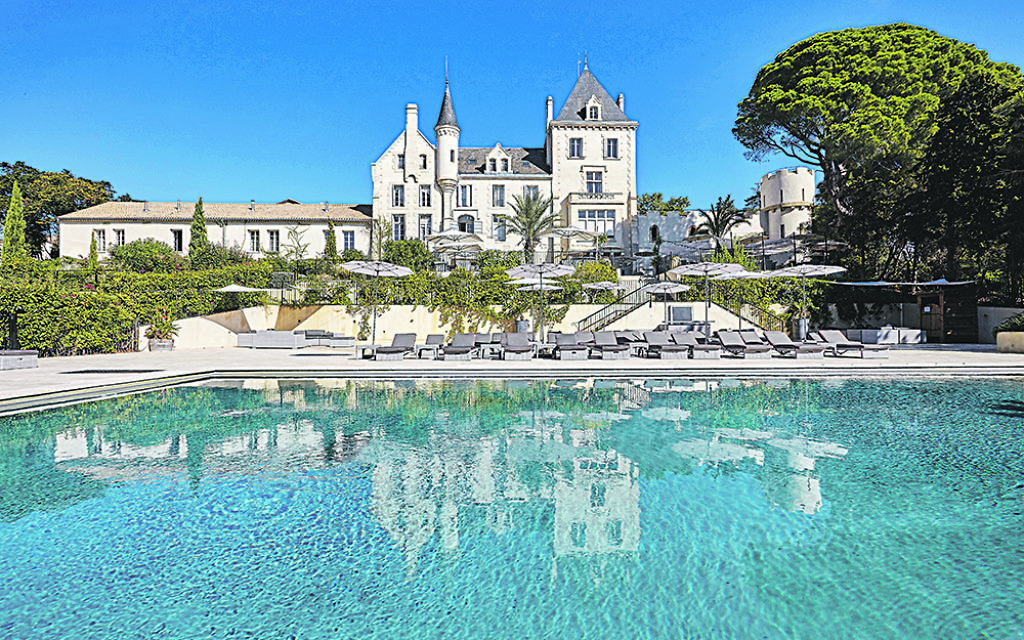 19th-century family-friendly château hotel with a pool, tennis courts and bike hire in the Languedoc-Roussillon region of France.  Château Les Carrasses, built at the end of the 19th century, has everything you could wish for in a castle hotel. Thick, stone walls and sharp, pointed towers evoke a long-lost past, and the beautiful interiors add a note of luxury. However, this castle offers a more laid back experience than some of its five-star counterparts, making this a particularly family-friendly retreat. Guests may choose between self-catering apartments in the estate and rooms in the main castle, allowing for greater flexibility and accommodating groups up to eight with ease.
Château de Fonscolombe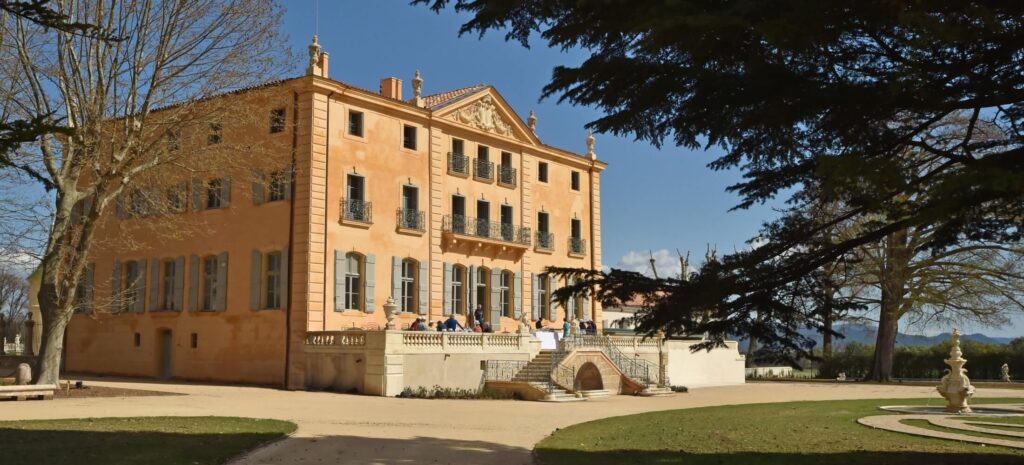 18th-century château hotel in Provence with pool & wellness centre, set within grandiose grounds at the gate of the Luberon. A luxurious garden complete with fountains, stone sculptures and an organic vineyard set the scene for Château de Fonscolombe. This exclusive estate tucked into the bucolic countryside north of Aix-en-Provence was once the home of French nobility. And after a thoughtful and thorough 18-month renovation, has been transformed into an elegant 50-room hotel. Savor the opulent surroundings, seek shade under a cedar tree planted by the Queen of England, and enjoy the modern comforts on offer in this 5-star estate.
Château de Mazan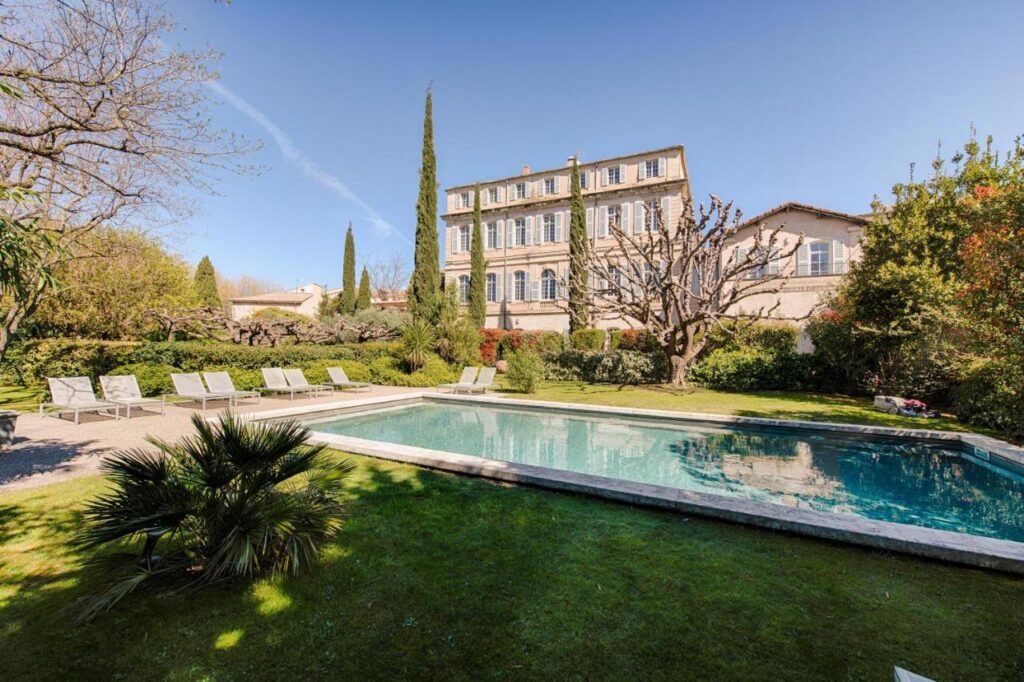 This honey-toned château retains an 18th-century dignity. Within, ancient integrity is intact in halls, salons and stairways – but it's enlivened by a brilliantly eclectic decorative approach. Classical portraits hang near Indian textiles and drapes, African art crops up in the least expected places and, in the corridor, there's a life-sized mannequin of crooner Charles Trenet.
Château Saint-Martin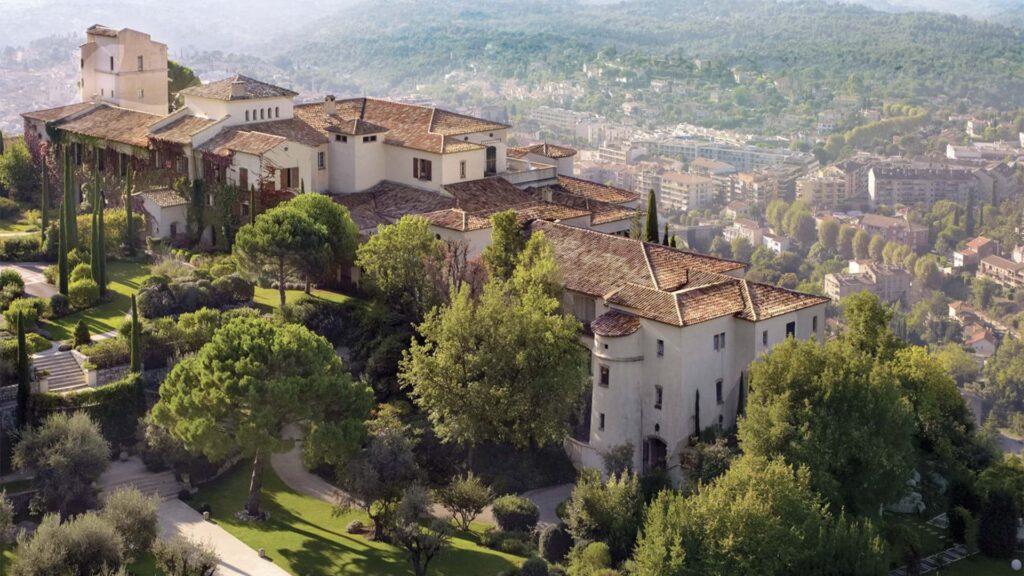 12th century Provence château with pool, spa, tennis courts, and Michelin-starred onsite restaurant. Escape the hustle and bustle of the Côte d'Azur by retreating to the hills of Provence and this peaceful, luxurious château. Originally a 12th century crusader fortification, Château Saint-Martin boasts period architecture with modern, stylish interiors, a Michelin-starred restaurant and an award-winning spa.  Set in 34 acres of peaceful, verdant grounds with beautiful olive groves and fantastic views over the Provençal landscape, this castle offers a blissful retreat from the world. Château Saint-Martin is home to a Michelin-starred restaurant perched on a beautiful terrace with panoramic views stretching to the Còte d'Azur. Emphasis is placed on light, deceptively simple dishes that allow the fine Provençal flavors and ingredients to shine. In the summer months, an additional restaurant (L'Oliveraie) opens for wood-fired pizzas and grills.
Château les Oliviers de Salettes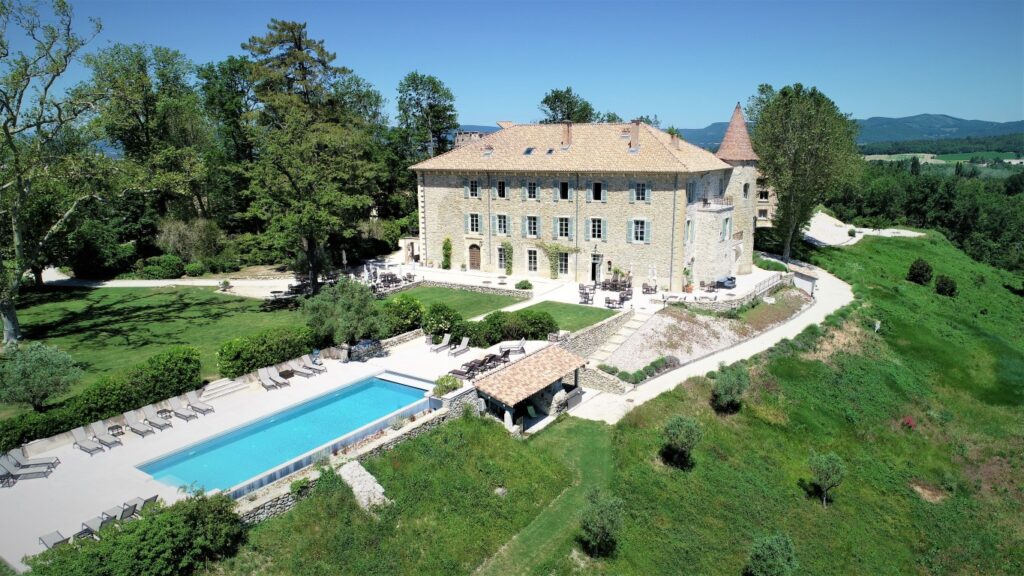 16th century château hotel in Provence with outdoor pool, spa, cooking courses and wine tasting. This luxurious chateau hotel in the Drôme region of Provence has been carefully and tastefully restored by the current owners and offers a slice of luxury away from the beaten tourist path. With an impressive, tree-lined drive, imposing architecture and glorious views over the parkland, this atmospheric castle is suitable for couples and families, offering plenty of local activities. This is the ideal summer retreat, where you can spend days lounging by the pool and nights sampling delicious local cuisine.
Château de Valmer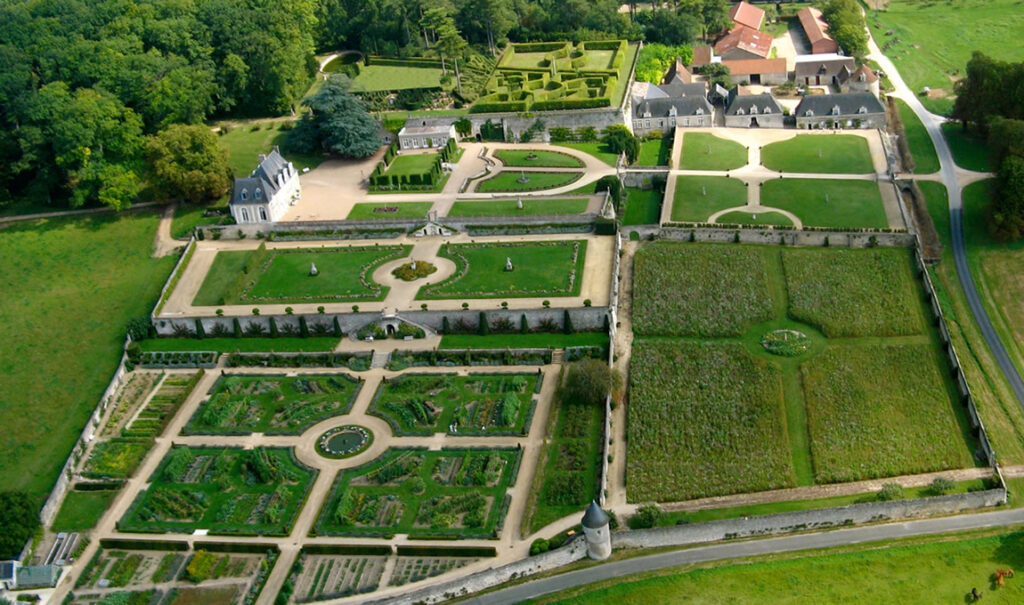 This family owned Relais & Châteaux hotel set amid its own vineyards offers the best of both worlds: countryside and seaside in a quieter, less posey part of the Côte d'Azure. It has a quiet dignity and is furnished with antiques and family heirlooms, and there is a comfy sitting room with fireplace for colder evenings.
Hôtel de la Cité Carcassonne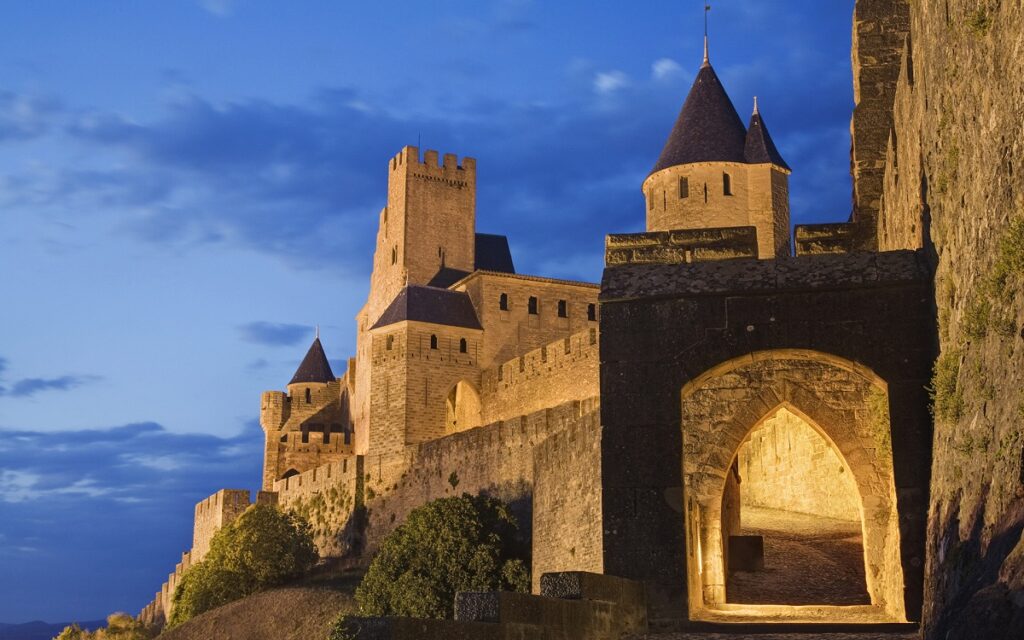 12th century château hotel in the South of France with outdoor pool & spa. The medieval city of Carcassonne is a breath-taking reminder of France's medieval past, perched high on a hill with 800-year-old fortifications. The entire city is itself a fortress, and the Hôtel de la Cité, one of only two hotels inside the city walls, offers a truly unique chateau hotel experience. This beautiful hotel is tastefully decorated and fully equipped for a luxurious city break, complete with 12th-century tower, an award-winning spa and an excellent restaurant. What's more, a trip here allows guests to appreciate the stunning architecture of Carcassonne after all of the tourists have gone home for the day, from your very own medieval terrace.
Château de Picomtal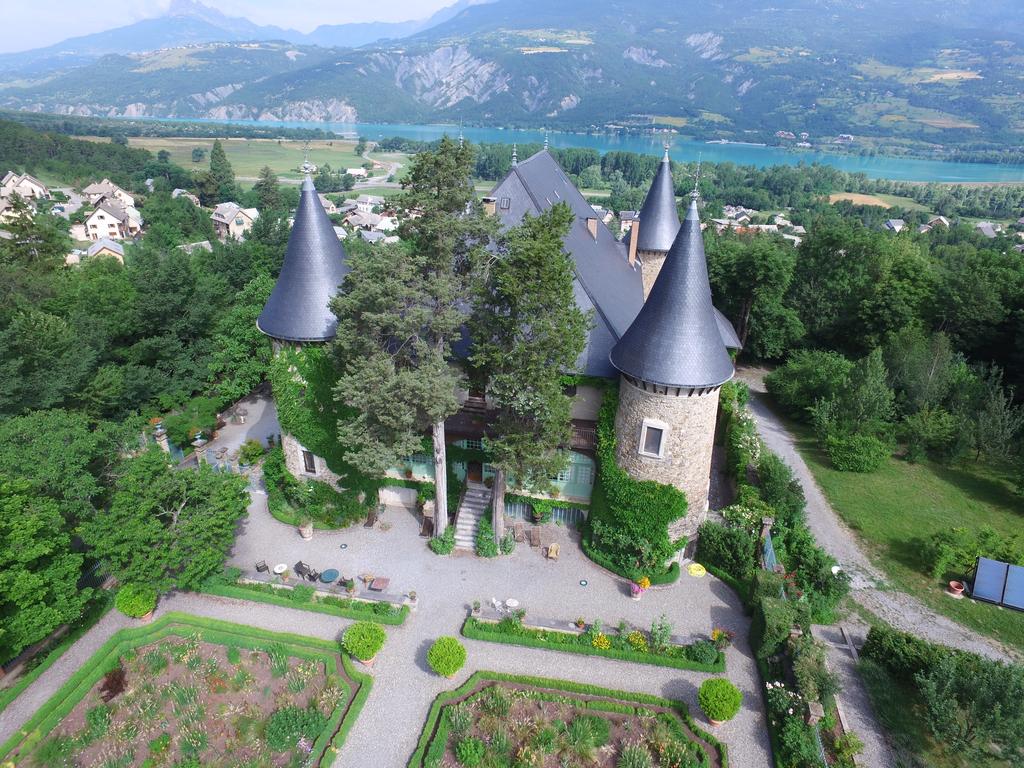 Medieval château bed & breakfast in the Southern French Alps offering cooking workshops in a traditional setting. This gorgeous 16th-century castle, complete with a 13th-century tower, sits close to the Écrins National Park, near the medieval village of Crots. Take in the Alpine scenery as you wander through the beautiful gardens, and admire the fine stained glass windows in the medieval chapel. The traditional interiors are in keeping with the historic architecture, complete with richly decorated rooms and sparkling chandeliers, making this a tranquil and atmospheric location for a weekend away.
Château Hotels in the South West of France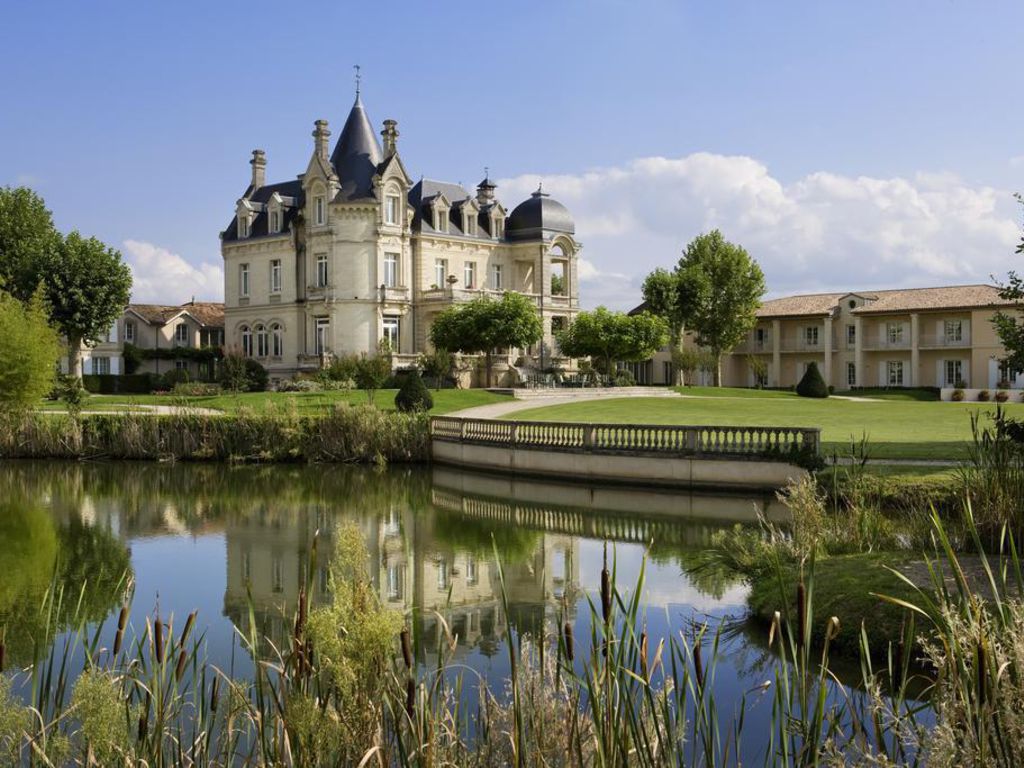 19th-century château hotel near Bordeaux with onsite spa, Turkish baths and an outdoor pool. This beautiful castle, nestled in acres of vineyards, looks straight out of a fairy tale. Boasting classic 19th-century architecture, with an imposing tower, the Château Hôtel Grand Barrail absolutely glows at sunset hour, making this an exceptionally romantic castle destination. Inside, the rooms offer modern comforts with luxurious touches, and the location is second-to-none, offering easy access to Saint Émilion, Bordeaux and the Dordogne Valley.
Château Lafaurie-Peyraguey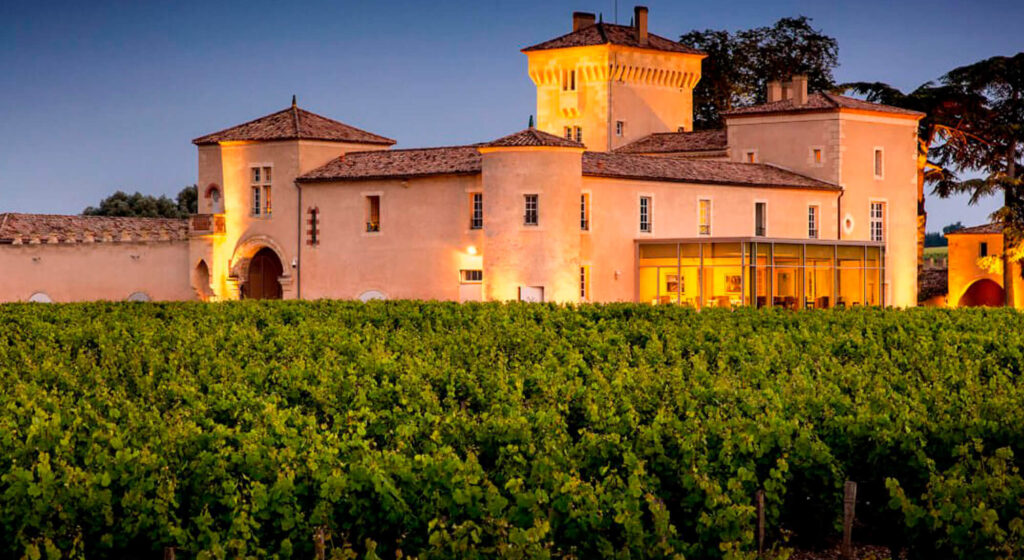 13th-17th century country château hotel set within the vineyards of South-West France. The château at Lafaurie-Peyraguey dates back to the 13th century and is one of the most important wine-producing estates in Sauternes. This is the place where wine lovers and history buffs find the ideal sweet spot, a historic building with a formidable reputation for viticulture. This beautiful hotel also offers a taste of luxury, providing a peaceful haven of relaxation in between tours of the stunning countryside around Bordeaux. The Michelin-starred restaurant at Château Lafaurie-Peyraguey works culinary magic with simple, locally sourced, seasonal ingredients. Rooted in local tradition and produce, the carefully designed set menus offer a gastronomic experience not easily forgotten.
Château de Maraval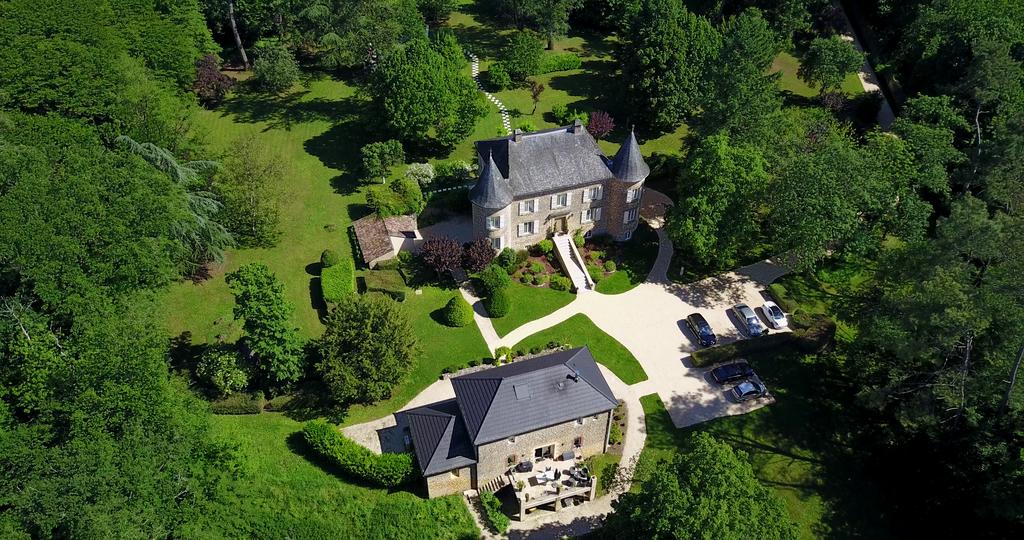 15th century château accommodation in the Dordogne Valley with spa, outdoor pool and gym. This stunning, unique castle is the ideal couple's hideaway in the beautiful Dordogne Valley. Just a short drive away from the charming town of Sarlat, this 15th-century castle is secluded, quiet and peaceful, offering a luxurious retreat in a historic setting. The owners offer an intimate, personalised service, and the castle has been tastefully restored to ensure every possible comfort.
Château de Lalande
18th – 19th Century Château with pool in the Périgord region of France.  Château de Lalande, nestled in the lush, green countryside of the Périgord, offers a traditional French chateau experience. The castle dates from the 18th century and has been carefully and tastefully restored by current owners Catherine and Yves Staebell, preserving its period charm and grandeur. Equipped with an outdoor pool set in historic parkland, comfortable rooms decorated in an elegant manorial style, and an excellent restaurant, Château de Lalande has everything required for complete relaxation. This château hotel offers an ideal base from which to explore the glorious Dordogne Valley.
Château de la Treyne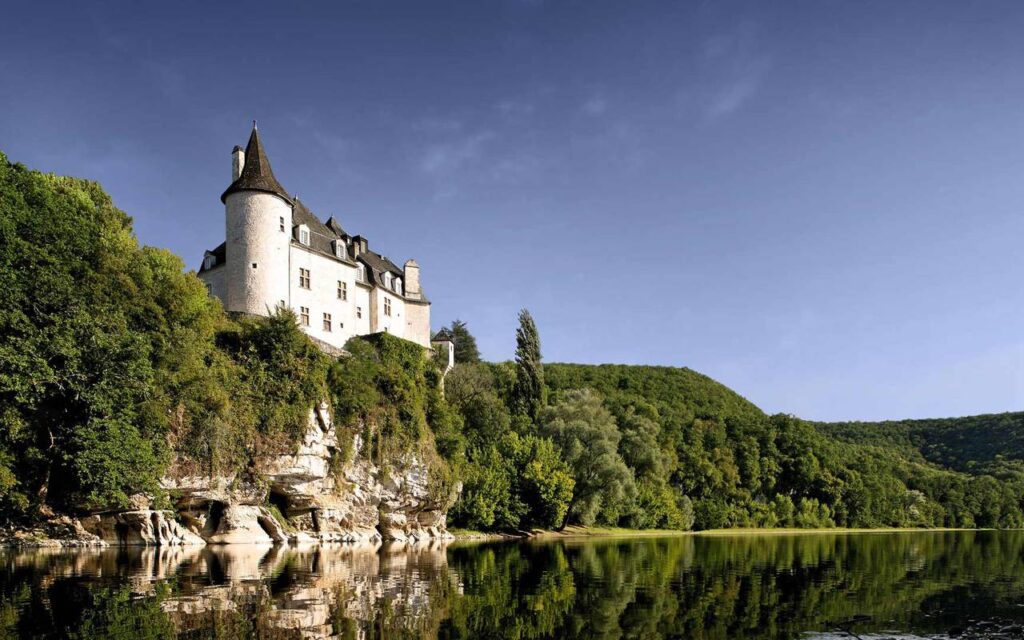 This turreted fairy-tale chateau has history, drama, and magnificent views of the Dordogne River. Handsome period rooms, a Michelin-starred restaurant and exquisite service ensure a happy ending every time. Several rooms have four-poster beds and striking original features: an incredible Gothic woodwork ceiling; a painted vaulted ceiling; a 14th-century spider web of exposed beams; polished Versailles parquet.
Chateau de Castel Novel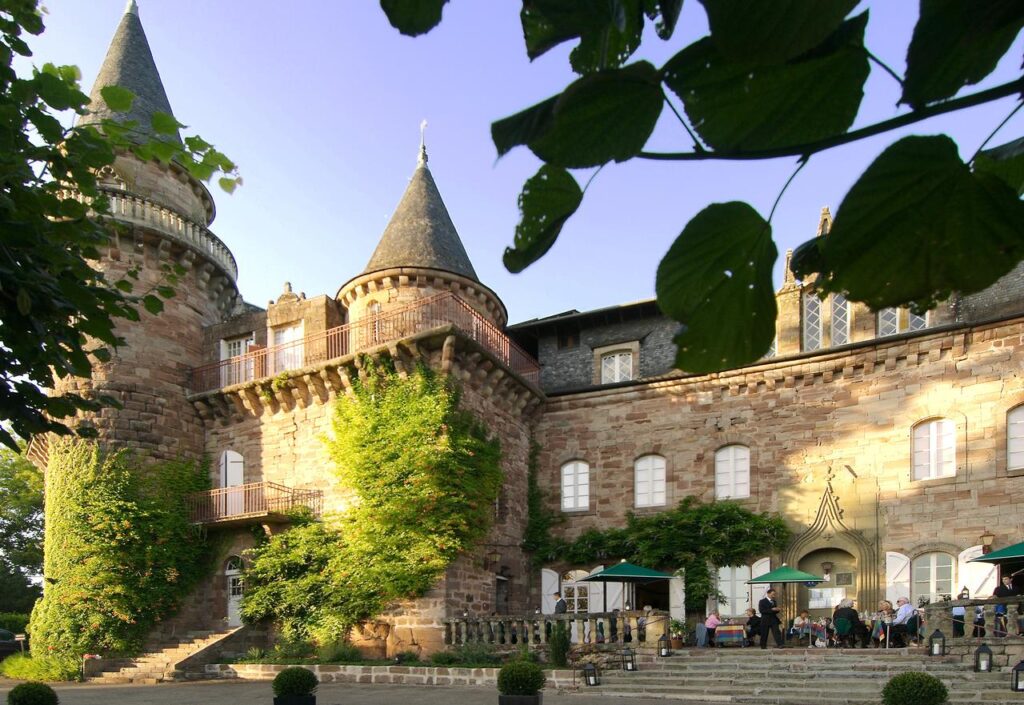 'Simple luxury' is the strapline of this sensational chateau – the very castle where celebrated French writer Colette lived and wrote several novels in the early 20th century. Luxurious, individually designed rooms are a mix of periods and styles, and Michelin-starred dining venerates regional gastronomy. With its mirage of mesmerising witch hat-capped turrets and stately red-brick walls, the 18th-century building is everything a French chateau should be – and more.
Château Le Mas de Montet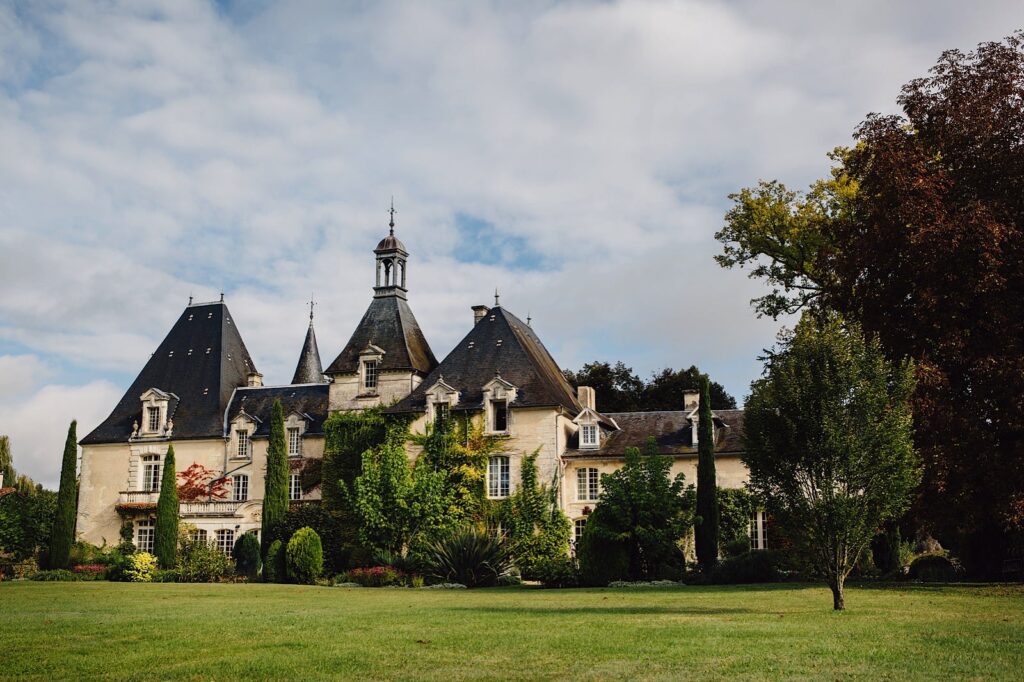 Château Le Mas de Montet appears like a fictitious mirage amid a luxuriant cloak of velvet green lawn and century-old oaks, sequoias, chestnuts and linden trees; straight out of a picture book. Muck about in the river, grab a bike to pedal around, trek on horseback, climb sequoia trees: hotel life here is buckets of outdoor fun.
Château Cordeillan-Bages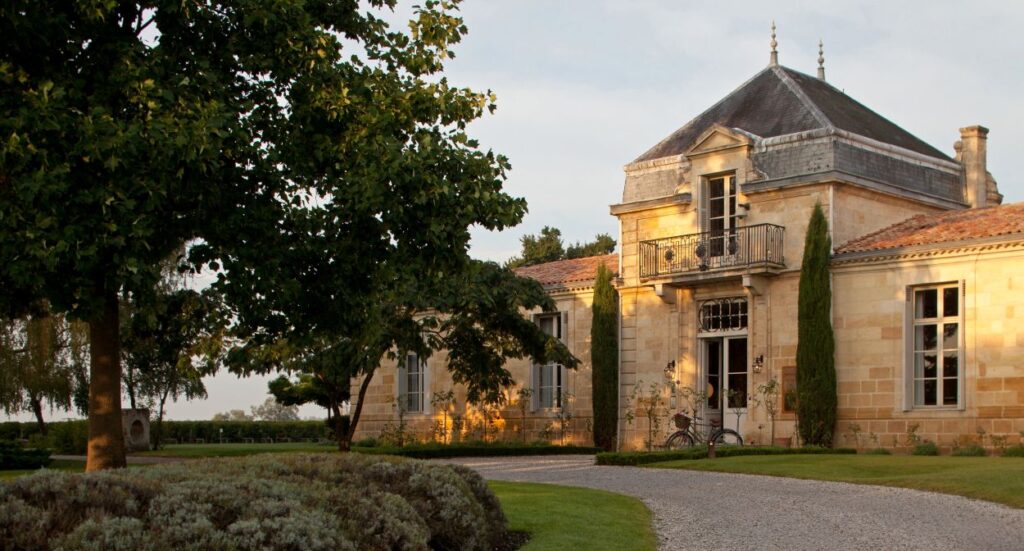 Château Cordeillan Bages languishes on one of the most prestigious wine-growing estates in the Haut-Médoc. Contemporary rooms enjoy Italian designer furniture and two Michelin-starred dining overlooks the vines. Guests can even try blending their own Bordeaux vintage. Inside you'll find just the right mix of contemporary design and traditional vintage befitting of a turreted chartreuse (country mansion), constructed from local gold stone in the mid-19th century.
Domaine Les Crayeres

Les Crayères is a class act from start to finish. Walk in manicured grounds, book Champagne cellar tours and tastings, dine in two Michelin-starred finery, and drink deep of the regal ambience at this hyper-luxe Reims retreat. You'll feel like French royalty the minute you arrive and clap eyes on its elegant colonnade, Belle Epoque-style mansard roof and topiary-framed parterre.
Château Hotels in the North West of France
Château La Chenevière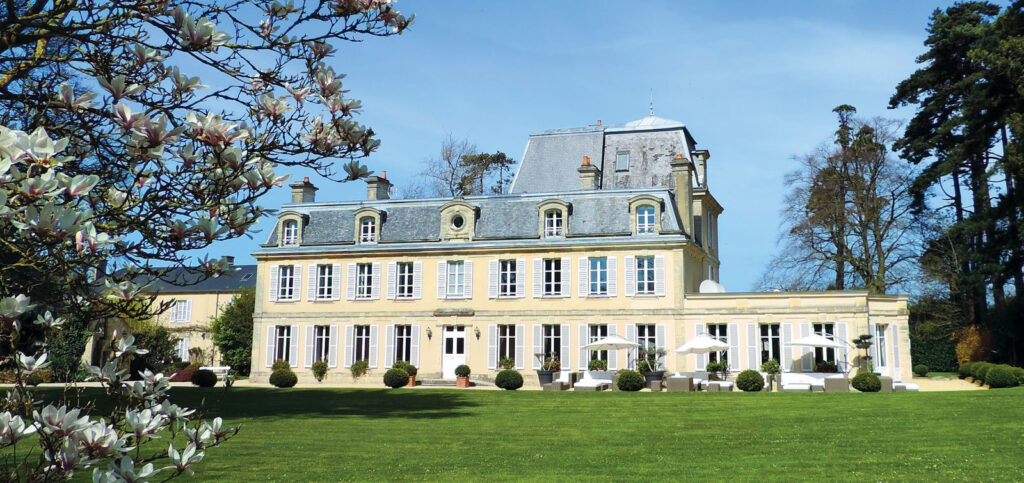 17th century château housing a 5-star hotel with pool, spa & gym in Normandy. This intimate boutique hotel is set in historic parkland, filled with ancient cedars and sequoias. A beautiful setting that imposes a slower, more relaxed way of life on its visitors. The rooms are decorated with elegance, with frequent nods to the castle's historic legacy, and the service here is personal and attentive. This is a family-friendly hotel designed for relaxation and is ideally located to facilitate exploration of the beautiful Normandy coast. The Château la Chenevière boasts not one, but two restaurants, promising a gastronomic journey through some of Normandy's finest cuisine. The main dining room, Le Botaniste, provides fine French gastronomy, while the Petit Jardin serves up light lunches and grills.
Château de Chantore Mont-Saint-Michel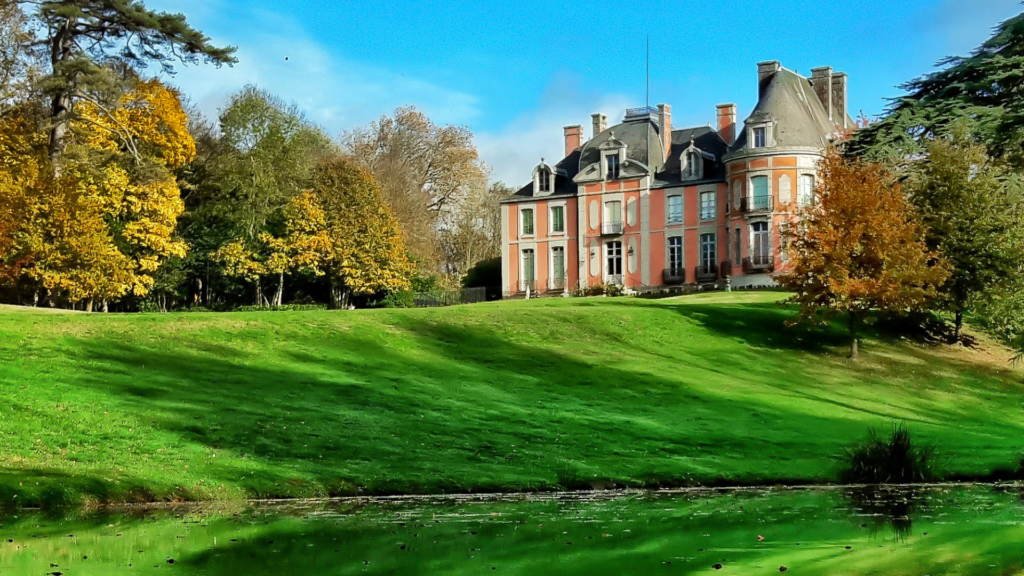 18th century château hotel in Normandy near the region's finest attractions. The Château de Chantore is an 18th-century castle hotel set in vast grounds, perfectly located to allow visitors to experience some of Normandy's finest treats. The epic monastery of Mont-Saint-Michel is just a short drive away and is visible from the castle itself, and the beautiful beaches of Carolles and Jullouville, the town of Saint-Malo, and the atmospheric fishing villages of the Normandy coast are within an easy drive. The grandiose interiors will transport visitors back in time, and the beautiful historic park, home to the owners' horses, is an ideal spot for a leisurely walk. There is no onsite restaurant at Château de Chantore, but breakfast is served daily in the dining room.
Château de Penfrat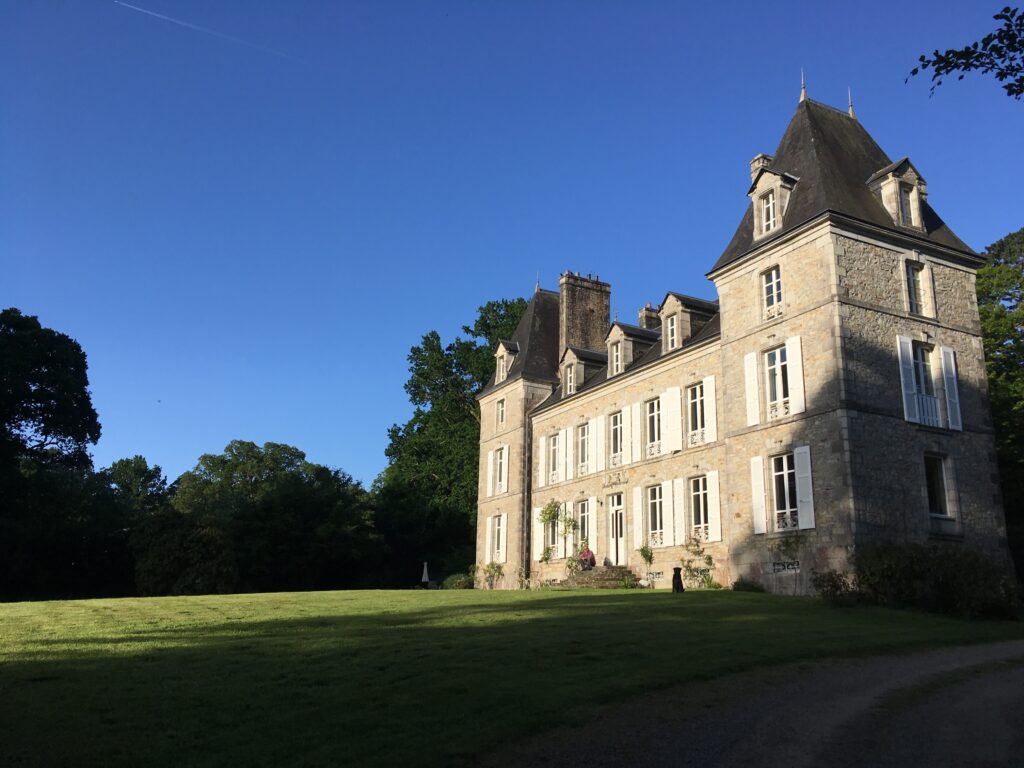 19th century château hotel in Brittany that allows you to experience royal living on a budget. This beautiful castle is set in tranquil ground next to the River Odet. Once a traditional hunting lodge, the Château de Penfrat is now a comfortable retreat for families and couples, and the ideal base from which to explore southern Brittany. A romantic hideaway offers that simple, comfortable rooms and a peaceful environment, but the main attraction here is the beautiful parkland, where you can spend the days walking, picnicking and soaking up the sun next to the river. There is no onsite restaurant at Château de Penfrat, however, a bountiful breakfast is served in a gorgeous garden setting. There are also BBQ facilities provided.
Château des Briottières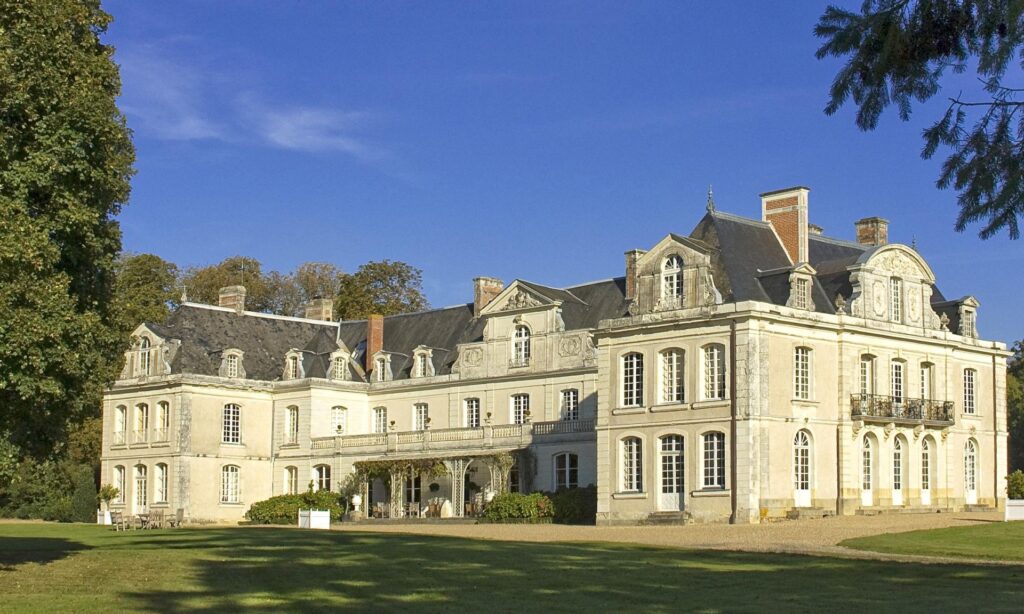 18th century château hotel in the Loire Valley with outdoor pool, spa and tennis courts. The Loire Valley is littered with impressive castles, and there's no finer way to immerse yourself in local culture than by staying in your very own château hotel. The Château des Briottières is a magnificent example of 18th-century castle architecture, with opulent interiors and ten beautifully decorated, luxurious bedrooms, set in 100 acres of parkland. The castle has been owned by the same family for seven generations, and the current owners live in the property, providing visitors with a very warm welcome. The Château des Briottières provides a traditional table d'hôtes rather than a gastronomic restaurant, comprising a set menu of family recipes and local dishes. Vegetarian and children's options are available upon request.
Château de Perreux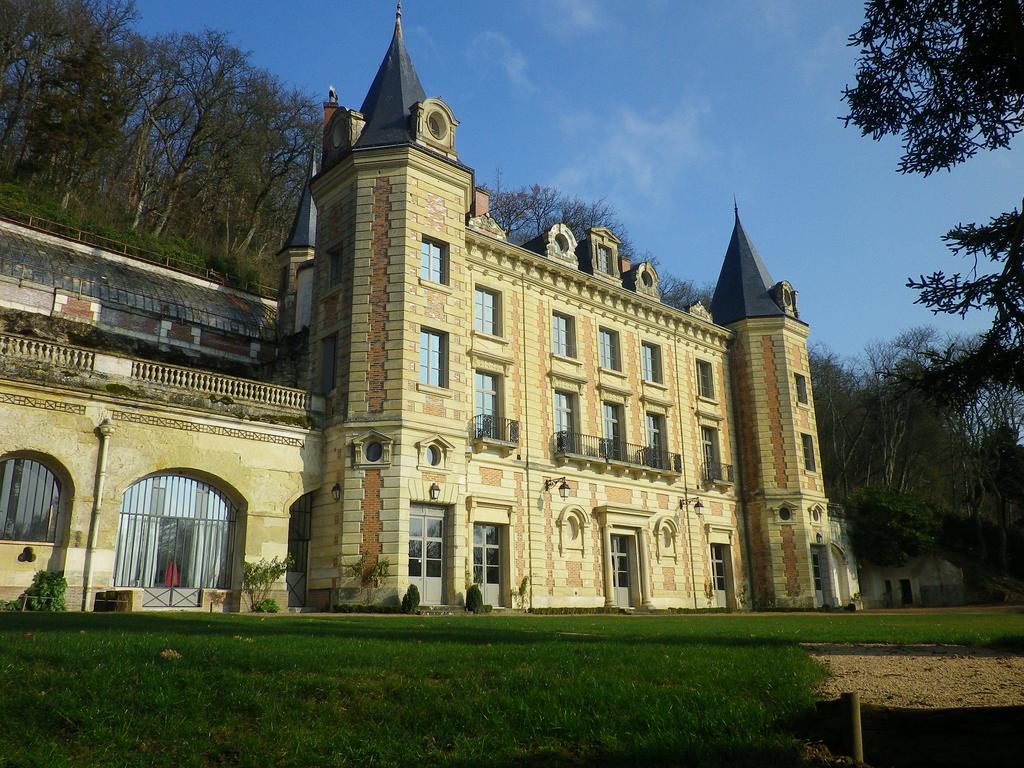 18th century château accommodation in the Loire Valley with outdoor pool.  The pointed towers of this romantic castle hotel are an elegant reminder of the historic legacy of the beautiful Château de Perreux in Amboise, in the Loire Valley. The hotel's slick interiors are warm, comfortable and modern, albeit punctuated by exposed beams and other period features. Set in a green parkland with tree-lined avenues, this castle offers elegance, style and a very warm welcome. You can also rent this French château privately – making it the perfect place to host a country wedding or large family reunion.  The restaurant at Château de Perreux is devoted to showcasing the best the Loire Valley has to offer. Featuring simple, elegant meals, made from locally sourced ingredients, this hotel effectively showcases some of the region's finest dishes. The restaurant serves a set menu that changes daily.
Château Hotels in France's Eastern Regions
Chateau De Vault De Lugny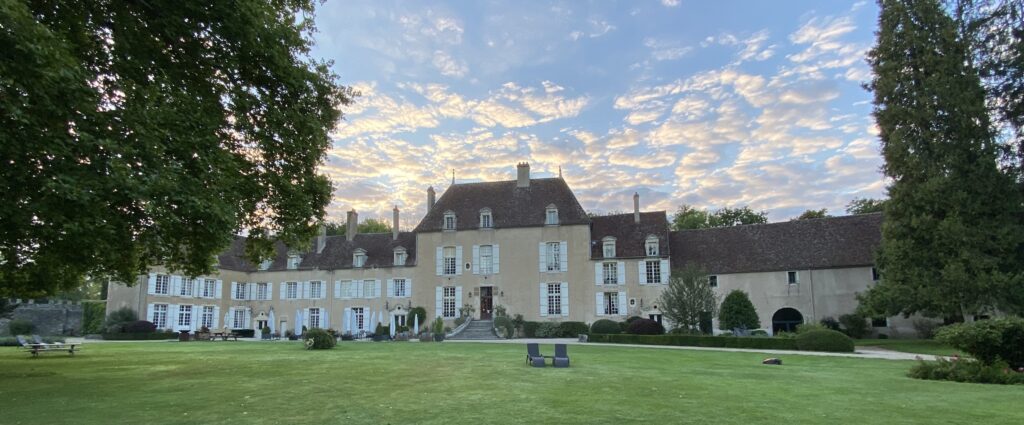 12th century boutique hotel with indoor swimming pool, tennis courts and farm in the Bourgogne region. The Château de Vault de Lugny may be the only castle hotel in France where you can take a swim beneath 12th-century vaults. This stunning, ancient building dates from the 12th century and is reportedly a favorite holiday destination of singer Eric Clapton. The rooms are lavishly decorated and come with a range of period features and antiques, adding to the vintage charm of this beautiful hotel. Although the restaurant at the Château de Vault de Lugny is undoubtedly focused on traditional Burgundian cuisine, the menu is inventive, fresh and modern, showcasing this region's wonderful produce at its best. Ingredients are as local as they come, with most of the vegetables gathered from the castle's extensive gardens.
Chateau De Fère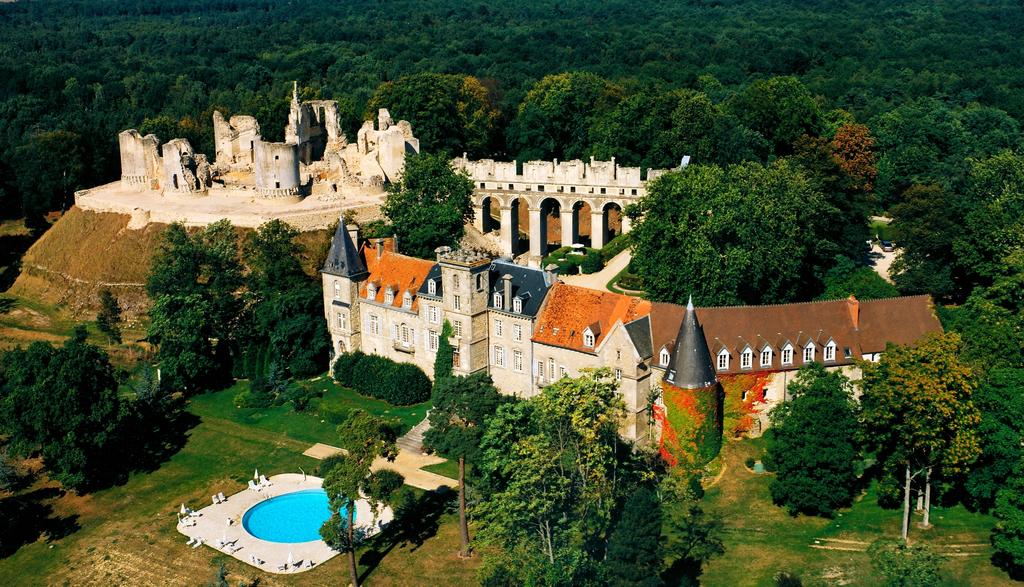 17th century château hotel in the Champagne region with outdoor pool and spa. The Château de Fère is a beautiful 17th-century castle, perched next to its medieval twin. The older, ruined Château de Fère was built in the 12th century, and its remaining walls create an imposing, atmospheric silhouette for guests at the more modern hotel and spa just next door. The 32 rooms of the Château de Fère offer luxury and comfort and are tastefully decorated, in addition to providing beautiful views over the surrounding countryside. The ideal base for exploring everything Champagne has to offer. The Château de Fère offers classic French gastronomy in a choice of set menus – of three, four or five courses. This is an excellent place to sample a wide range of French wines and champagne, alongside a variety of dishes inspired from all corners of France.
Château d'Étoges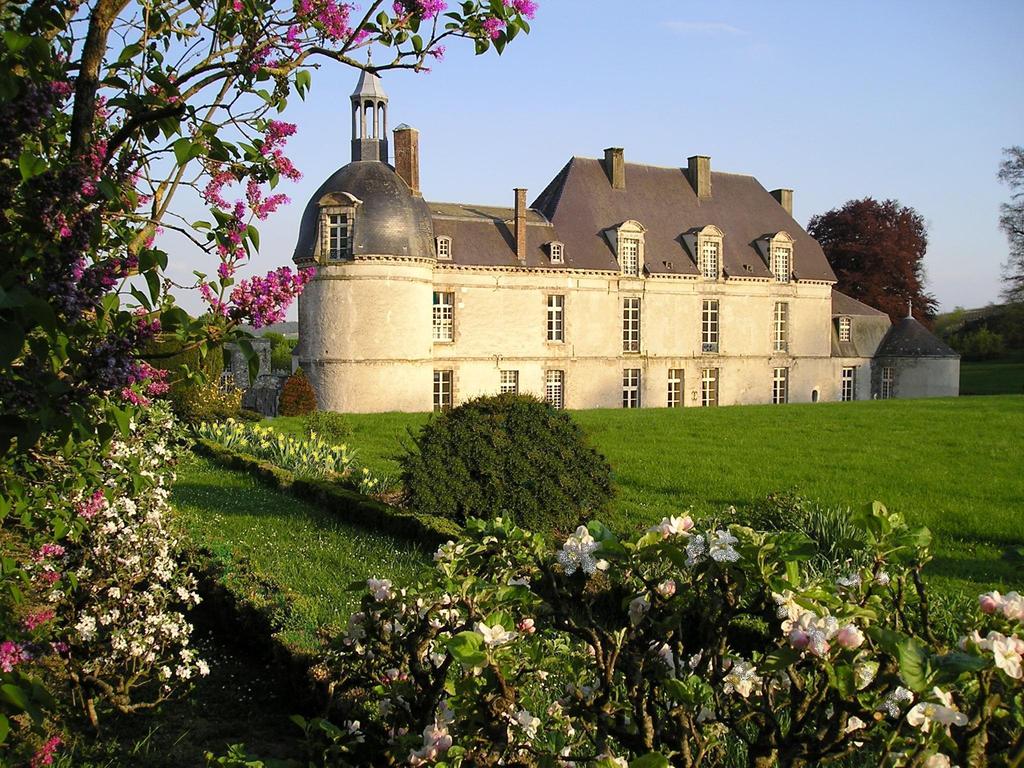 17th century château hotel in the Champagne region of France with gourmet restaurant and onsite spa. Nestled in the heart of the Champagne region, this beautiful 17th-century castle is classified as a historical monument. The French kings once used this spot to break their journey en route to the eastern provinces of France, and it's easy to see the attraction. Complete with pepperpot towers, a traditional moat, beautiful grounds and lavish interiors, this is certainly the place to experience a little royal decadence. There's no better place to sample all the delights that Champagne has to offer. The Château d'Étoges restaurant is found in the Orangery and offers wonderful views over the castle grounds. It provides classic French fine dining, with an excellent wine list, and is an ideal place to try some traditional regional dishes.
Château de Bagnols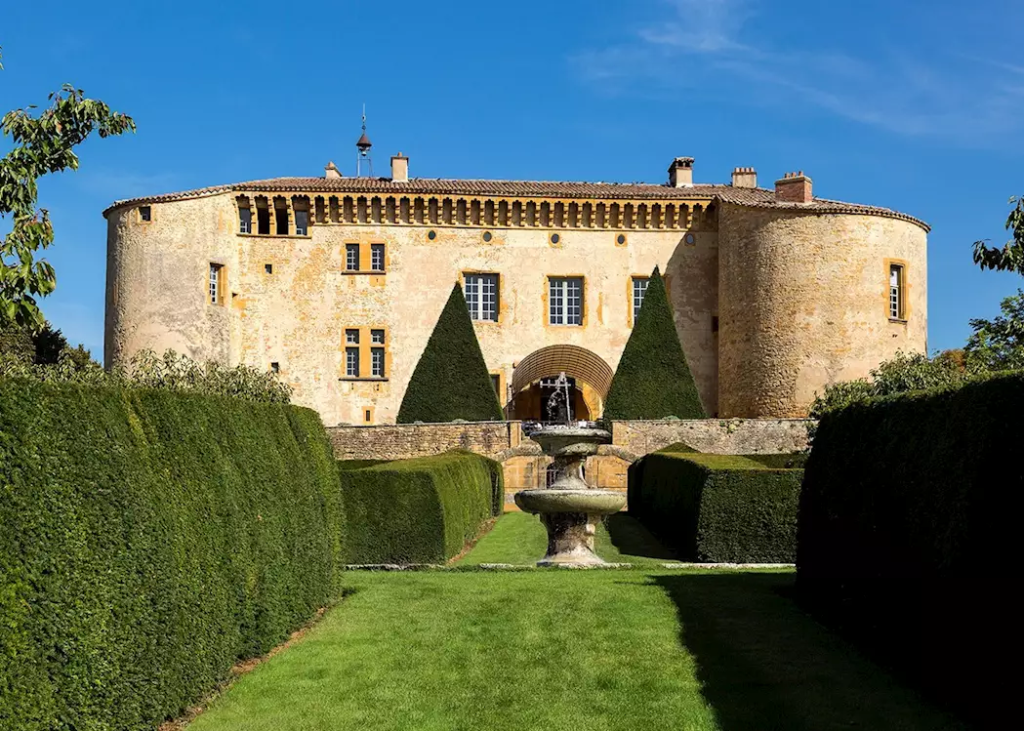 Renaissance château housing a 5-star hotel with pool, spa, and Michelin-starred restaurant, in the Rhône department. This Renaissance castle is straight out of a fairy-tale, set amid rolling vineyards and complete with fortified walls, moat and drawbridge. The stunning architecture and beautifully landscaped gardens are the stars of the show, creating an other-worldly atmosphere and offering the perfect place to kick back and relax. Nestled in the beautiful Beaujolais countryside, the Château de Bagnols offers classy interiors and a warm welcome – the ideal retreat for a romantic weekend for couples, or a relaxing holiday in luxury. The Michelin-starred Restaurant 1217 at the Château de Bagnols is a major attraction – expect fine dining and wonderful, locally sourced ingredients. Although the dinner menu is on the higher end of the price range, the lunchtime set menus offer very good value for money