Bordeaux Less Than 48 Hours
Introduction
Bordeaux Less Than 48 Hours – Rivaled perhaps only by Champagne and Napa, there is no area in the world more closely associated with its fabulous vineyards than Bordeaux. Located in the southwest of France, not far from the Bay of Biscay, Bordeaux offers more vineyards—more than 100,000—than you could possibly try, but there's glory even in just scratching the surface. The crescent-shaped city of Bordeaux, found along the Garonne River, has been the region's wine capital for decades, with its illustrious past on display in the Golden Triangle area's ornate buildings. Granted, in the not too distant past, Bordeaux was plagued by pollution, traffic jams, and urban decay. But today, when you travel to Bordeaux you'll find a revitalized village, charming, 18th-century buildings, a pedestrian-friendly city center, and a thriving waterfront area with chic boutiques and cafés. There's also world-class art, as well as theater and dining. Read on in this Bordeaux region travel guide to start planning your trip.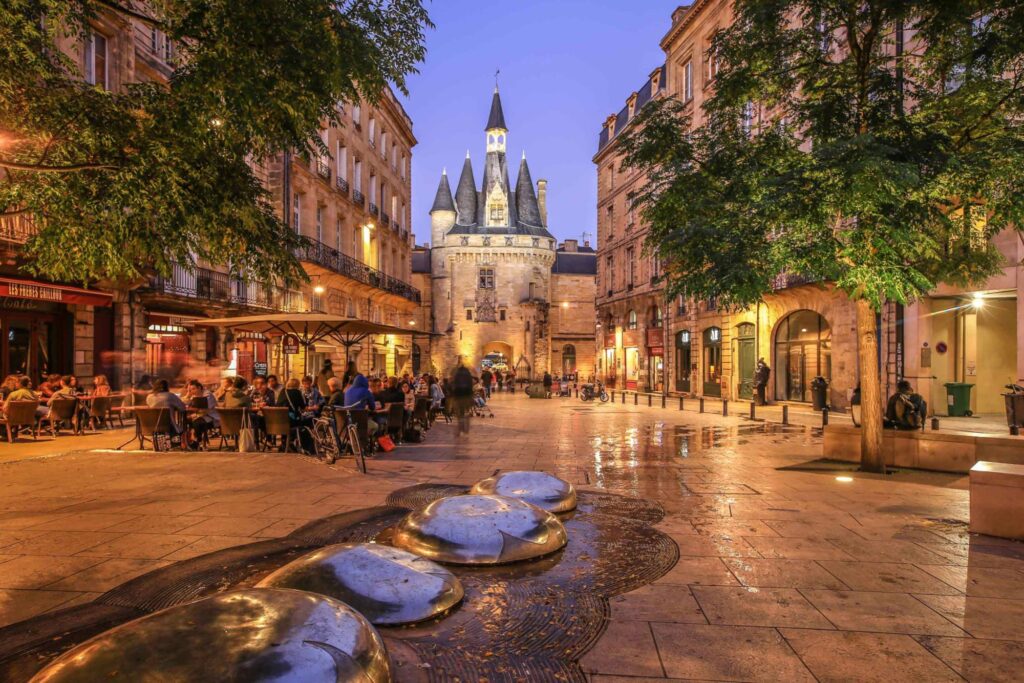 How to Get to Bordeaux?
Trains to Bordeaux:  Bordeaux is connected to the rest of France via the SNCF train network. The TGV, France's intercity high-speed rail service, runs directly from Paris, Lille and Biarritz to Bordeaux, with a new route from Tours planned for July 2017. Advance reservation for the TGV train is necessary. Journey time from Paris to Bordeaux is a little over 3 hours.
Driving to Bordeaux: The main advantage to having a car is flexibility and driving in France can be a pleasure. Being able to drive yourself around the area is far more comfortable and convenient, allowing you to take day trips, visit other resorts, towns and villages.
Flying to Bordeaux : The closest airport is, of course, Bordeaux-Mérignac Airport (BOD) situated just 9km away from the city center. It is serviced by a number of the major airlines. This wide choice of airlines means that prices are often competitive.
When to Go to the Bordeaux Region?
The prime time for Bordeaux travel is between June and August: that's when most French and other Europeans visit Bordeaux. For fewer crowds and lower rates, come in spring, or autumn. One downfall of coming in fall: starting in September, the wineries start doing their harvests, and some don't allow visitors. While it can get chilly, a December visit to Bordeaux is very Christmas-festive. No matter the season, you might get some rain in Bordeaux: spring and fall can see frequent showers, and so can the otherwise hot summers.
Short Break Packages to Bordeaux
Let's Start our 48-Hour Challenge
Picture yourself on the quays at Bordeaux: before, the Garonne idles powerfully past. Behind, there's the 18th-century magnificence of France's noblest riverfront. And, beyond, in the city's heart, monumental buildings and open space. The magnificent Palais de la Bourse has long suggested that Bordeaux was a capital city in search of a country to rule. The elegance is uplifting, the more so that is now shot through with Latin energy.
Bordeaux formerly was overbearing, ponderous with self-importance. Recent electro-shocks have overturned dowdiness and pomposity. The TGV train roars in, the banks of the Garonne have been retrieved from dereliction and the world's greatest wine is now flattered by the finest wine museum anywhere, not to mention a new generation of bars, restaurants and festivities. The place is alive: Bordeaux nouveau – classical dignity with added zest and fruitiness. For immediate drinking.
The little cannelé – caramelised outside, squashy with vanilla and rum inside – is Bordeaux's emblematic confectionery. It's best from the various Baillardran stores across town
Day one
Morning:  Begin by exploring the Triangle-d'Or – the area between Allées de Tourny, Cours Clemenceau and Intendance – where 18th-century city fathers ripped out the medieval centre to replace it with classical construction and stately open space, to reflect unquestioned trading prosperity. Then trot along to the 30-acre Place des Quinconces. France's emptiest pedestrian square is ennobled by the Monument aux Girondins, a vast and delirious fountain symbolizing freedom vanquishing tyranny, concord, triumph.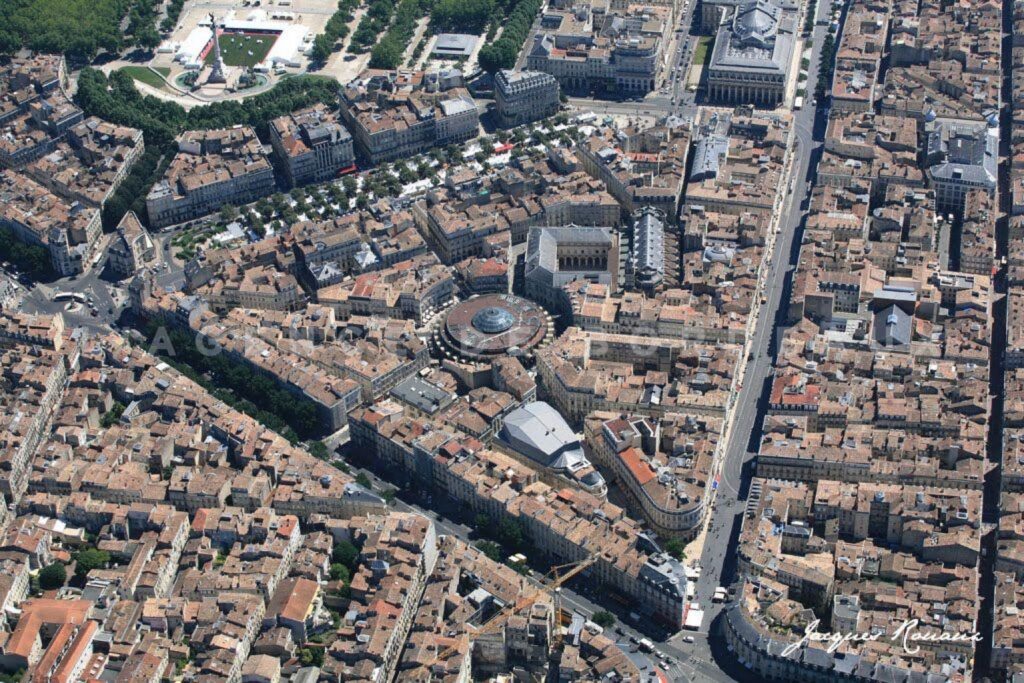 Now double back, in front of the classical Grand Theatre, to plunge into the scurrying medieval St Pierre district, where the influence of the ancient church dissipates fast along sinuous streets scurrying with bars, brasseries and boutiques. The stroll should spit you out onto the river-edging Palais de la Bourse (00 335 56 10 20 30). There's dignity and a monumental harmony to the palace, recalling the time when business exchanges were places of carriages and wigs, not shouty traders and screens. Out front, the vast miroir d'eau (water mirror) reflects the palace brilliantly, as if opening up a new dimension.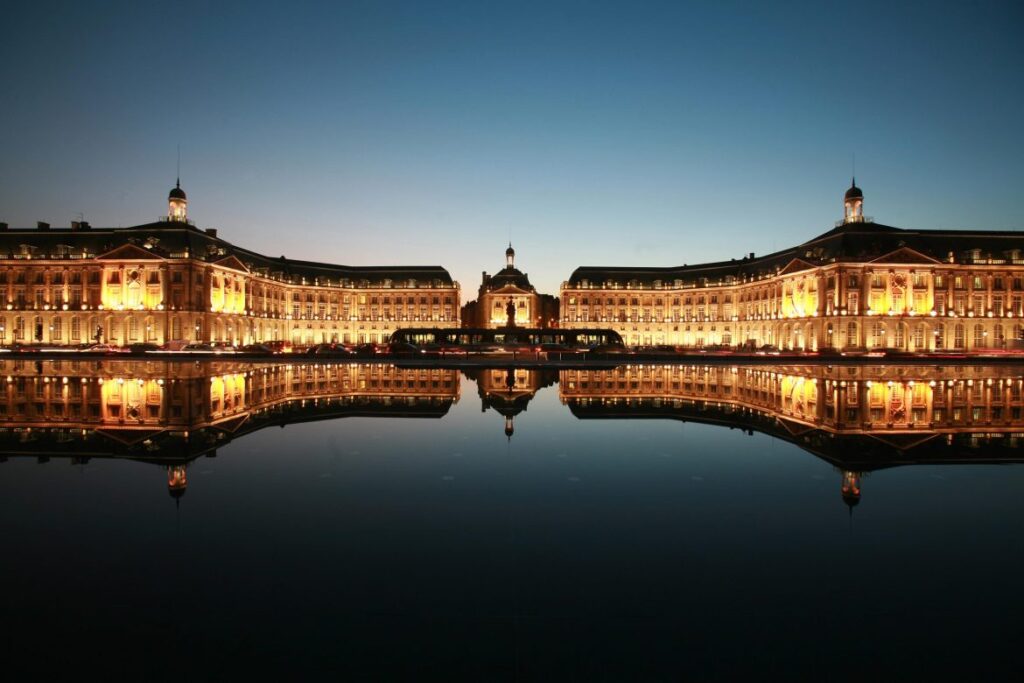 Afternoon: Take lunch at the Brasserie l'Orléans (36 Allée d'Orléans; 00 33 556 005006), a bustling spot with tables close together and the requisite buzzing atmosphere. Look out for duck confit with honey, lamb chops with thyme and as many oysters as you can manage, all accompanied by a reasonably priced selection of wines.Return to the center and hop on a tram along the riverfront, now renewed with greensward, promenade, leisure areas, bars and a sense of open-air happiness. The old port-side buildings – ochre, slate roofs, thin chimneys – indicate how Bordeaux translated trading necessity into style and substance.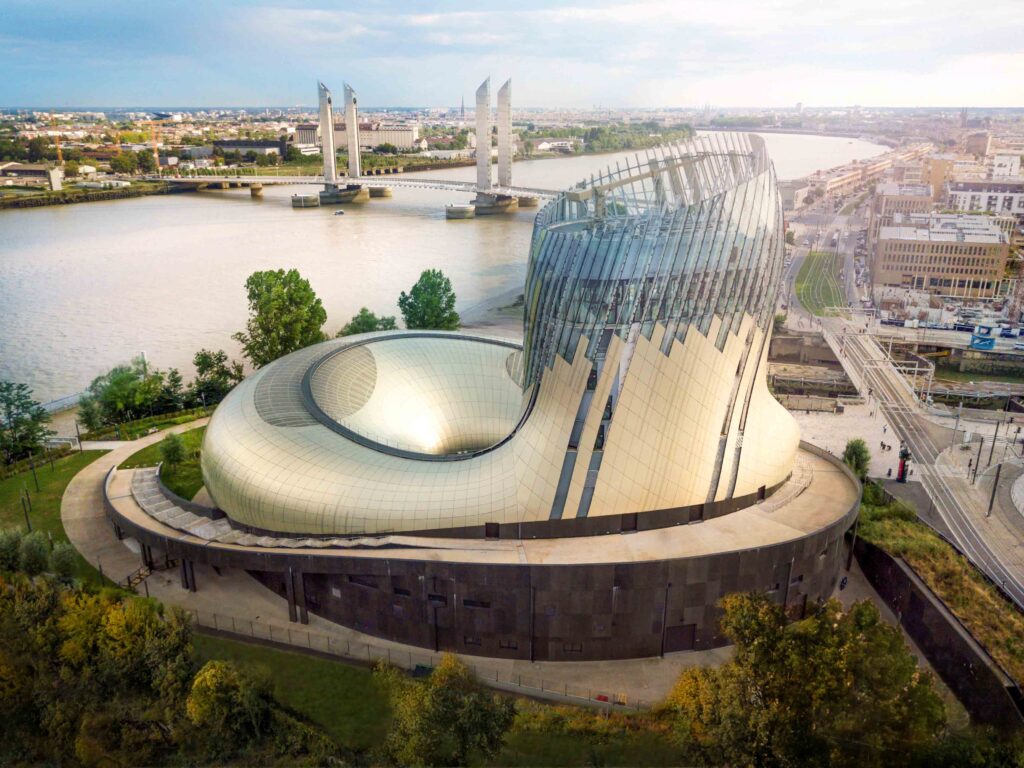 Hop off near the city's star turn: the £63-million Cité du Vin (134-145 Quai Bacalan; 00 33 556 162 020) and the world's finest wine museum. The shiny swirl of a building is a six-storey romp of panache and inventiveness, grabbing you by all the senses for an interactive waltz through world wine and attendant subjects: art, culture, transport (look out for a terrific moving boat show), civilisation and sensuality. There are wine tastings and a panoramic restaurant up top too. Your afternoon's booked solid – it's well worth the €20  entry fee.
Late: By night, the river – so vital to Bordeaux's livelihood – becomes a place of secretive grandeur. It's best appreciated with dinner on a boat, courtesy of the Bordeaux River Cruise (meets at Quai des Chartrons; 0033 556 392766). Depending on the season, you might expect civet-de-cerf (venison casserole), veal gremolata (topped with lemon zest, parsley and garlic) or croaker fish. The food is significantly better than one expects on a river boat, and the riverscape is bewitching.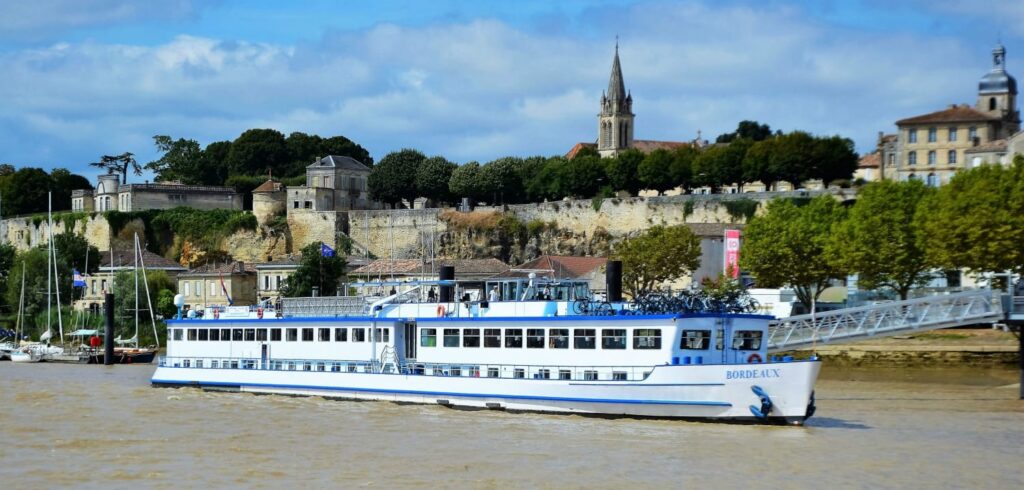 Day two
Morning:  Visiting cities with a purpose is invariably better than ambling aimlessly. So, this morning, hook up with one of the history and food tours provided by Miam Bordeaux  (miam means 'yum' in French). The tours (0033 621 800680) run by Sylvie Berteaux and her team are first-class, offering a combination of historical anecdotes and visits to food producers. The breakfast tour is an outstanding way to spend a morning, and an excellent way to explore the historical center of the city. The nibbles you'll have along the way will fuel a proper appetite, to be sated amid the full-blooded brasserie buzz of La Brasserie Bordelaise (50 Rue St Rémi; 0033 557 871191). The place has barrels as tables, bottles along every wall and lots of locals tackling great meat and shellfish. It's where to be if you want Bordelais bustle and a sense that you're at the centre of things.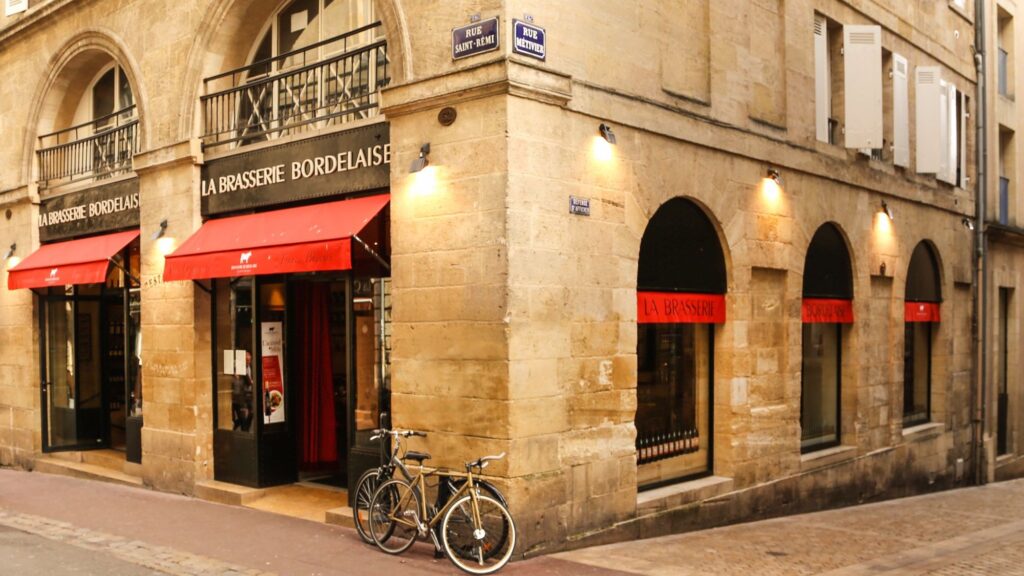 Afternoon: Now it's time to explore the planet's most celebrated vineyards, you are in Bordeaux after all. Go for an afternoon in and around Saint-Émilion, where there are top-notch domains to visit. This beautiful old wine town, just 40-minutes outside of Bordeaux, is built like an amphitheater and has some pretty decent wines to sample.
Late: Start with a glass or two at the Aux 4 Coins Du Vin wine bar (8 Rue de la Devise; 00 33 557 343729), an innovative and convivial wine bar bang in Bordeaux's old centre. It has some 40 wines by-the-glass from self-service dispensers, plus 450 other references available by the bottle. Then throw caution to the wine and see how Gordon Ramsay's getting on at Le Pressoir d'Argent (Place de la Comédie; 00 33 557 30 43 04) within the big, posh InterContinental Bordeaux – Le Grand Hôtel. He's already bagged two Michelin stars there; prices are a bit startling – mains from €75 – but so are the style and quality.
Don't miss the terrific animal paintings by Bordeaux artist Rosa Bonheur in the Musée des Beaux-Arts (20 Cours d'Albret; 00 33 5 56 10 20 56), notably the hugely powerful horses of her Treading Wheat in the Camargue. Bonheur met Queen Victoria, was a friend of Buffalo Bill's and, during her life, sold paintings for a fortune. Post mortem, she fell from favor. Now she is esteemed once more, and about time, too.
Attraction Tickets