Best Cave Hotels in Cappadocia
Introduction
Best Cave Hotels in Cappadocia- In Turkey's Central Anatolia is Cappadocia, an otherworldly destination that tops the bucket list of many travelers. Valleys, rock formations and caves form naturally, with some of those caves housing sprawling rooms, churches and even accommodation carved out by early Christians over the centuries. If you're planning a trip to Cappadocia, you don't have to settle for an ordinary hotel. Instead, you can have an amazing in one of the cave hotels of Cappadocia. These are entire hotels carved out of the landscape, letting you experience the true culture and beauty of the region. This list highlights some of the most memorable cave hotels found in Cappadocia.
[put_wpgm id=7]
How to Get to Cappadocia?
Flying: The easiest way to get from Istanbul to Cappadocia is definitely by flying, and it's cheaper than you'd think. Due to the depressed Turkish lira, flights are often really affordable for people purchasing with stronger currencies like the dollar, pound, or euro.

Night Buses: If budget is a concern, a night bus from Istanbul to Cappadocia is not a bad option. Typically, a bus between these two destinations will cost about 130 lira, about 14-15€, so it's cheaper than even the cheapest flight options. However, it does take about 10 to 12 hours given how slow buses go, how many stops it makes, and how long the distance is between the two destinations are.
By Railway: No such option
Package Tours to Cappadocia
First Tier Cave Hotels
Argos in Cappadocia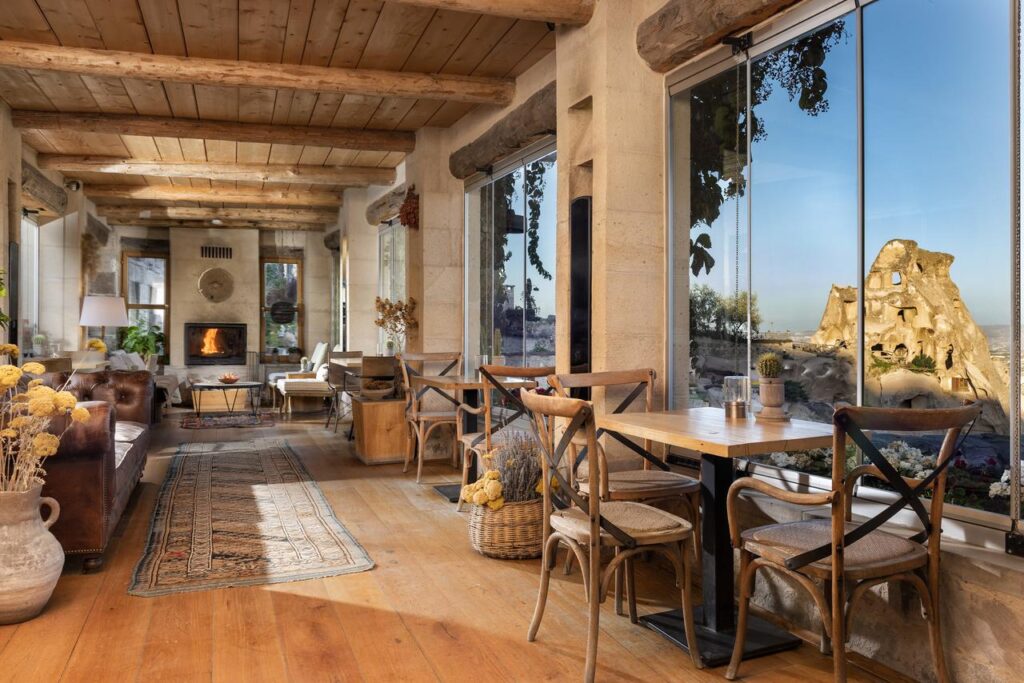 The Argos is a former monastery with several natural stone buildings, only a few minutes walk from the heart of Uchisar.  Although a hotel with historic importance, the decor is very modern. The rooms are spacious, designed well and have an open fireplace. Some of the rooms are accessed by an underground tunnel and have vaulted ceilings for a real historic feel. Each room has its own private bathroom. Some of the rooms offer a scenic view of Pigeon Valley. What's more romantic than dinking outside with Güvercinlik Vallet and Erciyes Mountain as the backdrop? This is possible at The Argos. Incredibly, the hotel has its own vineyard and the wine is stored in an underground cellar.
Museum Hotel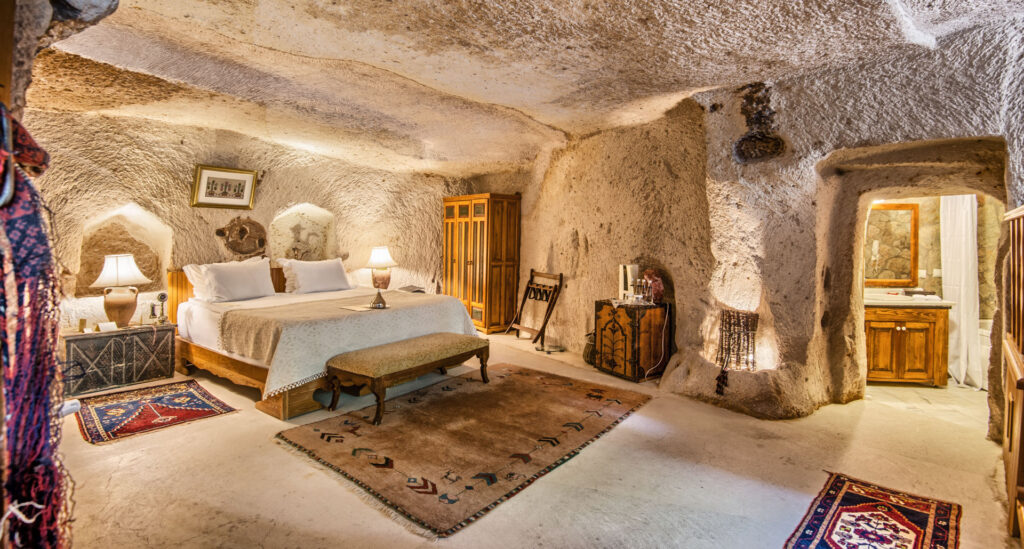 Head to Uchisar to experience a stay at the Museum Hotel Cappadocia. This is a luxurious, boutique hotel that is akin to spending the night in one of the world's top museums. Stone and cave units are found in restored historic ruins, and the décor in some rooms are priceless antiques. A heated outdoor swimming pool is one of the top-ranked amenities, and the terrace is a favorite spot to sip a glass of wine or participate in a Turkish cooking class.
Kayakapi Premium Caves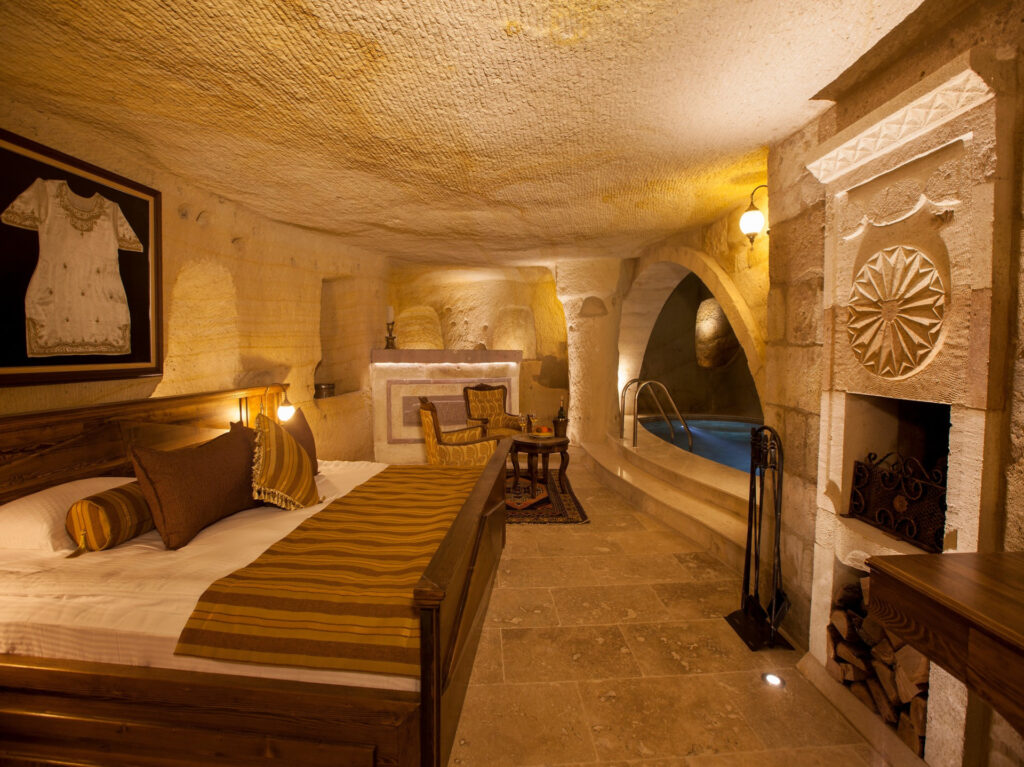 Just a few miles from major attractions like the Zelve Open Air Museum and the Al Nazar Church is Kayakapi Premium Caves. At this hotel, you'll be able to stay in medieval rooms carved right from the rocks of the landscape, creating a truly Cappadocian environment. Inside, the decor is upscale, and you can expect features like ornate stone murals, hand carved furniture and even private hammams in some of the largest suites. You'll have access to an outdoor swimming pool as well as two restaurant on site, not to mention an enormous collection of local wines.
Taskonaklar Hotel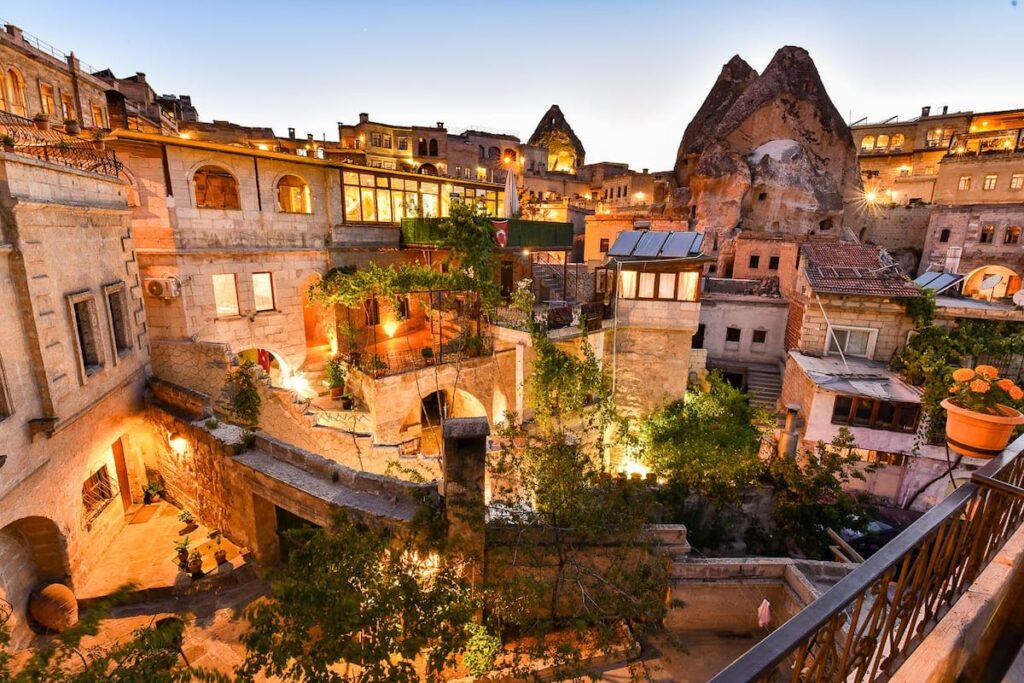 There's a long tradition of cave dwelling here, as Cappadocia's volcanic formations lend themselves quite well to residential elaboration. The accommodations combine subterranean spaces, rough-hewn walls and stone archways with fresh air in the form of terraces and balconies, some with far-ranging views of the unique landscape. A few of the smaller rooms are a touch on the dark side, and not all of them have outdoor space — for the full experience it's probably wise to spring for a suite, as a trip to Cappadocia without a view of the famous rock "chimneys" would be somewhat perverse.
Exedra Cappadocia Hotel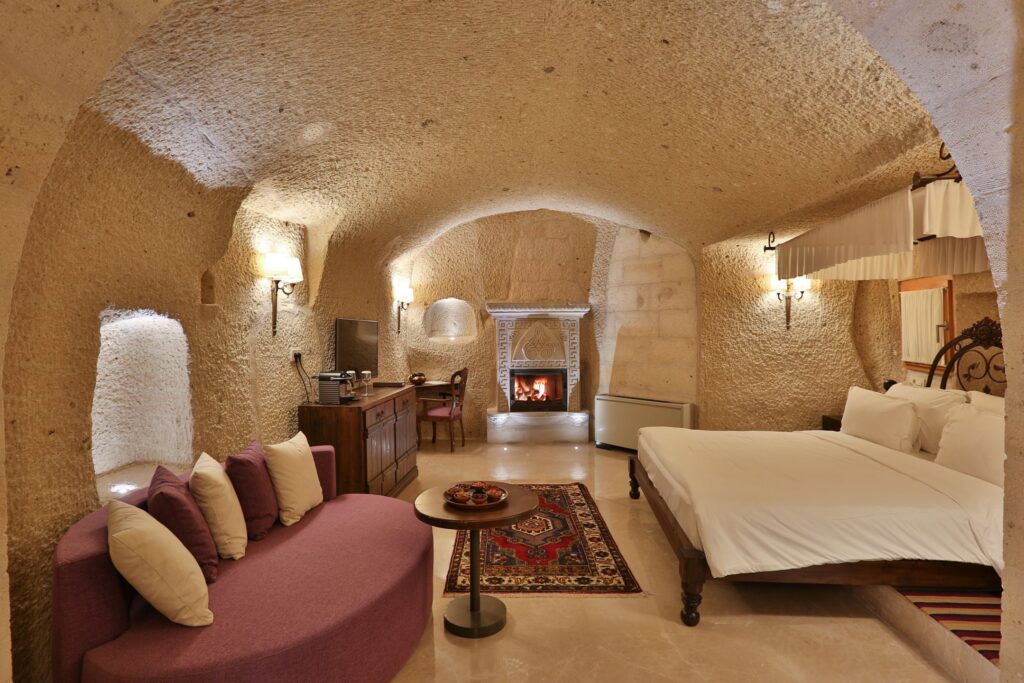 Just off the main square of ancient, sleepy Ortahisar ("middle castle," referencing the town's defining feature, a towering sedimentary formation pockmarked with holes and hideaways), the House Hotel occupies a clutch of stone homes and grotto-like caves carved from the malleable earth. Inside, architect Şekibe Aslan's restorations are readily apparent against the timeless stone backdrop: public areas house painstakingly backlit objects d'art and antique chests amid a series of thickset Romanesque arches.
Ariana Sustainable Luxury Lodge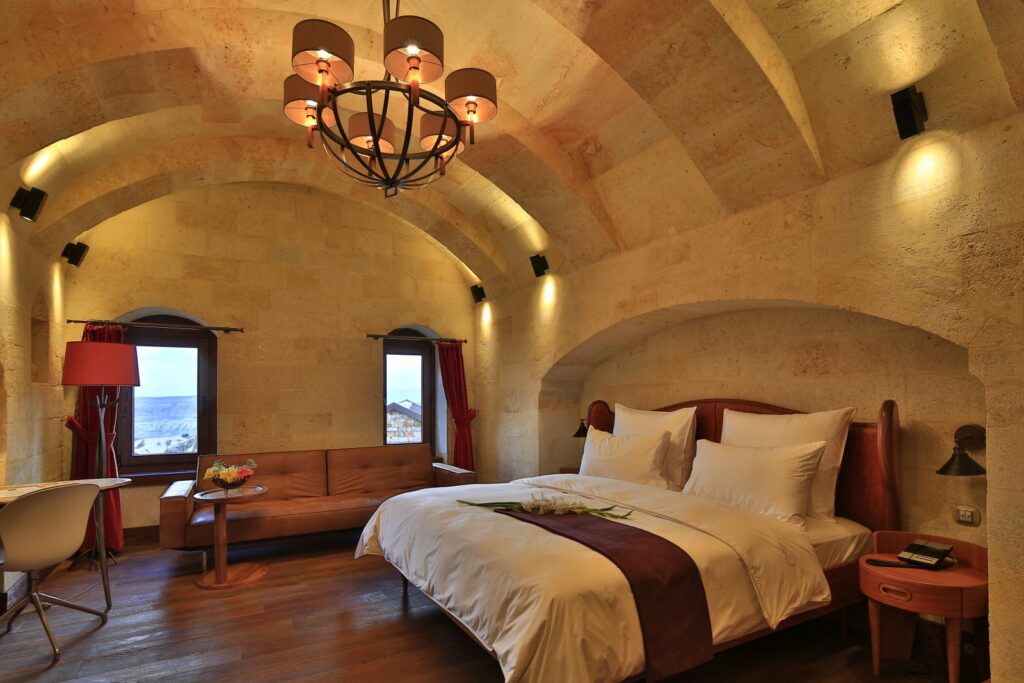 Part modernist structures, part traditional cave dwellings, Ariana Sustainable Luxury Lodge goes perhaps heavier on contemporary design and lighter on heavy stone architecture than many other Cappadocian hotels, and its eleven rooms and suites are among the finest in the region. The Cave Rooms are exactly what they sound like, cut directly into the rock, but with modern comforts like espresso machines, wi-fi, and curvy contemporary furniture. And of the suites, some are cave dwellings, while others are above ground, but all are spacious, stylish, and similarly luxe. Many come with gas fireplaces or onyx bathtubs, and those that aren't subterranean boast impressive views. Of particular note is the restaurant, which isn't just a glorious glass structure with an extraordinary view but also has its own gardens and vineyard, and serves impeccably farm-fresh Mediterranean fare.
The Cappadocia Cave Resort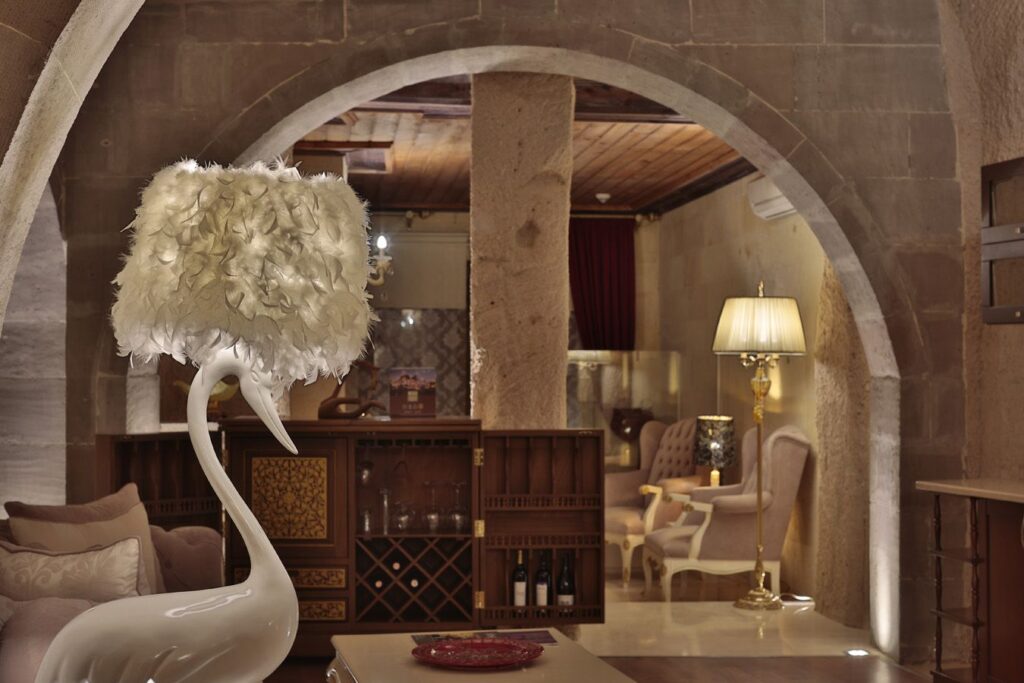 As the name suggests, the hotel is one of several upscale hotels allowing visitors to experience the unusual landscape first-hand. The resort isn't actually inside a cave, not quite; it's a massive stone structure, brilliantly glowing at night, that's built into a hill in the village of Uchisar. But the décor takes partial inspiration from the dramatic curves and textures of Cappadocia's famous grottoes: many of the guest rooms seem perpetually candlelit, with low arched doorways and rough, cavern-like stone walls. But that's where the stylistic nod to primitive cave dwellings ends. The ornate furnishings, from decorative rugs to painted ceramics, pay tribute to local craft tradition, and the amenities are thoroughly modern, including large LCD screen televisions, wireless internet, and hydro-massage showers. Suites also contain extras like in-room jacuzzis and fireplaces; some even have huge round beds that add to the exotic atmosphere.
Sacred House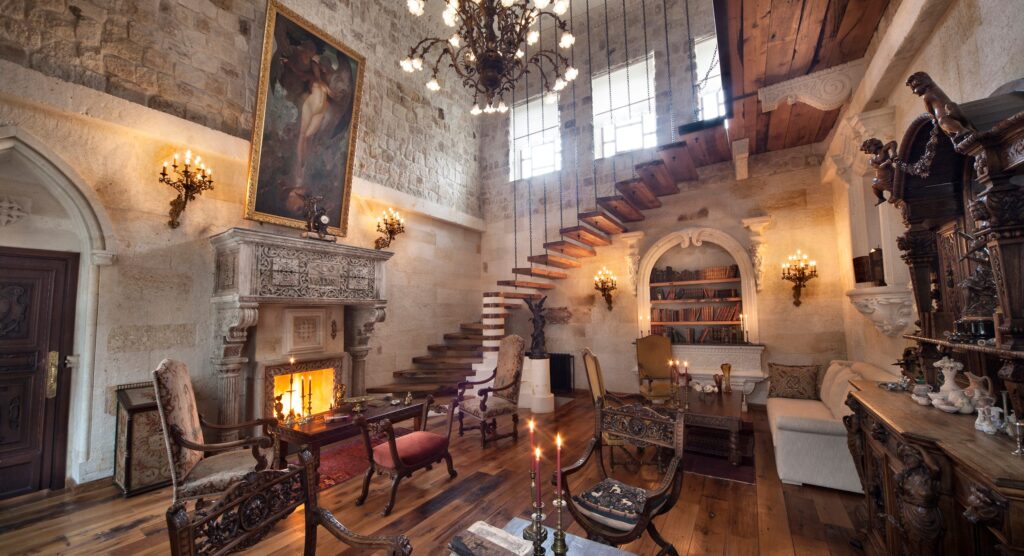 In this far-flung region the town of Ürgüp stands out as an oasis of modern civilization (and decent nightlife); and in Ürgüp the Sacred House stands out as an example of the best tendencies of the high-end boutique hotel world. The mansion is two and a half centuries old, and was for a time a Christian church, as the name may well have led you to guess. Inside are just ten rooms, each one unique, all of them in a style that it's not entirely unfair to call "maximalist."  Though it was restored from near-ruin within living memory by its present owners, at times Sacred House feels authentically medieval — antiques abound, and bare stone walls go a long way in setting a mood. It's the best of both worlds: the ancient ambience of the caves, along with the convenience of Ürgüp's modern infrastructure.
Second  Tier Cave Hotels
Kelebek Special Cave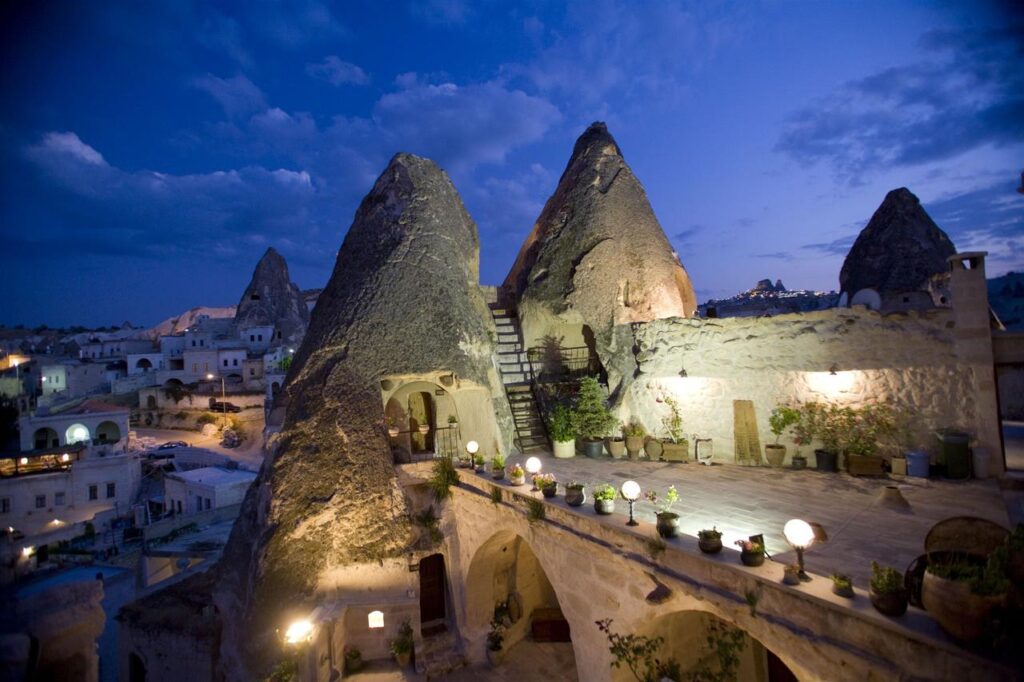 Set in Cappadocia, Turkey, the cave-hotel capital of the world, Kelebek Hotel features traditional rooms carved out of the rock formations, known as "fairy chimneys," that date back to a prehistoric volcanic eruption and define the region. This hotel, perched above the charming village of Göreme, has a magical, otherworldly atmosphere. Rooms range from caves dating back to the 8th century to more contemporary options in the former family residence, all of which are equipped with modern comforts. When guests aren't exploring Cappadocia's valleys or taking the requisite hot air balloon ride, they're unwinding at the hotel pool or the Turkish bath and sauna.
Sultan Cave Suites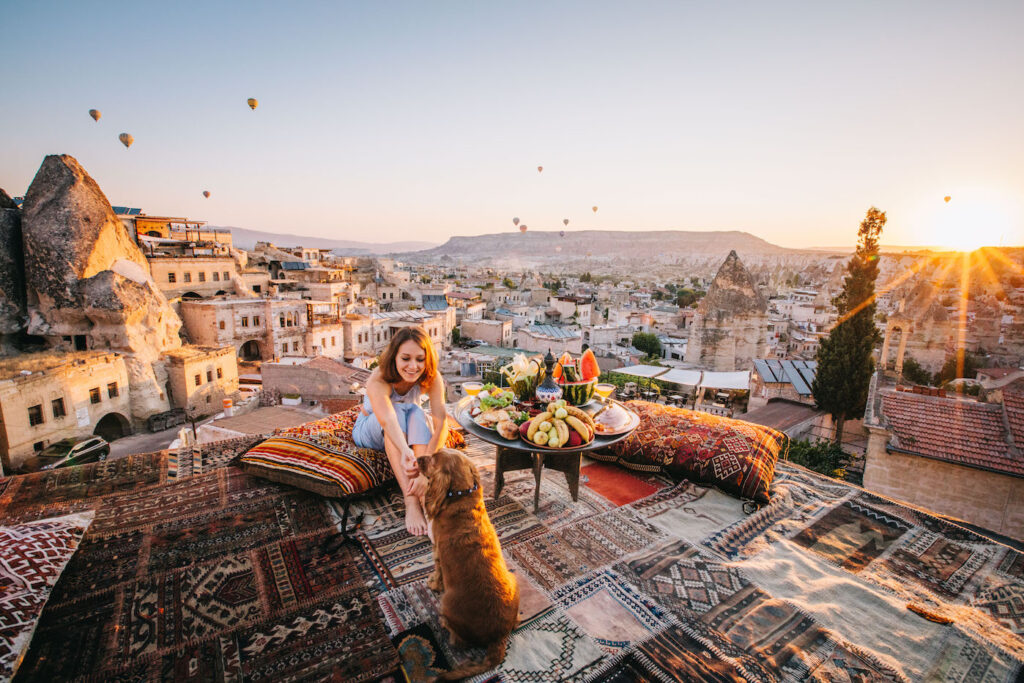 Sultan Cave Suites (Most Instagrammable)  is located at the top of Aydinli Hill, which means that guests are treated to panoramic views over the town of Goreme below. Rooms carved from stone are equipped with modern amenities such as free Wifi and luxurious showers, but step outside and you'll feel like you're stepping back in time. Admire hot air balloons soar overhead as you sip wine from the terrace, or head out onto your private balcony to watch the sun set over the cave dwellings of Goreme below. Sultan Cave Suites is really popular with couples posing for Instagram and even more popular with groups of girlfriends in flowing dresses. So much so, staff have to police the area during sunrise to make sure that only guests are using the terrace for their photoshoots.
Acropolis Cave Suites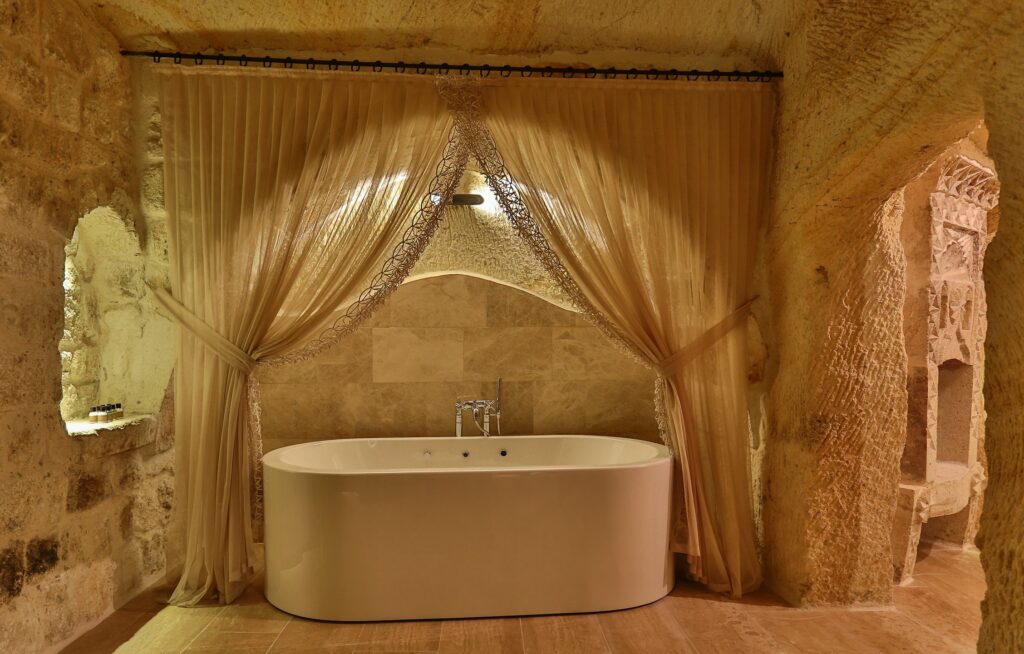 Ürgüp is home to the Acropolis Cave Suites, a lavish hotel that feels out of this world. While the rooms are wonderful, most guests rave about the private garden and the abundance of terraces. At night, lights illuminate the landscape, and the fairy chimneys set the tone for a memorable evening. The hotel staff can help you make the most of your time in Cappadocia, whether that means booking a tour to ride horses or a cycling adventure through stunning rock formations.
Yunak Evleri Cave Hotel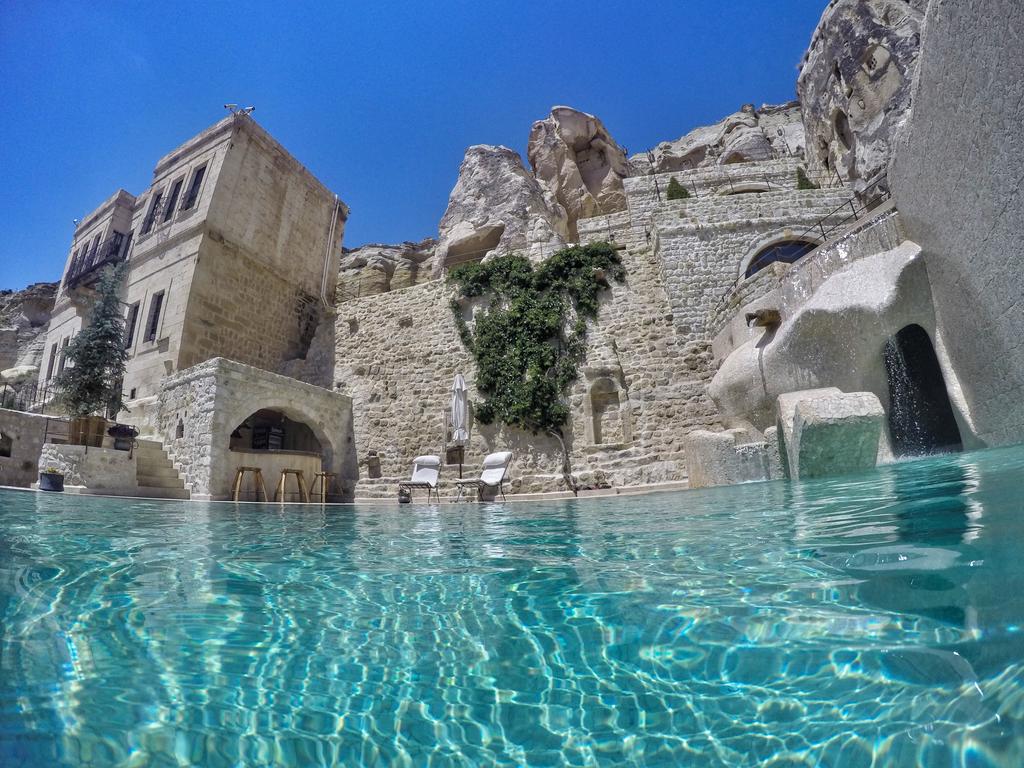 Many of the cave hotels in Cappadocia have a rich history, but few can compete with the Yunak Evleri Cave Hotel. This hotel in Urgup dates back to the fifth century. It also boasts an adjacent 19th century Greek mansion, and you'll have your choice of rooms in both structures. Handcrafted furnishings and marble bathrooms are some of the upscale touches you can expect on the property. It's also a five-minute walk from the Goreme National Historic Park, where you can hike, ride horses and explore the incredible landscape for which Cappadocia is known.
Hezen Cave Hotel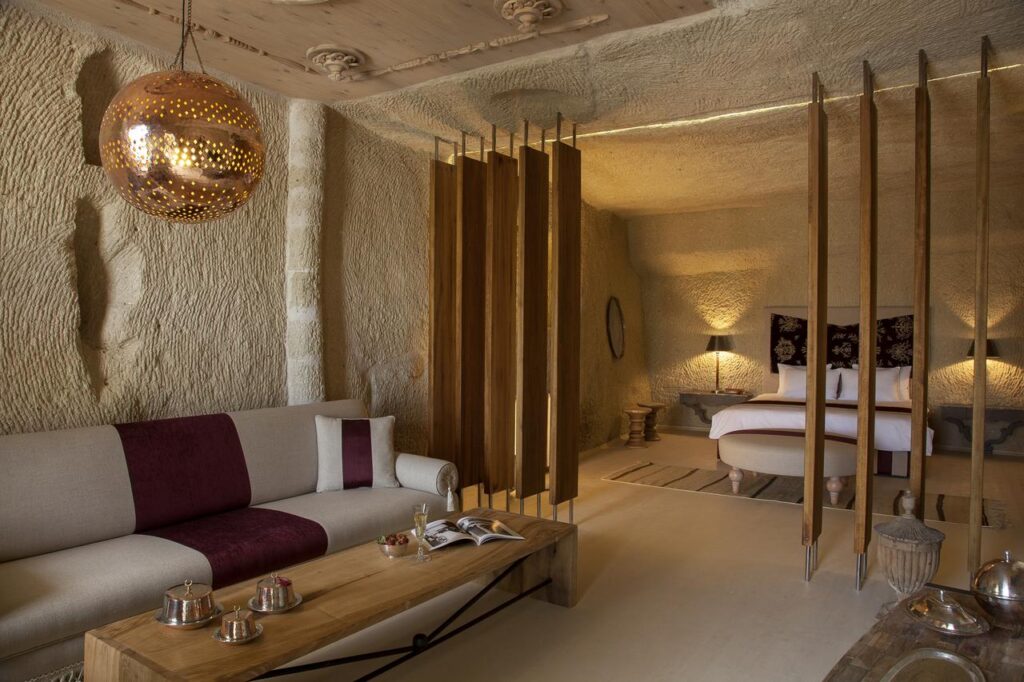 Here, in the Cappadocian town of Ortahisar, rock houses climb hills in spectacular style, and the Hezen Cave Hotel shows what a contemporary designer can do with Cappadocia's traditional architecture as a canvas. The interiors are eclectic, certainly historically influenced, yet full of contemporary comforts, the stone walls providing a healthy dose of ancient romance. Imagine a modern European-style design hotel transplanted to a cave in the Cappadocia hills and you're essentially there — were it not for the sandstone (and, to be fair, the pervasive silence), you might expect to find the streets of Istanbul awaiting outside.