Barcelona Less Than 48 Hours
Introduction
Barcelona Less Than 48 Hours – Barcelona is an enchanting seaside city with boundless culture, fabled architecture and a world-class drinking and dining scene. Barcelona combines everything that is most charming about Mediterranean cities – a relaxed pace, months of endless sunshine, unbeatable food – with the cultural and design clout of almost any city in the cold north.  Its patchwork of architectural styles displays dark, Gothic façades next to the harlequin buildings of the Modernistas and the skyline-piercing constructions of Jean Nouvel or Herzog and de Meuron. A day spent admiring them can be topped off with a sundowner on one of the city's many beaches before dinner at any number of Michelin-starred gastronomic temples or humble, family-run tapas bars. This is a city with a proud sense of identity and its language, culture and traditional festivals are fiercely guarded. Human pyramids, fire-breathing dragons and fiber-glass giants strolling the streets are in evidence most weekends if you look hard enough.
How to Get to Barcelona?
By Air: Several airline companies offer non-stop flights to Barcelona from various cities across the United States and Canada. Numerous carriers connect various cities in the Europe with Barcelona, as Catalonia's capital attracts thousands of  tourists every year. Use our search engine to compare and choose the best deals available.
By train: Barcelona Sants railway station is the second busiest train stations in Spain, after Madrid's Atocha railway station. Spain's high speed trains (AVE) connect Madrid to Barcelona in just two and a half hours and recently the AVE inaugurated a new line between Paris and Barcelona that takes 6 hours.
By bus: You can also take a coach to Barcelona. There are numerous bus companies that depart from other cities in Spain or other major cities in Europe, like London, Brussels and Paris. To give you an idea, a coach from Madrid to Barcelona takes 8 hours.
By ferry: 
Travelers from the Balearic Islands have the option to reach Barcelona by boat, a very attractive option especially for those who want to bring their car. Use our ferry search engine  to find out best deals.

Let's Start our 48-Hour Challenge
Day 1
Modernisme is the local take on art nouveau, and the Passeig de Gràcia is its showcase. Starting at the top and walking downhill, you'll pass Gaudí's undulating apartment block, La Pedrera (Carrer Provença 261-265; 00 34 93 484 59 00), which now contains an exhibition centre. Be sure to head up to the roof for the perfect Insta shot alongside Gaudí's warrior-like chimneys. A little further along you'll come to his fantastical Casa Batlló (Passeig de Gràcia 43; 00 34 216 03 06), a glittering, polychromatic affair, also open to the public – although with limited time you might want to just check out the facade and those of its neighbouring buildings, which perfectly illustrate the contrasting styles of Modernisme.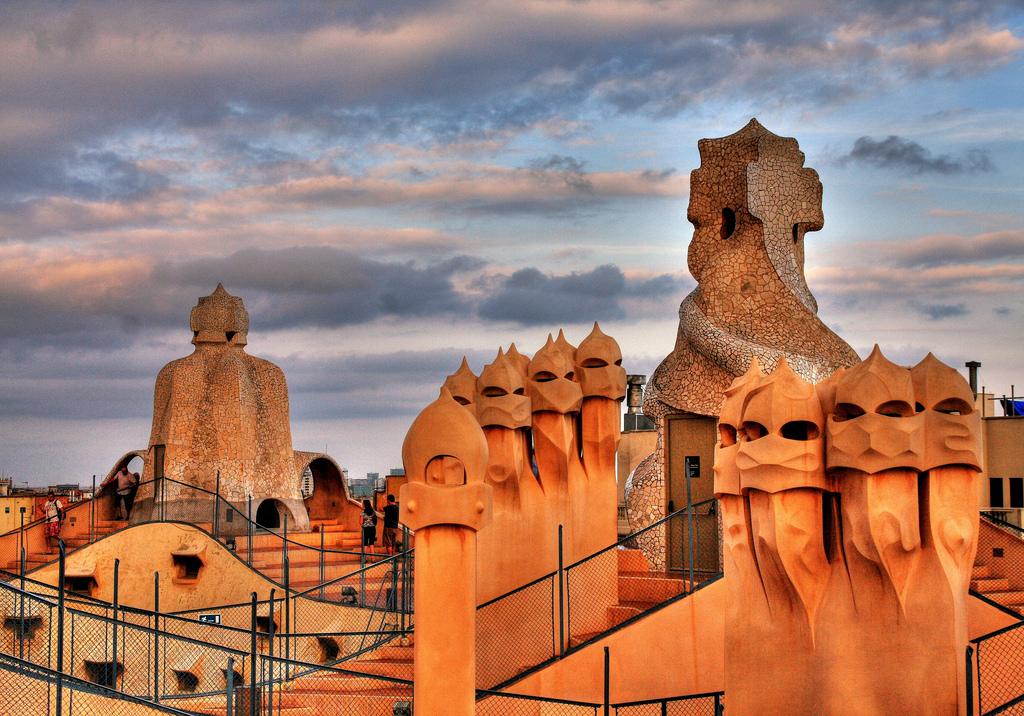 A short stroll seawards from here will take you to Tapas 24 (Carrer Diputació 269; 00 34 93 488 09 77), one of the city's best tapas bars, but make sure to get here well before 2pm for any chance of a seat.
Afternoon:  From here, it's an easy metro ride to Gaudí's other great masterpiece, the unfinished Sagrada Família (Carrer Mallorca 401; 00 34 93 207 30 31). A vast molten wedding cake of a church, it's as breathtaking within as it is otherworldly without. The queues can be long, but you can bypass them by buying a ticket online beforehand.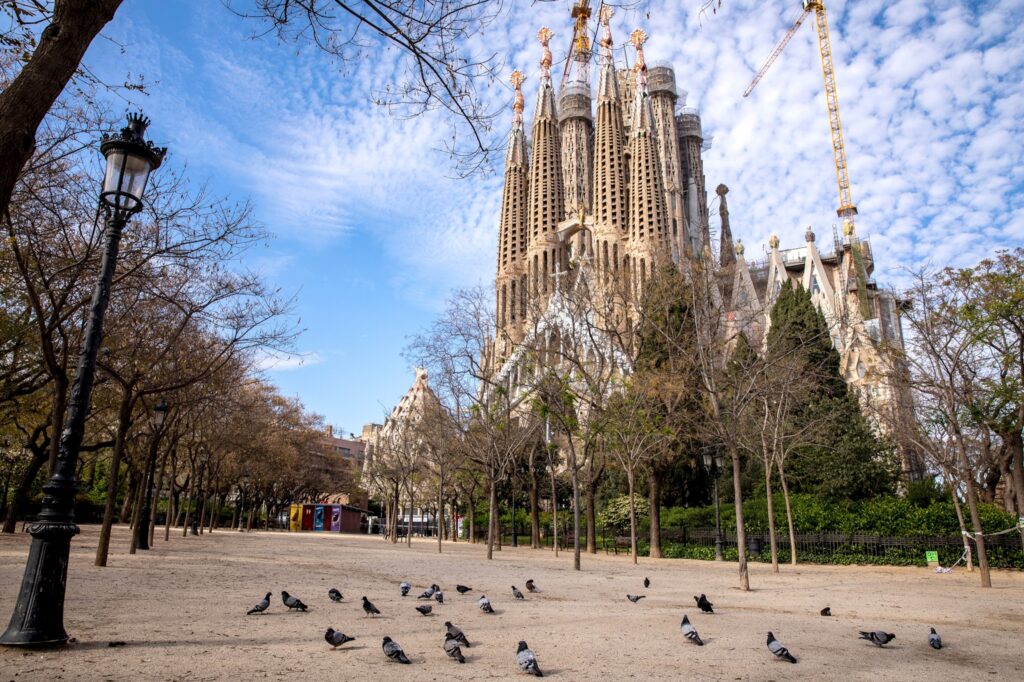 The area around the Sagrada Família is not wildly interesting and lacks decent eating and drinking options, so it's time to head to Barceloneta and its xiringuitos (beach bars). The crowds start to dissipate in the early evening, and while there is nowhere in Barcelona to watch the sunset (the hill of Montjuïc is in the way), its reflection in the W Hotel at the southern tip can be a close second.
LATE
No self-respecting Spaniard would eat paella for dinner (there is an almost superstitious belief that rice is impossible to digest at night), but there are plenty of places that serve it to visitors. Can Solé (Carrer de Sant Carles 4; 00 34 93 221 50 12) is a lively but traditional spot with an open kitchen – not the cheapest, but one of the best. There's no better digestif than a moonlit stroll along the beach, but along the seafront you'll also find a line of bars, perfect for a seaside nightcap. Note that many, such as CDLC (Passeig Marítim 32; 00 34 93 224 04 70), require you to be a little dressed up before you'll feel fully comfortable. Secure one of the day beds that sit alongside the dancefloor inside to see Barcelona's glam set at play.
Day two
Morning: Puig i Cadafalch was one of Gaudí's contemporaries, and had a more florid approach, seen at its most ecstatic in the Palau de la Música Catalana concert hall (Carrer Palau de la Música 4-6; 00 34 902 442 882) in the Born. Have a coffee downstairs to sneak a peak at the lobby, or book a guided tour for the whole thing.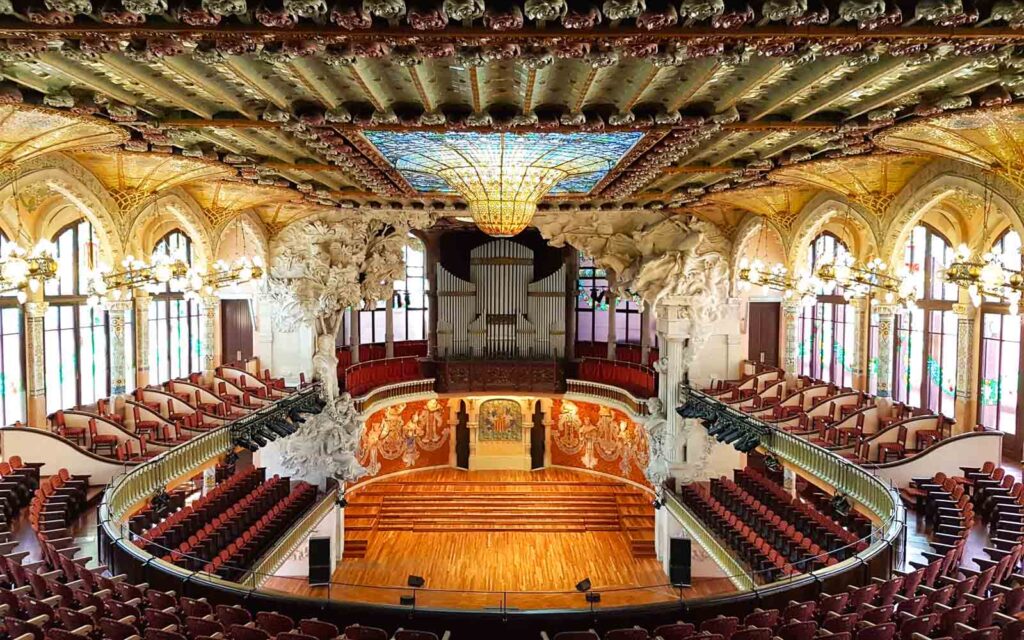 Walk south of the Palau and through the Santa Caterina market and eventually you will end up at the Museu Picasso (Carrer Montcada 15-23; 00 34 93 256 30 00), which offers a look at the artist's early work from his years in Barcelona. The highlight of the collection is Las Meninas, 58 sketches and paintings based on Velásquez' masterpiece of the same name.
Afternoon: A couple of blocks south of here is Cal Pep (Plaça de les Olles 8; 00 34 93 310 79 61), known for its super-fresh seafood tapas. It pays to book ahead, as it can get very busy. Inside, there's a cosy dining room at the back, but if you sit there you'll miss all the fun. Better to stand up at the bar and watch Pep and his men working the stoves. The streets around here are also filled with stylish little boutiques such as Coquette (Carrer Rec 65; 00 34 93 319 29 76) for women, and La Comercial Hombre (Carrer Rec 73; 00 34 93 319 24 35) for men.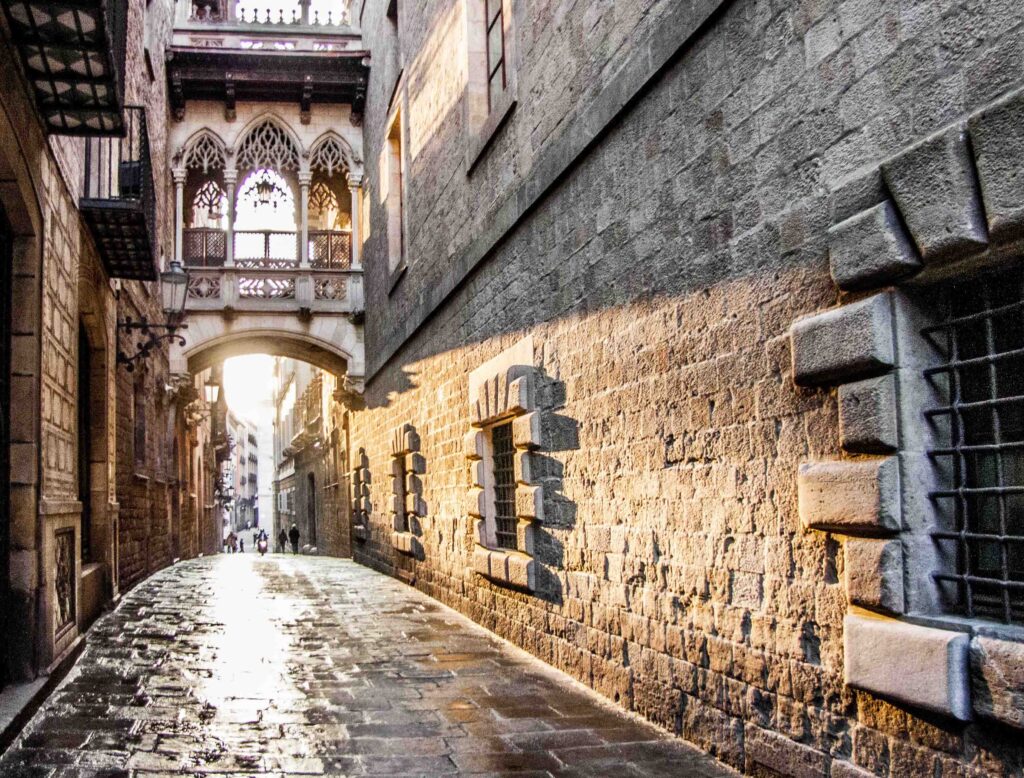 Head across the Via Laietana and into the Barri Gòtic, to the great Gothic cathedral (Pla Seu, 3; 00 34 933 428 262). Be sure to visit the cloister with its gaggle of clanking geese – 13, to represent the 13 years of age of Santa Eulàlia, one of the city's patron saints, when she died at the hands of Roman emperor Diocletian. Leave time for the tangle of medieval streets around the cathedral – you'll get lost, everybody does, but that's the charm of this neighborhood.
Late:  If you're lucky, your wandering will lead you right outside the lively El Portalón (Carrer Bany Nous 20; 00 34 93 302 11 87), where you can order terracotta jugs of house red and choose from a long list of tapas in what was – in medieval times – a stable. It's quite popular with tourists early on in the evening – arrive a little later (around 10pm) if you'd rather eat with the locals.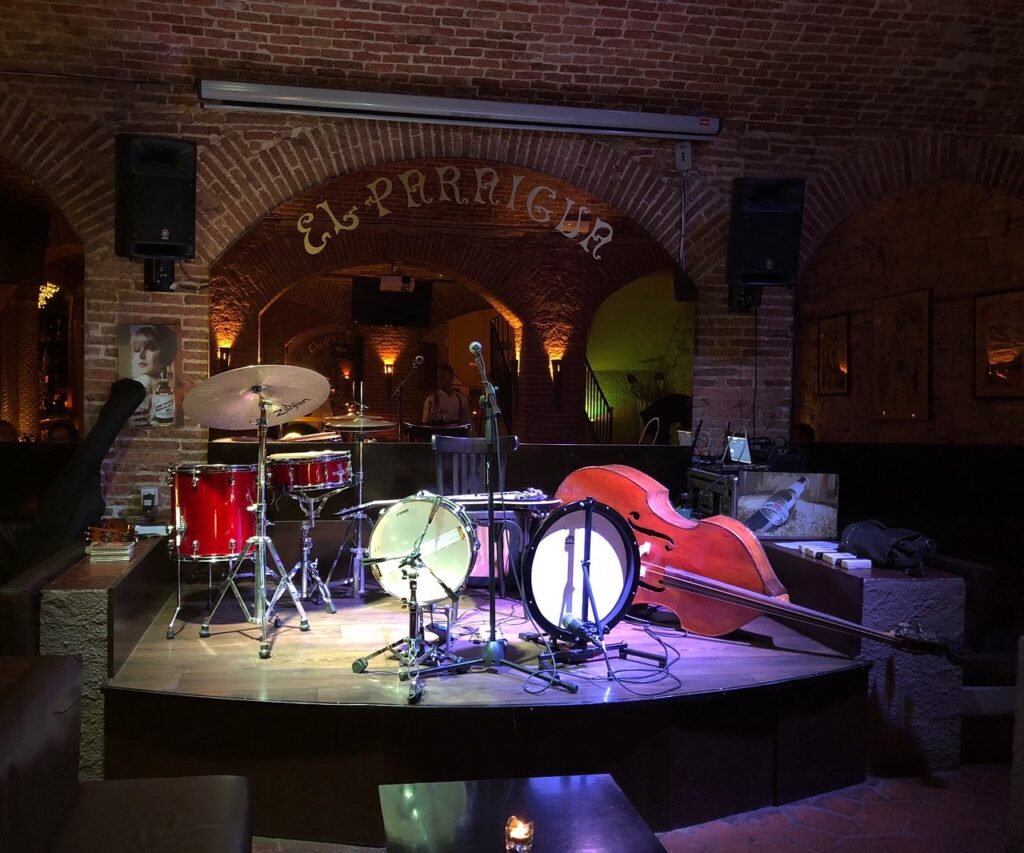 If you've still got any energy left, nearby El Paraigua (Carrer Pas de l'Ensenyança 2; 00 34 93 302 11 31) is a great spot for a nightcap. It serves cocktails upstairs in its Modernista-designed bar and offers live music downstairs in a brick-walled basement. To really dance the night away, however, you'll need to walk another block or two to Marula Café (Carrer Escudellers 49; 00 34 93 318 76 90), a temple to funk and soul that's open long into the small hours.
Attraction Tickets