Lyon Less Than 48 Hours
Introduction
Lyon Less Than 48 Hours – The second-largest city in France may, in some ways, sit in the shadow of Paris, but Lyon has long held its own as another city that makes France a divine place to visit. Once a powerhouse in the silk trade, Lyon still offers world-class art, fantastic shopping and easy access to the Rhone Valley, home to some of the most stunning scenery in Western Europe — not to mention some world-class wines. (For silks, you can still browse the local Hermès boutique today.) And if one of your main reasons for wanting to visit France is to dine on some of the best cuisine in the world, Lyon is a vital stop on your itinerary. Outstanding museums, a dynamic cultural life, busy clubbing and drinking scenes, a thriving university and fantastic shopping lend the city a distinctly sophisticated air, while adventurous gourmets can indulge in their wildest gastronomic fantasies. Don't leave the city without sampling some Lyonnais specialities in a bouchon – the quintessential Lyon experience.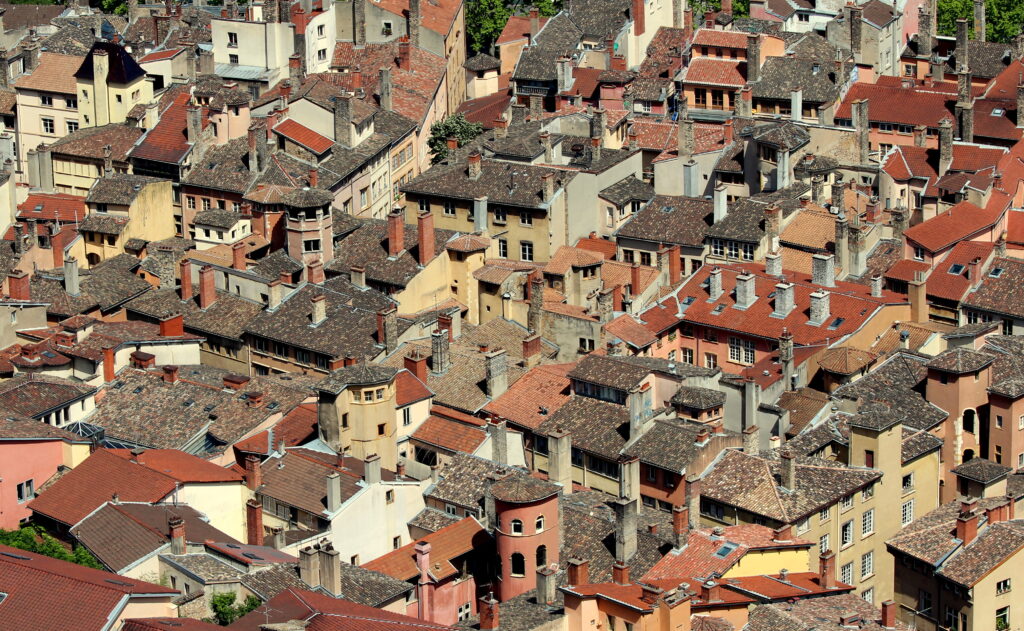 How to Get to Lyon?
Trains to Lyon: TGVs trains arrive from all over France in either one of the two train stations  located in the heart of the city: Lyon Part-Dieu or Lyon Perrache. The TGV (high speed train) can take you to the following cities : Marseille in 1 hour 40 mins, Montpellier 1heure45, Paris in 1 hour 55 minutes, 3 hours to get to Lille, Rennes 4 hours 15 minutes.
Drive to Lyon: You can arrive by car either from Paris by the A6 Highway, or south of France by the A7 Highway or from Geneva or Chambéry by the A43 Highway. These highways are directly connected to the motorway networks of Switzerland or Italy.  The low speed in France are:30 km/h in town, 50 km/h in urban areas, 90 km/h on highways or county, 110 km/h on highways, 130 km/h on motorways. The parking fees downtown Lyon are quite expensive if you are not a resident of the city. There are very few free places and they are coveted !
Flying to Lyon: The easiest way to get to Lyon is to arrive by plane at the Lyons Saint-Exupery Airport (LYS). The airport is modern and flights from all over Europe arrive daily. The airport itself is connected to a train station. The international  Lyons Saint-Exupéry Airport  is situated 25 km east of Lyon.
Short Stay Packages
Let's Start our 48-Hour Challenge
That Lyon is a sterling choice for bon vivants becomes evident within seconds of tucking into coq au vin in a jam-packed bistro, admiring fine art in a Renaissance abbey, or getting deliciously lost in a traboule (secret passageway) used by 19th-century silk weavers. It's a enthralling, richly storied city. Street-smart Romans first spotted the city's extraordinary topography, founding Lugdunum (Lyon's predecessor) in 43BC on the sunny slopes of Fourvière. And to this day, this basilica-crowned hill above Lyon's quaint Unesco-listed Old Town (Vieux Lyon) is the perfect perch for clocking the mighty Rhône and Saône Rivers that wend their way so gracefully though the centre. The city's quays, landscaped with peaceful water gardens and floating bars, buzz night and day – while culture lovers can explore a bounty of museums. Then there's the gastronomy: among France's finest, thanks to the unfaltering creativity of Lyonnais chefs, both past and present.
For a crash course in Lyonnais history, walk five minutes from Place des Terreaux to La Fresque des Lyonnais (40 Quai Saint Vincent) – a trompe l'oeil mural covering three sides of an otherwise unremarkable riverside building. In the painting you can spot 30 celebrities from local history: from Roman Emperor Claudius to Lyon's most famous chef, Paul Bocuse.
Day 1
Morning: Start with coffee and croissants at any of the pavement cafés on 19th-century Place des Terreaux. Admire the writhing horses of Frédéric Bartholdi's fountain (constructed in 1889), the 17th-century Hôtel de Ville (00 33 472 10 30 30; 1 Place de la Comédie), and 15 playful fountains by conceptual artist Daniel Buren – all gleaming again after a £5.4 million restoration job last year.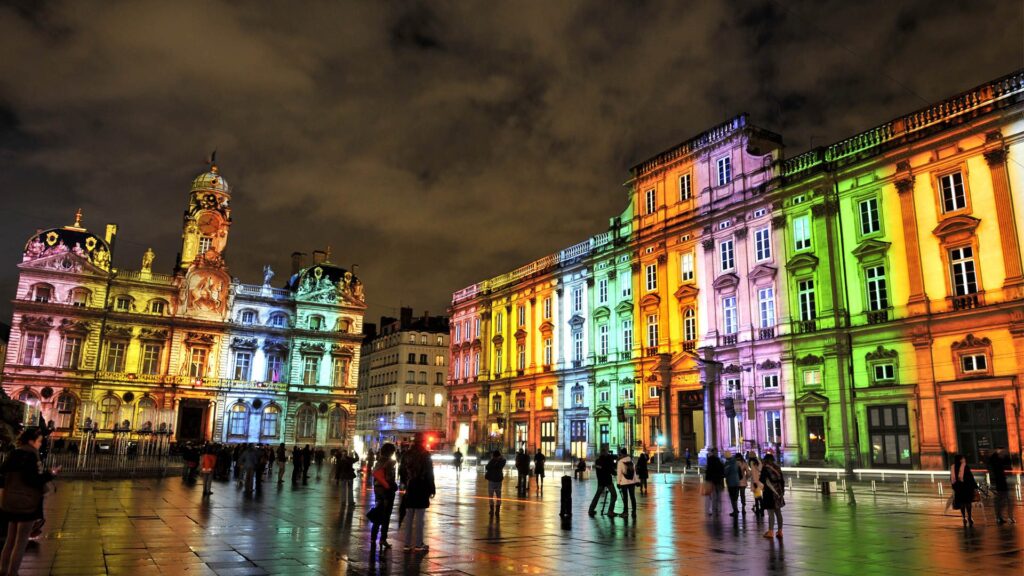 At the Musée des Beaux-Arts (20 Place des Terreaux; 00 33 471 10 17 40), you can immerse yourself in the enthralling world of Degas. Rodin, Christo and May Ray and learn how they used fabric in their work at the Drapé exhibition (Drape; until 8 March). Cool down afterwards with an artisan lemonade or juice in the museum's cloister garden. Back outside, hit the fashion boutiques on shopping streets Rue Édouard Herriot and Rue de Brest. End with lunch (and more chic shopping, should you wish) at Le Grand Réfectoire (00 33 472 41 84 96) inside the new Grand Hôtel Dieu (1 Place de l'Hôpital) complex. Otherwise, in warm weather, enchanting summertime terraces in the medieval hospital's impeccably restored courtyards promise hours of more casual eating and drinking, any hour.
Afternoon: No trip to Lyon is complete without a visit to Lyon's flagship Cité Internationale de la Gastronomie (1 place de l'Hôpital, 69001), also inside the Grand Hôtel Dieu. Exhibitions, hands-on workshops, film screenings, show cooking – all relating to gastronomy – and coffee shop Le Cellier are among the tasty pickings inside this new 'International City of Gastronomy'.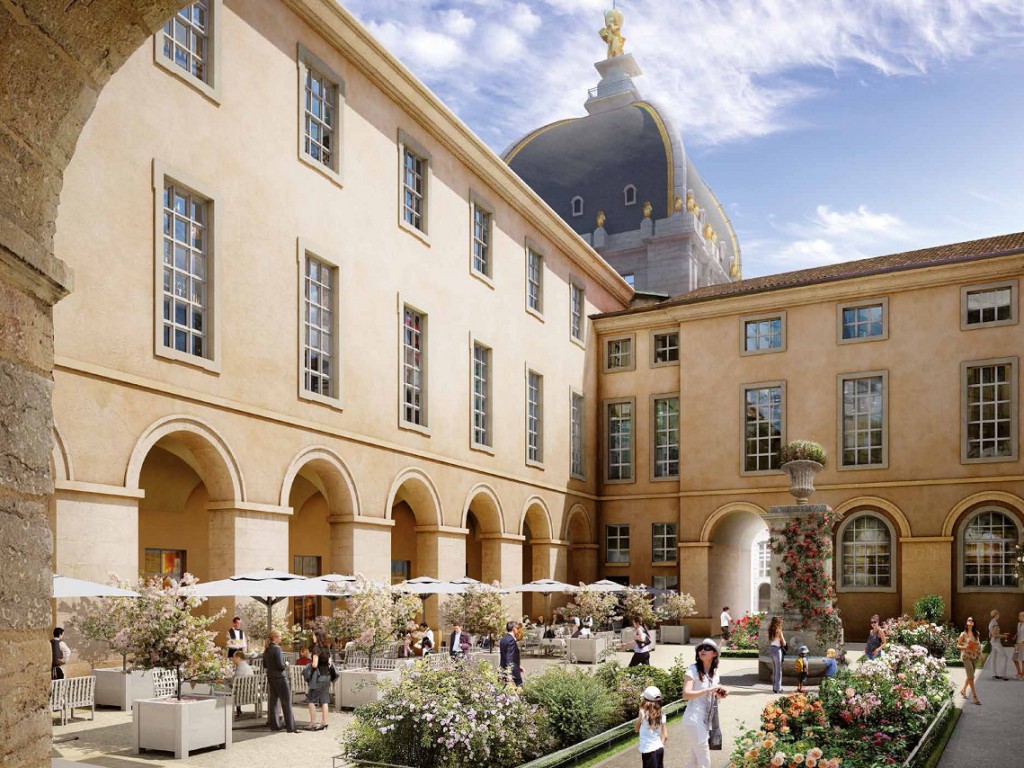 Walk five minutes to the 16th-century Place des Jacobins, and beyond to the River Saône. Cross the Passerelle du Palais de Justice footbridge to the riverfront Palais de Justice, one of France's finest neoclassical monuments with its 24 Corinthian columns.
Explore Cathédrale Saint-Jean (Place Saint-Jean; 00 339 81 15 74 01) – the heart and soul of Unesco-protected Vieux Lyon – and amble the surrounding terracotta-hued maze of Medieval and Renaissance streets. End the afternoon with a funicular ride uphill to Fourvière and its wedding-cake Basilique de Fourvière (8 Place de Fourvière; 00 33 478 25 86 19). The city panorama that unfolds from the basilica terrace is magical, but the view from the statue-crowned rooftop is even finer: to see it, book an afternoon tour at 2.30pm or 4pm in advance.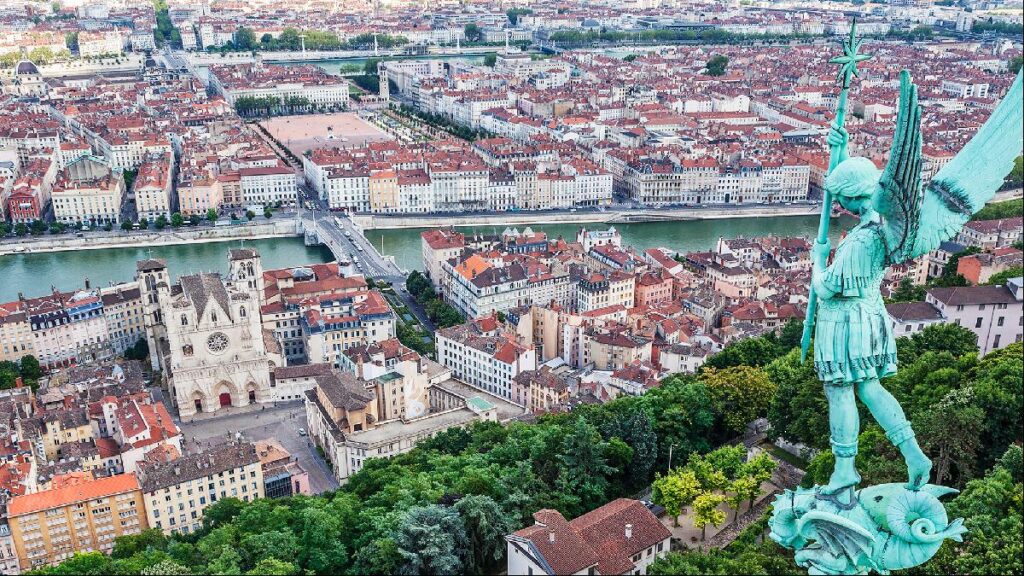 Late: As the sky turns pink, return to the Presqu'île and zip across the Passerelle du Collège footbridge to join locals promenading along the river-hugging Berges du Rhône. Its landscaped quays buzz with summertime lovers lounging on pristine lawns, and students hanging out in hammocks.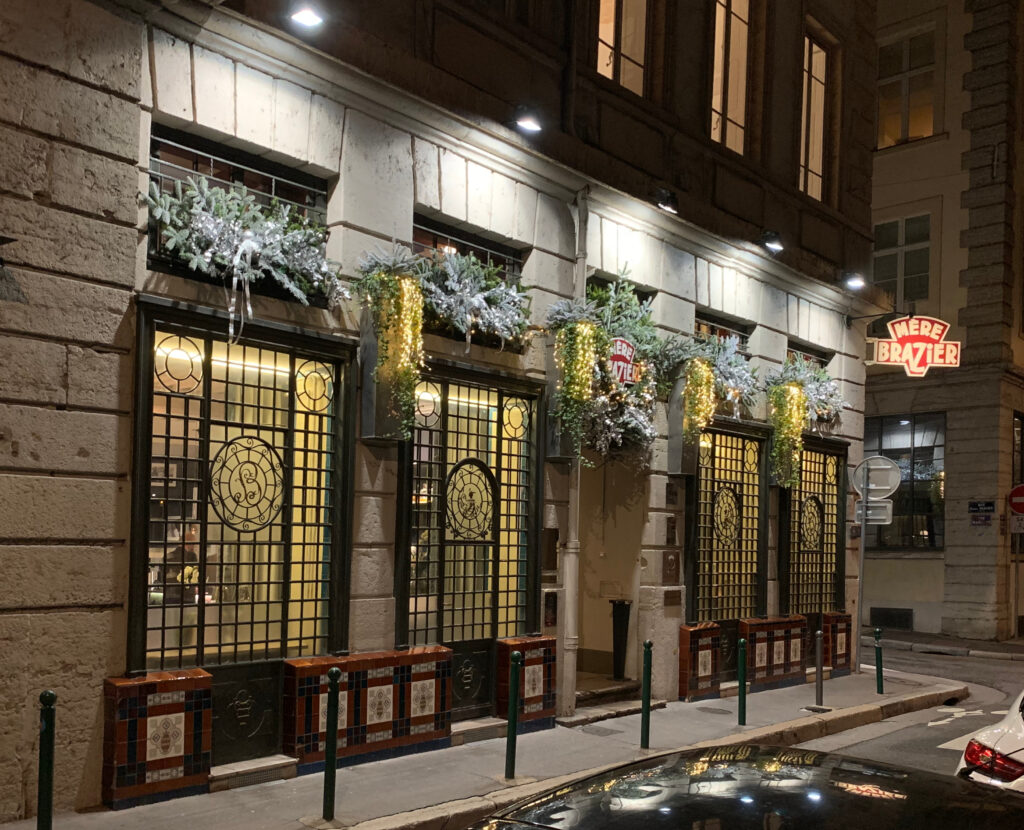 Linger over drinks on La Barge (15 Quai du Général Serrail; 00 33 478 52 49 91), followed by dinner at French-Japenese restaurant Takao Takano (33 Rue Malesherbes; 00 33 482 31 43 39) or La Mère Brazier (12 Rue Royale; 00 33 478 23 17 20) for traditional Lyonnaise cuisine. Here, Michelin-starred chef Mathieu Viannay puts a modern spin on classics such as poularde demi-deuil (poached chicken from Bourg-en-Bresse with black truffle), and a dangerously lavish cheese trolley. Later, night owls can sip a sparkling French CanCan – with champagne, lemon and cassis – and other artisan cocktails at The Monkey Club (19 Place Tolozan).
La Confluence, Lyon's newest 'hood, continues to evolve. Its latest opening – the digital start-up hub H7 (70 Quai Perrache) – is the space to watch. It's set inside an industrial boiler-works constructed in 1857, and offers street food galore at its funky new food court called Heat; make a beeline for the wood-fired Neapolitan pizza at La Boîte Rose (00 33 437 5784 28).
Day 2
Morning: Ride the metro from Hôtel de Ville up to Croix-Rousse, to drive your taste buds wild at the Marché de la Croix-Rousse (Boulevard de la Croix-Rousse), Lyon's best open-air food market. Meander its plane tree-shaded length, stopping to taste and buy: dégustation (tasting) is very much au rigueur in this foodie city. If it is Saturday, consider a guided tour (in English) of the 'hood's unique traboules (secret passageways) and silk-weaving workshops, run by the Lyon tourist office (Place Bellecour; 00 33 472 77 69 69).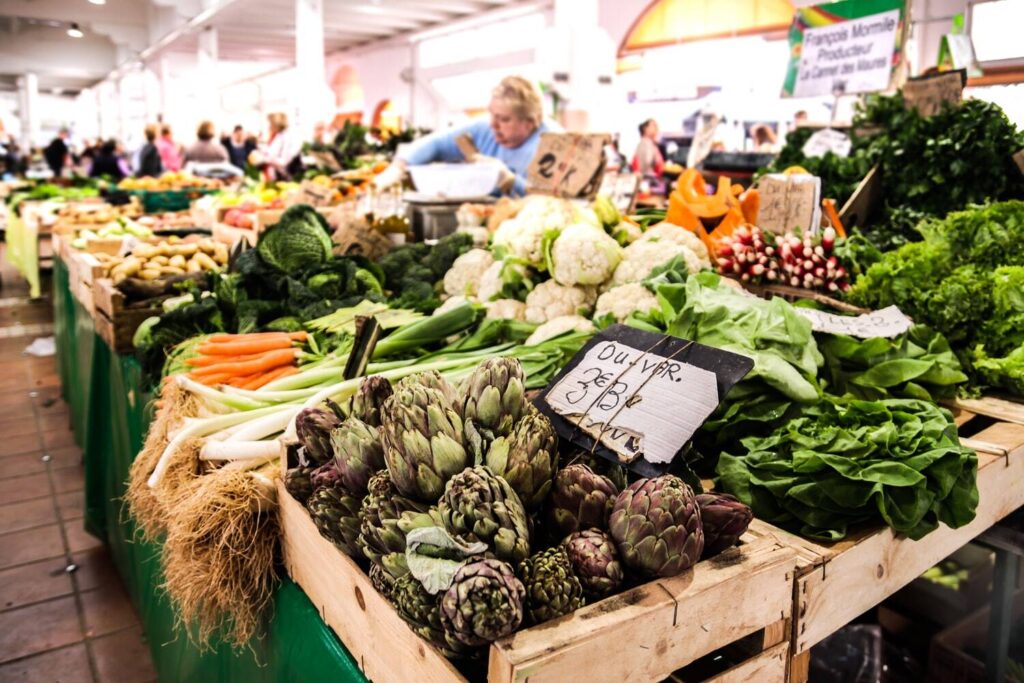 Complete your Croix-Rousse foray with a Communard (glass of red Côtes du Rhône wine with blackcurrant liqueur) and a charcuterie or cheese platter to share at Café du Gros Caillou (180 Boulevard de la Croix-Rousse; 00 33 478 27 22 37) – or hit Les Desjeuner (3 Rue des Pierres Plantées) for a decadent brunch. Afterwards, stroll downhill along pedestrian Rue des Pierres Plantées, with its tiny boutiques and artist workshops. On clear and sunny days, linger at the top of hillside garden Jardin de l'Esplanade de la Grand-Côte, and see if you can spot Mont Blanc.
Afternoon:  Take the metro two stops from Hôtel de Ville to Place Bellecour, said to be Europe's largest car-free square. Sail downstream along the River Saône in a Vaporetto riverboat to La Confluence, Lyon's most modern district constructed on wasteland where the city's two mighty rivers meet (see 'Neighbourhood watch', above).
At the Musée des Confluences (86 Quai Perrache; 00 33 428 38 12 12) you'll find fascinating anthropological and science exhibits – and dramatic city views from the dazzling glass atrium and rooftop. Later, mooch past the former docklands on the Saône quayside to clock more eye-popping contemporary architecture. End at 1930s sugar warehouse-turned-rooftop bar Le Sucre (50 Quai Rambaud) for drinks with Lyonnais cool cats.
Late: Back in Bellecour, sunset cocktails beckon at designer Le Rooftop (11 Rue du Bât d'Argent; 00 33 481 13 21 90), followed by revisited French classics at recently reworked old-timer Léon de Lyon (1 Rue Pleny; 00 33 472 10 11 12). Stand-out dishes include the veal sweetbreads with aromatic truffle-laced mashed potato, and sweet Grand Marnier-flambéed crêpes suzette.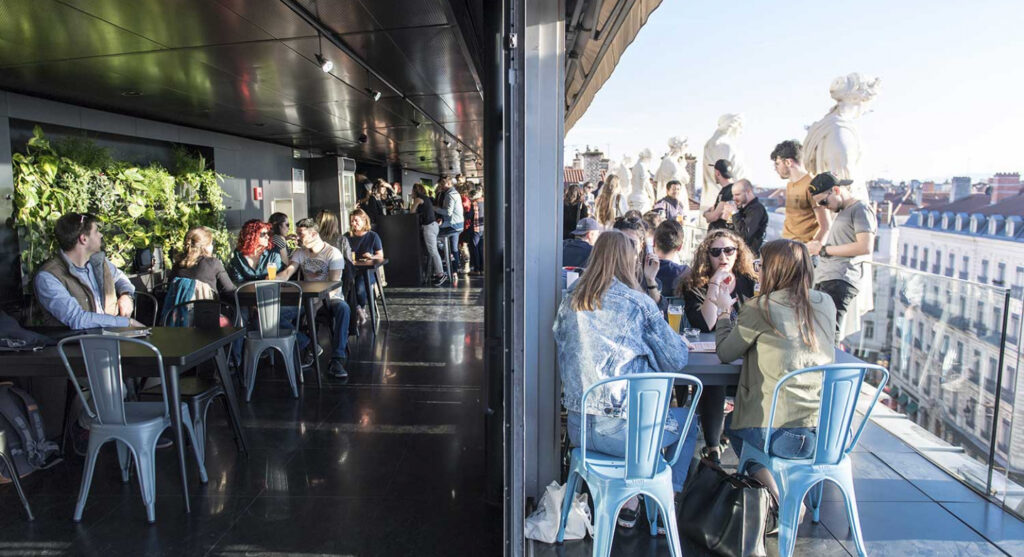 Or, for cutting-edge vegetarian cuisine, book a table at Culina Hortus (38 Rue de l'Arbre Sec; 00 33 469 84 71 08): a feast of flavoursome and seasonal fruit, vegetables, grains, herbs and edible flowers from France's finest small producers.
Attraction Tickets