Cappadocia Balloon Tours
Introduction to Balloon Ride in Cappadocia
Cappadocia Balloon Tours : Cappadocia is an amazing and spectacular landscape that has been sculpted by erosion over thousands of years. These cave like dwellings and rock-hewn sanctuaries date back to the Byzantine post-Iconoclastic period, as far back as 4th Century. Today what is left are these amazing troglodyte villages, underground cities that once contained human habitat and beautiful valleys that go for as far as the eye can see.
The hot air balloon tours in Cappadocia is one of the most unique and magical experiences in the World. It takes place during one of the most beautiful moments of the day: sunrise.
You will see Cappadocia panaromically from the air, to feel yourself as a part of a fairytale and to feel the AIR under your feet, to make your holiday unforgattable with amazing landscape of Cappadocia is to fly with a Hot Air Balloon. Imagine yourself among the thousands of fairy chimneys, while sun is rising, many balloons are floating in the same time in the sky. It will be unforgattable experience for our guests to look at the extraordinary geological formations from the top, to feel the freedom of flying and to observe to geography of Cappadocia from the Hot Air Balloons. You'll experience and enjoy the most stunning views from the fantastic rock formations, fairy chimneys, spectacular valleys with rock-cut dwellings, churches, and chapels that the Cappadocia region has to offer. It is a truly exceptional and dreamy way of sightseeing in Cappadocia.
Cappadocia's breathtaking landscape makes it a top global destination for balloon flights. The terrific flying conditions allow for amazing views of the spectacular, surrealistic landscapes. You'll gently drift over and between fairy chimneys, pigeon houses hewn into the unique rock formations, orchards and vineyards. You'll float through impressive valleys, each with distinctive rock formations, colors and features and then drift up over rippled ravines for breathtaking views over the region.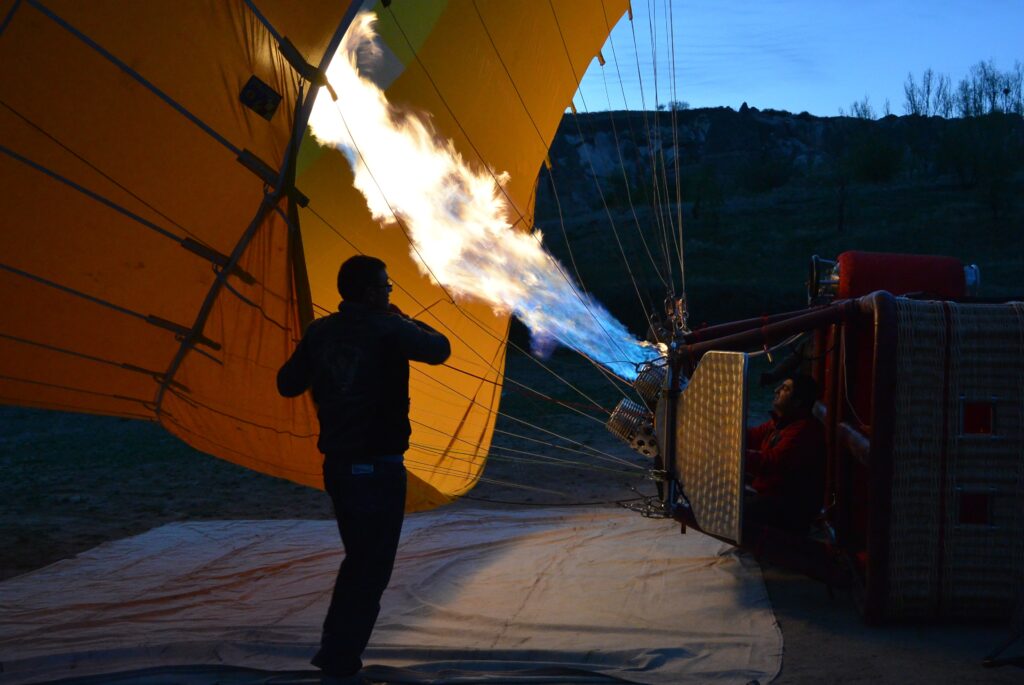 Before the balloon flight, you'll be informed about the tour with a briefing by the professional team with more than 30 years experience, and get details about all the necessary information you'll need for the hot air balloon flight. All your questions will kindly be answered.
As the balloon takes off, you'll gently float up over Cappadocia while the sun rises up along the beautiful valleys, rural farmlands and lighting up with impressive colors. You'll definitely enjoy the aerial views on a 1-hour hot air balloon ride, and get a photo album of your experience. Cappadocia Balloon Tours While you are in the air, you'll always stay in contact with the land crew that will follow you during the whole flight. And after your balloon return to the ground, you'll celebrate it with a Champagne toast upon your safe landing. You'll also get a personal flight certificate.
SECURITY IN DURING YOUR BALLOON RIDE
Are the Hot-Air Balloons Safe to Ride?
The first question asked when it comes to Cappadocia balloon tours is in regard to safety. However, ballooning is the safest form of air travel. Statistically, balloon accidents are next to zero in likelihood in comparison to other transportation methods. But if your concern is more with the pilot than the balloons themselves, then let's be clear: Turkey's Civil Aviation Authority is extremely strict when it comes to handing out operating licenses and legal certification is an absolute must for anyone operating a Cappadocia balloon tour (or any, in fact).
In terms of equipment, all operators must follow stringent regulations and never fly without a license. However, if you are not convinced, then the real issue may be a degree of vertigo. If you are likely to panic, you've just had an operation an need to relax, or are pregnant, we would warn you to err on the side of caution. A Cappadocia balloon tour is about more than just the view, it's about the thrill of being airborne! This last point isn't so thrilling for everyone.
How does Weather Affect the Balloon Tours
Balloons can fly in many sorts of weather conditions. Given this, and the fact that Cappadocia is beautiful all year round, you can enjoy a Cappadocia balloon tour at any season. The only thing that can throw a spanner in the works, however, is wind. Rain is not a problem providing it is not torrential, but gale-degree winds can sometimes ground a balloon all day.
Luckily, such conditions (which are more common around winter) can mostly be predicted ahead of time, so you need not to fear.
Good to Go or No?
Whether any single Cappadocia balloon tour goes ahead or not is entirely dependent on the good folk at the Civil Aviation Authority. In order to prevent any accidents, the authority signals a red, yellow, or green flag. They update their website every half an hour to reflect any significant changes.
– Green, evidently, means the ideal weather conditions for a Cappadocia balloon tour are present
– Yellow means that all rides must stop until further notice is given.
– Red, on the other hand, means all rides for that day must be canceled.
All companies offering Cappadocia balloon tours make a point to keep customers and those interested in tour updated about any changes online.
Which parts is the hot air balloon made of?
The hot air balloons consist of from three different part. The first is Envelope (Blister) which is keeping the hot air. The second is Burner. The burner gives the hot air inside the Envelope with stainless stell fuel tanks and hoses. The last one is Basket. There are several size for the basket. The number of passengers varies between 4 and 28.
What material is the Hot Air Balloon made off and is it Flammable?
Most of the hot air balloon is made of silicone coated, airtight nylon fabric. But the fabric close to the fire is made of by Nomex, which has resistant for the fire. Due to this reason it is difficult to burn whole Balloons.
How to control Balloons?
Hot Air Balloons is an Aircraft which follows the wind direction. That is why all pilots follows the wind direction. At the each altitute there are difeerent wind directions. So according to that direction all pilots are choosing best valleys and landscape to go. However there are two different ropes on the anvolope. That ropes turning the balloons from it is own direction to the left and right. So each passenger could have a chance to see all Cappadocia.
How are Hot Air Balloons so safe when you compare another aircrafts?
People are flying with Hot air Balloons for 300 years. During this time engineers have used many technologies for the flight safety. There are many safety instrument inside the baloons. As we mentione before when the wind speed more than 10 knots (20 km) the flights are cancelled. Besides that biggest Pilot school in the world established in Cappadocia 15 years ago. So all pilot have enough experience for the safe flights.
IS THE LANDING BUMPY?
They  usually land very calmly. But if the wind increases during the landing there will be a bump and the basket will drag on the landing field until it comes to a halt. During the landing please keep your landing position.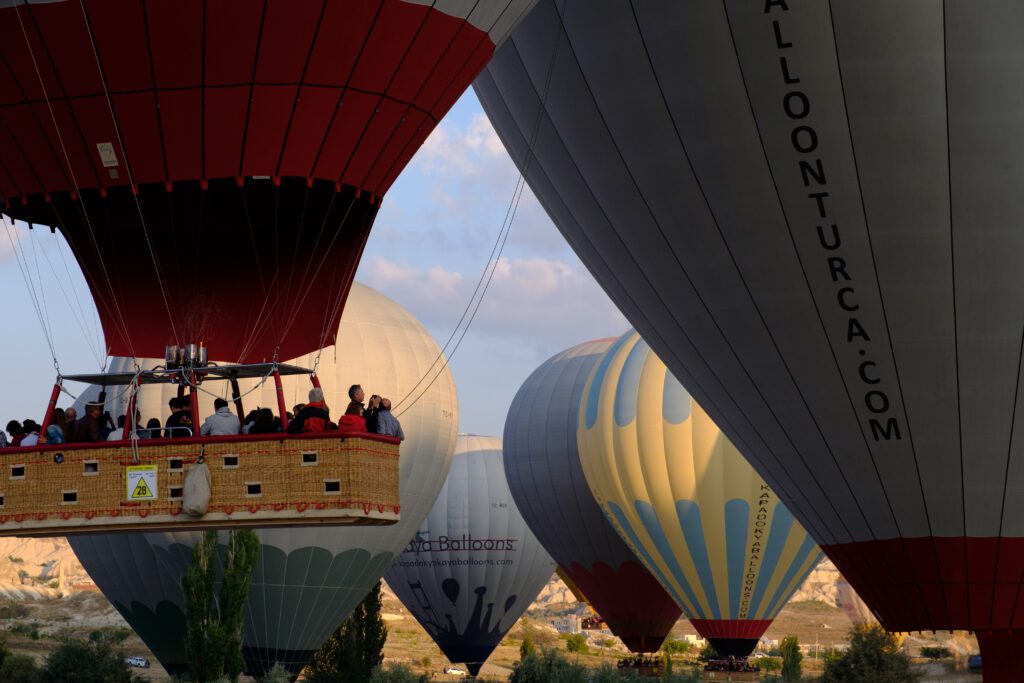 DURING YOUR RIDE
What is the maximum altitude for Hot Air Balloons?
The maximum altitude for the Hot Air Balloons on the Week days 6000 feet from the sea level. 830 meters from the ground level. Weekend, 8000 feet from the sea level. 1350 meters from the ground level. Of course Hot air Balloons could reach higher but according to Civil Aviation rules we could climb as we mentioned above.
How long does it take to prepare the Balloons for the flight.
There are two different inflations for the envelope. The first one is cold inflation. We fill inside the balloons with cold air. Another one is Hot inflations. After cold inflation we fill inside the balloons with hot air and it is start to rising. This prosses takes almost fiveteen minutes.
Are the hot air balloons landing where they take off?
Hot Air Balloons does not have direction control, due to this reason it seems impossible to land same place where it is take off.
When does the Cappadocia balloon tour start?
Your balloon company informs you by phone or message what time you should be ready for the flight the day before.Flights usually start 5.30 am in the morning in the winter, and the starts at 6.30 am  in the summer. You should be ready for the transfer at least 1 hour before the flight time.
Are there balloon tours any season in Cappadocia?
When the weather conditions are suitable, there are balloon tours during all year. Wind speed can be maximum 11 km of for safety so there are no flights in rainy and stormy weather. When the flight is cancel because of bad weather conditions, you could cancel your flight or you will have the chance fly for another day.
How should I wear during balloon ride?
Early hours of the day are cool in Cappadocia.You can get more cold when balloon rise up especially in autumn and winter, so please take suitable clothes. The balloons dont have seat so you will stand at least one hour, please prefer suitable shoes for flight. Don't forget to bring your camera
What is our route in Cappadocia balloon tours?
Cappadocia balloon tours do not have a single route. These routes may change depending on the weather. However, there are generally trips between Avanos and Göreme.
Why do flights take place in the morning?
The early morning hours are the most suitable time for landing softly and to rise the balloon easily to the desired level. Besides that you will have chance to see magnificent sunrise.
IMPORTANT TIPS FOR CAPPADOCIA BALLOON TOURS
When is the ideal time for Cappadocia Balloon Tours?
You can fly in Cappadocia in any season of the year. But it is possible to make more comfortable and enjoyable flights in April, May, October, November and January.
Is there any age limit for the flight?
All flights are possible for all individuals aged 06-80
Can pregnant women take the balloon tour?
Pregnant or anyone suspected of pregnancy is not allowed on balloon tours.
Cappadocia Hot Air Balloon Festival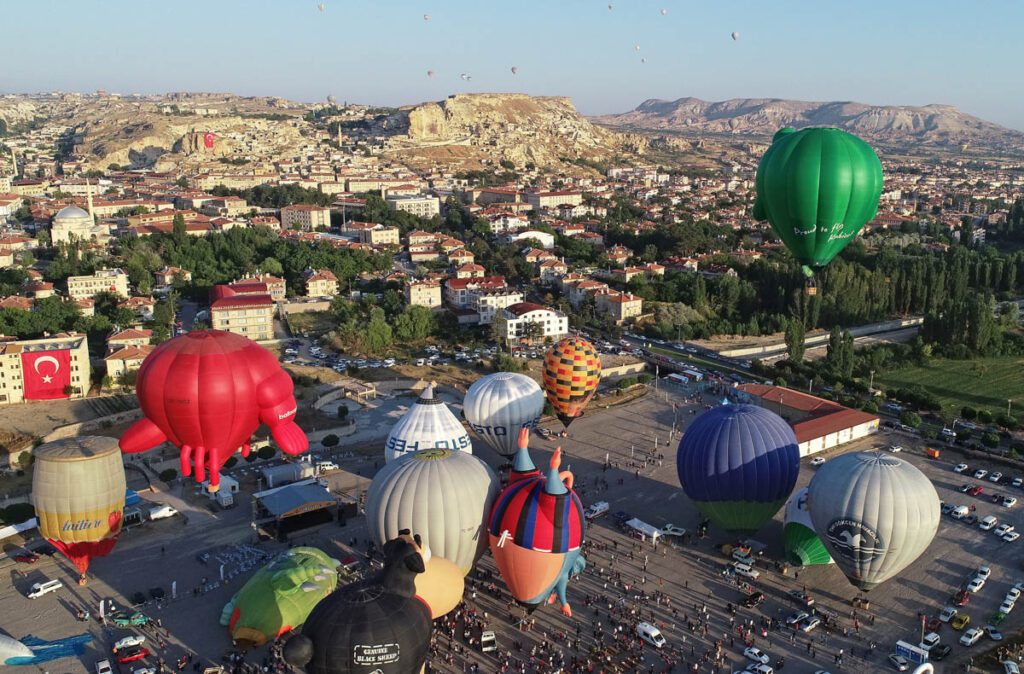 Cappadocia Balloon Tours: What's Included
If you've decided join our Cappadocia balloon tours, make sure you book a few days in advance(high season 15-20 days before). This way, you can guarantee a place.
The daily schedule for rides is usually:
Our service minibus will pick you up from the hotel between 04.50 – 05.30 when it's still dark and take you to the flight company's office for a coffee or tea.
Once the Civil Aviation Authority has given the green light for balloon rides, you are shuttled to the take-off point and given a briefing. The balloon is then readied and you jump inside, strap in, and away you go! After landing, you'll be treated to champagne (non-alcoholic, if you prefer) and a few treats, as well as a souvenir photo. Then, it's time to receive your completion certificate before transfer minibus drops you back off at your hotel. The whole process, including pick-up, hour-long ride, and back to the hotel takes around three hours in total.
How much does it cost to ride a hot air balloon in Cappadocia?
Prices for the Cappadocia hot air balloon rides in 2020 ranged from 110 euros per person at the low end up to 220 euros per person at the high end. Anywhere between 150-180 Euros is a pretty fair price.
There's no set price for the hot air balloon ride and it's going to vary based on what season you're visiting in (high vs. low), who you buy from, and more.
Book your Hot air Balloon Ride in Cappadocia
Click here to book your Cappadocia Balloon Tours Package from Eskapas