Top-notch Restaurants in Athens
Introduction
Best Fine Dining Restaurants In Athens – Situated close to the bountiful Aegean Sea and with beautiful weather in the summer, Athens offers pure culinary delight in terms of fresh and locally sourced food. Athens' best restaurants highlight classic classic Mediterranean cuisine, but when it comes to where to eat in Athens there is also an array of options hailing from other parts of the world. Cooked by skilled and passionate hands in an array of high-class dining establishments, the elite gastronome can enjoy a meal fit for the Gods of Mount Olympus. These are our picks of the best restaurants in Athens, Greece. Read more Gastronomy in Greece , Greek Gastronomy , Greek Wines , Greek Cheese,
Hytra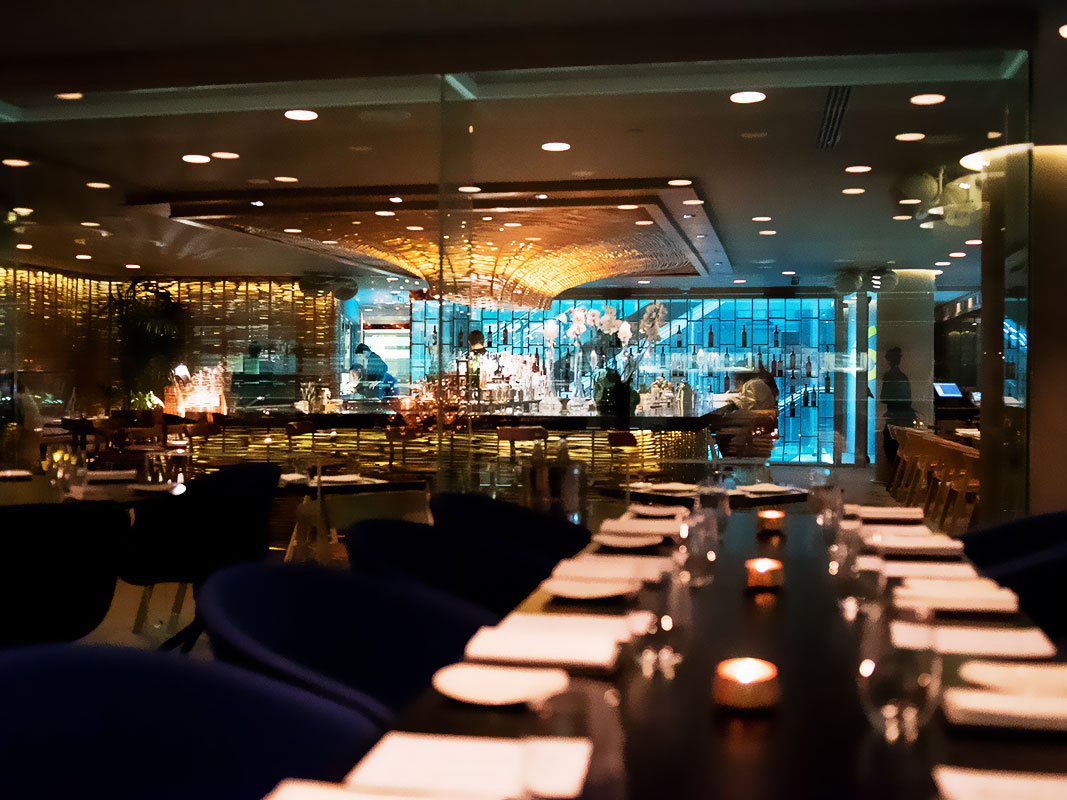 Onassis Cultural Center is home to one of the city's most exceptional places. Hytra is a Michelin star awarded restaurant with adventurous dishes, a carefully selected extensive wine list, constantly renewed cocktail options and breathtaking panoramic views during summer months. Whether you choose the gastronomic menu Hytra or the more casual Hytra Alpha, get ready to fall in love with imaginative fare that is simply out of this world.
Papadakis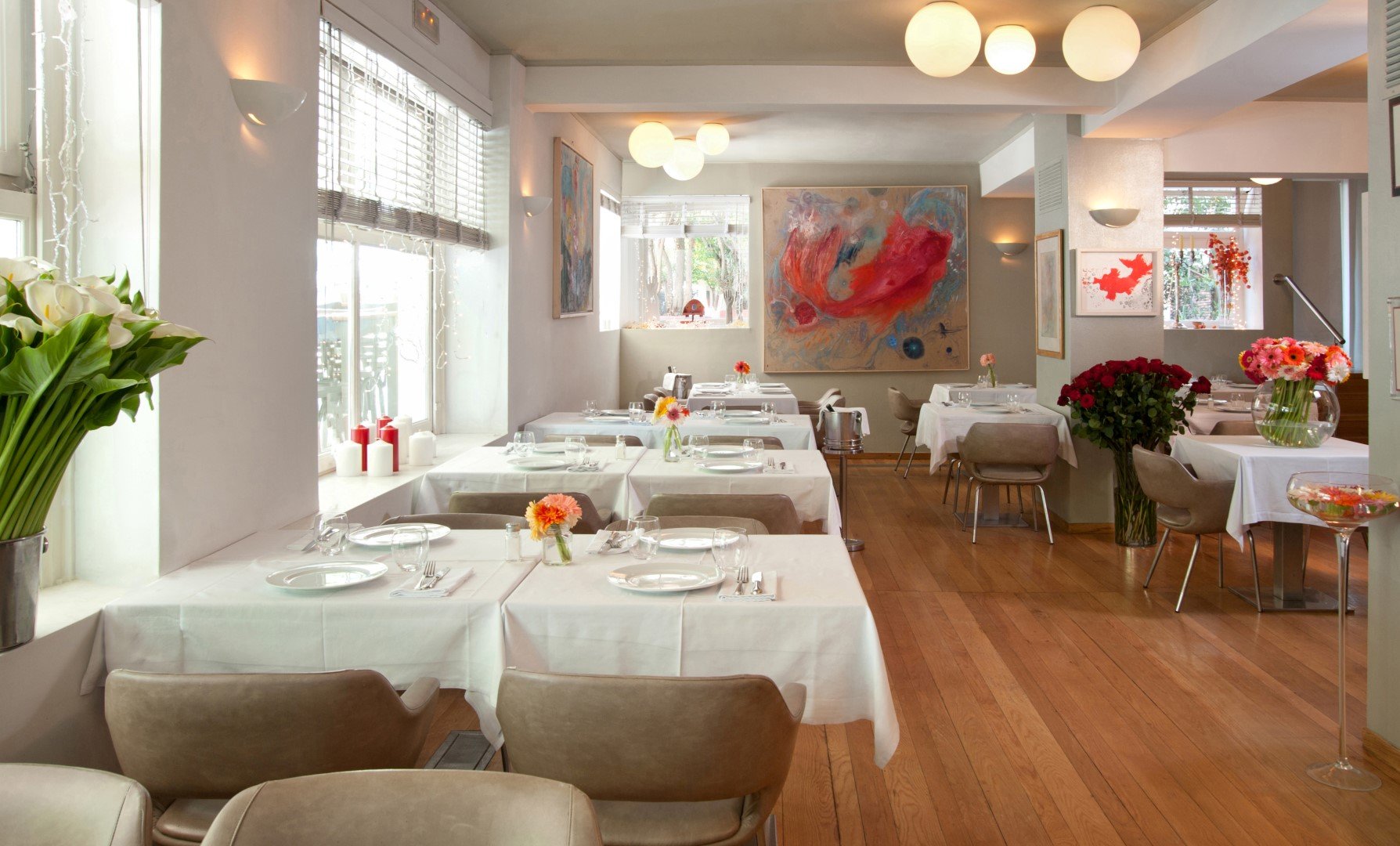 Papadakis Restaurant may not be among the handful of Athenian eateries to boast a Michelin star, but it is arguably one of the best places to experience authentic Greek cuisine. Sitting on the foothills of Mount Lucabettus in the upmarket area of Kolonaki, it offers respite from the hustle and bustle of Athens and boasts views of the stunning Acropolis from its shaded dining terrace. The restaurant is the brainchild of Argiro Barbarigou and first opened its doors in 2005 when she moved a restaurant of the same name from its original site on the island of Paros. It has since become a culinary pillar of the community and is regularly filled with well-heeled locals who come to experience some of the finest seafood available in the city. Only serving the best and freshest seafood available, the menu changes as often as the sun sets. The daily specials are usually exquisite while the Paros Island Chickpeas – slow-cooked for 15 hours – are a must for any diner.
Estiatorio Milos Athens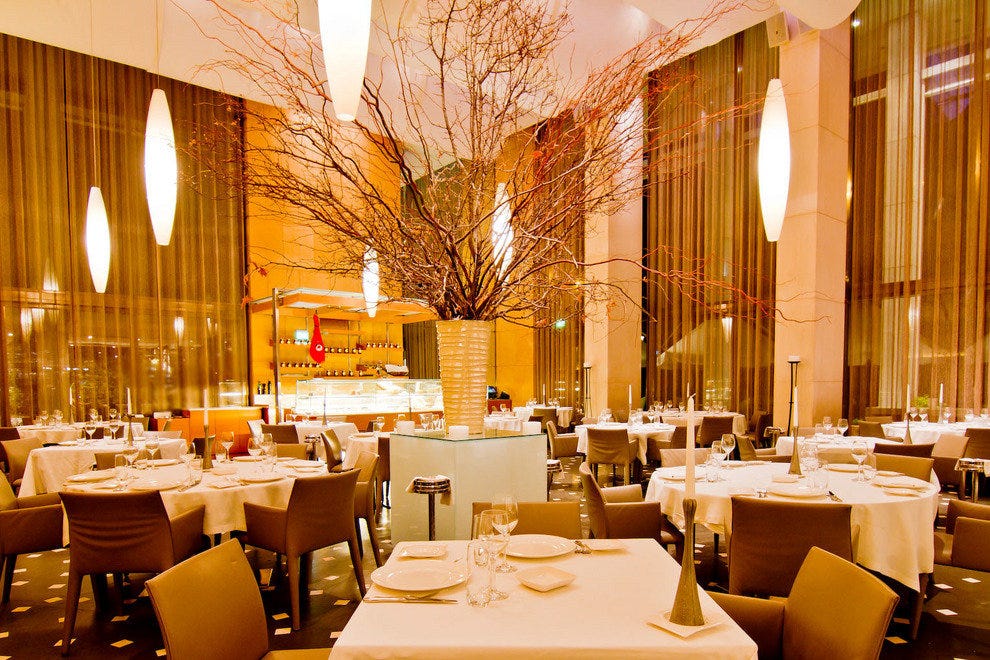 Twenty years after Costas Spiliadis opened the first Estiatorio Milos in Montreal and almost a decade after opening in New York City, in January 2004 Estiatorio Milos finally returned home to Athens. Despite the intervening decades, the restaurant's mission has remained the same: simplicity, elegance and exquisite organic food. The fish served to diners is line-caught by a group of local fishermen, delivered daily and seasoned with authentic, clean and simple ingredients. The beautiful green veranda offers a wonderful summer oasis from the bustling city. For the discerning traveler, Milos offers a beautifully decorated private dining area, or for a true Milos culinary delight, a chef's table can be booked for that perfect dining experience. Celebrities who have dined at Milos include Beyoncé, Nicole Kidman, Madonna and Gwyneth Paltrow.
Spondi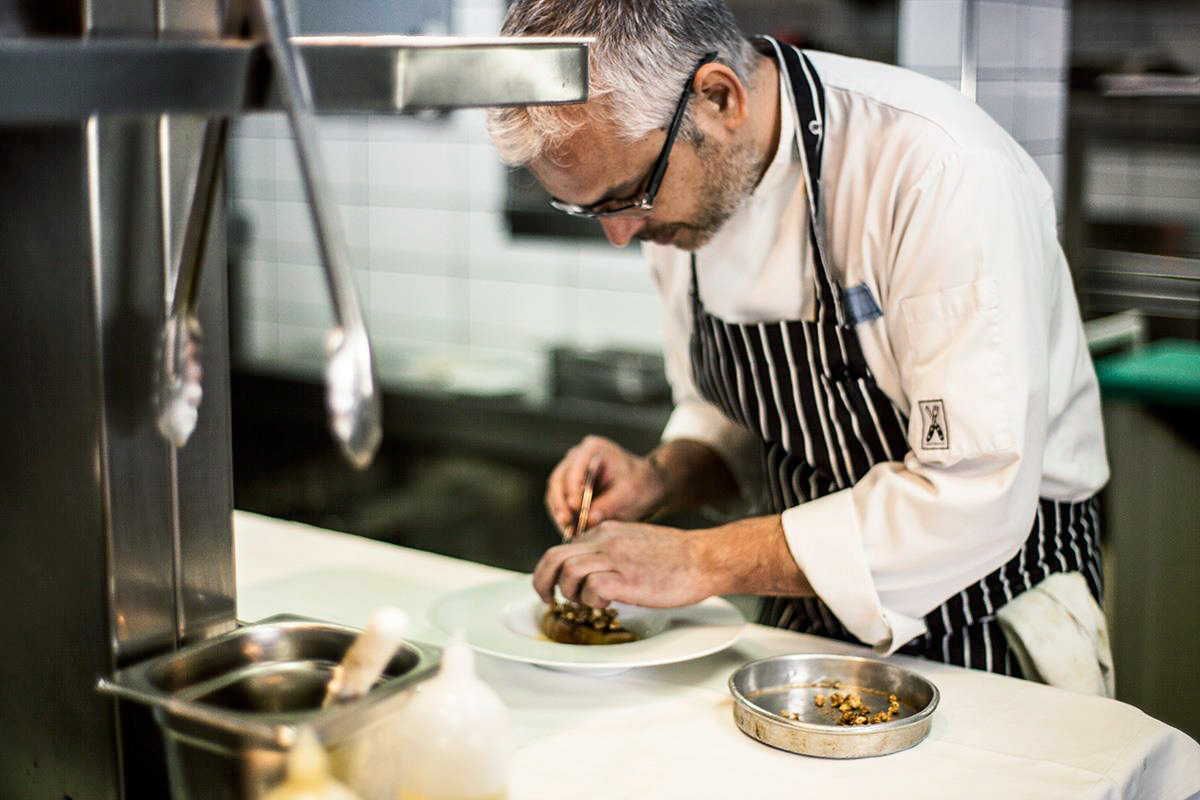 Thanks to its two Michelin stars, Spondi has become a point of reference not only for Athenian gastronomes but for those throughout Europe. Located close to the first venue of the modern Olympics, the Panathinaiko Stadium, Spondi has streaked ahead in terms of taste and presentation. The head chef serves a menu that changes according to the seasons and his creative imagination. The food is artful and packed with exquisite flavors, and touched by a hint of exoticism. Upon request, Spondi offers private dining on its immaculately decorated first floor.
Funky Gourmet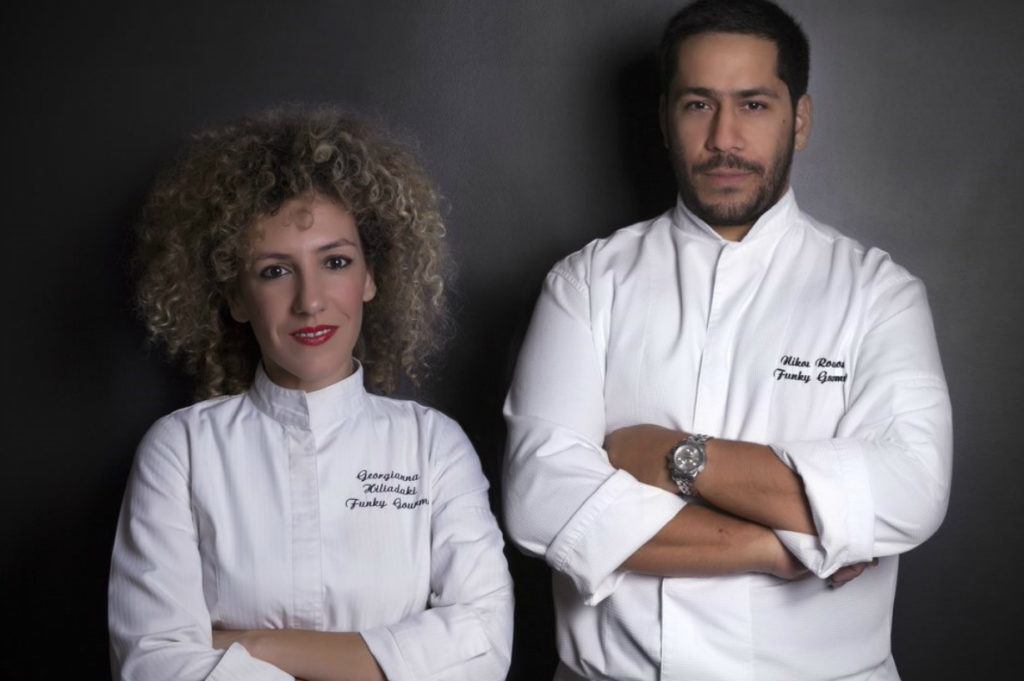 Funky Gourmet is revered for its innovative and playful cuisine that draws on Greek tradition. Located in the heart of Athens within the lively Keramikos district, this restaurant has been garnering rave reviews since it opened in 2009. After the first Michelin star was awarded in 2012, another was added in 2014, elevating its gastronomic reputation. With the two chefs, Georgianna Hiliadaki and Nikos Roussos, working alongside the restaurant's manager, Argyro Hiliadaki, the restaurant aims to fully engage guests in an exciting and unconventional way. Expect dishes like Greek bottarga tartlet with white chocolate.
GB Roof Garden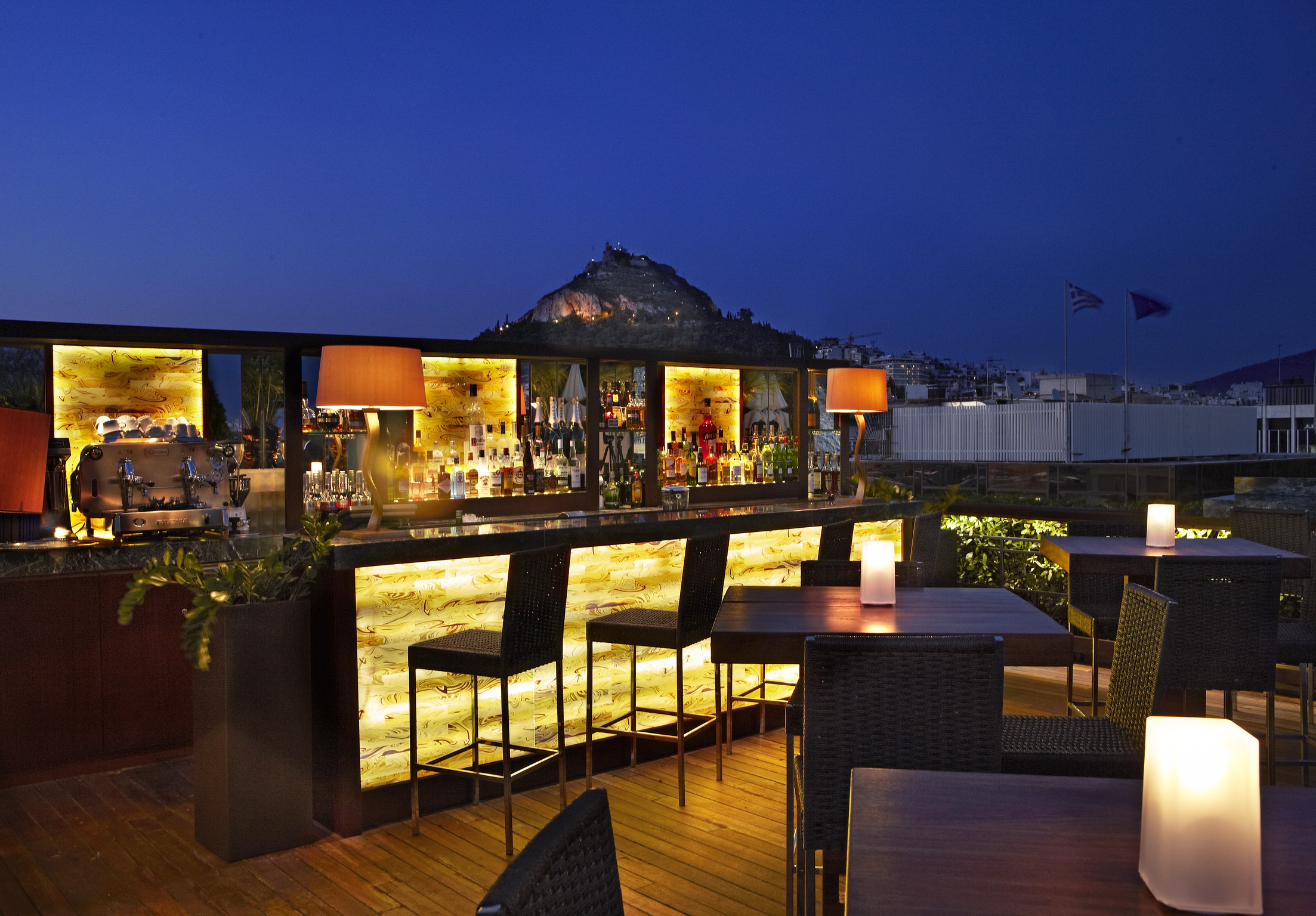 Situated on the most famous square in Greece, Hotel Grand Bretagne is one of the city's great dining destinations with the scenic rooftop proving to be particularly enticing. GB Roof Garden serves the capital's most sophisticated crowd new Mediterranean cuisine in an elegant setting, which is especially captivating with a view over the city. With executive chef Asterios Koustoudis at the helm, the restaurant serves dishes such as carre and leg duet of lamb, olive gnocchi with Florina peppers confit and yoghurt, and sea bass confit in olive oil and green vegetables with steamed oysters and truffle.
Tudor Hall Restaurant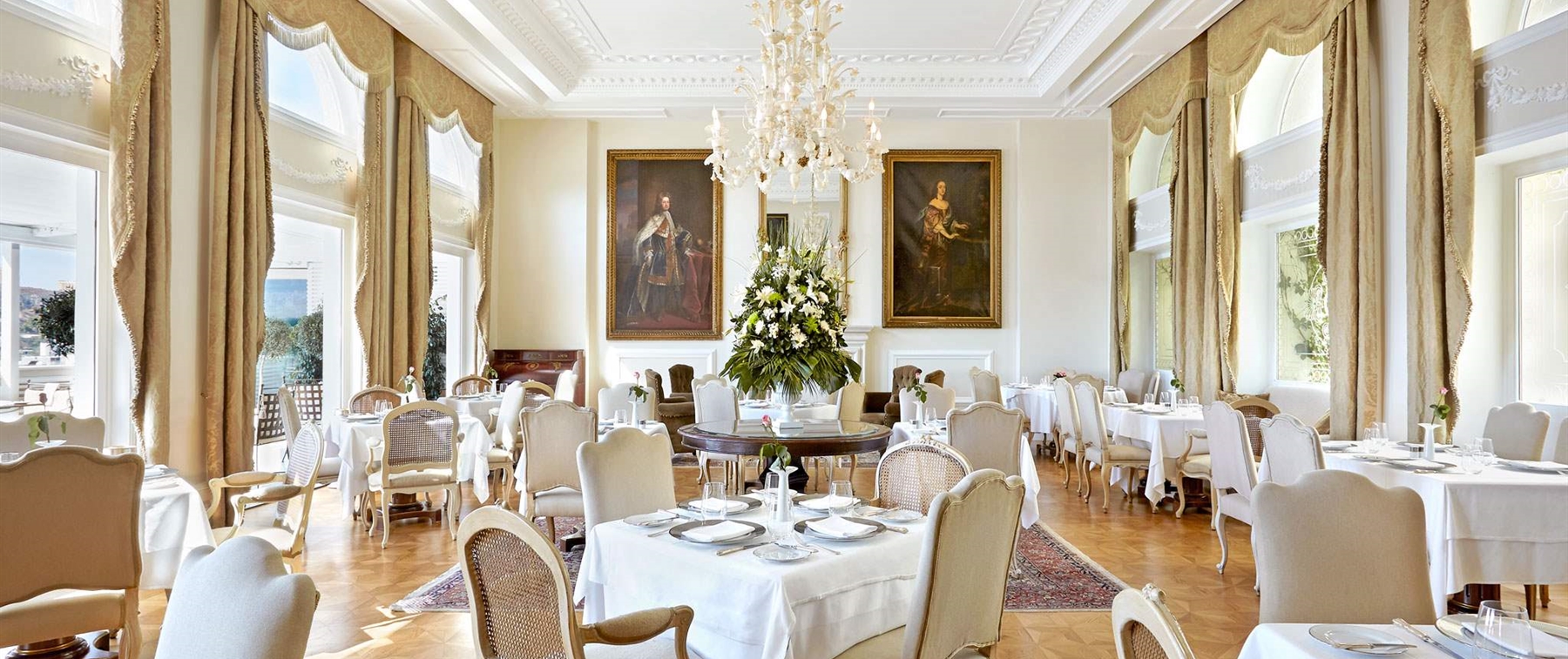 Overlooking the magical Acropolis at the top of King George Hotel and in the heart of the city, Tudor Hall Restaurant welcomes you with its unique neo-classical décor and a romantic atmosphere. Immerse yourself in nostalgia and emotion through an innovative yet timeless cuisine and top off your meal with some unforgettable moments.
Athiri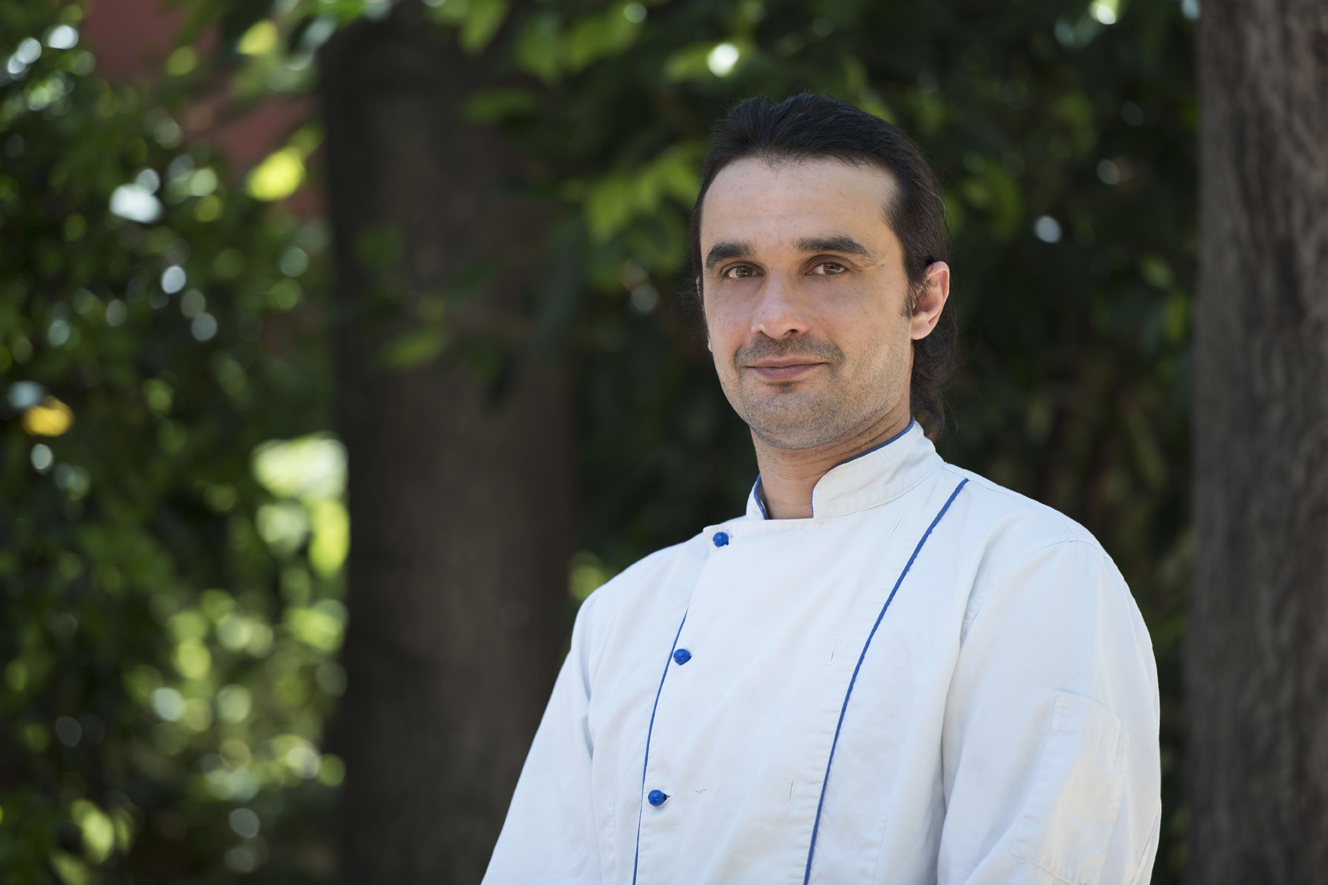 From the moment you step into the lovely peaceful urban garden in Keramikos, time appears to stop. Run by chef Alexandros Kardasis since 2004 and renowned for its quality, Athiri offers Greek cuisine in a beautiful environment. Don't miss the Sunday lunch, a delightful experience for the whole family since kids can entertain themselves in the playground area.