Istanbul Short Breaks
Introduction
Istanbul Short Breaks – Istanbul is an exotic paradise. With one arm reaching out to Asia and the other to Europe, Istanbul is the only city in the world built on two continents. The Bosphorus courses the waters of the Black Sea, the Sea of Marmara and the Golden Horn through the city's heart.If you're looking to delve into market stalls, marvel at ancient architecture, or simply enjoy a Turkish tea in the sun, you're sure to enjoy a city break to Istanbul.
Whether you're looking for a romantic getaway or culture-filled weekend or foodie experience in Istanbul – create your perfect Istanbul city breaks experience with us. Take a look at our late deals or enjoy a guaranteed saving with our hotel+ excursions packages. Standing proudly at the meeting point between Europe and Asia, Istanbul melds the cultures of both continents, yet manages to present a completely distinctive whole. The mixture of cultures is everywhere to see, and even the landscape, which ranges from dramatic mountains to glorious, sun-kissed beaches, shows that this is a city whose attractions are not confined to any particular type of visitor.
Late spring and early summer are the best times to visit Turkey for an Istanbul holiday, because then the weather is at the ideal middle point between the hot and humid summers, and surprisingly wet winters. The main airport serving Istanbul is just 35 km far from the city centre, so the quick transfer time mean it's perfectly feasible to take an Istanbul short break. Naturally, because of its location, there are many places to explore on an Istanbul holiday, so your program is sure to be packed with visits to famed sites such as the Topkapi Palace and the Basilica Cistern.
Escape to the sun and enjoy Istanbul's balmy climes. Whether you're walking along the Walls of Constantinople, taking a cruise down the gorgeous bosphorus strait, or just lounging by the pool of your hotel, Istanbul is blessed with warm weather all year round.  Just don't forget the sun lotion. From the historic sights to the picturesque scenery, this is a dream holiday with your kids! Want to know more about "activities for kids? Click here
Istanbul City Culture
Cats and Dogs
You'll notice Istanbul is accommodating of many local city cats and dogs. Many of them reside in Kadıköy because they love this area for its rich pickings and welcoming human company. They are well treated by the locals, and the city authorities check the dogs for disease, and tag them accordingly. It means that the animals are largely in excellent health and crave affection. Although the dogs won't beg for food, you may find a friendly cat gazing up from your feet in anticipation of a falling fish bone. Read more about Istanbul cats…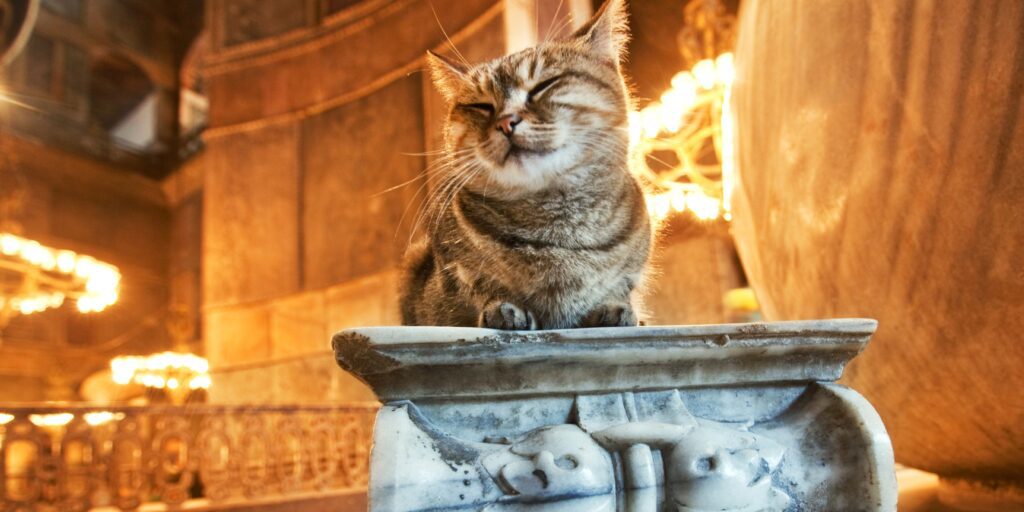 What to eat in Istanbul
Take a smooth black tea, or strong Turkish coffee in one of the tea gardens overlooking the Bosphorus with a picture-perfect view of the Hagia Sophia museum, and wonder through the residential streets and find your way to the Fish Bazaar. Here you can choose which variety of Turkish delight, dried spice or home-made Chilli sauce you'd like to take home, along with your own pressed olive oil. Whilst wandering through these foodie alleyways, you can munch on a variety of street food; freshly baked Turkish pide, or try Çiğ Köfte spicy raw meatballs, or for the brave a white baguette stuffed full of lambs' intestines "kokoreç".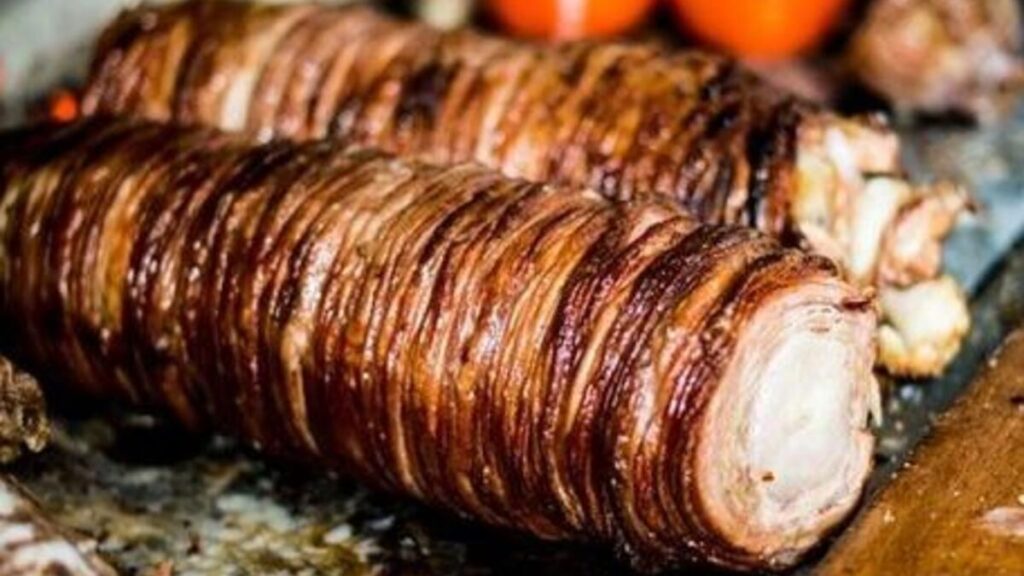 Later in the evening, you'll find stall after stall of Midye Dolma – mussels stuffed with picante rice, which are served to you one by one with as much fresh lemon juice as desired. Whatever you choose to nibble on, we have a note of caution. Save room to sit down and eat mezze and feast on the myriad of fresh fish options available in one of the of restaurants spilling onto the sidewalks. Read more about Turkish Cuisine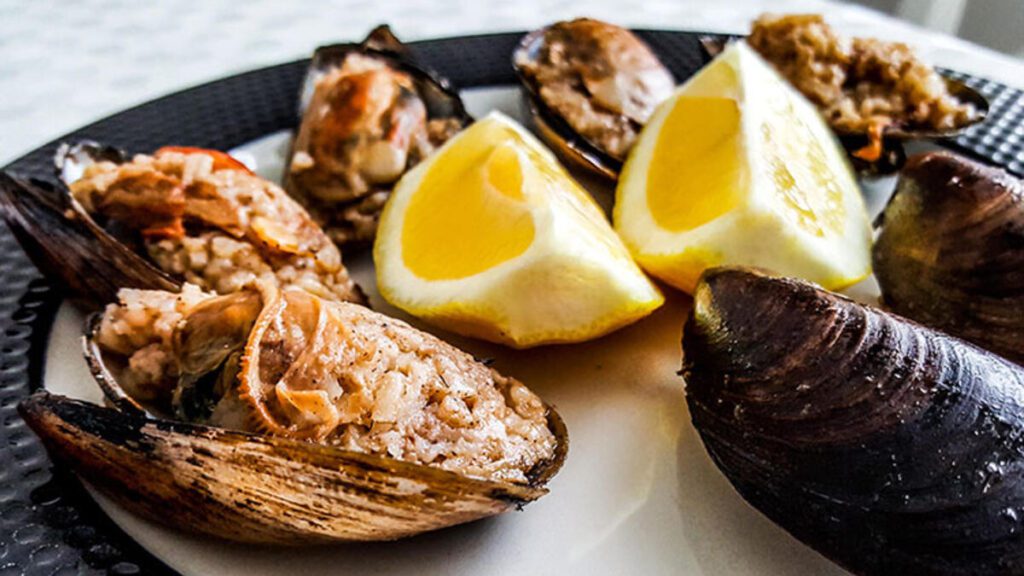 Turkish Bath – Hamam in Istanbul
After a late night and a perambulating feed, don't miss treating yourself the following morning to Turkish Bath – a Hamam. You have a plethora to choose from, but if you can choose a marble lined Hamam in a beautiful historic venue, all the better. Prepare yourself to be scrubbed, washed, your whole body to be masked in clay, and washed again with soft cloud-like bubbles. If you're feeling decadent and have the time – follow with an argon oil massage, and leave Istanbul feeling like you've spoilt yourself with every possible sensory pleasure ticked off.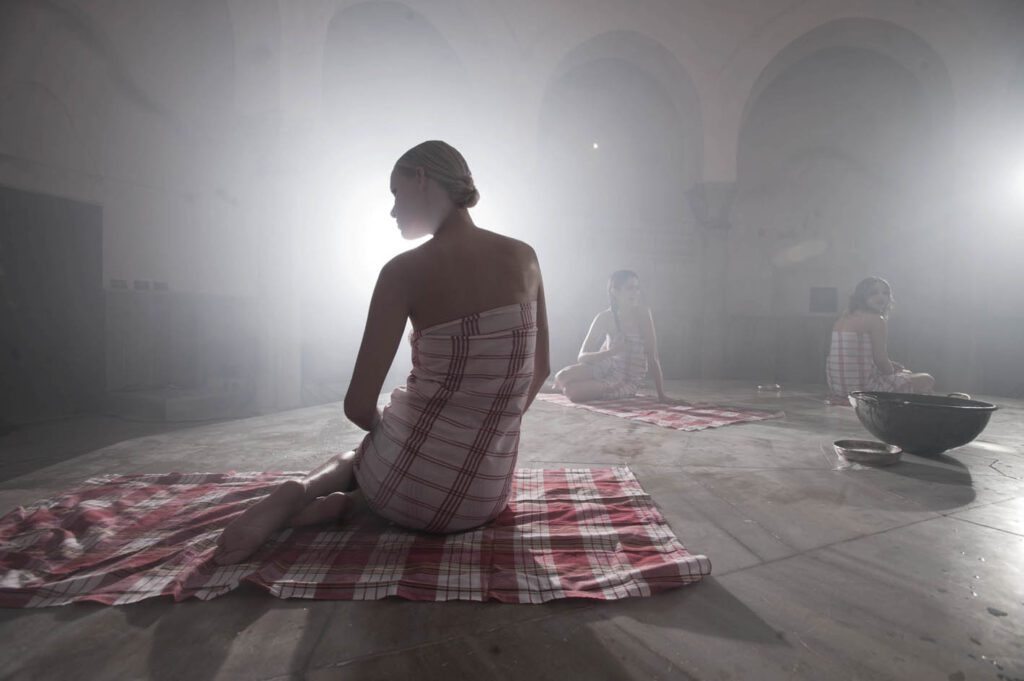 Best Historical Bath Experience
Nighlife in Istanbul
The never sleeping city of Istanbul in Turkey is loaded with eclectic bars, clubs, and restaurants to satiate the night crawler in you! Unlike the popular beliefs, the locals here party hard and hog on to the luscious delectable delicacies way too often. The excitement of nightlife in Istanbul is indisputably the best experience you can ever have. Late night parties, delicious food, and people dancing through the night; Istanbul will never fail to grasp your attention. So if you are planning a trip to Istanbul, party like the Istanbullus do. On the Asian side Caddebostan "barlar sokağı" — a street of pubs on Iskele Street — and Kadife Street, both in the Kadıköy district, have a lot to offer. On the European side, nightclubs aren't concentrated in one location. There are numerous venues spread out over Nişantaşı in the Şişli district, Ortaköy in the Beşiktaş district or Taksim, Istiklal Street and Nevizade in the Beyoğlu district.
Top 3 clubs
Sortie — www.sortie.com.tr
An elite ambience, with a picturesque view of Istanbul located by the Bosphorus with a combination of six restaurants and 3 bars, open between 6 p.m. and 4 a.m. Sortie is one of the best escape places to relax and have fun.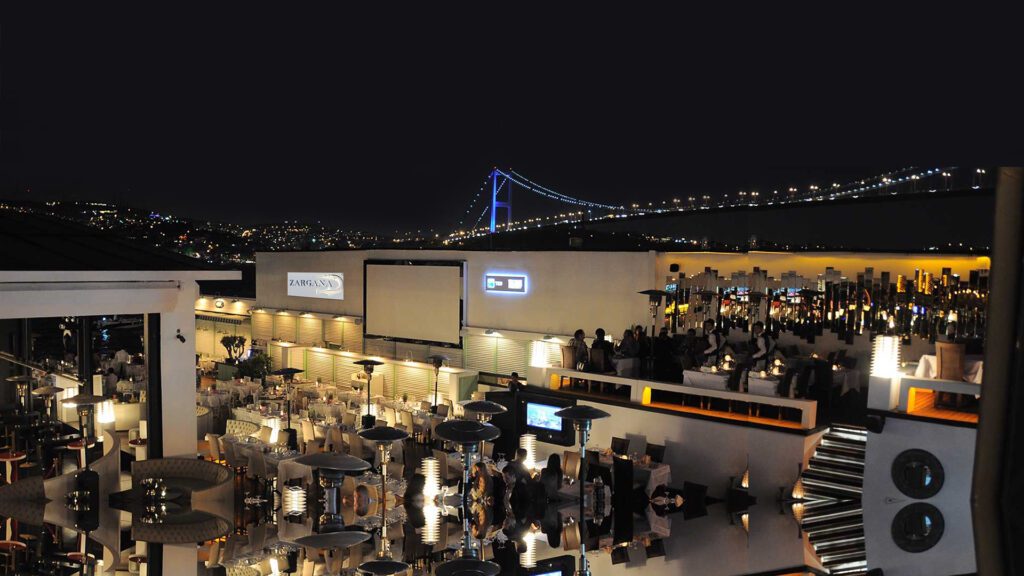 Ruby. © Ruby
Located on the shore of Bosphorus, it goes without saying that this three storey mansion offers a good view as well as a broad variety of food in the garden /balcony with Bosphorus panoramic views. There are two nightclubs, one on the bottom and one on the top floor.
Ulus 29. – © Ulus 29
Looking down from the Ulus hill, the venue offers magnificent views of the Bosphorus and the Asian side. The upscale and spacious fine dining restaurant serves both traditional and modern dishes of Turkish and world cuisine since 1993, and together with the bar is a reputable night club attraction. It is known as one of the pioneers of night life in the city. Booking a table is recommended.
Live music in the city
Salon IKSV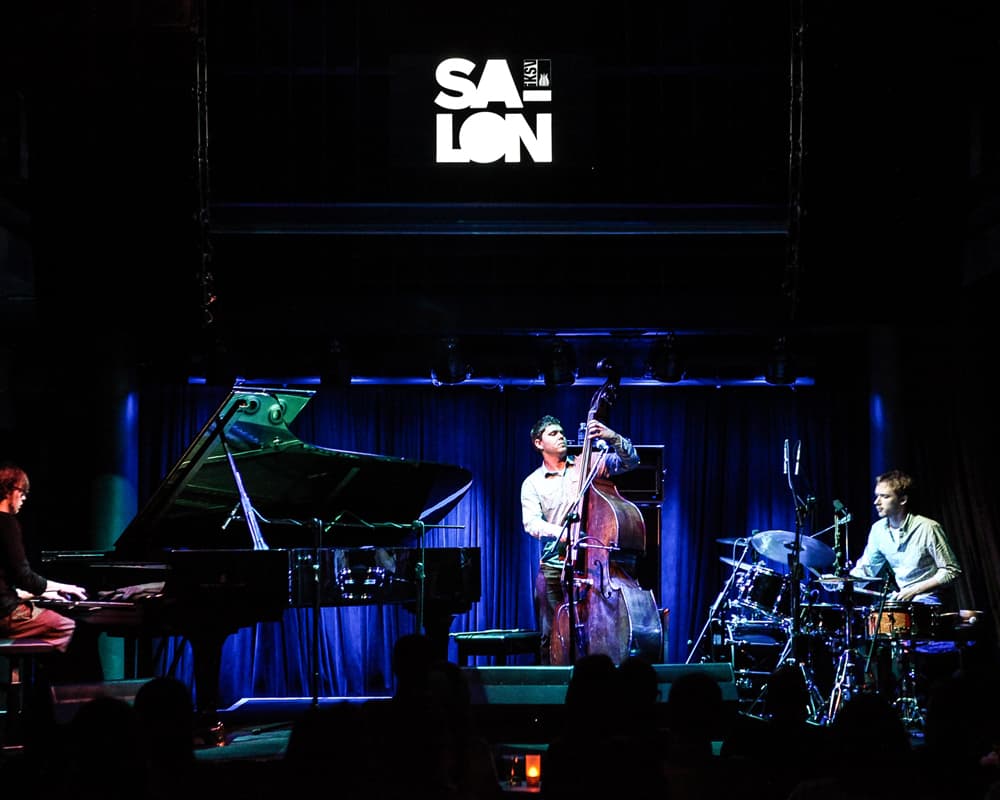 Salon IKSV – Consistently featuring some of the best international bookings in the city, Salon's calendar is jam-packed with the hottest names in jazz, rock, alternative, classical, experimental and world music. Maintained by the Istanbul Arts and Culture Foundation (İKSV), Salon is housed in the beautiful Nejat Eczacıbaşı building in the Şişhane quarter of Beyoğlu. Keeping an eye on what's happening at Salon is a must for music lovers.
Zorlu Studio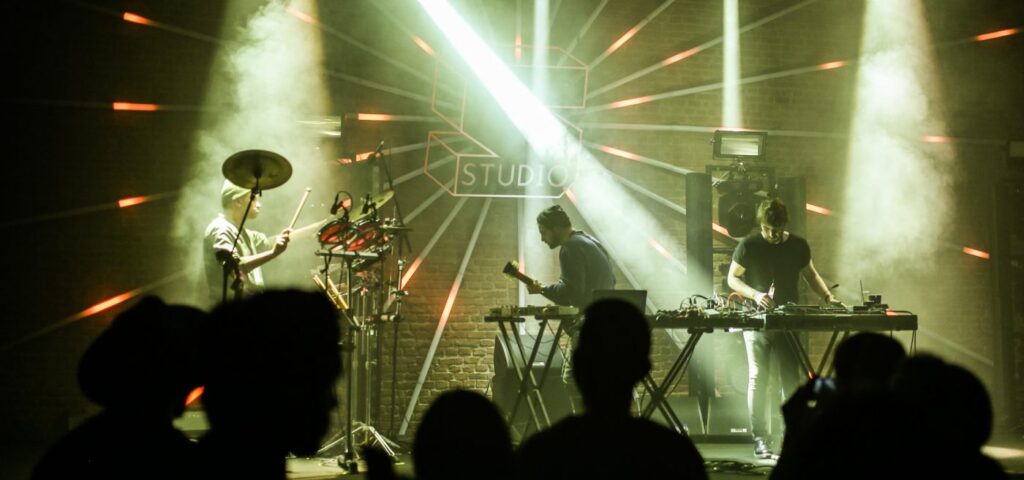 A multi-purpose arts space within Zorlu PSM, Studio hosts boutique concerts spanning all genres. Its impressive sound system and electronic music bookings in particular have transformed it into a popular spot for going out on weekends.
Babylon Bomonti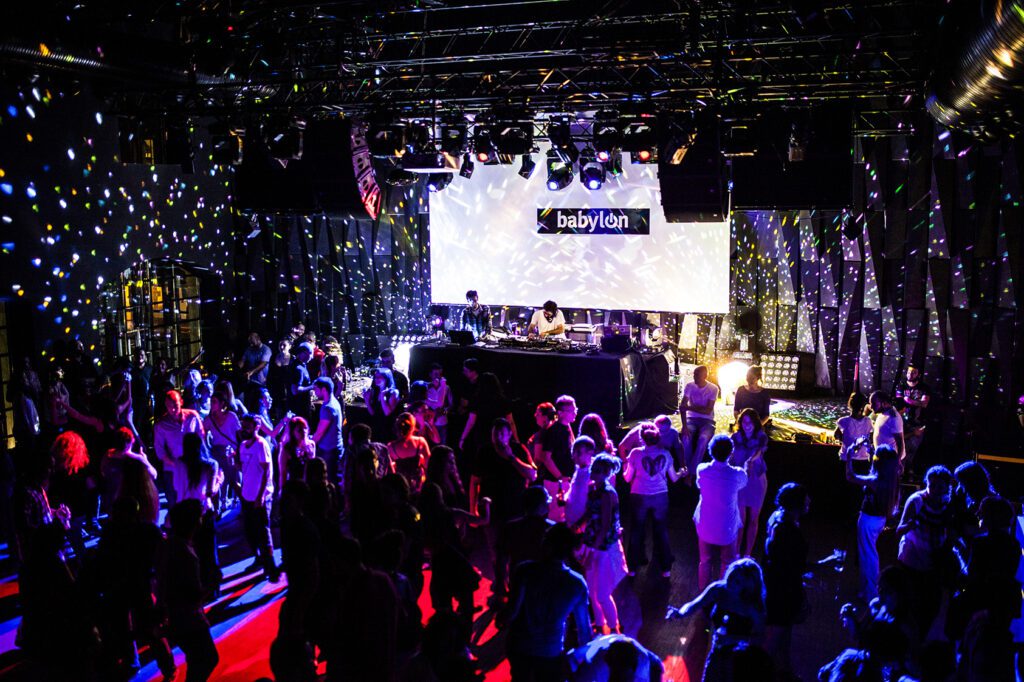 Istanbul's premier live music venue Babylon has singlehandedly transformed Bomonti into the city's newest nightlife destination after relocating to the neighborhood in September 2015. At its new home in the sprawling bomontiada complex, Babylon Bomonti continues to host some of the best performers from Turkey and around the world. In addition to the main hall, which boasts a state-of-the-art sound system and a 500-person capacity, the venue is also home to Radyo Babylon's studio and a gift shop. Located on the site of the historic Bomonti brewery, bomontiada also offers Babylon-goers the chance to visit contemporary art venue Alt, the Ara Güler Museum, multidisciplinary art platform ATÖLYE Istanbul, as well as eateries like the Populist, Kiva, Delimonti and Kilimanjaro.
Istanbul with Kids
With so much to see and learn, children will be enthralled with the charms of the old world. Besides, there's also a bunch of theme parks, unique museums, aquariums, and attractions to keep them entertained throughout the trip. Read more on Turkey Family holidays
Top 3 Attractions for kids
Take A Tiny Turkish Adventure At Miniaturk
The Miniaturk, one of the world's largest open-air miniature parks, is one the coolest places to hang out with your kids. It has attractions and iconic places from all over Turkey displayed as pieces of artwork in a shrunken-down, handy size for children to explore.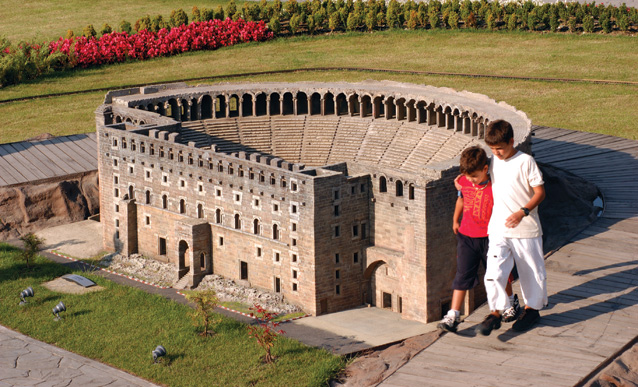 Brush Up On Some Adrenaline At Vialand
Vialand is a fun theme park with a number of rides and roller coasters. The adrenaline rush after a few hours on the rides here will be a nice break from all the hectic sightseeing.
Be Stunned By The Vast Aquarium At Istanbul Akvaryum
Istanbul Akvaryum houses unique marine life found in their respective water bodies. It hosts Europe's largest shark collection and has other interesting things like the sea turtle hospital, jellyfish exhibit and an interactive touch pool experience.
Transportation in Istanbul
Istanbul stretches over 5,000 km ² therefore moving is not always easy because it is one of the most congested cities in the world. Moreover, its topography makes the development of the public transportation complex (Istanbul, like Rome, was built on seven hills). There is currently a major project taking place in the city in order to develop Istanbul public transportation. Read more on this article
Not to miss
Best Ice Cream Shops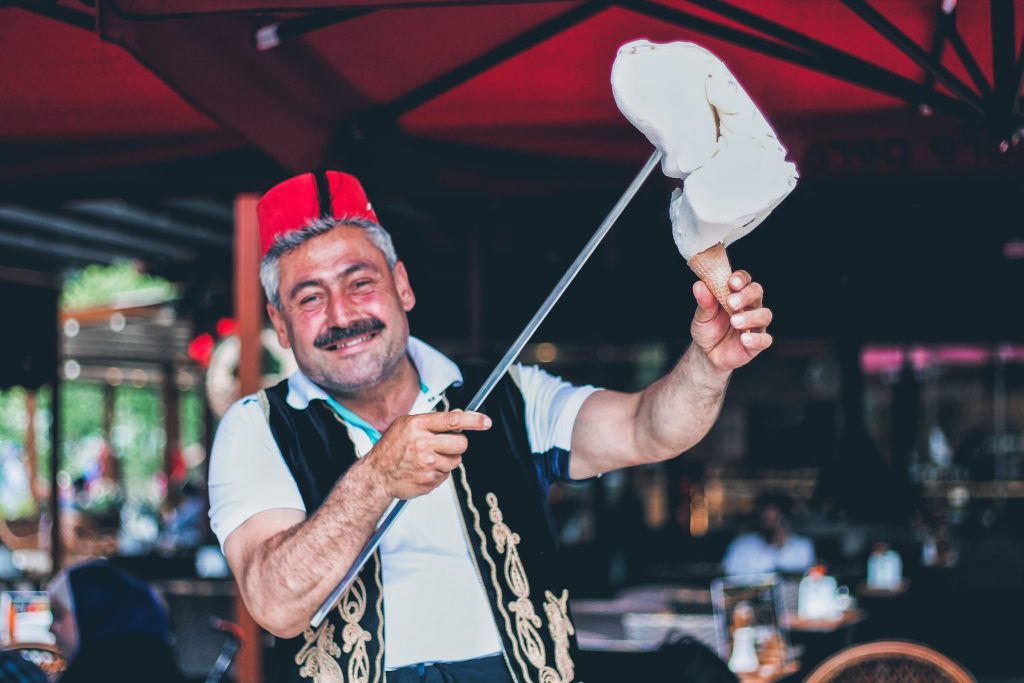 Cremeria Milano : one of the top places to go for additive-free ice creams prepared with traditional Italian recipes as well as milk and cream. You'll also find sorbets made with real fruit here. Our favourites include the peach, yogurt, vanilla-Nutella gofret and raisin rum flavours. Besides Bağdat Caddesi, they also have branches in Bebek and Nişantaşı.
Ali Usta (Asian Side) : On hot summer days, there's a long queue outside this famous ice cream shop with no other branches. Located in the quaint neighbourhood of Moda on the Asian side of Istanbul, the one of a kind shop has been in operation since 1969.
Girandola Gelato : After opening its first branch in beautiful Arnavutköy, this artisan Italian gelato shop offering both sorbet and gelato has now a few branches across the city. Furthermore, they are in some prime locations such as Caddebostan near Bağdat Avenue and Yeniköy. The owner, Aslı Eraltan, got her training from Italian gelato makers in a university in Italy and brought them back to Turkey, opening the shop in 2008.
Best Restaurants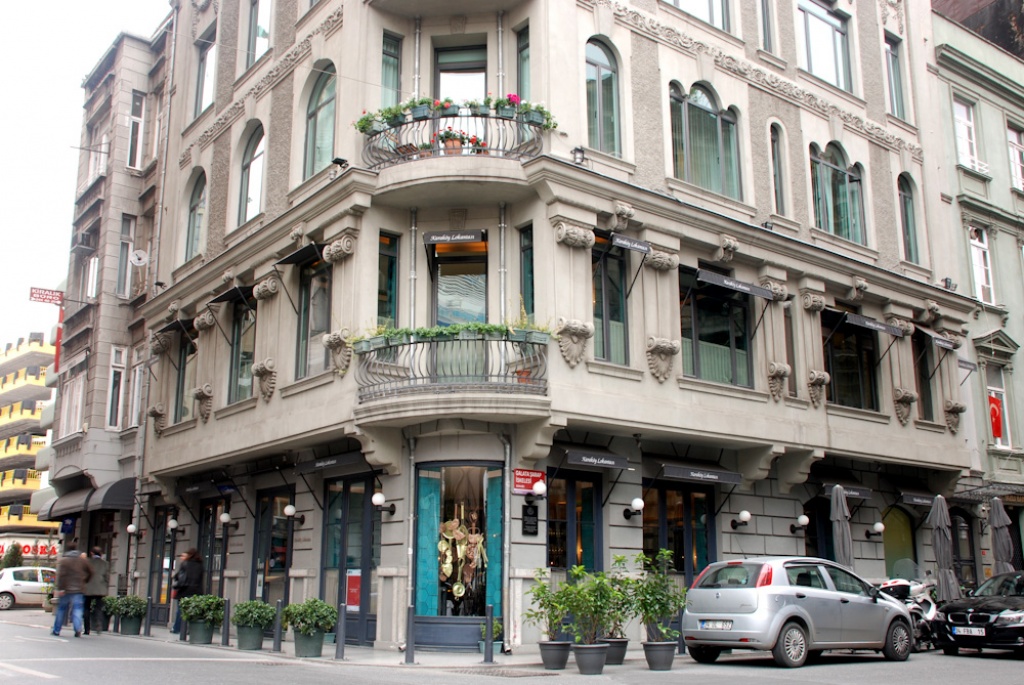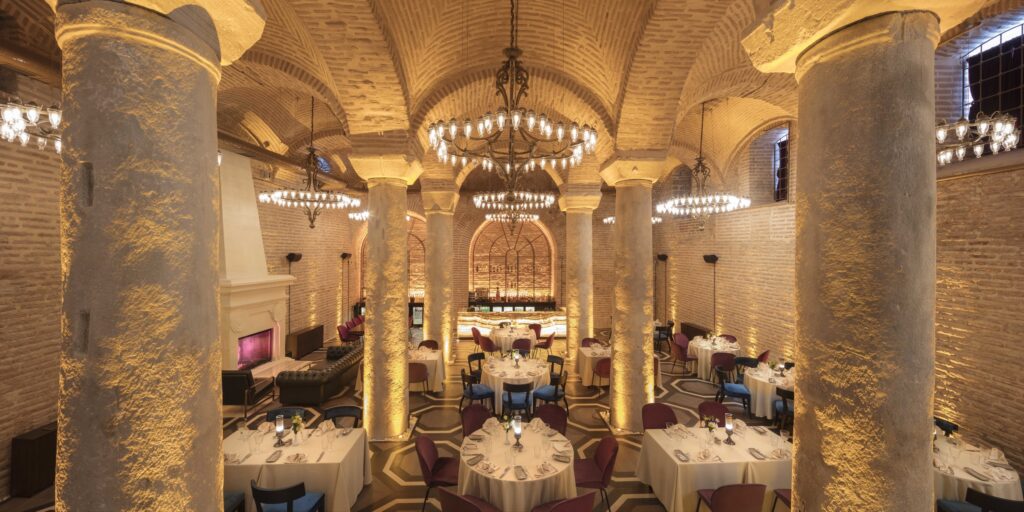 A Day in Istanbul
Skip your hotel open buffet breakfast in order to live a real Istanbul foodie experience A traditional Istanbul  breakfast is the ultimate way to start the day. While offerings vary, dishes are always plentiful and meant to be shared, ensuring that the occasion is enjoyed with the right amount of luxurious leisure. You can use Istanbul Public transportation.  (read more)
Top 3 Turkish breakfast places in Istanbul
Cihangir's best-known breakfast spot, Van Kahvaltı Evi offers local and regional specialties from Van, a city in the east of Turkey particularly renowned for its breakfasts. Defterdar Yokuşu No.52/A, Cihangir; T: (0212) 293 64 37
Namlı Gurme in Karaköy is a local classic and a great place to start your affair with Turkish breakfasts. You can prepare your own spread, filled with anything your heart desires. Rıhtım Caddesi No.1/1, Karaköy; T: (0212) 293 68 80
Emirgan Sütiş has been a local breakfast trademark since 1953, offering traditional dishes alongside a view of the Bosphorus in the background. Sakıp Sabancı Caddesi No.46, Emirgan; T: (0212) 323 50 30
Want to book a 5-day holiday in Istanbul in 5*****? Click here to explore
What to eat during breakfast in Istanbul?
Beyaz peynir, semi-hard, mixed-milk, brine-washed cheese is a Turkish staple. A proper Turkish breakfast cannot be contemplated without it.
Like cheese, a Turkish breakfast without olives is considered incomplete. As Turkey is in the top 10 olive producers in the world, there are dozens of different kinds to choose from.
Bal and kaymak—honey and rich, clotted cream—is the definitive, and irresistible Turkish breakfast treat. This gooey delight spread on bread is a divine way to start the day. Click to learn more about kaymak, Turkey's crème de la crème.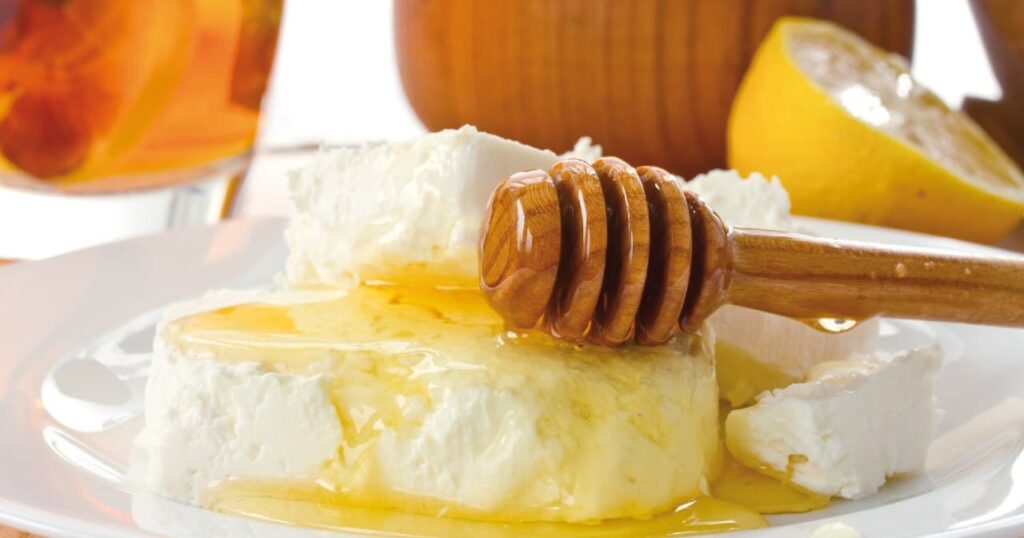 Menemen is a Turkish breakfast classic made with scrambled eggs, red and green peppers, tomatoes, and onions.
Rather than bacon, Turks prefer slices of sucuk—a garlicky beef sausage, flavored with spices, served grilled or fried, often as a breakfast accompaniment with fried eggs.
Fresh fruits and vegetables: Read more
Reduction of fruits into pekmez—rich, dark, sticky molasses—is predominantly an Eastern Mediterranean practice, and a luscious way to conclude a breakfast.
A kind of yeasted flatbread, bazlama is served on the breakfast table instead of, or alongside, traditional bread. You can either cut this puffy, single-layered bread in half and stuff it with breakfast essentials, or dip it into dishes such as menemen.
Highlighted visit of Old city
Blue Mosque
This famous and gorgeous mosque is one of the world's finest. It was built in just seven years (1609–1616) by the architect Mehmet Aga, who also rebuilt Kaaba (the holiest shrine of Islam — the giant black cube at the center of the mosque in the holy city of Mecca). Locals call it the Sultan Ahmet Mosque for the ruler who financed it, but travelers know it as the Blue Mosque because of the rich color that dominates the interior (free, generally open daily one hour after sunrise until one hour before sunset, closed to visitors five times a day for prayer, in the Sultanahmet district).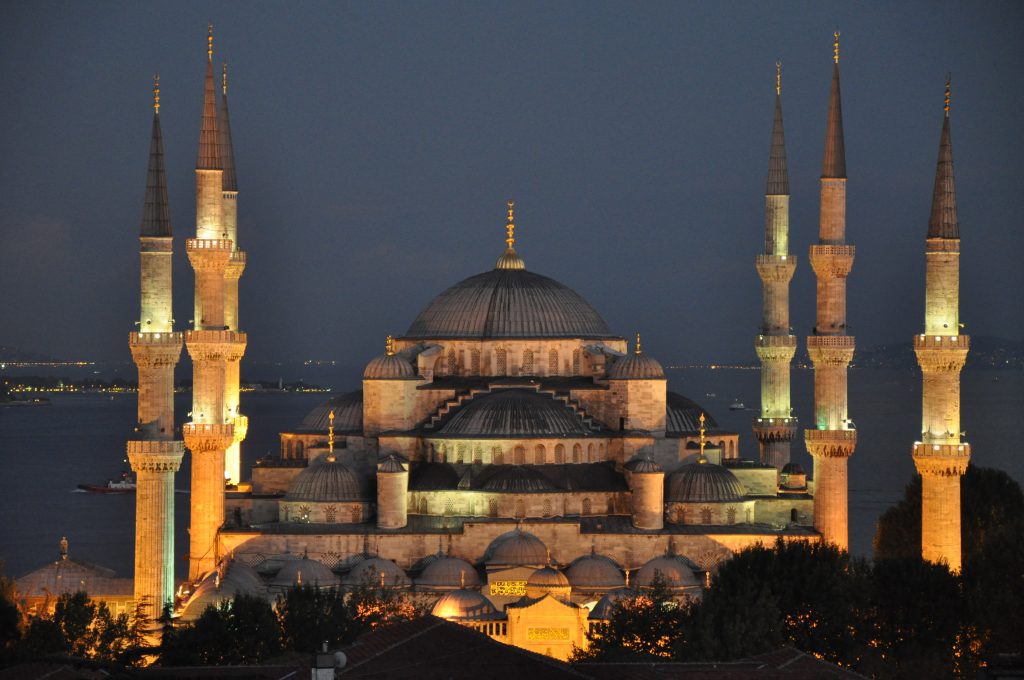 Hagia Sophia
For centuries, it was known as Megalo Ekklesia, the "Great Church" of Constantinople. The Greeks called it Hagia Sophia, meaning "Divine Wisdom," an attribute of God. The Turkish version is Aya Sofya. But no matter what you call it, this place — first a church, then a mosque, and now a museum — is one of the most important and impressive structures on the planet. Emperor Justinian built Hagia Sophia between A.D. 532 and 537. For 900 years, it served as the seat of the Orthodox Patriarch of Constantinople — the "eastern Vatican." Replete with shimmering mosaics and fine marble, Hagia Sophia was the single greatest architectural achievement of the Byzantine Empire. When the Ottomans took Constantinople in 1453, Sultan Mehmet the Conqueror — impressed with the Great Church's beauty — converted it into an imperial mosque. Hagia Sophia remained Istanbul's most important mosque for five centuries. In the early days of the Turkish Republic (1930s), Hagia Sophia was converted again, this time into a museum. It retains unique elements of both the Byzantine and Ottoman empires and their respective religions, Orthodox Christianity and Islam. In short, Hagia Sophia epitomizes the greatest achievements of both East and West, rolled into one (open Tue–Sun, closed Mon; in the Sultanahmet district, tel. 0212/528-4500).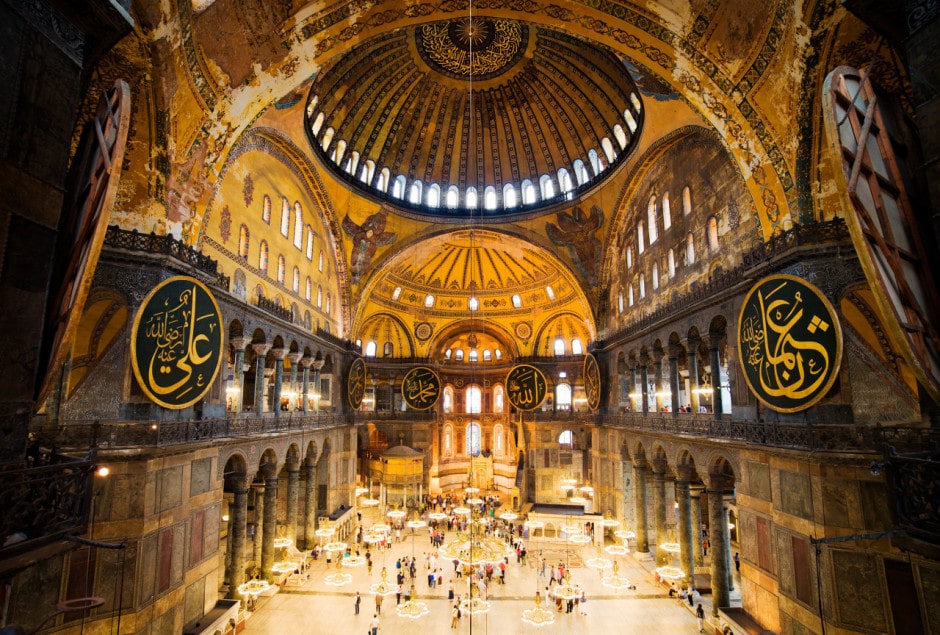 Built in the mid-17th century, this market hall was gradually taken over by merchants dealing in spices, herbs, medicinal plants, and pharmaceuticals. While it's quite a touristy scene today, most stalls still sell much of the same products, and the air is heavy with the aroma of exotic spices. Locals call it the Mısır Carşışı (Egyptian Bazaar) because it was once funded by taxes paid by Egypt (open daily, at the Old Town end of the Galata Bridge, near the Eminönü tram stop).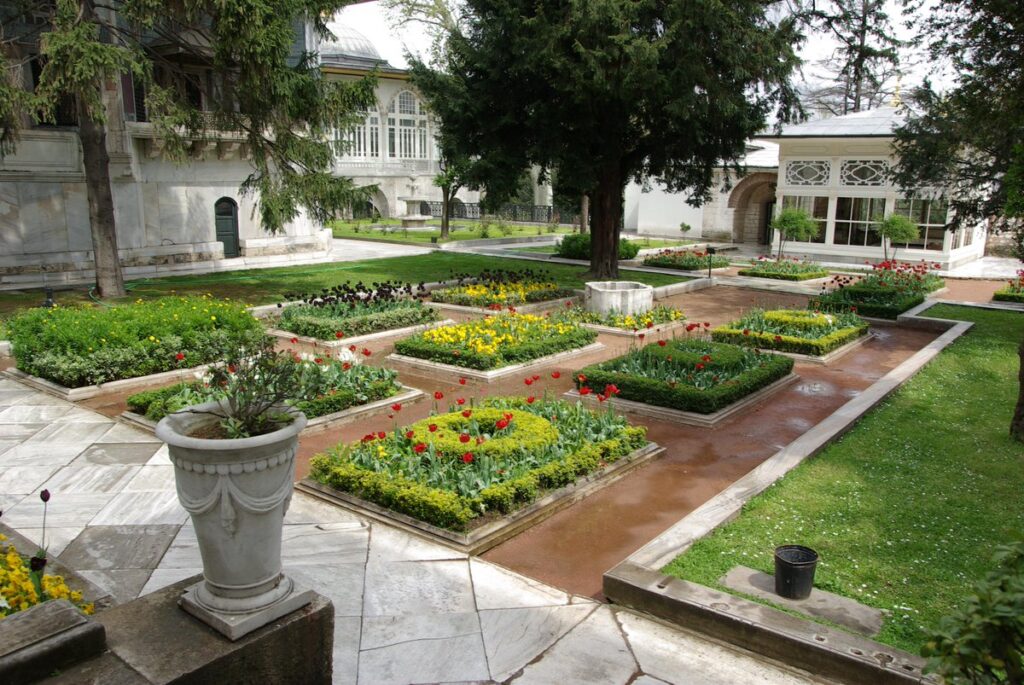 The word Topkapı means "cannon door" — a reference to one of the gates on the old Byzantine wall along the Sea of Marmara. Originally known as the sultan's "New Palace," Topkapı was gradually enlarged over the centuries. Each reigning sultan contributed his own flourishes, according to the style of the era. So, unlike many European palaces, which were built all at once, Topkapı Palace was constructed gradually and organically over time. The result is a funhouse of architectural styles. Since no two buildings of the complex were built at the same time, they're all on different levels — as you pass through the doorways, you'll almost always step up or down. And yet, this hodgepodge is totally functional — each addition had its purpose, and was suited for its time. Taken together, the visual mess of Topkapı Palace adds to a unique sum that represents the sultan lifestyle. It's in the Sultanahmet district; the easiest approach is from the Sultanahmet tram stop (open Wed–Mon, closed Tue). Read also Topkapı Palace Secrets
The world's oldest shopping mall is a labyrinthine warren of shops and pushy merchants — a unique Istanbul experience that shouldn't be missed, even if you're not a shopper. While parts of the bazaar are overrun with international visitors, it also has many virtually tourist-free nooks and crannies that offer an insightful glimpse into the "real" Istanbul.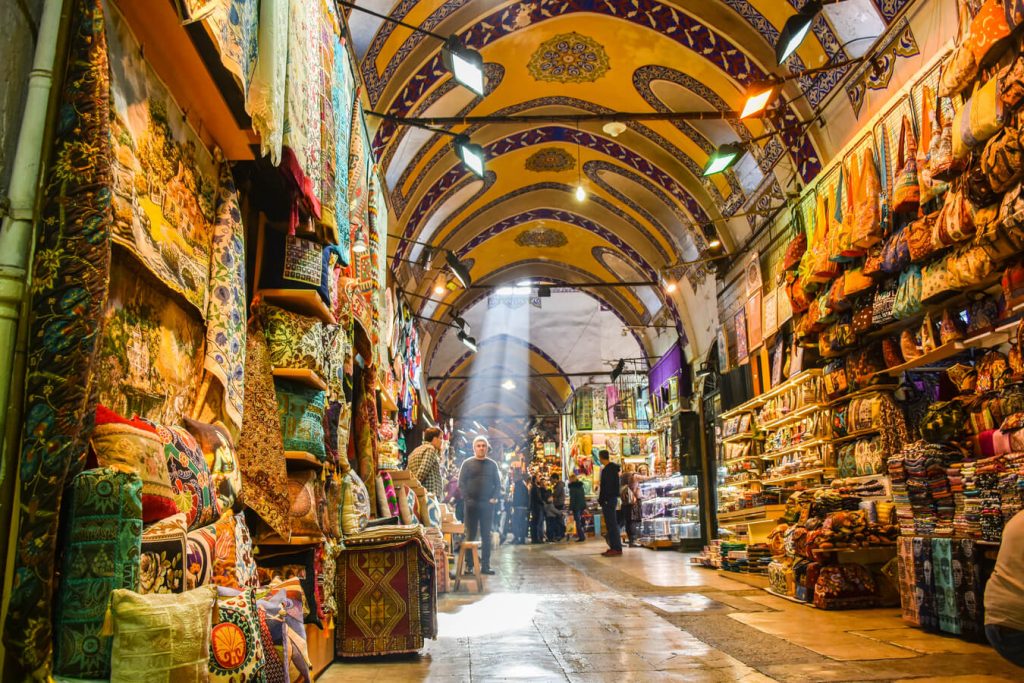 Istanbul 's Lesser-Known Sights To Discover
Istanbul 's reputation precedes it, and the same is true with some of its most notable sights: the Hagia Sofia, the Grand Bazaar, Topkapi Palace, the Blue Mosque, Basilica Cistern…the list goes on. At the same time, there's so much going on in this city, and its history and heritage are so extensive, that even the "lesser-known" attractions are still world class. Read more on this article
Frequently Asked Questions
What's the best time of year to visit Istanbul?
Istanbul is a popular destination all year round, although summer can get very hot and winter is usually cold and rainy with the occasional snow flurry. Spring and autumn months are best advised for a pleasant temperature and less crowding at the major sites.In İstanbul, the summers are warm, humid, dry, and clear and the winters are long, cold, windy, and partly cloudy. Over the course of the year, the temperature typically varies from 38°F  to  85°F  and is rarely below 30°F or above 90°F. For more information please click
How should I dress in Istanbul?
Turkish dress sense is generally westernised although revealing clothing is not very common in Istanbul (nightclubs along the Bosphorus are more of an exception).  As a secular state, Turkey is tolerant of other cultures and religions. Female visitors are not expected to don a head scarf, unless they are visiting a mosque and scarves are usually available to borrow. Shorts tend to be kept for the beach and not commonly seen in the city. When visiting mosque, men must wear trousers or long shorts covering the knees.
What is it like as a non-Muslim visiting Turkey?
While Turkey is a largely Muslim country and some are strict followers of Islam, there are many more moderate Muslims and also smaller minorities of Christian and Jewish faiths. As a secular state, Turkey is generally very open and welcoming to other cultures, and it is rare to experience any problems as a non-Muslim in Turkey.
Do I need a visa?
All UK, USA, Canada, Australian and New Zealand passport holders visiting Turkey must purchase an e-Visa online before travelling – including babies and children. Visas are valid for 180 days, and you can visit Turkey for up to 90 days within this duration.  E-Visas must be bought BEFORE you arrive in Turkey from the official website. Some countries do not require a visa at all. Visit our visas page for more information.
Is Istanbul safe?
Compared to most western countries, Istanbul is a safe city. The incidence of violent crime against foreigners is very low and few visitors to the city experience any problems. There are some scams and pickpockets operating (more so in the tourist-heavy areas) so you should exercise usual caution.
Is it safe to drink water from the tap in Istanbul?
Although the water is chlorinated in Istanbul, it is recommended you drink bottled water. Bottled water is widely available and reasonably cheap in Istanbul. Related: Istanbul City Breaks
Is it safe to eat food from the street and small restaurants in Istanbul?
The standard of hygiene in Istanbul is generally fairly high, and few visitors report problems related to unsafe food in the city. Practice common sense and only eat at an establishment if it looks clean and busy. Fresh fruit should be peeled before eating and salads should be avoided if you suspect they have been washed in tap water.
Do I need any vaccinations for a trip to Istanbul?
No. There are no required vaccinations for Turkey.
Is alcohol available in Istanbul?
Yes. Although the majority of Turks are Muslims, alcohol is readily available in Istanbul. The national drink, raki, is especially popular, along with beer and wine – of which there are numerous local brands. Istanbul also has some of the best nightlife in Europe with a seemingly never-ending supply of bars, nightclubs and restaurants. Istanbul City Breaks
Will it be hard to get by with only English?
Turkish is the official language of Turkey and English is widely spoken in Istanbul; visitors are often surprised by the relatively high level of English spoken by most Turks. An attempt to use Turkish is very much appreciated and considered good manners, though.
Related Articles:
Best selfie spots in Istanbul, Tailor Made Turkey Tours and Vacations , The Secret Life of Street Cats in Istanbul , Turkey Discovery: Social Graces , Turkey Guided Tours, Shopping in Istanbul ,  Istanbul Flea markets , Honeymoons in Turkey, How to visit Grand Bazaar?, Spice Bazaar Visit, Topkapi Palace Guide, What is a Turkish Bath?,  Turkish Raki Culture , Istanbul Guide
Day Excursions from Istanbul
Other Short Excursions from Istanbul to Istanbul