Greek Wine with Video Introduction
Introduction
Greek Wine – The modern face of Greek wine combines the traditional with the modern. Native Greek grape varieties such as Assyrtico, Agiorgitiko and Xynomavro are found alongside such famous international (French) varieties as Cabernet Sauvignon and Chardonnay. The portfolio of 21st-Century Greek wine includes everything from fresh, citrus-scented whites and sparkling rosé to lusciously sweet reds. Geographically speaking, Greece consists of its mainland and numerous islands. The Greek mainland covers the southern edge of the Balkan Peninsula, jutting into the Mediterranean Sea between southern Italy and Turkey. It is flanked to the east and west by the Aegean and Ionian seas respectively.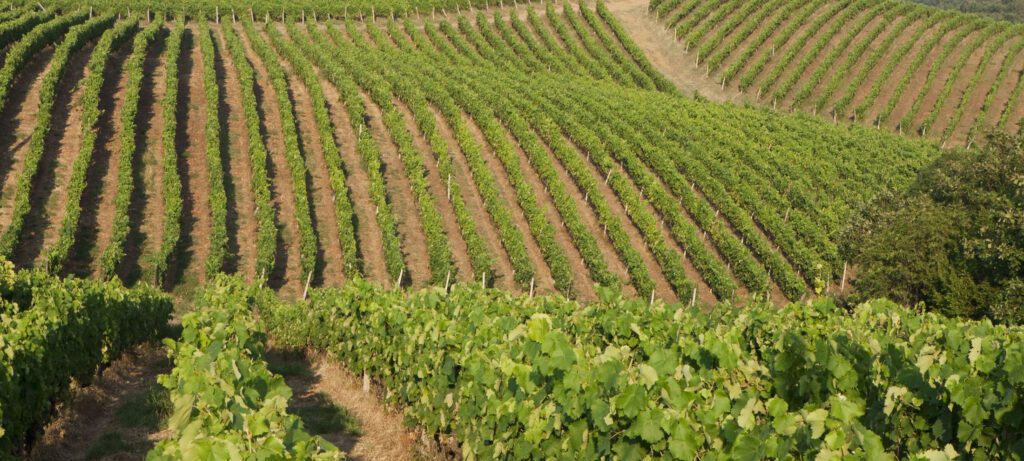 This has a strong influence on the country's various meso-climates; the islands and extensive coastline bring a maritime influence to the otherwise Mediterranean climate. The climate veers towards the continental in mountainous far north, along the borders with Albania, Macedonia and Bulgaria. The Greek landscapes vary from rugged mountains and lush river valleys to flat coastal plains and tiny, barely inhabited islands.
Greek Viticulture Video
Viticulture can be found in virtually every corner of Greece, although its scale differs significantly from region to region. The preferred styles also vary considerably. In the northwest (Greek Macedonia) rich, tannic wines made from Xynomavro are favored.
The Peloponnese Peninsula in the south complements its Agiorgitiko based reds with fresh, highly acidic whites made from Moschofilero. The Aegean Islands are internationally famous for the dry Assyrtico-based wines of Santorini and the sweet Muscat-based wines made on Rhodes, Samos and Limnos. No description of Greek wine would be complete without reference to Retsina. This distinctively Greek, resinated wine style is said to have developed when pine resin was used as an airtight sealant for wine storage vessels. Today, Retsina is made by choice rather than necessity, through the addition of pine resin during fermentation.
History
Modern-day Retsina wines mostly come from Attica. They are typically based on the white grape Savatiano, although Roditis and Assyrtico are also used by some producers. Retsina serves as a link to the past, a reminder of how important Greece was in the development of European wine culture. Even the Romans prized Greek wine above their own, as shown in the prices realized for Greek imports). The Malvasia trade of the Middle Ages was a golden age for the Greek wine industry. It involved a complex set of grape varieties named after the Peloponnese area of Monemvasia. The wines became a major export to Istanbul. Monasteries were granted tax exemptions and frequently gave land to the industry.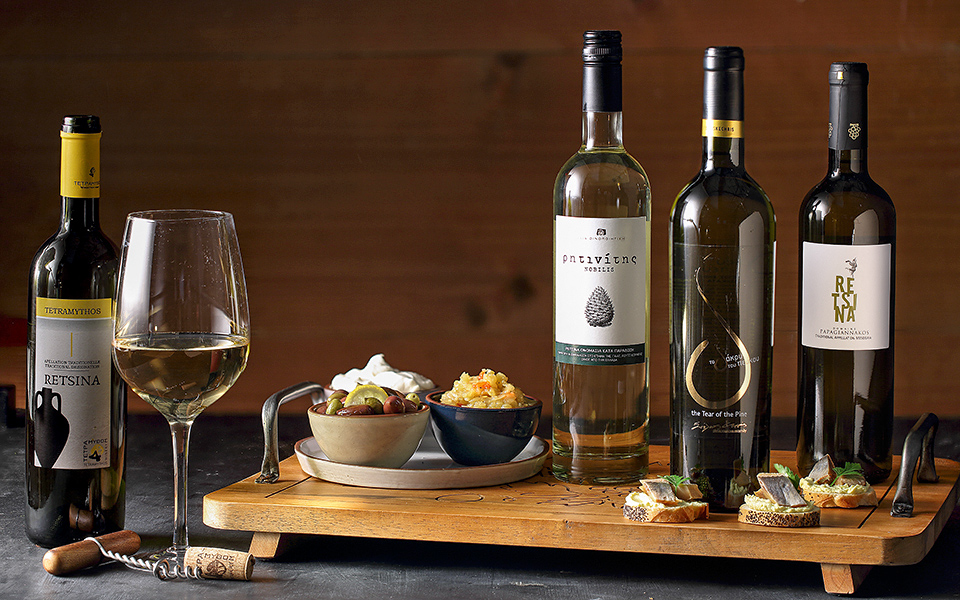 Greek Wine – Retsina wines From the 15th Century, much of Greece was ruled by the Ottomans, whose Muslim religion forbade the consumption of wine. This meant an era of downturn for Greek wine production; vineyards were ripped out, banned, forgotten or planted to more lucrative crops such as raisins. Some remained, but the Ottoman rulers imposed heavy taxes on Greek wine production. This period is often cited as the reason that Greece's wine industry is not as well developed as those of France or Italy, despite its long history. The Greek War of Independence from 1821-32 plunged the country into turmoil. Winegrowing did not resume until well into the later 19th Century. During this time, the phylloxera outbreak ravaged the vineyards of Western Europe. This turned attention to Greek wines, and the country saw a surge in vinicultural activity. Unfortunately, the two World Wars and Greece's own phylloxera blight proved devastating to the country's wine industry in the mid-20th Century. It was during the 1960s that the industry began to pick up and modern winemaking techniques and technologies were employed by Greek wine producers.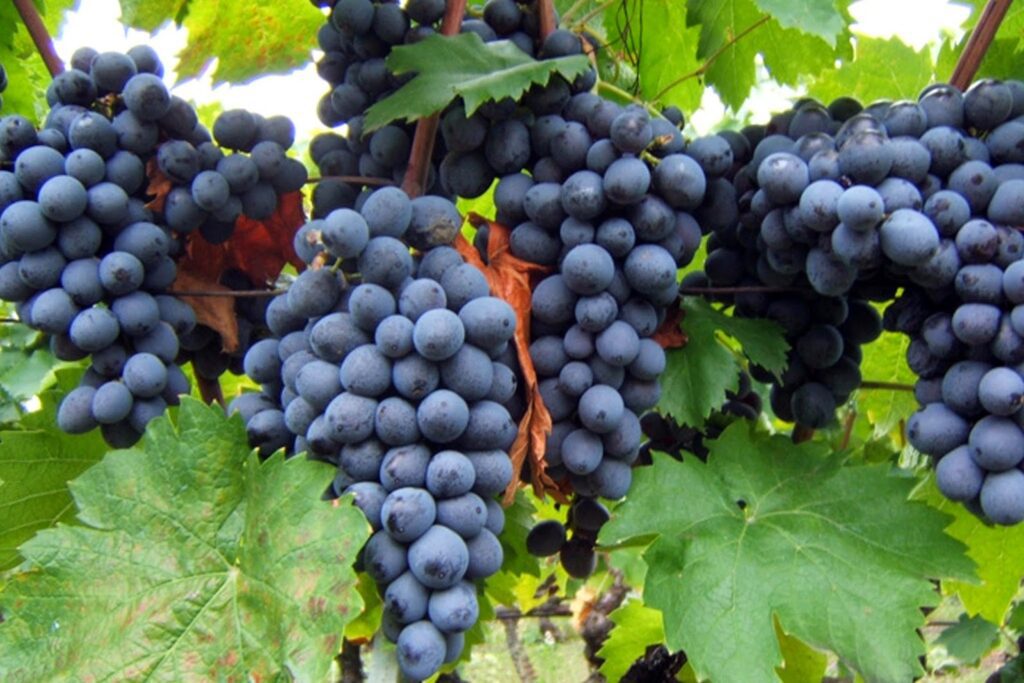 In 1971, an appellation system was introduced to mimic the great wine regimes of France and Italy. It formed part of Greek preparations for entry into the European Union. Regions of historical significance were among the first to be granted appellation status. Conditions were imposed on the varieties to be used and often on the altitudes required for cultivation. The Onomasia Proelefseos Anoteras Piotitos (OPAP) and Onomasia Proelefseos Eleghomeni (OPE) are the two principal designations for quality wine in Greece. They cover dry and sweet wines respectively. At the lower level, the PGI-level Topikos Inos (local/country wine) and Epitrapezios Inos (table wine) cover larger areas and a wide array of wine styles and grape varieties. The early 21st Century has been a tumultuous time for Greece, with political instability and an enormous debt crisis threatening the entire economy of Europe. However, full-bodied red wines made from Agiorgitiko and Xynomavro showcase the potential of Greece's indigenous grapes.
Main Wine Regions of Greece
The wine regions of Naousa, Nemea, Mantinia, Samos and the island of Santorini continue to provide a benchmark for the rest of the country to aspire to.
The Peloponnese
Renaissance painters perceived Arcadia as a pastoral utopia. This fabled region of the Peloponnese had a distinctly primordial cast. Though much of modern civilization evolved here, it seemed only a thin veneer. The Peloponnese, a peninsula of more than 8,000 square miles that fills the southern third of mainland Greece, has a rich history that dates to ancient times. Pan, the god of nature, is said to have sprung from the Arcadian forests. Sparta clashed with Athens on its plains, and Greek independence was fomented in its villages in the 1820's. So it's no accident that most of the grapes planted in the region are wholly and unabashedly Greek.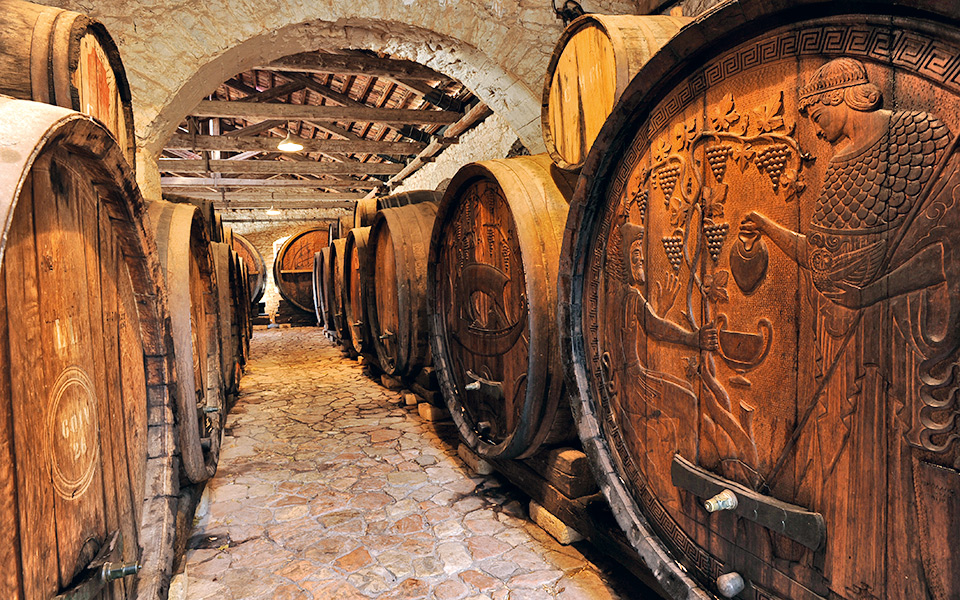 In Mantineia, in the Arcadian hills near Tripoli, Moschofilero (mos-koe-fee-le-row) makes gorgeously transparent white wines. The best of them taste of the chilly summer nights that make the slow-ripening grapes among the last to be picked in all of Europe. Domaine Spiropoulos shares a plateau there with ancient ruins. In the valley below Mantineia sits Nemea, a red-grape region that extends almost to the edges of the port town of Nauplia (often spelled Nafplio or Nafplion). The dominant grape there, Agiorgitiko (ah-your-yee-ti-ko), can make a friendly but almost characterless wine that, in the wrong hands, is soft to the point of flabbiness. Now Domaine Skouras makes some 700,000 bottles a year, while welcoming the waves of visitors who stop in at its showpiece facility, a 90-minute drive from Athens. What they find is a range of wines that use precision rather than power to seduce.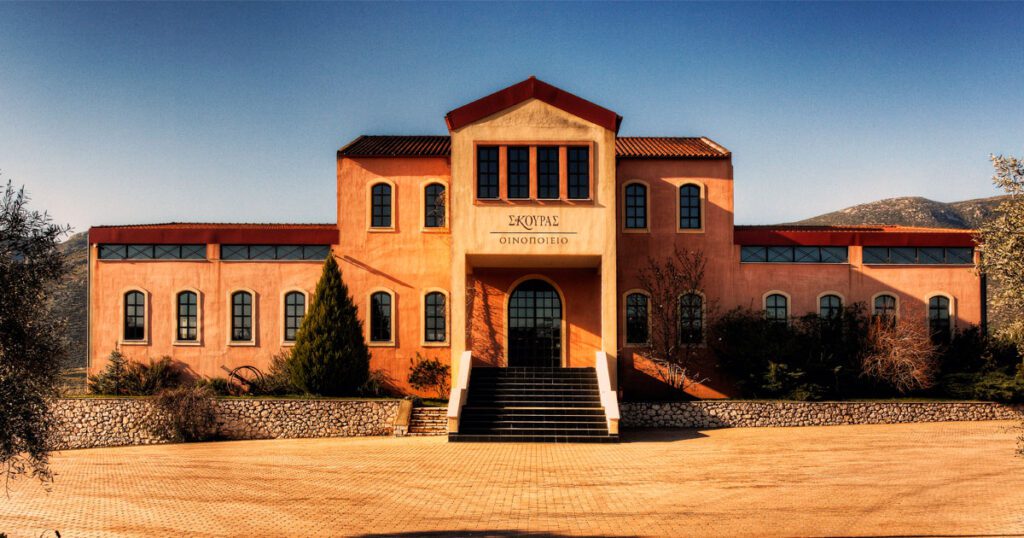 Nauplia resembles a less tidy version of St.-Tropez, without the glitter. It has a latticework of cobblestoned streets, a few hotels with aspirations and many more pensiones with colored shutters and earnest breakfasts, and enough good eating for a week's stay.
Macedonia
Greek Macedonia isn't a country; that's the cumbersomely named (by UN decree) FYROM—former Yugoslav Republic of Macedonia—that borders it to the north. But geopolitics aside, perhaps it ought to be: this oblong region has the diversity of nations ten times its size. Fishing villages and beaches speckle the coastline; spits of land protrude into the Aegean like spiny fingers. Hilltop villages look out over forests roamed by chocolate-colored bears. Thessaloniki, Greece's second-largest city, climbs the hills that rise from its harbor like a denser, even stronger-flavored Genoa or Trieste, while the understated beach resorts around it cater to an international crowd. The food, architecture, and language of the region reflect centuries of influence by Turks, Serbs, and Bulgars.
Thessaloníki's forgotten past includes its connection to wine, which has been made nearby for centuries. Strolling its streets, reveling in the splendor of Greek and Roman ruins, Ottoman temples, and remnants of a once thriving Jewish presence, I encountered a jam of outdoor cafés, one pushed against the next, overflowing with men (and occasionally women) talking, playing cards or backgammon, and drinking coffee or ouzo, but rarely wine. As the hub of a wheel that leads to viticultural areas to the west, northwest, northeast, and south, the city is the ideal base for a tasting tour.
Outside Thessaloníki, that heritage becomes evident. An hour to the west is Naoussa, where Boutaris started his Kir-Yianni winery. Here the clay soils and mountain breezes, along with water so pure that nobody bothers to buy it bottled, create ideal growing conditions for Xinomavro (zeeno-mav-ro), Greece's most intriguing red grape. It's an antisocial variety that greets you with a rush of fruit, then turns its back and bares its fangs. Still, as made by Kir-Yianni or the tiny Karydas Estate, a winery in a house near where Aristotle purportedly once tutored Alexander, Xinomavro shows a crystalline depth that recalls Italy's Nebbiolo.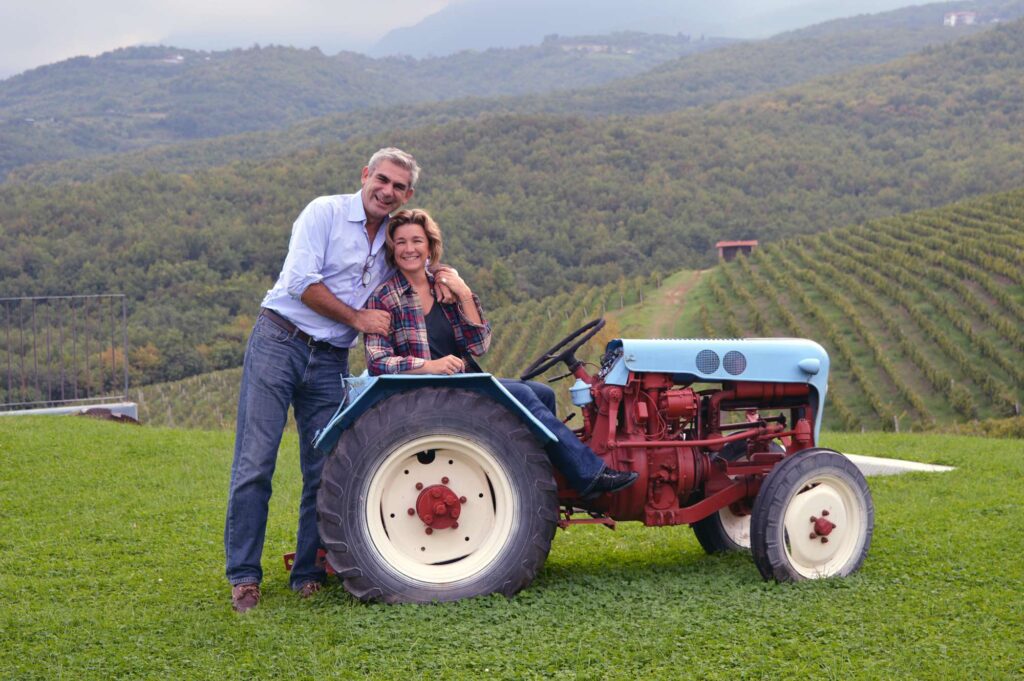 In his zealously tended vineyards, Alpha Estate's Angelos Iatridis grows a painter's palette of varieties, from the indigenous Malagousia and Mavrodafne to Syrah, Pinot Noir, even Barbera. It's an intriguing blend of the local and the international, and so was the dinner we shared at Kontosoros, in the neighboring town of Xino Nero. Many Greek meals are basic affairs, which made Kontosoros a particular find. Meatballs with saffron; pork tenderloin beside frumenty pasta of wheat and yogurt; and a salad of wax beans, capers, pistachios, and scallions were composed with the artfulness—and imagination—that elsewhere might earn chef Nikolaos Kontosoros a cooking show.
The counterpoint to that ambitious food, and to the Alpine feel of Amyndeo and surrounding towns such as the delightful fairyland village of Nymfeo, was the fried mullet, grilled octopus, and other marine delights I devoured during my alfresco lunch at Agnandi. It overlooks the Aegean in Epanomi, south of Thessaloníki, in a setting of palm trees and striped awnings and rhythmic tides that could seem Caribbean. But the snap of fresh vegetables and the tang of feta is unmistakably Greek, and when it's clear, you can see Mount Olympus.
Nearby, down a rock-strewn dirt road that looks like the direct route to Nowhere, are the ivy-covered stucco walls of Domaine Gerovassiliou, the region's most attractive winery. The gardens are awash in color, the museum features an epic corkscrew collection, and the wines are nothing if not polished. On the veranda, sipping a glass of white Malagousia that tasted of lemons and rosewater, I found it easy to forget that bottled wine in Greece (as opposed to wine poured for customers into flasks or jugs) is just a few decades old. Yet viticulture in Macedonia is also an ancient endeavor, and the same characteristics in the land and climate that enticed the original Greeks to cultivate grapes beside the olive trees are at work today.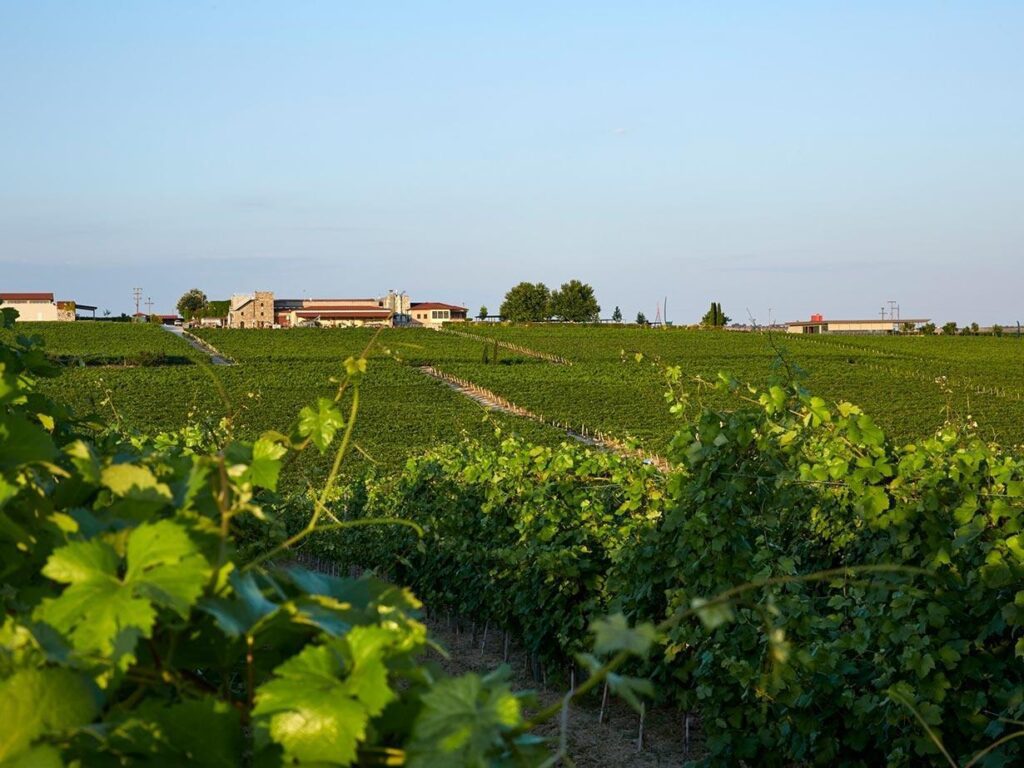 Crete
If you visit only one destination in Greece, make it Crete. Sure, the trashy beach resorts and general decrepitude in and around Iráklion, the island's biggest city, have a decidedly Third World air. Driving is perilous, meals can be overpriced, weather frustratingly erratic. Even its barren mountains can seem inhospitable and menacing.
But persevere. Crete is a special place, where the distilled essence of Greece is augmented by African, Turkish, and other influences. For wine drinkers, the island is like Darwin's Galápagos. The catalogue of grape varieties found mostly, or only, on Crete is more varied than that of anywhere I. If you have even a vague interest in wine, a few days on the island are sure to bring out your inner geek. If you're into it to begin with, well, it's like finding buried treasure.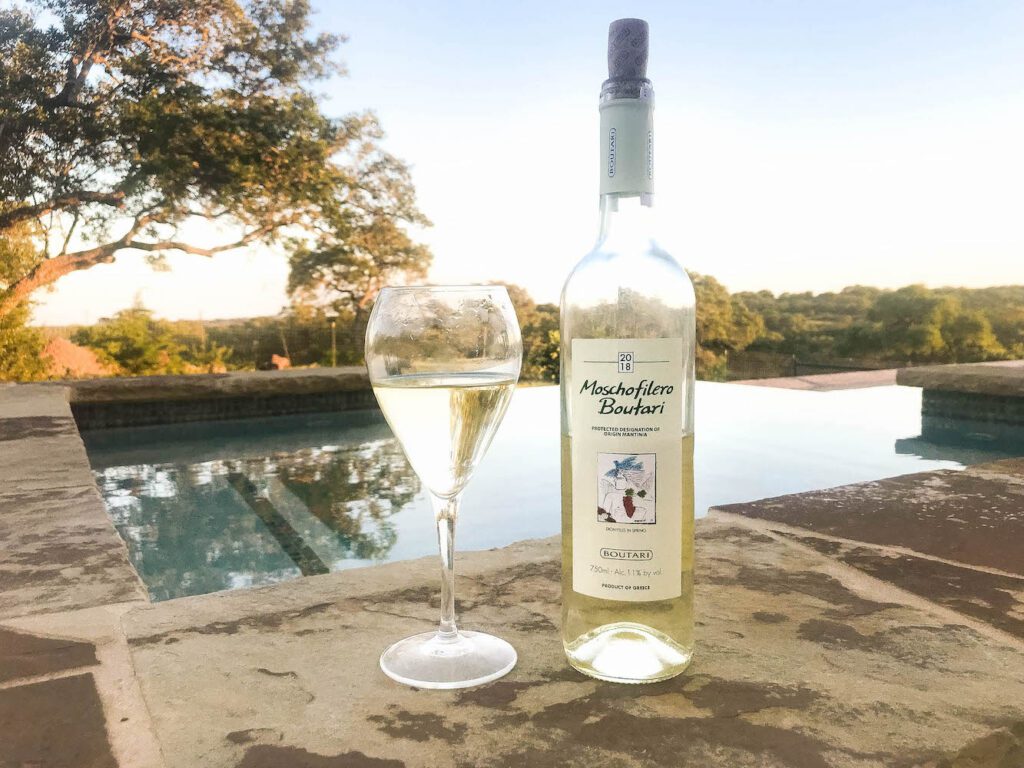 Nearby, past the famous Knossos ruins (which, sadly, have been "restored" to the extent that you can't tell whether a fresco is a 3,500-year-old original or a recent fabrication), is Boutari Wineries. The company owned by Yiannis Boutaris's family makes 2 million bottles a year of Moschofilero alone, yet its glass-walled Cretan facility (one of several in Greece) feels surprisingly intimate.
Santorini
Thanks to this history, Santorini today boasts one of the longest continuous histories of wine grape cultivation in the known world. What's more, little has changed in how grapes are grown on the island for thousands of years, thanks to the extremely inhospitable climate of the island and the relatively remote nature of the island's small population. Santorini vineyards  are quite unlike any vineyards elsewhere in the world. For starters, they hardly look like vineyards, at least to anyone expecting the orderly styles of cultivation found in most of the world's wine regions.
When leafed, most vineyards in Santorini look like overgrown, abandoned lots, with scraggily, serpentine vines sprawling on the ground in lumps and wavy straggles of leaves. To the truly casual observer, the vines are fairly indistinguishable from weeds. Yet the apparent disorder of these ground hugging vines belies a very sophisticated system of viticulture that has been perfected over centuries.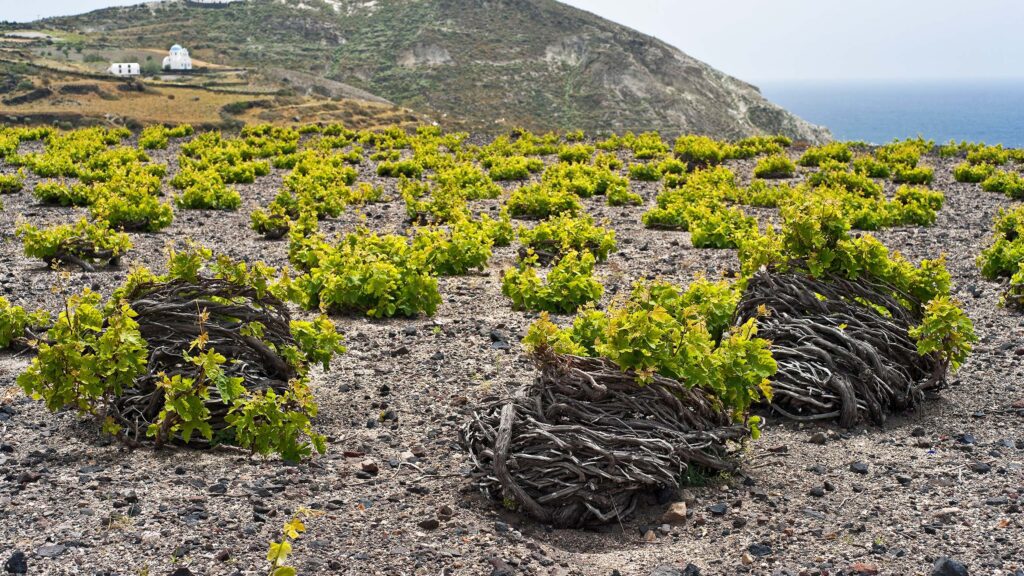 The vineyards of Santorini are unique not just for their training and appearance. As a result of the soils and the remoteness of the island, phylloxera has never and will never take hold. Every vine on the island grows on its own roots, and most are established from the simplest method of vine propagation: taking the tip of a vine runner and plunging it into the soil, where it will eventually grow roots and sprout into a separate vine that can eventually be cut off from the mother vine. No irrigation is, or has ever been used on the vineyards. Water is quite precious on the island, and far too precious to waste on thirsty vines. The grapes must get their moisture the same way that all the other sparse vegetation on the island does — by sucking it out of the air and the ground. But that still means precious little moisture. The dominant source of water tends to be the sea mists that drift across the island at night to be sucked up by the porous pumice stones and thirsty leaves.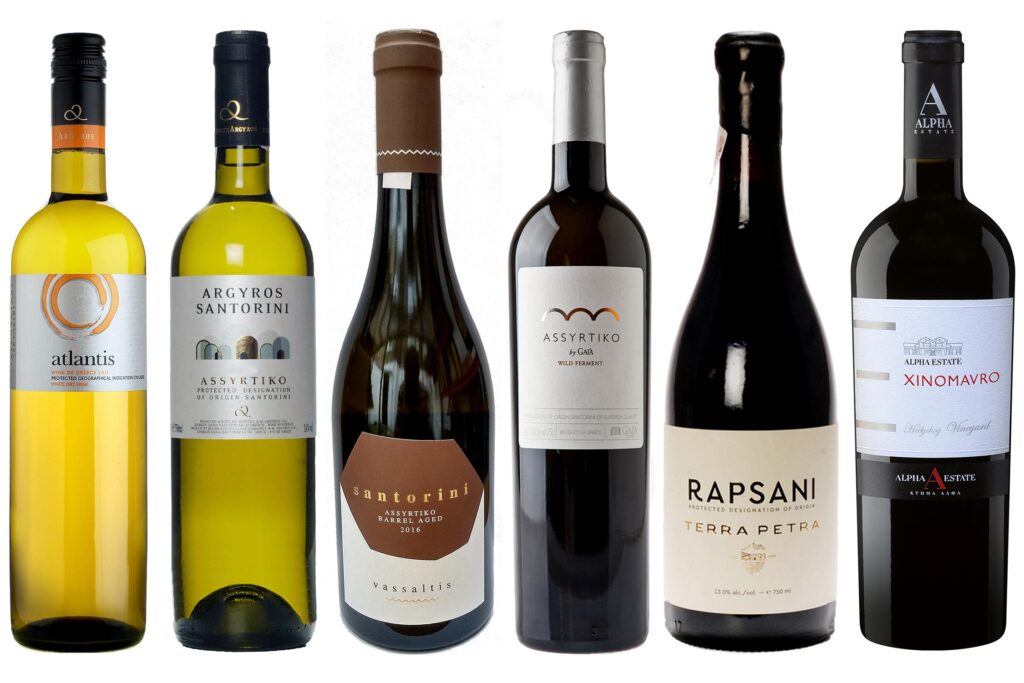 Most of the vines on the island bear the indigenous white grape varieties of Santorini, wine dominated by Assyrtiko (ah-SEER-tee-koh), with lesser amounts of Athiri (ah-THEER-ee) and Aidani (eye-DAHN-ee). A few red varieties are also grown, the vast majority of which are Mavrotragano (mah-vroh-TRAH-gah-no) and Mandilaria (mahn-dee-LAH-ree-ah).
In many vineyards on the island, families have records showing four or five such prunings over their family history, and those vines are still producing today, their baskets thick as a man's wrist.
Samos
Samos is a famous historical Greek island in the eastern Aegean Sea, just a mile off the western coast of Turkey. The sweet, rich wines made here from Moschato Aspro (aka Muscat Blanc à Petits Grains) are among Greece's most famous and are exported around the world.
In total there are around 1400 hectares of mountainous vineyards in Samos. 98 percent of their surface area is planted to the signature grape variety. Since 1934, much of the island's wine has been produced by the Samos Co-operative, which is widely credited with developing the style of wine that Samos is today famous for. Wines bearing the name 'Samos' must be produced entirely from Muscat Blanc à Petit Grains and be made either as a vin doux naturel or from drying the grapes in the sun, to concentrate the sugars in the berries.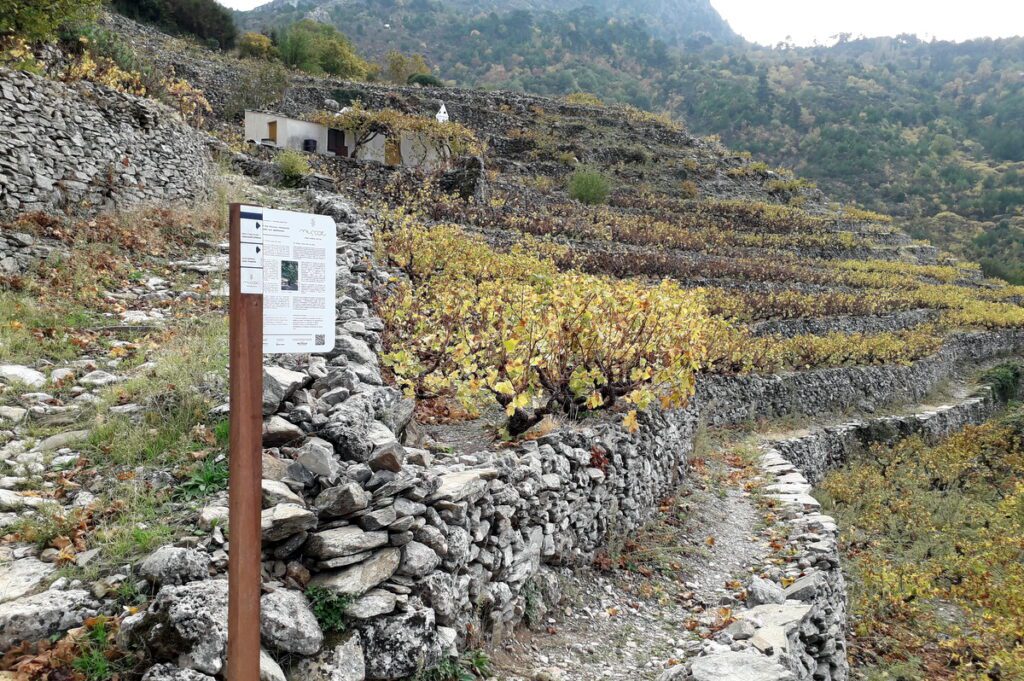 With no French or Italian wine available, Europeans began to look to the sweet Muscats of the Greek islands, and in particular Samos. It was during this time that the island was bestowed with the honor of making Holy Communion wine.
7 Greek Varietals to Know
Agiorgitiko
(ah-gee-or-gee-tee-ko): This grape is the most widely planted red variety and Greece and produces a diverse range of styles to include rosé. The Nemea region of the Peloponnese peninsula is home to the grape and showcases the most expressive versions of the wine. Full-bodied and fruit-driven, elements of blackberry, raspberry, and dried prune lift the heady incense and baking spice notes.
Assyrtiko
(ah-sir-tee-ko): This white variety of grape is widely grown throughout Greece, though its traditional home is the beautiful island of Santorini, which happens to produce some of the best and most notable versions of the grape. Assyrtiko wines are similar in flavor profile to Sauvignon Blanc with racy acid and an almost sea salt brine minerality driven by crisp lemon peel notes and aromas of fresh green herbs.
Athiri
(ah-thee-ree): Wines from this white variety often have a scent of stone fruits, like nectarines.
Malagousia
(mah-la-goo-see-ah): This melony, jasmine-scented white was on the brink of extinction before winemaker Evangelos Gerovassiliou began growing it again.
Moscofilero
(mos-ko-fi-ler-oh): This pink grape looks a lot like Pinot Gris hanging on the vine and showcases some aromatic examples reminiscent of the Pinot Gris style as well. Although grown widely about the country, quality examples are produced primarily in the grape's original region of Peloponnese in southern Greece. The grape is floral, fruity, and spicy and is often used to produce an aromatic dry table white wine similar to Viognier, though several other styles of wine are also produced from the grape to include sparkling wines and dessert bottlings reminiscent of Moscato wines.
Retsina
(ret-SEE-nah) :  Not a grape variety but a style, Retsina is an incredibly unique white wine that has been produced in Greece for over 2,000 years. Considered an aromatized wine, white wine must is vinified in conjunction with fresh sap from the Aleppo pine tree to create a distinct and bold flavor profile reminiscent of lemon zest, dried apple, and rose petal alongside a distinct floral piny note.
Roditis
(ro-dee-tis): Elegant and light-bodied, this pink-skinned grape produces crisp whites and rosés.
Xinomavro
(zhee-no-mav-ro): This vibrant red grape is grown all over Greece and produces some of the most consistent examples of quality dry red wine in the area. The Náousa region in Macedonia is known to produce the most elegant and well-regarded examples of the grape. This medium-bodied wine reveals a bright red fruit bouquet alongside flinty minerality and chewy, gripping tannin structure reflecting a profile similar to Italy's Nebbiolo-based wines.
Vinsanto
(vin-SAN-toh): Although frequently confused with its Italian descendent, Vin Santo, Vinsanto has been produced in Greece for millennia. Classified as a dessert wine, this dark golden wine is unctuous and somewhat sweet, showcasing a bouquet of citrus peel, golden raisins, dried apricots, and a racy acidity to keep the palate salivating.
Selection for pairing with meals
The Greek wine is rich with a multitude of varieties and a limitless spectrum of choices.
In main course
Greek wine will  help you to create the perfect atmosphere for you and your friends.
Ksinomavro: The finest red variety of the Northern Greece. Depending on the time of maturation, it covers a wide range of tastes and nuances of red. Ksinomavro variety is one of the great divas of the Greek vineyard. It is capricious, demanding, and difficult to deal with, both in the vineyard and in the winery. The grape is capable of producing wines of stunning character and individuality and extraordinary complexity, with a seamless combination of intense extract and sheer finesse.
Ayioryitiko or Mavro Nemeas: Coming from Peloponnese, it is the red wine that was supposed to be the favourite of the mythical king Agamemnon. Thanks to its deep red colour, rich aroma, and velvet taste it is the ideal wine for red meat and sauces. With pronounced cassis and blackberry flavor and a rich, mature, velvety, luscious texture, the supple young Ayioryitiko wines are fruit-forward and are enjoyable early. However, there is enough big structure to support long-term cellaring (5-10 years).
Mavrotragano: An old red variety of Santorini, which has been brought back to life fairly recently. Fruity in taste, deep in colour and medium in acuity, it is marked by its high proof.
Athiri: The white delight of the Aegean Sea. Its yellowish colour with the reflections of green and its distinctive, subtle fruity taste render it suitable for many kinds of dishes. Its lovely floral aromas and mouthwatering attack wakes up the palate. Common to the islands of the southern Aegean and Halkidiki, in eastern Macedonia.
Assirtiko: Although cultivated in many other islands, Assirtiko reaches the apex of its originality on Santorini, but has successfully migrated to Halkidiki, Epanomi, Drama, and Mount Pangeo in Northern Greece as well as to the Peloponnese. Bearing the island's volcanic DNA, it is delightfully rich of aromas, ranging from citrus and apple to honey, raisin and incense. It maintains a high acidity even in fully ripeness. With crispy acidity and excellent minerality, its wines are rich and refreshing. The aromas suggest citrus, lemon blossom, orange zest and grapefruit.
Moshofilero: archeological findings prove its age-long relation to the district of Arcadia and its plateau. It is a versatile variety used for making a whole series of wines, from dry to fruity sparkling ones – also known as a blanc de gris variety, meaning that its skin color can range from light pink to deep purple. The dry white Mantinia is the most renowned of them all.
Robola: One of the most elegant Greek varieties, this relatively high-proofed and acute white wine smells of citrus fruit and it is best served fresh. Combine it with seafood, preferably at its birthplace, the island of Kefalonia (Cephalonia).
Savvatiano: Maybe the most widespread Greek wine variety with a history of over 2.500 years. The yellow-green white it produces leaves on your tongue the pleasure of peach, lemon, kiwi, banana, melon and strawberry in a rather low amount of acidity. It is the basis for the famous Retsina.
Malagousia. This subtle Greek white variety is possibly related to the renowned "Malvasia" wine dating back to the Middle-Ages. It was rescued from obscurity thanks to the foresight of certain Greek producers who believed in the wine. The accolades of the critics and the enthusiastic response of the consumers did more than justify their acumen. The Malagousia wines have a strong bouquet and a musk aroma, while leaving a mild peppery taste in the mouth.Savvatiano: A variety from Mainland Greece, with its cultivation centered in the Attica region. It produces wines with the aromas of yellow fruit and low acidity.
As desserts
Muscat: Although Muscat (Moschato in Greek) is cultivated in several places, the grape is historically associated with the straw-colored sweet wines of Samos. Samos muscats are full-bodies, dense and concentrated, with aromas of apple and pear.
Mavrodafni: After 2 to 8 years of maturation, this red wine comes from Patra and Kefalonia. Vanilla, cherry, dried fruits and chocolate are the true spirit of this extensively exported wine variety.
One of the Greek wines, sustained by your charm, will turn a dinner into a lifetime experience. Good thing you can repeat it anytime!