Best Time to Visit Paris
Introduction
Best Time to Visit Paris – The best time to visit Paris is from June to August and September to October. Both summer and fall have its ups and downs. From June to August the weather in Paris is just about parfait (perfect). Average highs are in the high 70s and there are long days of sunshine. Unfortunately, summer is also the most crowded time – and the most expensive. For lower travel rates and significantly shorter lines at attractions, plan a visit in the fall. The seasonal foliage is known to stun, though the city's spring blooms are pretty famous too. If a travel deal is all that you're after, a visit during the winter will surely shave off travel expenses. Keep in mind though that Paris is one of the most visited cities in the world, seeing upward of 30 million travelers yearly. So no matter what time you visit, there will always be tourists and some crowds.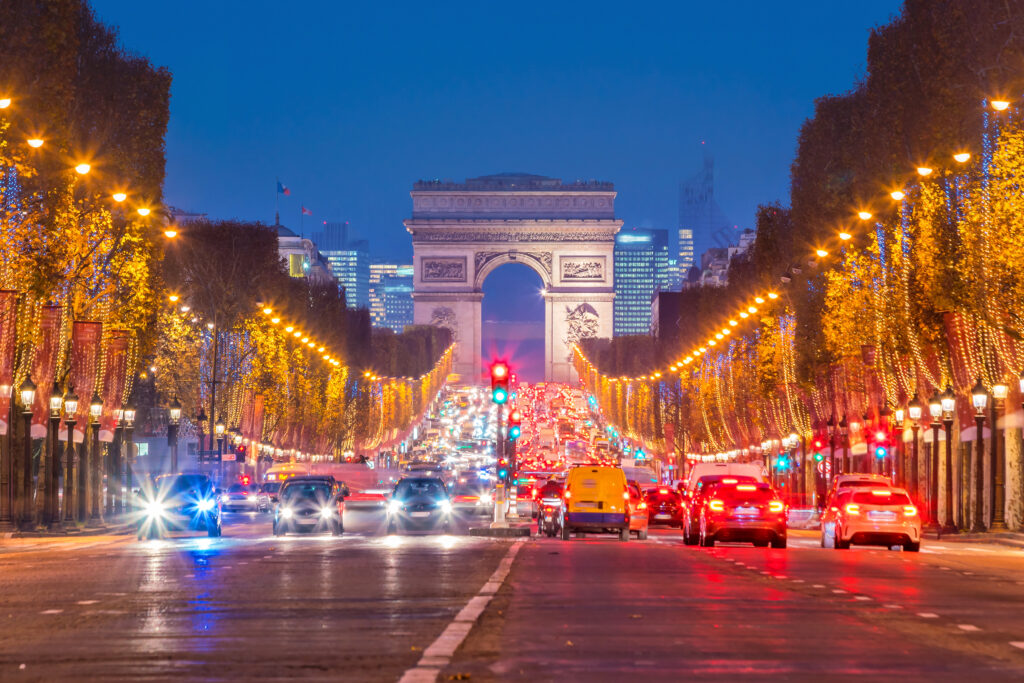 Related Readings: 
Best Events in Paris, Museums of Paris, Paris Luxury and Design Hotels, Paris Less Than 48 Hours
Weather in Paris
If your travel plans are flexible, you have the luxury of choosing the perfect time – based on your own priorities – to arrive. The good news is that Paris has a lot to offer no matter when you come.  Each season and each month has pros and cons.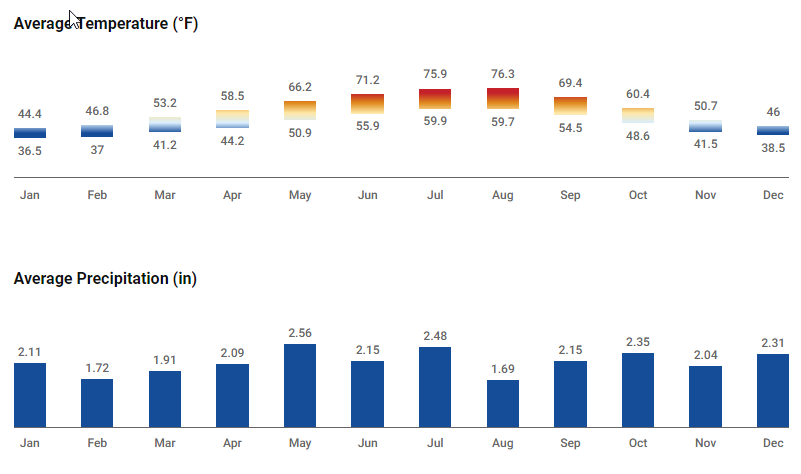 Rain in Paris is distributed fairly evenly throughout the year, so you can't reliably avoid it by choosing one month over another. Winter months feel cold, gray, and damp, although December can be warmer than you might expect – temperatures in the mid-50s are possible.  Even during January and February, the daytime temperature usually ranges from the upper 30s to mid 40s, and can easily go higher.   A medium weight jacket combined with a cashmere sweater, warm scarf, and umbrella will usually keep you feeling comfortable on the chilliest days.  On warmer days, shed the sweater.  Boots are a good idea, along with a hat and gloves. Don't count on seeing any snow, although Paris looks dazzling when it happens.  Snowfall each year varies from none to a few inches.  Christmas lights and holiday markets light up the city from mid-November through December and the first week or so of January. You can also expect a scattering of sunny days throughout the winter months.  On clear days, humidity is low and the sky will be a brilliant blue.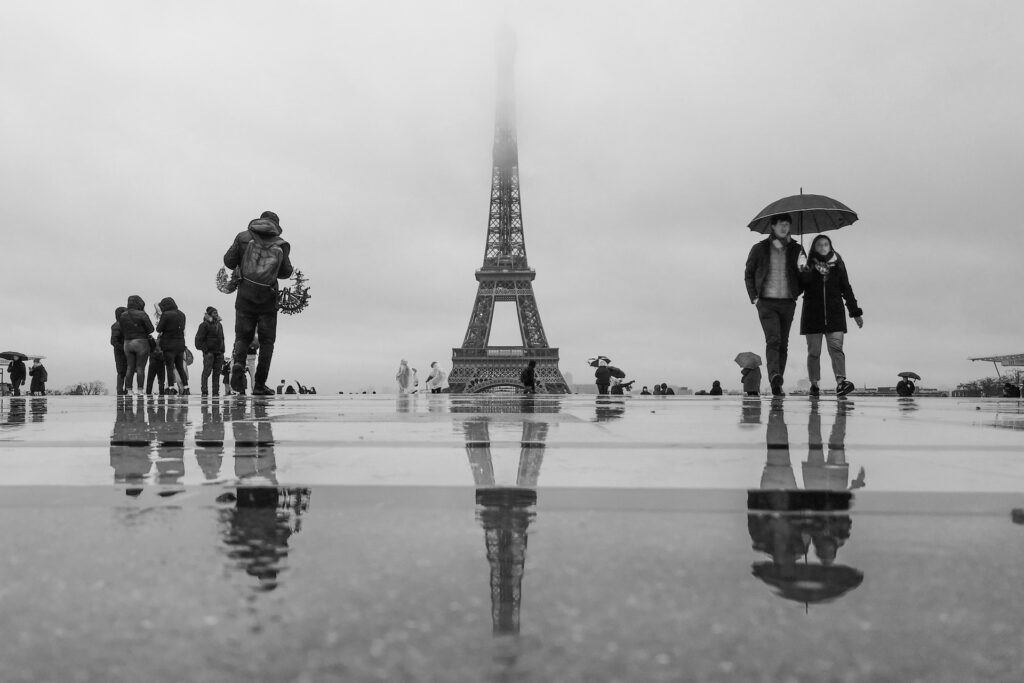 Spring weather usually consists of a mixture of gorgeous sunny and gray rainy days.   Unfortunately, the humidity may rise along with the temperature, especially in May. Summers get hot, and 90° F days are not uncommon.   Although the temperature doesn't usually hit 100°, it can happen.  Humidity usually drops as summer progresses.
If you decide to travel in August, be aware that while the weather is often hot, dry, and wonderful, it is possible for the daytime temperature to plunge to the 40s for a day or two, usually accompanied by rain.  You won't see this mentioned in most travel guides.   Fall weather is lovely, especially during September and October.  By mid-fall, golden foliage blazes across the city – a reminder that Paris has more trees than any other European capital.
Crowds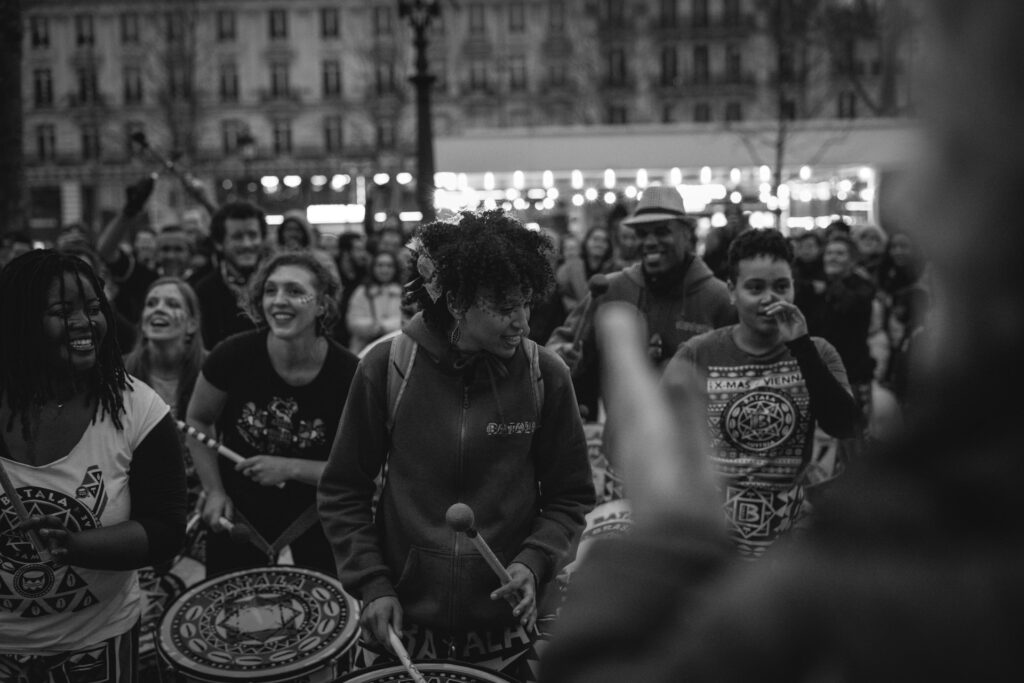 Paris is the most visited city in the world, so it never lacks tourists.  In the spring, the number of tourists in Paris rises with the temperature.   Starting with the Paris Marathon in early April, visitors begin to pour into the city.  The Marathon attracts approximately 54,000 runners from all over the world, about 70% come from outside Greater Paris, and many bring family and friends to cheer for them.  Hotels start filling up several days before the event.  In addition, throughout April schools across France and other European countries have a week of vacation – so you'll see lots of families with kids and teens, particularly at attractions such as Disneyland Paris. By May, lots of American and other tourists arrive, hoping to avoid the even larger summer crowds.  And, around mid-May, an invasion of college students descends on the city as summer study abroad programs kick off.  Lines at tourist attractions grow much longer. Crowds are biggest during June and July.  You can find yourself standing in line at the Picasso Museum, the Louvre, the Eiffel Tower, Versailles, and other top attractions for a long time.  Fortunately, "skip the line" options can reduce your wait time.
Key Events
Daylight Hours
If you're visiting from North America, you may not realize that Paris is farther north than even Montreal or Seattle – meaning the sun doesn't set until around 10pm in June and July.  This means long days of glorious sunlight, and magical evenings as the sun slowly sets, with the sky not getting fully dark until about 11pm.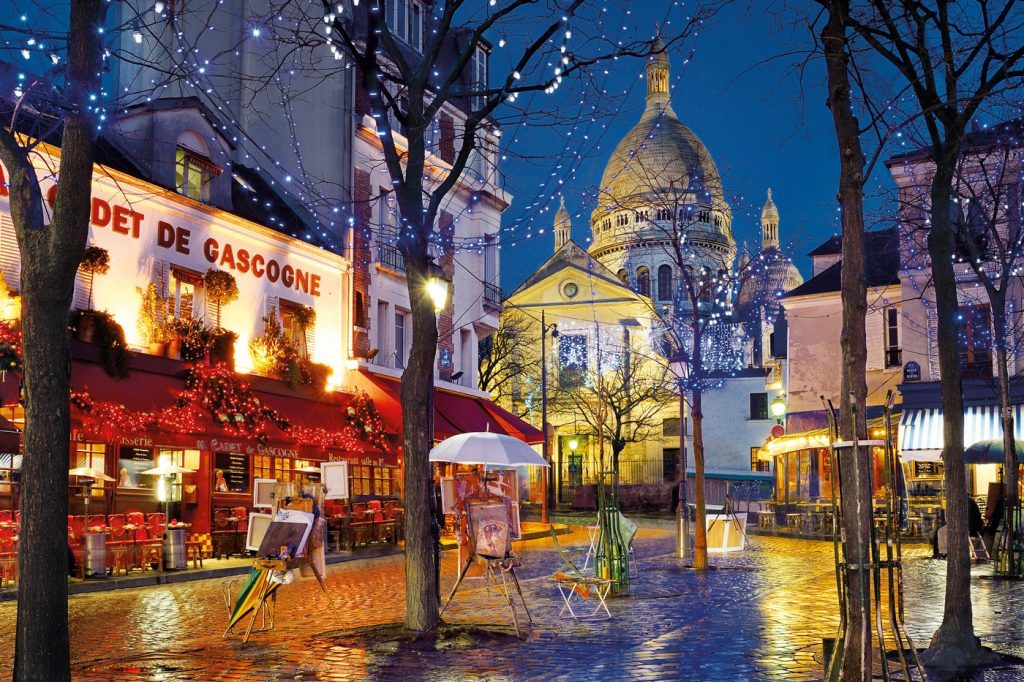 The reverse is true in November, December, and early January, when the sun sets around 5pm.  On cloudy or rainy days, you'll feel the darkness even sooner.
During December and January, the sun doesn't rise until 8:30am – 9am.  Stay away during these months if you suffer from seasonal affective disorder.  On the other hand, if you spend your time in Paris at brightly lit Christmas markets, in museums and galleries, shopping, and attending concerts or the ballet, you may not even miss the sun.  If you visit Paris during these months, you'll find an abundance of lights and decorations in the 1st arrondissement, along with attractively low seasonal rates in the district's poshest hotels.
So When Should You Visit Paris?
While it's true that "Paris is always a good idea," as Audrey Hepburn famous said in classic film Sabrina, when is the best time to visit Paris?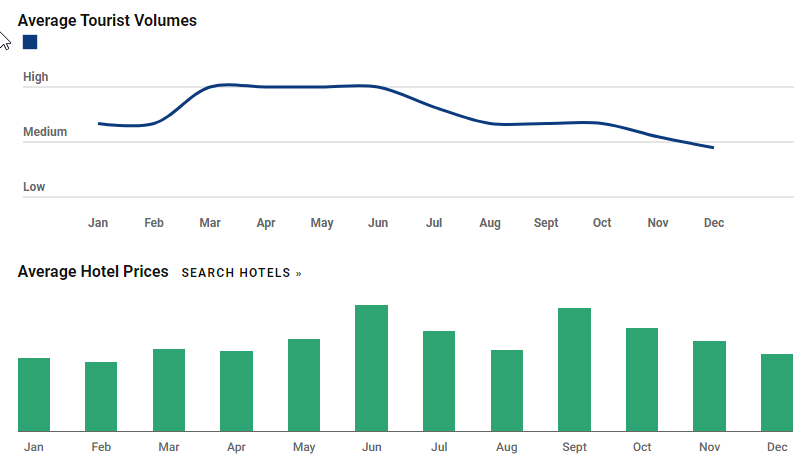 So to sum all this up … if you want to minimize your flight and hotel costs, travel to Paris in February.  You can also find attractive seasonal savings during November, early December, the second half of January, and the first 2-3 weeks of March.
Smaller crowds, comfortable weather, and long periods of daylight provide compelling reasons to visit Paris in May, June, September, and October – but just be aware that you're likely to pay the most for plane fares and hotel rates during these months.