Greece Cultural Events and Festivals
Predominantly rural, Greece is deeply attached to its locally produced food and wine, and chapels dotting the countryside serve as the focus for culinary, as well as religious, celebrations. Festivals of the Orthodox Church are deeply identified with Greekness, no more so than on 25 March, a date which commemorates both the Feast of
the Annunciation and the start of the Independence uprising in 1821. Summer festivals are celebrated widely in rural villages, and expatriate Greeks return from across the globe. Organized arts events are a more recent phenomenon, paralleling the rise of tourism.
Spring
Spring is a glorious time in Greece. The lowland landscape, parched for much of the year, luxuriates in a carpet of green, and wild flowers abound. But the weather does not stabilize until late spring, with rainy or blustery days common in March and April. Artichokes ripen in March, and May sees the first strawberries. The fishing season lasts to the end of May, overlapping with the start of the tourist season. Spring festivities focus on Easter.
March Apókries, Carnival Sunday (first Sun before Lent). Carnivals take place for three weeks leading up to this climax of pre-Lenten festivities. There are parades and costume balls in many large cities, and the port of Pátra hosts one of the most exuberant celebrations. Katharí Deftéra, Clean Monday (immediately after "Cheese Sunday" – seven Sundays before Easter). Kites are flown in the countryside. Greece Cultural Events and Festivals
Independence Day and Evangelismós (25 Mar). A national holiday, with parades and dances nationwide celebrating the 1821 revolt against the Ottoman Empire. The religious festival, one of the most important for the Orthodox Church, marks the Angel Gabriel's announcement to the Virgin Mary that she was to become the Holy Mother.

Firewalking in Agia Eleni villageWhen the coal was ready it was layed carefully. Large number of people had already found their place to stand in order to watch the Anastenarides. French, Canadians, Chinese and dozens of pupils from Thessaloniki!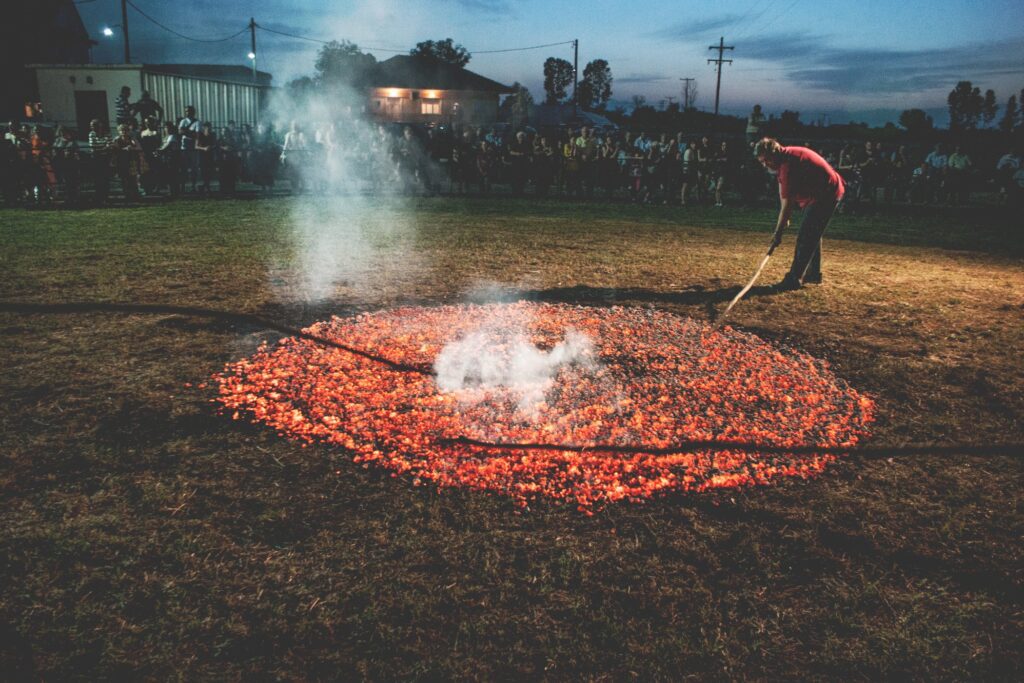 Greece Cultural Events and Festivals
Everybody was waiting for the firewalkers to come to the state of mind that was required. After a while, musicians rushed in the place and behind them the firewalkes started taking their places on both sides of the fire. Music kept playing and the first courageous people started dancing on the burning coal.
Celebrating Easter as a cultural and religious event in Greece
Greek Orthodox Easter can fall up to three weeks either side of Western Easter. It is the most important religious festival in Greece, and Holy Week is a time for Greek families to reunite. It is also a good time to visit Greece, to see the processions and church services and to sample the Easter food. The ceremony and symbolism is a direct link with Greece's Byzantine past, as well as with earlier and more primitive beliefs. The festivities reach a climax at midnight on Easter Saturday. As priests intone "Christ is risen", fireworks are lit, the explosions ushering in a Sunday devoted to feasting, music and dance. Smaller, more isolated towns, such as Andrítsaina and Koróni in the Peloponnese, and Polýgyros (the capital of Chalkidikí), are particularly worth visiting during Holy Week for the Friday and Saturday night services.
Easter biscuits celebrate the end of Lent.
Another Easter dish, magirítsa soup, is made of lamb's  innards and is eaten in the early hours of Easter Sunday.
See Gastronomy in Greece Article
April
Megáli Evdomáda, Holy Week (Apr or May), including Kyriakí ton Vaíon (Palm Sunday), Megáli Pémpti (Maundy Thursday), Megáli Paraskeví (Good Friday), Megálo Sávvato (Easter Saturday), and the most important date in the Orthodox calendar, Páscha (Easter Sunday). Agios Geórgios, St George's Day (23 Apr).
Clean Monday

Agios Georgios Feast in Greece

One of the most important feast days in the Orthodox calendar, commemorating the patron saint of shepherds, and tradition ally marking the start of the grazing season. Celebrations are nationwide, and are particularly festive at Aráchova, near Delphi

May
Protomagiá, May Day (1 May). Also known as Labour Day, this is given over to a national holiday. Traditionally, families go to the countryside and pick wild flowers, which are made into wreaths with garlic. These are then hung on doors, balconies, fishing boats and even car bonnets to ward off evil. In major towns and cities across the country, there are also parades and workers' rallies to mark Labour Day, usually led by the Communist Party. Agios Konstantínos kai Agía Eléni (21 May). A celebration throughout Greece for Constantine and his mother, Helen, the first Orthodox Byzantine rulers (see p41). Firewalking ceremonies may be seen in some Macedonian villages.
Análipsi, Ascension (40 days after Easter; usually late May). This is another im portant religious feast day. Greece Cultural Events and Festivals

Public Holidays in Greece

Agios Vasíleios (1 Jan)
Independence Day (25 Mar)
Protomagiá (1 May) Megáli
Paraskeví (Good Friday)
Páscha (Easter Sunday)
Deftéra tou Páscha (Easter Monday)
Christoúgenna (25 Dec)
Sýnaxis tis Theotókou (26 Dec)

Winter
Many mountain villages assume a ghostly aspect in winter, with their seasonal inhabitants returned to the cities. Deep snow accumulates at higher altitudes and skiing can begin; elsewhere, rain falls several days of the week. Fishing is in full swing, and at the markets, kiwi fruits and exotic greens abound. Cheese shops display a full range of goat
and sheep products, and olives are pressed for oil. The major festivals cluster to either side of the solstice. New Year and Epiphany are the most fervently celebrated festivals during winter.

December
Agios Nikólaos, St Nicholas's Day (6 Dec). The patron saint of seafarers, travellers, children and orphans is celebrated at seaside churches. Name day for Nikólaos and Nikolétta. Christoúgenna, Christmas (25 Dec). A national holiday
and, though less significant than Easter, it still constitutes an important religious feast day. Sýnaxis tis Theotókou, meeting of the Virgin's entourage (26 Dec). A religious celebration and national holiday.

January
Agios Vasíleios, also known as Protochroniá, or New Year (1 Jan). A national holiday. Gifts are exchanged on this day and the traditional new year greeting is Kalí Chroniá.
Theofánia, or Epiphany
(6 Jan). A national holiday and an important feast day. Blessing of the waters cer emonies take place by rivers and coastal locations through out Greece. Youths dive to recover a cross that is thrown into the water by a priest.

Gynaikokratía (8 Jan), Thrace. Matriarchy is celebrated by women and men swapping roles for the day in some villages of Thrace.
February
Ypapantí, Candlemas (2 Feb). An Orthodox feast day all over Greece, at a quiet time, prior to pre-Lenten carnivals.

Name Days
Greeks celebrate their name day, or giortí, the day of the
saint after whom they were named when baptized. Children are usually named after their grandparents, though in recent years, it has become fashionable to give children names deriving from Greece's history and mythology. When someone celebrates their name day, you may be told, Giortázo símera (I'm celebrating today), to which the traditional reply is Chrónia pollá (many years). Friends tend to drop in, bearing small gifts, and are given cakes and sweet liqueurs in return.