GULET CRUISING HOLIDAYS IN TURKEY
Gulet Holidays in Turkey:  When you book gulet sailing holidays in Turkey or Blue Voyage or Blue Cruise in Turkey, you are venturing into an age-old nautical tradition. Gulets are traditional, handcrafted wooden boats with two or three masts. Although other countries such as Italy, Montenegro, and Croatia, use gulets, Turkey has an esteemed and long-established reputation for making gulet boats, especially in Bodrum and Bozburun, two coastal hubs on the west and southwest coast.
Gulets (pronounced goo-lets) are wooden schooners that have been used for fishing and sponging around the Mediterranean for many years. From the 1970s onwards, they became a popular way to ferry tourists around the bays of the Aegean region from Bodrum and Marmaris. Today many gulets are equipped for liveaboard cruising, with private, en-suite cabins and often very luxurious amenities. Most are now powered by diesel engines for reasons of cost, but some do still sail when the wind is right – you'll find a few of these among our trips. Stylish, romantic and wonderfully relaxing, there's no better way to see the Turkish coast than by gulet.
Where to take a gulet holidays in Turkey
The most popular places in Turkey to take a gulet cruise are around the Gulf of Gökova, usually departing from the historic city of Bodrum, and along the Lycian (Turquoise) Coast, from towns such as Marmaris and Fethiye or Antalya gulet cruise. Once you're comfortably settled aboard, days are spent travelling sedately along the coast, or between islands. In the evenings you'll moor up either in a quiet bay which perhaps your captain is one of the few people that knows, or in a busier harbor where you can pop ashore to eat in a local restaurant.
Because gulets are small, often limited to around 12 passengers, they can reach places that larger cruise ships cannot. Even in the height of summer, then, it's possible to find a remote and peaceful beach or snorkeling spot with no one else for miles around. Gulet Holidays in Turkey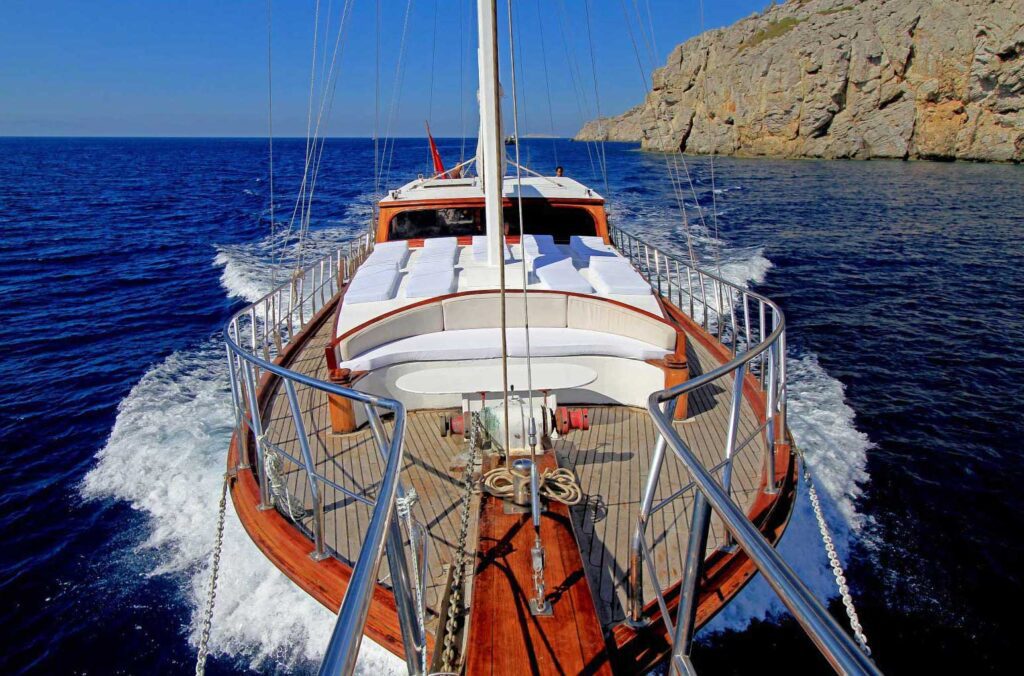 Gulet Cruise & walking holidays in Turkey
Because a gulet can anchor up so conveniently, there are practically endless opportunities to do a little hiking, with some of the best found on the Lycian Coast. Ancient trails lead you through scented pine forest, around winding pathways in little fishing villages, or to ruined hilltop settlements with their roots in mythology that offer breathtaking sea views. Don't fancy walking one day? Just stay on the boat, catch up on your reading and take a nap after lunch under the canopy.
Gulet Family cruising and Age restiction
Gulet holidays in Turkey are a wonderful idea for a family holiday; they will often go neglected in favor of activities such as swimming, snorkeling and kayaking. Kids may even be able to help the crew with their day-to-day tasks. Itineraries are pre-planned but as with many small group trips, there is potential for flexibility and free time among yourselves.

The minimum age for children on chartered cabin gulet vacation trips is generally over 12. In case the children are under 12 years old, we highly recommend to take a private boat trip.
Contact us for a private cruise package

Turkey Gulet Cruising Practicalities
Planning
Descendants of the traditional fishing vessels that for centuries plied their trade in the Mediterranean, modern gulets originated from the Turkish city of Bodrum in the Gulf of Gökova. The reason for their popularity is their compact size. Gulets can explore parts of the coast that larger boats cannot – like tiny, floating, boutique hotels.
How to travel light?
If you really want to travel light for your Turkey gulet cruise, you could pretty much get away with a swimsuit and sun screen, as many boats provide everything from towels to snorkeling equipment. But suitable footwear for shore excursions is useful
Cruising and saling
Gulets travel for around three to five hours every day. During the summer months, strong winds known as Meltem can blow up from nowhere, which are useful for sailors of course but can sometimes result in rougher conditions. Gulets normally stay close to the coast, able to find shelter when necessary, but it's rare that the sea gets so choppy that that becomes necessary. Boats with sails also have diesel engines fitted for when there is no wind.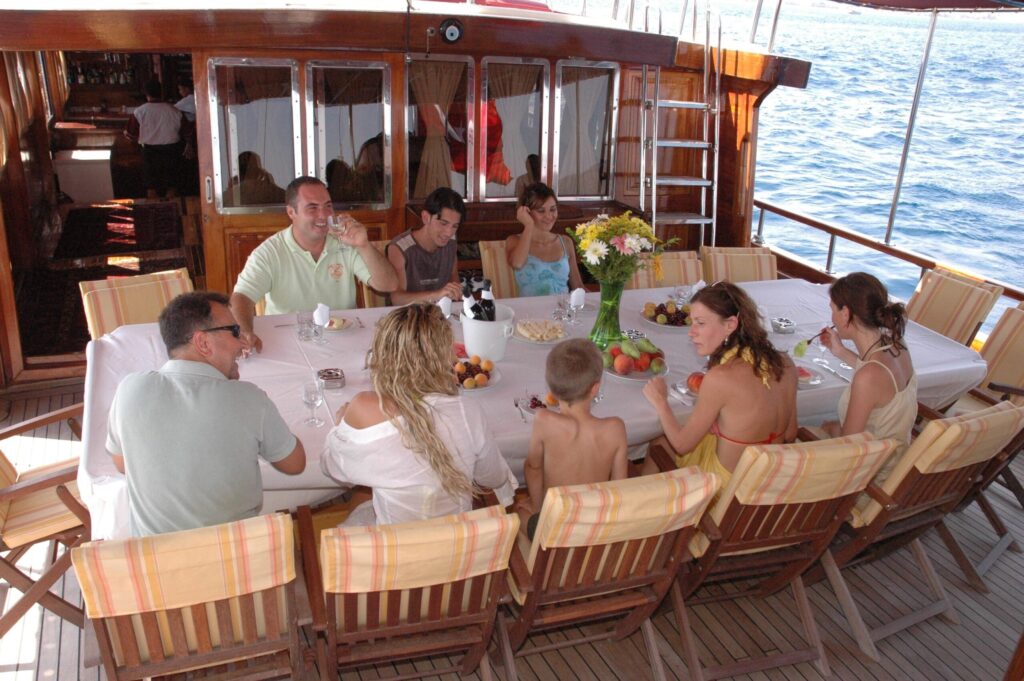 Optimum Duration
Gulet holidays in Turkey usually last for around eight days, or fewer if they are added on to the end of a walking and cultural tour. As they are small group tours, they travel on fixed dates typically between April and October, with the summer months being busiest. Many boats have a professional chef onboard to prepare meals, and most dietary requirements can be catered for if the operator is advised beforehand.
Cabins
You'll have a private, en suite cabin but don't expect to use it much. In all likelihood you'll spend the majority of your time up on deck in the company of fellow passengers, and if the weather is warm enough, perhaps even sleep there too.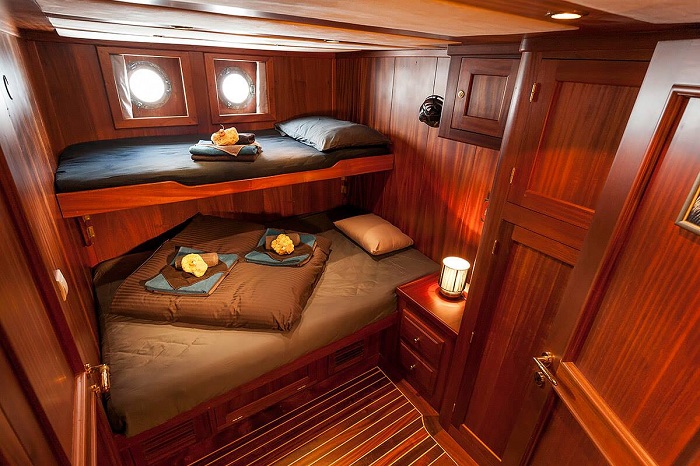 Ideal for
Ideal for couples, families and solo travelers, from the Turkish and Greek Aegean you can make your gulet cruise as active or as relaxed as you prefer.
Why take a gulet holidays cruise in Turkey?
Chances are your first gulet holidays in Turkey won't be your last; these wooden schooners bring plenty of style to the open seas. To travel aboard a gulet is to be supremely relaxed. Long lunches in the sunshine, card games beneath the deck canopy, snorkeling over coral reefs or underwater ruins in the warm water – you may be tempted to stage a mutiny when it's time to return to port. Because of their small size (with space for around 14-16 guests), gulets can access bays and inlets that are out of reach to larger vessels, and when you cruise rather than daytrip, you can overnight in these places enjoying glorious seclusion. Island hopping for a week around the Aegean Sea or the Med, dining on fresh regional cuisine in peaceful fishing villages, takes some beating.You might discover the legends behind ancient sites such as Cleopatra Island or the Museum of Halicarnassus in Bodrum or spend quality time with the kids on a family cruise, as they live it up with activities from stand up paddle boarding to scuba diving, even water skiing.
Life aboard ship
Gulet cruises can get pretty luxurious. You'll have a private cabin with an en-suite bathroom and shower, though some passengers prefer to sleep on deck when the weather is warm. Depending on the vessel you may also have adjustable aircon, orthopedic beds dressed with fine cotton linen, Wi-Fi and a stereo docking system. Communal areas will be reasonably spacious and comfortable, and many gulets provide charging stations for your devices, as well as the essentials such as bedding and fluffy towels, and a bar.
A typical cruise lasts for around eight days, so you could add on a few days at the beginning or end to spend a little more time on an island, or explore the mainland. Shorter cruises, two to three nights, are frequently tied on to the end of longer cultural tours in destinations such as Turkey. Most modern gulets travel on diesel engine power; however, some do still have sails they will hoist when conditions are right. Boats usually stick fairly close to the coast, travelling from place to place and mooring up for the night either in a secluded bay or at a harbor.
Meals are prepared onboard by the crew, and with enough notice they will be able to cope with most dietary requirements. Expect plenty of delicious seafood, often caught from the boat itself!
Social cruising
Our gulet cruises are all small group tours, with most boats carrying a maximum of 14-16 passengers who will all know each other quite well by the end of a week at sea. And it's certainly not just an activity for couples; solo passengers looking for a sociable holiday find this kind of trip very rewarding. Gulet cruising holidays are also fantastic for families, especially those with teenagers able to swim confidently and happy to be on a small boat for a lot of the time. They can lend a hand on deck with the crew, or have fun with the onboard 'toys' such as fishing and snorkeling equipment.
What will I be doing each day?
Gulet holidays in Turkey is a pleasingly languid affair. You'll normally travel for between three and five hours each day, pausing for a swim or snorkel here and there, perhaps anchoring up to visit an uninhabited island or tour some ancient ruins. Breakfasts and lunches are cordial occasions, usually taken on deck, and the evenings depend on where you are moored. While the gulet is on the move, there's little to do beyond sunbathing, relaxing under a canopy and getting to know your fellow passengers. Sounds absolutely hellish, right?
Responsible cruising
One of the great joys of gulet cruising is either having your meals prepared for you by the crew, often using locally sourced ingredients, or stopping off to eat in various little fishing harbors. Either way, travelling by gulet is a great way to spread the financial benefits of tourism around communities that don't see great numbers of visitors. Gulets tend to be locally owned and operated too, hired out by the season to different operators.
Best time to go on a gulet holidays in Turkey
Modern gulet cruising has its roots in the Turkish tourism industry, when schooners were hired from Bodrum and Marmaris to explore the picturesque Aegean bays. Summer is naturally the busiest time, when you can see dozens at a time out on the water, but mainly day tripping. Gulets on longer voyages can often find moorings that are completely deserted. The best time to go on a gulet cruise, in Tukey  or Greece, is late May to Mid June and October. You avoid the summer crowds, and the prices, but the water is pleasantly warm and the scenery magnificent. Autumn is enjoyable for the same reasons, but restaurants and other attractions on some Aegean islands may be closed in advance of winter.
Turkey's main gulet cruising season is from April to October, and this is one of the most popular destinations to set out on a trip, with over 1,000 vessels of varying quality in these waters. Gulet cruising is fantastic fun for families too, with most trips departing through late July, August and September.If your gulet has sails, then the meltem winds of June and July are ideal for moving at a fair clip. Although they're not considered hazardous, the seas can be rough when they are very strong.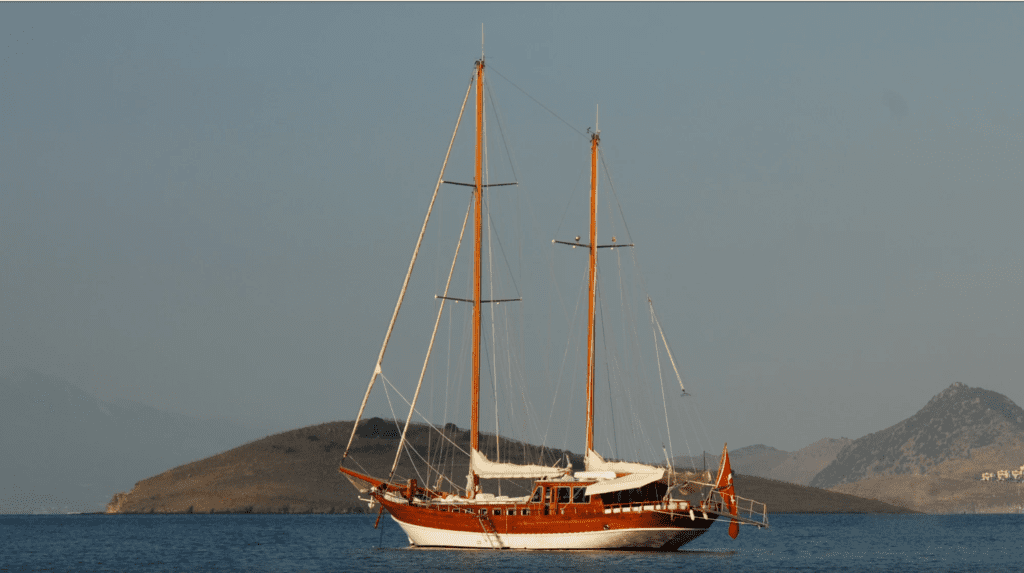 Are Gulets Seaworthy?
Yes, these boats are extremely hardy, and every year during winter, the owners dock into the shipyards for maintenance and upkeep. Gulets are a specialized vessel, and different from a yacht. The latest materials and techniques are used in yacht construction. Hence the industry is always evolving because the primary purpose is sailing long distances, even around the world. Whereas short, coastal cruising is what gulet boats are designed for.
How much does a private gulet cruise cost?
There really are gulets for all budgets ranging from vessels designed for 6 to 8 guests costing from €4,200 for a week to super yacht style gulets designed for up to 12 guests that you can book from €136,000 per week.
Eskapas have standard, luxury and deluxe grade gulets, and can help you find the best option for your family and within your budget. Please contact us.
How much does a Gulet Cabin Charter cost?
Depending of the season our gulet cabin charters prices vary between 360€ to 800€ per person in Turkish coasts.
However, a gulet cruise to Dodecanese Islands from Bodrum may vary between 700-1100€ per person in sharing double cabin.  Please contact us.
Best Routes to book