Kas , The Mediterranean at your feet
Introduction
Kas Travel Guide : Kas is a very cute little town that shouldn't be skipped on your road trip along Turkey's turquoise coastline. It offers beautiful beaches, great food, shopping and a lot more. The town has changed from a small fishing village into a relatively well-to-do town but it's still characterful and enjoyable to explore. It's more of a locals' town than nearby Kalkan, and has a more laid-back atmosphere. There is a small beach just on the outskirts of the town, but there are numerous rocky bays or decking areas from which to swim.

With its postcard-perfect harbor, Kas is a favored yacht mooring destination in the Antalya Province of Turkey and one of the best places for you to head out onto the sea for some laid-back sightseeing of the many secret coves and islands along the coastline. The town itself is crammed with cute boutiques and lovely cafés, where landlubber tourists can chill out and shop 'til they drop. While the sunken ruins around Kekova and Kaleköy are the top historical attraction, plenty more remnants from the Lycian, Greek, and Roman eras are hidden in the surrounding hilly hinterland if you're looking for more things to do. Plan your sightseeing with our list of the top attractions in Kas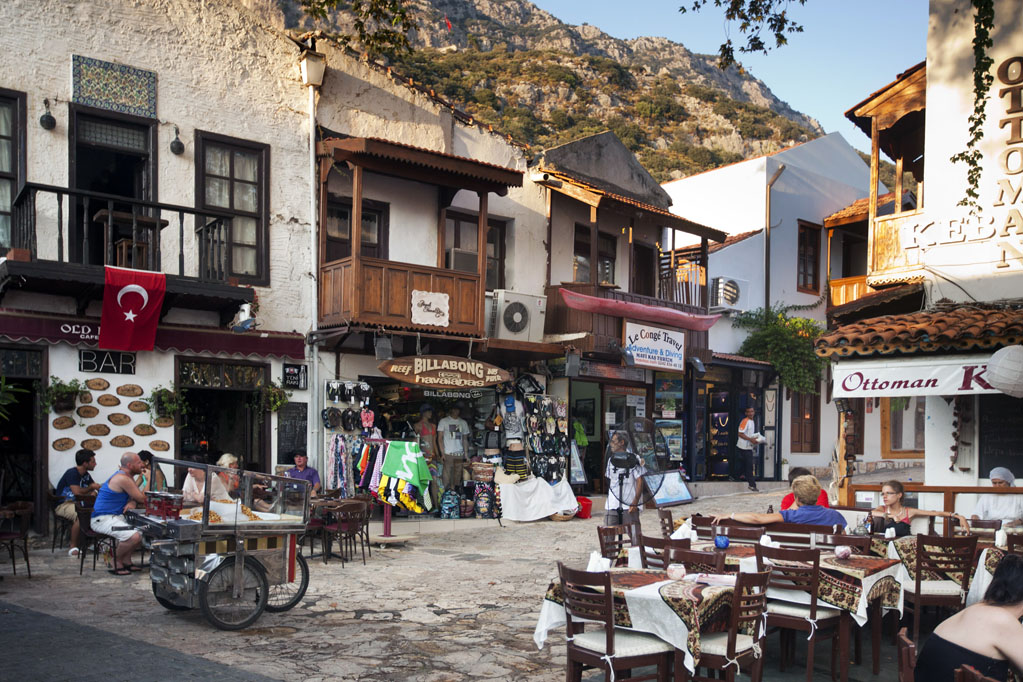 A Little town called eyebrow (Kaş)
A town called eyebrow? Well yes, Kaş means eyebrow in Turkish, and if you have a look on Google Maps, you will quickly understand where this picture perfect little town got its name from.
Exporing the Town and its surroundings
Kaş old town is nestled around its fishing harbor. Fishing boats are still very present but are now surrounded by gullets for daily boat trips and the specially equipped yachts from the diving expeditions. Diving is popular here. It is said to be one of the best places to dive in Turkey. It is easy to see why, with around 50 diving sites within half an hour by boat offering the opportunity to dive into caves and canyons, but also to find wrecks, like the Dakota wreck. If you are staying in the area for more than a few days, why not pop over to Greece to the island of Meis (or Kastellorizo in Greek) which is barely 2km away. It makes a brilliant day out, enjoying both the boat trip, the Greek village, and the stunning views towards Turkey. If you're not much of a boating person, the harbor area is perfect to admire the turquoise waters of the Mediterranean or have a delicious meal in one of the many restaurants overlooking the sea. Kas also extends out onto the adjacent Çukurbaĝ Peninsula. The views from this expanse of coastline are fantastic, with endless sea stretching to the horizon, broken only by yachts and small, forested islands. There is plenty to do around the area, with Lycian rock tombs, an ancient underwater city close by and a variety of outdoor activities on offer, including walking and cycling. Taking a boat trip around the local coastline and coves is highly recommended
Go on a day-trip to Greece, Meis Island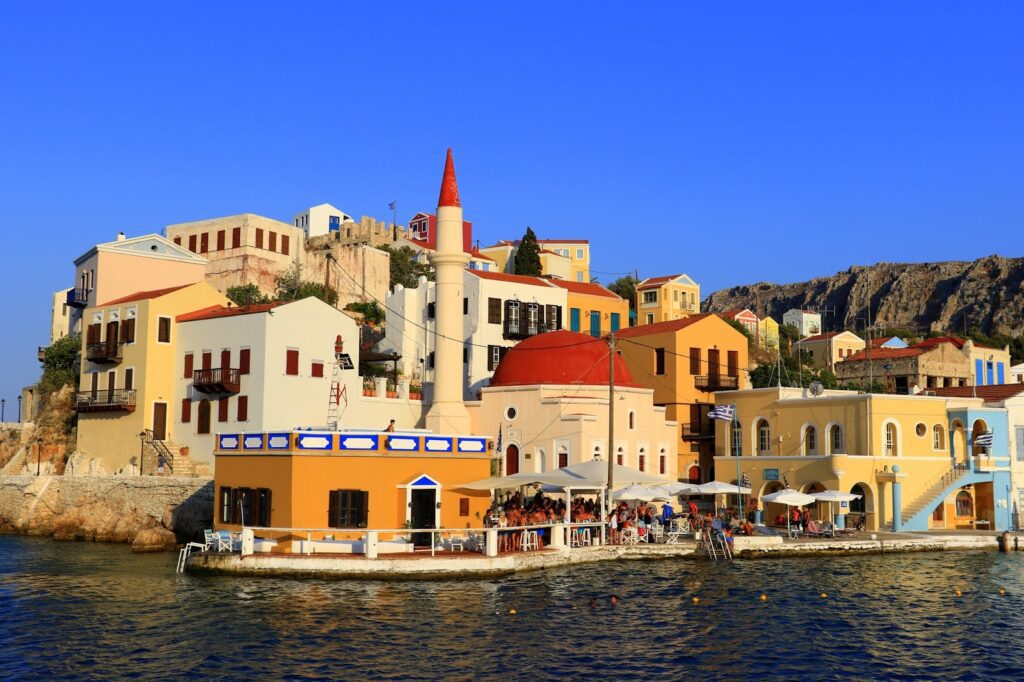 Just offshore from Kas is the geopolitical oddity of the island of Meis. Despite only being a 20-minute ferry hop away from shore, Meis actually belongs to Greece (and is known as Kastellorizo in Greek). A day trip here from town means you're actually crossing an international border. Meis has plenty to keep you occupied for the day. The most popular things to do include boat trips to the island's coastal caves and some great hill hiking to abandoned church ruins. The harborside village is also gloriously cute, with plenty of cafés and all its buildings decked out in pastel shades. Two ferries run daily from Kas, and if you're heading to Greece, you can also continue on to Rhodes from here on weekly ferries
Paragliding in Kas
Paragliding is popular along the whole turquoise coastline of Turkey. We did this ourselves in Fethiye. Kas is, like Fethiye, a popular place to tandem run of a mountain. While this isn't a thing for everyone, we highly recommend to do it. The feeling of just floating through the air and the view is an experience you won't forget that quickly.
Visit Kaputas Beach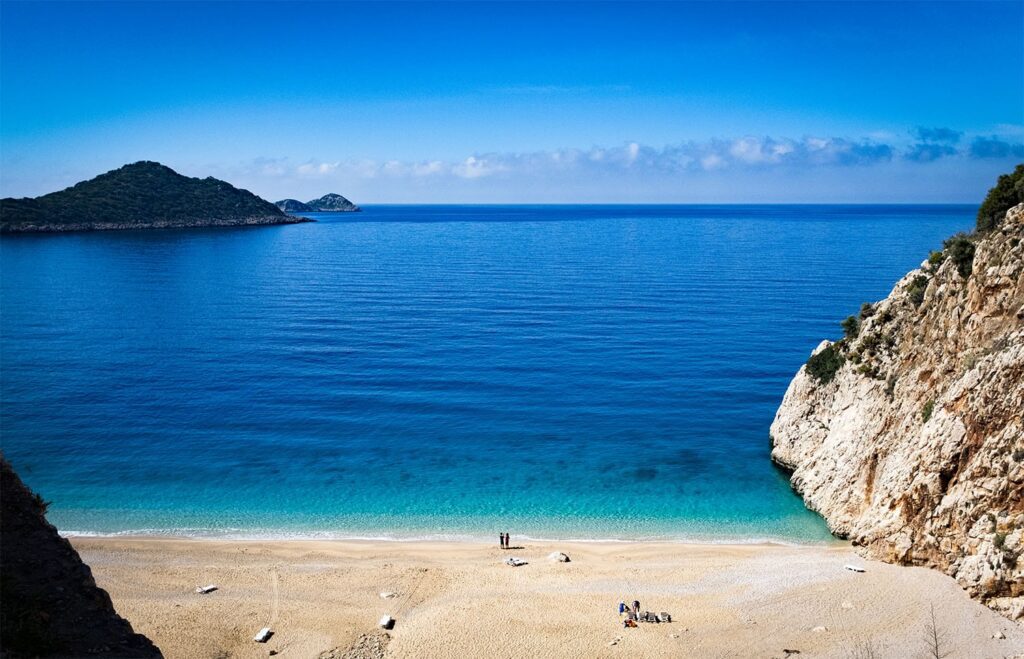 Just a 30-min drive from Kas is one of the most beautiful beaches we've ever visited. Kaputas beach is popular for its unbelievable turquoise blue water and location. Kas is all about the sun, sea, and sand. Along the surrounding coastline are plenty of perfect white strips of beach to lay down your towel. Kaputas Beach (between Kas and Kalkan) is one of the most popular, and during summer it can get busy with fellow sun-seeking tourists.  If the crowds put you off, head to the lovely beaches of Liman Agzi, on the opposite peninsula. They can be easily reached by a water-taxi from Kas harbor if you don't fancy a long stroll along the shore
Explore Kas Streets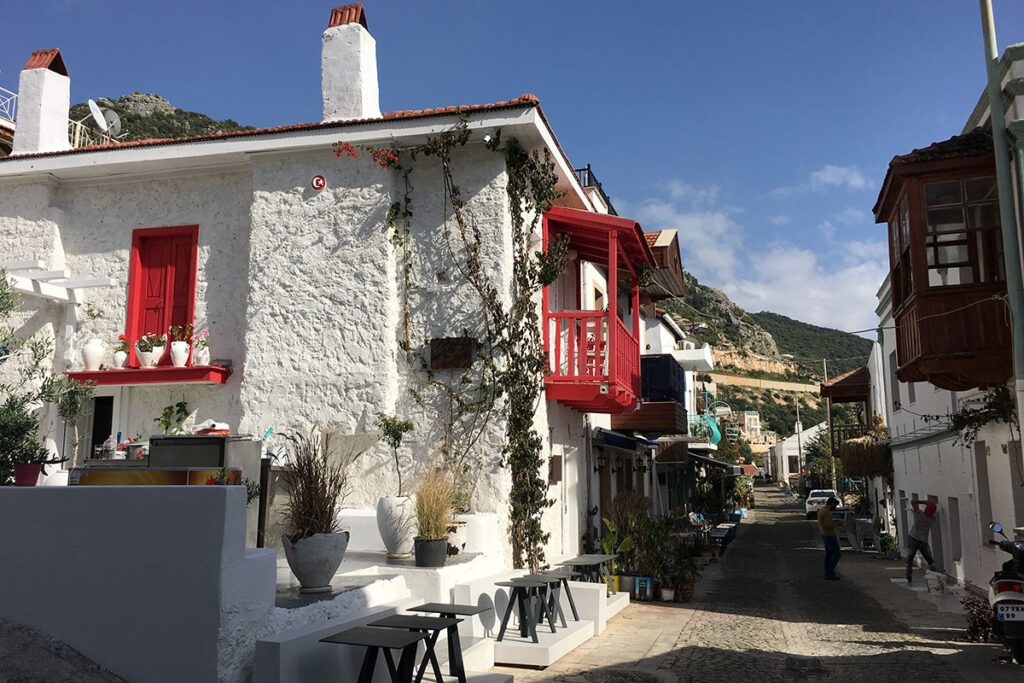 The streets of Kas are gorgeous. It is small and easily be explored in one or two nights during your Turkey Route. Spend a night here, wandering around, look inside a handicraft shop or have a bite at one of the great Turkish cuisines.
Canoe Over the Ancient City of Simena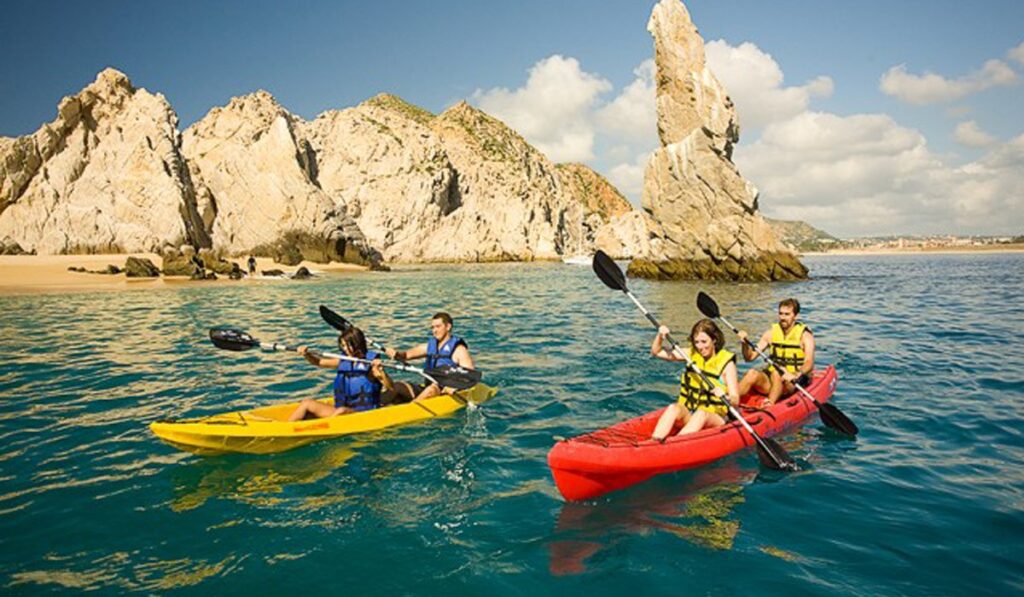 The offshore island of Kekova is one of the most interesting attractions near Kas. The island is famous for the underwater ruins just offshore known as the sunken city. The best way to get here is by a yacht or boat cruise from Kas or Üçagiz, as the boat can take you right up to the ruins. Alternatively, kayaking trips to the sunken city are extremely popular and allow you to get an even better look below the surface. Departing Kas harbor, this private yachting trip in the Kekova area is a luxurious and relaxing way to sample the gorgeous coastal views on a full day cruising the turquoise waters with an itinerary mixing stops to swim and explore island trails.  For something more active, the group sea-kayaking tour allows the closest views of Kekova's underwater ruins as you skim across the clear sea surface, spotting crumbled stone remnants below. These trips also include visits to the ruins of Kaleköy Castle onshore. Overland transport from Kas to Üçagiz (launching point for the kayaks).  A big earthquake that struck the ancient city of Simena flooded it. Tombs are sticking up out of the water, and you can paddle above walls and among churches and houses built on hills that have been turned into islands.
Swim at the Caretta Turtle Beach in Patara
The silky sand stretches for 18 kilometers, making Patara Beach one of the most important breeding grounds for the caretta caretta sea turtles in Turkey.For that reason, there are a couple of things you have to be careful of here. Don't set up an umbrella in the sand, as you could be harming a baby sea turtle that has yet to hatch.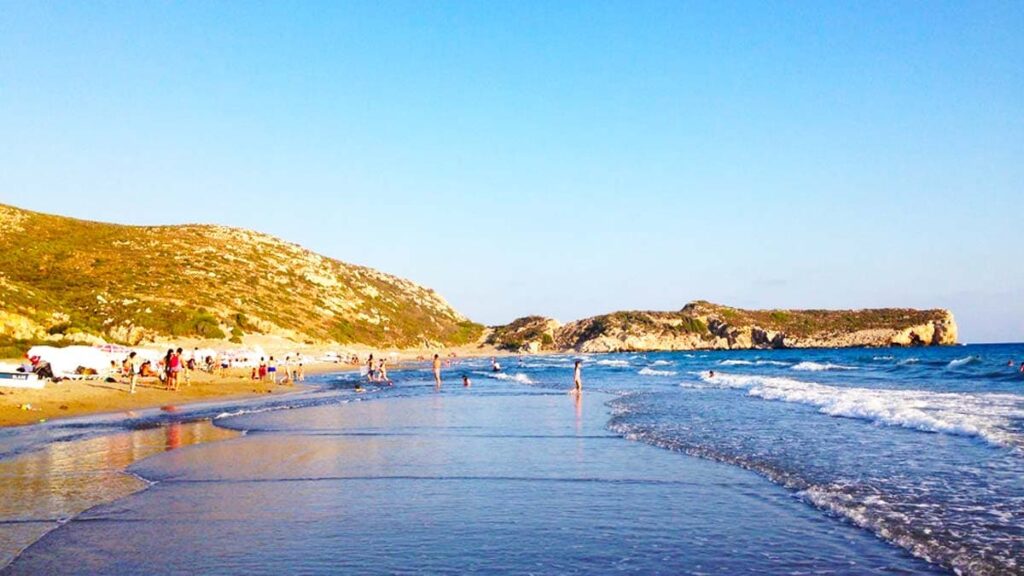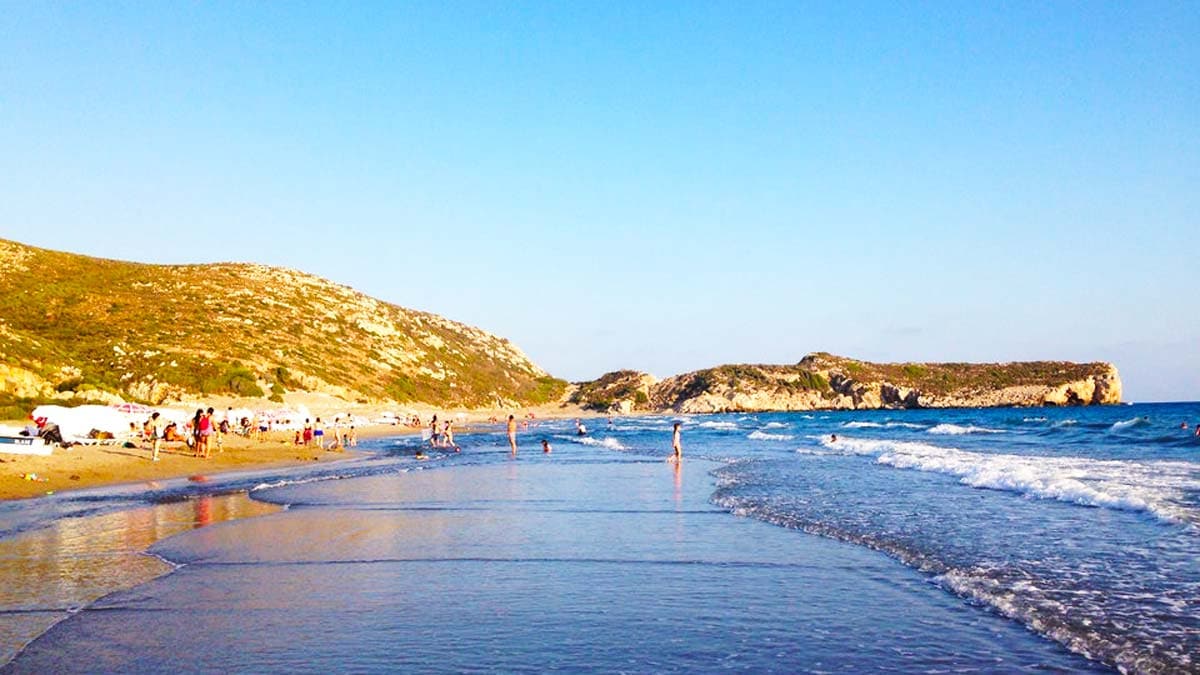 Explore Ancient Cities
Take a break from the sea, sand and sun to explore the historical riches of this unique geography. Although the ancient cities here are not as well known as other places such as Ephesus, Aspendos and Hierapolis, there are some worth seeing on the border of Kas-Kalkan. We recommend checking out the Antiphellos Antique Theater, Xanthos Antique City and Patara Antique City
St. Nicholas Church
Santa Claus comes from Turkey. Demre (ancient Myra) had grown into a prominent town by the 4th century, and St. Nicholas (who would later enter Christmas-lore as jolly St. Nick of presents and reindeer fame) was famously the bishop here. The medieval domed Basilica of St. Nicholas is an important pilgrimage destination for those of the Orthodox Christian faith and has been preserved in its original 11th-century form, with some remains of frescoes in the apse and on the walls. Demre is an easy day trip from Kas
Myra
Just inland from the center of Demre are the remains of ancient Myra. Some well-preserved Lycian rock tombs are hewn into the cliff face, and there's also a large Roman theater, which has been wonderfully restored. It's an atmospheric site, with sculpted masks chiseled into rock leading up to the theater and the rock tombs looming above. Combining St. Nicholas Church and Myra together in a trip is an excellent day out. You can easily walk to Myra from the church if it's not too hot, but remember to buy water before you set out from Demre center and slap on some sunscreen and a hat.
Limyra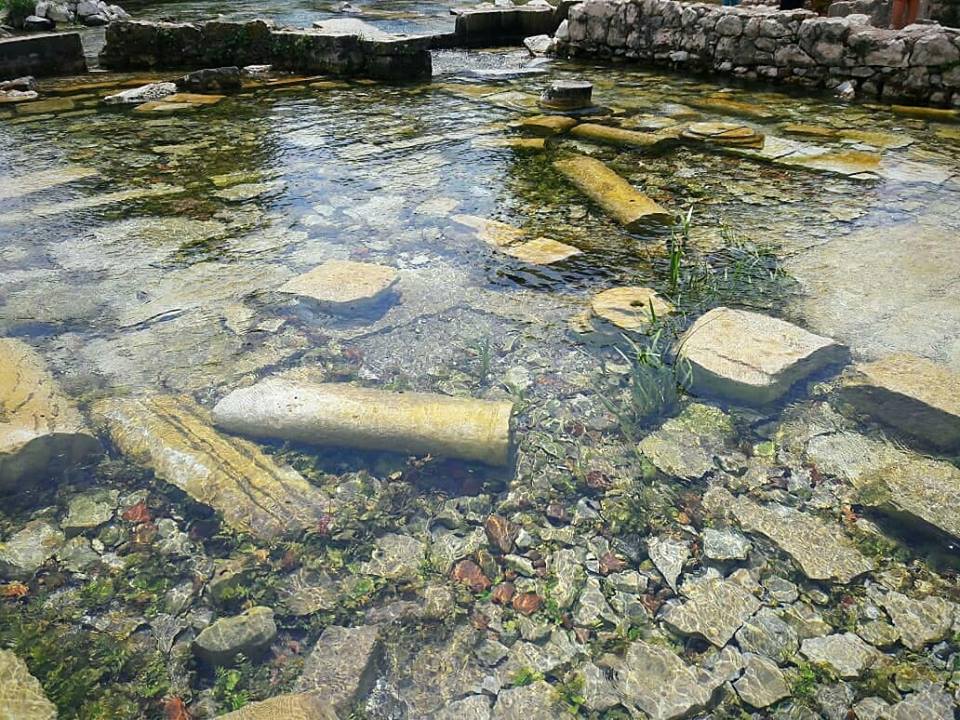 The ancient town of Limyra, about 81 kilometers east of Kas, dates from the 5th century BC and is one of the oldest settlements in Lycia. On the hill to the north of the site, an upper and lower acropolis can be seen, with remains of a Byzantine church and Roman theater. On the crag to the south stands the Heroon of Perikles (370 BC), hewn out of the rock in the form of a temple. There are also three large Lycian rock tombs. All the ruins are severely weathered and not well preserved, but the lost-in-time atmosphere is hard to beat. It's a good stop on a road trip taking in the surrounding sights of Demre and Arykanda
Andriake
This ancient, silted-up harbor sits in the marshlands area, six kilometers west of Demre, with the ruins of an impressive granary, as well as a temple, marketplace, parts of the harbor walls, and a number of chapels still in good condition. The name of Antiochus III was linked to the town as early as 197 BC and it was an important Mediterranean port during the Roman era. Outside the walls, an extensive necropolis lies on the northern slopes behind the nymphaeum. In the southeast corner, two watchtowers stand on either side of a protective wall
Kyaneai
This Lycian town was prosperous up to the 4th century AD. There are a number of sarcophagi and several rock tombs to scramble around, as well as the remains of a marketplace and the once enormous town walls. The large theater is the highlight of the site and has 25 rows of seating. Superb views are on offer if you climb to the top seating tier. Kyaneai only gets a smattering of tourists daily, which imbues the entire site with a lost-world feeling
Arykanda
A day trip to the Hellenistic ruin of Arykanda, 72 kilometers northeast of Kas, is well worth it. The site terraces dramatically down a slope of the Akdag Mountain, with many well-preserved monuments to explore. The stadium on the highest terrace is comparatively small, dating from the Greek era but restored by the Romans. Below the stadium is a near-intact Greek theater with 20 rows of seating and some inscriptions still visible on the top row. The Odeon, on the lowest terrace, is 75 meters long with a mosaic floor. Stretching out in front is the galleried marketplace, while to the west lies the Bouleuterion. The Baths are situated to the south and are among the best-preserved buildings, with the frigidarium and caldarium still in fine condition. A semi-circular viewing room here provides a wonderful view over the Arykandos Valley
Dive to see a sunken Dakota
The ground, rocks and water in Kas are all precious. Thanks to Kas' untouched ecosystem, you are very likely to see both fish and sea turtles. And because the waters are so warm, there are also semi-tropical fish. The waters here also offer a sunken ship and tank and an impressive underwater valley.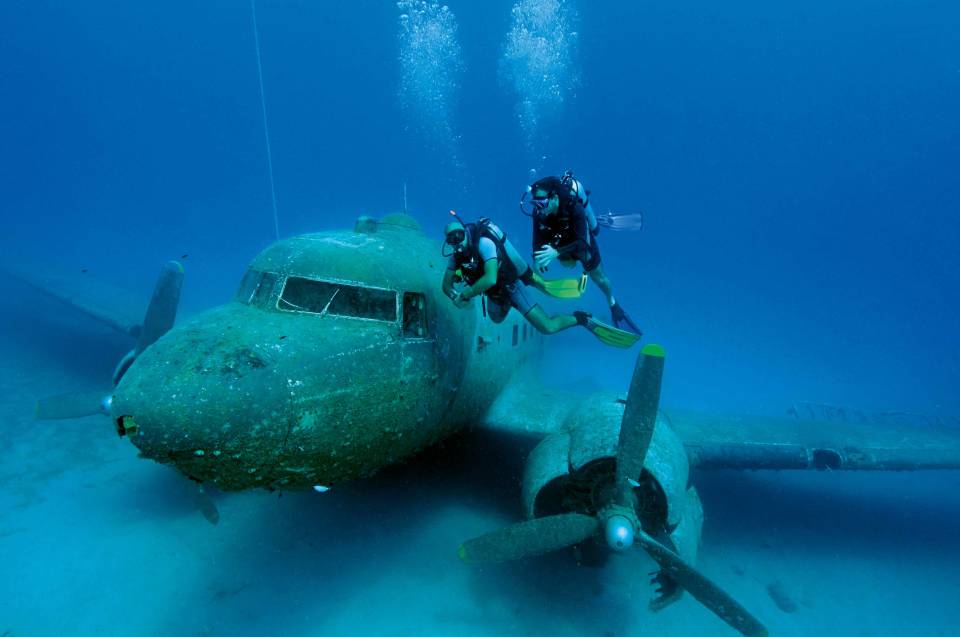 Try Canyoning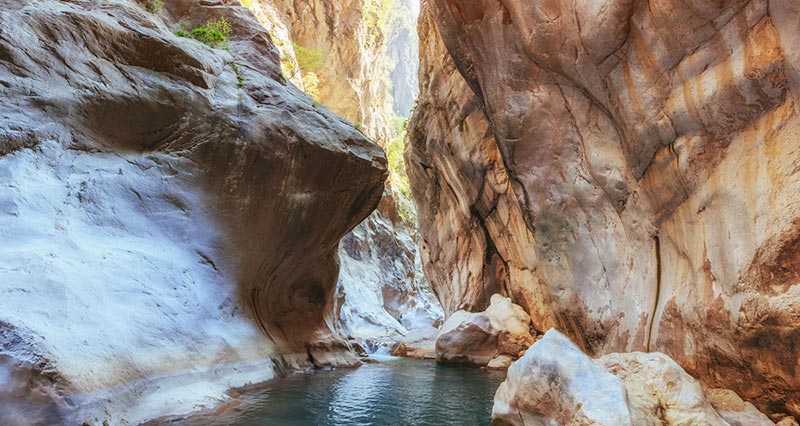 Canyoning is one of the most amusing and adrenaline-filled nature activities – not just in Kas, Turkey too. Canyoning involves some canyon trekking, a bit of climbing, and jumping into rivers or ravines (as you can see in the photo). Kas is one of the few ideal places in the world where you can do this and, more importantly, there are regular canyoning tours.
How to get there and other practicalities
First of all, when visiting the town, it is good to know how it is actually pronounced. The closest description would be to say it like you say cash. The 'a' will sound a little different, but at least, you'll get the end part right. Now we've got this covered, let's see how to get to here. There's a reason Kaş is still relatively unspoiled; it takes a while to get there from the airport. You can either fly into Antalya or Dalaman airport. Count on a transfer of little over 3h from Antalya (AYT), and just over 2h from Dalaman (DLM).  If you are driving yourself, and you're coming from Fethiye or Kalkan, you'll get a hell of a treat enjoying mesmerizing sea views along the scenic coastal road. Using public transport is cheap and convenient. There are frequent and inexpensive buses from the surrounding resorts including Kalkan, Fethiye, Çıralı, and Antalya. You can find more information on traveling by bus in Turkey on our Turkey Travel Resources page. You'll find plenty of boutique hotels in town that are just as charming as the town itself. Take the time to explore the area, hop on a gullet to the sunken city of Kekova, and don't forget your hiking shoes to conquer the Lycian Way, or your paperwork if you plan on heading to Greece.
Best Short Break Package in Kas