Istanbul Flea Markets : Unique Souvenirs
Introduction
Istanbul Flea Markets : Istanbul has witnessed the rise of many different empires as well as cultures and religions. Therefore it's no surprise that the Turkish city's flea markets and thrift stores have plenty to offer from various decades and eras, whether visitors are looking for a pair of fashionable sunglasses or a used piece of beautiful furniture. Antique items or pre-owned items have a story to tell. And there is something enticing about the hunt – digging through mounds of items to find something that speaks out to you. It doesn't have to be a hundred years old or of any monetary value or it can even be a reproduction – it just has to appeal to you. A house with too many antiques could be an overkill. Carefully chosen pieces that live well together and have their own space to shine, is the key. Related: Istanbul flea markets
Uskudar's flea market
One, or maybe even the last, of the bazaars in Istanbul where a bargain is still to be found. On a Saturday afternoon the empty shops and busier workshops have a sleepy atmosphere – a shopkeeper actually remembered me from when I bought my first furniture on arrival to Istanbul 20 odd years ago. Adress: The Üsküdar Antikacılar Carşısı is Bulgurlu Mescit Sokak 21 (behind the Yunus Emre Hastanesi)
Feriköy Flea Market
One of Istanbul's most popular flea markets sets up every Sunday in the Bomonti neighborhood inside an empty car park. Visitors will end up browsing around for a very long time because the market has everything imaginable including antique objects, records, old photographs, cameras, and so much more.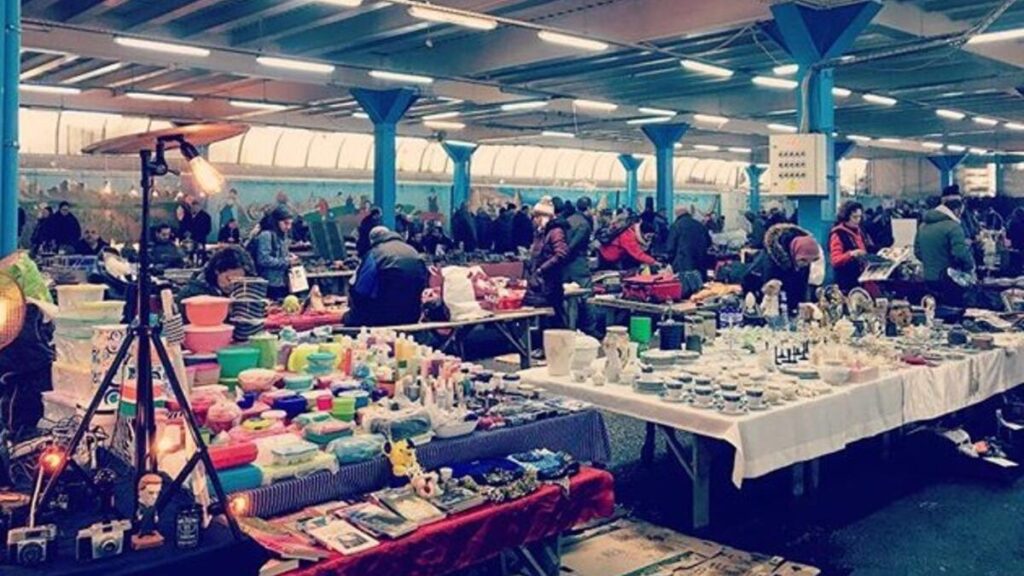 Every Sunday, what is a car park during the week becomes rows and rows of tables covered in priceless treasures lovingly displayed by their owners. From a drill press to Ottoman era 'hamam' (turkish baths) taps and door knobs, we had tremendous fun selecting a range of objects. The irony is that old treasures and the people who are passionate about them, rub shoulders with the trendy residents of the glitzy new apartment blocks of Anthill that tower over this rickety old car park.
Directions: Go to Osmanbey metro (one stop after Taksim), take the Ferikoy exist and head West on Rumeli Cadessi. Walk up Rumeli Cadessi (towards University). Take the first right on to Abide Hurriyet Cadessi, then first left on to Arpa Suyu Sk, keep walking straight down and you will come to Lala Sahahin Sk. Ferikoy market will be right in front of you down a dirt path in a covered car park. The posh Anthill developments will be towering over you. Related: Istanbul flea markets
Adress: Cumhuriyet Mahallesi, Semt Pazarı No:8, Şişli, Istanbul
Beşiktaş Salı Pazarı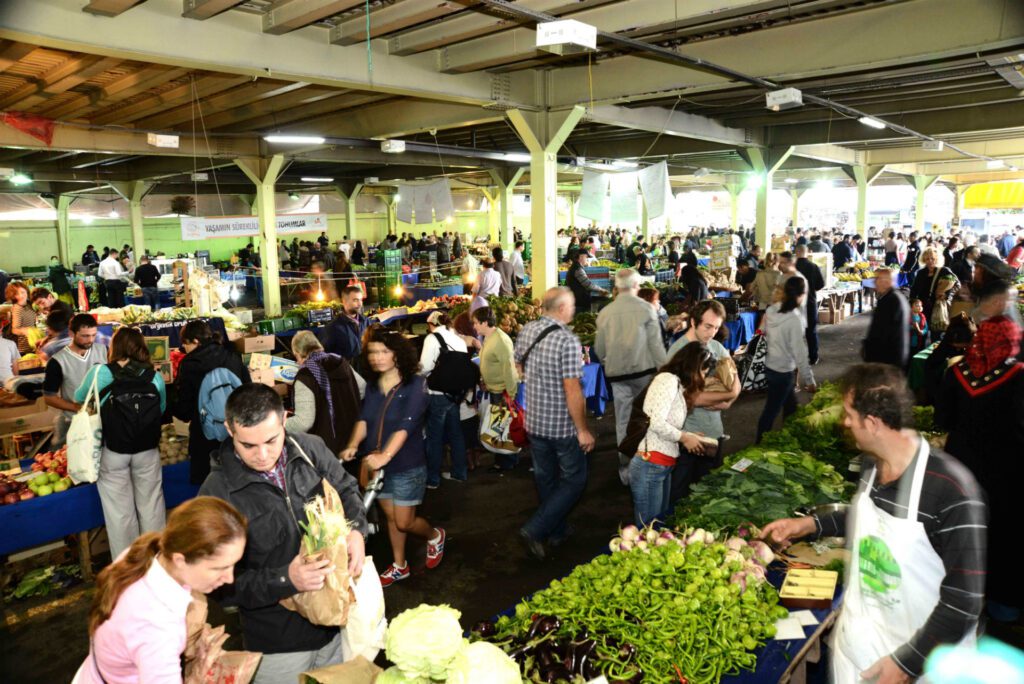 Even though Beşiktaş's neighborhood market every Tuesday is known for its fresh produce, the second floor also happens to be a haven for bargain hunters. You'll find a whole lot of thrifty clothes, textiles, shoes, and underwear usually in huge piles ready for picking and purchasing. Adress: Türkali Mahallesi, Nüzhetiye Cd. Beşiktaş, Istanbul
Horhor Çarşısı
In a non-descript seven storey warehouse in the conservative neighbourhood of Fatih stands the Horhor Bit Pasari. One has to walk quite a bit to find it and you will need a GPS to reassure you that you are going in the right direction. The sellers here are permanent and the silence is errie among the vast floors of opulent, often gaudy pieces.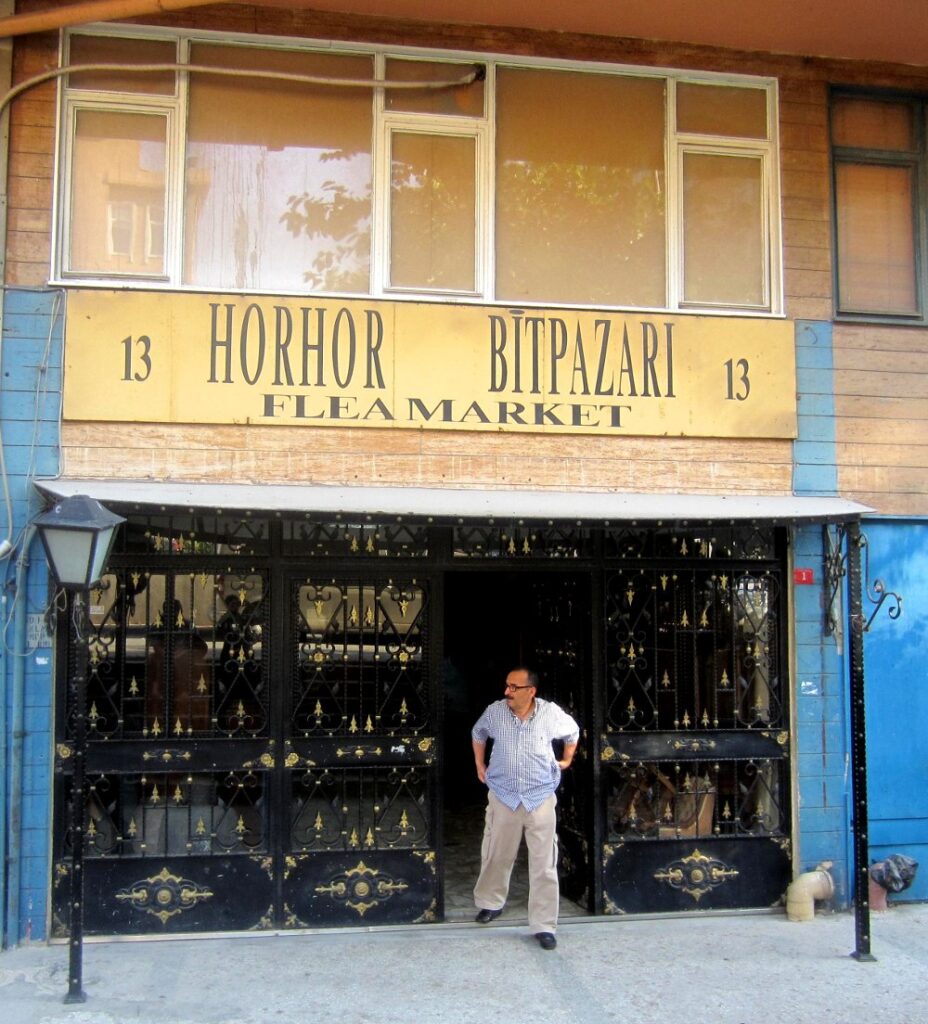 Çukurcuma
For the antique lovers among us, Istanbul's Çukurcuma neighborhood is one of the best places to find unique finds that hark back to an entirely different era. Walk up and down Çukurcuma Road to really check out all the antique shops that have a lot of their goods displayed right on the street. You'll find everything from old black and white photos and post cards to old furniture, lamps, posters, books, and much more. Adress: Çukurcuma, Beyoğlu Istanbul
Kadıköy Salı Pazarı
The 'Tuesday Bazaar' is also held on a Friday and runs from 8am to 5pm on the Asian Side. But get here early. 39,000 metre squared and 1900 stalls of fresh fruit and vegetables of GM proportions (not sure if they were GM though) freshly pressed olive oil in bottles that had no labels, fresh olives of all tastes, colours, shapes and stuffings; dried fruit under large clear plastic domes, cheap clothes, cheap Chinese imports and then right at the end – the junk market. Old bric-a-brac, machine parts, tools, cutlery, utensils, you name it, it was there. Related: Istanbul flea markets
Hire a shopping guide
There are other Istanbul Flea markets. But those are more close to touristic districts.  Contact to Eskapas to hire a cpecialist to have shopping day with a real connoisseur.