Rome Less Than 48 Hours
Introduction
Rome Less Than 48 Hours – Few cities can rival Rome's astonishing artistic heritage. Throughout history, the city has starred in the great upheavals of Western art, drawing top artists and inspiring them to push the boundaries of creative achievement. The result is a city awash with priceless treasures. Ancient statues adorn world-class museums; Byzantine mosaics and Renaissance frescoes dazzle in art-rich churches; baroque facades flank medieval piazzas. Stroll through the center and without even trying you'll come across masterpieces by the titans of European art – sculptures by Michelangelo, paintings by Caravaggio, frescoes by Raphael and fountains by Bernini.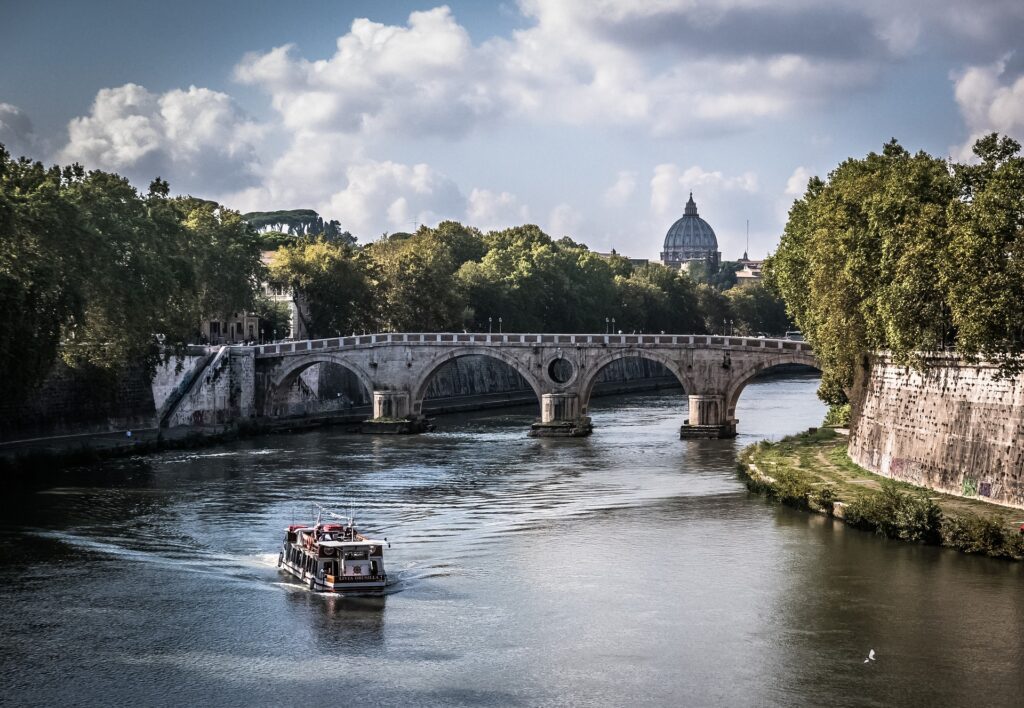 A trip to Rome is as much about lapping up the dolce vita lifestyle as gorging on art and culture. Idling around picturesque streets, whiling away hours at streetside cafes, people-watching on pretty piazzas – these are all central to the Roman experience. The tempo rises in the evening when fashionable drinkers descend on the city's bars and cafes for a sociable aperitivo (drink with snacks) and trattorias hum with activity. Elsewhere, cheerful hordes mill around popular haunts before heading off to hip cocktail bars and late-night clubs. Read best restaurants in Rome and best hotels in Rome articles too
Rome City-Break
Let's Start Our 48-Hour Challenge  
Classical ruins and early Christian places of worship stand next to – or sometimes lie beneath – Renaissance palazzos and Baroque fountains. But there are also great neighbourhood trattorias, quirky shops and a buzzing aperitivo scene. The golden rule for visitors? Don't try to cram too much in. Rome moves at a slower pace than many northern cities, and to enjoy it you should take time out in pavement cafés as well as ticking off all the big cultural draws.
Day 1
Morning: Head up the steps of the Capitoline to admire two and a half millennia of history in harmonious Piazza del Campidoglio, laid out by Michelangelo in the 1530s on a site that once bristled with Roman temples. In the centre, emperor Marcus Aurelius still greets you proudly from his saddle, though today's equestrian statue is a replica of the second-century-AD bronze original conserved just across the square in the Musei Capitolini (00 39 060 608).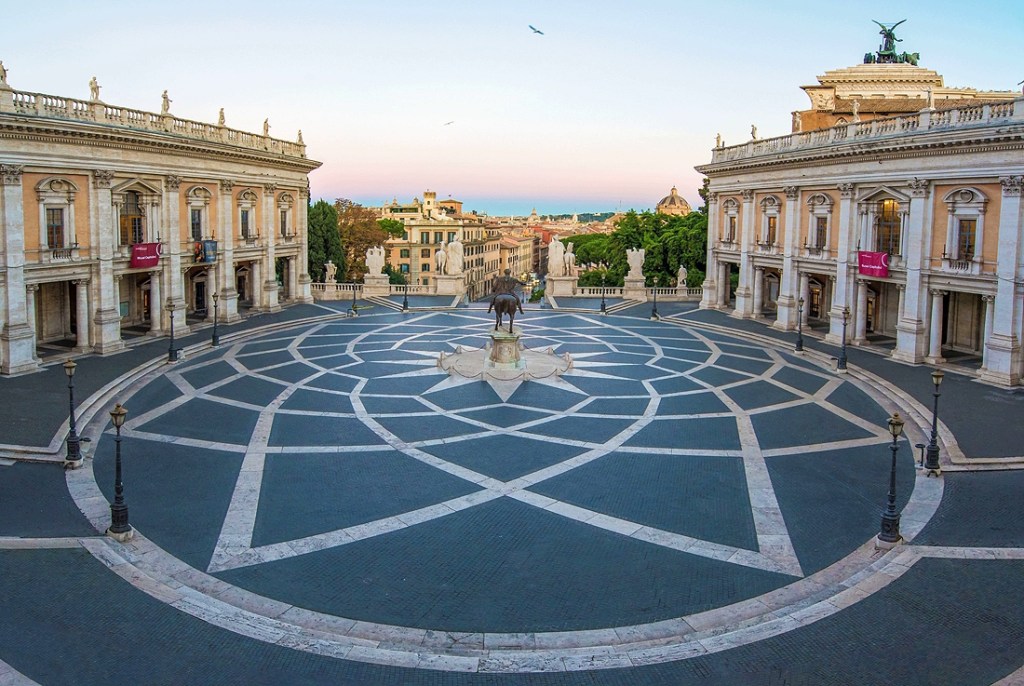 Dodge around the back of Palazzo dei Senatori for a panoramic view of the Forum. Then head across Piazza Venezia to the Antica Birreria Peroni (Via San Marcello 19; 00 39 06 67 95 310), a vintage Roman-style bierkeller, where crowds of appreciative locals and tourists pack in to dine on filling carb and meat fare, washed down with draught Peroni. If you're in a hurry, you can join the local office workers who eat standing up at the bar in the entrance.
Afternoon:  Brave the crowds again and head for the Colosseum/Forum/Palatine complex. Half circus, half sports arena, Rome's most famous classical ruin is unmissable – especially now that they have extended the visitor route to the underfloor passageways through which gladiators and wild beasts made their entrances. Walk from the Colosseum though the Forum to the pretty Palatine Hill, where Romulus legendarily founded Rome, and where emperors such as Augustus built their palaces.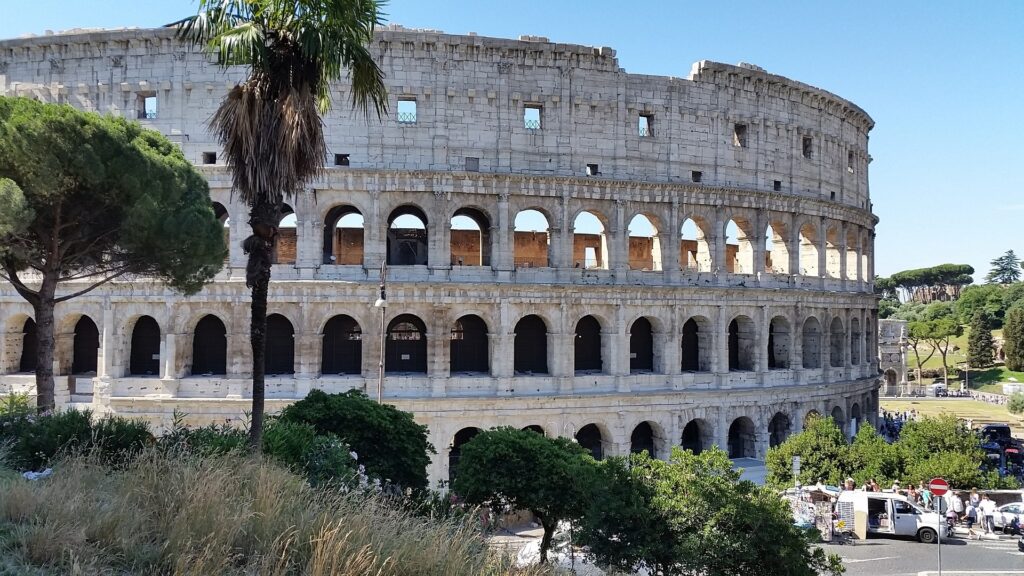 Note: The Colosseum ticket also includes entrance to the Forum and Palatine Hill on the same day; antiquity aficionados can opt for the new 48-hour ticket that includes the three headliners plus the Colosseum's arena floor or the one-day Forum and Palatine SUPER ticket to seven ancient sites newly open to the public, from villas to temples. Both tickets are best booked online in advance.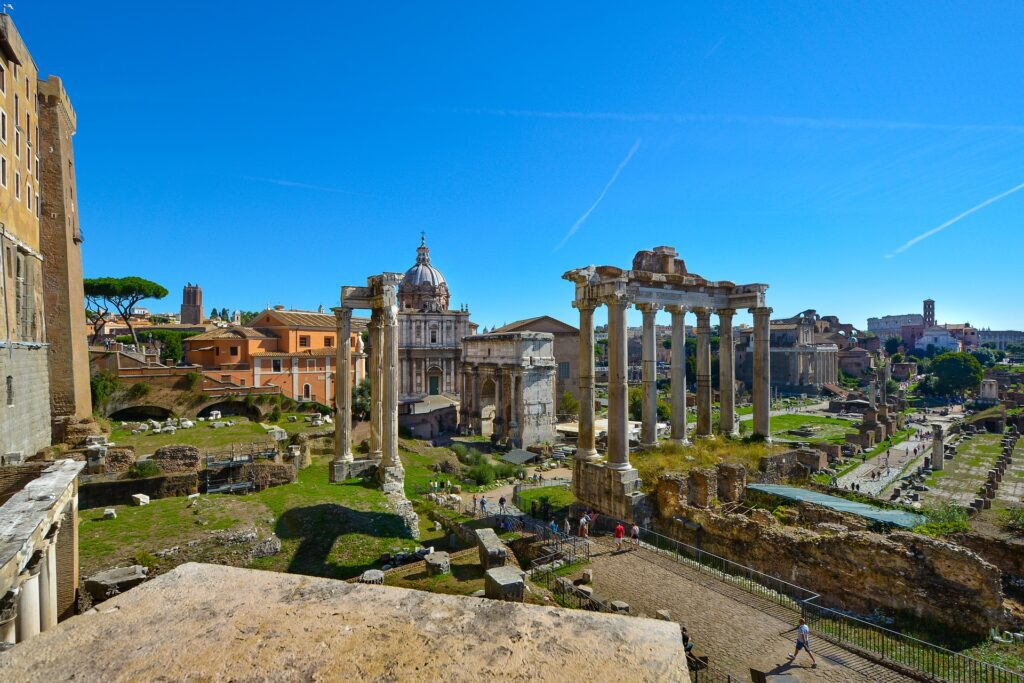 If the throng proves too daunting, head to nearby San Clemente (Via Labicana 95), one of Rome's most worthwhile but least publicised sightseeing treats. This historical layer-cake descends from a street-level medieval and early-Renaissance church, with frescoes by Masolino, via a fourth-century early Christian church to the basement remains of a second-century insula (apartment block), complete with shrine to Mithras.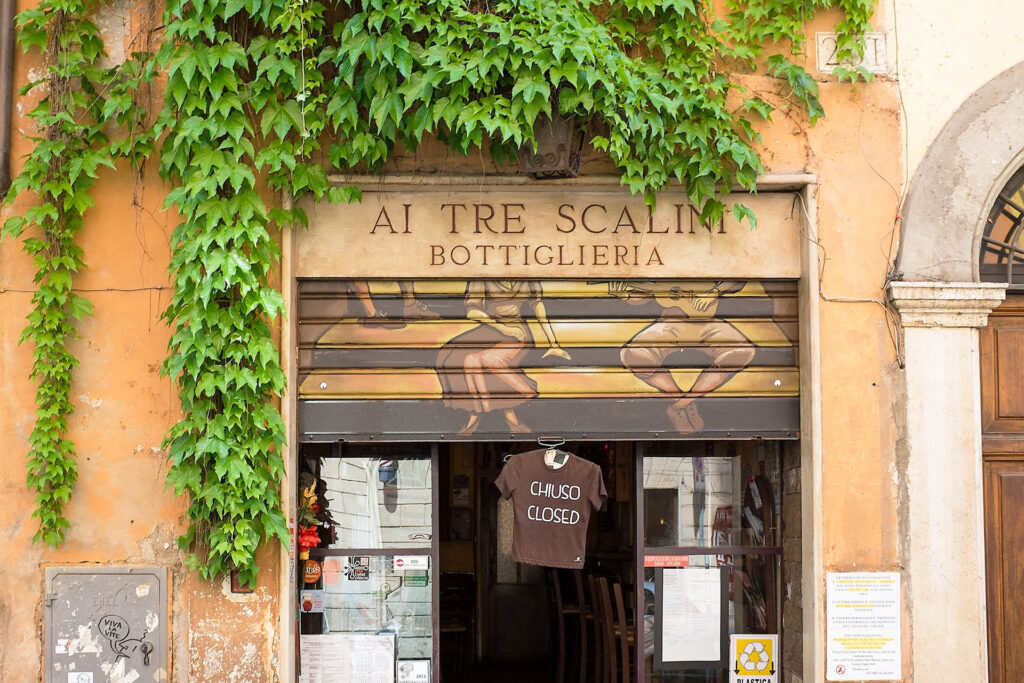 Late: Head into Monti, the chic boho district of cobbled lanes and alternative fashion and vintage shops between Via Nazionale and Via Cavour. Best hunting ground for funky togs, shoes and jewellery is Via del Boschetto, where you'll find good-value restaurant L'Asino d'Oro (Via del Boschetto 73; 00 39 06 4891 3832) serving up gourmet dishes (lamb innards in vin santo with melon and goat's cheese, anyone?) at affordable prices. For an aperitivo or after-dinner drink under an ivy-draped door, old-school wine bar Ai Tre Scalini offers a glimpse of pre-hipster Monti (Via Panisperna 251, 00 39 06 4890 7495).
Day 2
Morning: If you're determined to include the Vatican in your brief Roman holiday, brace for queues at St Peter's, and pre-book your slot at the Vatican Museums (00 39 06 6988 4676) online to avoid an even longer wait there.   Otherwise, start your day with a Roman breakfast of cappuccino and cornetto (croissant) at elegant Bar Rosati (Piazza del Popolo 5a; 00 39 06 322 5859), which at this morning hour still has a relaxed vibe. Then cross the square to the church of Santa Maria del Popolo (Piazza del Popolo 12), an artistic treasure trove in which two strikingly dramatic canvases by Caravaggio stand out.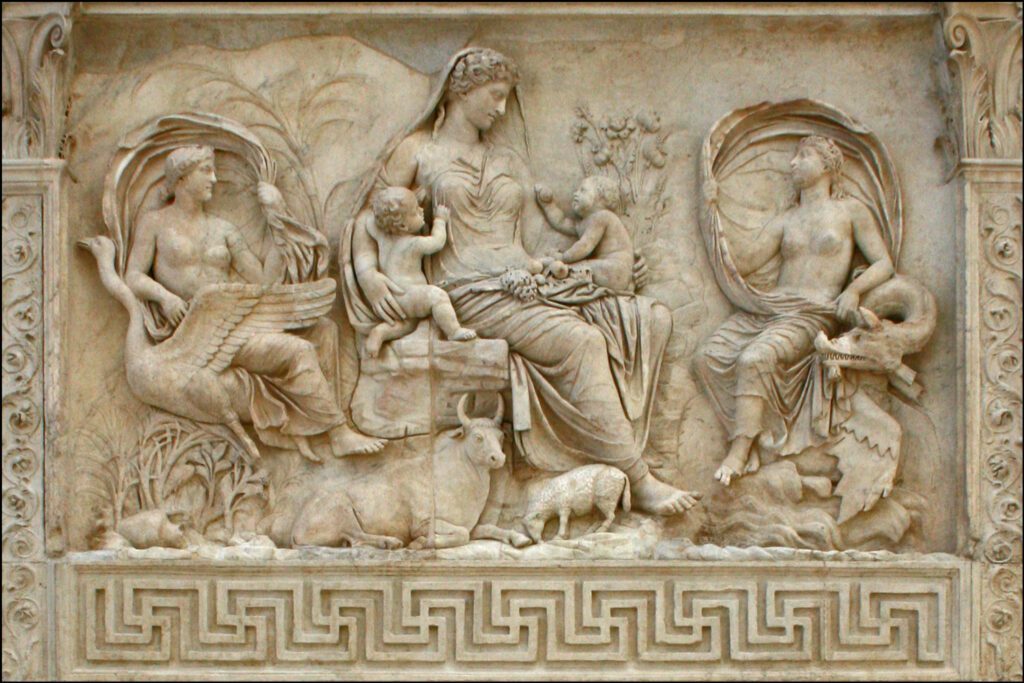 Head for the Ara Pacis (Lungotevere in Augusta; 00 39 060 608), where Richard Meier's boxy museum-container houses a graceful marble altar that honored Emperor Augustus's pacification of the Roman provinces. It's a short stroll to the churches of Sant'Agostino and San Luigi dei Francesi in the piazzas of the same names, with more splendid Caravaggios.
Afternoon: Armando al Pantheon (Salita dei Crescenzi 31; 00 39 06 6880 3034) is a charming throwback to the days when the centro storico was full of family-run trattorias serving hearty old-fashioned home cooking. And its location right opposite the Pantheon (Piazza della Rotonda), Rome's most satisfyingly intact ancient temple, means you can fit in culture and pasta in a single lunch break.
It's a short stroll from here to the Galleria Doria Pamphilj (Via del Corso 305; 0039 06 679 7323), which houses more Caravaggios plus works by Breughels, Titian, Raphael and Velasquez, in an austerely aristocratic setting. You're well placed, afterwards, for a shopping spree, either in the chic (and costly) boutiques of Via dei Condotti and around, or along cheap-and-cheerful Via dei Giubbonari.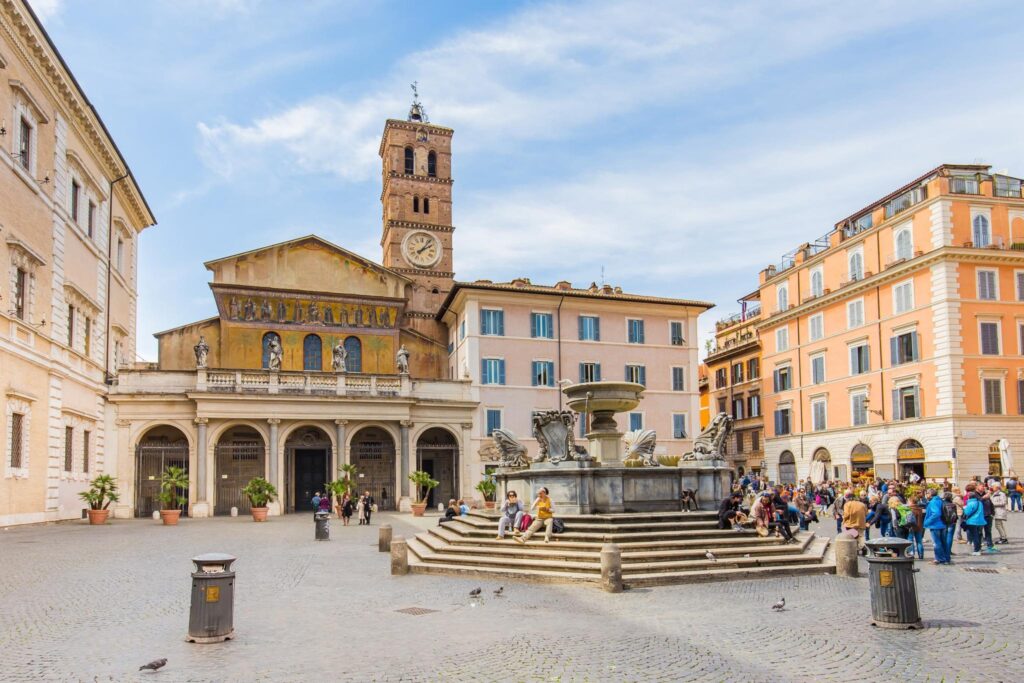 Late:  Dine at one of Rome's new breed of creative trattorias. In boho Trastevere, La Gensola (Piazza della Gensola 15; 00 39 06 581 6312) offers a mix of tasty Roman specialities and Sicilian-style seafood dishes in an informal setting. Alternatively, head for Testaccio and grab a pizza at Da Remo (Piazza Santa Maria Liberatrice 44; 00 39 06 574 6270) or an aperitivo at the Enoteca Palombi (Piazza Testaccio 41; 00 39 06 574 6122), where, between 7pm and 9pm, €10 (£9) buys you a drink and a heaving plate of food from the buffet.