Seville Less Than 48 Hours
Introduction
Seville Less Than 48 Hours – Some cities blast you away, others slowly win you over. Seville disarms and seduces you. Its historic centre, lorded over by a colossal Gothic cathedral, is an intoxicating mix of resplendent Mudéjar palaces, baroque churches and winding medieval lanes. Flamenco clubs keep the intimacy and intensity of this centuries-old tradition alive whilst aristocratic mansions recall the city's past as a showcase Moorish capital and, later, a 16th-century metropolis rich on the back of New World trade. But while history reverberates all around, Seville is as much about the here and now as the past. It's about eating tapas in a crowded bar or seeing out the end of the day over a drink on a buzzing plaza. The sevillanos have long since mastered the art of celebrating and the city's great annual festivals, notably the Semana Santa and Feria de Abril, are among Spain's most heartfelt.
How to Get to Seville?
Seville is a destination open to the world, perfectly linked to the main European cities. To get to Seville, you can arrive any way you like: by air, road, train… even by sea. Choose your preferred means of transport
By Air: If you decide to fly to Seville, you'll land at the Seville airport (SVQ), also called the San Pablo airport. It's a first-class airport in a city with a long aeronautical tradition. Not in vain, as next to the Seville airport is one of the most important aeronautical complexes in Europe.
By Train: Seville is a pioneer in the development of Spain's high-speed rail. In fact, in 1992, it was the inaugural destination for the first high-speed railway line built in our country.
Currently, you can reach Santa Justa Station on high-speed lines from Cordoba, Madrid, Zaragoza and Barcelona on the southwest-northeast line of the AVE and from Malaga on the AVANT trains. And thanks to high-speed connections with Europe, today a person could travel, for example, from London to Seville along high-speed rails the whole way. Santa Justa Station is the work of renowned architects from Seville, Cruz y Ortiz. The location of the terminal is formidable, just a 15-minute walk from the city centre.
By ship:
Seville has access to the sea thanks to the Guadalquivir River, the only navigable river in
Spain
. For this reason, cruises arrive to Seville full of passengers every year. And they arrive to the very edge of the city centre, a pedestrian walkway (literally) from María Luisa park. Recently, a new cruise terminal has been inaugurated, thanks to the boom this type of tourism is having in Seville.  Coming to Seville by ship has a special charm. Entering the Guadalquivir from the Atlantic Ocean through Sanlúcar de Barrameda and traversing the river between the splendour of the Doñana National Park (biosphere reserve) and the paddy fields of the marsh is an experience you'll not forget.
By car:
Seville is perfectly connected by road. A network of highways connect it with all areas: the A-49 links it with Huelva and Portugal. The A-92 links to Malaga and Granada. The A-4 arrives from Cordoba and
Madrid
. The A-66 connects to Extremadura and the north of Spain. The SE-30, the Ronda Super Norte and the SE-40 are the bypass roads that facilitate movement around the city and its metropolitan area.
Seville Short Stay Packages
Let's Start our 48-Hour Challenge
Day 1
Morning: Be swept back in time to King Pedro the Wise's Mudejar (Christian-Moorish) royal court at the 14th-century Alcazar Palace (Patio de Banderas; 00 34 954 502 324), with its exquisite ceramic tiles and heavenly gold ceilings. Explore the gardens, home to peacocks, pavilions and pools. Look familiar? You may have seen it as the Water Gardens of Dorne in Game of Thrones. In summer they hold outdoor night-time concerts here, probably Seville's most magical venue, with the grutesco stone wall as a backdrop as moonlight streams through the palm trees. Note: entry is free on Monday afternoons.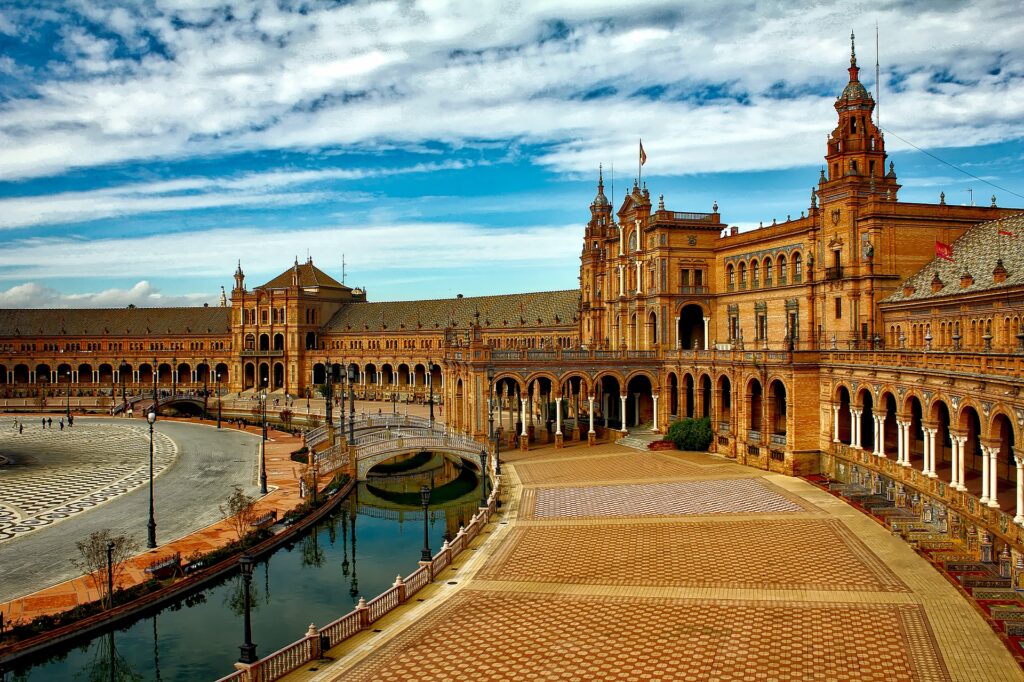 Then cross Plaza del Triunfo and be wowed – inside and out – by Seville Cathedral (00 34 902 099 692), the third-largest in the world. The basilica's scale is jaw-dropping, with a 40-metre-plus high nave and 80 chapels. Be sure to climb up the Giralda belltower, formerly the minaret of the mosque which stood here, for fabulous views over Barrio Santa Cruz. For lunch, reward yourself with some divine modern tapas at nearby La Azotea (Calle Mateos Gago 8, 00 34 954 215 878) – try sea bass ceviche or razor clams with butter beans.
Afternoon: Head down Calle San Fernando, stopping off at food store Mimo (00 34 854 556 800), inside the palatial Hotel Alfonso XIII (00 34 954 917 000), for some gourmet goodies such as own-label sauces, organic jams and extra virgin olive oil (you can make your own blend) – they also offer wine-tastings and cooking classes.
Admire the Royal Tobacco Factory next door, one of the settings for Seville's famed Carmen – spot the head of Colon (Christopher Columbus) on the entrance – and stroll on to Parque Maria Luisa, home to pretty tiled benches, shady corners named after love poets, and magnificent Plaza de España. This vast brick structure, built for the 1929 Expo, is a photographer's dream, with its wide plaza, elliptical walls, and colourful ceramics and flowers. Lookout for the statue of architect Anibal Gonzalez, gazing at his creation.
Late:  Of the latest crop of new restaurants, Seis (00 34 955 440 030), in central Plaza Nueva, ticks all the boxes for décor (jungle-themed with myriad trailing tendrils), service (efficient, friendly staff in smart white uniforms), and food (modern Mediterranean-Asian), as well as offering superb value. Start off with a house-designed exotic cocktail at the lively bar (you're under a tree canopy), which might be served in a Moroccan mosaic-tiled bowl. Then slide into a cosy booth for a crab taco or rice with duck and mushrooms. Finish off your evening at rooftop bar EME Catedral Terraza (Calle Alemanes 27; 00 34 954 560 000), where you can mingle with the smart crowd, and sip a mojito at eye-level with some gravity-defying flying buttresses.
Day 2
Morning: Head over the river to the bohemian, sailor and ceramic tile neighbourhood of Triana. Start off with a visit to the Museo de Tolerancia (Plaza del Altozano; 00 34 954 33 22 40), housed in the ruins of the Castillo de San Jorge, the original seat of the Catholic Church's 400-year purge – interesting without being overly grim.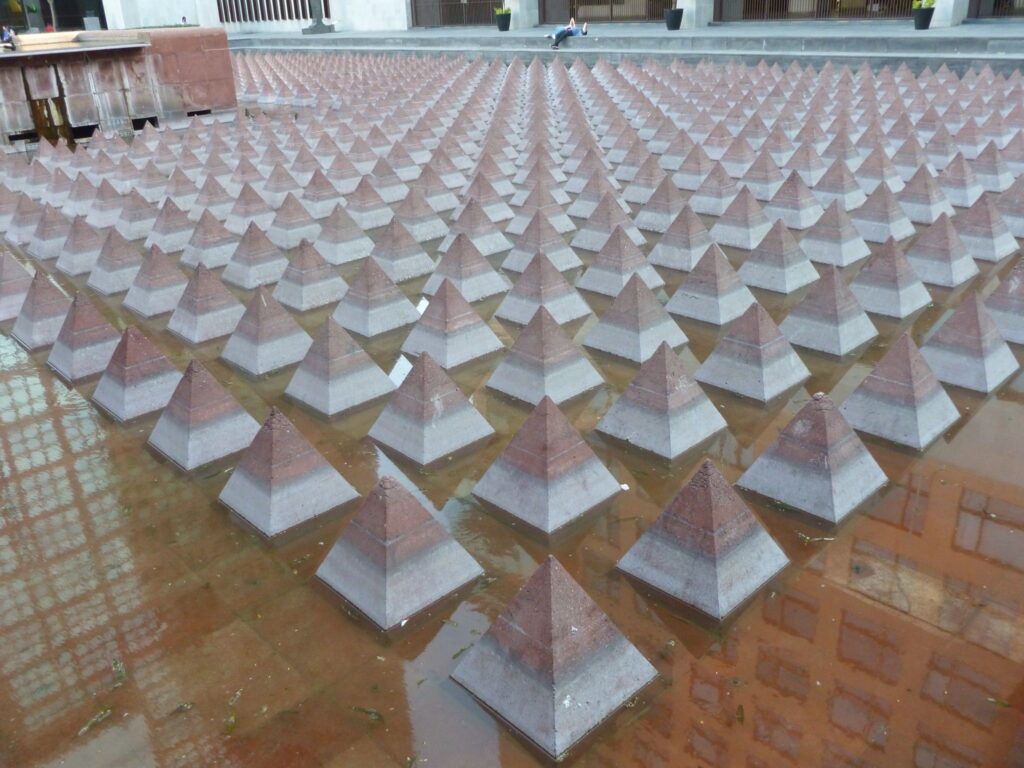 Then pop next door and absorb the sights, smells and sounds of Triana Market (00 34 674 074 099), replete with fresh local produce – don't miss the fabulous fish stalls, with scary-looking seafood, or skilled jamon-carvers. Saunter down calle Pureza to Seville's oldest parish church, Santa Ana, built in 1266. Look out for the painting of Santa Rufina and Santa Justa, Christian martyrs who were potters from Triana; the city's patron saints, they're pictured with the Giralda, which they saved from an earthquake, according to local legend.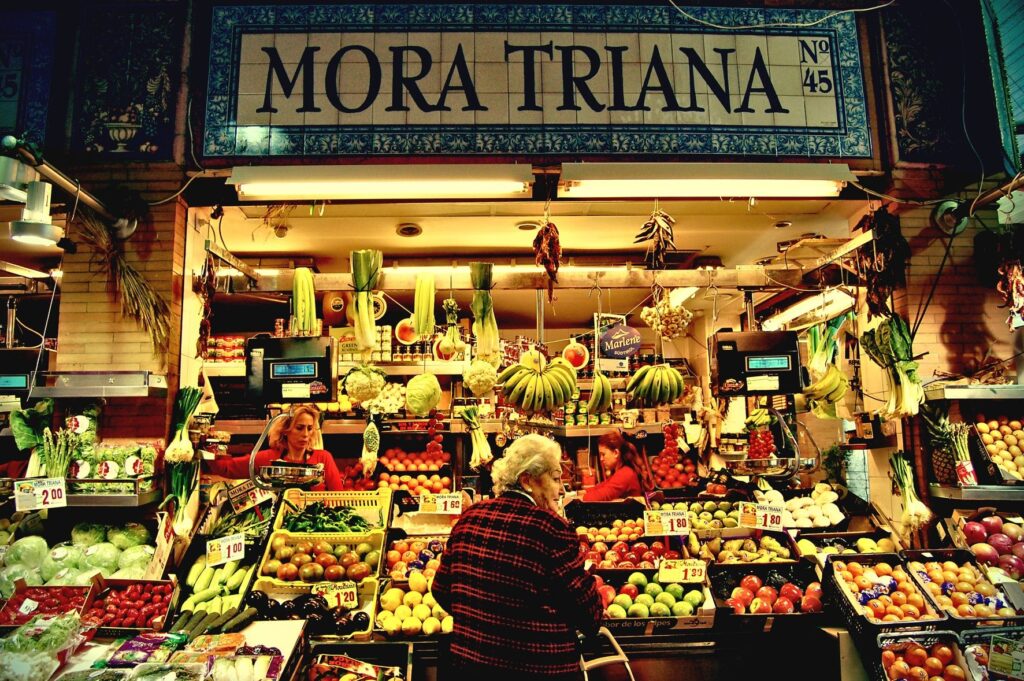 Afternoon:  Back over the river in the San Lorenzo district, venture into the cavernous Antigua Abaceria de San Lorenzo (Calle Teodosio 53; 00 34 954 38 00 67), a restaurant/grocery store packed with eclectic knick-knacks which feels like someone's house. Here you'll eat elbow to elbow with Sevillanos – the menu is traditional local fare, no fancy plating or artful design – tortilla or fried eggs with chorizo and tomato.  Over on the Alameda de Hercules, centre of bearded hipster-dom, go up to rooftop bar at the Corner House (34 954 913 262) for a bird's eye view of alternative Seville – the terrace offers an unpretentious, laid-back vibe; Aperol spritz is the drink of choice.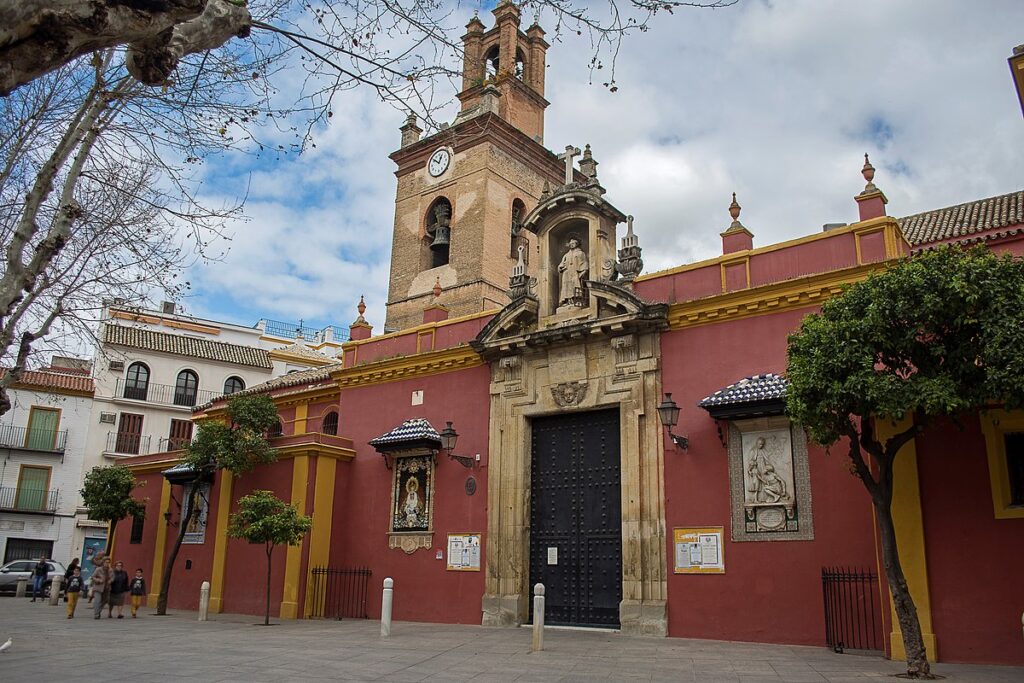 Late: Cross back into the gypsy district and head to T de Triana (00 34 954 331 203) on Calle Betis, which has authentic flamenco shows on an intimate scale – the performers are swishing their skirts inches from your face. You might even see a neighbour joining in spontaneously, in the true spirit of flamenco. Have a beer (you get one with your ticket) and tapas overlooking the river. Then head down Calle Betis to Embarcadero (00 34 610 727 755), a nautical-feel bar with tables almost on the water. Alternatively, if you feel inspired to take to the floor yourself, go back towards Triana Bridge to Lo Nuestro (00 34 699 995 241), where locals practice Sevillanos, a local version of flamenco performed in pairs at the Spring Fair, to live music all year round.
Attraction Tickets