Santorini Less Than 48 Hours Challenge
Santorini Less Than 48 Hours : Few islands have quite the same allure as Santorini, and no other island (Greek or otherwise) can lay claim to being the source of the legend of Atlantis, either. Santorini, or "Thera" in Greek, is most celebrated for the dramatic views of its volcanic caldera, formed during a massive eruption around 1646 B.C. — which was catastrophic then but makes for some of the world's most ravishing scenery today. Two days on one of Greece's loveliest islands in the Aegean gives you the chance to explore remarkable archaeological sites, sunbathe on the famed Black Beach and watch the stunning sunset. Our 48-hour guide will help you make the most of your trip here. Join our Santorini Short Break, 3 Days from 375€ including ferries from Athens.
Some destinations are about exploration and discovery, while others are for hitting reset, finding your own little slice of heaven and relaxing to the max. There's plenty of exploration on offer in Santorini via hikes, boat trips, vineyard tours and nights out, but even the locals would excuse you for finding the perfect view, and not moving an inch. After all, of all the blessed islands and viewpoints in this big wide world, it's hard to even imagine another which offers the natural drama, beauty and colour juxtaposition of this incredible island known as Thira – aka Santorini. If it's your first trip, choosing which village to stay in is absolutely crucial and each one will bring a completely different experience, so use this guide to help guide you to the best places to stay, some restaurant gems and places where watching the sun set will take on an entirely new meaning!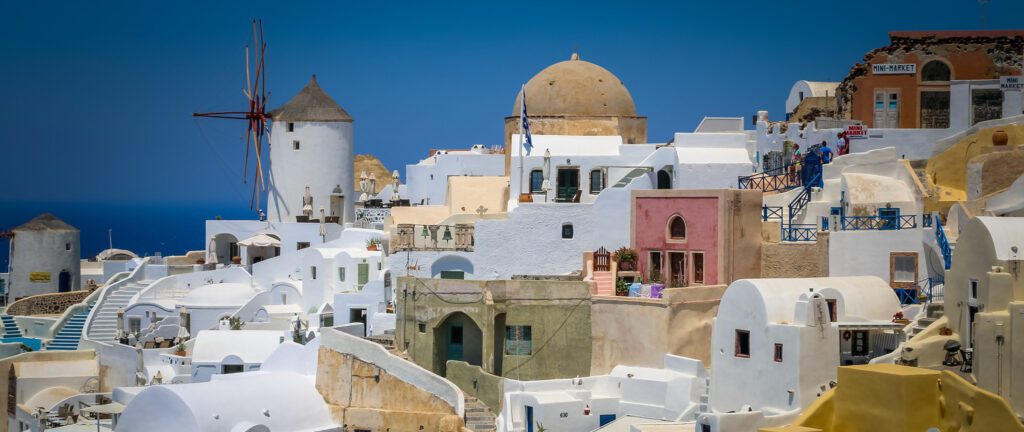 Flights to Santorini
Lets start our challenge
Use 48 hours in Santorini wisely to both better comprehend and simply enjoy this exceptional Greek island beauty. As always, before any trip check for any travel restrictions or closures before planning your vacation.
Day 1
Whether you get to Santorini by airplane, cruise ship or ferry, chances are good your first stop after arrival will be in or around Fira, the bustling but pretty main town on the island. Stroll the whitewashed lanes and savor the views out over the caldera: Odds are you won't be alone, but part of the magic of Santorini is the energy of people who are there, just like you, to marvel at this geographical wonder. So slow down, relax, have a coffee and maybe do a little island shopping.  It's frankly hard to find a restaurant anywhere in Santorini that isn't good, but for one that pairs amazing, largely locally sourced food (think homegrown tomatoes, fava beans and capers) with a fabulous caldera view, try one of the best: Argo Restaurant.When it's time to bed down, head toward the northern tip of the island and the highly photogenic village of Oia where you'll want to rest your travel-weary head in a suite or villa with a view at the cliffside Mystique, a Luxury Collection Hotel, Santorini.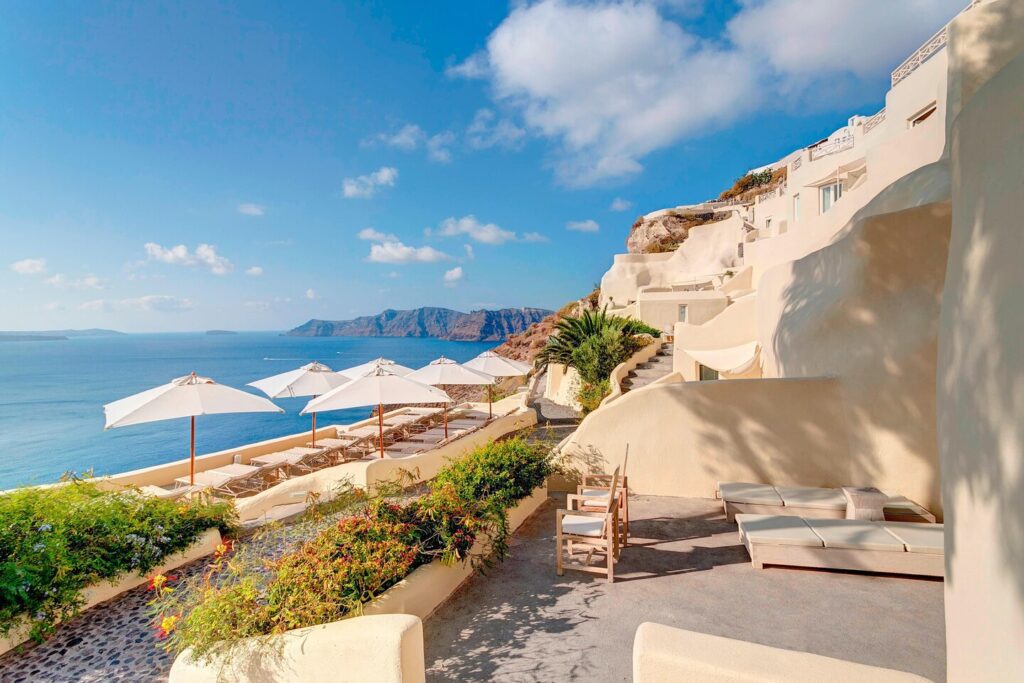 Day 2
Now that you've (hopefully) acclimated yourself to the Santorini rhythm, it's time for a history and culture fix. Luckily, you're in the right place. A recommended first stop is Santorini's small but excellent Archaeological Museum in Fira.  Among the artifacts on display are artful vases and amphorae from the Archaic period, as well as the famous blue monkey frescoes, retrieved from your second cultural must, the ruins of the Minoan Bronze Age city of Akrotiri on the southern edge of the island.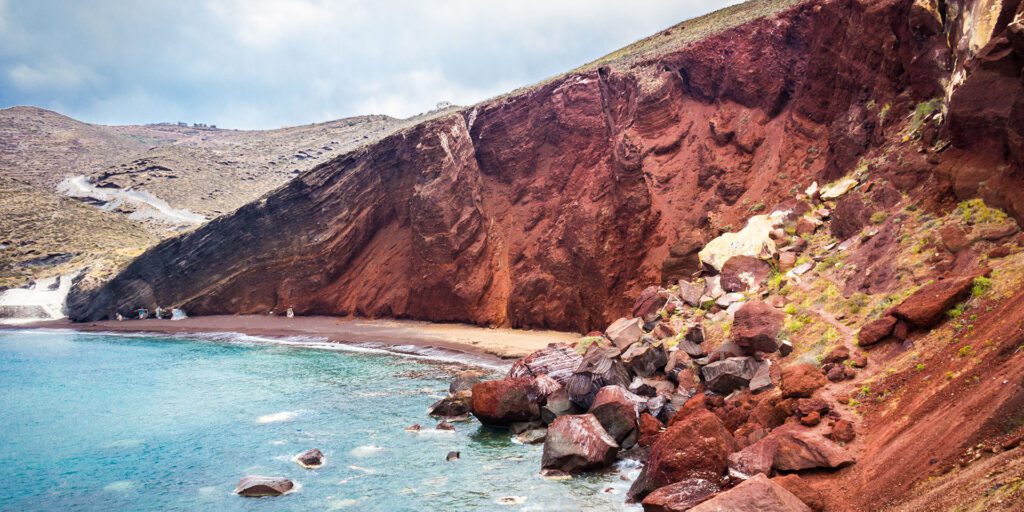 At Akrotiri especially, prepare to be wowed: This is an active excavation site where you can wander among the twisting lanes of a settlement inhabited in the 16th century B.C. — that is, before Santorini's infamous volcanic eruption buried it all in a mountain of ash. (Note: Whether you visit the museum in Fira or Akrotiri first is up to you, but both are truly musts.) After a visit to Akrotiri, check out neighboring Kokkini (Red Beach), a spectacular place for a dip under the imposing reddish volcanic rocks.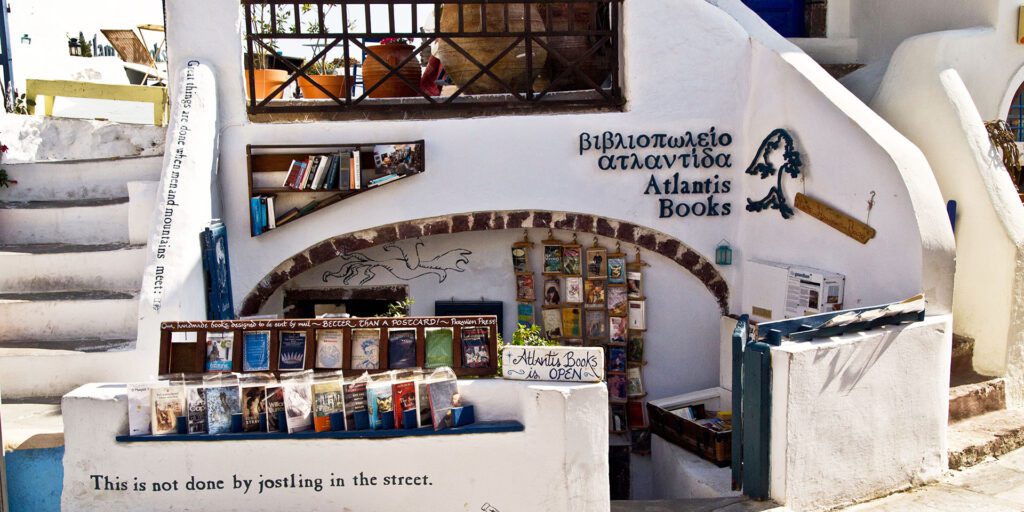 Later, linger in Oia. If you're feeling up to it, you can even walk along the clifftop path between there and Fira — add on about three hours if you do. Pop into the justly famous Atlantis Books and browse, and be sure to stick around for the sunset views high over the caldera for which Oia is most celebrated. If you want to drink or dine at the highest point on the island, however, that's the village of Imerovigli, where gorgeous food meets gorgeous views at Throubi, while posh cocktails are best savored at Buddha-Bar Beach at the La Maltese estate (the bar is actually perched on the cliff, facing the sea).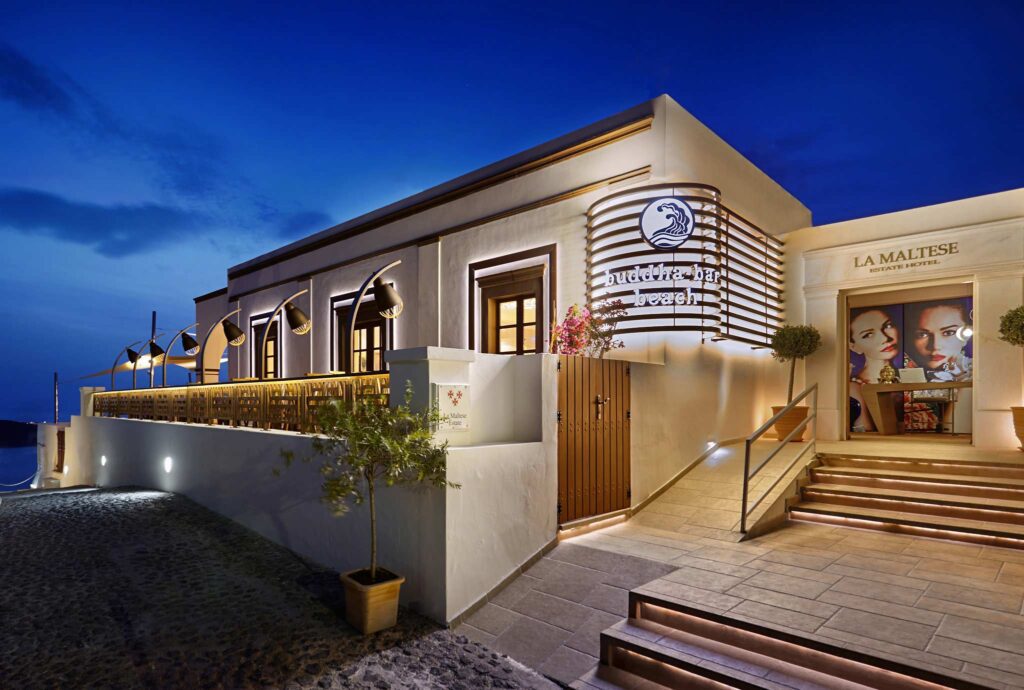 Day 3
Last day,  you might want to relax and do nothing — a highly acceptable activity in this corner of the Aegean — or perhaps explore some other aspects of Santorini's heritage, which extends to the culinary realm, as well. In fact, thanks to the island's rich volcanic soil, the cherry tomatoes grown here are famously tasty. Learn more about them at the Tomato Industrial Museum.
Santorini's volcanic soil has also helped nurture the vineyards growing the grapes that make assyrtiko and other esteemed white wine island varietals; pop into virtually any winery you see outside of the towns for a tasting. You could opt for something completely different, such as a mini-cruise around the caldera (there are many companies offering cruises of varying duration), or explore more of the fetching Santorini coastline by hitting the beach.
Kamari Beach is a black sand beach near the ruins of ancient Thera, an evocative archaeological site situated on a steep ridge overlooking the sea. South of these ruins, Perissa is another beach renowned for its black volcanic sand.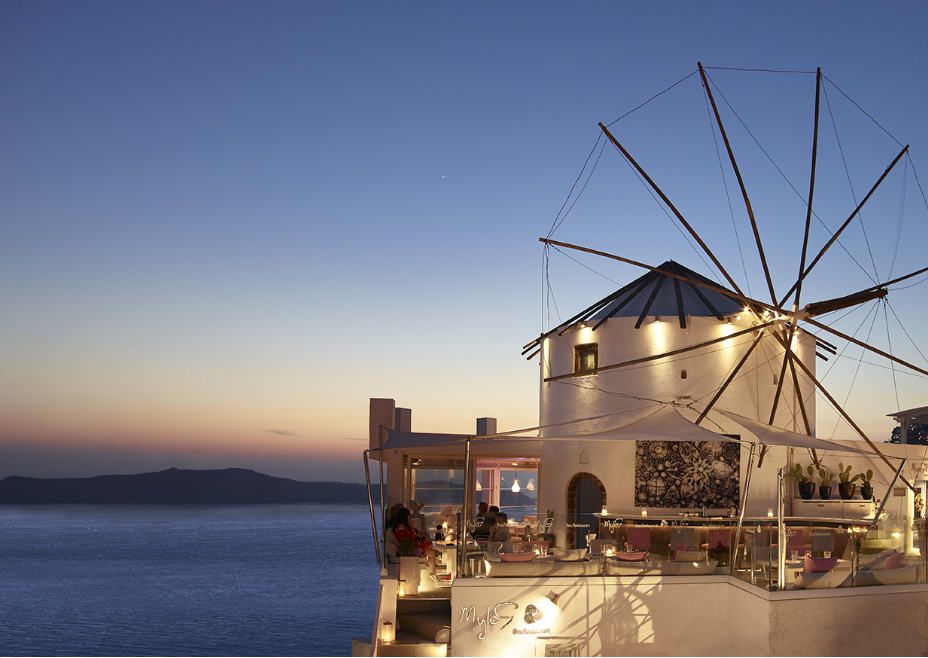 Take in one more sunset stroll back in Fira or Oia; then, time permitting, enjoy a memorable meal with a stunning view over sea and sky at Mylos Bar-Restaurant in little Firostefani, which is situated about halfway between Fira and Imerovigli. If you're feeling somewhat bewitched by it all, worry not: That's just Santorini working its usual, timeless magic.