Turkey Beach Resort Guide
Turkey Beach Resort Guide – Turkey has many allures, but it is no secret that the hundreds of beaches that cover its 7000-kilometre coastline is one of the biggest ones. Some of the most beautiful Turkish landscapes can be spotted along its shores, and there is loads of local culture to experience right on the sand. So, if your thinking about jetting off to the Aegean Sea, you're probably curious about where to find the best beach resorts in Turkey. The truth is, you'll be hard pressed to find a Turkish beach that doesn't hit the spot, but we've still done some groundwork for you and selected our personal favorites.  Here's a complete rundown on coastal region  to stay in Turkey  (also referred to as the Turkish Riviera); which part of the coastline to head for. The best beach resorts -whether you're booking DIY accommodation or looking for a package vacation – and standout beach hotels check out international hotel bookings and comparison site. We won't mention here any hotels. However this post may contain some commercial links too.
This resort guide will try to cover:
which part of Turkey to stay in – we'll be covering the Aegean and Mediterranean coastlines from Canakkale around to Alanya (but not the Black Sea, Sea of Marmara, and Eastern Med) including the beautiful Turquoise Coast,
a rundown of Turkey's quieter resorts and villages; the best places to stay for couples, families and nature
The Turkish Riviera
The Turkish Riviera encompasses a huge stretch of coast, basically the entire SW coast – plus some. The section commonly known as the Turquoise Coast is the part between Fethiye and Antalya. Generally speaking, Turkey has some incredible beaches but they're not the best if you're looking for soft white sand. But Turkey offers great value – especially in comparison with similar properties in Greece or elsewhere in the Mediterranean. The food is fantastic, the scenery is often jaw-dropping, and there are adventure activities and ancient sites aplenty. Beach tourism here is a healthy mix of purpose-built areas with all-inclusive resort hotels, charming harbor towns popular with sailors, and small back-to-nature villages with wooden bungalows.
Getting Around
Airports: There are four airports along the coast which are served by both international (both charter and scheduled) and domestic flights: Izmir, Bodrum, Dalaman, Antalya.
Bus: If you've never caught the bus in Turkey before then it's a joy. Bus travel is very common in Turkey, for both long and short distances. Most towns and cities have a bus station (called an otogar) outside the center for catching long distance buses. These are usually in comfortable and well-equipped coaches with reclining chairs. Local bus tend to be small minivans known as dolmuş. These are essentially a shared taxi that run set routes. There isn't usually a schedule but they run frequently with plenty of stops. For less popular routes you have the option of paying for the whole van or waiting for more passengers.
Different Regions, Different Tastes

North Aegean Region
Not as touristy as the other parts of the coast, but you will find dark sand beaches and handsome Byzantine architecture. Good for hidden gems though the beaches themselves do get busy. Due to the winds it's the most comfortable part of the coast, temperature-wise, in the summer. Ayvalik , Cunda Island, Bozcaada and Gokceada are recommended.
Çanakkale
The town of Çanakkale is most well-known for its WWI history – it was the site of a year-long battle with heavy casualties. It guards the entrance to the Dardanelles Strait and therefore to Istanbul and the Black Sea. It's the first real tourist destination along the coast but it's a lengthy drive from any airport and not really a beach destination. Çanakkale is mainly popular with visiting Australians visiting the battlefields, particularly around ANZAC Day. South of town you'll find the ruins of Ancient Troy, hence the large wooden horse in the harbour, but there's not really much to see compared (in comparison to some of Turkey's other archaeological sites at least). There is a small domestic airport at Çanakkale, or else it's a 4 hour + drive from Istanbul or Izmir.
Bozcaada
If you're looking for a cool and under-the-radar summer destination in Turkey then the island of Bozcaada is right up your street. It's one of the few Aegean islands that belong to Turkey rather than Greece, and is loved by weekending hipsters and couples from Istanbul. Its charming streets are filled with bougainvillea, colourful woodwork, and cute cafes. Bozcaada also has fantastic vineyards and some of the best sandy beaches in the Northern Aegean area. To get there take the passenger ferry from Çanakkale (high season only) or the car ferry from Geyikli.
Ayvalik – Cunda Island – Assos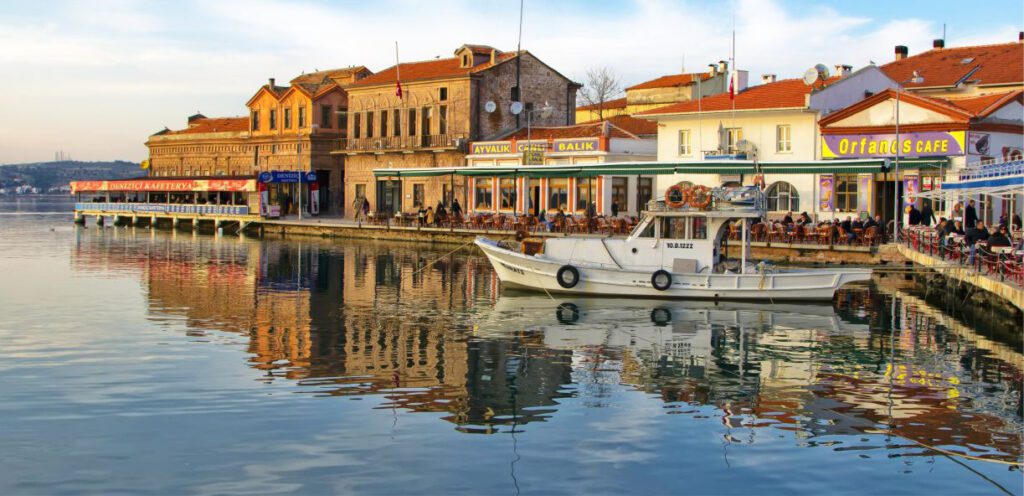 Ayvalik is a working harbour town famous for its fishing and agricultural industries – foodies will love it here. The olive oil and fresh produce is some of the best in Turkey. It's more popular with local tourists than foreign, except those visiting on a day trip from neighbouring Greek island Lesvos. But it has several wide sandy beaches and islands (Cunda and Alibey are the main ones) around its meandering coastline, as well as a Byzantine old town with superb restaurants and converted mansions. To the north of Ayvalik is the small picturesque seaside village of Assos, which is also known as Behram or Behramkale. It has a Greek feel with a small row of brightly painted fishing boats, a pebble beach, and smart stone buildings along the waterfront. A short drive uphill is the main village where you'll find a wider range of accommodation, most in historic buildings.  Ayvalik is a 2-hour drive from Izmir airport.
Çeşme – Alaçatı
Izmir is tucked into a bay whereas Çeşme sits out on the end of the peninsula to the south of the city. It's the main beach resort area around Izmir, and a working port town with ferries across to the nearby Greek island of Chios (just 8km across the water). Çeşme has an engaging harbour area and, like many of Turkey's coastal towns, beach resort hotels stretch out in either direction along the coast. The peninsula is home to some of the region's most popular beaches.  Slighty inland of Çeşme is the trendy area of Alaçatı, one of Turkey"s best boutique destinations with its flower-filled streets and lovely B&Bs. Çeşme  is 1 hour from Izmir airport
Kusadasi
Kusadasi is a large, modern port town – similar to Izmir though with slightly more of a vacation vibe, being surrounded by resort beaches and in close proximity to the ancient site of Ephesus. Fun boat trips and cruises run from the city's harbour, and cruise ships call here too. It has a lively waterfront area with a promenade and its nightlife attracts visitors from the surrounding area. There's a small old area with city walls, a bazaar and narrow streets.  The Greek island of Samos is a short ferry ride away and the beautiful Dilek National Park is to the south of the city. There are lots of large beaches in the area, the busiest are Ladies Beach and Long Beach. No wonder it's one of Turkey's most popular beach resorts. There are also several waterparks so it's a good choice for package holidays with bags of entertainment and activities – Read more on Turkey Family tours. Kusadasi is  1 hour 30 minutes far from Izmir airport
Bodrum Peninsula
Of the cities, Bodrum is by far the prettiest and most pleasant – and is also Turkey's summer nightlife capital. The surrounding area is devastatingly pretty and chic, sometimes with prices to match. The sparkling coast city of Bodrum is without a doubt Turkey's swankiest resort town. The picturesque city with its castle and pretty Aegean whitewashed buildings is home to the most best nightlife this side of Mykonos. It's cheaper and more under-the-radar than St Tropez and Ibiza – but just as glam and it's boho-credentials go back to the 70s. The waterfront is lined with beach clubs and upmarket restaurants, the coastline with beach clubs and infinity pools overlooking the Aegean.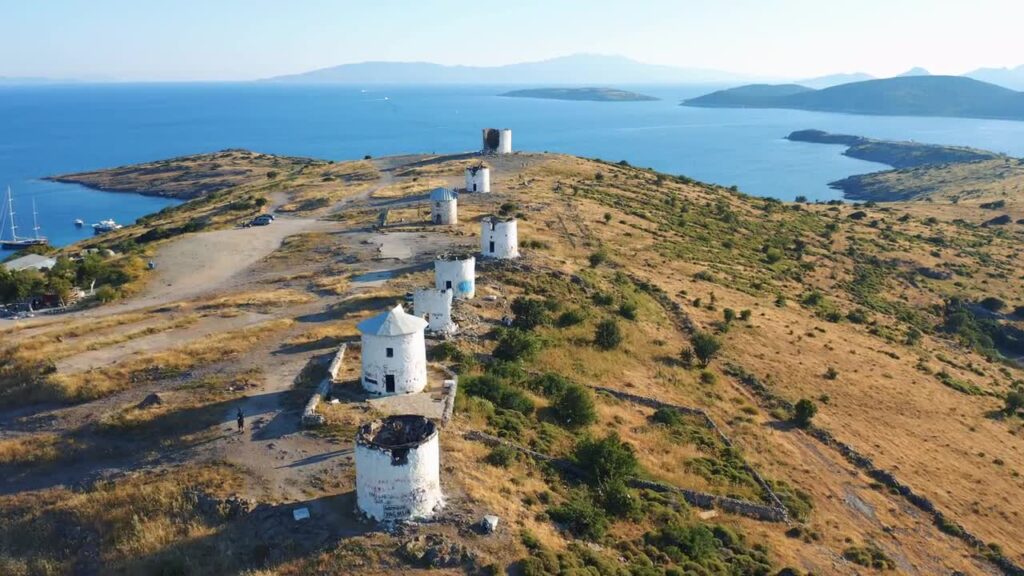 It's also one of the Aegean's major yachting and sailing hubs. It's the spiritual home of gulet boats – the 'Blue Cruise' was born in this area and it's still one of the best places to pick up a boat. By sunset, the bay is filled with party boats and superyachts gleaming in the last rays of sunlight. There are several smaller beach outposts along the coast which make for a more low-key vacation but with easy access to the city – Ortakent and Bitez have the nicest beaches and high prices to match. For something more low-key try Gümüşlük. The surrounding coastline and peninsula is one of the prettiest parts of the Turkish Coast with endless coves to discover. Ferries connect with the Greek island of Kos from both Bodrum and the nearby port of Turgutreis.
Read our detailed Bodrum Travel Guide
Marmaris – Datça Peninsula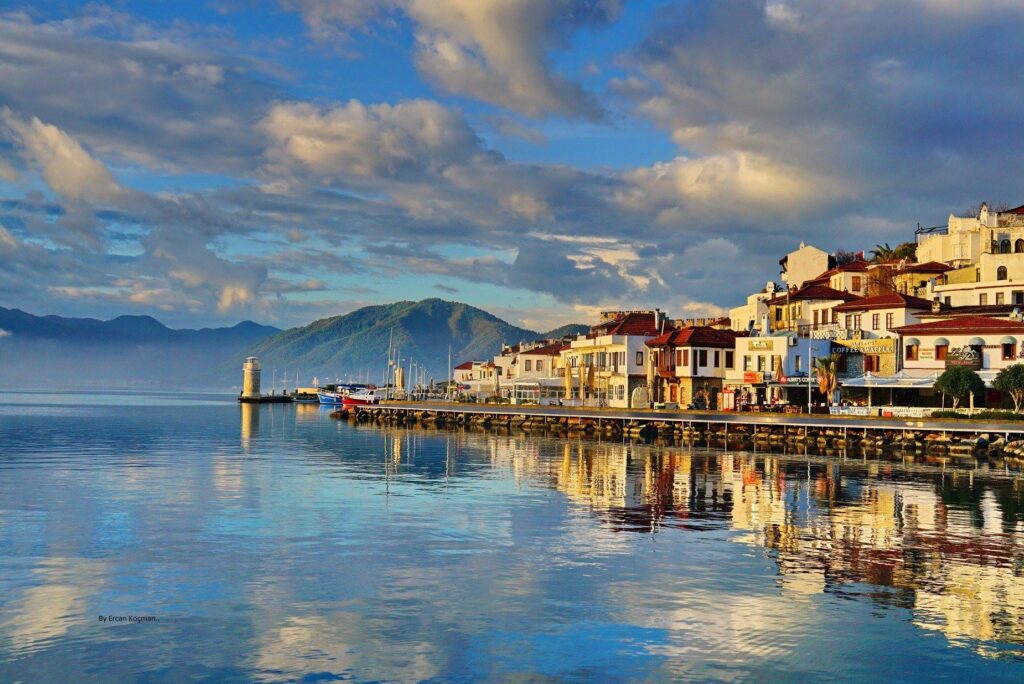 Marmaris is one of the biggest and most popular resorts on the Turkish coast. It's a large resort city but the name tends to the refer to the wider area too, as you'll find plenty of big resort hotels along the coast in either direction. Marmaris lacks the aesthetic appeal of Bodrum but is well known for its shopping (particularly the fake designer goods in the Grand Bazaar) and lively nightlife. There are also some excellent food markets around, handy if you're going self-catered. If you enjoy the hustle and bustle of the larger resorts in Spain and the Canary Islands then you'll find a similar appeal here. It's loud and boisterous but somehow manages to retain a traditional Turkish beach town atmosphere. The nightlife around Bar Street is infamous. The city is surrounded by the vast Marmaris National Park which provides a playground for boat trips and adventure activities. Day trips and ferry connections to the Greek island of Rhodes are available. Marmaris is 1 hour 30 minutes from Dalaman airport.
Akyaka, Datça and Bozburun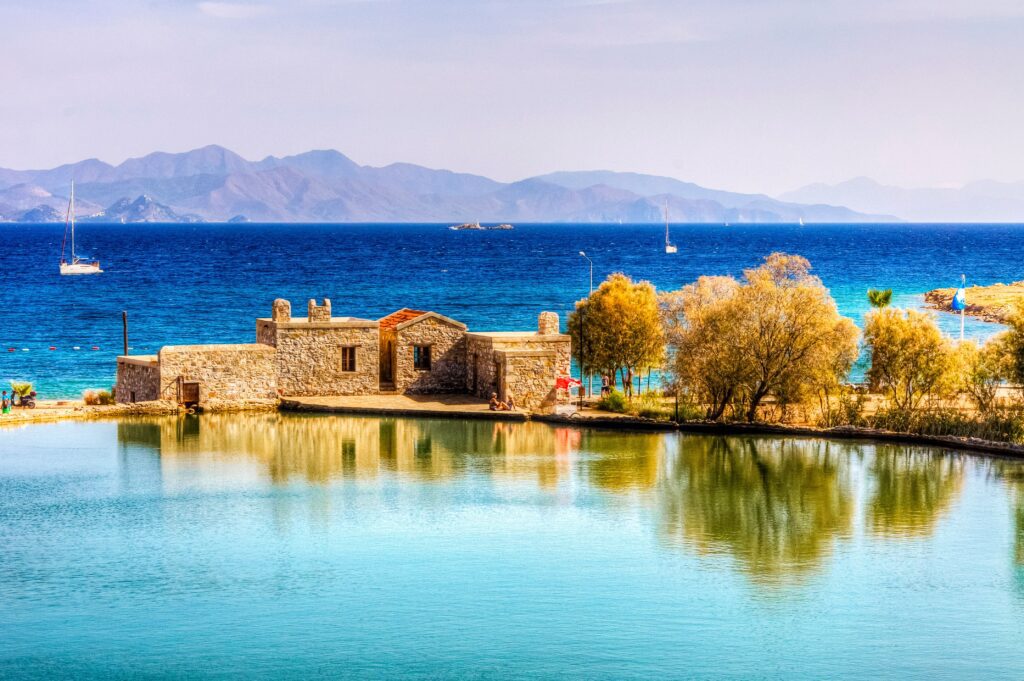 Akyaka which is making a name for itself as one of Turkey's premier slow travel destinations. There is a small beach of dark gritty sand but the main reason to come is the nature, the food, and the traditional wooden architecture. It's not well known by foreign tourists but is loved by locals as a peaceful retreat in the hot months.  South of Aykaka you'll find the Datca and Bozburun Peninsulas, one of the greenest and most tranquil parts of the Turkish coast. It's a great sailing area but there's not too much in the way of development, perfect for those looking for an authentic vacation. There are many superb hotels tucked away in its sleepy hills and quaint villages with stunning sea views across to the Greek island of Symi.  Akyaka is 1 hour 30 minutes from Bodrum airport. Add an extra hour for destinations on the peninsula from Bodrum or Dalaman – roads are slow.
Icmeler and Turunc
Icmeler is the first proper beach resort of the Marmaris region and has been an established tour operator offering for decades. It has a long organised beach (a mix of dark sand and shingle) in a lovely setting backed by big green mountains. There are some great walks and activities in the area, but also a lively nightlife and easy day trip access to Marmaris and Rhodes. Restaurants and cafes cater to the British tastes. Around the coast is the smaller resort village of Turunc, in an equally picturesque setting. It has a narrow sand-and-shingle beach and is one of the best resorts for mature couples looking for a quiet vibe but a selection of bars and restaurants for the evening and easy water taxi access to larger resorts. The region is around 1 hour 40 minutes from Dalaman airport.
Dalyan
The friendly town of Dalyan is not on the coast but upriver. It has an incredible natural setting but still plenty of restaurants and bars for the evening. The crowd here is a mix of domestic tourists and Europeans looking for a lack-back nature escape. It has some impressive rock tombs and ancient remains, and you can take boats to the protected Iztuzu Beach (one of the main turtle nesting beaches) and mud baths near Lake Köyceğiz.  35 minutes from Dalaman airport.
Gocek
Göcek is sometimes referred to as 'the Monaco of Turkey' but don't take comparison that at face value, Göcek is nothing like Monaco. There are no high rise buildings, casinos, or polished streets here. It's a small and pleasant harbour town with an unusually high concentration of superyachts in the marina (and a well-organised laundry system to service them). There's a small beach at the end of town. Restaurant and shop prices are slightly higher than average, and there are some smart places to stay, but otherwise it doesn't feel dramatically different to other resorts in the area. It gets entertainingly busy on a Saturday which is changover day for the charter boats. Göcek is 30 minutes from Dalaman airport.
Turquoise Coast
The section of coast from Fethiye round to Antalya is particularly mountainous and beautiful. There aren't many sandy beaches so for a long time this area was under the radar, but the scenery and plentiful historic sites have been discovered by gulet sailors and posh Brits. The heat can be stifling in July and August.
Fethiye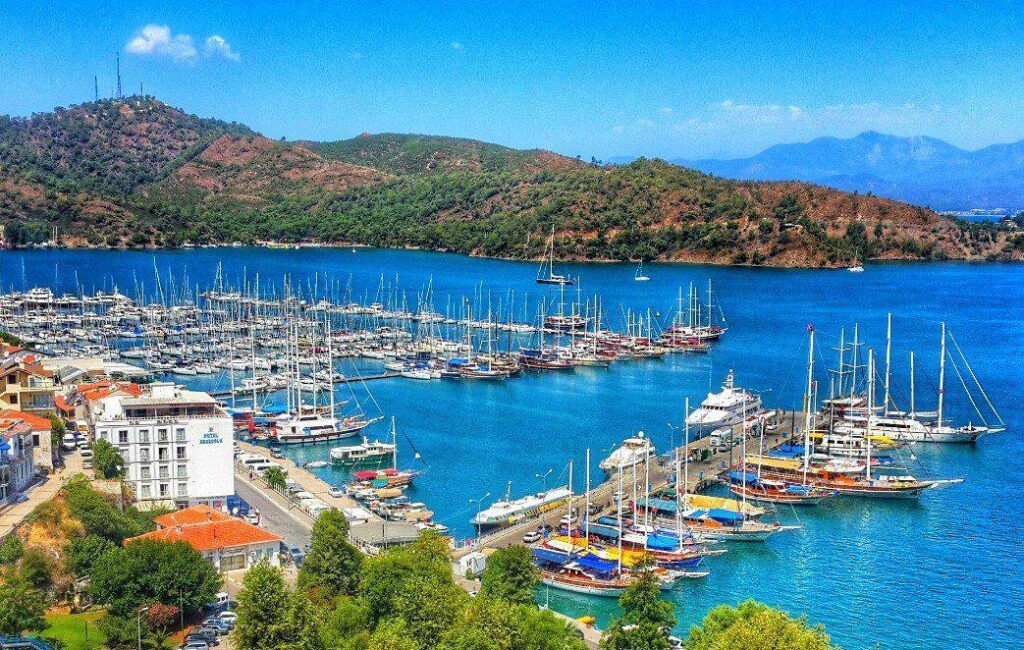 Fethiye manages to somehow be two things at once: a reasonable sized working city and a pleasant place for tourists. The town itself has no beach, the nearest is Calis a few kilometres from the main part of town but served by regular minibus or water taxis. The promenade-lined harbour, which is packed to the gills with boats plying day trips and longer gulet cruises, is the centre of all the action here. There's also a small bazaar in the streets behind, and a fish market where you can choose a fish and take it to one of the nearby restaurants to be grilled. And the hill behind the city sports some impressive rock tombs. There's a year-round expat crowd and you will find a few English bars and cafes, but the flavour is mainly Turkish. It attracts more independent travelers than Marmaris and has a great range of accommodation options. Fethiye is  50 minutes from Dalaman airport.
Oludeniz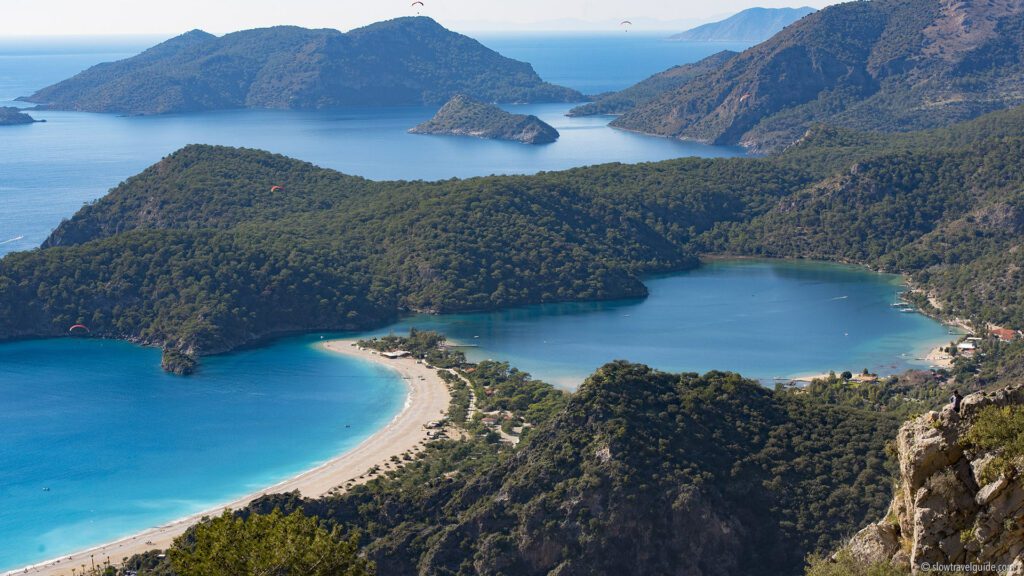 Olüdeniz is one of the most famous beaches in Turkey. You'll no doubt have seen it gracing brochure and adverts. But what's it like? The first thing to know is that Ölüdeniz is a small development directly behind the beach, which is Blue Flag and busy but not quite as sandy as it can appear in photos. Towards the south end, where it forms the 'Blue Lagoon', is a protected zone that requires ticket entrance to enter. Even this section is crowded with sunloungers and cafes.A short drive up in the hills behind the beach are two busy resort villages of Hisaronu and Ovacik, purpose-built to absorb the package tourists who flock to the area. If you like your holidays cheap and loud, with sports bars and steakhouses, then you'll like it here. Otherwise, avoid. Down by the beach, Oludeniz is busy but development is limited by its location. It attracts a mix of British, German, Russian, and Turkish tourists. There are some good Turkish restaurants here, and an increasingly good standard of beach bar where you can watch the paragliders land. There are regular minibuses connecting Fethiye with Oludeniz, Hisaronu and Ovacik.  Oludeniz is 1 hour from Dalaman airport.
Butterfly Valley and Faralya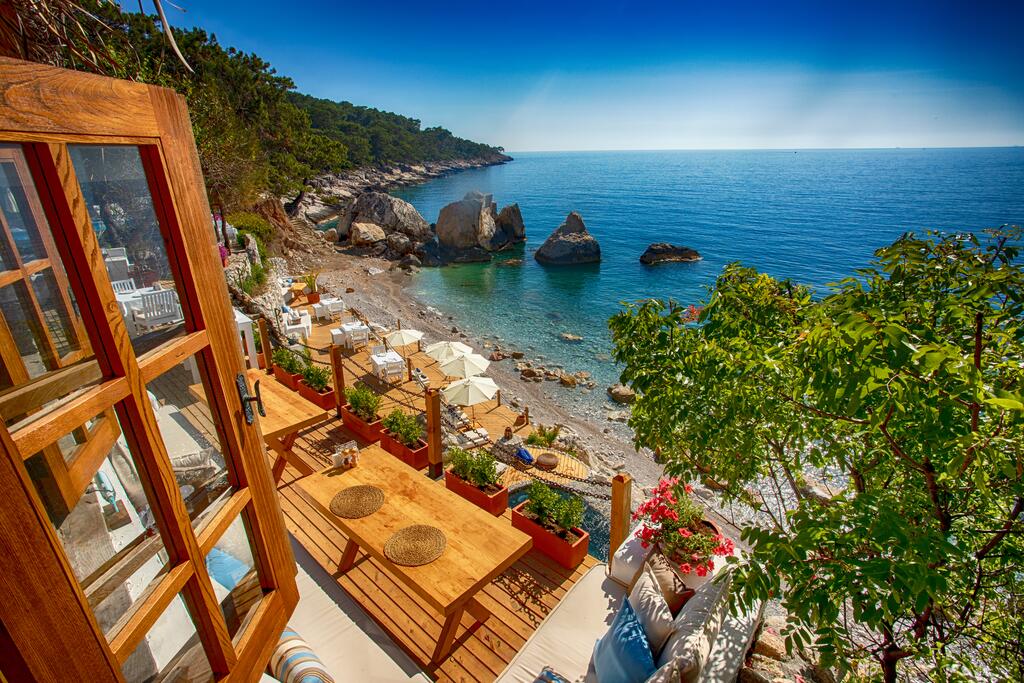 Butterfly Valley is definitely one of the most beautiful beaches in Turkey. The beach is located at the end of a steep gorge and is usually reached by boat. It's a protected zone thanks to the many species of butterfly which inhabit the area (June is the best time to see them).At the top of the surrounding cliffs is the small and scenic village of Faralya. The viewpoint attracts selfie-hunters (be carefuly), but there's a cluster of wonderful accommodation and it's worth staying a while if you enjoy peace and nature.   1 hour 30 minutes from Dalaman airport.
Kalkan
Kalkan has gone from a sleepy fishing village to one of the most popular resort towns on the Turquoise Cost. As with many resorts on this part of the coast, the heart of the town is the harbour which is lined with bars and restaurants. There's a small (and steep) old town area with wooden balconies and bougainvillea. It attracts a variety of people including posh Brits and yachties looking for somewhere with a bit of buzz and ambience – as such it's not the cheapest resort on the coast. There is a small pebbly town beach that's nothing to write home about. Plenty of the waterside resort hotels have beach club areas though, some with decking areas for sunbathing. The area is best suited to those prepared to do some exploring – there are some spectacular historic sites and beaches in the wider area.  1 hour 45 minutes from Dalaman airport.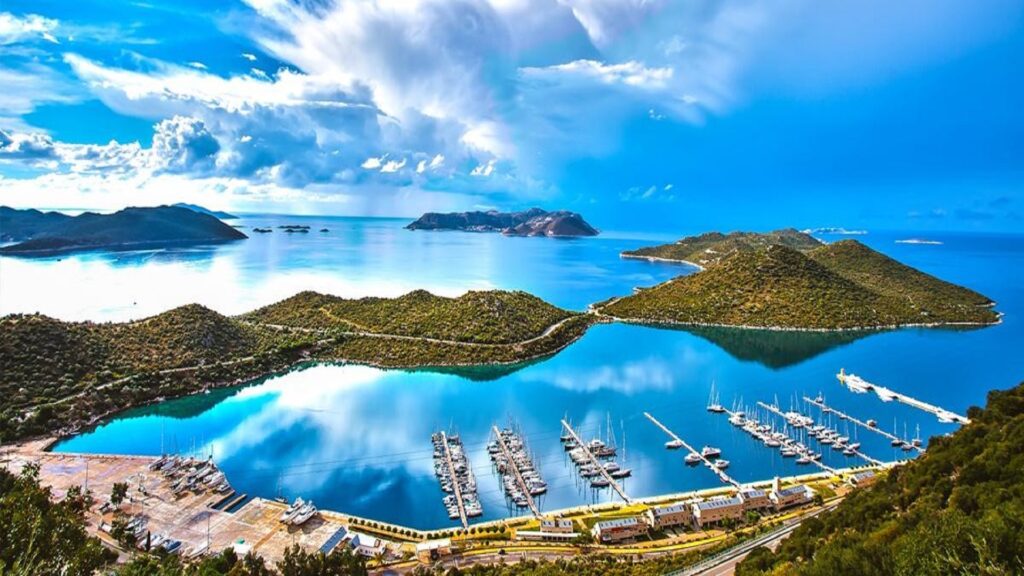 Kas
Kas is like Kalkan's cute and charming little sister. It's a similar harbour town but a bit smaller, a bit sleepier, and a bit more boho. It's one of the most laid-back resorts along the coast yet still has plenty to do. The scenery is divine and it's a short boat ride across to the stunning small Greek island of Kastellorizo which is a popular day trip.  In fact it's a great place to stay if you like exploring independently thanks to the frequent bus and minibus services. There are also lots of adventure activities and excursions in the area which make it ideal for young couples as well as families with older children. Sea kayaking is a particular highlight. There are a few pebbly but scenic coves on the outskirts of town, some with beach bars attached.  2 hours + from Dalaman airport.
Olympos and Cirali
Olympos and Cirali two villages joined by a long beach at the foot of mountains. And divided by some hills – to go between them you have to drive uphill to the main road and down again, or walk along the beach. They are both located in the Olympos Coastal National Park hence the incredible untouched scenery and lack of concrete hotels. Planning restrictions mean that most accommodation is in wooden structures of varying quality. For many years Olympos was a stop on the hippie trail and it became well-known for its treehouse dwellings. In reality, there are only a few actual treehouses (mainly at Kadirs). The reggae soundtrack remains though. Note that to reach the beach you have to walk through an ancient site that requires a ticket. Cirali is more family-friendly. It keeps the back-to-nature appeal but has more facilities, shops, and space, less reggae, and better road access. The beach is an important turtle nesting zone so access at night is not permitted.  Most accommodation (even at the budget end) is half board and the food is generally excellent. The are plenty of activities on offer, from boat trips to rock-climbing and diving, and visits to the nearby natural flames. The beach is a mix of course sand and small pebbles. 1 hour 40 minutes from Antalya airport.
Kemer and Tekirova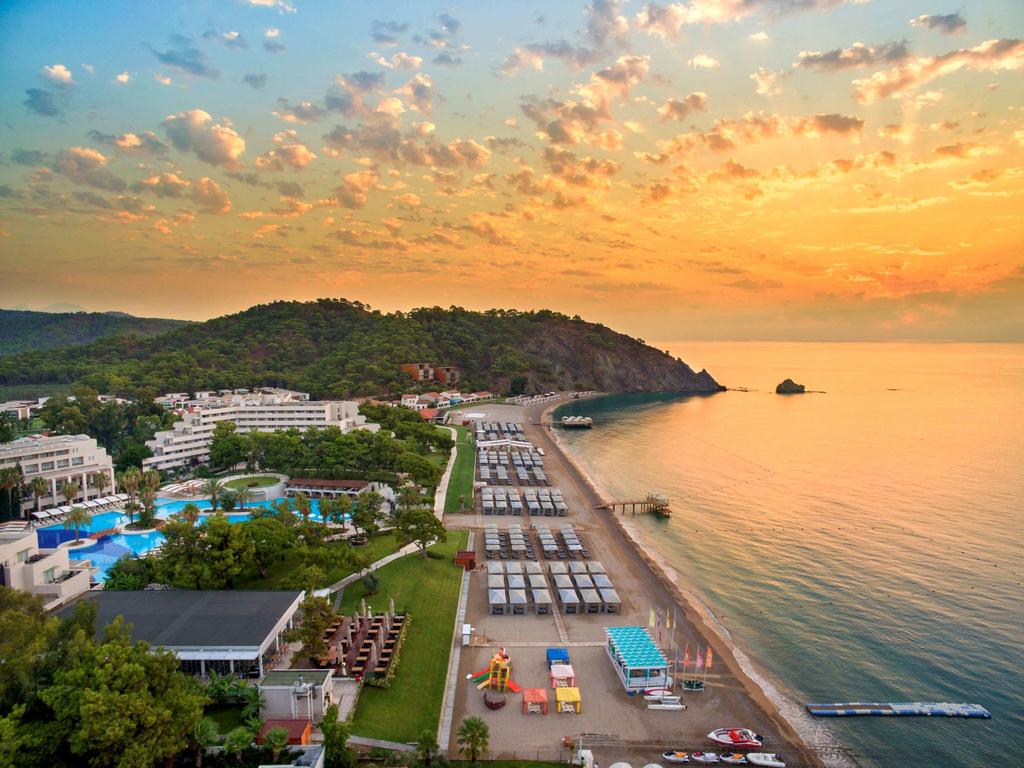 Kemer is one of Turkey's first multipurpose resorts, carefully planned to blend in with the surrounding scenery. At its heart is the attractive marina, a stopping off point for gulets on the blue cruise. Surrounded by pine forests, Kemer offers a full range of accommodation including five star hotels, all designed to blend into the natural environment. The town has plenty of amenities though lacks the atmosphere of other resorts. It's by no means dead though, there's a busy marina and a few nightclubs, but most people choose Kemer for a particular hotel rather than the resort itself. Tekirova is similar.
Antalya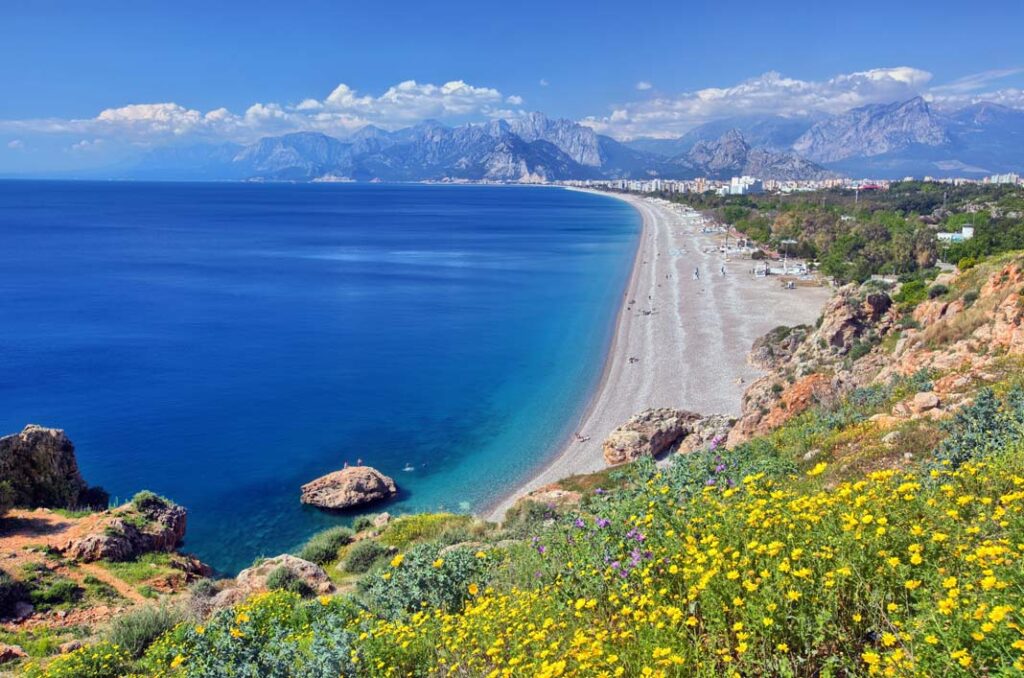 Antalya, the main city of this region is the largest city on the Mediterranean coast of Turkey with its charming harbor.  It is typical of Turkey, a thriving modern city, with a historic heart in the centre of Kaleici, within the old city walls. The symbol of Antalya is the Yivli Minaret built by the Seljuk sultan Alaeddin Keykubat in the 13th century. Culture lovers will find plenty of interest in the Archaeological Museum which has artefacts from the Paleolithic Age right through to Ottoman times. Antalya has a backdrop of stunning mountain scenery, and the city is set high on cliffs, with many of its grandest hotels overlooking the sea on the outskirts of the town. The beach area of Lara, approximately 12 kms to the east is home to the best beach in the area, known for its golden sand, which is rapidly becoming a resort in its own right. To the west, the long pebble beach of Konyaalti is also popular. Heading up into the mountains, you can make the most of the beautiful scenery by visiting the spectacular Duden or Kursunlu Waterfalls to see a completely different side to the Turkish landscape. Read more on Antalya Travel Guide
Belek
Belek is Turkey's premier golf resort. The setting is spectacular with long, golden sandy beaches, and a backdrop of mountains. It has won awards for environmentally friendly development and there are many rare species of plant and wildlife indigenous to the area. Read more on Playing Golf in Turkey . 30 minutes far from Antalya Airport
Side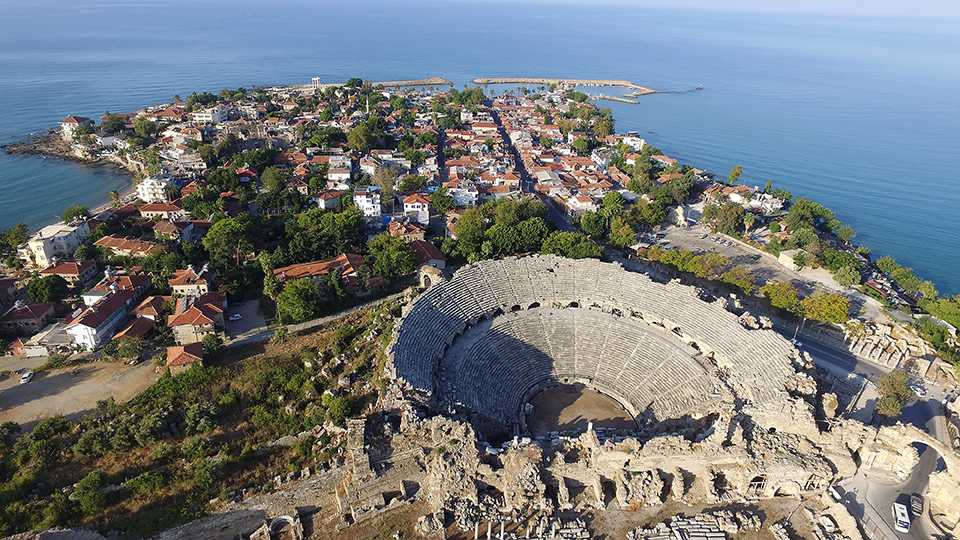 Side is set on a peninsula with sandy beaches to either side, surrounded still by the ancient city walls. It boasts an impressive ancient Hellenistic theatre, the largest in the area, with seating for 17.000, overlooking the sea; a charming museum and the stunning Temple of Apollo, a romantic spot at sunset. Side has something for everyone; great beaches, history, an abundance of shops, lively nightlife and a good choice of restaurants. It can feel a bit crowded though,  on summer weekends in particular. It has less of British feel than resorts to its west, and is particularly loved by Germans and Scandinavians. It gets many return visitors and the average age skews towards the older, and so the nightlife here is more genteel bar than throbbing nightclub. There are resort hotels with family facilities. Boat trips to the many waterfalls in the area are a good way to escape the intense summer heat. 1 hour from Antalya airport.
Alanya
The coastal city of Alanya has a similar appeal to Side – minus the ruins but plus extra beach space. There's much more room to spread out on the excellent beaches here. The better sand is at Cleopatra beach. It's a medium-sized resort city with a long promenade and lots of shopping and nightlife, an old town, and an impressive castle. It attracts an young international crowd with relatively few Brits and a large number of domestic tourists. It's a more chilled out and family-friendly alternative to Marmaris, and prices are extremely competitive.  2 hours from Antalya airport.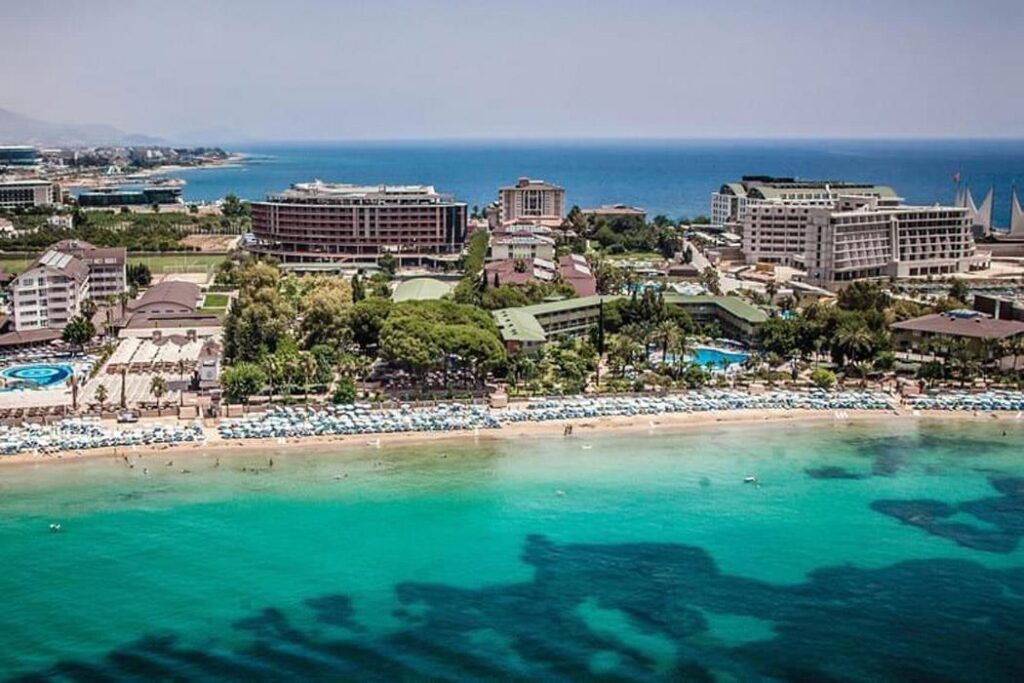 Eastern Mediterranean shore
East of Antalya the coastline is known as Turkey's Eastern Mediterranean Coast. The resorts here are less popular with international tourists. The coast of Eastern Mediterranean offers a fascinating cultural legacy, interesting sights and good beaches.
Mersin
Mersin, which is an important port of Turkey on the Eastern Mediterranean, is surrounded by orange and lemon groves. Notwithstanding its modern looks, Mersin is located on the site of very ancient settlements. As a result of ongoing excavations at the Yumuktepe Tumulus 3 km to the west of the city, various settlements going as far back as the Neolithic age have been discovered.  Don't forget the taste of the fresh fish at the fish market, or the cezerye and bread and pepper, among the local delicacies.
Anamur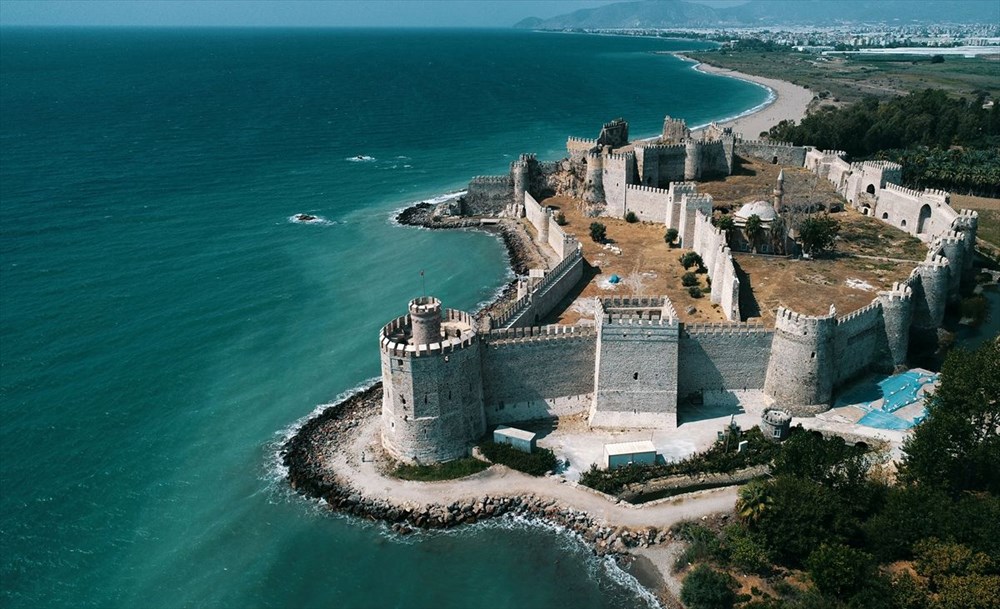 Anamur is surrounded by banana plantations. The ancient city of Anemurium just to the west of Anamur, is located overlooking a beautiful beach. Its name means windy promontory. Among the ruins of the city there are the walls, an amphitheatre, an odeon, a public bath and a necropolis. Anamur beach is famous with Caretta Caretta turtles which lay their eggs.
Tasucu
Tasucu is a typical holiday resort of the Eastern Mediterranean with its beaches and port. Ovacik, 44 km to the west of Tasucu, is a peaceful inlet, famous for its fishermen's shelter and for its beach. The surroundings of the Ovacik Peninsula, the waters of which are very suitable for diving, are full of isolated natural marvels.  You can also visit the Tisan Cove, Tisan Island and the ruins of Aphrodisias.