Perfect Honeymoon in Santorini
Introduction
Perfect Honeymoon in Santorini – Santorini is an ever-popular honeymoon destination, and it's not hard to see why. White-washed houses with blue shutters, domed churches and killer sunsets are all part of the package in Santorini. The perfect blend of quaint, Greek charm and elegant, luxurious hotels. Visitors have the chance to stay in caves with private plunge pools perched on the caldera overlooking the Mediterranean. Or spend their days on rainbow beaches in black, white and red sand! Greece is well known for its exquisite food with everything from traditional, waterfront tavernas at Amoudi Bay or cliff-side restaurants at Fira. Dine on street food like gyros and baklava in the daytime and experience the distinguished menus of passionate chefs in the evening. Santorini also has some great vineyards and an afternoon having a tipple with your new spouse is an excellent way to spend the day. History buffs will be in their element with ancient sights, millenniums old such as Akrotiri and rumors that the waters just off the coast hold the secrets of the sunken city of Atlantis. After all that delicious food, it's easy to stay active with rewarding hikes all over the island, quad biking, cliff jumping and kayaking the warm Mediterranean sea. The stunning and completely unique island has everything you could dream of to kick off your new life together. Offering spectacular views, world-famous sunsets, unusual beaches, wine tasting, and dining options galore, it has everything you could dream of for a romantic honeymoon.
Santorini Island
This picturesque volcanic island remains one of Greece's most treasured locales. With authentic villages perched on cliff-sides high above black-sand beaches, plus some amazing natural sites, Santorini is an ideal location for first-time visitors to Greece. With the options for great dining, shopping and wine tasting, visiting peaceful villages, or just simply relaxing on the beach, the island is quite diverse, leaving no wonder why this gorgeous destination routinely mesmerizes visitors from all over the world.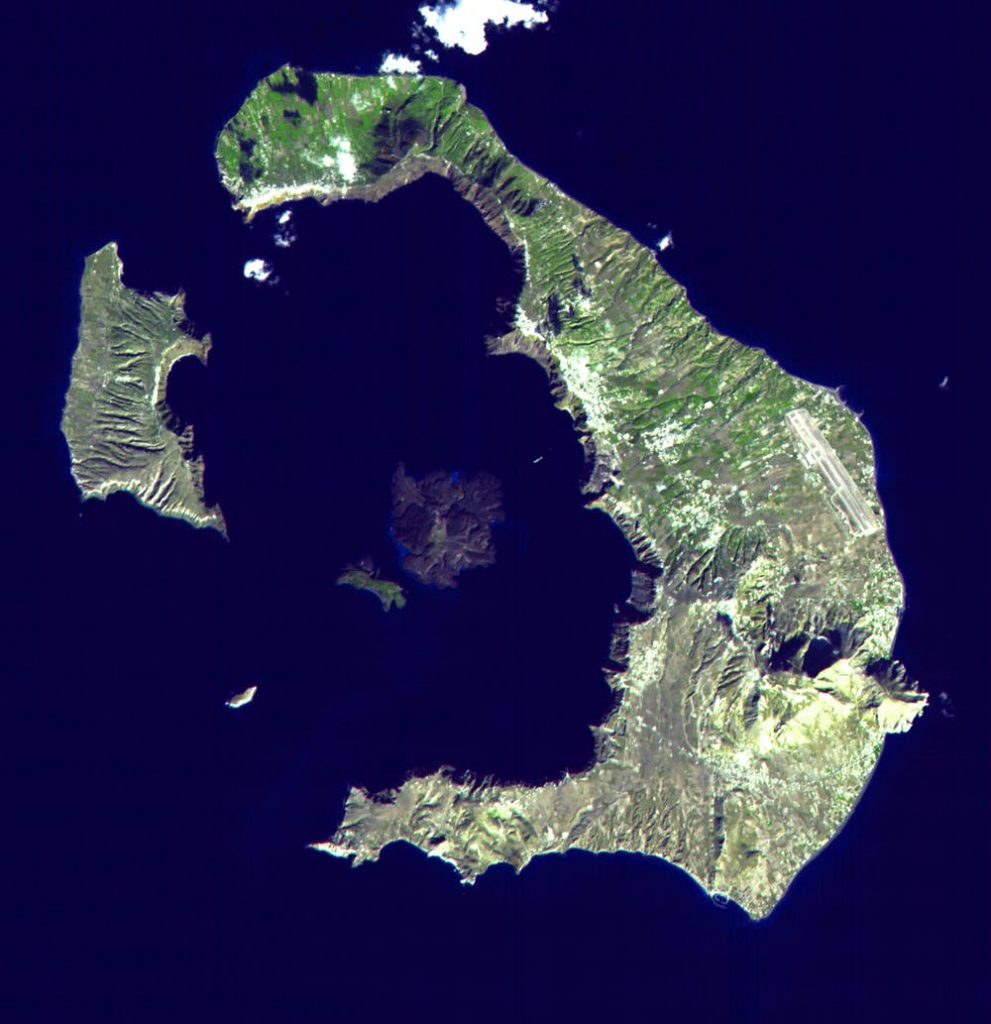 Santorini (also called "Thira") is a volcanic island situated about 120 miles southeast from mainland Greece. The island is included in the Cyclades group of islands in the Aegean Sea and has a population just north of 13,000. Santorini is actually formed from the remnants of a massive volcanic eruption more than 3,500 years ago, thus giving way to its current geological caldera, central lagoon, and steep cliffs.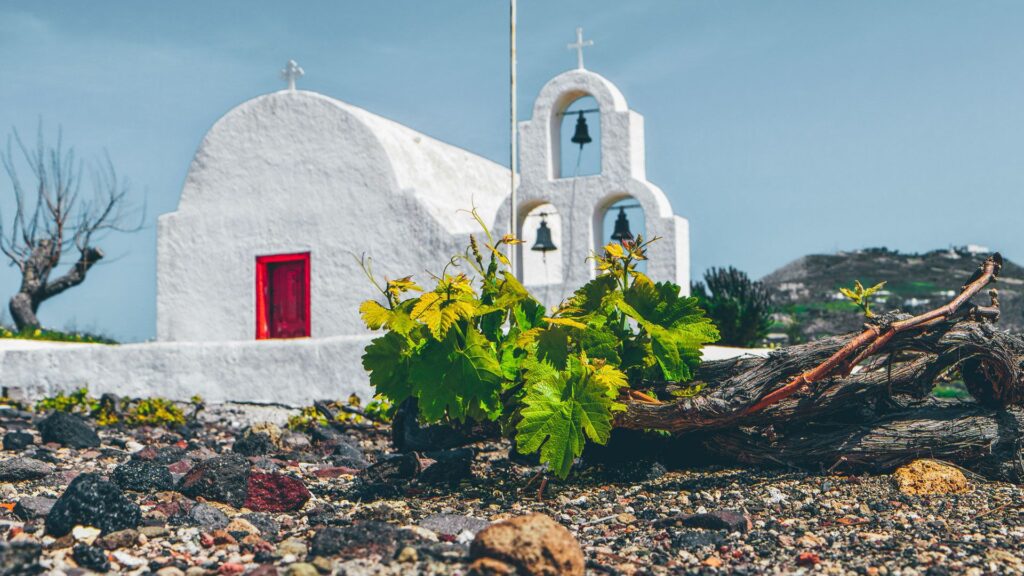 Santorini is one of the few locations in all of Europe that features a desert climate – so expect plenty of sunshine and agreeable conditions during your stay no matter the season. Temperatures in the summer months average in the low-80s during the day and mid-60s at night. Meanwhile, Santorini's busy season falls between June and early September. During this time, anticipate higher prices and larger crowds wherever you visit. Also, expect more crowds whenever cruise ships are in port. Take time to explore early in the morning or late in the day when conditions are most agreeable, too. The island is also known for its small but excellent vineyards. (read more on Greek Wine) September is a prime winemaking month, so strongly consider visiting one of the island's unique wineries like Santo Wines perched high above the Aegean. Finally, Santorini is considered one of the Greek Isles' top beach islands with its soft sand and options for red, black, and white-hued shores. Try Black Beach, Red Beach, or Agios Georgios on the southern end for a quieter swim.
How to get to Santorini 
Long gone are the days where getting to the Greek Isles was an adventure in of itself. While there can still be a bit of fun in finding your way to the island, Santorini's popularity means it is easy to reach.
Fly to Santorini
You can fly direct to Santorini from various European cities, especially in summer (there are significantly fewer direct flights off-season). You can fly direct from cities including London, Madrid, Paris, and Brussels. If you are flying from outside Europe, or outside the peak tourism season, you may need to fly to Athens first. From Athens, you can either take a short daily flight or a longer (but more adventurous) ferry.
Ferry to Santorini
Exploring the Greek Islands by ferry is one of the most iconic holiday adventures in the world. The whole ferry experience is a big part of the appeal of visiting the Greek Islands and it's a very enjoyable and relaxing way to travel. Ferries from Athens arrive on Santorini several times a day. You can either catch the fast ferries which take about 5 hours or the slower Blue Star ferries which have big outdoor decks, restaurants and even cabins.  You can also arrive by ferry from neighbouring islands such as Naxos and Ios or even Crete or Rhodes.
Islands near Santorini
Dreaming of an island-hopping honeymoon? There are a few islands that are a short trip from Santorini, including other Cycladic islands like Ios, Amorgos, Paros, Naxos, Sifnos, Milos and also Crete and Rhodes in the Dodecanese group.  There are also some cruises and sailing trips which take in other islands, and these run quite frequently in the summer months.
Where to stay on Santorini
With a plethora of beautiful places, choosing a base for your Santorini honeymoon can be a challenge. However, this decision really depends on what you are looking for. Perhaps your ideal honeymoon involves being tucked away in a hidden paradise – or maybe you'd prefer to be right in the heart of the cosmopolitan action, being wined and dined. Whatever you're looking for, chances are you'll find it on Santorini.
Oia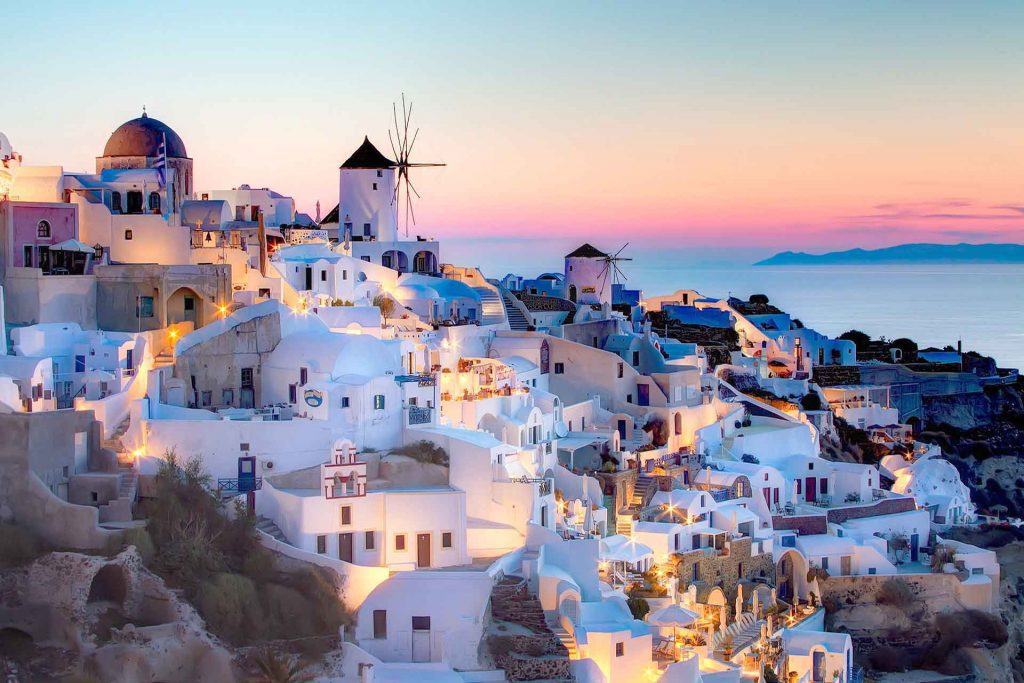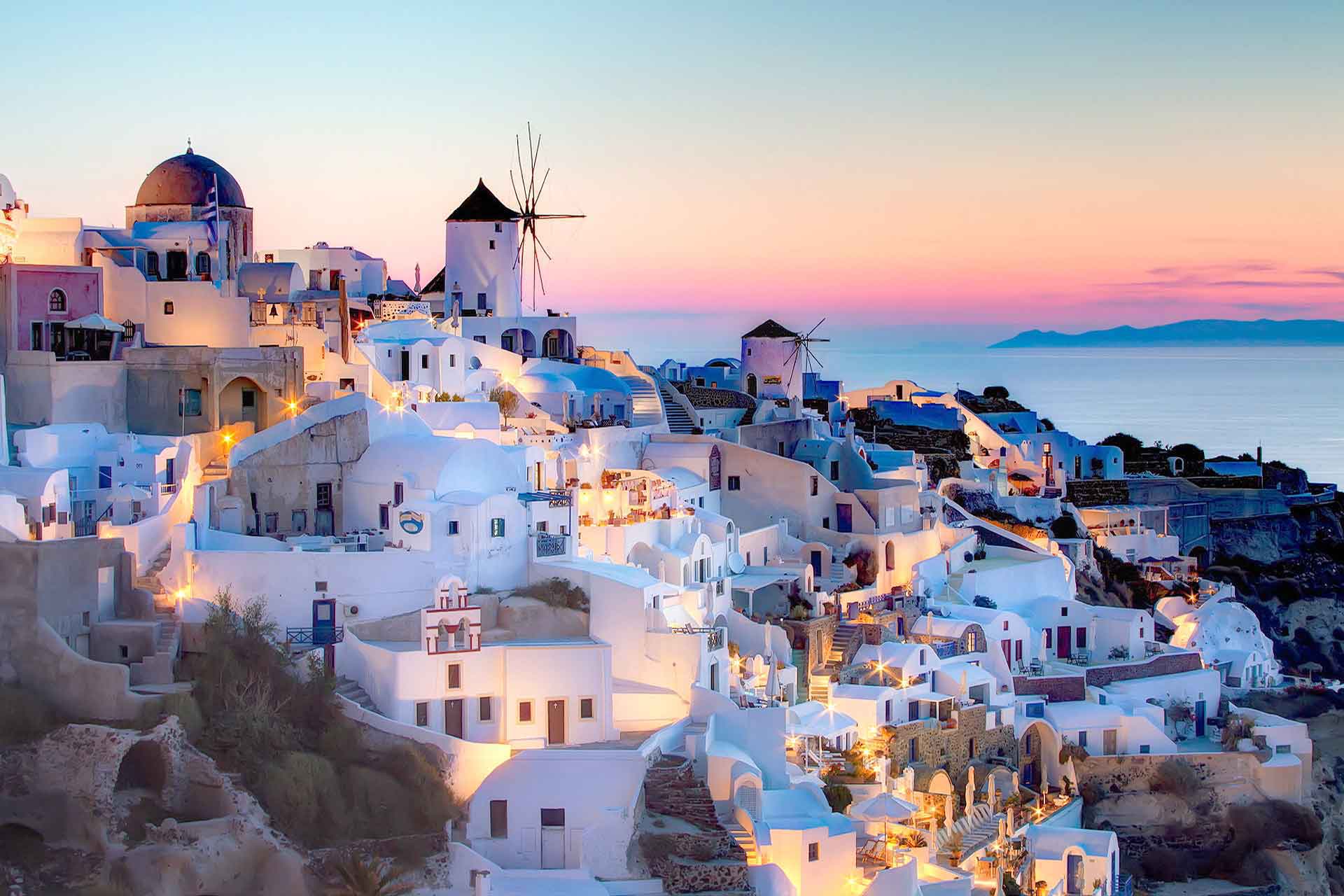 The beautiful town of Oia, the second largest town on Santorini, is a popular choice for honeymooners. Oozing charm and charisma, Santorini's second-largest town really is a dream honeymoon destination. If you close your eyes and dream of Santorini, the scene you imagine probably looks a lot like Oia. With its whitewashed historic buildings and epic surrounding views, it really is close to what honeymoon dreams are made of. For many visitors, Oia is "just right" in terms of size. It has an excellent selection of restaurants and some great shopping, however, it still has a calm atmosphere about it. There are a couple of cocktail bars here but the nightlife is more subdued, making the feel of Oia a little more peaceful than Fira. That said, Fira is just a short taxi ride away if you want to dance the night away. The biggest highlight of Oia is its stunning sunset views, which attract visitors from all over the island. Prepare to be absolutely mesmerized by the beauty of the sunset over the caldera.
Hotels in Oia
We've done the hard work for you and written an entire article dedicated to the very best and most luxurious Oia, Santorini accommodation. This covers the most coveted hotels in the villages as well as a few alternatives for the budget-conscious as well.   In Oia there are a number of incredible options including the Hector Cave House, which was once a wine cellar, and 270 Oia View both of which are cave rooms with private pools and STUNNING views.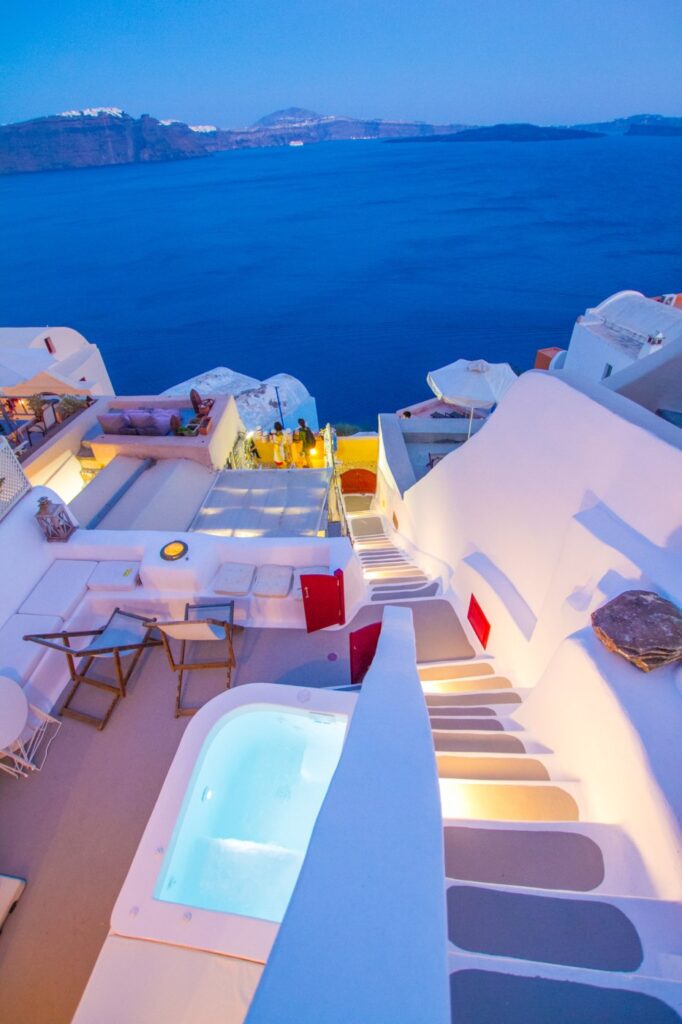 Imerovigli
Ask those in the know about the best place to stay on Santorini for your honeymoon, and chances are you'll hear the name Imerovigli. Located right in the middle of Oia and Fira but also on the Caldera, Imerovigli is ideal if you would prefer your honeymoon location to be very peaceful, and ever-so-romantic. It's impossible to mention Imerovigli without raving about the views, which are particularly gorgeous due to the town's elevated location. The panoramas out over the caldera are hands down some of the best on the island and are sure to take your breath away. Despite their beauty, Imerovigli remains a peaceful locale on the island. It does have a selection of nice restaurants, however, there's no real nightlife to speak of – perfect if you'd just prefer to cozy up with your new husband or wife at night. Imerovigli is also an accessible walk (around 30 minutes) from Fira, so you can base yourself there yet dip your toes into the more bustling amenities of Santorini's largest town.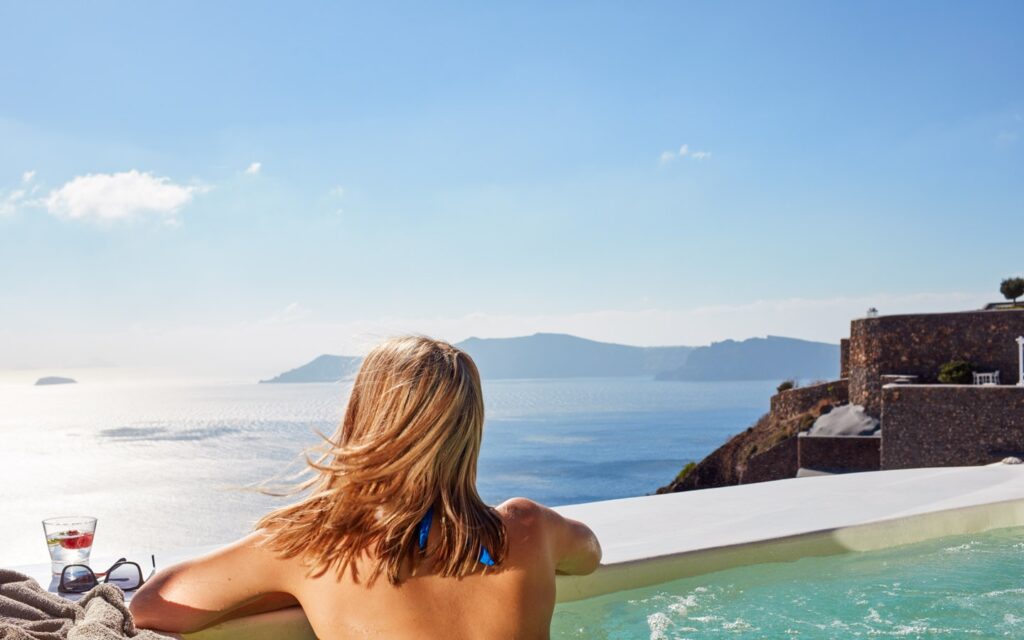 Hotels in Imerovigli
For hotel accommodation, Astra Suites and Santorini Princess Spa Hotel are two of our favorites with exceptional service and beautiful rooms and facilities. For a very private and fully independent stay then Villa Cave has a heated plunge pool looking over the Caldera or Royal Suite has an outdoor Jacuzzi on its private and expensive terrace. Both are amazing!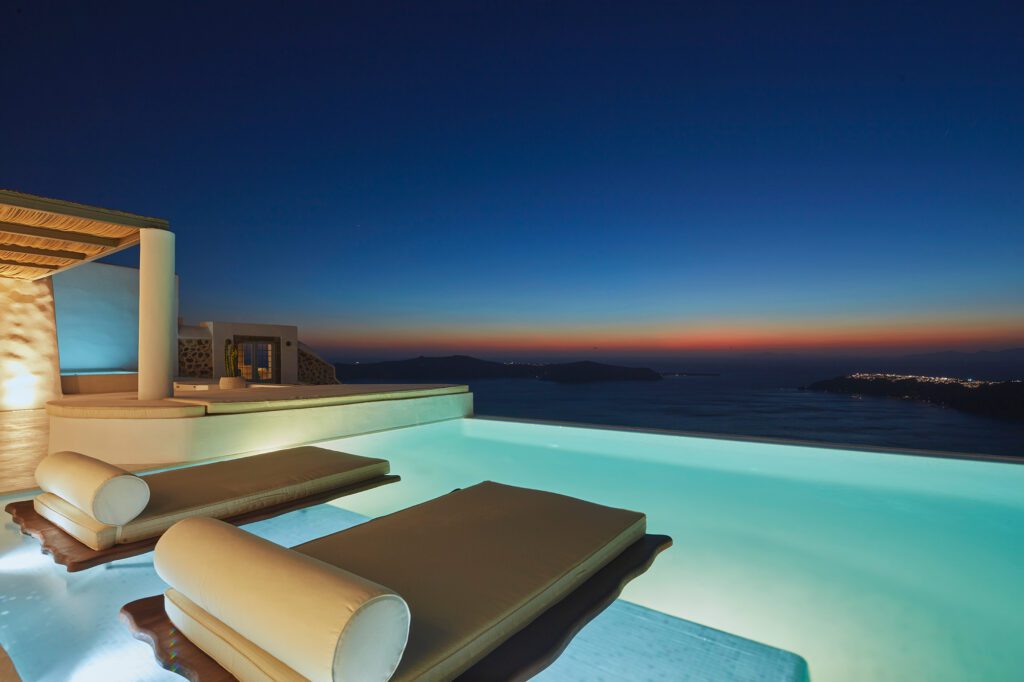 Fira
If your dream Santorini honeymoon involves nights filled with divine dinners and perhaps a spot of dancing cocktail in-hand, then Fira is an excellent choice. It's Santorini's largest town, and year-round it is the most bustling locale on the island. Here you'll find the island's best selection of restaurants, nightclubs, and shops from large designer stores to smaller boutiques. There's also an impressive range of things to do including museums and galleries, and Fira is well-connected to the rest of the island by public transport and taxis. If you're looking to celebrate your union with a bang (and by that, we mean plenty of dancing and lavish cocktails), then Fira is a great choice. It has some of the best nightlife on the island, from small cocktail bars to large dance clubs. That's not to say you can't find quiet moments in Fira – far from it. The town offers stunning caldera views, which are just perfect for enjoying with your loved one as the sunsets. It really is a beautiful backdrop for a honeymoon.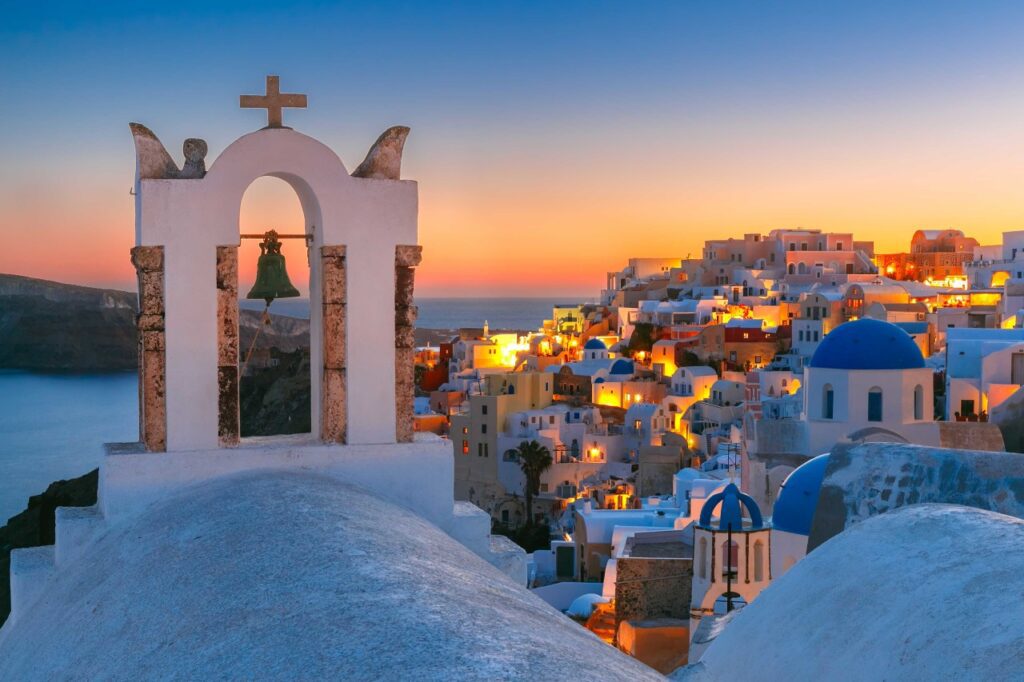 Hotels in Fira
For some of the best Fira hotels for a honeymoon, our pick would be Limestone Luxury Suites which are quite new and very luxe. Marquise Suites is also perfect as it's small, intimate and Adults Only.  Just outside Fira are the amazing Serenity Suites and Villa which overlook the port and are right next to some pretty church domes. These have 2 bedrooms so great if you have kids or company! If you want to be a short stroll from Fira town then Premier Residence is a very charming small, traditional Cycladic house with stunning panoramic views.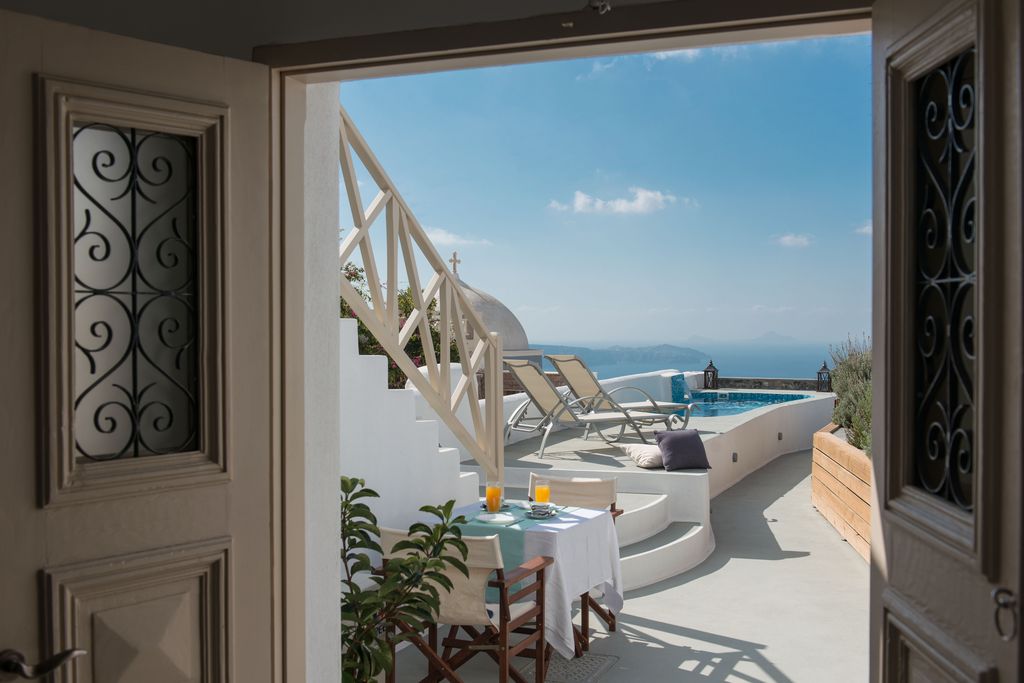 Kamari/Perissa/Perivolos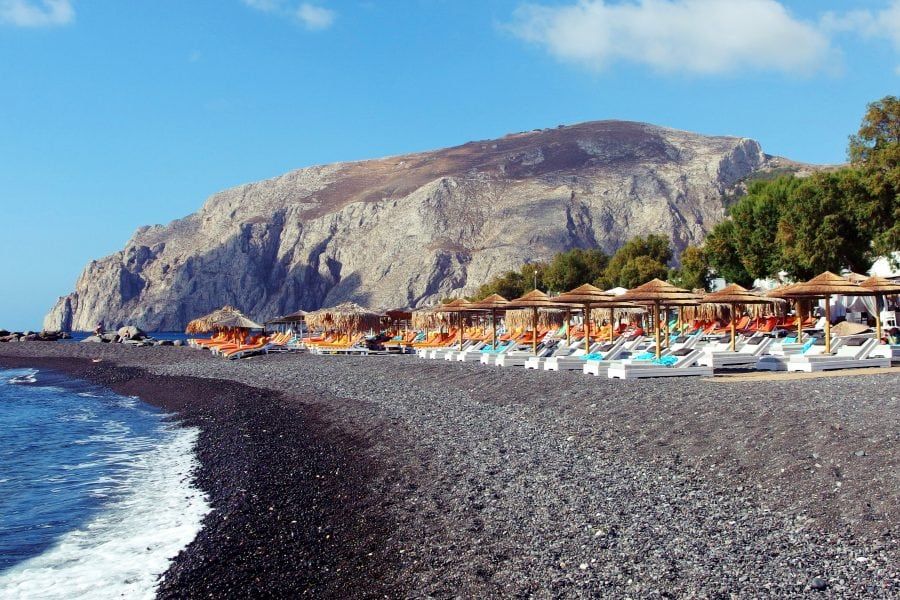 If you and your new spouse crave sun, sand, and surf while enjoying your Santorini honeymoon, then you'll want to look at the towns of Kamari, Perissa or Perivolos. Santorini's beaches are volcanic sand and generally fairly rocky, however, the swimming is good and the sun lounges are plentiful.  Kamari Beach is one of the island's most famous hotspots, partly thanks to its close proximity to bustling Fira. The beach is pebbly but the atmosphere is laidback and inviting, and there's excellent swimming her if you're looking to cool off from the sun. Being just 15 minutes by bus from Fira, it's a great choice if you're looking to enjoy all of Santorini's charms. You won't have the famed Caldera views but you will have the beach AND prices are considerably lower.  Perissa and Perivolos both have slightly better sand than Kamari, so are great choices for serious beach lovers. Actually, the two beaches merge together, and it's hard to tell where one starts and the other begins; however at the far end of Perivolos you'll find a smattering of luxe hotels, while Perissa is a little more budget-friendly.
Beach hotels in Santorini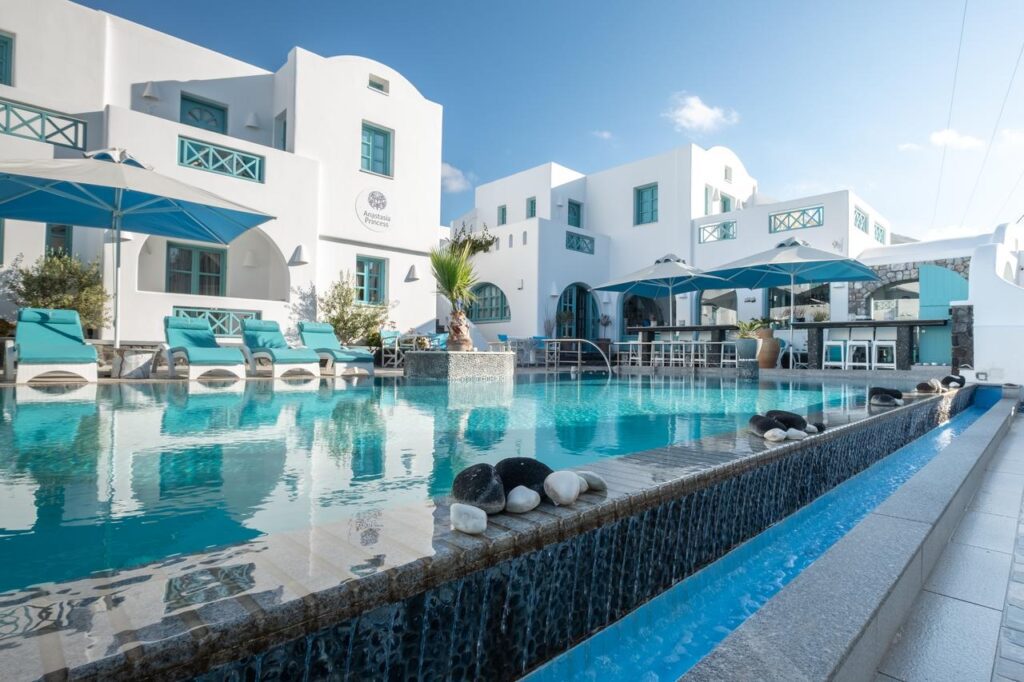 La Belleza Eco Hotel is our pick for an affordable honeymoon in Kamari while Anastasia Princess Luxury Residence in Perissa (Adults Only) and Petri Suites in Perivolos are both gorgeous. If you've had a destination wedding and have family or friends staying with you then Aeolis Holiday House in Perissa is amazing! Sleeping up to 14 people in 9 beds this luxury house has a huge swimming pool that is a feature of the home. The beach is just a few minute's walk and it even features a 'romantic room' on the upper floor facing the pool.
Akrotiri
A slightly more unusual choice for your Santorini honeymoon, Akrotiri is arguably the most historic area on Santorini. There's certainly something ultra-charming about ancient treasures, and Akrotiri has them in spades. So, if you and your loved one are history buffs – or you're just looking for a beautiful, quiet spot to enjoy your honeymoon – consider Akrotiri. The village is most famous for the ancient site of the same name. Dating from the Bronze Age, the ancient town of Akrotiri was startlingly well-preserved due to a volcanic eruption (a la Pompeii) and is today the town's biggest attraction. You'll find a modest selection of restaurants and shops in Akrotiri, although it's far more limited than Fira or Oia. You may also like to enjoy a trip out to the nearby lighthouse, which is very charming and also enjoys beautiful views out over the sea. A perfect hidden honeymoon hotspot! If choosing Akrotiri, you'll ideally want your own transport so you can travel around and enjoy more of the island. In particular, there are several beautiful beaches nearby, and you may also like to enjoy a spot of wine tasting as well.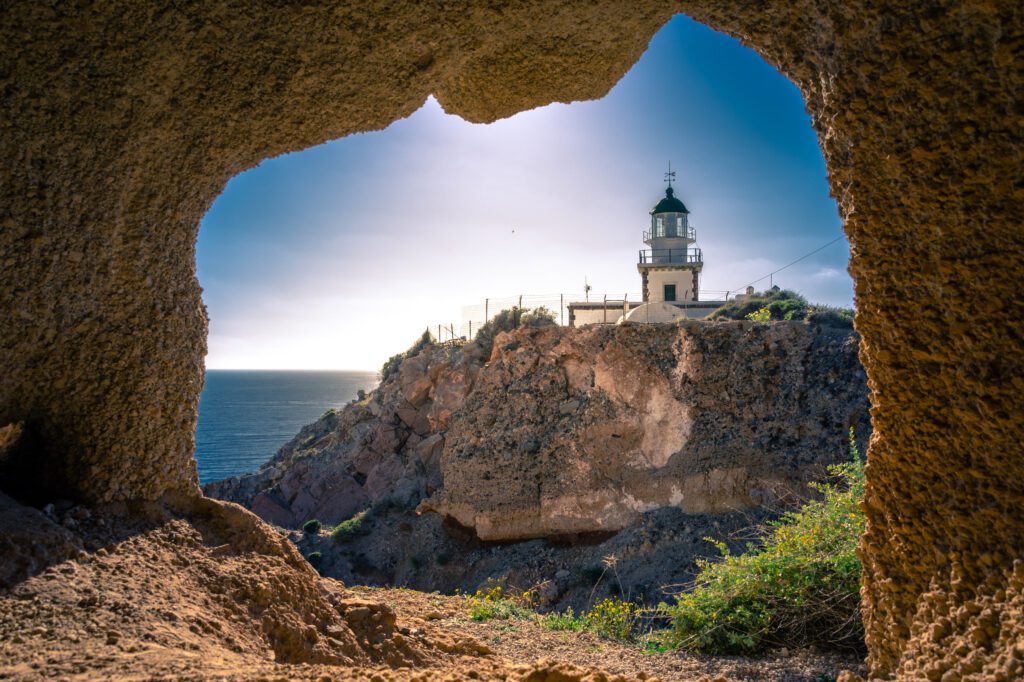 Akrotiri Accommodation
Elements of Caldera Suites are 12 newly built suites carved into the cliffs and are stunning. Phos the Boutique is also lovely and perched on the edge of the Caldera with spectacular views and amenities. Again there is a great option in Akrotiri if travelling with a group at Seascapes Suites. This a super stylish Cycladic house with 6 bedrooms and a pool with multiple terraces. It's very private too, on its own road and with no neighbours!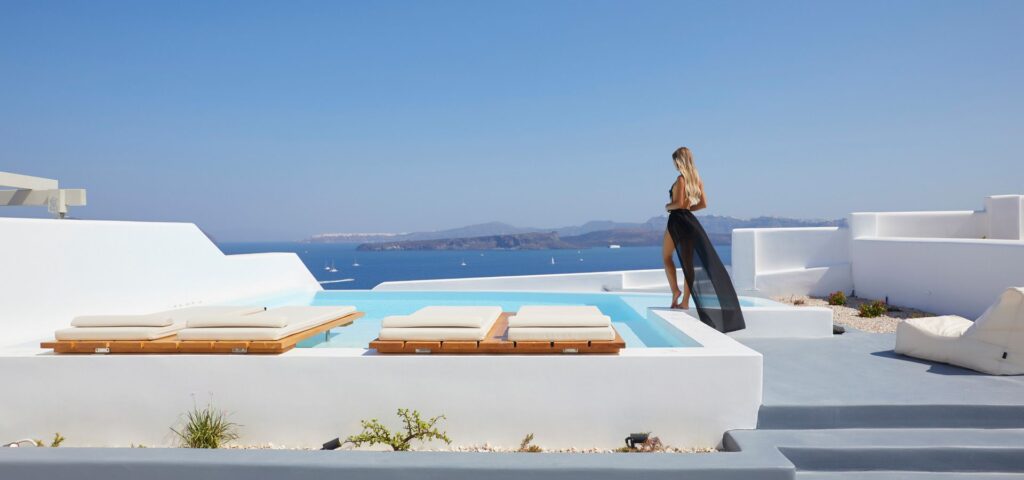 The best Santorini restaurants for honeymooners
Of course, you couldn't have a wonderful Santorini honeymoon without enjoying your fair share of the local cuisine. Santorini boasts some of the world's best restaurants, from glitzy Michelin-starred options right through to modest family-owned tavernas. All the options have their own charm, and are well worth trying. Being an island, seafood is a popular choice and an indulgent seafood basket is certainly a great option for you and your loved one. You might also like to try Fava me Koukia, a popular local dish that will definitely have you heading back for seconds!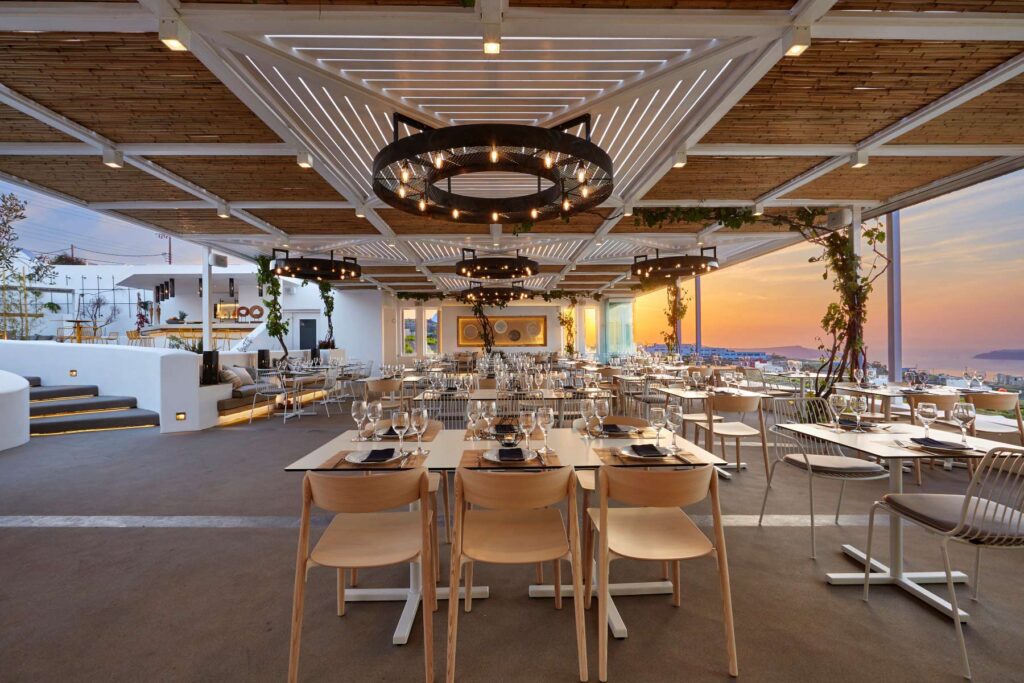 There are so many great restaurants on Santorini it's hard to choose favourites. But some of the best include:
Athenian House (Imerovigli) – amazing views and perfect service, all in a charming atmosphere
Ambrosia (Oia) – widely regarded as the most romantic restaurant on Santorini
Ammoudi Fish Taverna (Ammoudi Bay) – for mouthwateringly fresh seafood that feels so authentic
Best Santorini restaurants for lunch
While dinner time might the domain of oh-so-fancy degustation menus and the like, by day it's all about long, lazy lunches, often overlooking the sea and perhaps with a chilled bottle of white or sparkling on hand to add some pizazz. Of course, seafood is an obvious choice, but whatever you're looking for in your long and romantic lunch, you're sure to find it on Santorini.
Armeni Restaurant
Enjoy a delicious and sumptuously fresh seafood extravaganza the way it's supposed to be – with the ocean breeze in your hair and overlooking the ocean. For this, Armeni Restaurant is a fabulous choice, with its breezy decor, laid-back vibes and utterly delicious fresh seafood. It's perfect for a romantic lunch, best paired with some local white wine.
Lefkes
Since arriving on the island in 2016 as the brainchild of a passionate group of foodie friends, Lefkes has established a big reputation. It's certainly hard to go past its delicious cuisine, which is true to the traditional style but with modern twists, paired with its epic wine list and beautiful setting. A romantic and charming lunch spot in a unique and beautiful venue.
Ammoudi Fish Taverna
If you're looking for a unique and romantic experience that's laid back and authentic, then you'll certainly love Ammoudi Fish Taverna in the tiny village of Ammoudi Bay. With the location's long fishing and maritime history, there's no more fitting place to dine on a delectable, plucked-right-from-the-ocean seafood basket. The decor is breezy and reminiscent of a sailboat, and the service is friendly and hospitable. Perfect for a more informal romantic lunch.
Best Santorini restaurant for romantic dinners
As night falls, tables all over Santorini fill up with excited diners, ready to experience the island's world-famous gastronomy. There are few places on earth where there are so many delectable restaurants in such a small space, and where romance is proudly on the menu everywhere. There are many great choices for romantic dinners in Santorini, but here are some of the best.
Tip: it's worth making bookings for these restaurants as early as possible, and asking if they do anything special for honeymooners. Whether it's a total package or just an extra-special table, they may be able to make your evening even more special.
Lycabettus
For a truly unforgettable and magical dining experience, there's Lycabettus. You'll feel like you're suspended on a platform above the Aegean here, with absolutely mesmerising views as far as the eye can see in every direction. If you're looking for dinner with a very generous side of WOW factor, this is the place to be. There are only a couple of highly sought-after tables, so be sure to book well in advance.
Caldera Romantica
Set in the historic village of Akrotiri, Caldera Romantica is a wonderful place to get dinner – perhaps after a day of exploring the nearby ruins. The hint is in the name – this venue prides itself on its romantic flair, and even offers special packages for lovers and honeymooners. With this, you'll get a few special surprises to make your dinner even more memorable. Be sure to call ahead to make it happen!
Ambrosia
Repeatedly named as one of the most romantic and beautiful restaurants in the world, dinner at the famed Ambrosia restaurant in Oia is certainly an unforgettable experience. Perched on a hilltop, its elevated position means it offers beautiful views, while some of the world's top chefs craft meals that are melt-in-your-mouth incredible. It's all good, but their decadent desserts are a particular highlight.
Best Santorini sunset restaurants
If you didn't know before reading this article, you surely know now – Santorini's views are really, really magical. It's hard to picture a more perfect backdrop for a romantic meal (or drink) celebrating your new life together. While there are many fabulous restaurants with a view in Santorini, these are some of our top picks.
FlyAway Creative
Innovative and delicious cuisine, attentive and warm service, and fabulous views to boot? Yep, FlyAway Creative is definitely one of our picks for the best honeymoon dinner in Santorini. It's a little more relaxed than some of the other options on this list, but its warmth and cosy factor is all part of its appeal. Plus, it gets amazing sunset views as well.
La Maison
With its totally stunning sunset views and mouthwatering menu, La Maison in Imerovigli is a definite favorite amongst romantics. The restaurant offers some of the island's most jaw-dropping sunset views. You might think it'd be hard to look away, but with their luxe and delicious menu (plus a divine wine list), the meals are worthy of just as much attention.
Bordeaux">Villa Bordeaux
There really are few places in the world like Santorini, where you can enjoy absolutely sumptuous cuisine while gazing over at views that seem too perfect to be real. This is certainly what's on offer at Villa Bordeaux, a luxury hotel which also offers a stunningly romantic restaurant. You'll be able to enjoy the beautiful views over the caldera from the terrace, which pairs perfectly with the delectable menu and fabulous wine list.
Things to do on Santorini
There's no shortage of things to do in Santorini while on honeymoon. Read more on special Santorini Article
Take in the sunset views
Did you notice how many times "sunsets" and "views" were mentioned above? Yep, these stunning vistas are certainly unmissable when you visit Santorini on honeymoon.The sight of the sun lazily dropping down over the caldera and illuminating the whitewashed buildings is truly spectacular. Oia and Imerovigli are two of the best places to see the sunsets, although Fira also offers some epic views. There are many ways to take them in, however enjoying them over a delicious meal, glass of Santorini wine in-hand sounds pretty amazing to us. While Oia is the most famous location for sunset-seekers, it does get very popular so be sure to book your table ahead. Another option (and great contrast) is to head to a less populated part of the island – the view from the Monastery of Profitis Ilias is also absolutely epic.
Sail or cruise around the island
The sight of Santorini is absolutely amazing from the island, however, you can take in yet another sublime viewpoint by enjoying a romantic cruise on a boat around the island. This way, you can take in the unique geology, and perhaps enjoy a glass of bubbles as the sunsets. How romantic!Many of the Santorini boat tours will take you for an amazing adventure right into the heart of the caldera. This is an amazing way to take in the beauty of the island, and also a fabulous addition to any honeymoon. You'll be able to choose from small private boat tours, right up to larger luxury group tours where you'll share the experience with other travellers. As well as the caldera boat tours, there are also other options including day trips to nearby islands. You can also try some unique options including a kayak tour or an fishing trip that includes lunch if you prefer to be a bit more active on your honeymoon!
Wine tasting
What goes hand-in-hand with a romantic Santorini honeymoon? Delicious Santorini wine, of course! Wine tasting is a popular activity on Santorini, and also makes a fabulous addition to any honeymoon. You can sample some delicious local wine and learn about traditional methods of viticulture, all with a generous dose of Greek hospitality. There are many wineries located towards the center of the island, particularly around Megalochori and the stunningly beautiful village of Pyrgos. Some of the most famous wineries include Santo Winery and Argyros Estates, however, there are plenty to fill an afternoon (or a day) with. There is an excellent sunset-wine tasting combo tour that is perfect for a Santorini honeymoon!
Visit the beach
Truth be told, Santorini's beaches don't have the mega reputation of other islands like Mykonos, largely as they are typically volcanic with black sand. However, for many people this really only adds to their unique appeal, and you can certainly spend plenty of time lazing by the sea on Santorini. As mentioned above in places to stay, three of the most popular beaches on Santorini are Kamari, Perissa, and Perivolos. Another beautiful and unique beach is Red Beach, so named after the ochre-coloured rocky cliffs that surround it. If you're looking for a hidden gem to enjoy with your love away from the crowds, then I recommend the suitably named Eros (the Greek God of love and desire) locate at the southern end of Santorini.
Visit historic sites
A large part of Santorini's charm is its long and unique history, which is particularly fascinating as it's filled with a few myths and legends. So, if you want a side of mystery and culture with your romantic honeymoon, then be sure to leave some time to tour the historic sites. Of them all, the most famous is the well-preserved Bronze age village of Akrotiri, which is just near the modern village of the same name. It was destroyed by a volcanic eruption many centuries ago, however, this also preserved the ruins under the hardened lava. Fun fact – it's widely believed that the volcanic eruption of Thera (which created the Santorini we know today) inspired the tales of Atlantis. Perhaps you'll find evidence of the lost city on your honeymoon?
Hike!
While there's nothing wrong with endless lazy days on Santorini, a hike is a perfect option for more active couples. You'll surely love wandering hand-in-hand, taking in the spectacular scenery, and stopping to capture a few of the magnificent moments. Hiking is particularly fabulous on Santorini due to those amazing views I can't stop raving about. There are a few popular options for hikes, which are good for even inexperienced hikers. One of the most popular is the walk between Fira and Oia, which takes in all the beautiful caldera views you'd expect. It does take a couple of hours, so wear comfy shoes! Another popular hiking destination is to the top of Santorini Volcano, which is actually just a short boat ride away on Nea Kameni island. It's a great day trip and you can also cool off by taking a quick dip after your walk.
Horse Riding
Horse's and donkeys are common in Greece and much loved as both working animals and pets.There's something very liberating about riding a horse especially along a beach and to do it surrounded but the extraordinary landscapes of Santorini is truly something special. Horse Riding in Santorini is a very romantic activity and one to definitely try and do as the sun goes down.