A walking tour of historic Thessaloniki
Thessaloniki Visit – Layered with history, imbued with culture, and offering up some incredible cuisine, Thessaloniki is a port city that has all the vibrancy you'd expect from Greece's second city. Once "the co-capital" of the Byzantine Empire along with Constantinople, the city is known for its energetic festivals as much as its ancient sites and there is a lot to consider when it comes to working out what to see in Thessaloniki.
Boasting not only ancient Greek heritage (having been founded in 315 BC), Thessaloniki was also once an important city for the Romans. King Cassander of Macedon founded the city and named it after his wife — a sister of Alexander the Great. It rose to become the most vital city of this Greek region.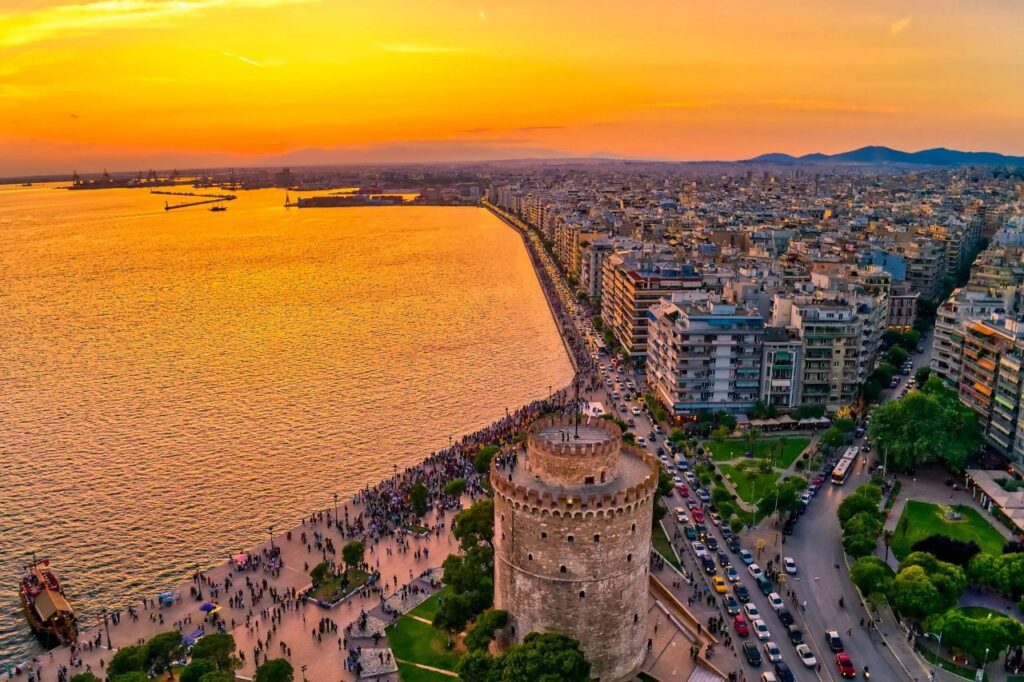 Add a Mediterranean climate, attractive streets to explore, a beautiful waterfront, and the bonus of being a university town with excellent nightlife, and it's easy to see why Thessaloniki is so popular with visitors and locals alike. A famously welcoming and open-hearted city, Thessaloniki doesn't keep its secrets to itself. Just as the locals will talk with undisguised affection about their hometown, so its buildings and monuments stand ready to reveal all. More than 2,000 years of history – Hellenistic, Roman, Byzantine, Ottoman and modern – it's all there, in plain view. All you have to do is put on a pair of shoes and get exploring. Early Christian churches, Roman relics, Byzantine castles and Ottoman baths and mosques… they'll tell you everything you need to know about a modern and vibrant city, shaped by a diverse array of cultures and personalities over the years. You can head out in just about any direction and be rewarded, but we've put together an itinerary that starts at the iconic White Tower and ends at the castles of the Upper Town. Pick and choose as you wish. You won't be disappointed.
When to visit Thessaloniki
Like much of Greece the best time to visit Thessaloniki is April to October. High season, like, like everywhere, is late June to early September, although it does not tend to get as busy as the islands and Athens. It is also generally somewhat cheaper. Winter can still be a good time to visit Thessaloniki. It is a city that is open year-round and is a gateway to many for the ski-fields near Mt Olympus and other parts of Northern Greece.
How to get to Thessaloniki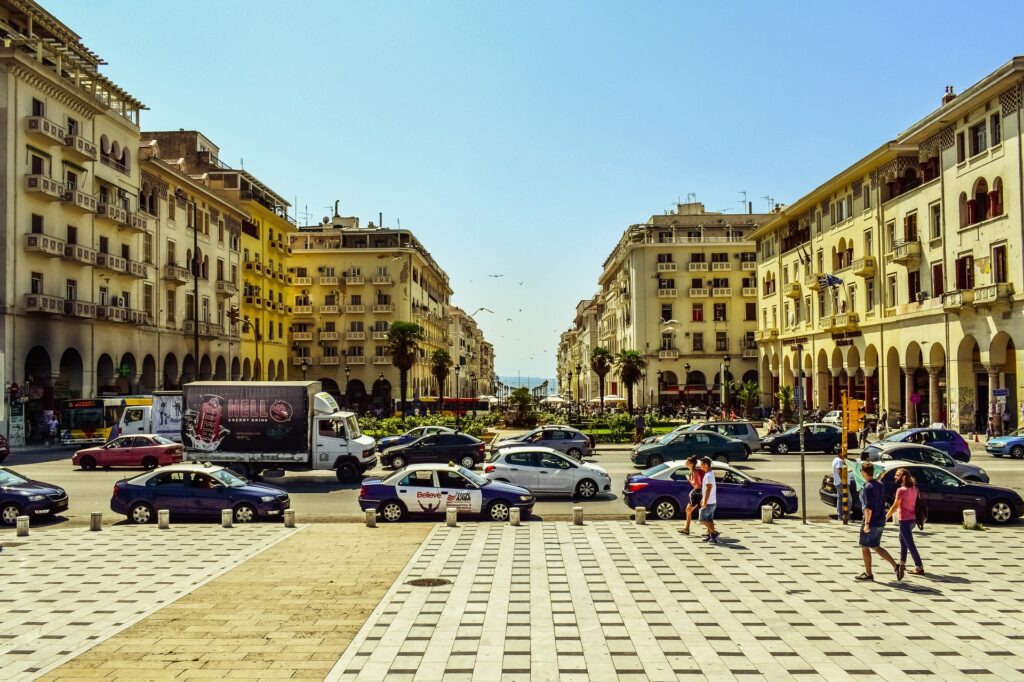 Luckily for travelers in Greece, Thessaloniki is not only a port city but also something of a travel hub. It's well connected by road and rail and boasts an international airport, which connects to around 38 countries and more than 60 foreign cities, with direct flights to islands around Greece. The New Railway Station is the city's main passenger terminal and is located on Monastiriou Street. From here, you can travel all over northern Greece's rail network, connect to the south, or travel on the suburban line. Thessaloniki's Intercity Bus Station KTEL means travelers can connect with the city on long-distance transport, along 800 routes to 41 bus stations and five international destinations, including Germany and Bulgaria. Thessaloniki's port – more than 2,300 years old – is a major destination for cruise ships, ferries and other sea-faring vessels. Naturally, there are many other places around the Greek continent served by the port.
Athens to Thessaloniki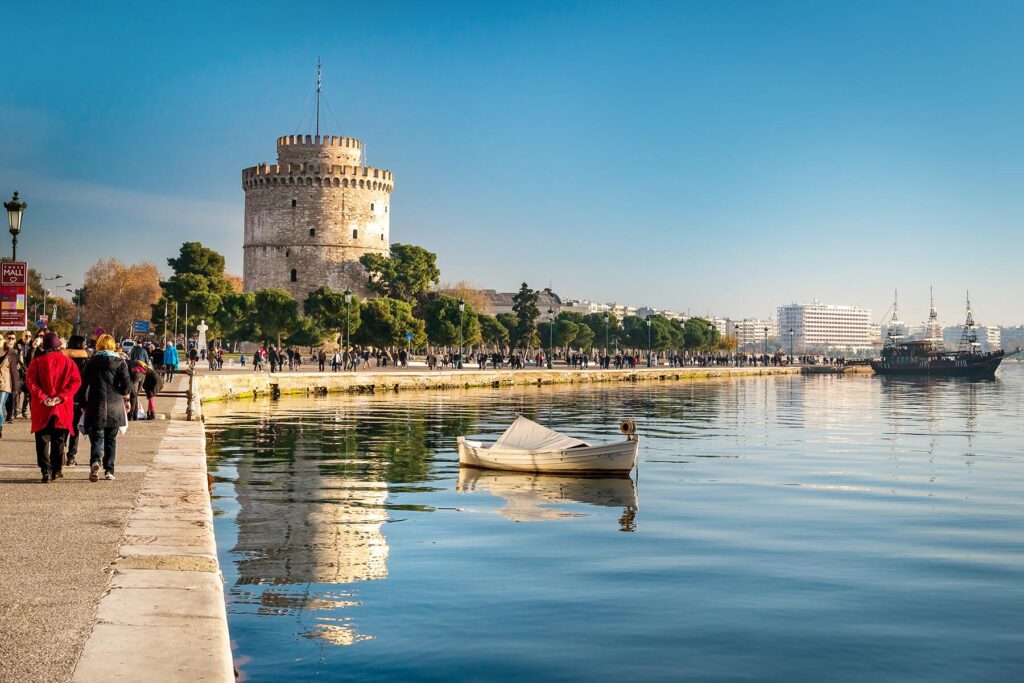 Chances are that your first port of call in Greece will be Athens. Luckily, getting from the capital in the south to Thessaloniki in the north is fairly straightforward. There are multiple options for you to choose from. The quickest way is to take a direct flight. There are multiple flights scheduled throughout the day. A train is also an option. It takes around six hours but is less straightforward. If you are planning on hiring a car in Greece, you could drive to Thessaloniki. It takes approximately five and a half hours; you can pick up a rental car at Athens airport. Buses, on the other hand, run direct from Athens to Thessaloniki, leaving roughly once every three hours and taking just under six hours.
Flights to Thessaloniki
There are several flights a day with Aegean /Olympic Airlines and others offered by Sky Express, Ryan Air and Hahn Air, especially during peak periods. Check Skyscanner for schedules and prices.
Best Locations to choose your hotel
The northern Greek city of Thessaloniki is an enticing destination that has, in recent years, been gaining even more attention with its youthful atmosphere, easygoing vibe, and exciting cultural events. That's without mentioning its electric nightlife and internationally acclaimed food scene. Being a big urban area, there are many places to stay in Thessaloniki; the neighborhoods are as diverse as the city itself.
Ladadika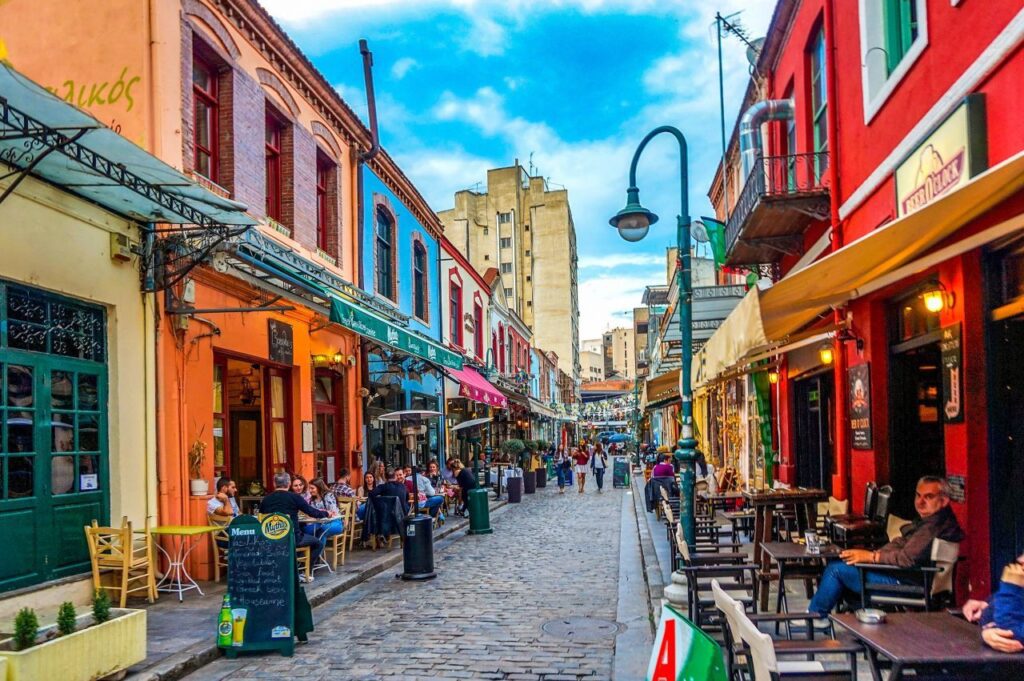 Situated close to Thessaloniki's port, Ladadika is a historic district that was once an important hub of marketplaces. Today, it's a hotspot for entertainment, featuring streets lined with bars, local tavernas, and a wide selection of eateries. One of the most well-known neighborhoods in the city, it's popular with tourists and locals. Visitors are charmed not only by its colorful, Neoclassical buildings and pedestrianised streets but also by its lively atmosphere – the epitome of past and present mixed together.
Ano Poli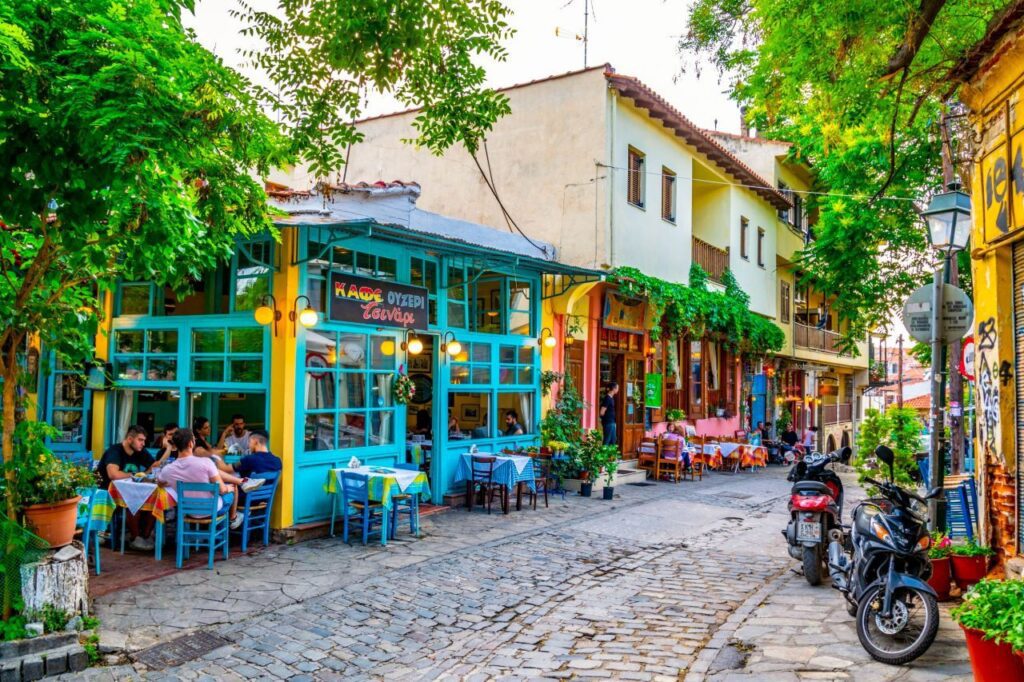 The Old Town itself isn't just a living museum; the "city above the city" is a great place to stay, too. Quieter than Ladadika, but with all the history, basing yourself in Ano Poli means being surrounded by captivating architecture, breathtaking views, and cosy tavernas. It certainly embodies the spirit of the old city. A romantic network of cobblestoned roads and rambling hillside houses, Ano Poli is a great place to stay in Thessaloniki if you're looking for charm and serenity. This a great option for couples; the sun setting over the ocean makes for a romantic evening setting.
The Waterfront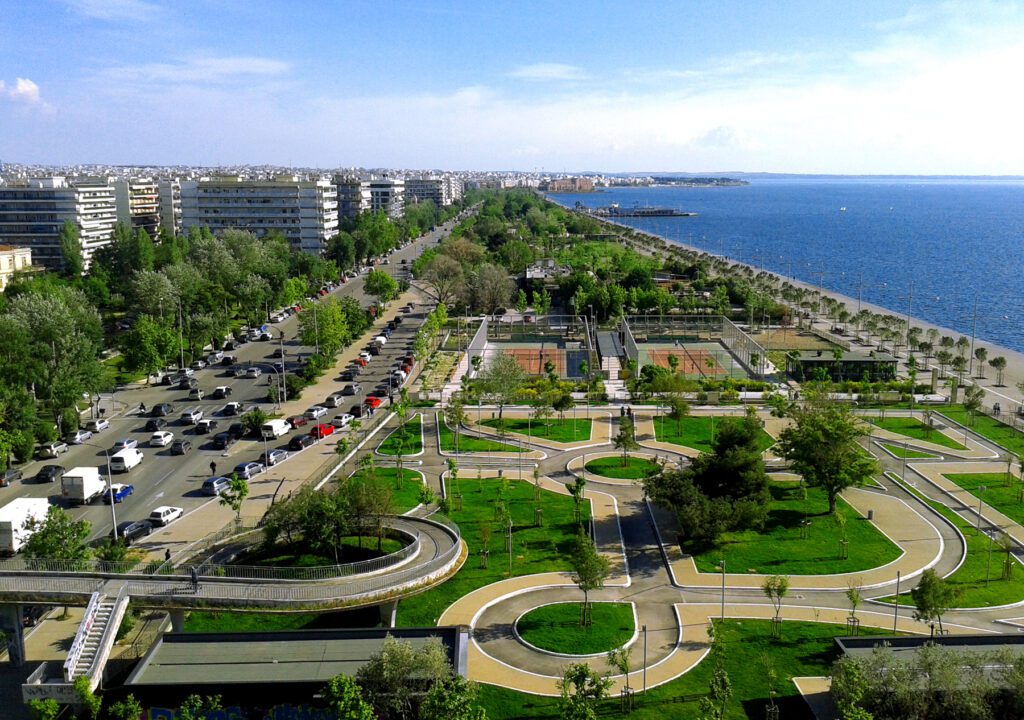 If romance is what you're looking for, but you don't really want peace and quiet to go with it, Thessaloniki's waterfront area is the place to stay. The sea is an integral part of the city, so it makes sense to base yourself where the fortunes of the city were made over the years. Partially developed by French architect Ernest Hebrard after the 1917 fire, the waterfront is a pleasant, attractive district, complete with a cosmopolitan atmosphere. Stroll along its pretty promenade, duck into a streetside cafe, admire the beautiful residential homes, or simply gaze at one of the many sculptures along the way. There's the White Tower, a statue of Alexander the Great, and the more modern "Umbrellas" soaring into the sky.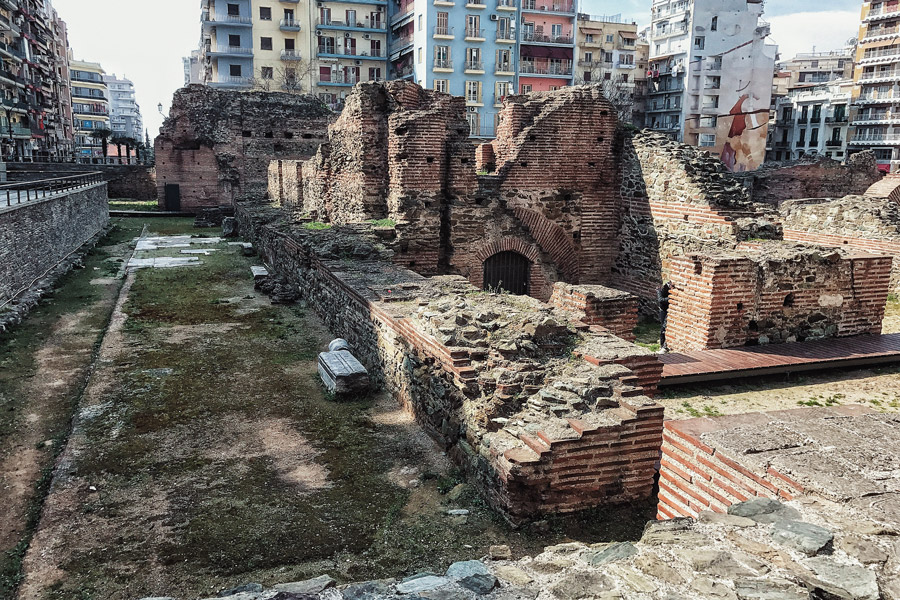 Navarinou Square is close to the Aristotle University of Thessaloniki. Naturally, it's a popular hangout for students. This is where you'll find street artists, cool coffee shops, buskers, and students out and about enjoying all the fun of the area. A great place for people-watching, this hipster enclave boasts cheap (and lively!) bars, second-hand bookstores, and everything that comes with having the reputation of being the city's "cool" district. There's also lashings of history; sections of the eastern part of Thessaloniki's city walls survive to this day, as do the ruins of the even more ancient Imperial Roman Palace.
What to visit in Thessaloniki
To explore Thessaloniki by foot is to hear an extraordinary story of diversity and culture from the buildings left behind by its inhabitants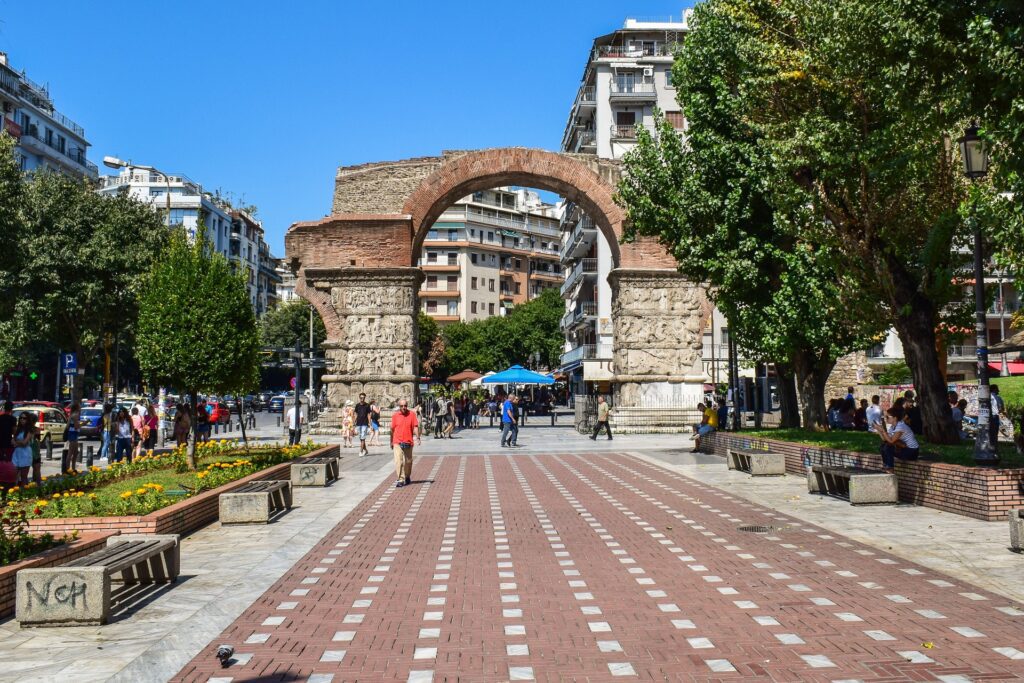 White Tower: We start at the emblematic White Tower, the 15th century prison that is now a museum that tells the story of Thessaloniki (its diverse personalities and cultures, history as a commercial hub, artistic & intellectual scene and rich culinary traditions) all the way from antiquity to today.
Roman Agora: Right next door is the Roman Agora (or Forum) which, along with the Galerian complex, constituted the heart of Thessaloniki's public and political life during Roman times. Amongst the remains are two Roman baths (one excavated) and a small theatre.
The Galerian Complex: A short walk away is a group of monuments from the late 3rd and 4th centuries AD, when Caesar Galerius Valerius Maximianus chose Thessaloniki as the seat of the eastern part of the Roman Empire. The once vast complex now consists of individual parts, amongst them the Arch of Galerius (to commemorate Galerius' successful campaign against the Persians), the Octagon, the Apsidal Hall and – most impressive – the UNESCO-protected Rotunda (which has served as a place of worship for pagans, Christians and Muslims).
Agios Dimitrios Church: Another of the UNESCO-protected monuments, best known for its crypt containing the relics of the patron saint of Thessaloniki, who was a Roman soldier and an early follower of Christianity. When he died, St Dimitrios was reputedly dropped into the church well that he used as a secret meeting place with other Christians.
Apostle of the Nations: The Church of Hagia Sophia. From the 8th century, one of the oldest churches in Thessaloniki and another of the city's many UNESCO World Heritage site monuments.
The Administrative Complex of the Kyprion Agonistou: Another excavation between the apartment blocks of a residential area. This 3rd century BC site is believed to belong to the Hellenistic period.
Bey Hamam: Near Aristotelous Square, these were the first hamam baths in Thessaloniki. The building is perhaps the best example of intricate Ottoman architecture in the city and is used today as a site for cultural events.
Upper Town (Ano Poli): We end in an area where you could spend most of the day … Thessaloniki's labyrinthine upper town. The sites here seem endless – the Byzantine Bath (one of the best-preserved from this period), the Church of Hosios David (Latomos Monastery) and the Vlatadon Monastery – all of them UNESCO-protected. But it's worth giving a special mention to the castles of the Upper Town (the Heptapyrgion and Triangular Tower). Not only will you admire these Byzantine fortresses but the views of the city, the Thermaic Gulf and – if you're lucky – Mt Olympus are outstanding.
Where to eat in Thessaloniki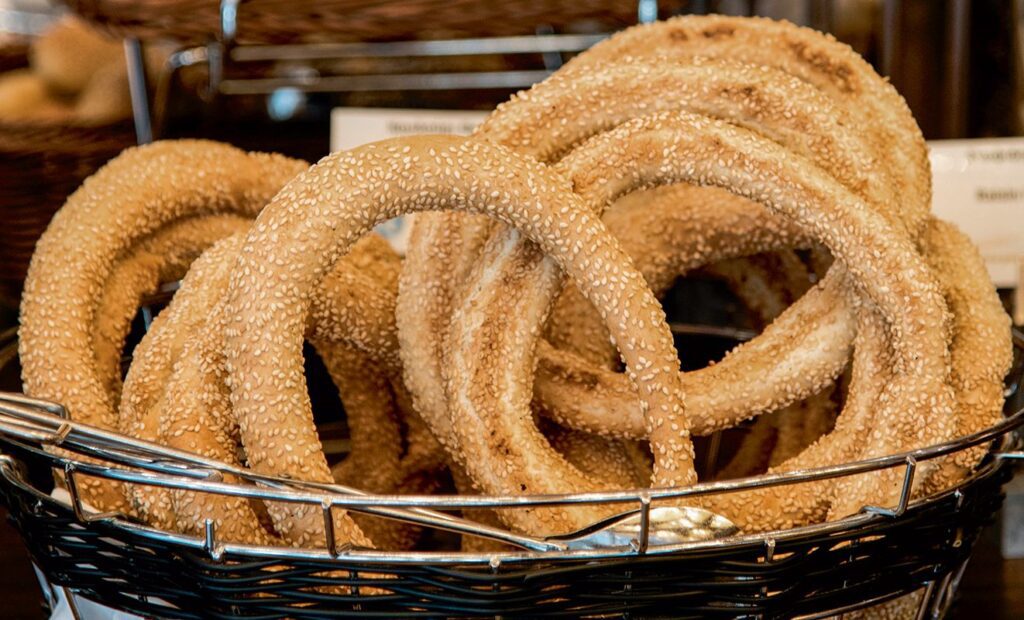 Like the hotel scene, the restaurant and bar scene in Thessaloniki is vibrant too and there are many seriously cool tavernas, cafes and bars to be found across the city. There is a palatable renaissance in the dining choices with trends towards gastronomy and degustation rather than traditional tavernas, although there are plenty of them still to be found too. In the Old Town To Tsai Thessaloniki, Argofageio and Trigona Elenidi are where you will find some of the best Greek food in town while Clochard, P22 and Grada Nuevo are our picks for special occasion fine-dining. For families and groups, Prytanio and Zorba are cheap and cheerful and always a fun night out. rOOTS is serving up some of the best Vegetarian and Vegan food in Thessaloniki as is The Saint Stores, while Marea Sea Spirit is considered by many to be the go-to place for Seafood. The bar scene will not disappoint with Vogastsikou 3 a great choice if you are after some live music too while Skyline is a rotating bar with 360-degree views of the entire city!
Related Readings
Best Tours to Thessaloniki