Best Hiking and Trekking Trails in Greece
Best Trails in Greece : With 80 percent of its area covered in hills and mountains, Greece is a hiking and trekking paradise. Even the islands offer scenic trails that allow you to discover and explore the land from another perspective, so if you want to find out where to hike on your next trip, Culture Trip has put together a list of some of the best trails in this beautiful Mediterranean country. If you love walking and exploring by foot, then this is the prefect guide to Greece for you.
Greece's mountainous terrain makes it a hiker's paradise. The most popular routes are well maintained, while others are barely more than an overgrown sheep's path. From kalderimia (cobbled or flagstone paths dating back to Byzantine times) to monopatia (shepherd's or monks' trails) connecting to remote settlements, hiking in Greece offers stunning vista views as you dab a little sweat from your brow.
Before you head out 
Spring (April to May) is the best time for hiking. The countryside is green and fresh from the winter rains, and carpeted with wildflowers. Autumn (September to October) is also a good time. If you're going to be venturing off the beaten track, make sure to invest in a good map.
Pelion Peninsula
Halfway between Athens and Thessaloniki stands the Pelion Peninsula, a very green area where the old mule paths, called kalderimis, that once connected one village to another have been cleared and signposted to serve as scenic hiking routes. Accessible to all experience levels, the trails start from several villages, including Kala Nera, Milies or Tsagarada. According to Greek mythology, the area was home to the Centaurs, mythical creatures that were half man, half horse; however, today, the area is blessed with a rich eco-diversity, boasting beautiful sceneries where old stone buildings, churches, monasteries, and ruins silently rest near the water springs. The lushly forested Pelion Peninsula, on the eastern edge of the mainland near the city of Volos, is a hiking mecca. A centuries-old network of kalderimia weave through the trees and connects quaint mountain hamlets to seaside villages. Friends of the Kalderimi helps maintain these historic cobblestone paths.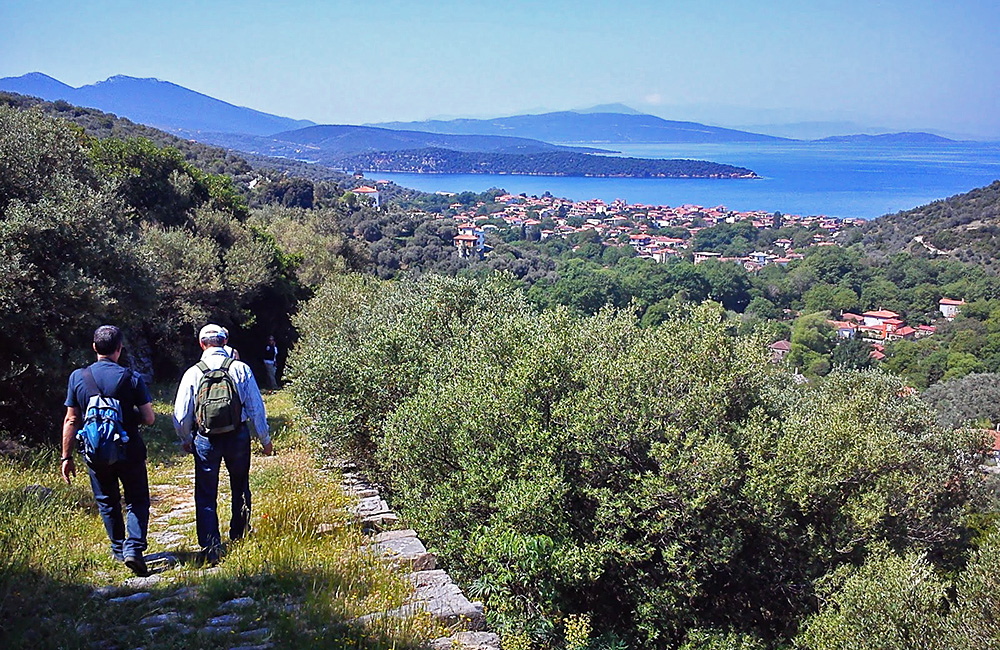 In the north, two relatively simple hikes begin near Tsagarada (Tsangarada). From the square of Agia Paraskevi, it's two hours down to the small bay at Damouhari. And from the village of Xourichti, 4km (2.5 miles) south of Agia Paraskevi, a good cross-ridge path leads to the village of Milies, a hike of nearly three hours. A beautiful forest hike begins above the road at Fakistra Beach and follows the coast to Plaka Beach.
In the south, a wonderful downhill trek goes from Promiri to Platanias. Here too, Lafkos to Milina is a classic hike, on which you can see both sides of the peninsula.
Peloponnese
The rural Peloponnese offers a variety of excellent walks and longer hikes. The Mani, the region's rugged and remote southwestern peninsula, is a popular place to amble, with mountains tumbling down to gorgeous coastal views. The coastal village of Kardamyli, with the Messinian Gulf and the Taÿgetos Mountains as a backdrop, is among the most popular hiking destinations in Greece. The Vyros Gorge, just north of town, runs to the foot of Mt Profitis Ilias (2407m / 7897 feet), the Taÿgetos' highest peak.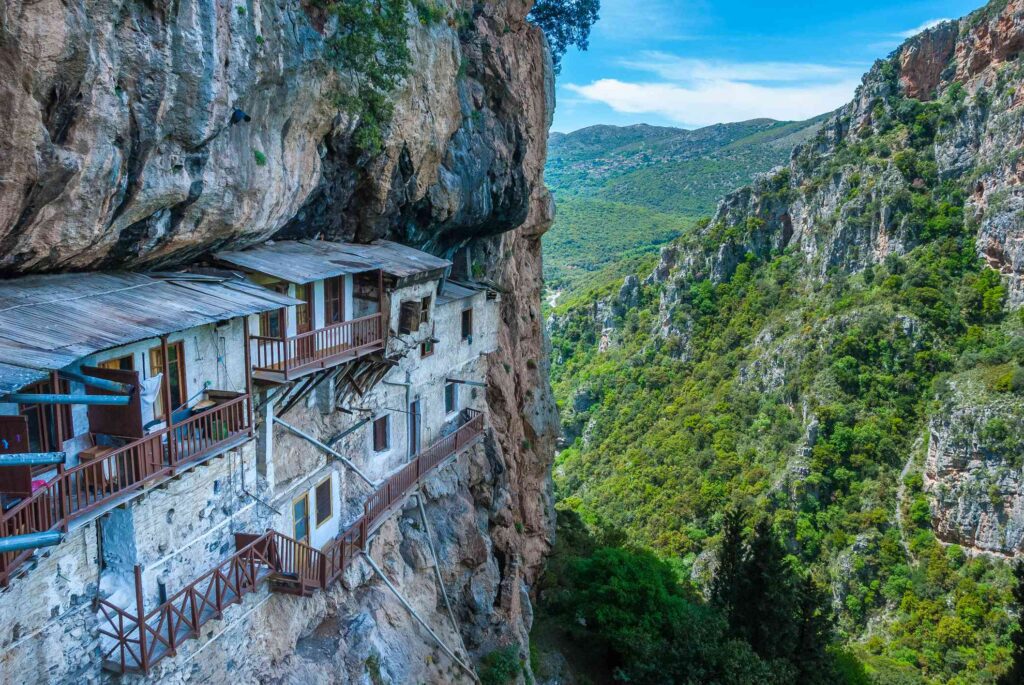 The hills behind the village are criss-crossed with an extensive network of color-coded walking trails. Most of these hikes are strenuous, and the ground often relentlessly rough, particularly if you venture into the boulder-strewn gorge itself.
Many trails pass through the mountain village of Exohorio, perched on the edge of the Vyros Gorge at an altitude of 450m (1476 feet). For nonwalkers the village is also accessible by road, and it's a good place to get into a spot of more gentle exploration.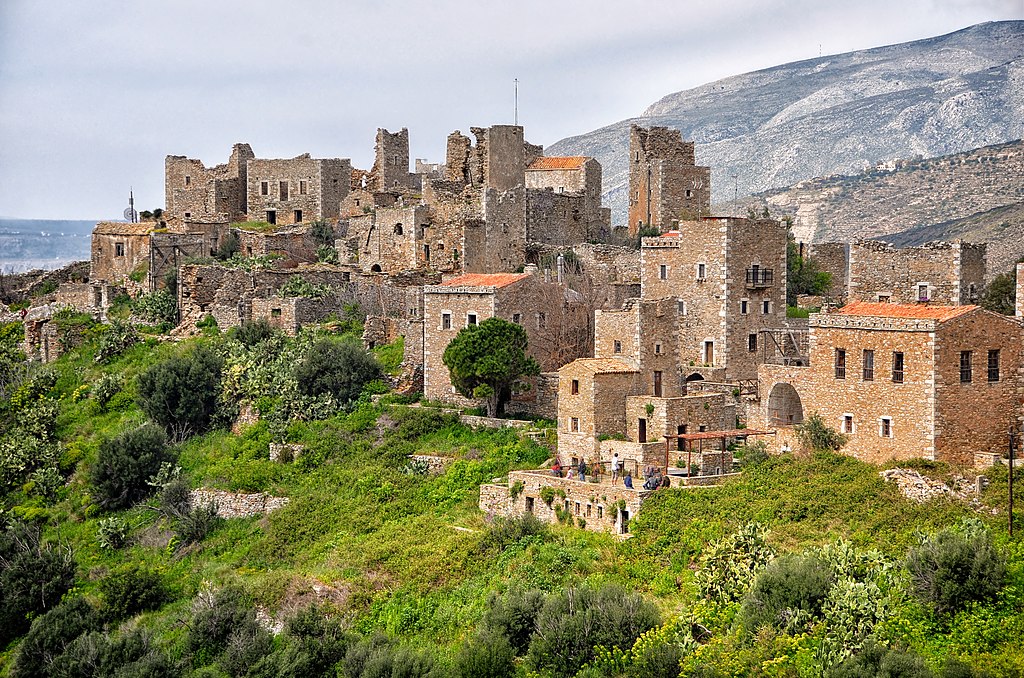 Northwest of Kardamyli, you can hike through the Lousios Gorge to explore charming village monasteries in the aptly named region of Arcadia. The most accessible departure points are from the striking stone villages of Stemnitsa or Dimitsana. Walks vary from one hour to long (and hilly) day trips, where you can hike the entire length of the gorge taking in Prodomou and New and Old Philosophou monasteries.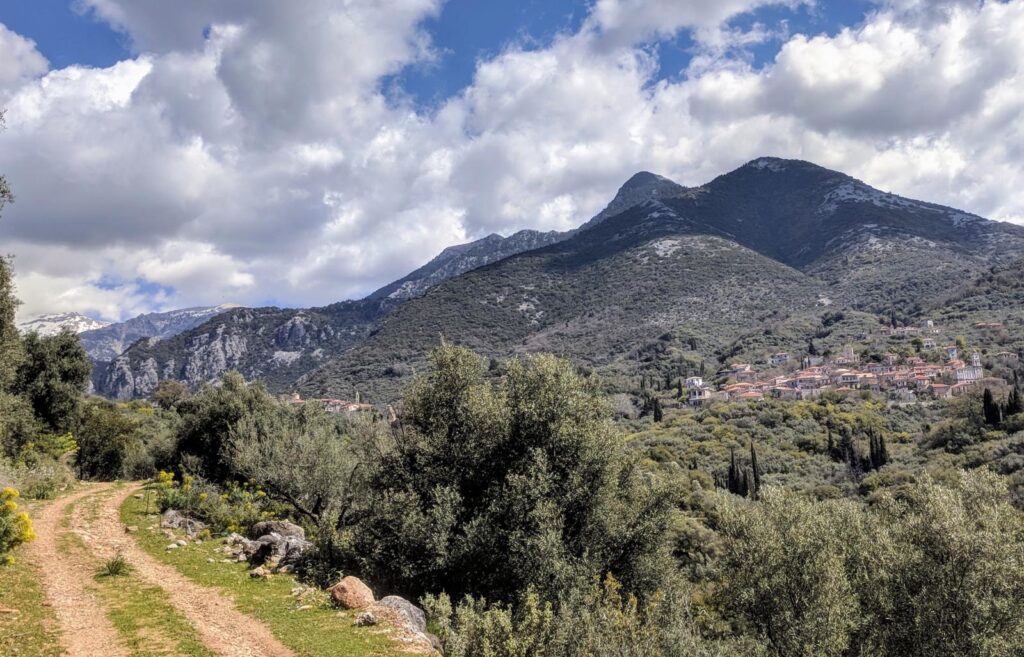 Another hiking gem in Peloponnese is the Viros Gorge, which begins at the Taygetus summit and reaches all the way to Kardamili Bay. Since the trails are quite rough without many markings, be sure to go only as far as the Viros river springs; if you go any farther, the routes become more difficult. The trail starts at Old Kardamili and follows the river bed into the gorge. Once you've reached the valley, make sure to make a stop at the monastery of Lykaki, which deserves a look, especially its frescoes from 1783. The hike to the springs takes about 2.5 hours, and along the way, you will see caves, cliffs, and wildlife in their natural setting.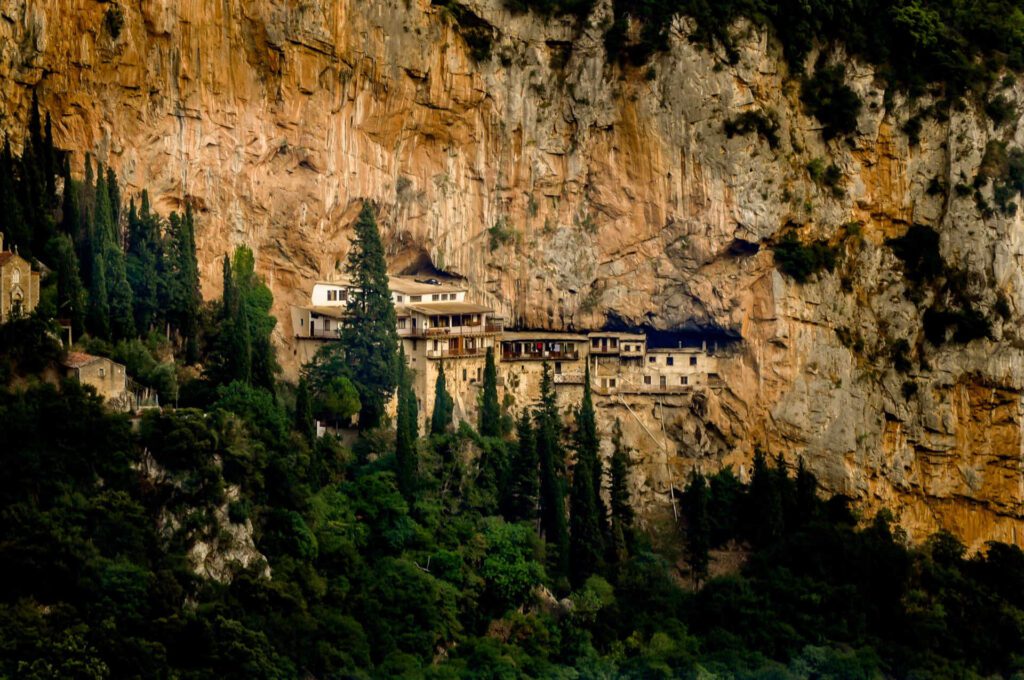 Seventy-five kilometers long, the Menalon Trail is a mountain hiking path that runs through Gortynia, in Arcadia, the heart of Peloponnese. With a diverse landscape of rugged mountains, canyons, and verdant valleys, the trail passes through picturesque villages, such as Nymfasia, Elati, and Dimitsana, and includes eight sections varying in difficulty level and length, all of which are worth exploring.
Zagorohoria and Vikos Gorge
In the northwest of mainland Greece, the Zagorohoria's 46 traditional stone-and-slate villages are tucked into the Pindos range north of the city of Ioannina. They offer excellent accommodation in restored historic buildings, crisp alpine air and sublime views. Before they became accessible by paved road, the hamlets were connected only by mountain paths and stone bridges, most of which remain to this day.
Hikers also come for the Vikos Gorge and other more mountainous routes. Dramatic 12km-long (7.5 miles), 900m-deep (2953 feet) Vikos Gorge bisects the Zagorohoria, and the nearly seven-hour hike starts south of Monodendri and runs north to the Papingo villages. For maps and information on weather conditions, visit Ioannina's visitor office.
For easier access to fantastic gorge views, head to Oxya Lookout, 5km (3.1 miles) beyond Monodendri on a good dirt road. Or climb the rock stairway, Skala Vradetou, to the Beloi Lookout – it's signposted outside Tsepelovo, also a good base for northern Zagorohoria hikes such as the one to the Drakolimni (Dragon Lake).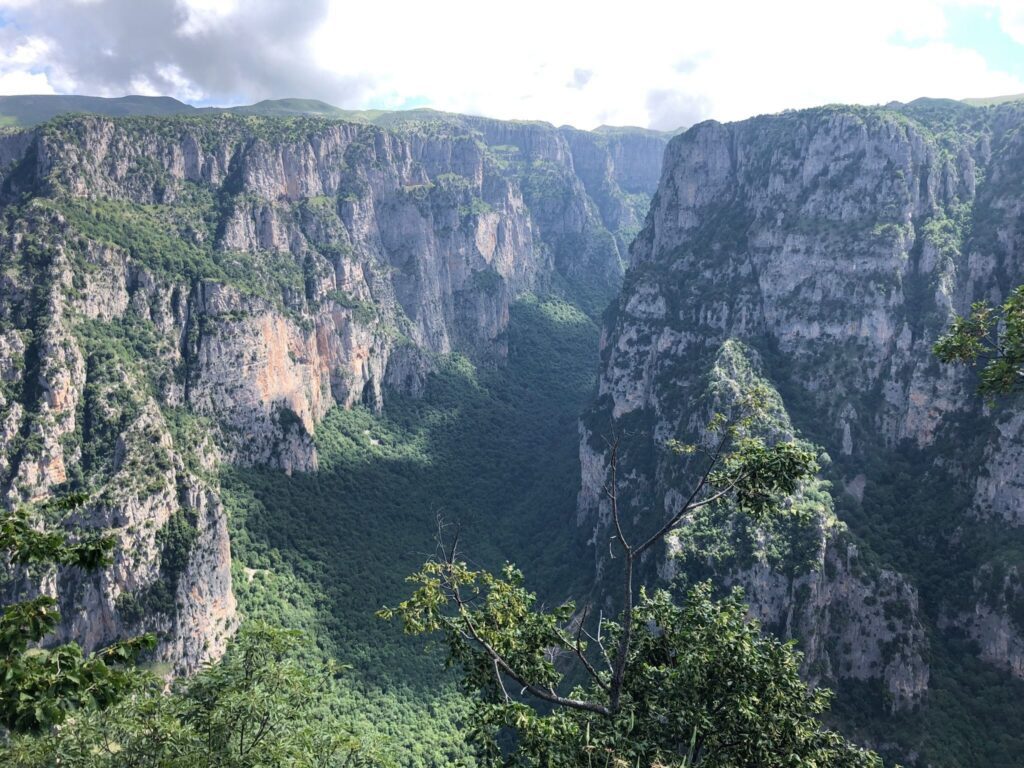 Píndos mountains: Zagóri loop
The Píndos mountains extend from the Corinth Gulf to the Albanian border in the far northwest. Its highest peaks, flanking the Aöós River, are Smólikas (2637m/8652ft) and Gamíla (2497m/8192ft), plus Grámmos (2520m/8268ft) right on the frontier.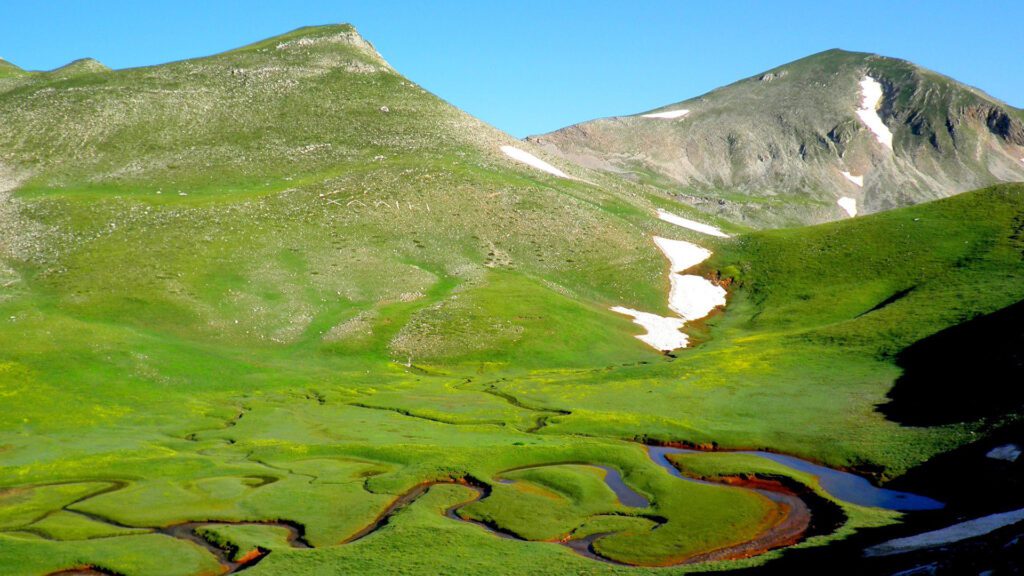 The most popular Píndos itinerary loops around the Zagóri villages, taking in the spectacular Víkos Gorge, Mt Gamíla, and arched stone bridges between Tsepélovo and Vítsa, some still serving paths. Start at either Vítsa or Monodéndri, where trails (gentler from Vítsa) descend to Víkos and the marked O3 long-distance route. The gorge traverse takes all day, finishing in Mikró or Megálo Pápingo, scenically poised under palisades. Then go up to Astráka refuge (astrakarefuge.com), the usual base for exploring Gamíla, including a day-hike to Drakólimni – one of Greece's few alpine lakes – and Gamíla summit. Next, cross striking limestone badlands south to Tsepélovo village. From Tsepélovo, trails continue west to Vradéto hamlet and then south along a famous cobbled stairway – Skála Vradétou – to Kapésovo, Koukoúli and Kípi villages. Kípi, with several handsome bridges nearby, lies an easy walk away from Vítsa.
This circuit requires six to seven days, with overnights at Vítsa or Monodéndri, two at Pápingo, another each at Astráka refuge, Tsepélovo, and Kapésovo or Kípi. Lodging is plentiful en route but booking is mandatory. Taxis or car hire may be needed for initial/final transfers as the bus service from Ioánnina to Zagóri only runs a few times a week.
Mt Ólympos (Olympus)
Abode of the ancient gods, Ólympos (2917m/9570ft) is Greece's highest mountain, a compact range rising abruptly west of the Thermaïkós Gulf. This ensures fickle weather and lush vegetation, including amazing wildflower displays. The best bits form a national park; just east, Litóhoro village is well served by train and bus.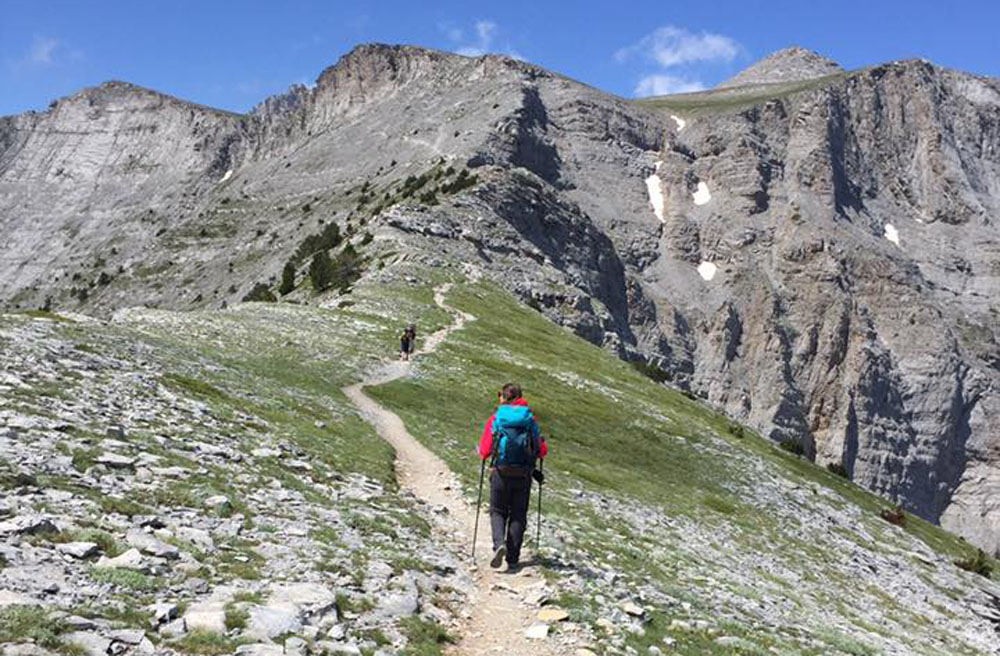 A road (taxi service from Litóhoro) leads into the park until the trailheads of Diakládosi (13km along) and Priónia (17.5km, road's end). Purists walk in from Litóhoro, along the E4 trail threading the wild Mavrólongos canyon up to Priónia, or to Diakládosi with a slight detour at part-restored Agíou Dionysíou monastery (4hr), burnt by the Germans in 1943. Trekkers patronise two refuges: Spilios Agapitos ('Refuge A', 2060m), a steep climb from Priónia, 8hr from Litóhoro; mountolympus.gr), or Giosos Apostolidis (2697m, June–Oct, apostolidisrefuge.gr), a longer (6 hrs) but more gradual hike in from Diakládosi. Allow 3 to 4 days for an Ólymbos loop, linking the two trails below the summit-ridge, including the tricky ascent of same (acrophobes excluded). Views from on top overlook sheer chasms, filled with rising, cotton-wool mist – don't linger. Also allow leeway for bad weather trapping you in either refuge. Camping is only feasible near Agíou Dionysíou. Best season is less misty autumn; springtime is out for summit attempts, given enhanced avalanche risk.
Meteora Trails
Keen walkers will be in their element exploring several days' worth of monopatia that thread through the rocky monastery-topped spires of Meteora in central Greece. Before roads were built, this was the way the monks travelled from outpost to outpost and the lanes remain to this day, connecting breathtakingly situated monasteries such as Moni Megalou Meteorou, Moni Agias Triados or Moni Agiou Stefanou. The earliest monasteries were reached by climbing removable ladders but now, thankfully, you can reach them via rock-hewn steps.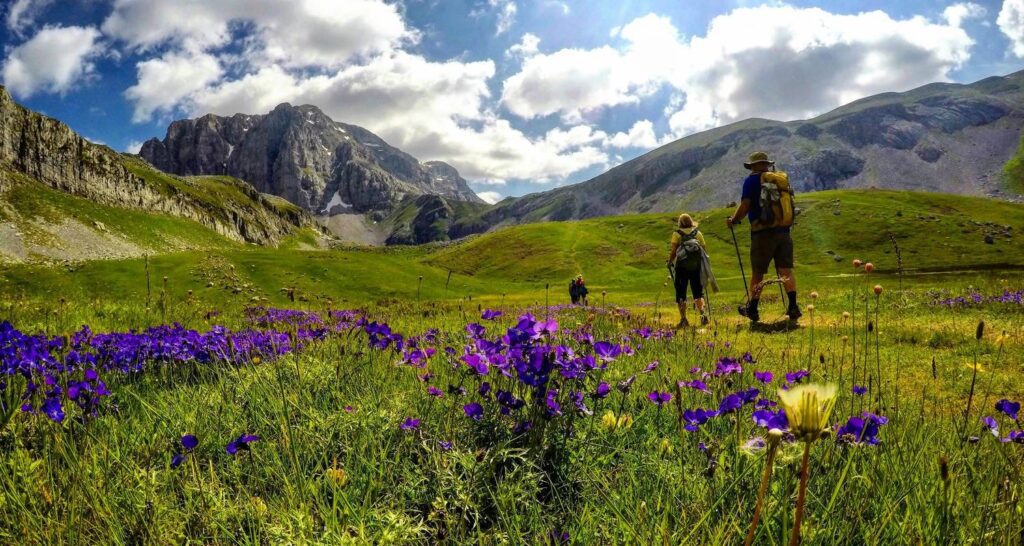 The geological heart of Meteora, the Adhrakhti (obelisk) is a striking column visible from anywhere in Kastraki, the closest village. Nearby, on the east-facing side of the Pixari rock face, look for the cave-chapel of Agiou Andonios. To the left of the chapel, in the hollows of the rock face, are the Askitaria (cave hermitages), complete with hanging ladders and nesting doves. The caves were occupied until the early 20th century by solitary monks, and they remain a testament to the original spirit of Meteora, as do the six monasteries open to the public.
Best Trails in Greek Islands
Crete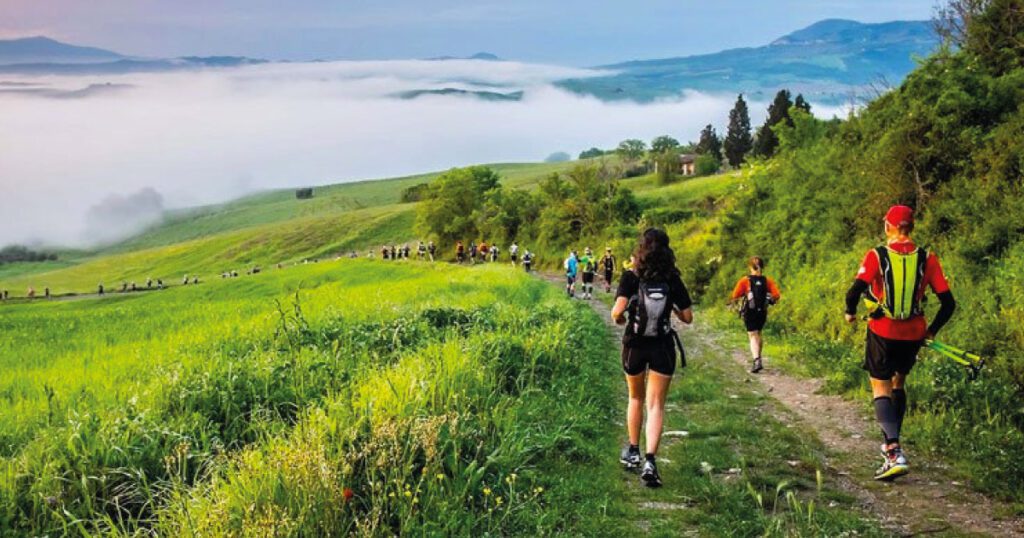 'Megalónisos' (The Great Island) for the Greeks, Crete has excellent walking beyond its Minoan-culture hype. The far west, around the Lefká Óri (White Mountains, elevation 2453m/8048ft), is best. Most have heard of the Samariá Gorge, just pipping Víkos for length (16km); few realize that its traverse is just one of many local routes. The high peaks are not for novices, and there's only one refuge at Kallérgi (kallergi.co). From Agía Roúmeli, at the bottom of Samariá, fabulous coastal treks – part of long-distance route E4 – extend east to Hóra Sfakíon via appealing Loutró resort, or west (very strenuously) to Soúgia resort via Trypití, where one must overnight. From Soúgia it's a much easier tramp to busy Paleóhora, via ancient Lissos.The trekking seasons are April to early June, and mid-September to early November; summer, with sea-level temperatures exceeding 40°C, is out. The gorge proper is only open May to October inclusive, and can close at any time due to flooding danger. South-coast ferry boats between Hóra Sfakíon and Paleóhora, stopping at all intermediate resorts, provide vital links.
Samariá Gorge
A World's Biosphere Reserve, the Samaria Gorge is a magnificent national park in southern Crete. The trail is 13-16 kilometers in length and allows you to explore the whole park while following the river. It is a very scenic path that passes through many beautiful Byzantine ruins and breathtaking nature, but if you do not feel like traversing the whole trail, a few alternative routes are possible.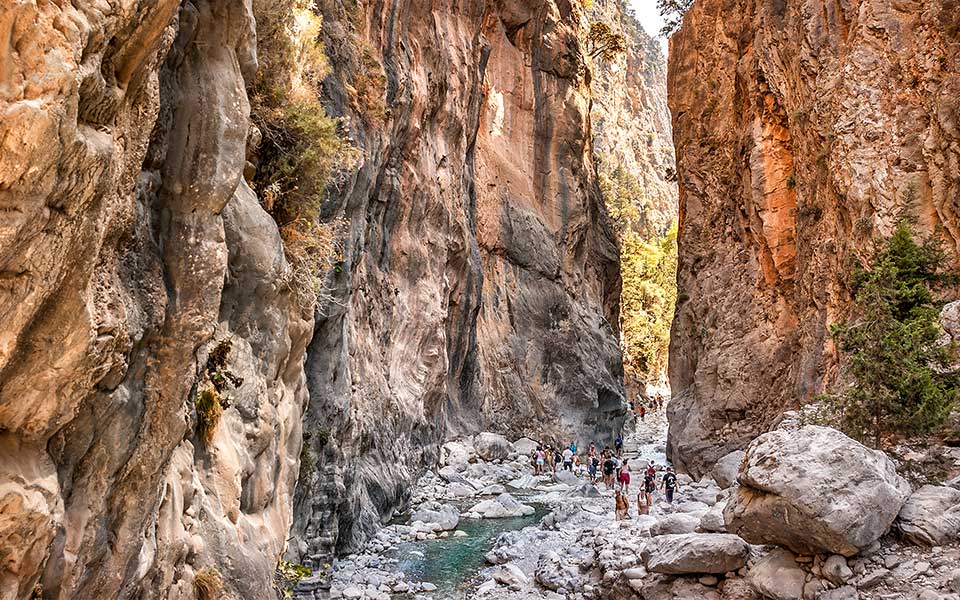 Established in 2001, the Corfu Trail, a 220-kilometer walking route, meanders through the island's often forgotten, untouched central landscape. The scenery along the way is stunning, complete with beaches, olive groves, and rugged gorges. Before setting out on your hike, check out the Corfu Trail's official guide book, The Companion Guide to the Corfu Trail, which is available as a pdf file and allows you to discover the less explored part of the island.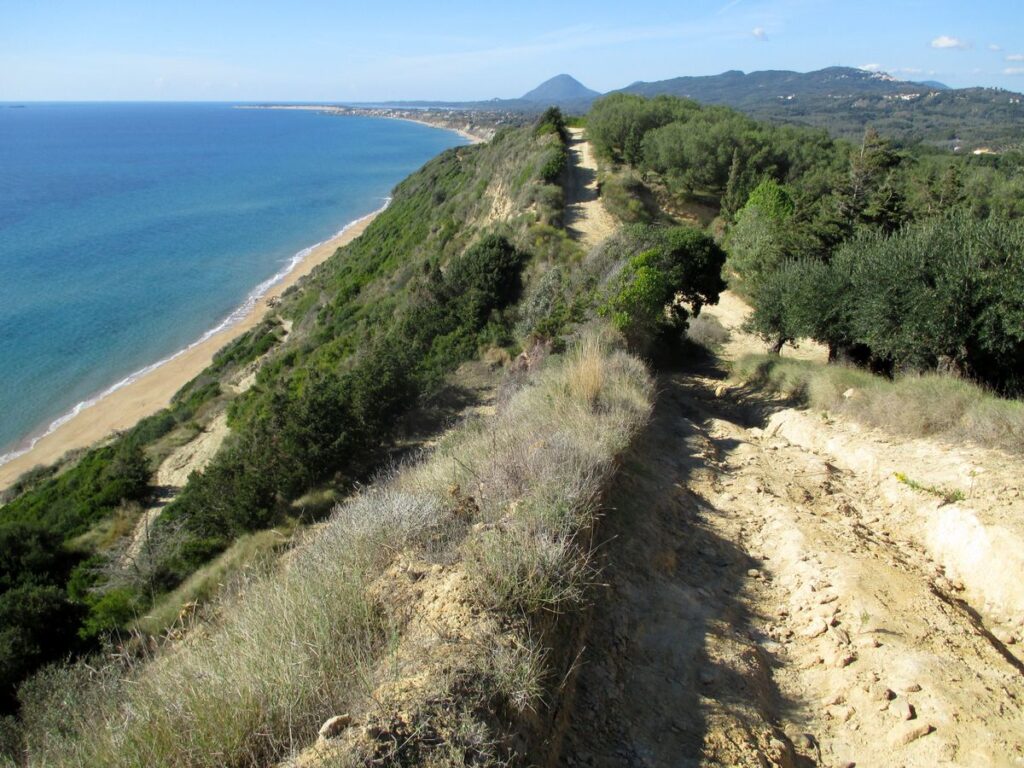 Day Hikes on Other Islands
Cyclades
On several Cyclades, old paths have been rescued and signposted. Villages en route have at least a snack bar, maybe more. These are day-hikes, though a full pack should be carried on Amorgós if you wish to change base.
Kéa (Tziá): paths radiate out from tile-roofed, inland Ioulída.
Tínos: trails, notably a kalderími to Ktikádos, extend from the port towards the Exóbourgo villages.
Sérifos: from Hóra, a superb loop – partly kalderími – connects inland Panagiá, Galaní, Taxiarhón monastery and Kéndarhos; some road-walking.
Sífnos: south-central path system takes in Profítis Ilías summit (detour), Vathý Bay and Platýs Yialós.
Náxos: path network in island's middle, around Halkí, visits villages and remote churches.
Amorgós: well-preserved kalderímia link villages around northeasterly Egiáli; classic five-hour traverse from Egiáli to Hozoviótissa monastery and Hóra.
Dodecanese Islands
Kálymnos: premier hike along Italian-built kalderími from Póthia to Vathýs valley, continuing to Aryinónda on the west coast; take a bus back. 
Nísyros: Paths link coastal Mandráki or Pálli with Emborió village, the volcanic zone and Profítis Ilías summit.
Tílos: Several paths go from Livádia to secluded nearby coves, but the meatiest trek (experienced walkers only) links Agíou Pandelímona monastery with Éristos beach. Terrain 340.
Sými: Paths from Horió cross to remote coves. Best single walks go to Ágios Vassílios Bay and its frescoed church, or to Nanoú beach via Ágios Prokópios chapel.
Kárpathos: Extensive far-north path network connects Diafáni, Ólymbos, Avlóna, Roman Vrykoúnda, elsewhere.
North Aegean
Sámos: Trails between Kokkári, Vourliótes, Manolátes and Stavrinídes; coastal corniche route joins Potámi with Drakéï, via pristine Seïtáni beaches.
Alónissos: Fourteen recognised itineraries, some combinable; a Travelleur guidebook describes them.
Évvia: Premier hike, partly on kalderími, is the traverse of the Dimosári Gorge (4hr), from Petrokánalo on Mt Óhi to Kallianoú beach; tricky logistics, best organise a group walk in Kárystos.