Greek Breakfast, Eat like a Greek
The Greek breakfast depends mainly on Mediterranean products, so it's naturally very healthy and packed with energy. Some essential ingredients of the Greek breakfast are: bread and pastries, cheese, traditional yogurt, butter, milk, cold cuts and meat, honey, tahini, local marmalades, olive oil and olives, eggs, traditional pies, local sweets, fresh fruits, cereals, herbal drinks, and coffee.
Greek breakfast is all about freshly strained yogurt and honey, seasonal fruit, handmade baked treats and uncomplicated tastes… the perfect start to the day. Breakfast in Greece has its own unique history. In villages around the country, it used to be not only the most important meal of the day in terms of nutrition, but also the most filling. Large quantities of animal fats provided energy for the day's labors. Meanwhile, in western Crete, country people used to eat the traditional Greek breakfast of eggs with staka – the equivalent of clotted cream – to keep them going, whilst in Epirus and Macedonia, the fare was pies made with cheese and butter.
A generous piece of Greek homemade bread with some olives, wrapped in a clean kerchief, was the midmorning snack of choice. Farmers and day laborer would carry it with them to the fields or workplace in town. Breakfast as we know it today did not exist, except in some city homes, where it was a habit imported from abroad with French butter and white bread.
Modern variations of Greek breakfast
Today, with the luxury of freshly picked produce and homemade dishes, breakfast has changed for modern Greeks too. At hotel buffets, you will enjoy a wake-up meal with a difference. Will you be able to choose between Epirot pies, with handmade pastry filled with seasonal goods, a milk pie, cheese pie, spinach pie, a wedge of delicious island or mountain cheeses or a bowl of the creamiest yogurt you've ever tasted, perhaps even made with water buffalo milk.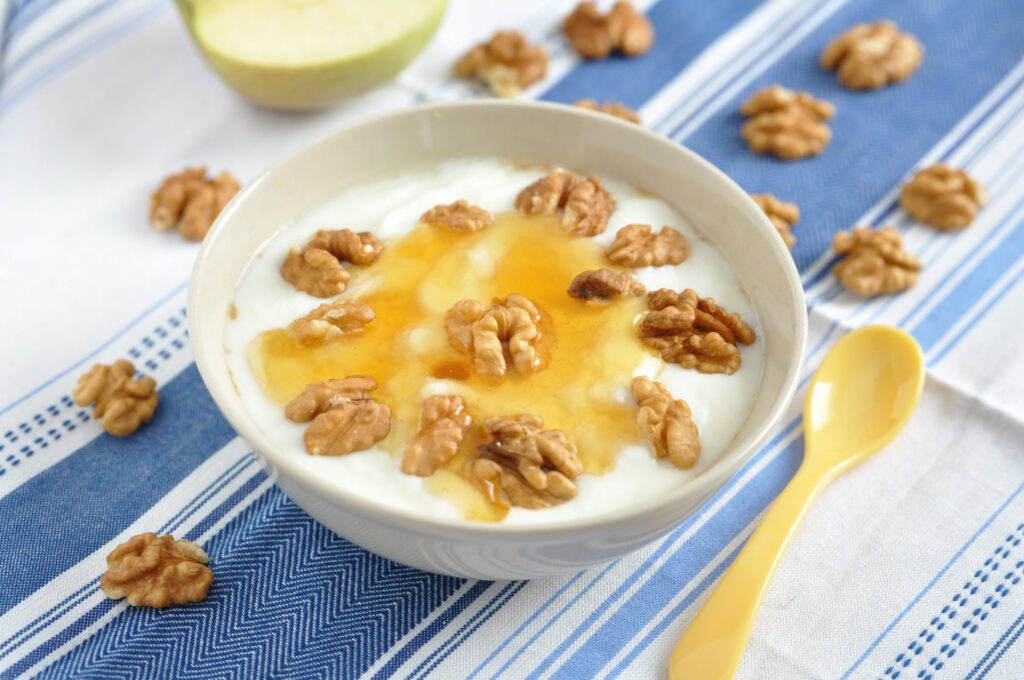 Or how about a choice of breads just out of the oven, topped with fortifying tahini (sesame paste) and local honey, or sliced Peloponnesian or Macedonian ham or salami, Peloponnesian scrambled eggs with fresh tomatoes, or a rich but fluffy Andriot froutalia omelette with potatoes and sausage? Freshly squeezed orange juice from the groves of Laconia or Argos, mountain tea from Taygetos, Crete or Epirus or even homemade jams from the hotel's gardens are also on offer.
A memorable Greek breakfast is just the thing to set you up for a day of vigorous exploration or relaxation on the beach.
Regional Breakfasts
Since Greek breakfast is vast and diverse, it's only natural for each region in Greece to develop its own breakfast tradition, always depending on the geographical characteristics and local produce. Let's discover some unique breakfast from all over Greece:
Cretan Breakfast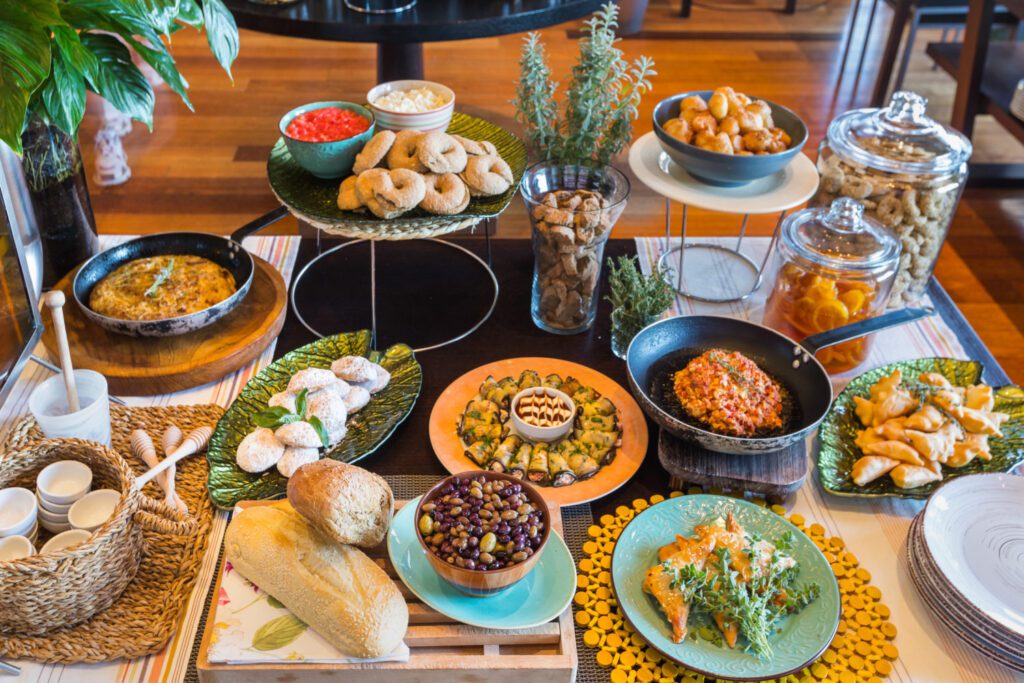 Once again, the Cretan food tradition differs from the usual and brings us a healthy and delicious breakfast with high nutritional value and energy to start our day. After all, It's no wonder why the Cretans have the highest life expectancy rates in the whole country. Some distinguished delicacies of the Cretan Breakfast are: rusks, moustoukouloura, graviera with honey, sygklino, apaki, traditional myzithra pie, xerotigana, bourekia, lychnarakia, xynomizithra, fried eggs with staka, and the fried green pie
Thessaly Breakfast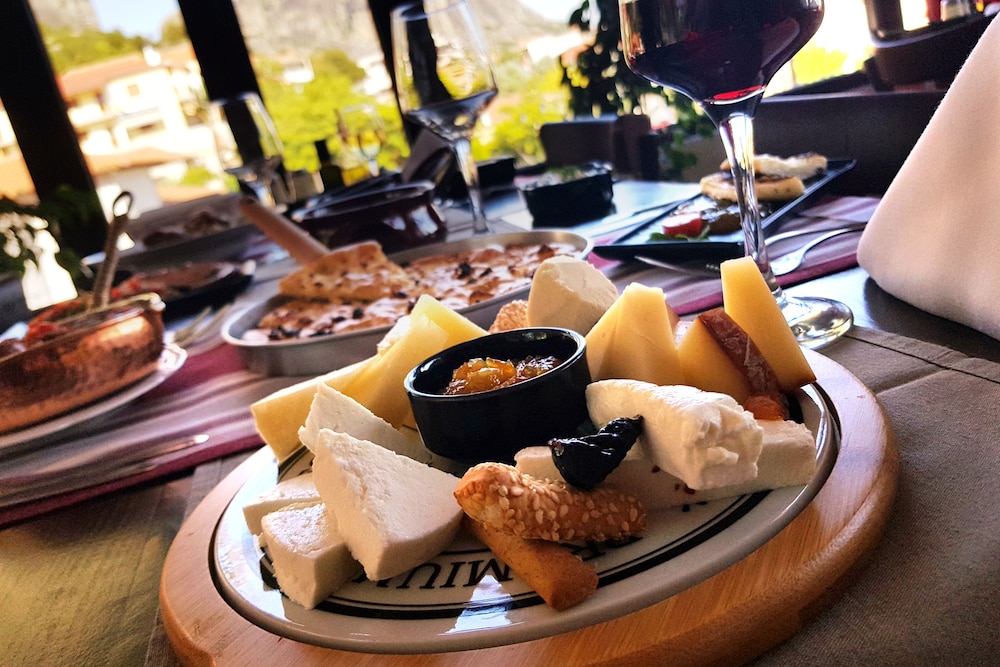 Thessaly is a land of great produce, exporting a wide diversity of products across Greece including milk, butter, cheese, bread, olive oil, fruits, vegetables and more. Some distinguished ingredients used in the regional breakfast are: Olive bread, Elassona's cheese, Kaseri (yellow cheese), galotyri, local butter, grilled sausages of Trikala, thyme honey, local marmalades made by the local women, french toast, chicken pie, halvas from Farsala, milk pie, rice pudding, and frumenty.
Breakfast in the Cyclades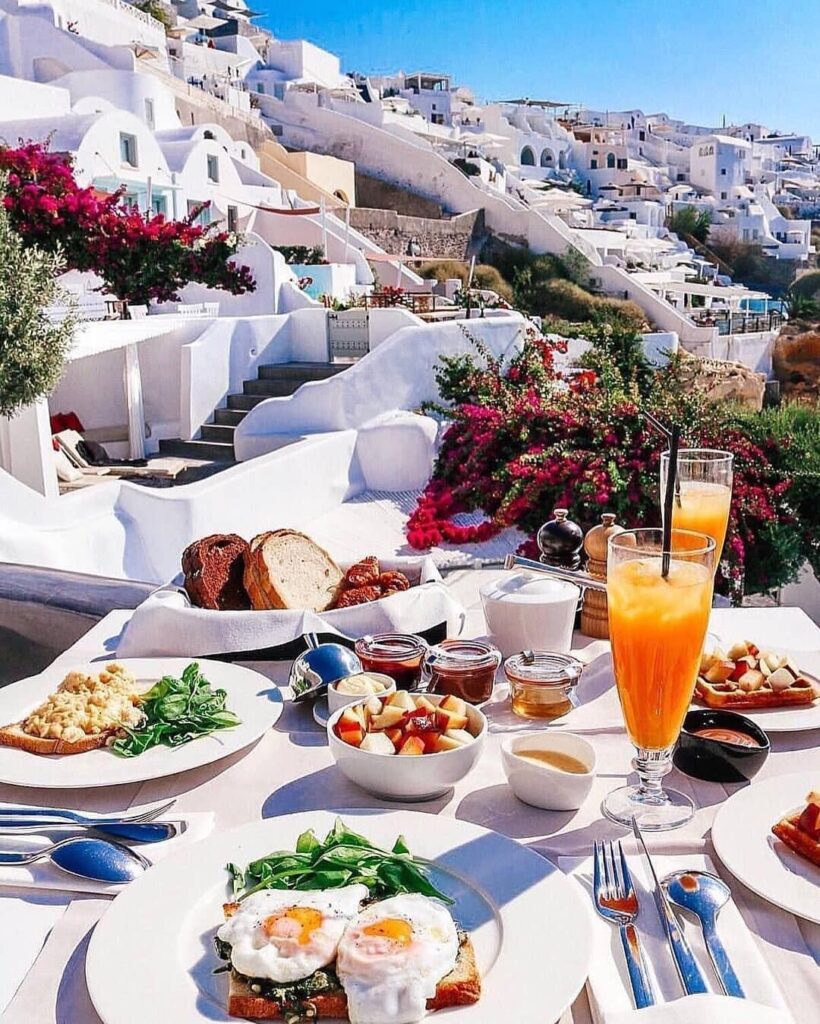 The Cycladic Islands are widely popular for their stunning beaches and  picturesque towns, but who would expect that they would feature such an impressive breakfast tradition as well? The Cycladic breakfast includes traditional bread sticks, Mykonos' kopanisti cheese sauce, graviera of Naxos, manoura from Sifnos, louza from Mykonos, Jambon from Naxos, a traditional froutalia from Andros, loukoumia, sesame bars, almond sweets, Tinos' and Santorini's melitinia, herbal teas, and all kinds of soups.
Let's Dig
Eliopsomo: Greek Olive Bread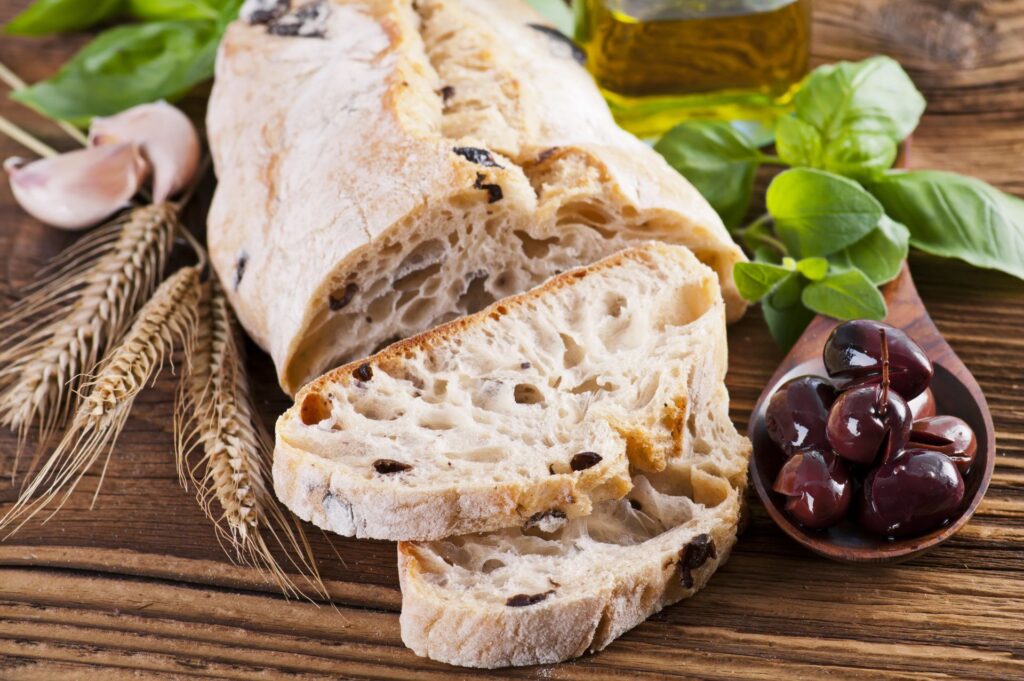 You can pick up this wonderful, traditional bread at a Greek bakery or cafe, as well as many specialty grocery stores. While it's delicious simply toasted and served with your morning cup of coffee, try switching it up a bit by topping the bread with a good Greek cheese.
Pita Bread with Eggs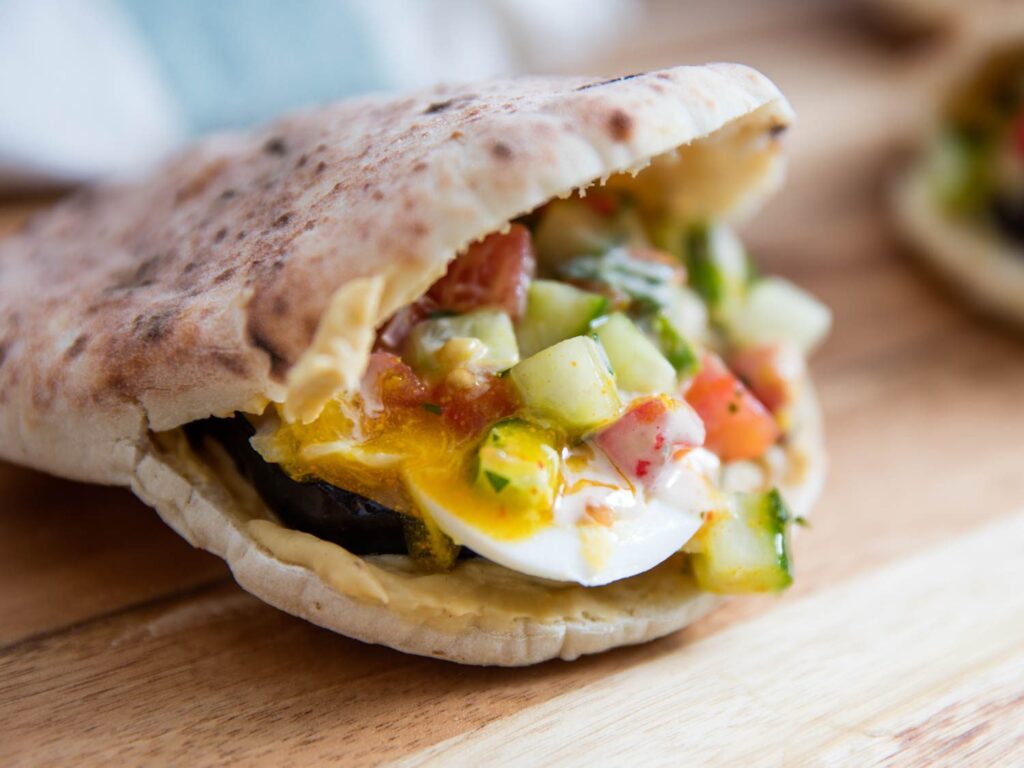 Add a little style to your morning egg breakfast. Cook scrambled eggs as you prefer. Veggies, onions and garlic are a great addition. When done, stuff them into pita bread for a delightful Greek breakfast sandwich on the run.
Feta, Veggies and Eggs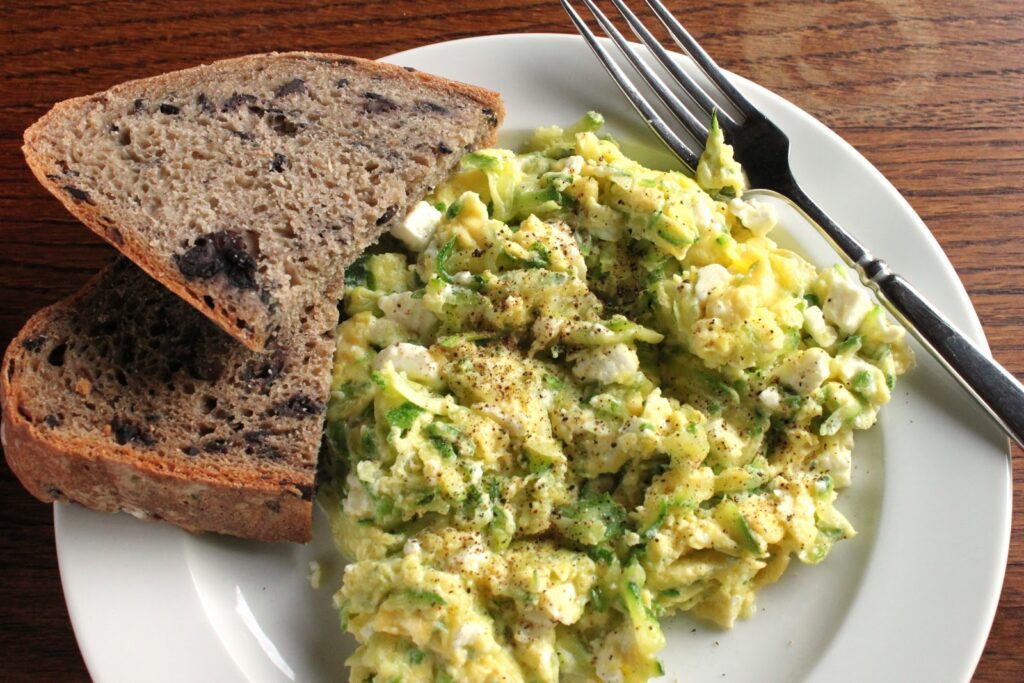 Whether they're scrambled or served omelette style, you can't go wrong with topping eggs with Feta. Try adding chopped onion, a bit of garlic, veggies of choice (zucchini, bell peppers and tomatoes are great in this dish). Sprinkle in some coarse salt and freshly ground pepper. Toss in a splash of milk, and whip together in a bowl. Cook the eggs either omelet or scrambled style, adding the Feta, when the eggs are almost finished. Delicious Greek breakfast food!
Spanakopita
Who doesn't love Spanakopita?  But, remember, it's not just for lunch and dinner. Why not warm a slice and serve it on a plate with your morning glass of grapefruit juice? It's a great alternative to the everyday breakfasts you're likely tired of eating.
Spoon sweets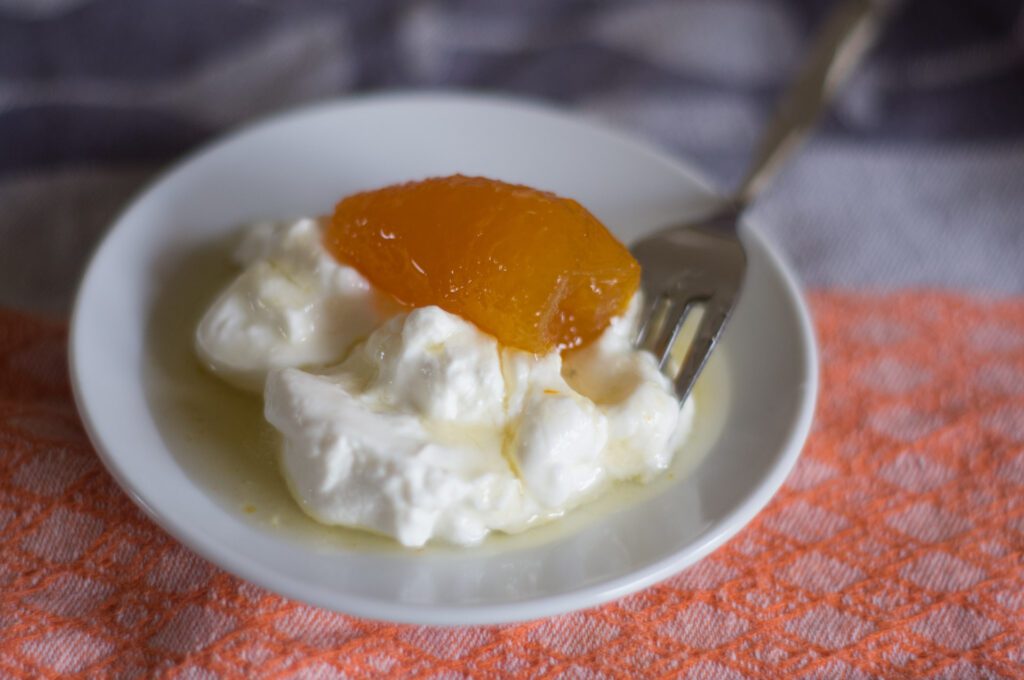 Spoon sweets are Greek preserves, often berry, that are beautifully presented on a teaspoon— set delicately in a crystal glass, or on a fine porcelain dish. While traditionally served to guests, as an act of the most exceptional Greek hospitality, why not treat yourself to a little pampering at home? Spoon Sweets are typically eaten plain, while sipping coffee. However, you can also use the beautiful fruit presentation to top your morning toast and start your day right.
Paximadi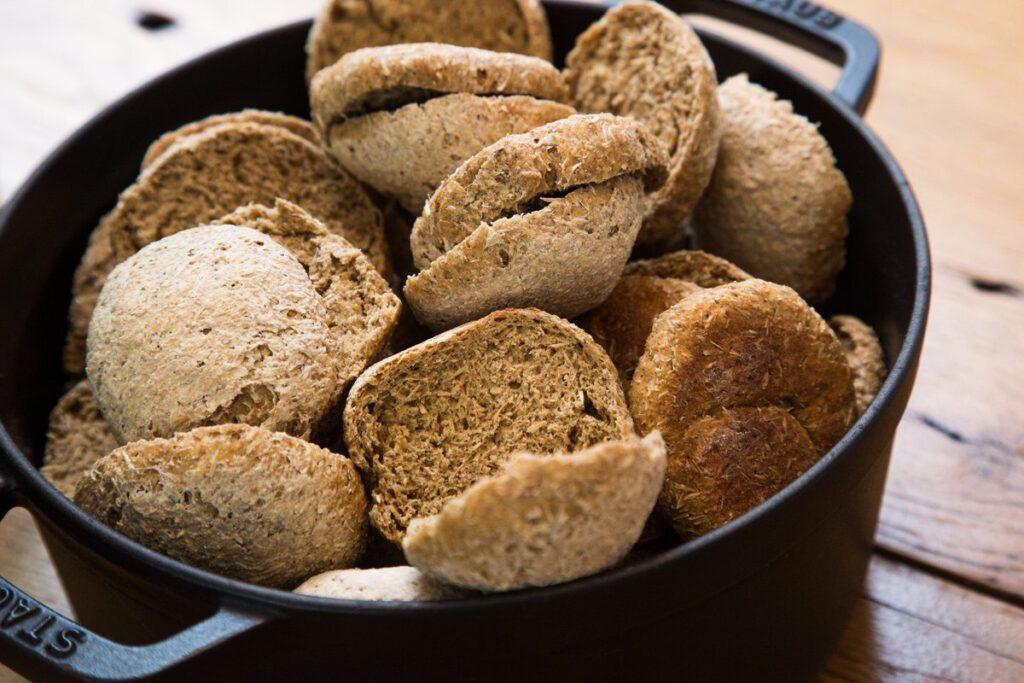 A hard, heavily textured, traditional bread. For a beautiful breakfast alternative, look for it in your local Greek bakery. Serve a slice or two with a generous spread of Feta and a quality marmalade. Delicious…
Sfougato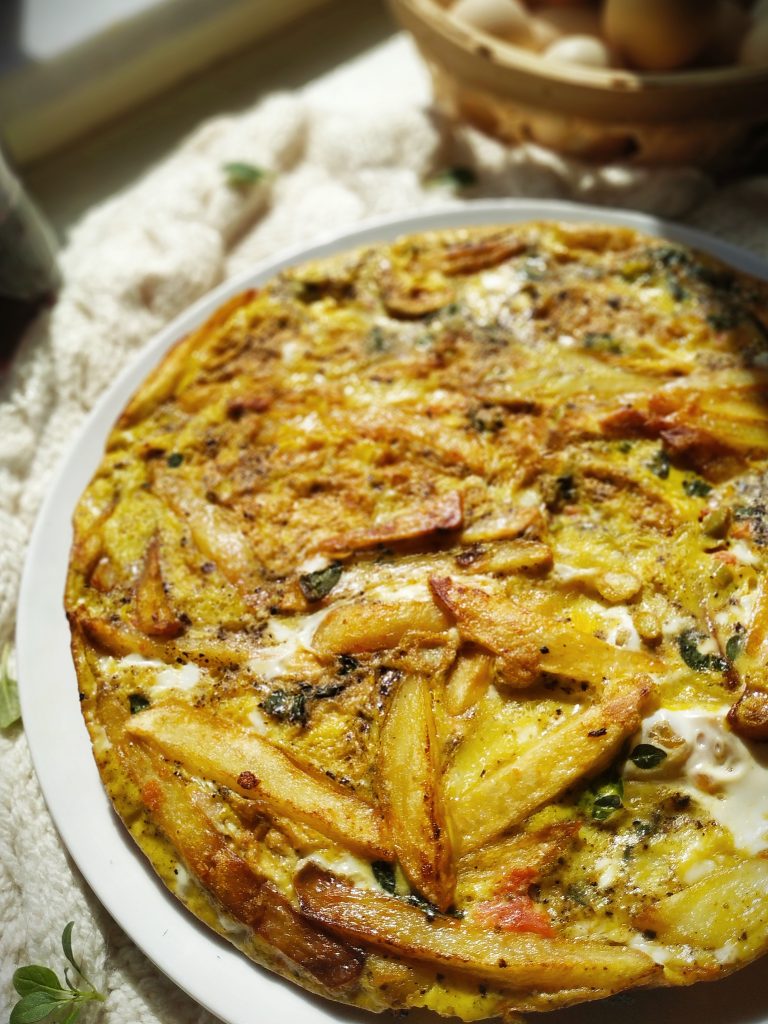 You could easily draw parallels between a sfougato and a frittata or a crustless quiche. Like both of those dishes, a sfougato relies on eggs and cheese, along with additions like vegetables, herbs, and olive oil. There are, of course, countless variations to the dish, including versions that rely on lettuce and beef as key ingredients, and others that use zucchini or perhaps potatoes.
Greens Pie
Greens pies can also be found as a breakfast choice in many parts of Greece. They're called marathopites in Crete, but you may see them called wild greens pie, mixed greens pie, or Cretan pies too.  As the name suggests, these pies contain various greens. Some rely on collard greens or Swiss chard, which provides a familiar flavor profile. Dill is often featured too and helps to make the dish more interesting. Some versions rely on wild greens, where the greens used may be found through foraging. Regardless of the specific greens that are used, this type of pie tends to be savory. Leafy green vegetables are a good source of nutrients too, so you can be certain that this breakfast is good for you.
Fetoydia
Fetoydia is another recipe that should look familiar – as you're basically making a Greek version of French toast. The dish can be made using either fresh or stale bread, which is perfect if you have some leftover bread that you don't want to waste. The process of making the dish should sound familiar. You're first slicing the bread and then soaking it in milk. The bread can be dipped in eggs after this point and fried in olive oil. Once all of this has been done, the bread can be enjoyed hot. Not surprisingly, cinnamon and powdered sugar are a common topping for the bread. You could also use cheese if you want a breakfast that is a little more savory and filling.
Tiganopsomo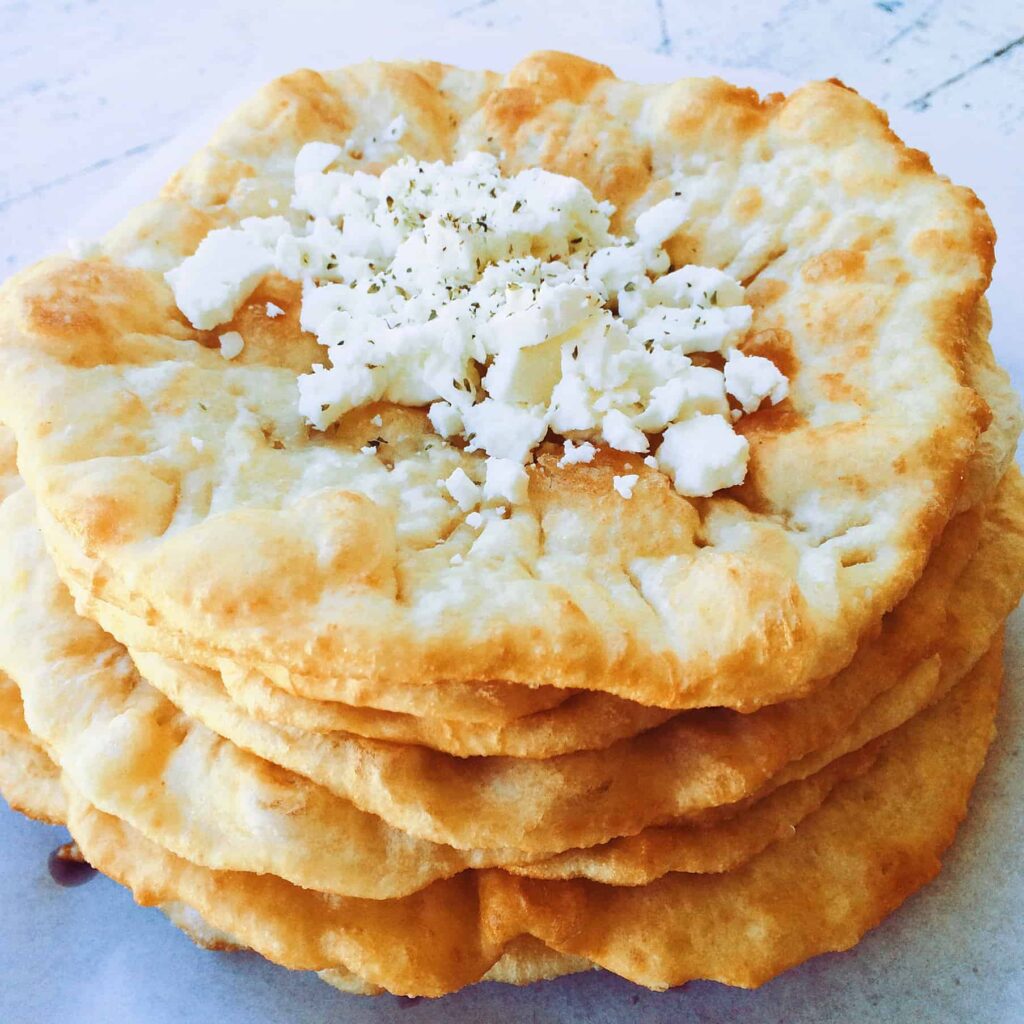 Here's a second type of fried bread, but this time the bread is made specifically for the dish. The wheat flour dough tends to be formed into a circle, then filled with herbs and feta. While the bread will be sometimes made without the filling, the herbs and feta are really what bring it to life.
Koulouri Thessalonikis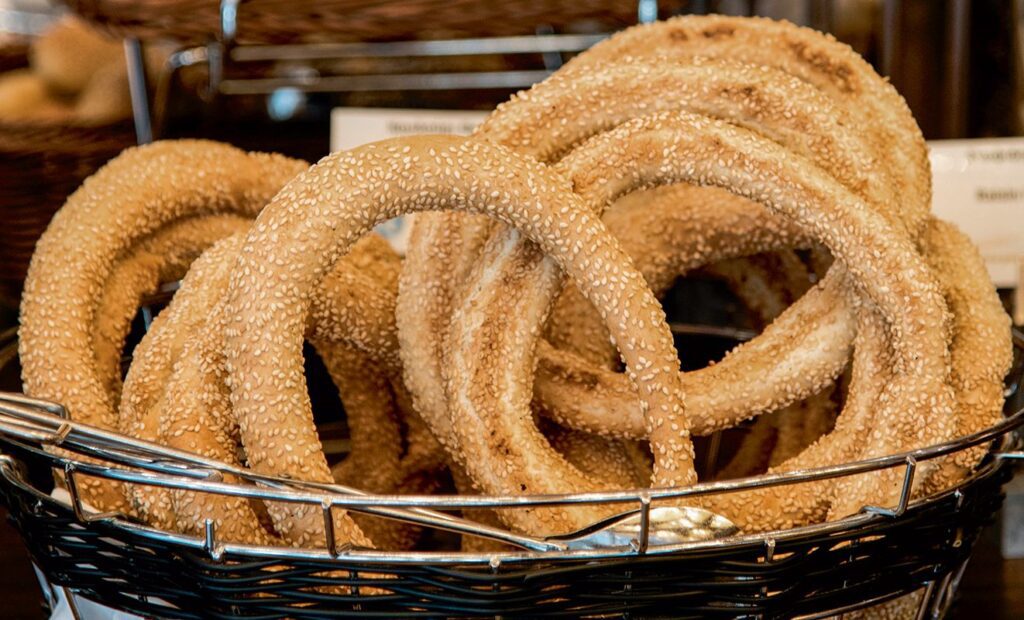 Koulouri thessalonikis, or just koulouri, is a street food that you'll often find in Greece. It can simply consist of wheat flour dough that has first made into a ring, then baked with sesame seeds. This bread may also be filled, with cheese, tahini, and chocolate spread all being common choices. The fillings help to make the bread more interesting. While the bread can be prepared at home, it is also easily purchased from bakeries and street vendors. This makes it an ideal choice for anyone who needs some food on the run.
Lalagites