Turkish Breakfast , Eat Like a Turkish
Video Introduction
Turkish Breakfast: Turkey is a dream for breakfast lovers ; Imagine what it would be like to enjoy Sunday brunch seven days a week. Well, that is precisely what happens with a traditional Turkish breakfast. Turkish people love food and consider breakfast to be the most important meal of the day. For that reason, a classic Turkish breakfast, better known as "kahvalti," is truly a sight to behold. For example, a traditional Turkish breakfast includes a variety of bite-sized delicacies. Accordingly, a classic Turkish breakfast is generally comprised of black and green olives, cucumbers, cured meats, dips and sauces, eggs, fresh cheeses, fresh tomatoes, fresh-baked bread, fruit preserves and jams, honey, pastries, and sweet butter. Additionally, along with those tasty treats, no Turkish breakfast is complete with plenty of freshly brewed black tea. And, although there are some regional differences regarding the menu, all the Turkish regions have five elements in common: bread, spreads, cheese, eggs, and black tea.  A traditional Turkish breakfast is an elaborate affair, a veritable parade of so many dishes that you fear there won't be enough space for your plate on the table. It's probably not the first thing that springs to mind when you think of Turkish cuisine, but you really can't discuss Turkish food if you don't talk about breakfast.
Social Life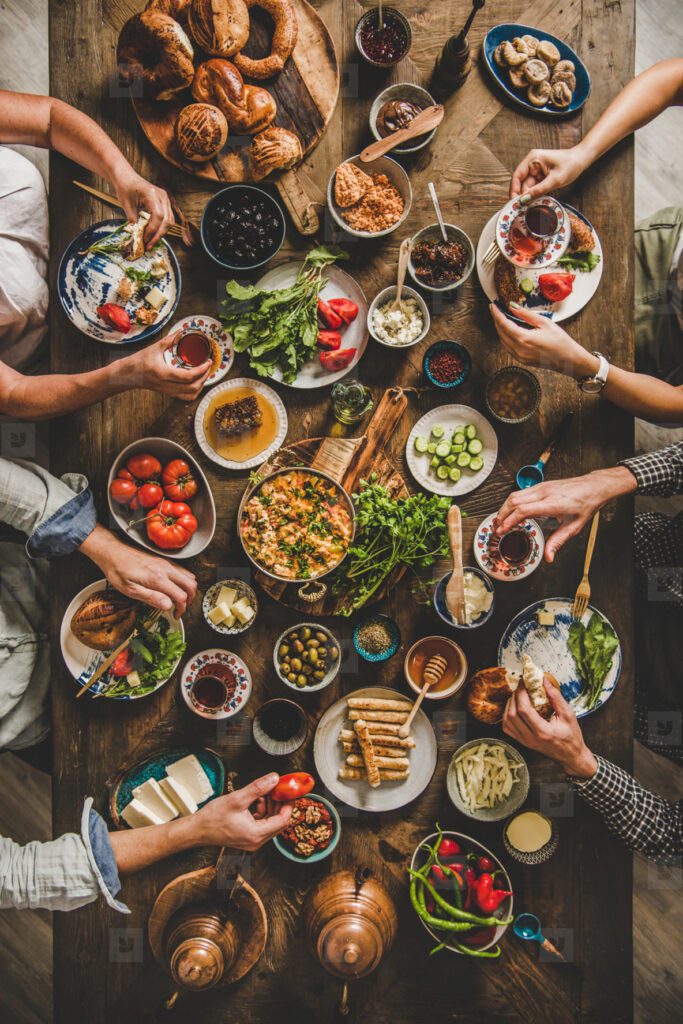 Breakfast in Turkey is a family or social affair, especially at weekends when there isn't a rush for the children to get off to school and everyone can enjoy a leisurely repast. There is almost a ritual of brewing the tea and setting the table with small plates and flatware, ideal for multiple options eaten in small amounts. Although there are regional variations, there are some staple dishes that make up a traditional Turkish breakfast. These basics are freshly-baked bread, cheese, olives, and usually honey or preserves, and maybe some charcuterie. Typical Turkish cheeses are feta, kasar, and kashkaval (a sheep's cheese similar to Pecorino Romano), olives are green and black, and butter tends to be a bit sweeter than western varieties. Turkish tea is generally black, served in glasses rather than cups. The basic breakfast is lighter than western breakfasts where cereals, loaves of bread, eggs, and coffee are more common, but families may have their own special items they like to add to the lineup. When there are guests or it's a special occasion, the breakfast takes on buffet proportions. For Turkish families, breakfast is often a sit-down meal that means quality family-time together. Of course, in today's increasingly busy world there isn't always time for a gargantuan breakfast and many Turks simply gulp down a cup of çay (Turkish tea) and a simit (sesame) bagel before heading off for work. But at weekends, it's time for the breakfast of champions.
Breakfast on the Go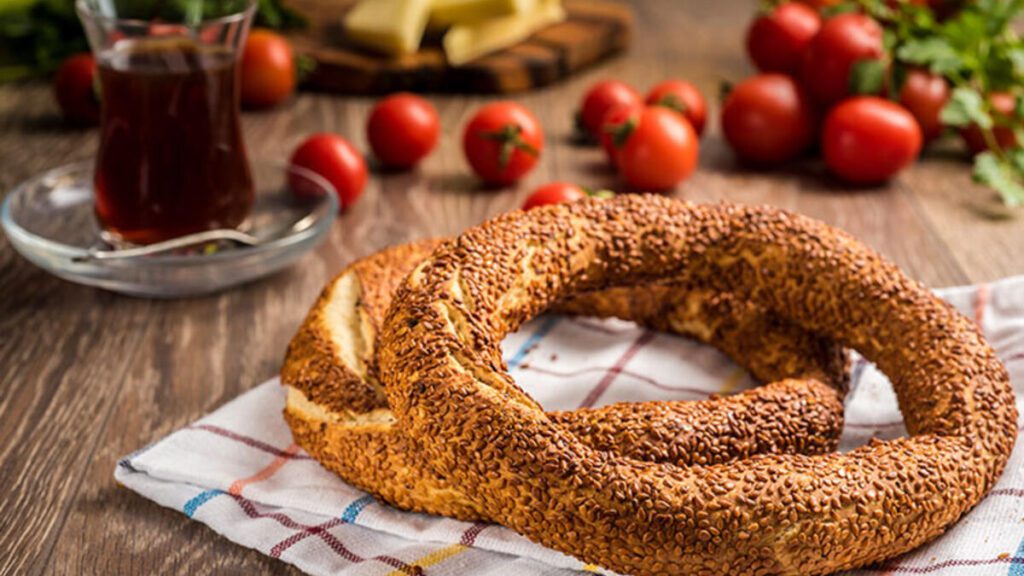 If you don't have time to enjoy a Turkish buffet breakfast, no matter if you are in a small town or Istanbul, there are always places to pick up something delicious. Local bakeries will have a delicious range of fresh pieces of bread and rolls, some already filled with cheese, tapenade, or even chocolate. A favorite baked good is 'simit', sesame seed covered ring of bread, also available from many street sellers. It's claimed that simit has been around since the 1500s. Markets will always have fresh tomatoes, olives, pastirma (air-dried, cured, and spiced beef), and a range of cheeses to accompany the bread.
Regional Turkish Breakfasts
One of the most exciting aspects of traveling through Turkey is getting the opportunity to try the different regional breakfast specialties of which, unsurprisingly, there are many.  In Izmir for example, there is the "boyoz," which is a round, rich and flaky pastry similar yet slightly heavier than the French croissant. In the popular vacation destination Alaçatı, "lor" curd cheese is served doused in black mulberry jam. Meanwhile, in Antalya, there is the "Alanya bohçası," which is a crepe bundle filled with cheese. In Bursa, a breakfast tradition is to have a pide baked with tahini and sugar, which is aptly referred to as "tahinli pide" while in Istanbul's neighboring Kırklareli "soğan pidesi" is their specialty, which more resembles a börek and is a baked pastry stuffed with savory onions and tomatoes. In Edirne, "pekmezli kaçamak" is a unique, almost grits-like dish consisting of cornmeal doused in pekmez. However, the most popular utilization of cornmeal in the country definitely comes from Rize and the greater Black Sea region by the name of either "mıhlama" or "kuymak" and consists of cornmeal and cheese cooked to a fondue-like consistency.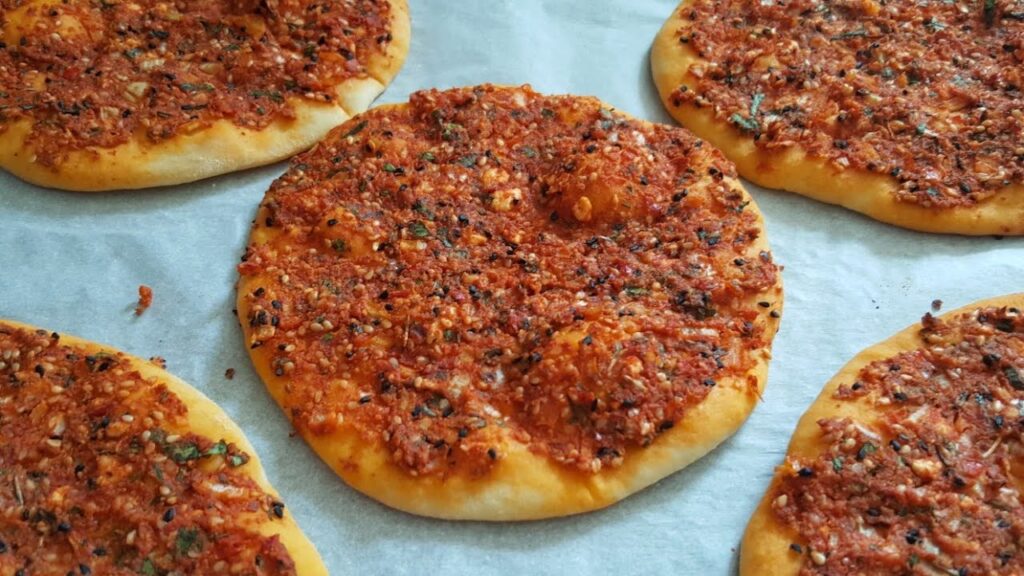 The central Anatolian province of Kayseri is not only famous for its pastırma, but also for the fenugreek that lines it, giving it an irresistible smoky flavor. For breakfast, fenugreek powder is mixed with tomato and red pepper paste to create "çemen," which is the Turkish word for both fenugreek and this dip sauce of sorts consumed at breakfast. In Adana and Mersin, "peynirli sıkma" is a popular breakfast item. It is similar to Mexico's quesadilla and is a thin, tortilla-like flatbread wrapped up with a stuffing consisting of lor curd cheese, onions and parsley. In Şanlıurfa, a fried, crescent-shaped stuffed pastry resembling an empanada and referred to as "semsek" is the specialty, either filled with cheese or minced meat and onions. Similarly, Eskişehir's specialty for both breakfast and any time of day is "çiğ börek," which is also a crescent-shaped, stuffed fried pastry that is simply larger in size.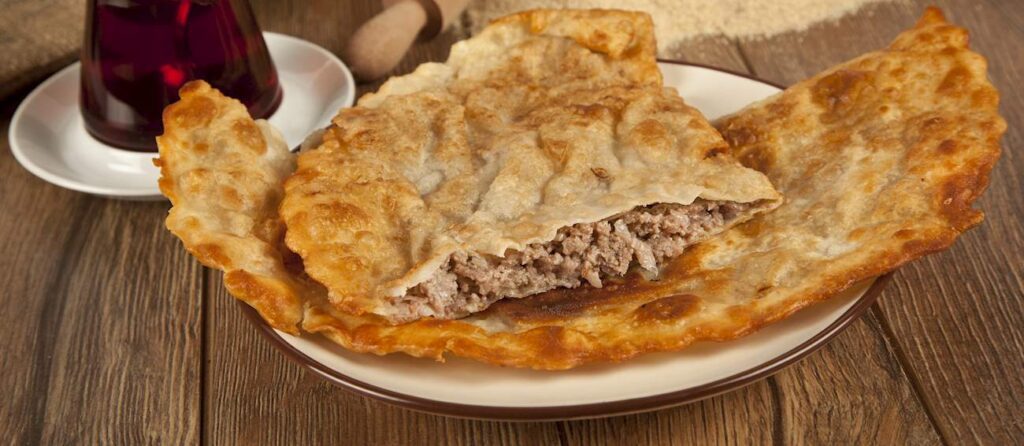 In Hatay, a popular pide referred to as "biberli ekmek," which translates to "bread with pepper" comes in the form of a small, soft, round flatbread covered in a spicy mixture of pepper paste and lor cheese, spiced with onions, cumin, thyme, nigella and sesame seeds. In Gaziantep, which by many is considered to be the country's culinary capital, "zeytin börek" is the breakfast specialty and consists of a thin, long pastry resembling a calzone that is filled with a stuffing made from green olives mixed with tomato paste, onions and parsley and, on occasion, minced meat. Hands-down the most popular breakfast in Turkey is the Van breakfast, which is a vast spread of unique flavors from the region including "murtuğa," which is a form of scrambled eggs cooked with flour in butter and of course
Kavut
Kavut is a traditional dish originating from the eastern regions of Turkey, but it's mostly prepared in the villages of Trabzon. The dish is usually made with a combination of whole-meal wheat and barley grains. They are roasted and ground, often by stone milling. When the cooked kavut with milk, butter, and sugar comes to the consistency of a porridge, it's removed from the heat source, and a well is made in the center. Honey or light sugar syrup with butter is poured in the well, and the dish is then eaten with spoons by dipping them into the syrup. There's also another way to eat kavut – people make holes in the top, then pour honey over it.
Kuymak and Mıhlama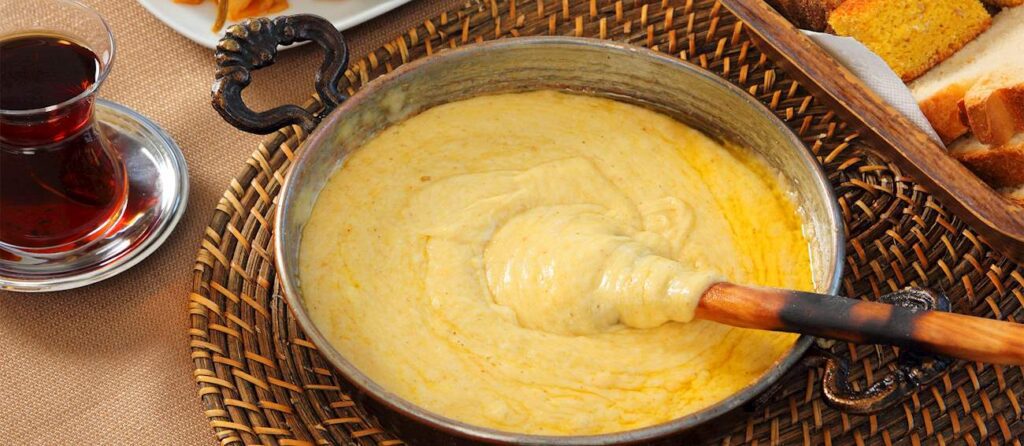 This traditional Turkish dish combines coarsely-ground cornmeal and (oftentimes) aged local cheeses such as trabzon or kashar. Grated cheese is mixed into piping hot cornmeal until it turns stringy, and the dish is then typically enriched with butter or kaymak—Turkish clotted cream. Kuymak is typical of the area surrounding the Black Sea, where it is mainly enjoyed for breakfast. It always needs to be served warm and freshly prepared.
Boyoz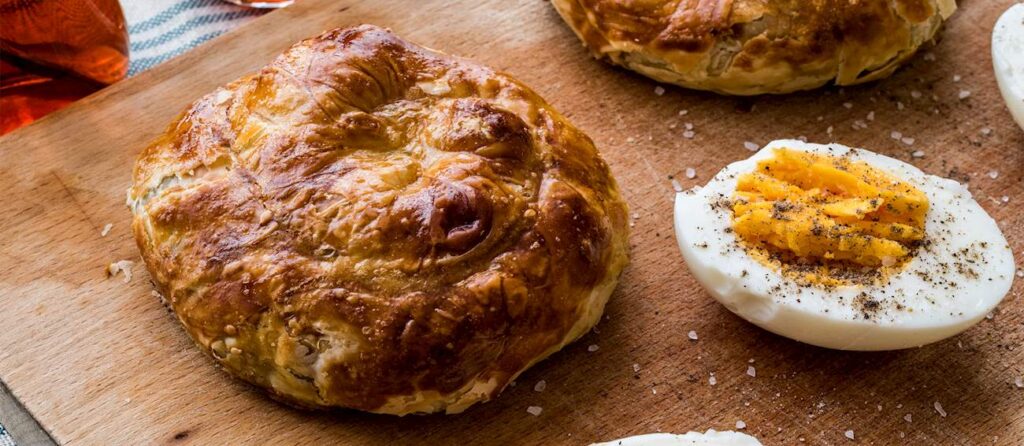 Boyoz is a Turkish pastry that was brought over to the country by Sephardic Jewish immigrants from Spain in the late 15th century. Nowadays, it is prepared exclusively in Izmir, following the original recipe. The pastry is made with flour, sunflower oil, and tahini. Tahini increases the nutrient value of boyoz, but it also makes the dough rise in layers. Boyoz is additionally filled with ingredients such as cheese, meat, olives, artichokes, or spinach. Traditionally, this flavorful pastry is served as an essential part of breakfast, when it is accompanied by hard-boiled eggs sprinkled with black pepper and a glass of Turkish tea.
Katmer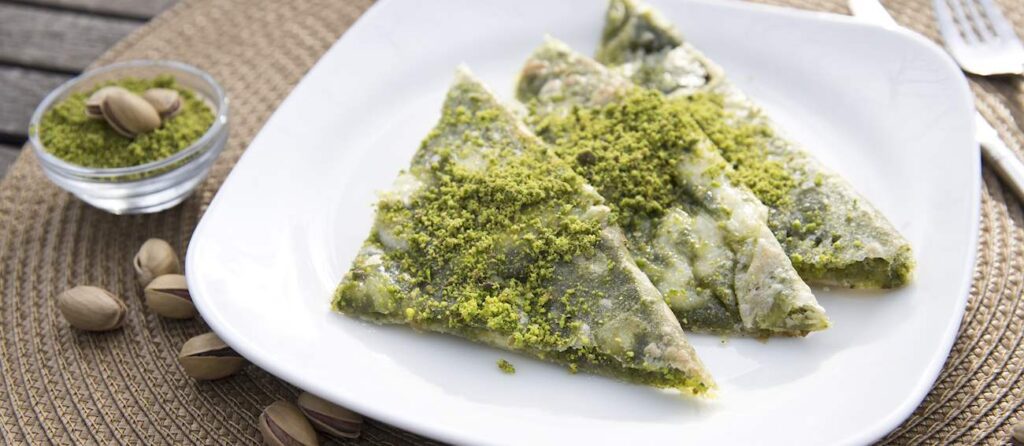 A type of sweet börek, katmer is a specialty of Gaziantep, or simply Antep – Turkey's gastronomic capital and a rich melting pot of diverse cultures and cuisines nestled in southeastern Anatolia – an ancient city whose claim to fame is being home to world's finest pistachios and the delicious Antep baklavası. Katmer is what most locals start their day with: in fact, there are bakeries and cafés in Gaziantep open from early morning until noon serving katmer for breakfast. Traditionally, it is also the first meal eaten by newlyweds after their first wedding night, as it represents the sweetness they hope to find in their marriage. Filled with pistachios and kaymak – Turkish clotted cream made with water buffalo milk, which is often referred to as kaymağın kaymağı, meaning crème de la crème – these flaky, crunchy pastries must be served fresh from the oven, while they're still warm. For a perfect Turkish breakfast, have your katmer drizzled with a little honey, sprinkled with crushed pistachios, and paired with a nice cup of tea.
Kaygana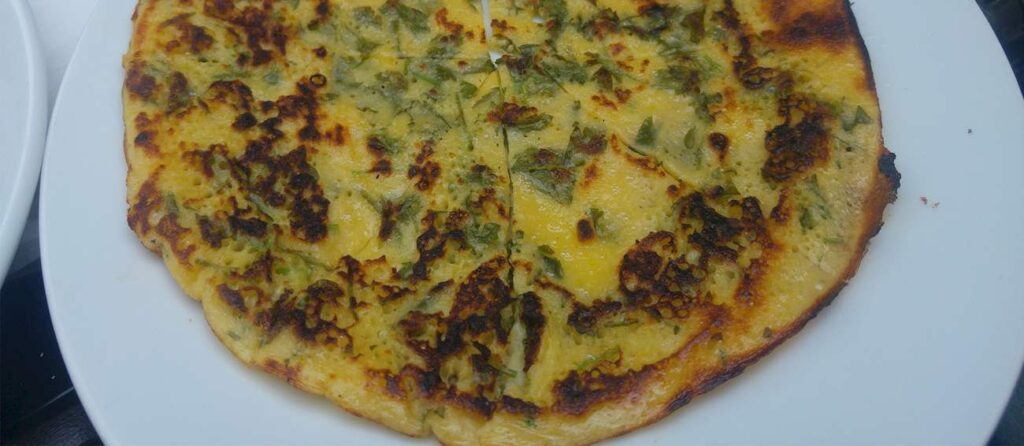 Kaygana is a popular Turkish egg-based dish that can be found in numerous variations across the country. The basic version is typically prepared with just a few ingredients: eggs, flour, salt, and milk. The ingredients are mixed into a batter which is then fried in butter, and the final result is something between an omelet and a pancake. Kaygana is often enriched with ingredients such as peppers, feta cheese, tomatoes, bacon, anchovies, eggplants, green onions, mushrooms, and even honey for the sweet versions. It is recommended to serve the dish warm, ideally with bread and a beverage of choice.
Essential Turkish Breakfast Elements
Breakfast in Turkey is so good that when visiting, you can add a different dish to the basic buffet every day. Here's a selection of some of the country's favorite and most popular breakfast foods:
Black Tea
The official accompaniment to a Turkish breakfast is therefore tea. Traditionally, Turkish coffee is usually consumed after breakfast or in the afternoon. Read more on Turkish Tea Culture
Bread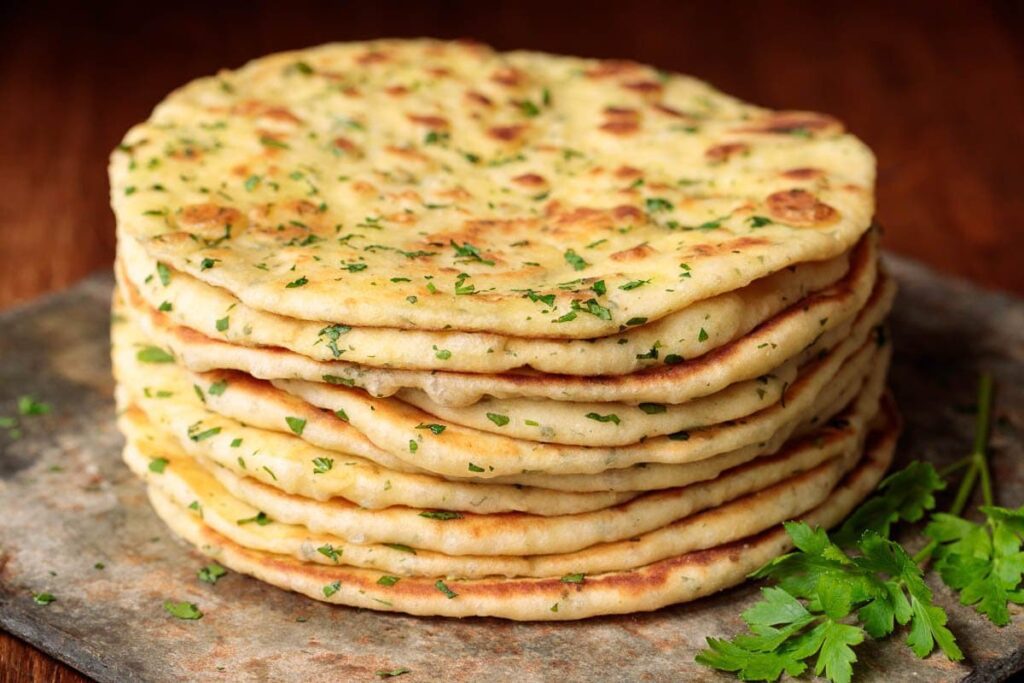 Simit is the real star of the kahvalti spread; it's the ideal canvas for your cheeses and jams. The doughy, sesame-seed-coated rings are often sold on street corners, inside subway stations and at virtually every bakery in Turkey. Typically, the Turkish bagel is ripped into smaller pieces and dipped into cheese or jam. For many people, simit is the perfect portable breakfast, as it's so readily available and rarely costs more than a few Turkish lira. Pide, which is the traditional bread option: fluffy squares of dough coated in seeds. Delicious. Read more about Turkish bread
Börek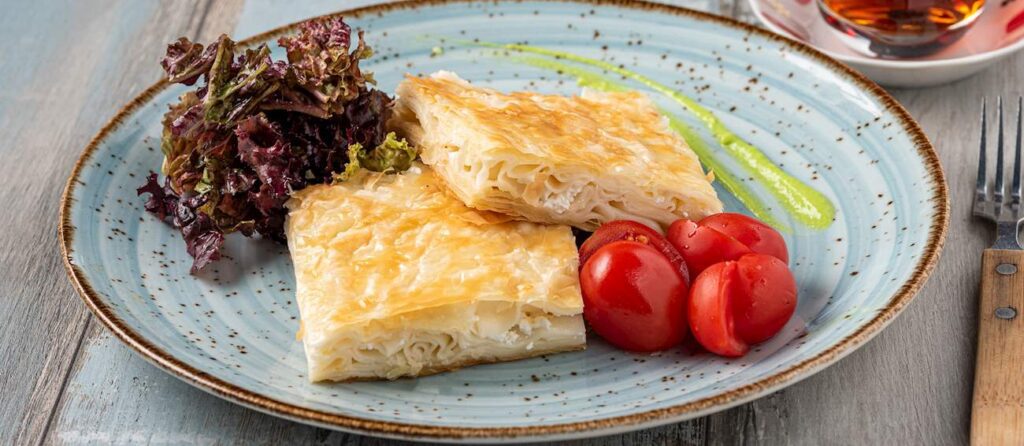 Börek is a baked dish consisting of a savory or sweet filling wrapped in yufka – thinly stretched sheets of dough made with flour, water, and salt. Heartier than phyllo, but thinner than a tortilla, hand-made yufka is typically brushed with butter before baking. Although many countries have their own versions of this satisfying dish, it was probably invented during the Ottoman Empire in the Anatolian Provinces, an area that nowadays belongs to Turkey. Some sources suggest that börek might be even older, a descendant of the Eastern Roman (Byzantine) Anatolian dish known as en tyritas plakountas, consisting of layered dough filled with cheese, its recipe dating back to 160 BC. Nowadays, Turkey is famous for its layered pies and pastries, all united under the name börek (also burek, byurek, byrek, böregi). Regardless of many börek varieties, yufka always remains the same, and almost everything wrapped in it may be called börek, which could also explain the name: some suggest that it comes from the Turkish word bur, meaning to twist.
Different  varieties of Börek
Su böreği or water börek is made with boiled sheets of dough which are buttered and filled with a mixture of feta cheese and parsley (an alternative recipe suggests minced meat and onions), then baked. Kalem böregi or pen börek is a thin, cigarette-shaped variety that is often served in restaurants as an appetizer.  Due to their shape, they were originally called sigara böreği, but in 2011, Turkish pastry chefs started calling them kalem to avoid the connections with smoking. They are usually filled with feta cheese, potatoes, and parsley, but can also be enriched with minced meat or sausages, and vegetables such as spinach, nettles, leeks, and courgettes. Paçanga böreği is a deep-fried variety from Istanbul, filled with pastırma or kaşar and chopped green peppers. Saray böreği or palace börek is a truly decadent version made with fresh butter rolled between each sheet of dough, while kol böreği or arm börek is the classic variety prepared at home – shaped in long rolls, either rounded or lined, it is usually filled with minced meat, feta cheese, spinach, or potatoes (it's smaller and fattier variety is called sarıyer böreği, named after Sarıyer, a district of Istanbul where it is traditionally prepared).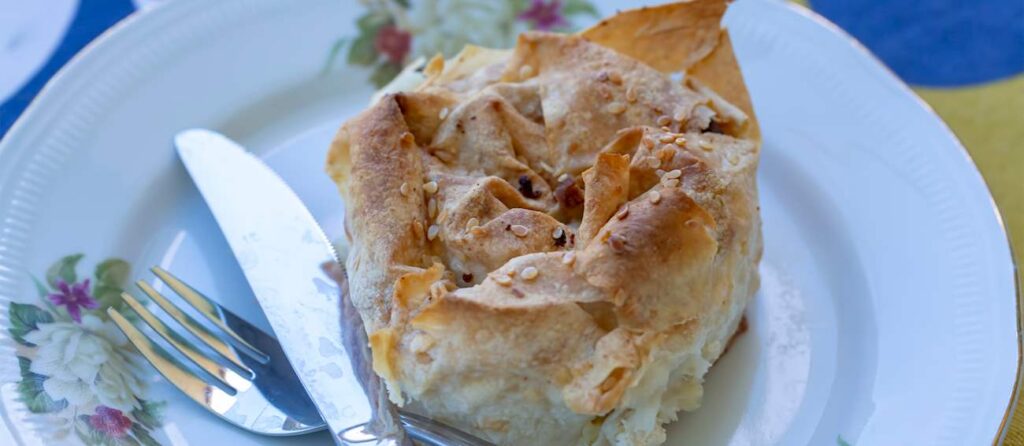 The most beautiful variety might be gül böreği or rose börek, arranged in a spiral that resembles a rose filled with various fillings which are often spicy in flavor. Çiğ börek or raw börek is a half-moon-shaped variety filled with raw minced meat and fried in oil. On the other hand, there is also töbörek – a similar variety which is baked instead of fried. However, börek doesn't have to be savory – a sweet variety called laz böreği is prepared in the Rize region. It is filled with muhallebi (a local spin on custard) and served generously dusted with powdered sugar. Another sweet variety is called kürt böreği, also known as sade, meaning plain börek, referring to the fact that it has no filling at all, just a generous layer of powdered sugar on top. Seeing all these varieties, it is clear that börek may be one of the most significant dishes of the Turkish cuisine – it surely is one of the oldest and most traditional ones.
Butter, Jams and Spreads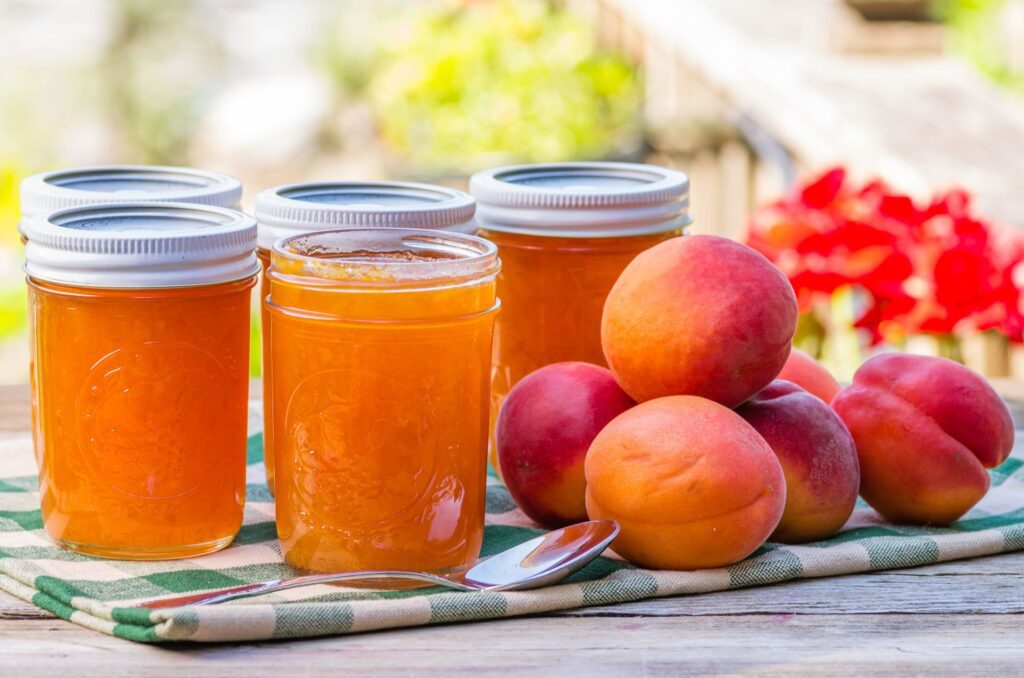 Black olive spread is a popular option on pide, if you're the kind of person who likes something salty and savory early in the morning. For those looking for a sweeter option, drizzle pekmez, or molasses, on top of a thin coat of tahini. Because hazelnut is a key export, Turks are also really into hazelnut spreads. As for jams, most grandmothers spend half the year sourcing the best fruits from their greengrocers; the rest of the year is spent canning and preserving until grandchildren come by to take the spoils home with them. Sour cherry, apricot, and fig jams are classic options, and my favorite is a beautifully fragrant bergamot jam.
Cheese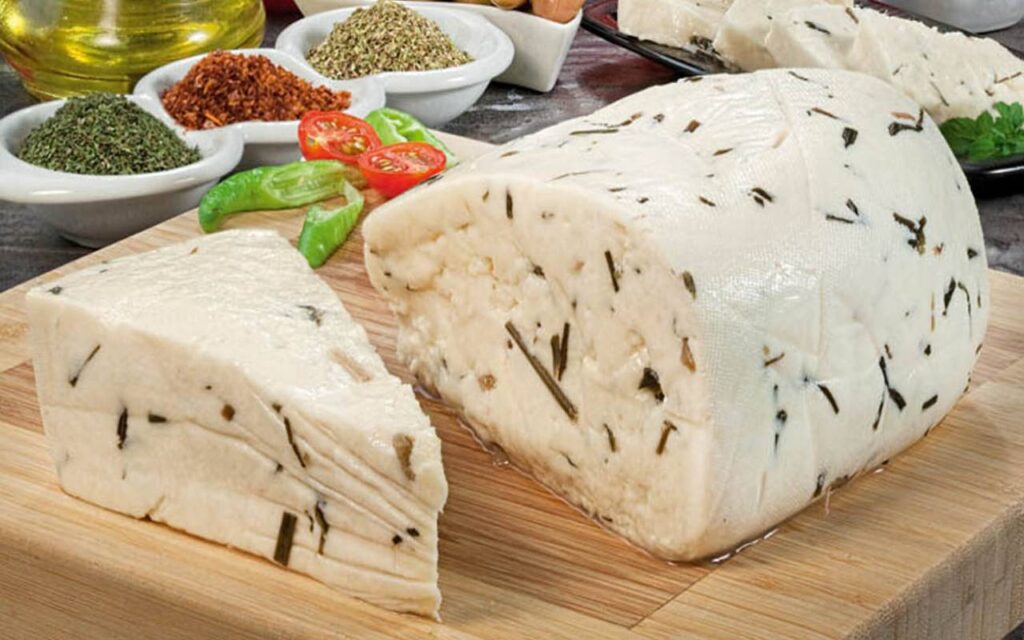 Turkish breakfasts aren't for people on a diet. If I haven't convinced you of this already, let's move on to the next element of a typical kahvalti, which is cheese. Almost every Turkish breakfast comes with a side plate on which you will be given several different types of fresh cheese, made from goat, sheep or cow's milk. The most common cheeses served with breakfast include beyaz penir (white cheese) and kasar, a firm light yellow cheese. However, as there is such a variety of Turkish cheeses out there, this is by no means all that you will get. I've had Turkish breakfast served with tulum, a pungent crumbly goat's cheese mixed with walnut halves and melted butter. Simply divine. Dil peyniri, a fresh, white, stringy cheese is also served with some breakfasts – it is very similar to mozzarella cheese and has a mild milky taste  Read more on Turkish cheese
Olives and Olive Oil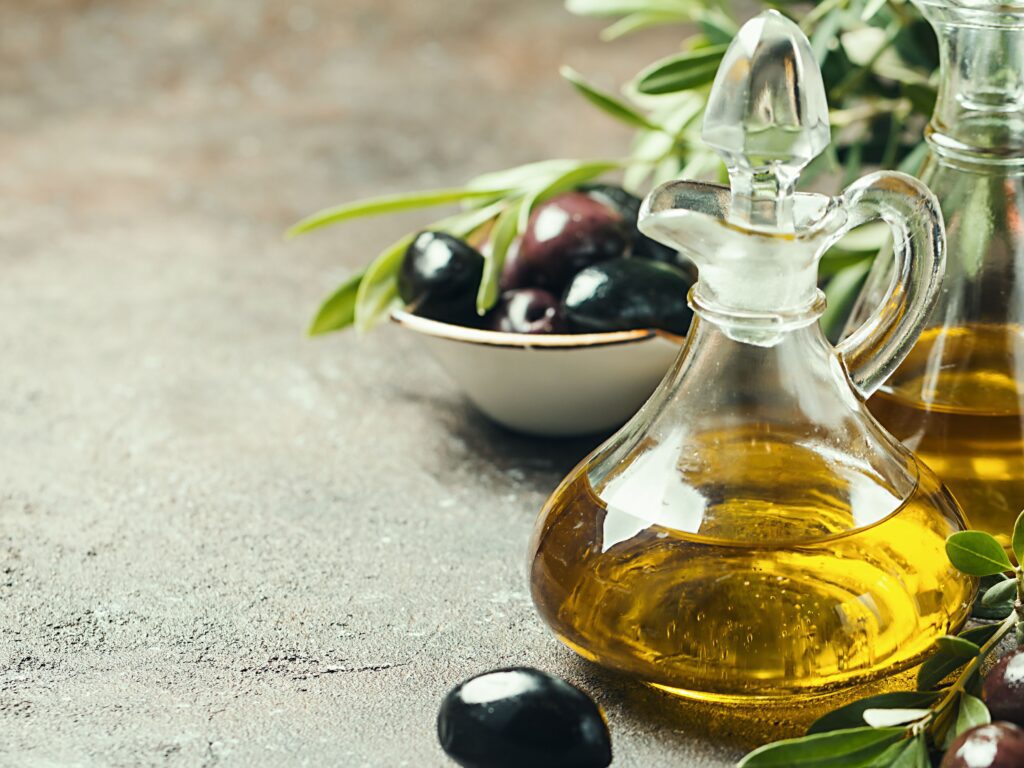 As an ingredient the olive takes many forms in turkish cuisine. The olive , once was considered the food of the poor because it was always available particularly to the farmers and the villagers, the middle class looked down on this humble fruit.Today, things are quite different. Olives are served at fancy restaurants, new recipes are showing up highlighting this wonderful food and we cannot overlook the outstanding nutritional value of the olive. Nutritionally, olives are what you should be looking for in a food: they are an excellent source of fiber, they contain over 25 phytochemicals, compounds found only in plants that have antioxidant activity.Olives and olive oil are essential elements of Turkish breakfast.
Bal Kaymak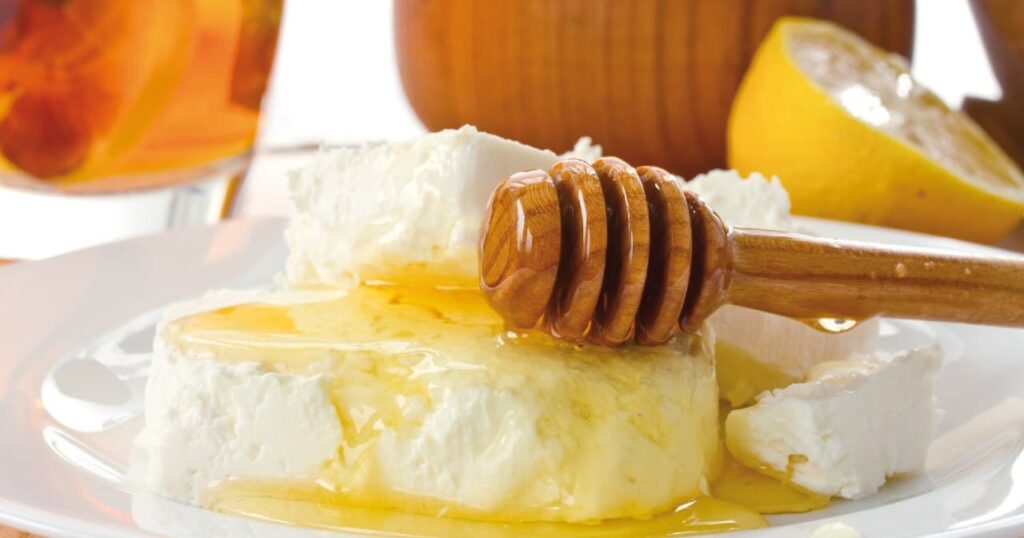 A staple breakfast dish in Turkey, bal kaymak is a delicious combination of kaymak – a traditional dairy product produced from water buffalo milk, very similar to clotted cream – that is generously doused with honey. The dish is served as a spread or a sweet dip alongside tea or a variety of other traditional breakfast dishes and is typically paired with bread.  Rarely, it is served as a dessert and it sometimes comes garnished with ground, chopped, or whole walnuts.
Menemen
Menemen is a traditional Turkish spread consisting of tomatoes, eggs, peppers, and various spices. There are many version of menemen, so it can also contain garlic, cheese, spinach, sausage pieces, or onions (when menemen is served as a main dish). It is usually sold at breakfast or brunch places in Turkey, and most restaurants serve it in metal pans, with a big basket filled with bread as an accompaniment. Most people don't use forks, as they opt for bread as the utensil of choice, scooping up this flavorful spread in the process.
Mercimek Çorbası (Lentil Soup)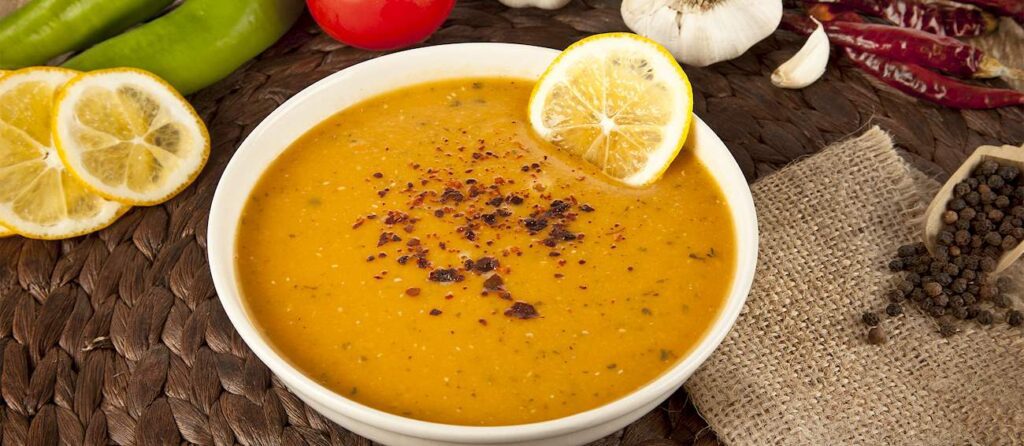 Mercimek çorbası is a beloved Turkish soup made with red lentils, chicken stock, onions, and carrots. It is often seasoned with salt, pepper, cumin, or paprika. Easy to prepare, filling, and warming, the soup is consumed for breakfast, lunch, or dinner in rural parts of Turkey, especially in local eateries known as lokantas.
Nuts, Olives, Dried Fruit
Tucked alongside the larger plates and bowls are smaller dishes containing an assortment of olives, dried fruits and nuts. Many restaurants specialising in kahvalti menus pride themselves on handpicking these elements from the different regions of the country. So think poppy seeds from Afyon, olives from Gaziantep, walnuts from Anatolia, dried figs from Izmir, spicy tomato paste from Adapazari, the list is simply endless. Want to taste food from all over Turkey without actually having to travel to each place? This is your chance!
Salad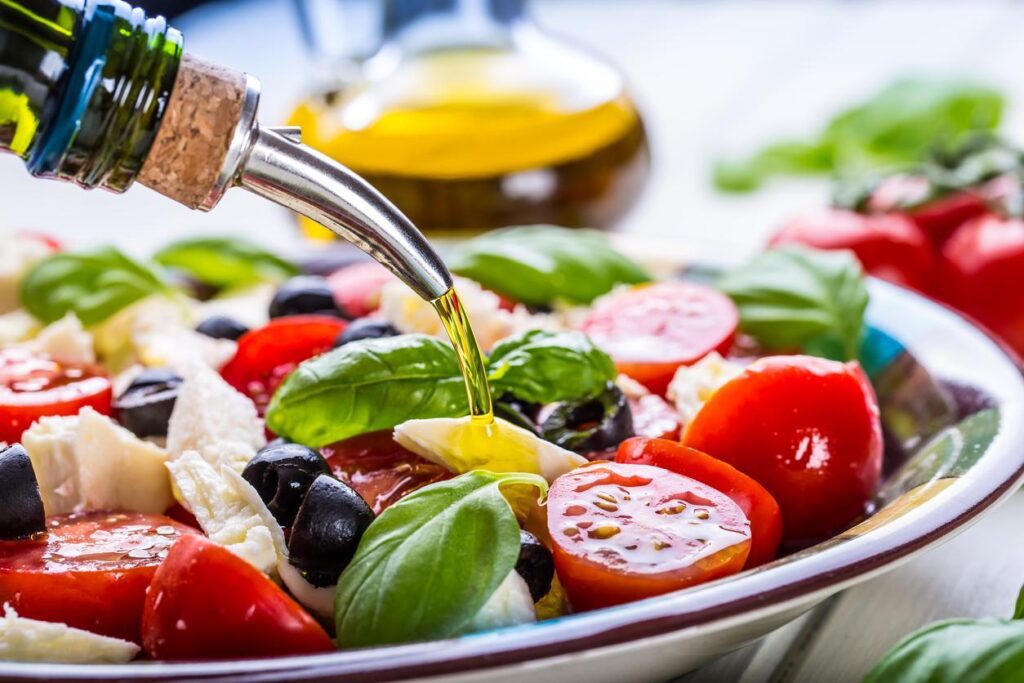 'Salad for breakfast?!' Yes indeed. A side salad of chopped tomatoes and cucumbers with a light drizzling of olive oil goes really well with all the cheese and bread, helping to refresh your palate and preventing everything from tasting too rich and heavy.
Sucuk
Sucuk is a very spicy Turkish sausage, mostly cooked with egg in a pan. It is made of ground beef with garlic and spices like red pepper, cumin and sumac.
Pastırma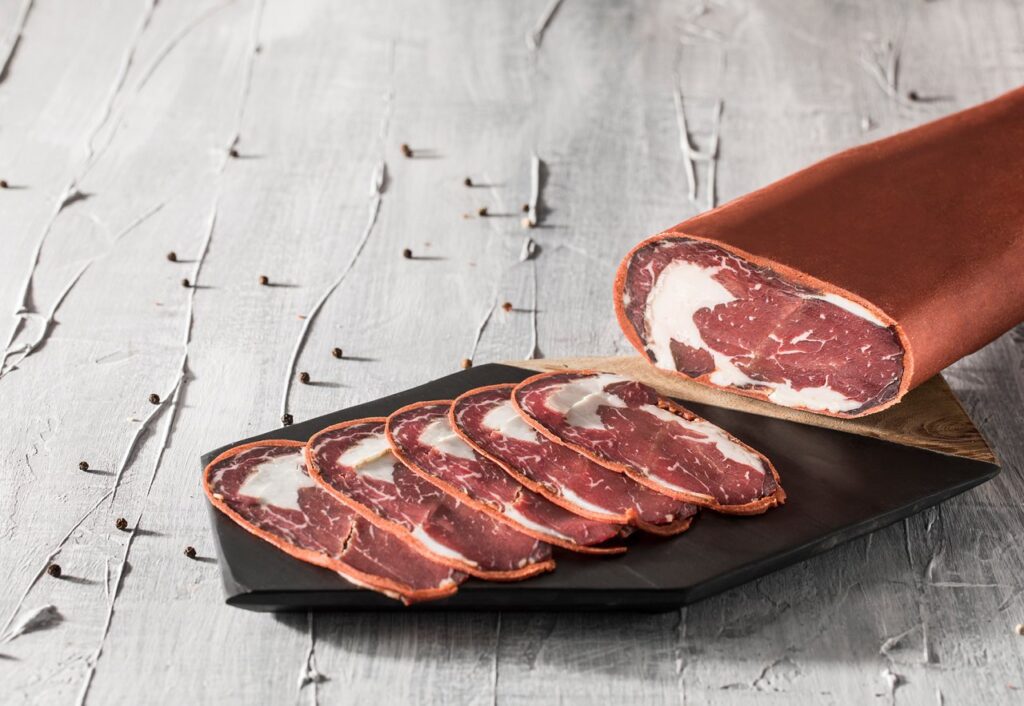 Pastırma is an air-dried cured beef with its origin in Anatolia. You prepare it by salting the meat, washing it and letting it dry for 10-15 days. The blood and salt is then squeezed out before it gets covered with a paste prepared with crushed cumin, fenugreek, garlic and hot paprika.
Gözleme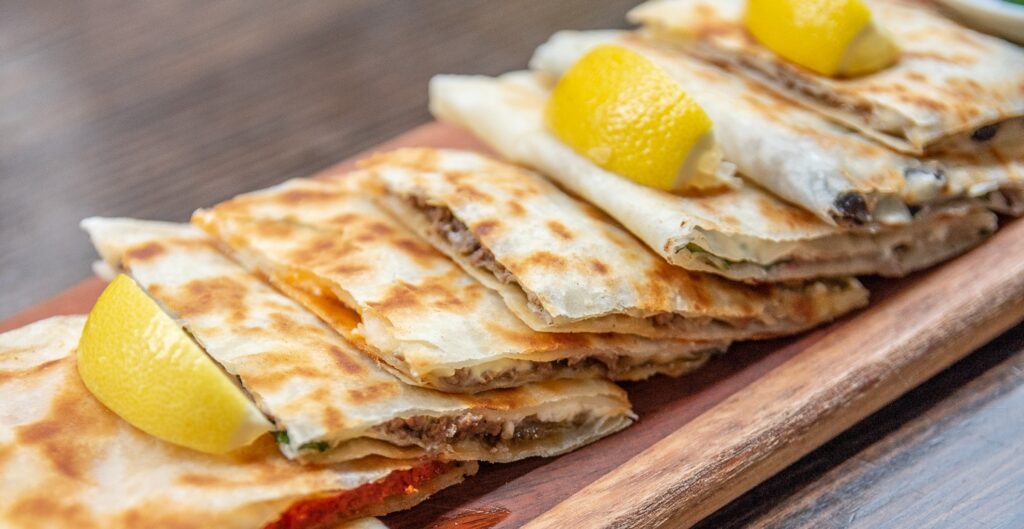 Gözleme is a Turkish flatbread consisting of flour, water, yeast, olive oil, and yogurt, which prevents the flatbread from going too brittle. The dough is filled with ingredients such as meat, vegetables, eggs, various cheeses, or mushrooms, and is then baked on a sac griddle. Originally, gözleme was served for breakfast or as a light afternoon snack, but today it has a status of popular fast food that can be found throughout the country's restaurants, food carts, and cafés.