A Small Guide to Istanbul Public Transport
Introduction
Istanbul Public Transport – Istanbul stretches over 5,000 km ² therefore moving is not always easy because it is one of the most congested cities in the world. Moreover, its topography makes the development of the public transportation complex (Istanbul, like Rome, was built on seven hills). There is currently a major project taking place in the city in order to develop public transport in Istanbul. This project mainly consists of the development of the Istanbul metro and in the connection between the two continents. The first step of this project was inaugurated on October 29 of 2013 and allowed the connection between the Asian and European sides via a railed tunnel under the Bosphorus. To download the map of public transport in Istanbul , click to enlarge the image ​
Important Update
Sharing HES code is requested in mass transportation within the scope of the precautions of TR the Ministry of Health. Please fill the information here and click Save button to match your Istanbulkart and HES code.
What is HES Code and How to Get it?
During controlled social life conditions, HES (Hayat Eve Sığar – Life Fits Into Home) code helps you safely share your Covid-19 risk status with institutions and individuals for activities like transportation or visit. Shared HES codes can be checked through the app or services provided to institutions. This code solely serves as a risk mitigant for infection in long distance transportation vehicles during travel. Covid-19 patients or contacted people will not be able to use public transportation. We use this code to inform you if anyone in the same vehicle is diagnosed as positive. You have the full authority on generated HES codes. You can share your HES codes as long as you desire or you can delete them.
Your HES code;
via Hayat Eve Sığar App (IOS and Android),
via SMS to 2023;

Write HES and National ID Number, last four digits of National ID serial code and days of sharing (number of days), respectively and with spaces between asked information) and send SMS to 2023,
Persons who have Turkish Republic Blue Card ID or whose Turkish Republic identification number starts with 97, 98, 99: Type HES, your Turkish Republic identification number, year of birth, and sharing time (in days). Leave a space between each item. Send an SMS to 2023.
Persons who do not have a Turkish Republic or foreign identification number starting with 97, 98, 99: Type HES, your nationality, passport serial number, year of birth, and last name. Leave a space between each item. Send an SMS to 2023.

via e-Government,

Transactions of HES Code via e-Government: You can perform producing, deleting, querying and viewing details.
You can create a HES code for your children under the age of 18 via e-Government.
Besides, For foreign nationals with no domestic GSM number, HES Code can be received with passport information by sending an SMS to +90555 944 3821 including HES, nationality, passport serial number, year of birth and surname, respectively and with interspaces.  You can obtain a HES code by SMS for your children under the age of 18. Studies are carried out to create HES code for your children through "Hayat Eve Sığar" application and e-Government and will be available soon.
The Istanbul Kart
In order to use all public transportation in Istanbul (boats, subways, buses, tramways, funiculars), you will need the magnetic card (Istanbul Kart). You can find it in the small kiosks near all metro stations, piers, and also bus stations. It costs 7TL, you will then add credit. Keep in mind that most trips cost 3,50 TL each way. For more information you can visit the website of the municipality:  https://www.iett.istanbul/en
Istanbul Public Transportation
The Modern Tramway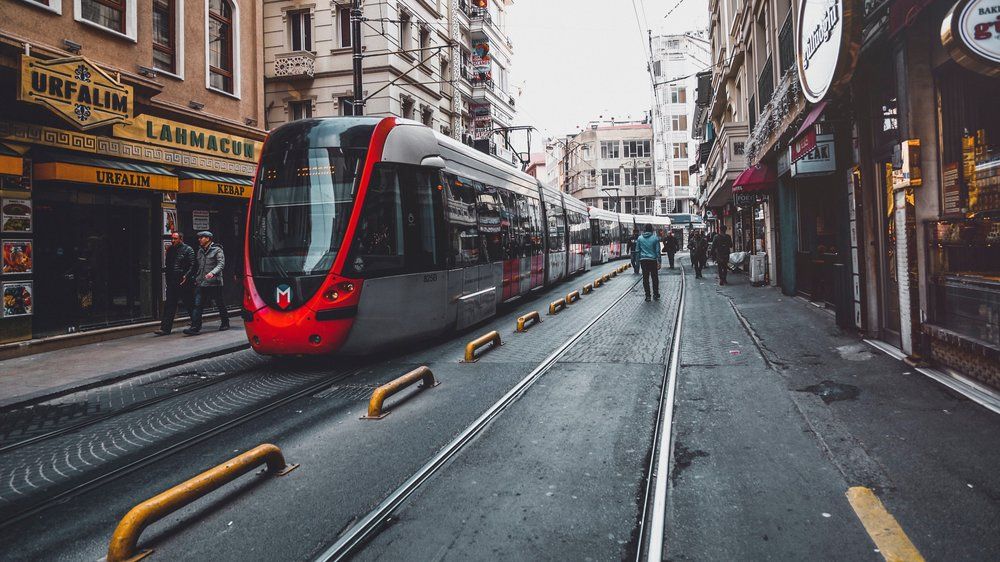 On the European side, there are two lines in service, the T1 line from Kabataş allows easy access to Sultanahmet and the T4 line that goes North – West of the city. It runs from 6 am to 11 pm. The tramway in Istanbul is very clean and has air-conditioned. The T1 line will allow you to reach the main attractions of the city. We recommend you using it as it is really cheap and fast and definitely the easiest way to get to the old town. The main stops of T1 are:
Kabataş — Dolmabahçe Palace, Taksim connection with the funicular (F1) to go to the pier to the Princes' Islands and Kadıköy.
Tophane — Museum of Modern Art in Istanbul.
Karaköy —Connection Tünel funicular, (T) which will drop you on Istiklal Street.
Eminönü — Spice Market.
Sirkeci — Train station and connection to the Marmaray.
Sultanahmet — Topkapı Palace, Hagia Sophia, Blue Mosque, Basilica Cistern, Archaeology Museum.
Beyazit — Grand Bazaar. Istanbul Public Transportation​
The Finicular
Karaköy-Tünel (T): It allows you to go quickly down Istiklal Street and you will avoid climbing the slopes to get in neighborhoods like Galata. Once in Tünel, you can use the historical tram (NT) to go to Taksim Square. It runs from 7 am to 9 pm.
Taksim-Kabataş (F1): It allows you to go from Taksim Square to Kabataş. From here, you can take the tramway (T1) to get to the old town, and the boat to the Princes' Islands from Kadıköy. To go to the old town, another option is to take the M2 metro directly to the Golden Horn (Haliç stop) from Taksim.
The Historical Tramway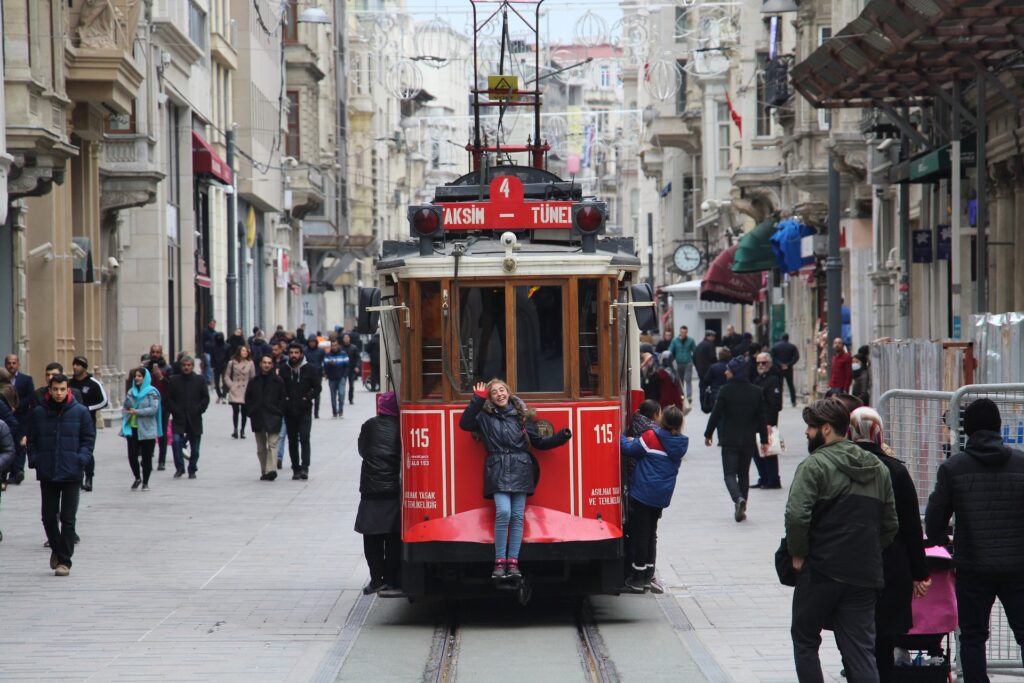 They look like trams out of an old movie, two lines are in service: the first on the European side (NT) which runs down the Istiklal Street from Taksim Square to Tünel, and the second (T3) is on the Asian side from the pier and it goes from Kadıköy to the Moda neighborhood.
Dolmuş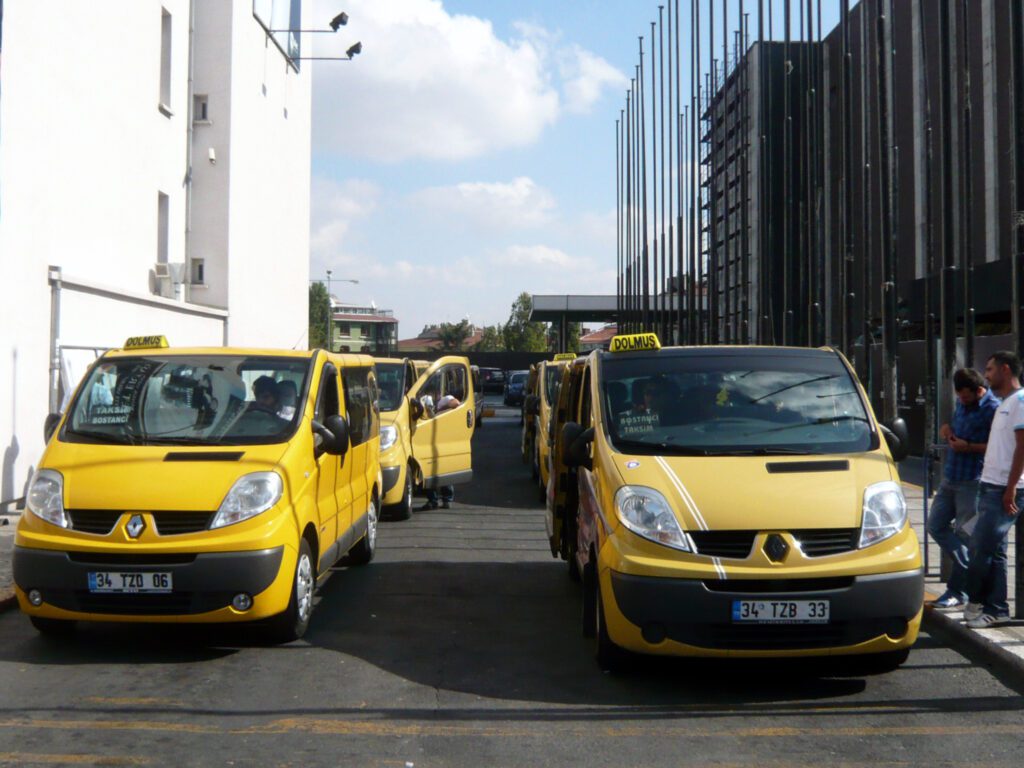 These are shared taxis that operate 24/7. It is fast, economical and widely used throughout Turkey. They run on a specific path and leave when they are full (8 passengers). On the way, you can get out wherever you want. The payment method is simple, once seated, state your destination to the driver who will tell you the price and hand him the money (only cash is accepted). The main dolmuş lines are in Europe: Beşiktaş – Taksim; and Taksim – Bakırköy, Yeşilköy; Sarıyer – Beşiktaş and Kadıköy and Üsküdar from Asia. There are also lines connecting Europe to Asia from Beşiktaş and Taksim.
Taxis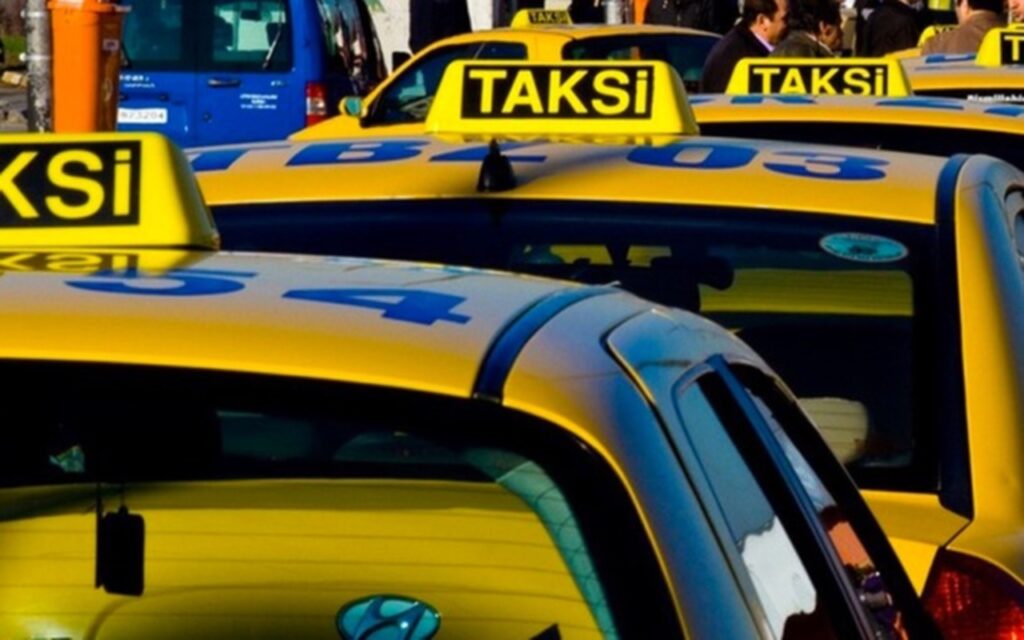 There are nearly 18,000 taxis ("Taksi") in Istanbul, you can easily recognize them thanks to their yellow color. Taxis are available throughout the city at any time of the day or night. Using taxis in Istanbul is a commonplace. As in every city in the world, taxis in Istanbul have bad reputations, especially those located in very touristic areas such as the old city, airports or Taksim Square. In Istanbul, taxis all have a taximeter, the meter starts at 5 TL and increases 3.10 TL per km. One taxi ride costs a minimum of 13 TL. Even if we consider that the majority of taxis are rather honest and reliable, there are unfortunately some (especially in the touristic areas) which are really unscrupulous.
Here are some tips to help you avoid the most common pitfalls:
Avoid paying with big bills. One of the most frequent scams happens when you pay: you give 50 TL for a 15 TL ride, and the taxi will tell you that you only gave him 5 TL. That is why we advise you to use small bills.
Check the meter when getting into the taxi. Taxis in Istanbul all have meters, if the taxi tells you the price of the ride without putting it, we recommend you go out and take another one.
Tipping is not mandatory, ask for change. Sometimes, the taxi driver will tell you that he has no change. It is not customary in Istanbul to tip the taxi unless it has helped you with your luggage, or has been particularly nice. If you insist on your change, he will go quickly to a small shop or grocery and give it to you.
To estimate the price of the trip, check out this website: http://taksiyle.com/en
Metro (Subway)
It is open from 6:15 to midnight, there are currently two lines on the European side. Unfortunately, these two lines are not connected yet. There is also a line on the Asian shore but it is not of great interest to you because it is not connected to Sabiha Gökçen Airport yet.
Atatürk airport – Aksaray (M1): This metro line mainly allowed tourists to get to the center of Istanbul from the old airport on the European shore – Atatürk Airport – via Yenikapı station to reach the M2 metro. From now on, Atatürk Airport only accepts cargo and VIP passenger flights. As the new Istanbul airport (IST) is not served by the metro yet, this line is not essential for walking in the city of Istanbul.
Yenikapi-Hacıosman (M2): It is the longest metro line in Istanbul and the one you will use the most. This is the one you need the most during your stay. Since the beginning of the year, it has been lengthened, it is now possible for example to get to the old city from Taksim Square and more. This is especially useful for businessmen residing in the district of Levent, or for travelers who have chosen to reside in more Turkish and less touristy areas like Nisantasi. Taksim Square is now only 2 stop Eminönü district where the spice market is located. The main stops of the M2 are:
Yenikapı  — This station is intended to be the hub of transport in Istanbul. You can already use the Marmaray from Yenikapı (the metro passing under the Bosphorus ) to reach Üsküdar on the Asian side.
Haliç — This is the most useful station for tourists wishing to reach the old town or for those wishing to go from the old town to other areas that seem less accessible. You will be near the spice market and Eminönü tram station (T1).
Şişhane — Located at the bottom of İstiklal Street, it will allow you to reach the Tünel funicular located right next to the station, as well as the Galata district.
Taksim — Located in Taksim Square, the station can be reached quickly by foot from the districts such as Cihangir, Beyoğlu or Çukurcuma. You can also use the funicular (F1) to get to Kabataş where you'll take the ferry for Asia and the Princes' Islands, and the tram (T1) to get to the old town.
Osmanbey — Located just minutes from the upscale Nisantaşı district. Very nice area with many bars and restaurants as well as luxury shops and many Turkish designers.
Levent — This is the business district of Istanbul. There is also close to the metro two major shopping malls: Kanyon and Metrocity.
İTÜ Ayazağa — Located near the chic shopping gallery İstinye Park (you need a little walk or take a taxi or a minibus). This gallery is a paradise for all lovers of fashion and luxury, you will find all the most luxurious brands.
Marmaray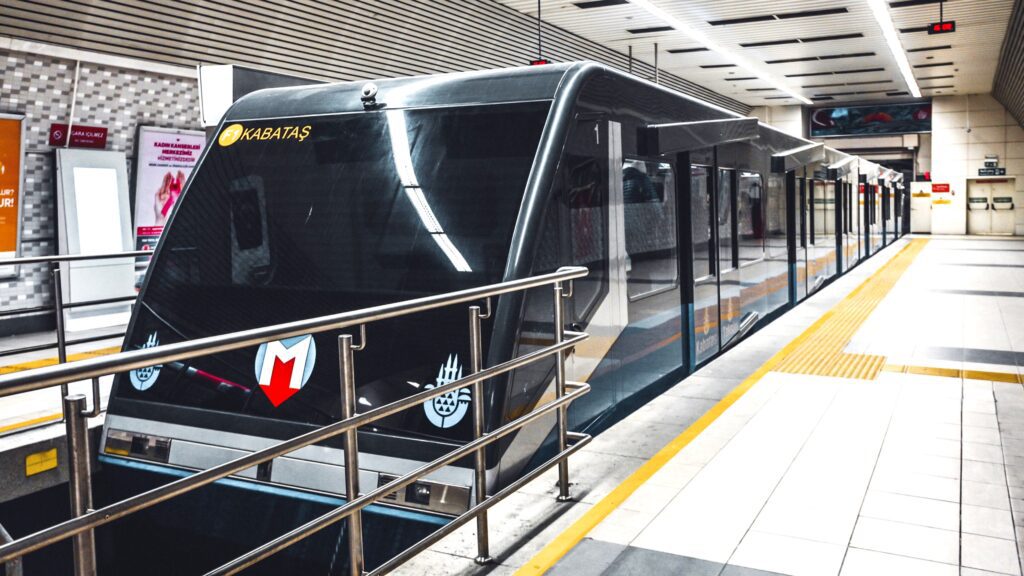 After long years of work, the European side and the Asian side are now connected by the metro which passes under the Bosphorus. It allows you to go to the Asian shores from Yenikapı or Sirkeci. Two stops from the Asian side are Üsküdar and Ayrılık Çesmesi. You can use the M4 to get to the Kadıköy district.
Buses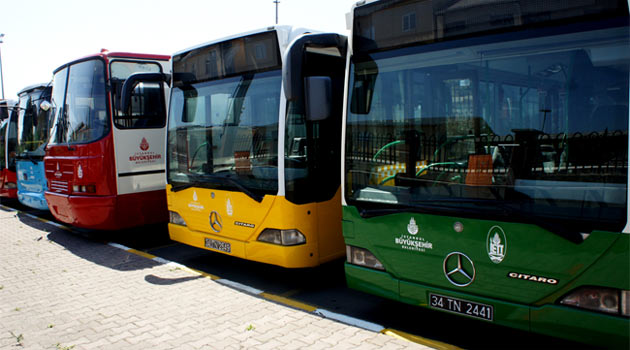 There are 400 bus lines in Istanbul, the majority work until midnight every night. Except for Sultanahmet (accessible by tram), buses go all over the city. Destinations and major stops are written in yellow on the sides of the buses. For information on bus timetables and to see where they stop click here.
Metrobus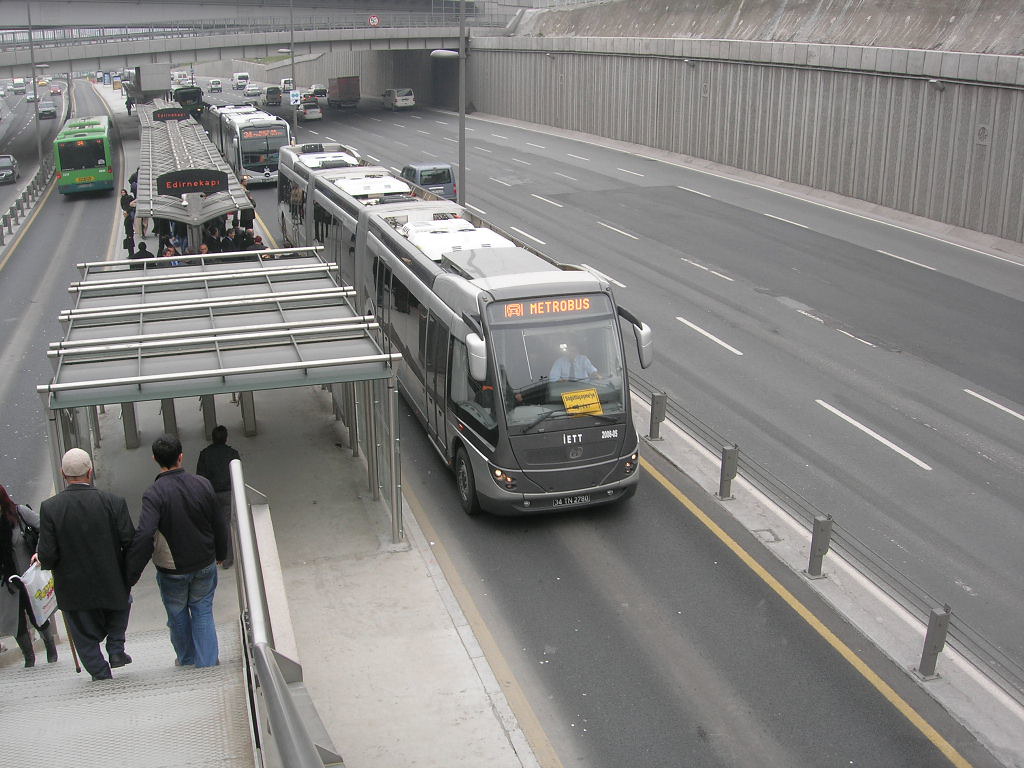 These are buses that run on reserved lanes to avoid congestion. Most of the areas served are on the outskirts of the city. Therefore, its use is not of great interest if you are visiting the city. Only the Istanbul Kart and the Mavi Kart (which is for monthly subscriptions) are accepted to access Metrobus. You can buy or recharge your Istanbul Kart at all stations. To download the map of Metrobus transport in Istanbul , click to enlarge the image ​
Ferry – Vaporetto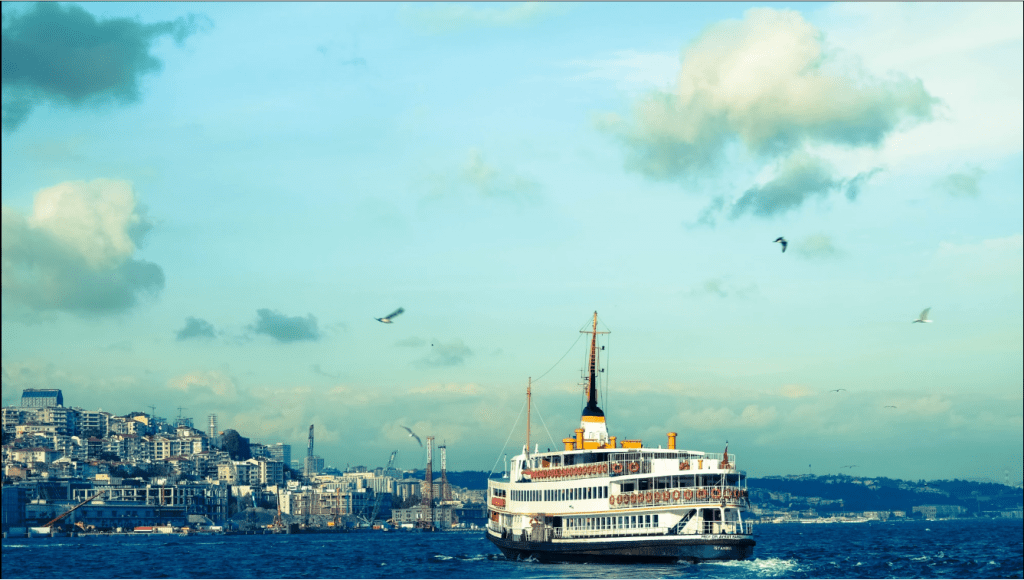 They allow you to move from Europe to Asia. As with the metro, Istanbul residents use public boats/ferries – "vapur" in Turkish – every day and save considerable time by avoiding constant traffic jams on the two main bridges of the Bosphorus. By taking the ferry, you will realize the vastness of the city, it is also a good way to see the city from the water at a lower price. The main piers on the European side are Eminönü, Kabataş, Karaköy, and Besiktaş, and on the Asian side, Üsküdar and Kadıköy. Like the metro, Metrobus, and certain bus lines, ferries are in service 24 hours a day during the weekend (Friday evening to Sunday morning; from midnight to 6:40 am for the last boat before morning hours). The following pier lines are affected by this measure: Kadıköy-Karaköy-Beşiktaş, and Beşiktas-Üsküdar. You can use your Istanbul Kart to access the boats or buy your ticket at the pier, for a price varying between 3.50 TL and 5 TL (4 TL for the lines indicated above) depending on the route you wish to take. The ticket costs 8 TL for overnight trips.
These public boats are also useful for reaching the Princes' Islands for the price of 5.20 TL
For more information on timetables, click here.
Sea Taxis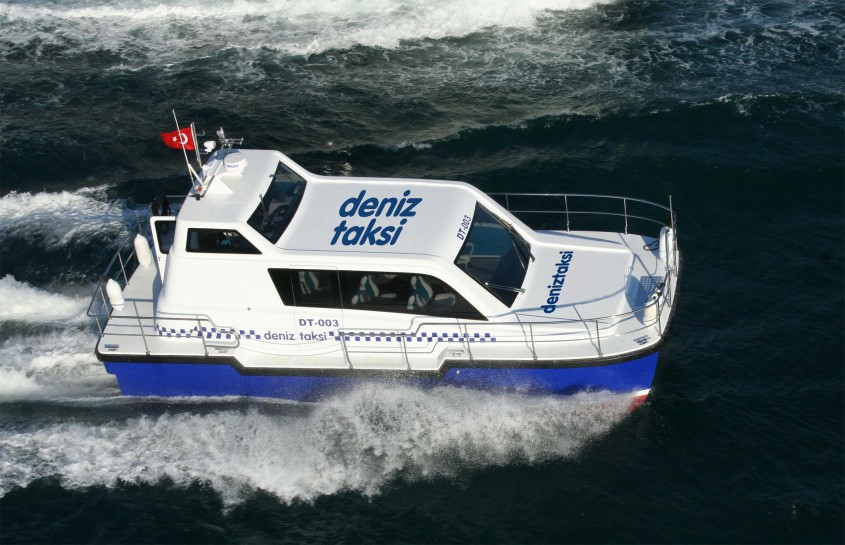 Another (more expensive) way to get around the city quickly is to use sea taxis ("deniz taksi"). They are bookable 24 hours a day, 7 days a week and take you from one jetty to another in record time. To book a "deniz taxi" (10 people maximum) call 444 44 98, find more information: http://www.deniztaksi.com.tr/