Istanbul's Best Cafés
Introduction
Istanbul's Best Cafés -Stretching over the continents of Europe and Asia, Istanbul is multi-cultural mecca almost double the population of London. For centuries the city has served as a crossroad between East and West with the fusion of European, Ottoman, and Middle Eastern influences. Cafes in Istanbul are truly where all of these cultures come to light.
As the lifeblood of the city, cafes are more common than bars throughout Istanbul. Each neighborhood takes pride in its distinct collection of cafes and coffeeshops, which make each area unique. When planning a trip to Istanbul, you'll definitely want to make time to relax at some of these hip cafes scattered across the city.
Coffee culture in Istanbul
Istanbul is a city of sacred tradition, and coffee is without a doubt one of them. Coffee shops and cafes in Istanbul bring together all the different faiths, background and cultures of the city.  Istanbul is famous for its Turkish coffee, a blend that puts Espresso to shame. Turkish coffee is a method of preparing coffee that dates back to the 5th century. It is made by mixing in fine coffee grounds with boiling water. This creates a thin layer of foam at the top of the traditional copper coffee pots.
Coffee is mixed in with a sugar cube and often a side of the gelatin candy, Turkish delight. Since the coffee is so much stronger, usually it comes in a cup that's about the size of an espresso. You can ask for milk to add into your coffee as well. Read more  about Turkish Coffee Culture
Fortune-telling with coffee grounds
You'll notice when you finish your coffee there is a thick layer of coffee ground "sludge". You're not suppose to drink this, however it can be used to tell your fortune. A Turkish tradition is using the coffee grounds at the bottom of your cup to to read about your past, present, and future. Many coffee shops and cafes will actually employ women that can read your fortune for you.
Coffee or tea offering
A shopkeeper or café owner may offer you a coffee or tea sometime while you are in Istanbul. This is very on par with Turkish hospitality, and more or less a welcoming gesture. If you have time and feel comfortable, it's pretty normal to sit down for a friendly tea or coffee. This does not mean you are obligated to buy anything.  It's simply just for a short chat and to welcome you to Turkey.
Best Cafés of Istanbul
Ara Cafe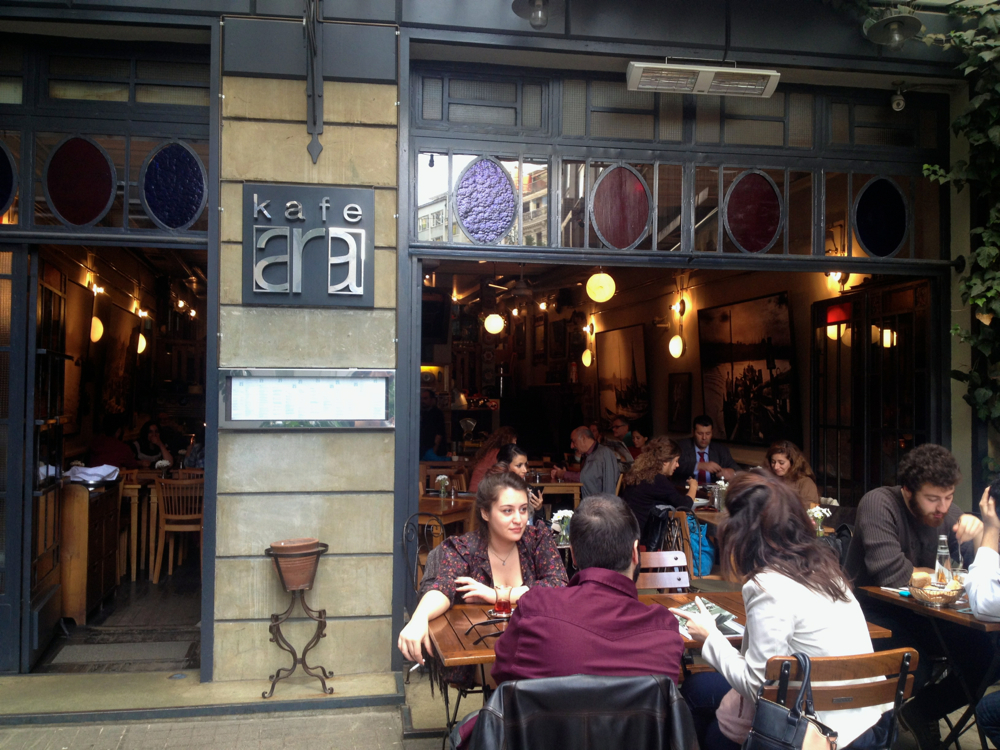 The interior of this Beyoğlu favourite is lined with awe-inspiring photographs taken by legendary Turkish-Armenian photographer Ara Güler, the café's owner and namesake. The menu and drinks are dependable if a bit overpriced, while both interior and exterior settings make for a great place to sit and enjoy the surrounding buzz of the area. (Directions)
Salt Galata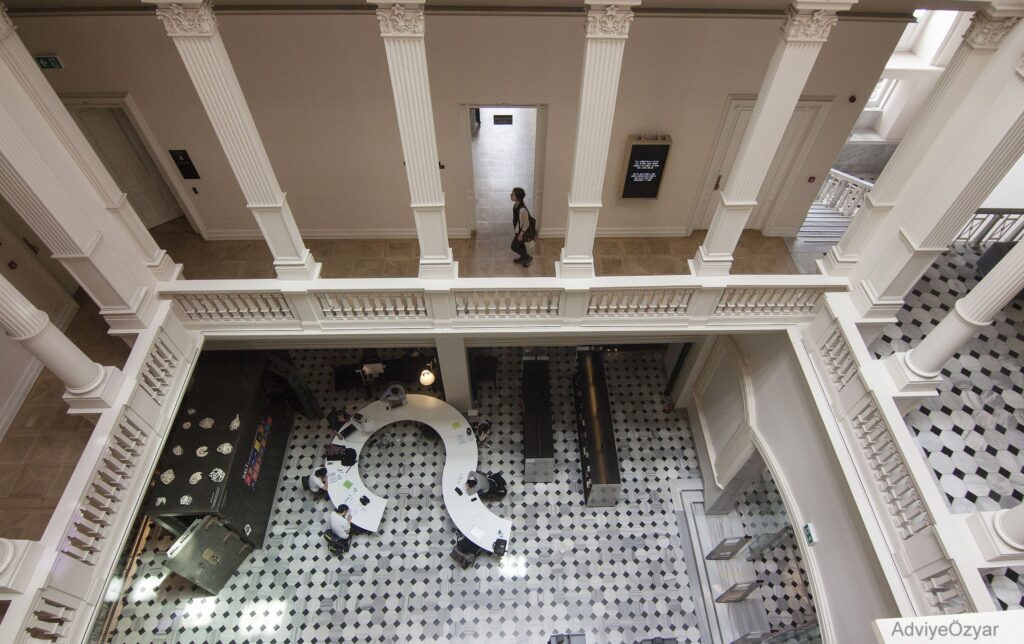 A cultural center, cafe, and library all in one. Salt Galata is an Istanbul café and gallery located inside the former Ottoman Bank building. As one TripAdvisor wrote, "Salt Galata is a leading place for researchers, youngsters, academics." It's a popular hangout spot for university students in the cafes and libraries. If you need to get a little work done while in Istanbul, this would definitely be the place to spend the afternoon. Otherwise, it's an underrated and free attraction to check out near the Galata Tower.
Cuma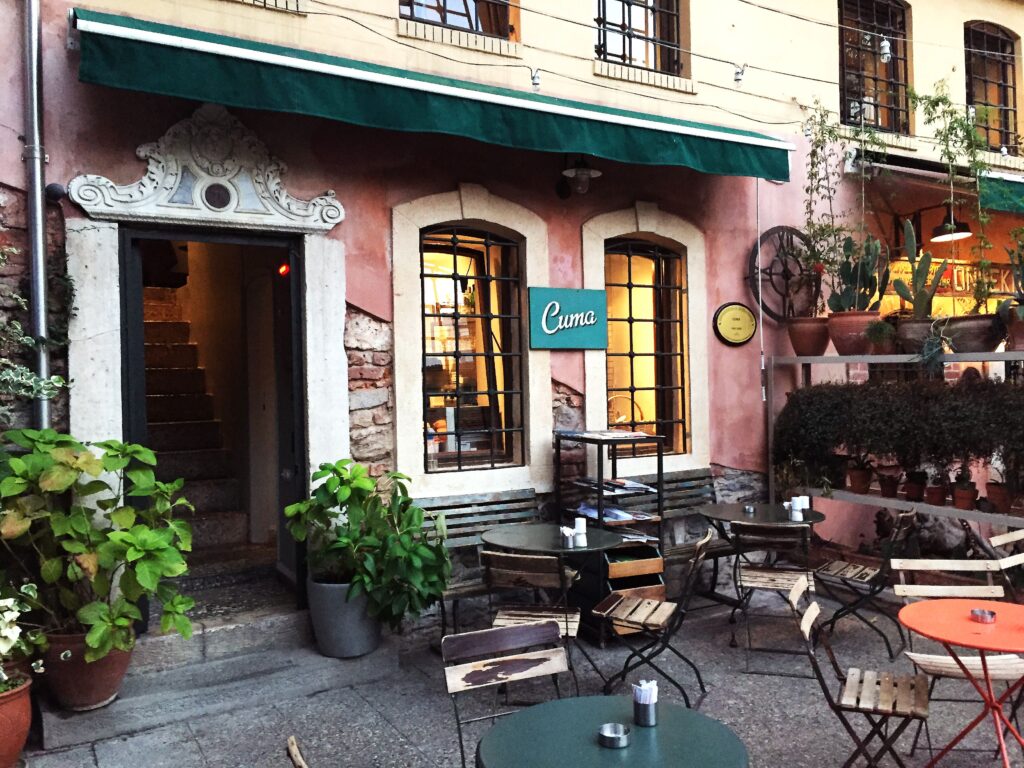 Cuma opened in the Çukurcuma neighborhood four months ago and is already a firm local favorite. Located just a hundred meters from author Orhan Pamuk's Museum of Innocence and behind a line of antique shops, its breezy terrace is transporting, creating an almost tropical vibe. Up the narrow stairs in the century-old building, visitors will find a small house-restaurant, complete with entrance area, kitchen, living room, dining hall with antique decor, even toys on the shelves – all adding up to a very homey, vintage feel. Owner Banu Tiryakioğulları graduated from the Culinary Arts Academy in Maslak and previously worked as a chef at the much-acclaimed restaurant Changa. She says that once she saw the space that is now Cuma, she knew it had to be a restaurant. (The name comes from old French maps of Çukurcuma, on which the area was called Djouma.) Tiryakioğulları gets her ingredients as locally as possible – most come from the Feriköy organic market and the Kastamonu market in Kasımpaşa, while dairy and olive products make their way across the Marmara sea from Bandırma. As soon as we sit down, we are greeted with toasted bread and a mouthwatering pepper paste. Cuma's menu is heavily focused on Turkish cuisine – the egg-tomato-and-pepper dish menemen, eggs with sucuk (spicy beef sausage), a cheese-and-fresh-herb omelet, and a variety of toasted sandwiches – but also offers other selections such as gazpacho and eggplant-tomato linguini. A lunch menu that changes daily feature
Dandin Bakery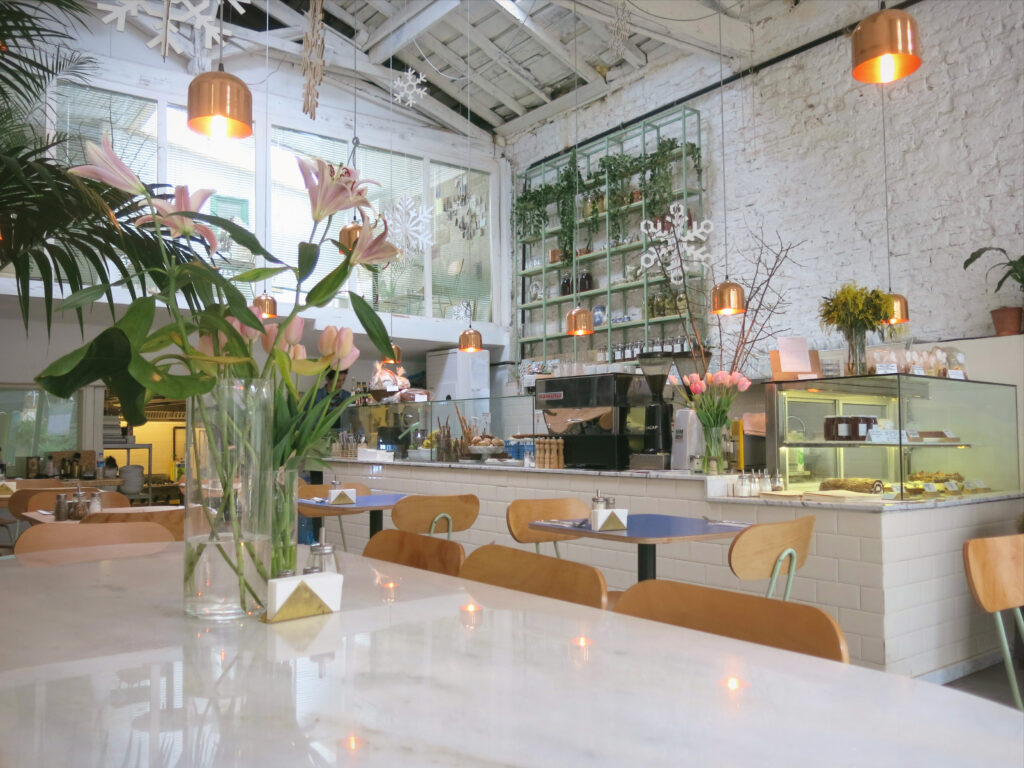 It's been a few months since we started to hear the name Dandin just about everywhere and see it tagged regularly on social media. It seemed to have appeared overnight, but when we first went to visit, we came across a tiny note that informed us that Dandin Bakery was undergoing renovation. We thought too much attention might have exhausted the shop and started to await its reopening. Thankfully, Karaköy's new sweet spot reopened with a slightly bigger space. Owners Esra Dandin and Egemen Senkardes wanted to ensure that the kitchen was spacious enough to embrace visitors as soon as they came in and offer them a show as the cakes, pastries and drinks are being prepared. The previously vacant top floor now accommodates five or six tables.     The breakfast menu offers teas, coffees and frappes as well as hard-to-find dishes such as avocado on toast with goat cheese and scrambled eggs (26 TL) or scones with blackberry or sour cream jam and blueberry cream. The bakery isn't a stickler for rules, either, so there's room for alterations to the breakfast menu. Yet Dandin's tour de force is undoubtedly the cake and pastry buffet, where you'll find tantalizing treats made fresh each day. Their reasonable prices (8-15 TL) make them a perfect option for indecisive carb-lovers. The refreshed and updated Dandin has once again become Karako¨y's favorite. Give it a try. (Directions)
FiLBooks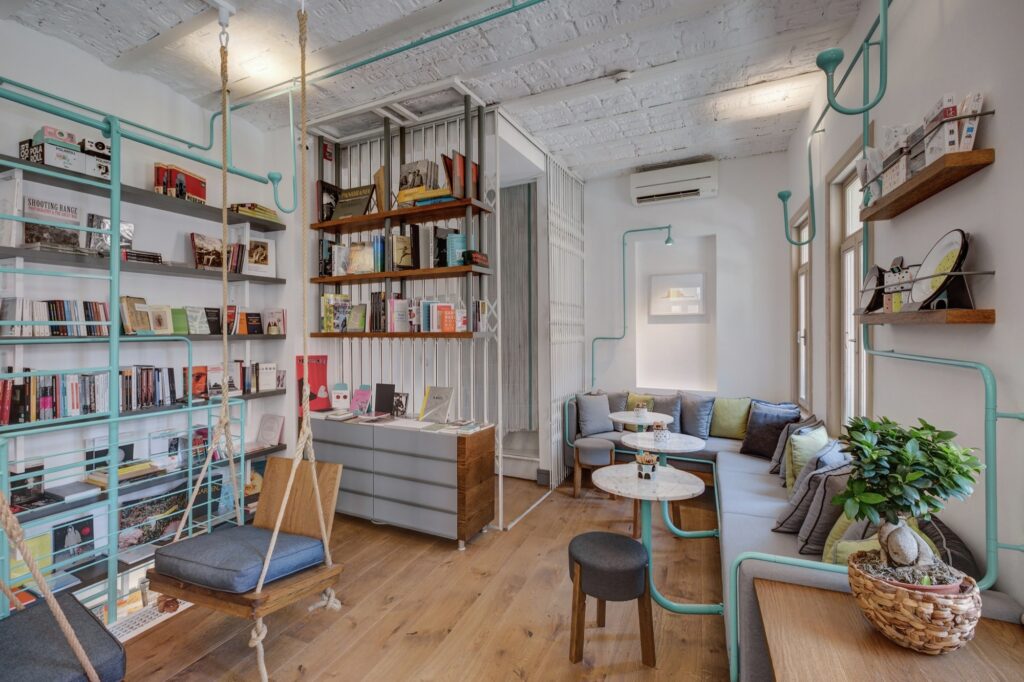 A haven for Istanbul's photography fanatics, FiLBooks boasts an extensive photo-book library and doubles as a cafe where workshops are organized. Standing out with its pastel colors and tranquil decorations, FiLBooks is one of Karaköy's quaintest spots, offering everything from journals and children's books to independent presses and gift items. This bookshop also hosts ateliers, talks, round-tables, and interviews about art and photography. The legendary photographer Martin Parr was one of its many famous visitors in recent memory. The excitement of the team behind FiL, led by Cemre Yeşil who teaches contemporary photography at Bilgi University, is the main drive behind the bookshop's popularity. They know that an experienced barista isn't what is going to distinguish them from the many other cafes in Karaköy, although they can certainly tick that box. (Directions)
Şimdi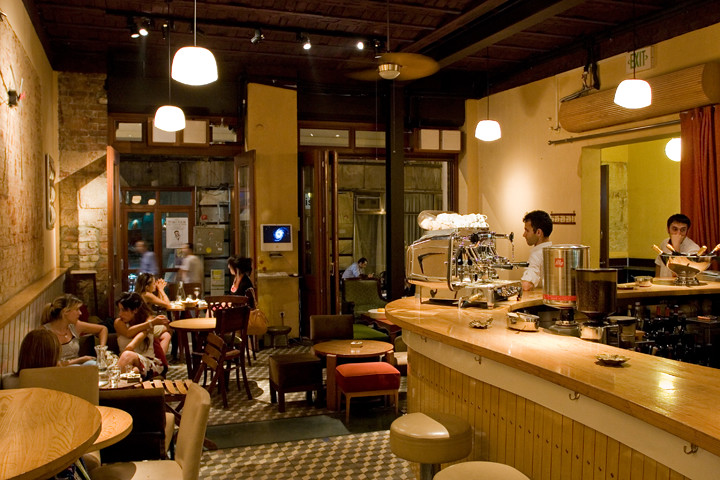 Hidden away on a side street descending away from the hustle and bustle of İstiklal Caddesi lies Şimdi, a cosy café, bar and restaurant that has weathered the storm and remained on its feet while a number of its neighbors closed down in the past few years. Its endurance is due in no small measure to its laid-back vibe, which makes it a great spot for an early morning coffee or after-work drinks.
180° Coffee Bakery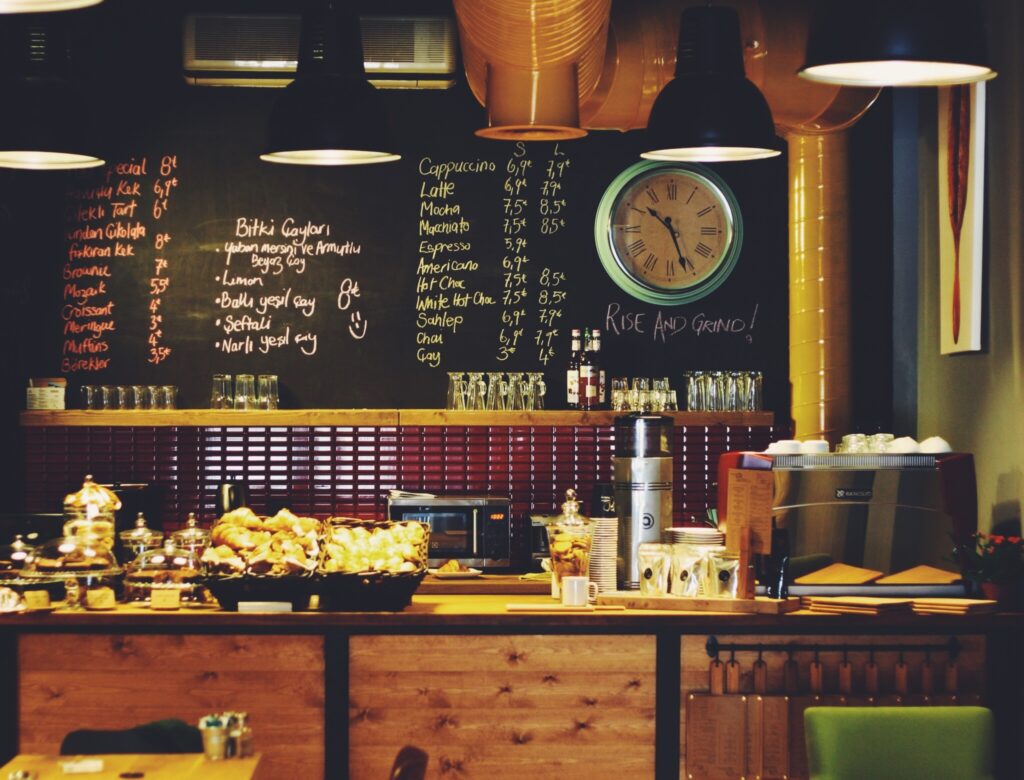 Their dessert menu and counter will take your breath away the moment you walk in. Take a look at the library at the entrance; you can leave the book you finished and head out with a new one. The apple crumble and date cake are competing with each other for best flavor. Don't worry about which one to pick, order them both and enjoy.
Incir Agaci Kahvesi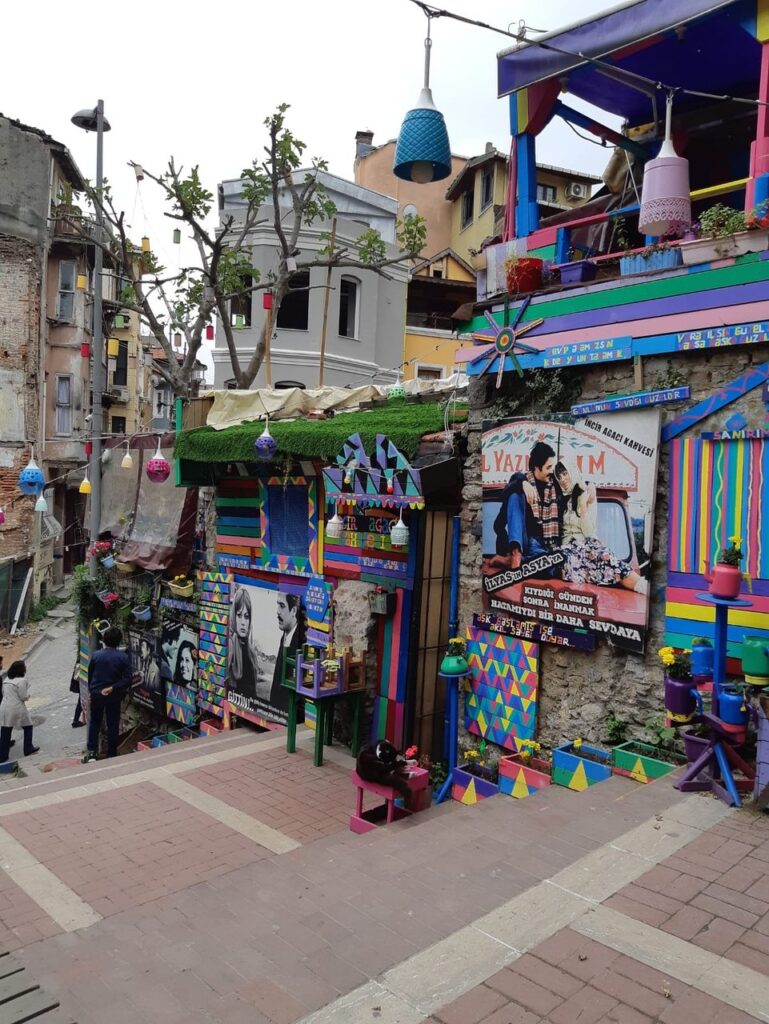 To escape the crowds of the Grand Bazaar, head North to the Bohemian neighborhood of Balat. The streets are filled with street art, unique shops, and home to one of the most colorful cafes in Istanbul. There is not a square inch of Incir Agaci Kahvesi that isn't painted all colors of the rainbow. Even the stairs leading up to it and the nearby courtyard all filled with colorful hanging umbrellas. This is definitely a hip hangout for the younger population in Istanbul. You can get coffee, cakes, and different variations of Meze here.
Mums Cafe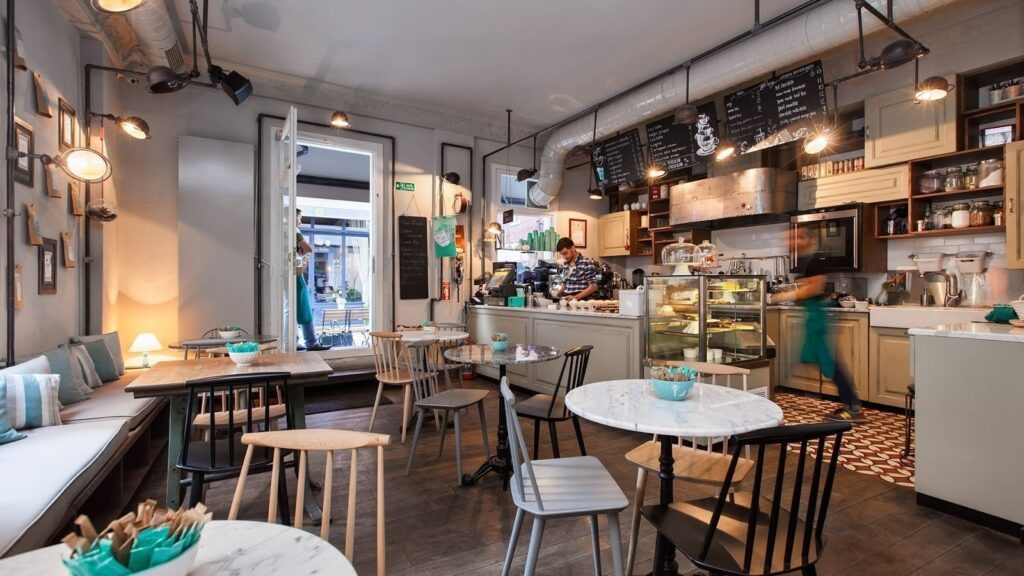 Reflecting the peaceful atmosphere of the French Passage, Mums Cafes has delicious homemade jams you shouldn't leave Karaköy without trying. Whispers of the homemade milk jam roam the streets of Istanbul like a legend. The jams were created with those who might want to take it home in mind; they are sold in cute jars. The smoked salmon and asparagus is perfect for those who love original flavors and a great option with tea. Mum's menu is simpler compared to others. The owners' 15 years of experience in Sweden played a big role in creating the space; while adapting to the fast-paced lifestyle the decoration creates a more intimate atmosphere. The continuous presence of Yıldız Dural's beloved mother in Mum's makes this intimate touch permanent. Mums means "my mother", and "flavor" in Swedish.
Dem Karaköy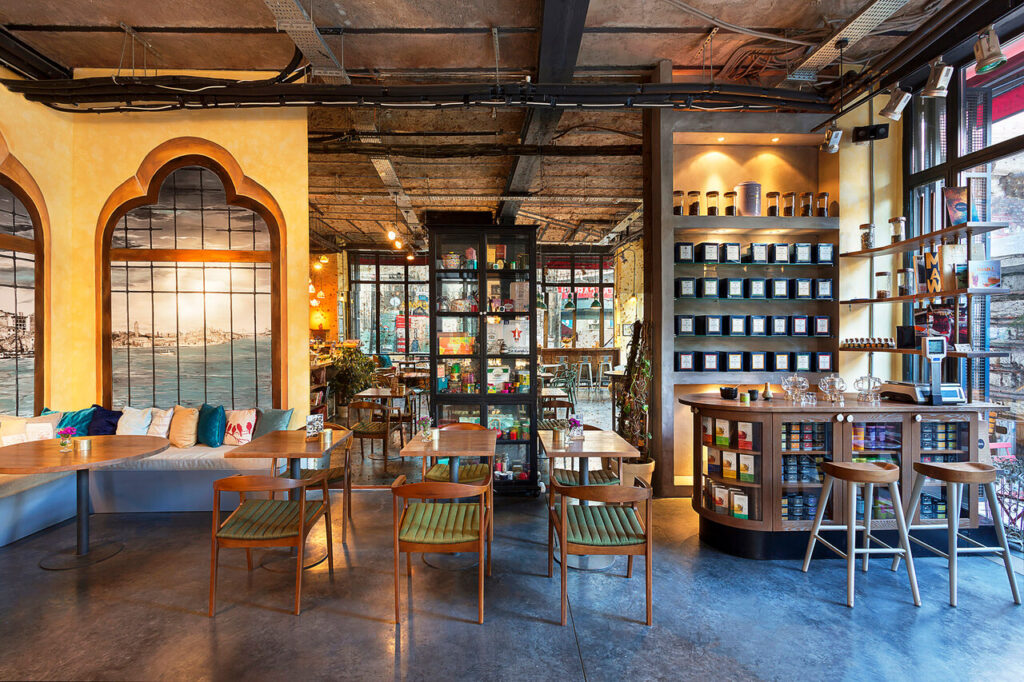 In addition to white, green, oolong, black, smoked, and fermented teas Dem features a varied menu including red tea and herbal teas; a menu catering to every palate. For those who find it hard to make a decision among the 60 teas available, partaking in the 'tea smelling' sessions can help. The tea varieties are brought to your table and after smelling them and getting information about them you can pick the one you like the most. The venue's operator Eylül Görmüş created recipes specifically intended to complement the teas. For example the red plum sauce pear dessert with pişmaniye (a Turkish sweet in fine strands) goes perfectly with one of the tree types of Turkish teas. What is tea without breakfast? To accompany your tea Dem also offers a classic breakfast plate, simit and white cheese, menemen (eggs with vegetables) and börek varieties, as well as croque-madame and croque monsieur.
Ops Cafe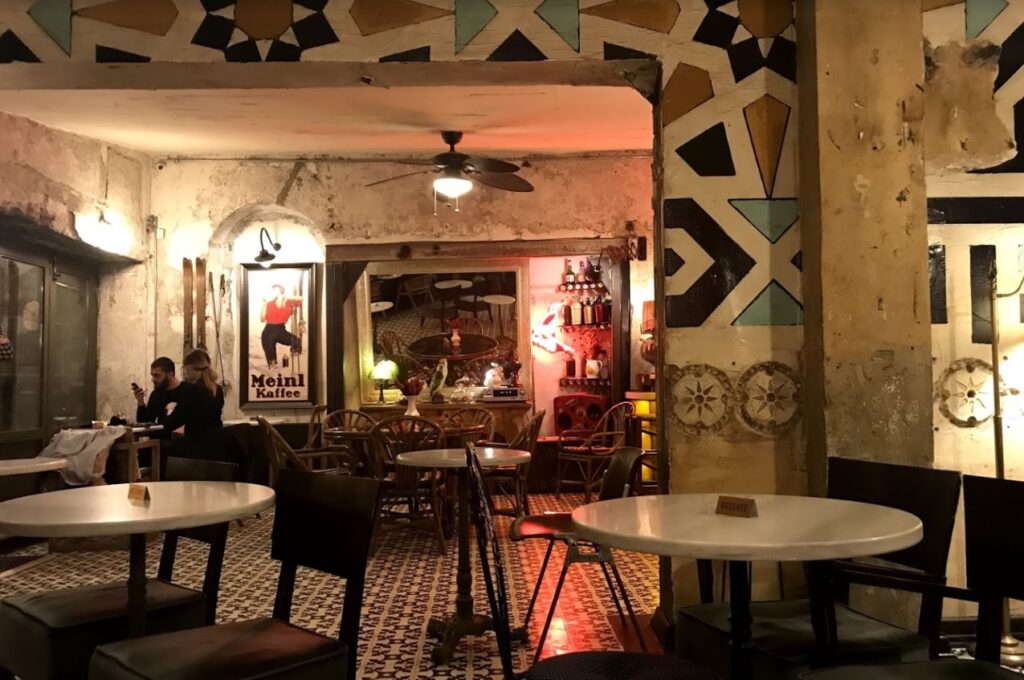 The small and open kitchen is like a living extension of the venue, producing flavors that reflect the venues spirit. The Albanian breakfast, eski kaşar (a type of old cheddar), feta cheese, and örgü peynir (a type of braided mozzarella) comes with the Albaian salad, dry meat with delicious yet discrete peppers unique to the Bosnian kitchen. Breakfast is served all day. All of the delicatessen products come from specific villages. Options flavored with dry meat are plenty, the dry meat cheese Balkan toast being one of them. In addition to breakfast and toasts the menu features salads, durums (wraps), pastas and desserts. The homemade lemonade is the perfect consistency of sweet and sour.