Skiing in Turkey
Skiing in Turkey – When looking for the best skiing resorts in Europe, consider Turkey. Turkey may not be the first thing that pops to your mind when you're planning your winter trip, but that's a mistake.  Turkey offers an ideal compromise: modern, well set up for tourism, cheap and easy to get to, yet most definitely not the Alps. There are several ski areas in Turkey, and world-class heli-skiing in the Kackar mountains in the north-east. And do not forget to buy your travel insurance that covers snow sports
The Best Skiing Resorts in USA or Europe are expensive, but not in Turkey
For a lot of holidaymakers, their skiing holiday is an extra vacation. It is not the main family trip abroad, but a luxurious and well-deserved indulgence of a bit of outdoor activity, winter sun, and of course, après-ski. Turkey's skiing resorts offer, like their seaside counterparts, state-of-the-art all-inclusive five-star facilities for a fraction of what you would pay in popular skiing destinations like Switzerland, Austria or France.
Snow-guaranteed Palandöken
Snow is a quintessential ingredient for a successful skiing holiday. Turkey's Palandöken Ski Center guarantees it! From December to the end of March you are sure to have snow in Palandöken. Even if the weather decides otherwise, they have an artificial snow system in place that keeps the tracks covered with fresh snow at all times.
And you may take at all times quite literally because you can even go night skiing on the illuminated tracks. To add to the fun, you'll find of the worlds' longest natural trails here, as well as shooting ramps and jumping ramps. Palandöken is only 15 kilometers away from Erzurum Airport, accessible by domestic flights from Istanbul, Izmir or Ankara.
Erzurum had more to offer during the day. Once a Silk Road city and established in Roman times, it has a handful of interesting mosques and madrasas to poke around, including the 13th-century Cifte Minareli Medrese (the Twin Minaret madrasa), with a stunning courtyard and painted dome ceilings, and the beautiful Ulu Cami mosque, where the walls are covered in looping Arabic calligraphy.
Skiing in the Meditterranean?
Yet another reason why Turkey has the best skiing resorts in Europe is that you can virtually go skiing in the Mediterranean. At about 50 kilometers from the coastal resort of Antalya, the ski resort of Saklıkent offers four tracks, open from mid-December to early April. While the skiing season here is short, it does come with the bonus of the option to combine skiing with a beach holiday in winter. Imagine the luxury of skiing at 2.400 meters on top of the Bey Dağları one moment, and lying on the beach shortly after that.
The Ultimate Winter Action Thrill: Heliskiing in Kackar Mountains
Sounds exciting, right? Trust us, it is! Heliskiing allows you to access remote, off-trail skiing grounds by helicopter for snowboarding or skiing. Your cup of tea? What a coincidence! Because the Ayder Highlands in Rize (the heart of Turkey's tea fields) are a heliskiing hub. Expect no less than the ultimate thrill with over 350 descents with vertical drops between 500 and 1.400 meters.
Main Ski Resorts in Turkey
In short, Turkey is a skiing destination just as much as it is a beach destination. It offers state-of-the-art facilities at almost unbeatable prices. Turkey deserves a spot on the list of the best skiing resorts in Europe. Thinking about going abroad? Think Turkey as a winter destination!
Uludag – Bursa province
This ski center 36 km south of Bursa and 150 km from Istanbul is accessible along a good asphalt road or by cable-car. The ski area lies between 1800-2500 meters and the best season is from December to April. A wide range of accommodation is available in hotels, family chalets and apres ski facilities. At the resort there are chair-lifts, ski-lifts, slalom and giant slalom courses, beginner's slopes, ice skating, and a small hospital. The total lenght of ski tracks is about 20 km, and the longest one is about 2,000 meters. Skis, equipment, and instructors are available for hire. Total bed capacity is over 4,500.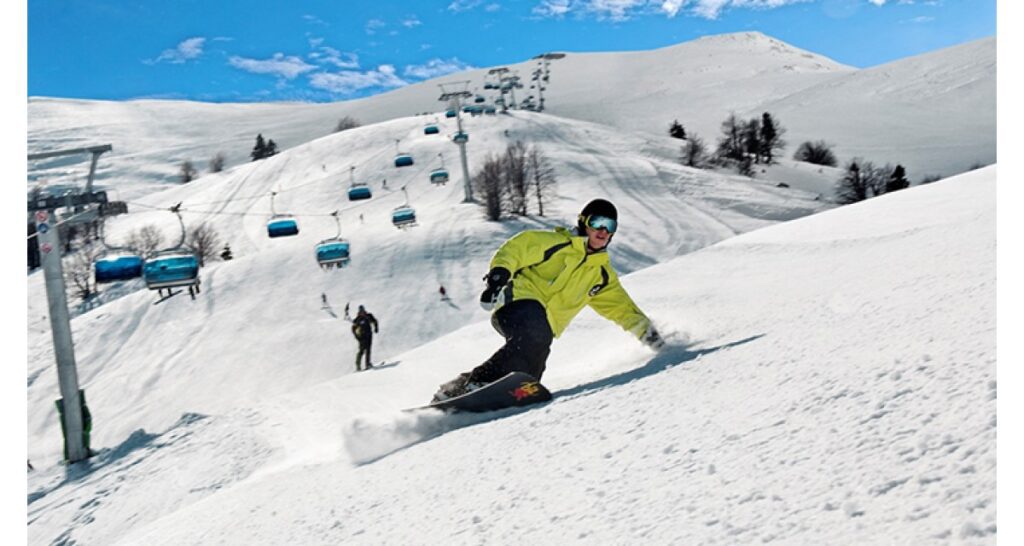 Kartepe – Kocaeli province
One of the newest ski resorts of Turkey, located near Kocaeli province and at about 115 km east of Istanbul. There are several chair lifts, ski lifts, cable car, and a 5 stars hotel at the resort with 800 beds capacity. The ski tracks ranges between 400 – 3500 meters in length. Skis, equipment, and instructors are available for hire. The best season for skiing at Kartepe is from December to April.
Kartalkaya – Bolu province
This resort situated on the Istanbul – Ankara highway 50 km from Bolu. It's surrounded by pinewoods and the ski area lies between 1500-2200 meters of altitude. Hotels have a total capacity of 1250 beds at the moment and with new investments it will be taken up to 3500 beds in the near future. There is a swimming pool, ski-lift and equipment for hire, and ski instructors are available.
Saklikent – Antalya province
Situated on the north-east of Bakirli dagi on the Beydag mountain range, 50 km north west of Antalya, at a height of 2000 meters. Accommodation is available in guest house and chalets and there are restaurants, shops and a supermarket. The best season is from January to April. The special attraction of this centre is that in March and April one can ski in the mornings, then drive down to the coast and swim in the warm waters of the Mediterranean in the afternoons.
Palandöken – Erzurum province
This center is 6 km from Erzurum, lying at an altitude of 2200 to 3100 meters with some of the longest and most difficult courses and best snow conditions in Turkey, making it an ideal location for international ski competitions. In February 2011 the Winter Universiade Games (Olympic games for university students) was organized in Palandoken. Accommodation is available at several ski lodges and hotels with a total capacity of 2100 beds, which will reach at 8850 beds in the future. Restaurants, chair-lifts and ski instructors and equipment for hire are available at the resort. Lately several big hotels are built in the area and there are also a number of hotels in Erzurum city. December to April is the most suitable season for skiing at Palandoken. The longest ski track is about 12 km and the total length of all tracks is about 28 km.
Bolkar – Erzincan province
Situated at 40 kilometers to Erzincan city center, there is a 1100 meters long and 200 meters wide medium-hard track, with a 1200 people per hour capacity teleski and a baby-lift. Best season is between December and April. Mountaineering is also possible here.

Ergan – Erzincan province
Situated at a distance of 25 kilometers from Erzincan airport and located at about 3,250 meters on Munzir mountains, Ergan will be a new ski resort for this area. The works are still going on and when they're completed it will have modern lifts and slopes as well as accommodation facilities.
Sarikamis – Kars province
Situated near Kars at 2250 meters and 50 km to the airport, this ski center has very good courses located between 2200-2900 meters of altitude and ideal snow conditions. One can stay in the town itself or at the 60 bed capacity centrally heated ski lodge with ski-lift. Ski instructors are available. Best season for skiing is December to April. The area is also noted for its hunting.
Bubi – Agri province
It is 18 km to Agri city center but it isn't developed much as a big resort yet. Its season is between December and April and it gets approximately 1-2 meters of snow. There is a 1227 meters long teleski with a capacity of 600 persons per hour. Another skiing area is 4 km to Eleskirt district with 1650 meters long and 1000 people per hour capacity detachable chair telesiege. Skiing track is 1200 meters long and 250 meters wide.
Erciyes  – Cappadocia province
This ski centre lies at 2150 meters on the eastern face of Erciyes Dagi, Tekir Yaylasi (plateau), 25 km from Kayseri, Cappadocia Region. The season is from November to May and there are good ski slopes, a ski-lift and baby-lift, ski instructors and equipment are available. Mountaineering is also possible here.
Elmadag – Ankara province
This is a lovely place to relax, 23 km out of Ankara, to get fresh air and to dine far away from the chaos and air pollution of the city. There is a 10 room (33 beds) hotel, chalets (130 beds), a pleasantly decorated a-la-carte restaurant, a snack bar, discotheque, and parking. Best season is between January and March. Skiing track is 900 meters long and 250 meters wide, with a 548 meters long teleski having a capacity of 720 people per hour.
Ilgaz – Kastamonu and Cankiri provinces
llgaz Mountain is situated between Kastamonu and Cankiri provinces, at the junction of the Istanbul – Kastamonu and Ankara – Kastamonu roads. It's 210 km to Ankara and 460 km to Istanbul. In the Ilgaz National Park amidst beautiful woodlands the slopes lie at 1820-2000 meters. There are picnic facilities, chalets (50 beds) and good hunting in the area. The actual total capacity of the beds is 920, with new investments it will be taken up to 1300 beds.
Kurucadag – Bingöl province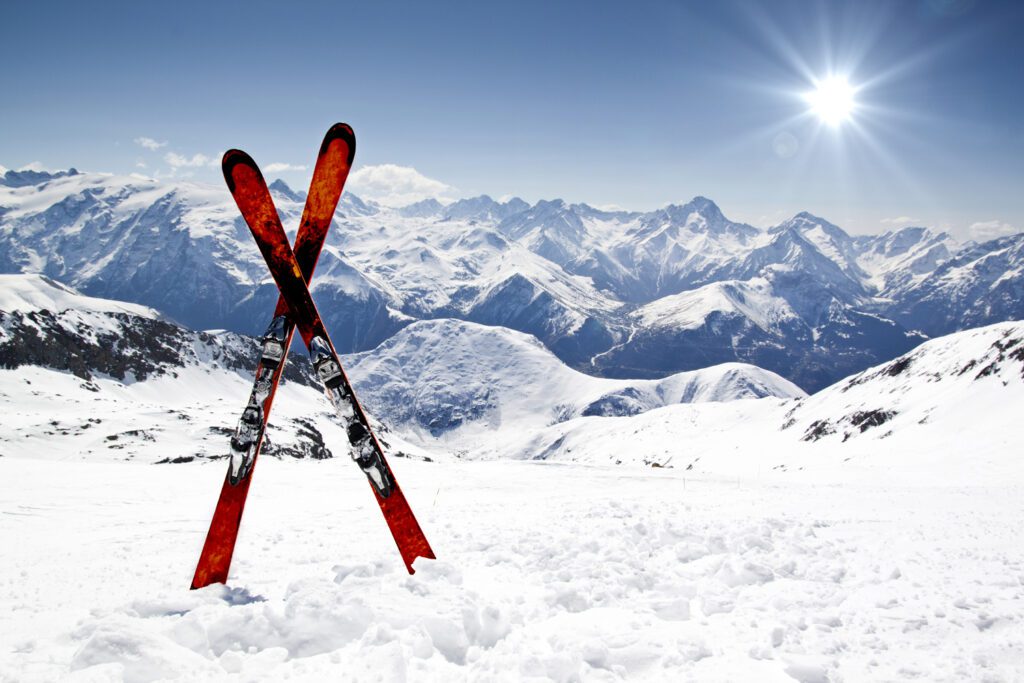 Situated at Yolcati district of Bingöl, is a small skiing area approximately 25 km to the city center. The season is between February and March where skiers stay in mountain chalet's. On 1000 meters long skiing track there is a 925 meters long telesiege with a capacity of 500 people per hour. It's easily reachable by road with buses as well.
Zigana – Gümüshane province
This center is 30 km from Gumushane, and lies at an altitude of 1870 meters above a pine forested valley. There is a ski-lift, cafeteria and a restaurant. Actual bed capacity is only 40 but it's planned to reach 470 beds in the future. The season is from December to the end of April.
Davraz – Isparta province
This center is about 20 km from Isparta and lies at an altitude of 1650 meters. The total bed capacity in the accommodation facilities is about 460 but soon with new investments it will reach about 1600 beds. There are several ski tracks ranging between 1650-2250 meters of altitude, ski lifts and chair lifts. The season is from December to the end of April. Mountaineering and trekking is also possible at Davraz.
Other ski resorts
There are many other smaller skiing areas in Turkey such as Hasandagi in Aksaray, Kop mountain in Bayburt, Akdag in Ladik – Samsun, and Yildiztepe at Kadincayiri in Cankiri – Ilgaz. Future plans are to develop these resorts as well as adding new skiing resorts in other areas of Turkey.