Ayvalik Travel Guide
Introduction
Ayvalik Travel Guide – Ayvalık is beautiful, stretching onto a peninsula and surrounded by islands, with many bays swirling in and out of its coastline. The bustling harbor town and Cunda Island across the way retain strong evidence of the Greek community that flourished here and prospered in the olive oil trade until being deported in the population exchange of 1923. Atmospheric back streets are full of crumbling old Greek houses. A long, sandy beach is just a short minibus ride away and various pleasure boats stand ready to take visitors on swimming and snorkeling excursions.
Ayvalık has some of the finest 19th-century Greek-style architecture in Turkey, and recent restoration has begun to reverse decades of neglect. Unlike typical Ottoman houses (tall, narrow, and built of wood, with an overhanging bay window), Greek buildings are stone, with classic triangular pediments above a square box. The best way to explore is to turn your back to the Aegean and wander the tiny side streets leading up the hill into the heart of the old residential quarter (try Talatpaşa Caddesi or Gümrük Caddesi). The town's historic churches have had different fates.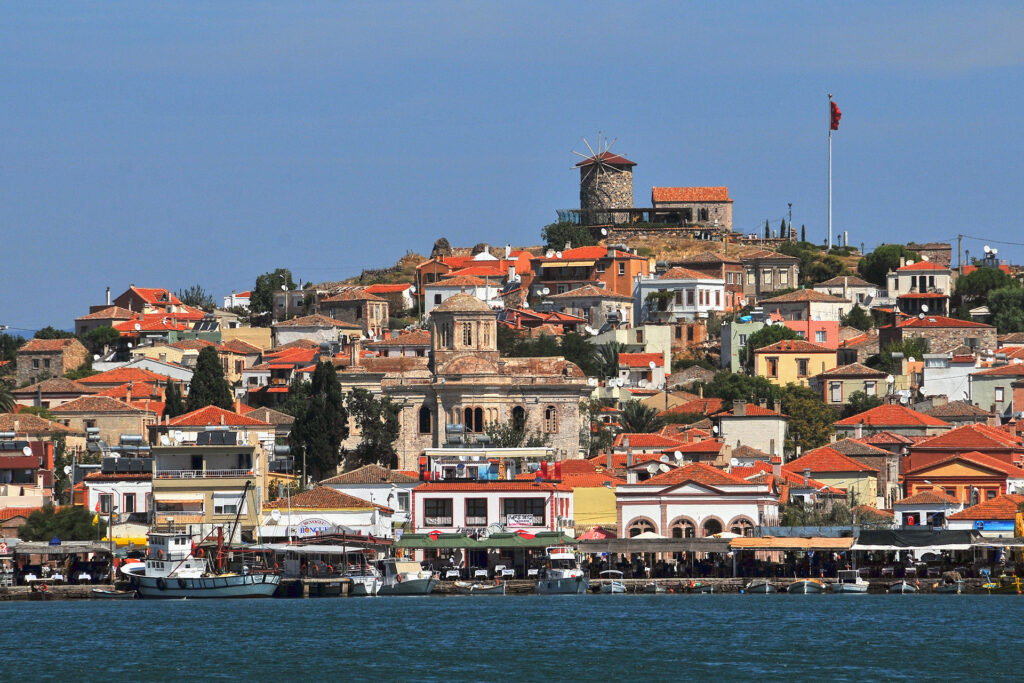 Taxiarchis Church was recently turned into a museum, but others were long ago converted into mosques. St. John's is now the Saatli Cami (Clock Mosque), bearing few traces of its past as a church. St. George's is now the Çınarlı Cami (Plane Tree Mosque). There are many mosques converted from churches in Turkey, but these are among the most striking—the elaborate style of Orthodox churches does not suit the plain minimalist style of mosques, and the unimpressive minaret erected later at the Çınarlı Mosque, along with the highly ornamented iconostasis inside, makes it look almost absurd. The Hayrettin Paşa Camii was also converted from a church. Phaneromeni Church (Ayazma Kilisesi) has beautiful stonework but was closed as of this writing, while the former Aya Triada, which later served as a tobacco warehouse, is in a total state of ruin.
Cunda Island
Ayvalik & Cunda is like a brother-sister and very close to each other, so you should always make your plans considering both of them.  Formerly inhabited by a large Greek population when it became the official seat of a Greek Orthodox metropolitan bishop in 1922, Cunda is the largest of the Ayvalık islands, located between Greece and Turkey. Nowadays, the beautiful stone houses with colorful shutters and the island's main landmark, the Taksiarchis Church, are the only reminder of the past. With its olive trees, small fishermen's boats bobbing around in the sea, and winding cobblestoned streets, Cunda Island is an undeniably heavenly place that is waiting to be discovered.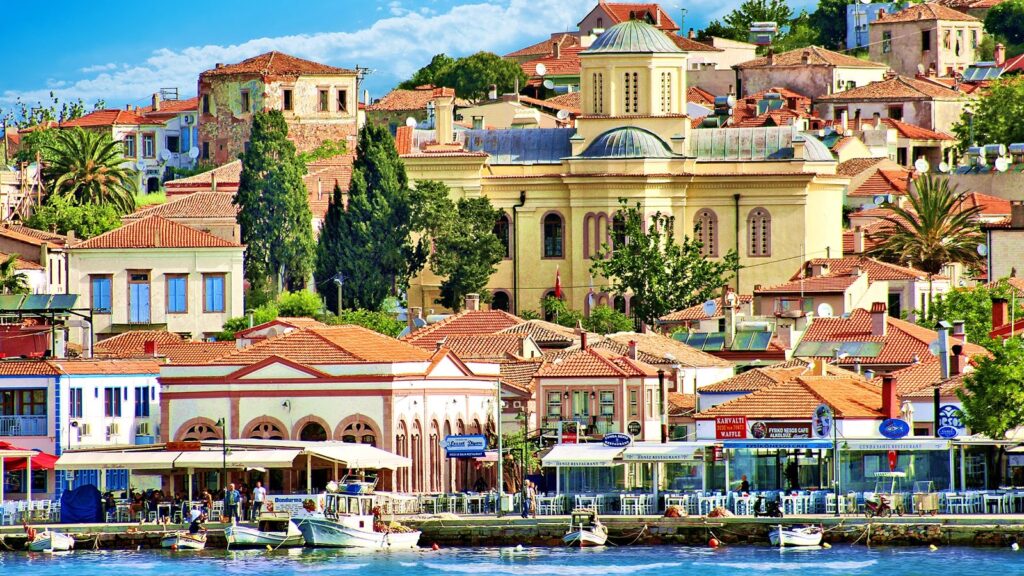 Best Tourist Attractions in Ayvalik
Best Beaches
Sarimsakli  : It looks like Sarimsakli is the best option and locals usually prefer Sarimsakli beach. Basically, the beach is good and not directly getting deeper, so you can enjoy it a lot. Moreover, this is a blue-flagged beach. There are many beach clubs/cafes, so you can choose one of them. You should pay a small amount of money to rent an umbrella and sunbed. El Turco is one of the best options.
Badavut :  Badavut is close to Sarimsakli and can be named as the continuation of Sarimsakli. But, locals also prefer to spend some time here. In our personal opinion, we like Badavut more than Sarimsakli since it has a better nature. Moreover, this is also a blue-flagged beach. But, Badavut can be windier, but it will not affect swimming especially in the July-August timeframe. Muzo beach can be a good option considering the cafe's bigger umbrellas and good service. Please also note that the sea is a little bit salty compared to Sarimsakli.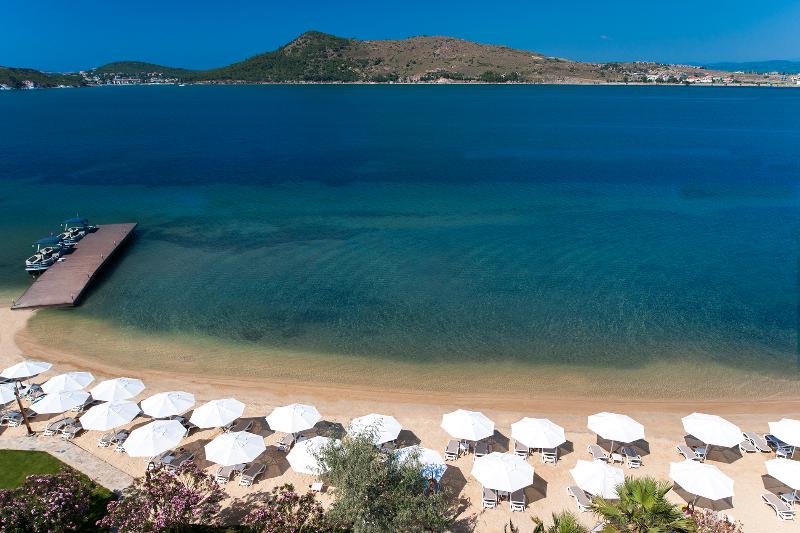 Paterica bay/beach : Locals also call Patrica and Patricia. This is one of the places where you can swim in Cunda. It is like a swimming pool and the sea is very clean. The cons are you should have a private car and the road is challenging. No, no, the road is bad. And, the last 5 kilometers (3 miles), the average speed is almost 10 kilometers per hour and you may want to pray for the end of the road. Minas is a good option considering price/performance, but the service is average, Mola beach is costly, but can be OK compared to others. You can try Biyikli also.
Bonus: Heading to Patricia, you can see many locals swimming in silent spots. If you have portable chairs and an umbrella, you can swim and enjoy Cataltepe beach or Aya Yorgi beach.
Note 1: There are some beaches open to the public, but those are not recommended by locals. We hope these three options will help.
Note 2: Having a private car really helps since it would provide flexibility. Please consider renting a car in Istanbul to go to Ayvalik. By public transportation, you may lose too much time to locate those beaches. The taxi may be an option, at least better than public transportation.
Things to see
Rahmi Koc Museum/Taxiarches church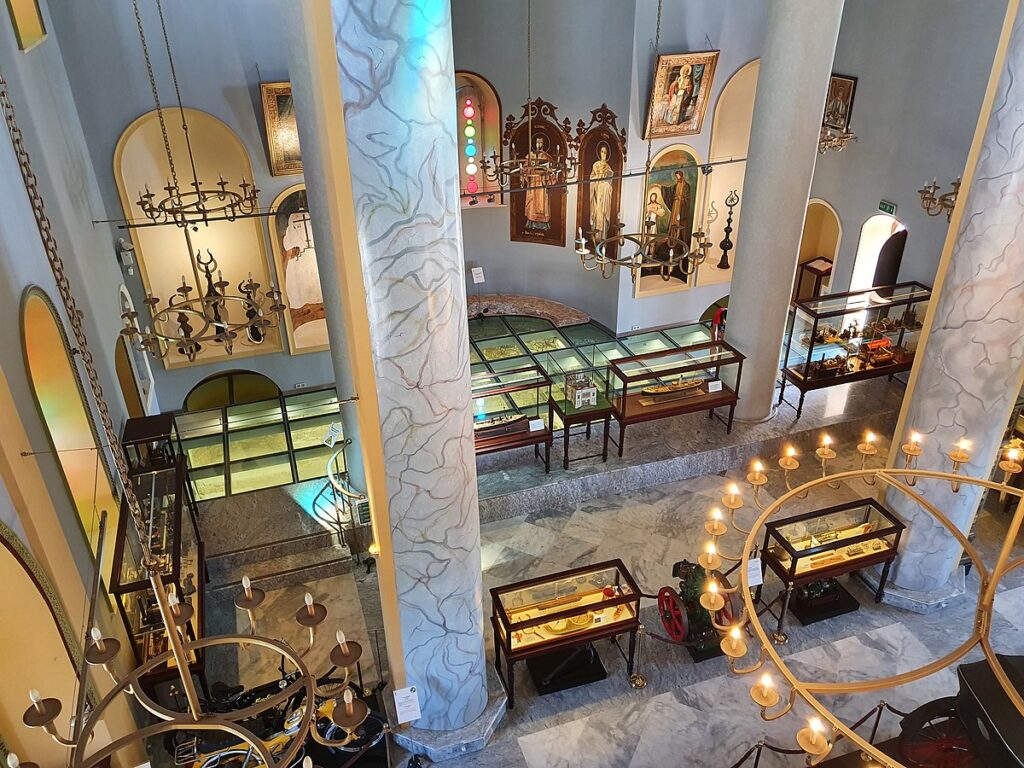 The island's main historical landmark is a 19th century church, which was restored by the Rahmi M. Koç Museum and Culture Foundation to serve as a museum and venue for arts and culture events. Its beautiful interior still has frescoes depicting the life of Jesus Christ and intricate marble designs.
Sevim Necdet Library
This former church and windmill was renovated to become a library, souvenir shop and café, with a beautiful view of the island and sea. The library houses the political book collection belonging to Necdet Kent, a diplomat who put his life at risk to save Turkish Jews during WWII. Former Agias Ioannis church during the exchange period is now home of Sevim and Necdet library. Additionally, the books inside of the church belong to Necdet Kent and donated by his son-Muhtar Kent. The library has been restored and serves under the Rahmi Koc Foundation for Museology and Culture. Just on the other side, there is a hill called "lovers hill". Again, the view is perfect. Visiting the library is definitely a "must-do" activity in Cunda.
Saatli/Clock Mosque
The famous mosques in Ayvalik were all converted from churches after the exchange period. The clock mosque has a clock on the tower, this is why it is called clock mosque. And, the inside of the mosque is good.
Cinarli Mosque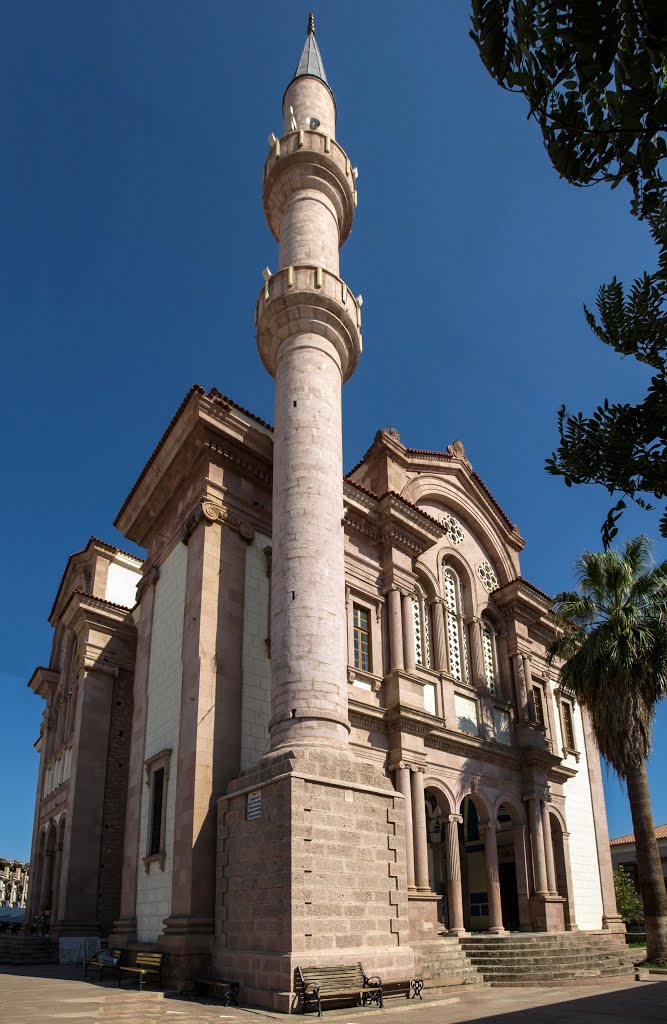 The inside of the mosque is good and the iconostasis is still there. But, the icons on the iconostasis have been closed due to some general rules in the mosques.
Hayrettin Pasha Mosque
Hayrettin Pasha Mosque has been constructed in 1850. Its old name is Panagia. It can be named as a complex because right behind of the mosque there were two education centers but they were converted to schools.
Hagiasma Panagia
Ayazma (in Turkish) is derived from Hagiasma. It has just been restored. Basically, it is thought that the water resource here has healing power and people from all different religions visit this place except Orthodox. According to resources, many different illnesses were cured here. And, there is a good sentence as "wash your wrongdoings not only your face". It is definitely worth visiting, don't forget to wash your wrongdoings. There are also photos before and after restoration which shows how successful this restoration is.
Historical flour mill
You will see another mill on one of the hills in Cunda. You know Cunda is an island having a windy environment, thus it probably made sense to construct a big flour mill on one of the highest locations. The view of the backside is pretty good. You can enter the mill and even can take a good picture from the second floor. But, keep in mind that inside is not clean enough.
Seytan Sofrasi (Devil's Table)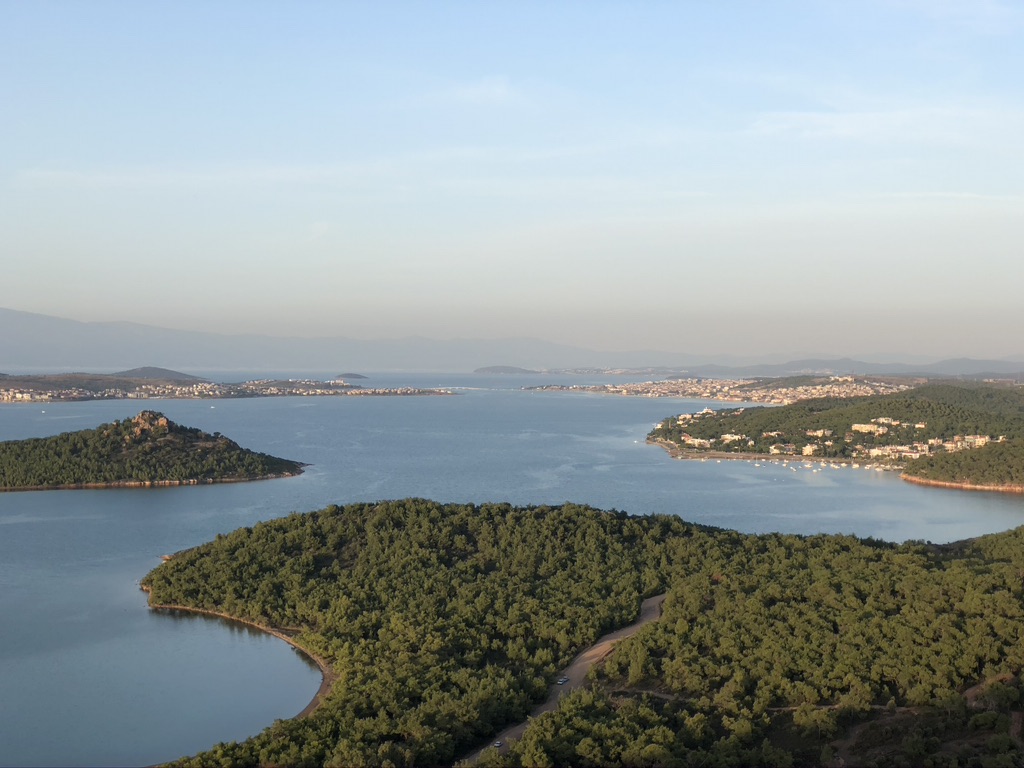 This hill has an amazing view of the islands and especially during sunset.You can consider the timing as well. But, don't forget there is a distance from the Ayvalik center. Furthermore, there are some stories about this hill and footprint.
Nice-to see spots
Analemmatic sundial: You will see this on the shore of Cunda. If you pass by, just try to find out what the clock is.
Moonlight Monastery: The monastery has just been restored by a well-known family- Sabanci, and now it is open to visiting for a limited time in a week. But, please note that the road is very challenging and you may have to walk the last kilometers.
Panagia church: The church is on the way to Sevim and Necdet Kent library. Unfortunately, you can only see the ruins over there.
Despot's house: This is not a historical location anymore, it is a hotel now and recently restored but it is worth mentioning. According to stories, Despot who was a priest had received a lot of money by people due to Greece's independence and then moved to Cunda where he was born. He had constructed a good house where the hotel stands nowadays but had been murdered by thieves. After that, the Ottomans purchased and use the house, and then it was used as an orphanage until the 1980s after the exchange.

Some Adventure
Ayvalik kitesurfing: Kitesurfing in Ayvalik also becomes more popular. So, you can find some courses and if you have time and are interested in kitesurfing, Ayvalik may be a good location for you.
Ayvalik diving : Diving also becomes more popular in the Ayvalik region. So, you can prefer to try if you have enough time and the diving points are distributed around the small islands.
General Information about Ayvalik
Ayvalik is a district of Balikesir. Balikesir is a well-known city in the Marmara region due to famous districts such as Ayvalik, Altinoluk, Akcay, and more. However, the center of Balikesir is not good enough and almost nothing to do. So, people both from Balikesir and other locations in Turkey generally buy summer houses where they can enjoy some portions of Balikesir.  Ayvalik is the center and there are a total of 22 islands around Ayvalik. And, Ayvalik Islands Natural Park is one of the biggest natural parks in Turkey. But, only two of them- Cunda and Lale islands were populated. Lale and Cunda islands are connected with a bridge and this is the first strait bridge connecting lands in Turkey. Basically, this was constructed before the bridges in Istanbul so that it is important. You will see a label when you pass this bridge saying "the first strait bridge in Turkey". Ayvalik's income mostly depends on olive, olive oil, and tourism. And, the district is a heaven of olive and there are many factories around the district producing a wide range of olive products such as oil, soap, etc.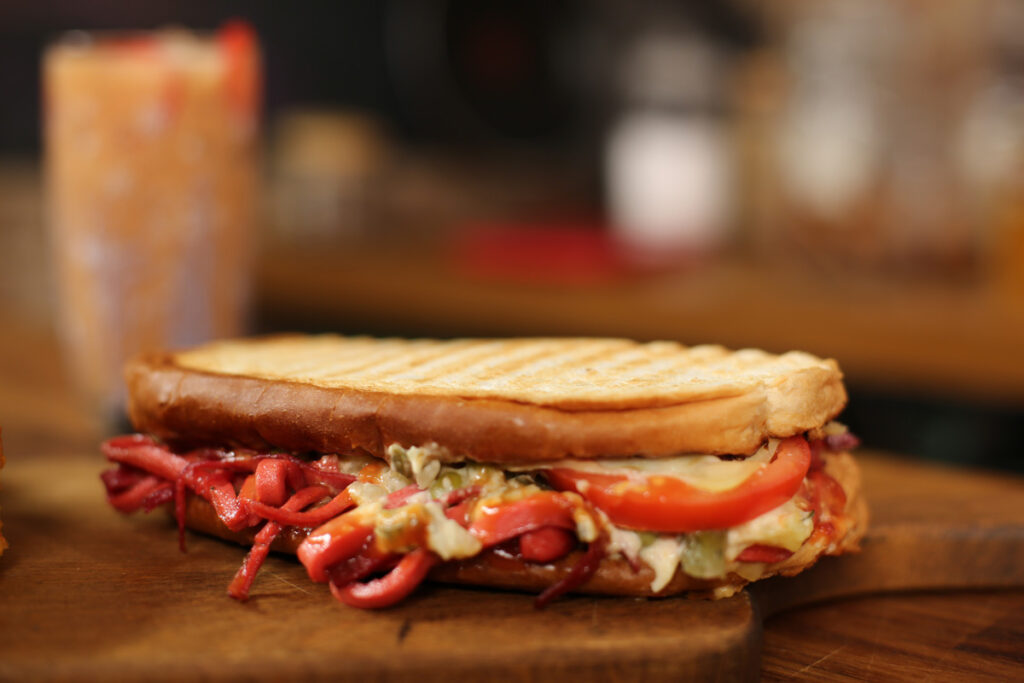 History
Ayvalik history dates back to the centuries. The name Ayvalik comes from Kydonia or Kydonies which means quince garden. There are several resources talking about early ages and the settlement in antiquity in Cunda (Alibey Island). After the Byzantines and unstable years, colonies of Venice and Genoese, and wars between colonies and the Ottomans, finally the district has stable years. At the end of the 18th century, it has been converted to a semi-autonomous position, but this time the Greek struggle changed the town since Greeks were dominant in those days and they moved from Ayvalik to some other places. But, after a while, they were able to return to Ayvalik. Ayvalik has been captured by Greeks after World War I around three years. But, Turks took control during the Turkish Independence War- finished in 1922 and Ayvalik has been connected to Turkey after the Treaty of Lausanne. Due to the agreement between Greece and Turkey after the independence war, the Greek population was exchanged by the Muslim population from Greece. Today, still ferries operate between Ayvalik and Lesbos or Lesvos (from Mytilene or Mytilini). So, you will feel both Greek and Turkish styles in this region. Cunda's name was transformed from the word Yunda or Yund. The current name Alibey is the name of Turkish commander who pulled the trigger officially first in this region against Greeks during the Turkish Independence War. Due to these historical events in history, you will see a cultural combination of Turkey and Greece. You can easily understand this by the great churches, museums, and mosques in this district.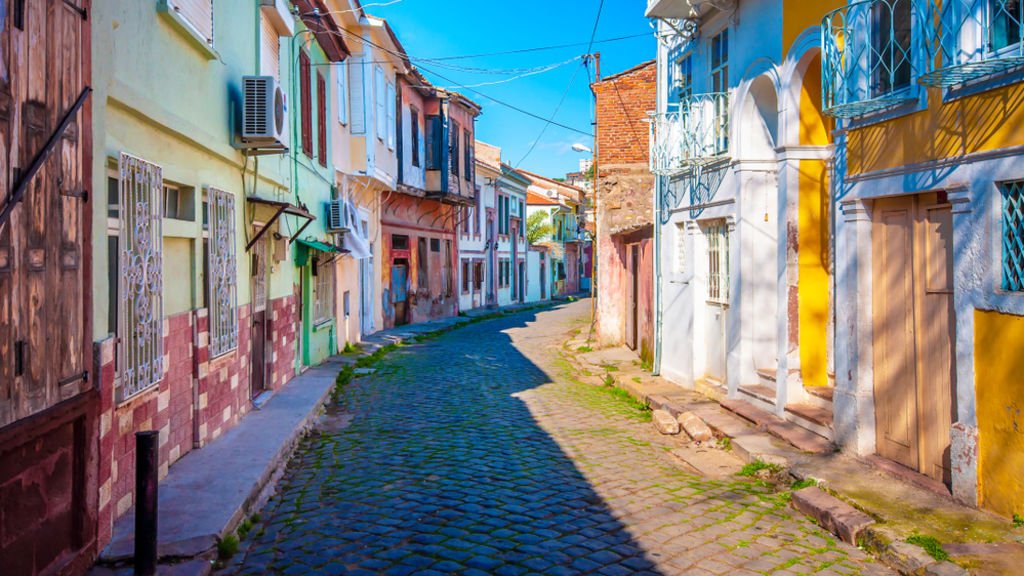 Ayvalik weather
Ayvalik weather both represents the Marmara and Aegean regions. Winters are not cold like Istanbul, summers are not hot like Izmir. Rainfall chance is again in the middle of Istanbul and Izmir. The water temperature is also at the highest point in July and August.  Due to having beaches, people generally prefer to go to Ayvalik in July and August. So, we would recommend you visit in the summertime but we can say that spring and fall are also good enough.
How to go to Ayvalik?
Edremit Koca Seyit Airport is a domestic airport and only 45 kilometers away from Ayvalik and can be considered as 45 minutes. If you have a car, depending on where you are in Istanbul, it will be around 400-450 kilometers. It would take around 4 to 4.5 hours. Izmir is 170 kilometers and it would take around 2 hours to go to Ayvalik. Transportation from Cunda to Ayvalik or Ayvalik to Cunda, there are minibuses. Otherwise, you can consider the taxi option and it would be the best way if you don't have a private car.
Where to Stay in Ayvalik?
Where to Eat in Ayvalik ?
Ayvalik Sehir Klubu is the "members club" of Ayvalik, it is a bit different than big city members club concept so feel free to get in. For lunch you will find super delicious Aegean style home made food. We recommend you to try the olive oil vegetable table including green beans, leek, celeriac and spinach. For dinner go for sea food and try the smoked aubergine as one of the starters, you will not regret.
Tik Mustafa's Place: It is a fish restaurant and one of our favorites. Appetizers are pretty good. Don't forget to order fava- mashed broad beans, haydari- thick yogurt with garlic and dill, and saksuka- dried fried aubergines in tomato garlic sauce. And, they are all delicious and fresh.
Cunda Korfez Restaurant: Meze and seafood till you say stop! Old school Aegean food, all washed down with Raki.
Bay Nihat is maybe one of the best fish restaurants in Turkey. Order lots of mezes and ask for Mr. Nihat's suggestions for the main dish.
Ayna  is the "fine dining place" of Cunda. It has super cozy environment with super delicious food. Especially for chilly nights in summer time and cold nights in winter Ayna is a must go! They do catering as well.
Nes'e Meyhanesi : This is one of our favorite restaurants in Cunda. Unfortunately, the portions are small, but they are all delicious. Don't miss "saganaki" and "kabak cicegi dolmasi- stuffed squash blossoms".
Askin Toast House (Map) : Don't go back w/o eating the most famous toast in Turkey. So, you can easily understand that the capital of this specific toast is Ayvalik. Askin Tost Evi is the best option to eat this delicious toast.
Stone cafe/coffeehouse (Tas Kahve in Turkish) : This cafe is the most famous one in Cunda. And, this is old and they cook delicious Turkish coffee.
Macaron Muhallebicisi: Macaron Muhallebicisi in Ayvalik Macaron street is maker of milk pudding. This is another spot of art. Purple basil sherbet (sweetened fruit juice) and milk pudding with almonds are fantastic.