Folegandros, untouched gem in the midst of the Cycladic Islands
Folegandros Island is a small and rocky island with wild beauty and a spectacular capital perched on a cliff with medieval dwellings. The petite island has a population of around 700 in winter, which does swell in the summer, but nowhere near as much as its neighbors' does. The island is ideal for those seeking genuine Greek island life and the wild beauty.The mayor ensures preservation measures are in place – such as banning all electric signage, in favour of authentic hand-painted ones. No-one's in a rush on Folegandros. The islanders will gladly stop and chat to you; they're not just trying to make a buck.
What to do in Folegandros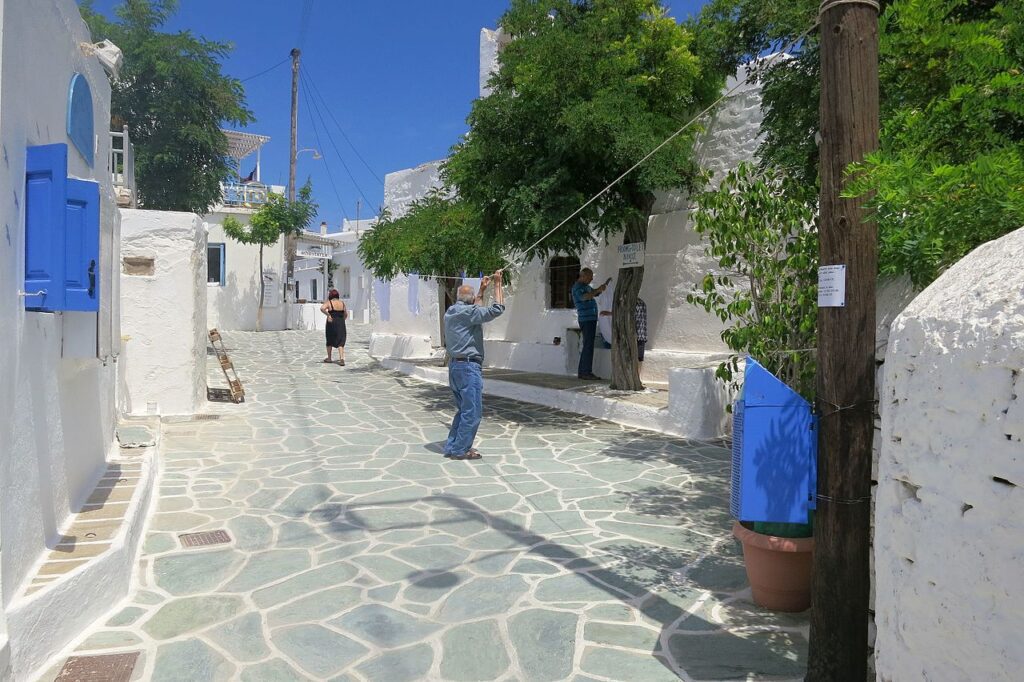 It won't take you long to drive from one end of the island to the other, and it's easy to see its sights in a day – which makes it excellent for proper relaxation potential. The zig-zagging hike up to Panagia will earn you a rest afterwards. The best beach is probably Katergo, and a handy free boat shuttle goes back and forth to it from the main port throughout the day. Upon arrival at Karavostassis port, Folegandros Island will start to unfold its beauties one by one. You can wonder around the narrow paved streets of Hora and the Kastro, climb the Panagia rock with its panoramic view of the Aegean, swim in the deserted or popular beaches, or explore nature along the footpaths that criss-cross every corner of the island. Homemade traditional food can be savoured in Hora, Karavostassis, Aggali or Ano Meria, while long nights drinking rakomelo await you in the squares of Hora. Kastro is the oldest part of the Hora. It is a medieval settlement built to protect the island's inhabitants from enemy invasions. It has been inhabited continuously since its establishment.
Getting There
Folegandros Island is connected with Piraeus, Paros, Naxos, Sikinos, Ios, Santorini, Anafi, Milos, Syros by ferries.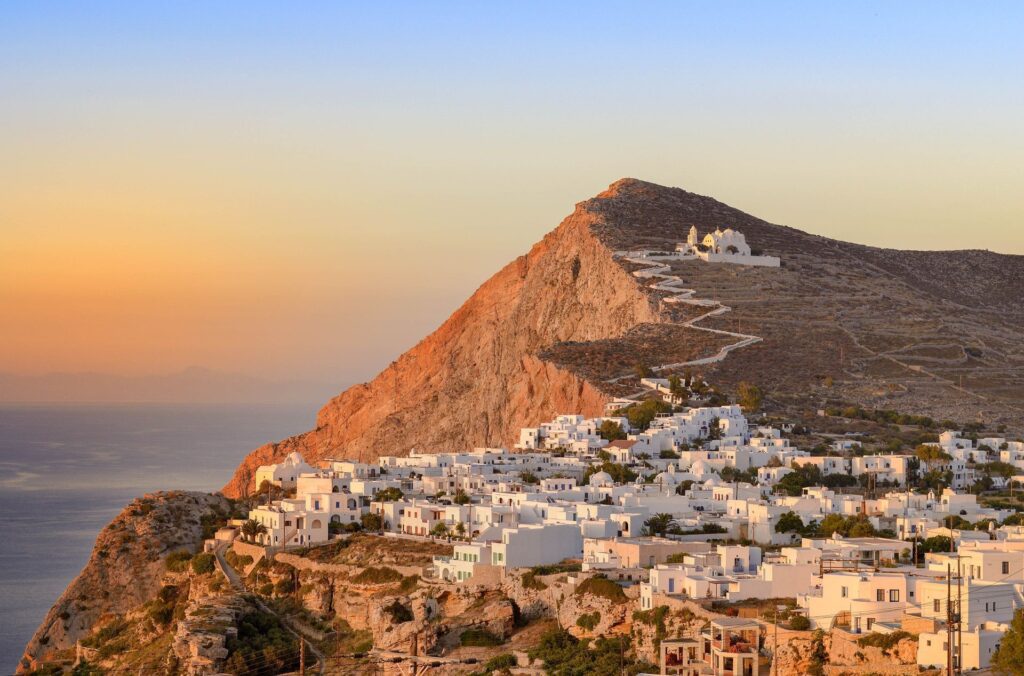 Touring Folegandros Island
There are buses connect Karavostassis port with Hora and Ano Meria. There are always buses at the port on ferries arrival, irrespective of their arrival time. There is also a taxi, and car and motorcycle rentals.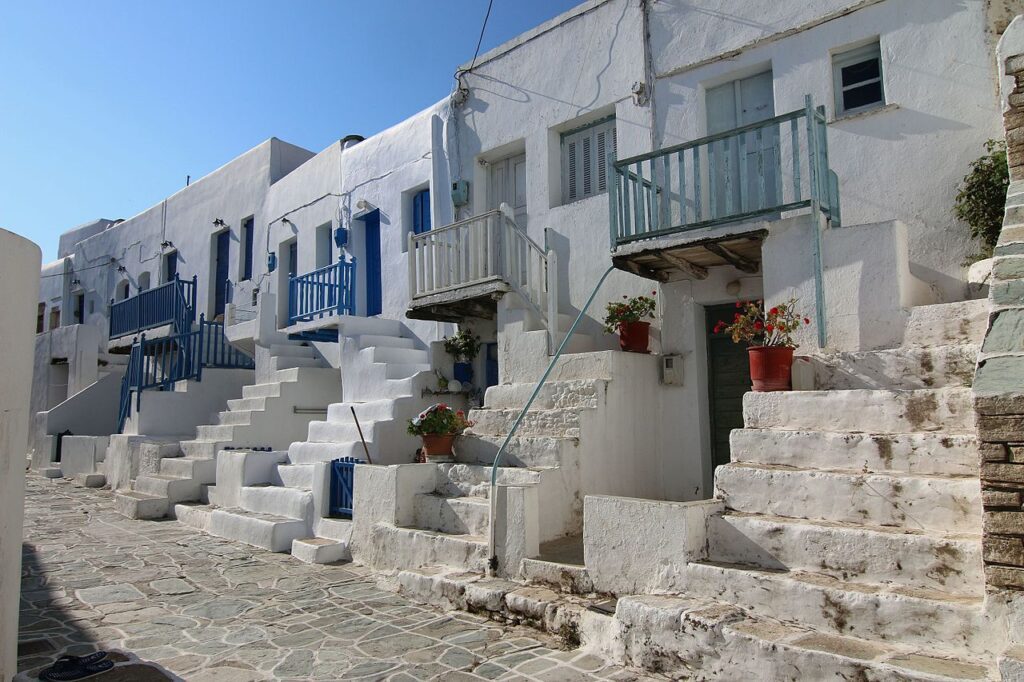 Hora
the capital of Folegandros Island is one of the most beautiful villages perched on cliffs 300 meters above the sea. In the old settlement of the medieval Kastro -built in the 13th century- the outer walls of the houses form a defensive precinct. Above the town, a zig-zag path leads the church of Analipsis. ora (the capital) is one of the most beautiful villages on its kind. In Ano Meria the Ecology and Folk Museum with exhibits reconstructing traditional peasing life. Chrissospilia is a difficult to access cave with stalactites and stalagmites. For the fully appreciation of the island's scenery, walking is highly recommended.
Agali
(50 minutes walk from Hora) is an attractive narrow bay with the best beach of the island. There a couple of tavernas and a few rooms. Agios Nikolaos -sandy beach- and Fira are two beaches within a walking distance from Agali. A seasonal caique service runs between Agali and karavostassis.
Ano Meria
(5 Km from Hora) is an old village exposed to meltemi. There a few tavernas and rooms to let. The Ecological and Folklore Museum is worth a visit. Agios Georgios and Livadaki are two remote and unspoiled beaches.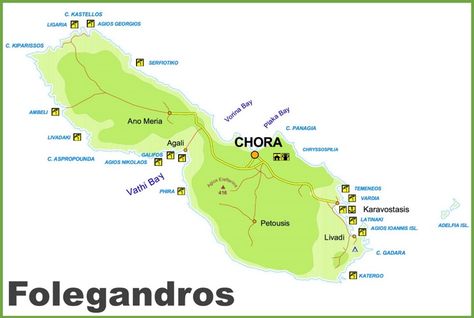 Chrissospilia
is a cave with stalagmites and stalactites. As its aperture is just above the sea level, in the north cast of cliffs, you will need a boat and guidance to access it.
Karavostassis
is the port of the island with some tavernas, hotels and studios. There is a small beach with crystal clear water. A little further from Karavostassis is Livadi bay with a campsite.
Best Beaches
Vardia Beach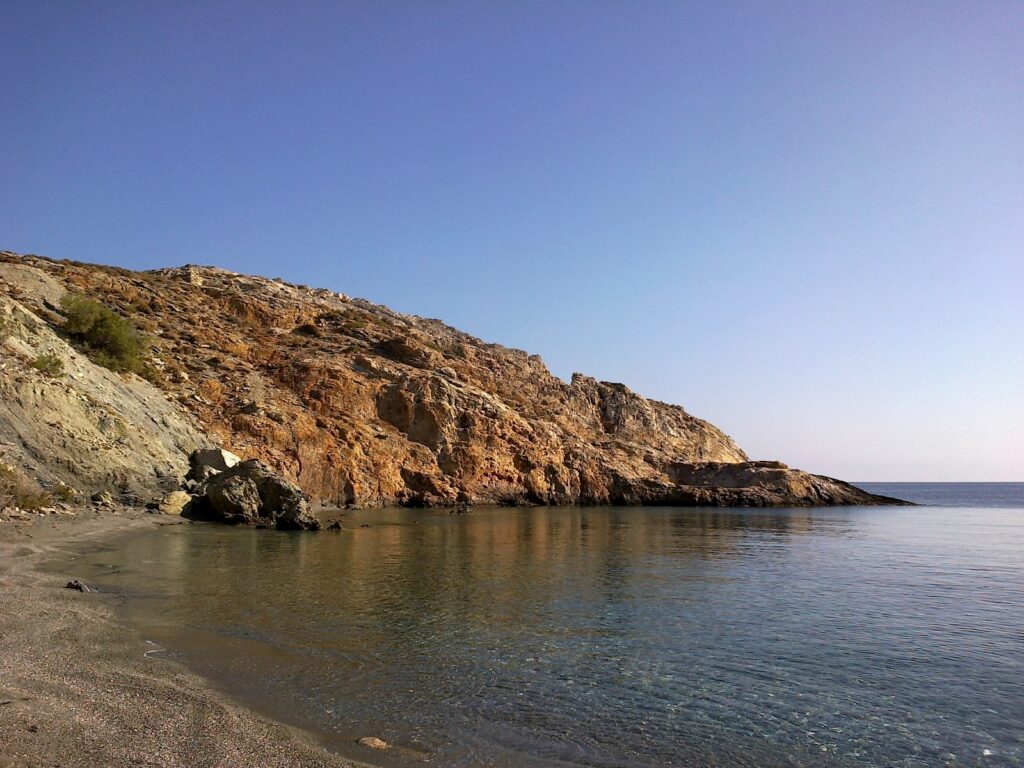 On the east side of Karavostasi, is one of the most popular family beaches. It is ideal for those living in the surrounding area, as access is immediate and convenient via the ladder. The comfortable sand in combination with the available spots for shade, offer the ideal conditions for beach games and relaxing.
Chochlidia Beach
Chochlidia is a pebble beach surrounded by the settlement of Karavostasis facing the islands port. Due to its easy access Chochlidia is a family beach which offers everything to its visitors: nearby hotels, taverns, cafes and restaurants, mini markets etc. Also it's a stone's through away from the beaches of Vardia and Latinaki.
Latinaki Beach
A small sandy beach overlooking the settlement and the port of Karavostasis. Following the coastal and the main road to Livadi is 10 minutes walking from Karavostasis.
Vitsentou Beach
Vitsentou beach is located between Latinaki and Pountaki beach, a kilometer away from Karavostasis on the way to Livadi. The access is via a path next to the main road. It is an ideal beach when blowing south winds.
Pountaki Beach
The Pountaki is an alternative east beach between Karavostasi and Livadi beach. The access is via a steep path next to the main road. It is an ideal beach when blowing south winds.
Livadi Beach
The Livadi Beach is located in the homonymous agricultural settlement, 1.2 km from Karavostasis and the port. It is easily accessible via the main road along the coast and in combination with the great length, the sand and protection from almost all winds, is a popular choice during the summer months.
Katergo Beach
The most beautiful but at the same time the most "wild" beach due to the hot sun, the lack of shade and the difficult access by land. Supplies for shade and water are necessary to enjoy the cleanest and crystal clear waters that can be visited. The easiest way to access is by catching the local boat from the port of Karavostasis (10 min.). For those who love walking, there is a path that starts from Livadi settlement (30 min.).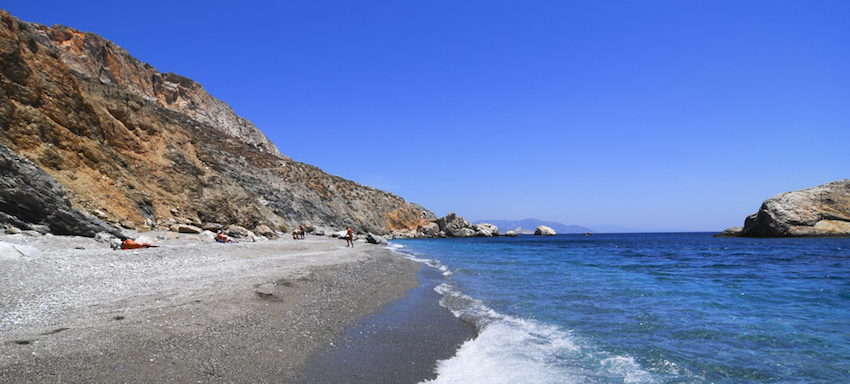 Fira Beach
Fira is a sandy, sunny and a quiet isolated beach, 15 minutes of walking south from Agali Settlement. Overlooking the southwest side of the island and Agios Nikolaos beach from far, is ideal for sunsets on the beach during September and October.
Agali Beach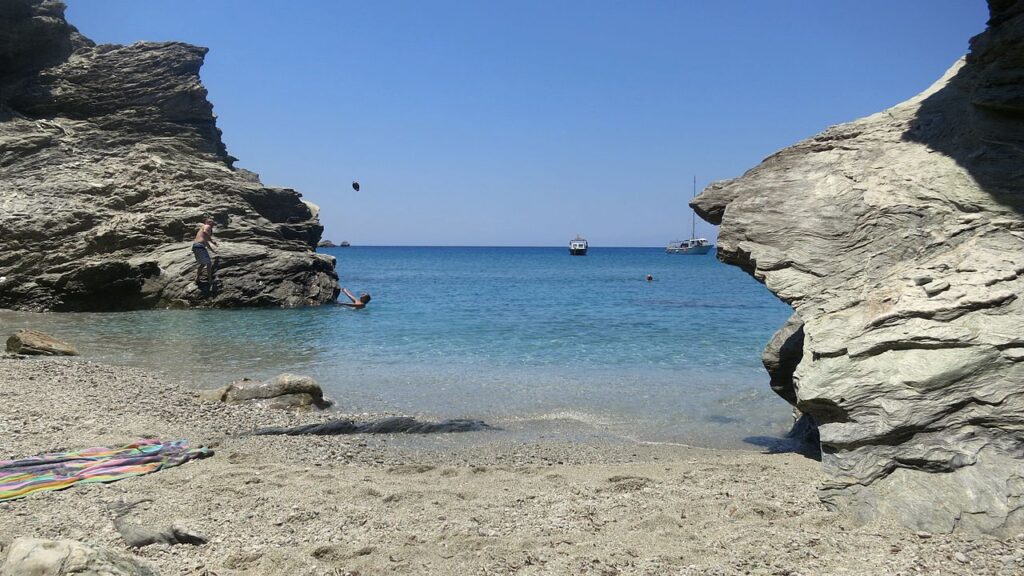 An ideal family sandy beach 4 klm away from Chora in the picturesque Vathi Bay. It can be reached by motorbike, car or the local bus. In the area there are Hotels, Rooms to Let, Taverns, Cafe, Mini Market. There are footpaths leading South-east to Fira beach (10 min.), or South-west to Galyfos beach (10 min.). There are also scheduled boat trips to nearby beaches such as Agios Nikolaos beach (5 min.) and Livadaki beach (15 min.).
Galyfos Beach
Galyfos is another small but popular beach due to its protection from the north winds too. It is accessible through a footpath 10 minutes away from Agali beach and 10 minutes before Agios Nikolaos beach. A pebbly beach with crystal transparent waters.
Agios Nikolaos Beach
A 15 minute walk distance or 5 minutes by the local boat from Agali, the Agios Nikolaos beach offers an ideal place for swimming due to its sandy beach, its crystal waters and the shade that can be found under the surrounding pines. The two taverns next to the beach can provide a satisfactory lunch, completing the experience.
Livadaki Beach
Livadaki is a remote beach on the southwest side of the island. For hikers there are three paths that start from Ano Meria to come after 45 minutes to one hour in this amazing wild beauty scenery. Alternatively, access to the beach is 15-20 minutes by boat from Agali with departures every hour. The beach combines sand with wide rocks and cool crystal clear turquoise waters. With 10 minutes walk from the beach you can also still visit the Aspropounta Lighthouse, one of the largest lighthouses of the Aegean.
Ampeli Beach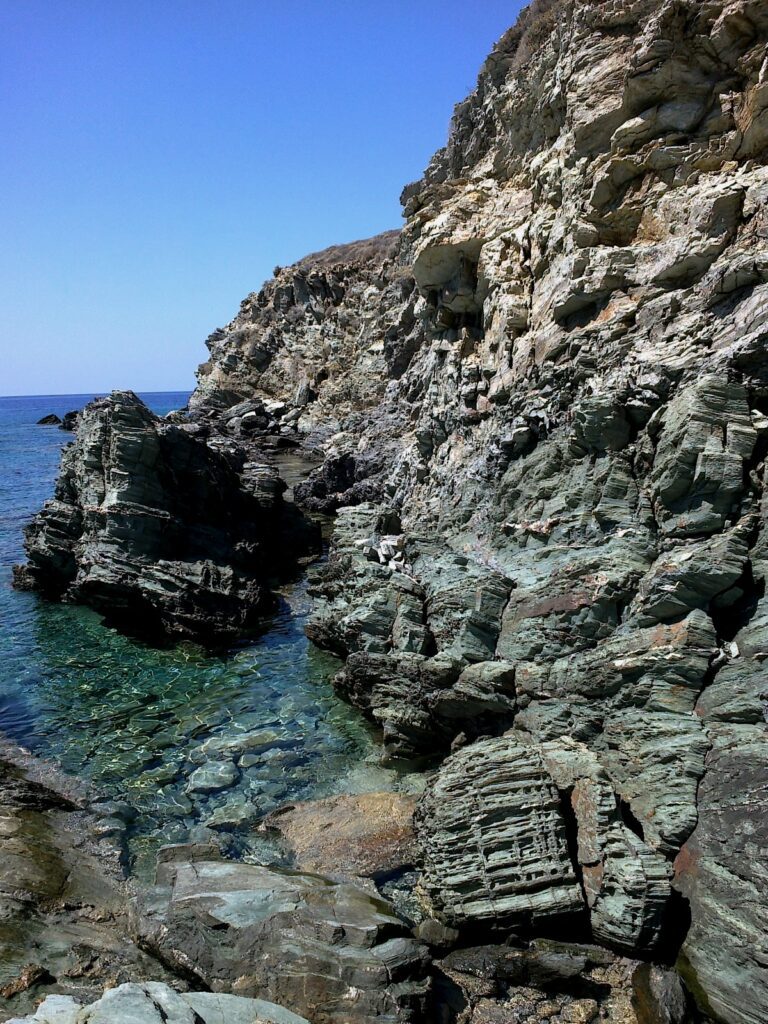 Ambeli is a small but popular beach due to its protection from the north winds. It is accessible through a footpath (30 min.) or a dirt road 10 minutes away from Ano Meria. It is a pebbly beach and its waters are ideal for snorkeling.
Festivals
Festival of "Aghia Marina" in July in Agali ,
Festival of "Aghios Panteleimonas" in July in Ano Meria,
Festival of "Panaghia" in august in Chora,
Festival "Kaikokakavia" in August in Karavostasis,
Festival of "Agrosoutoxinotiri" in August in Ano Meria,
Festival of "Stavros" in September in Chora (Agios Nikolaos Square),
Festival of "Aghios Artemios" in October in Karavostassis
Where to eat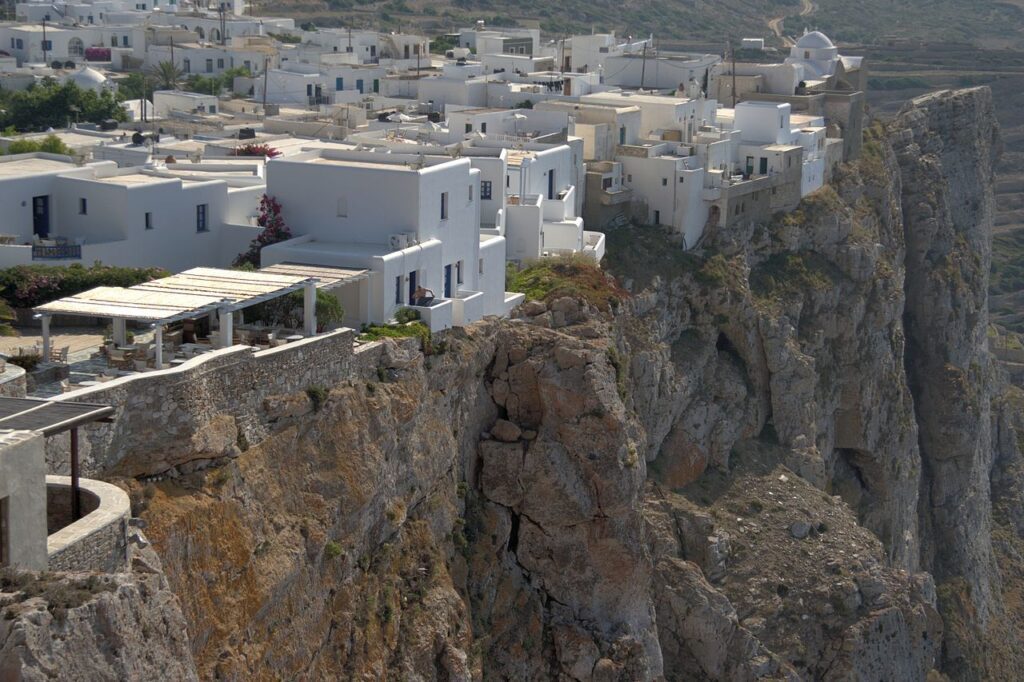 In Chora, evenings are busy, with locals and tourists congregating at outdoor taverns like Zefiros Anemos, where you can enjoy just-caught seafood in a peaceful garden setting. For a taste of the island's national dish – matsata pasta, an heirloom entrusted by Italian immigrants – Sinadisi in Ano Meria does it best. And for something smart, book a table on the terrace of Blue Cuisine in Chora and enjoy the traditional Greek plates with a fine-dining twist.
Eskapas Package Tours that includes Folegandros Island
11 Days Island Hopping package : Athens – Milos – Folegandros – Santorini