EVERYTHING YOU NEED TO KNOW ABOUT GREEK ISLAND HOPPING
Island Hopping in Greece is one of Europe's unmissable adventures. But with over 6000 islands where  do you start? Here's everything you need to know – including island hopping routes and itineraries. The islands are the main characteristic of Greece's morphology and an integral part of the country's culture and tradition. Greek sovereign land includes 6,000 islands and islets scattered in the Aegean and Ionian Seas, of which only 227 islands are inhabited. This is a truly unique phenomenon for the European continent. The Greek Archipelago takes up 7,500 km of the country's total 16,000 km coastline, offering a highly diversified landscape: beaches stretching over many kilometers, sheltered bays and coves, sandy beaches with sand-dunes, pebble beaches, coastal caves with steep rocks and dark colored sand typical of volcanic soil and coastal wetlands.
You will find many Greek island hopping packages at Eskapas, we propose to help you organize your holidays to the with ease and totally carefree. Our Greek island vacation packages depart from Athens but also from some popular islands like Mykonos, Santorini ,Rhodes and even in Turkish coast which are close to Dodecanese Islands. All our packages can be tailor-made and arranged according to your needs. Just send us your request.
GREEK ISLAND HOPPING – WHERE TO START?
There are a few important factors that will determine how your island hopping plays out: time, money, and your starting point. Read more our ultimate Ferries in Greece Guide 
Where do you want to start your island hopping journey?
How do you plan to arrive in Greece? This will most determine which ports/island groups are nearest to you If you're flying into Greece you'll most likely land at Athens International airport (Eleftherios Venizelos). The main ports on the Greek mainland are:
Piraeus , Athens' main port . This is the main port in Greece and you can reach most islands.
Rafina and Lavrio , Athen's second port – a bit harder to reach than Piraeus (which is something to bear in mind if you're heading to Mykonos – more on that later).
Thessaloniki. Although Greece's second city is mainly a commercial port, there are ferry connections to the larger Aegean islands.
Kavala. The main ferry port in the north, with connections to Athens and the Aegean islands.
Keromoti. On the north coast, just opposite the island of Thassos.
Volos. Halfway between Thessaloniki and Athens, Volos is the main gateway port for the Sporades (Mamma Mia fans, head here).
Patras. A large port on the west coast, at the entrance to the Gulf of Corinth, for connections to Italy and the Ionian islands.
Igoumenitsa. On the northwest coast, best for connections to Corfu and Italy.
Use our Ferry Search Engine to look, compare and book the best ferry deals
Basically, Piraeus will probably be your starting port unless you have a particular reason for it not to.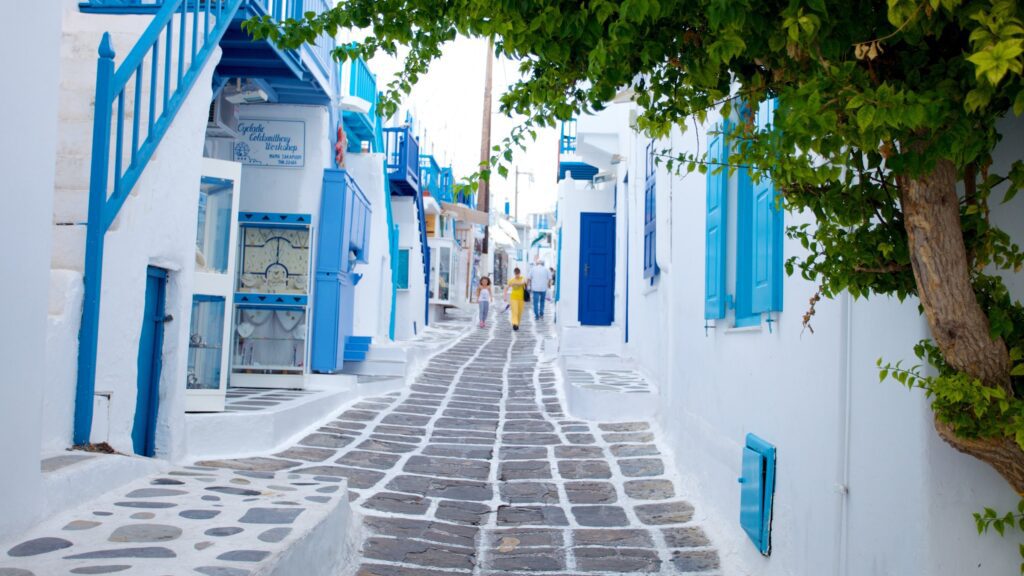 Greek islands with international airports:
Crete (Chania, Heraklion, Sitia) – international
Corfu – international
Kefalonia – international
Zakynthos – international
Kos – international
Lemnos – international
Lesvos – international
Samos – international
Rhodes – international
Astypalea – international
Karpathos – international
Santorini – international
Skiathos – international
Use our Search Engine  to look, compare and to book best flight deals to Greek Islands
Greek islands with domestic airports:
Chios – domestic only
Ikaria – domestic only
Kalymnos – domestic only
Kythira – domestic only
Milos – domestic only
Naxos – domestic only
Paros – domestic only
Skyros – domestic only
Syros – domestic only
Plus there are international airports at Preveza (for Lefkada), Volos (for the Sporades), Kalamata, and Thessaloniki.
Choosing Ferry or Flight?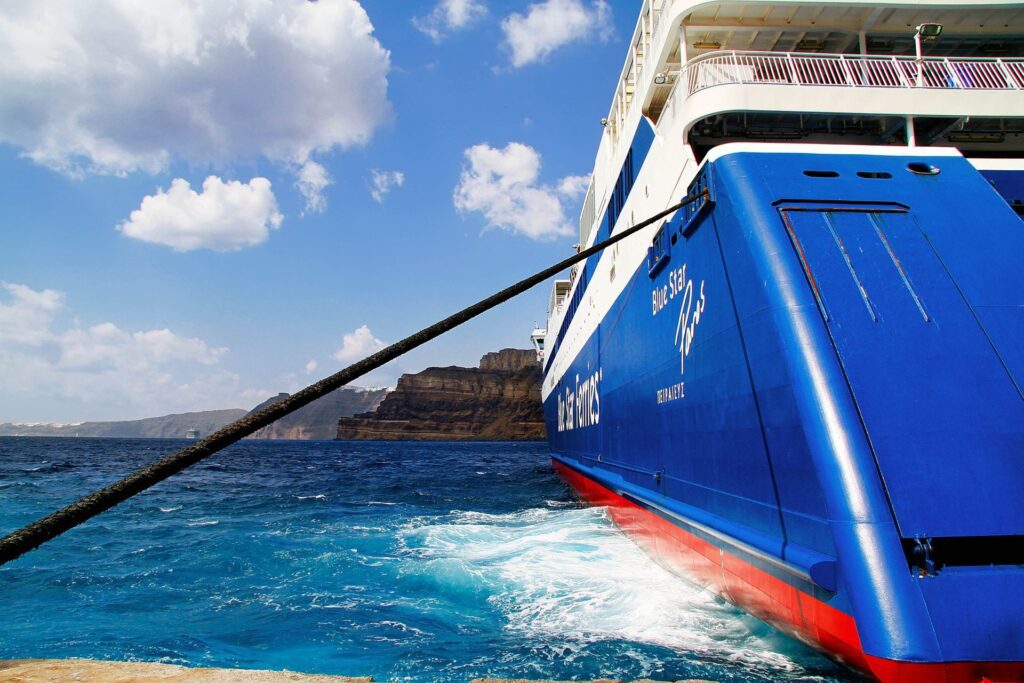 Ferries are a slow mode of transport (although there are different types of ferry) so the length of time you have available will determine the type of ferry you should take, and/or the distance you will want to travel. Some considerations include:
Your travel style – pack it in or take it slow?
Do you get seasick?
How flexible is your schedule?
Is it cheaper/quicker to fly?
What's your budget?
It's best to allow a bit of flexibility in your planning because a) strikes happen, b) storms happen. The big slow car ferries are the most reliable and least likely to be cancelled.  There are several different types of ferry:
Closed Deck Car Ferry. The biggest and cheapest. Most stable. Best for seasickness. Tend to have cabins, restaurants, cafes and sometimes entertainment.
Open Deck Car Ferry.More popular on short routes.
Hi-Speed Catamaran. These can be quite large. Some have open decks, some don't. Most have seating.
Hydrofoil(also known as Flying Dolphins). The smallest and quickest type of ferry. Prone to cancellation and delays in bad weather though. No open deck, not great if you get seasick.
Length of journey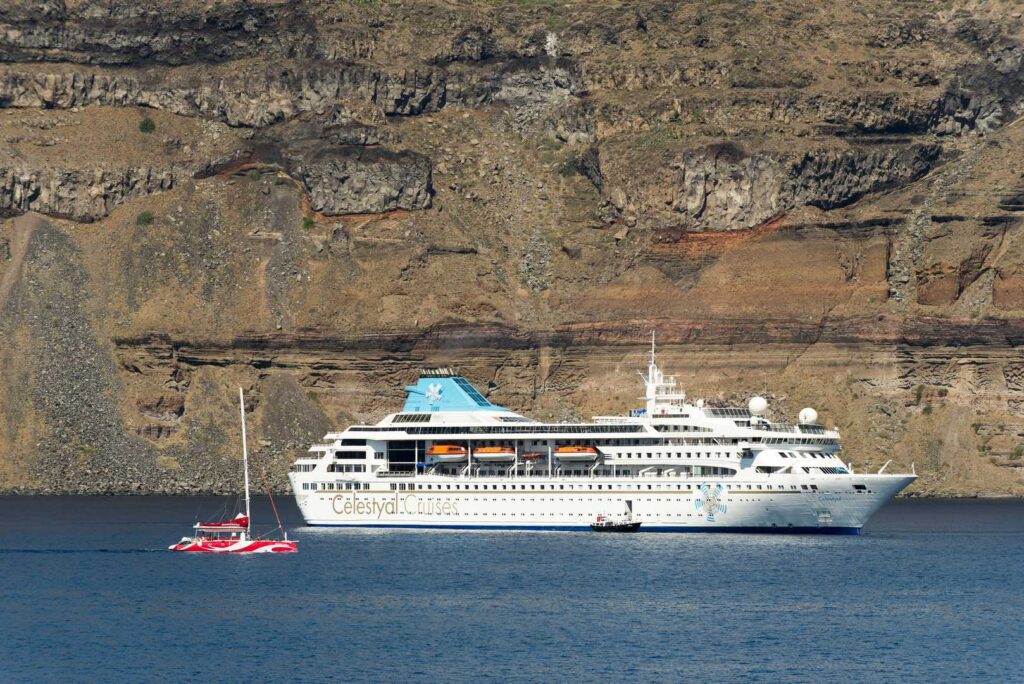 Flying makes sense for long routes (8 hours +; for example, Athens to Crete, Rhodes, or any of the Northern Aegean) where the price is comparable, if not cheaper. Ferry journeys of this length can be uncomfortable unless you're happy to pay for a cabin. And at certain times of year you can pick up bargain flights. Not: If you're a slow traveler, who enjoys the journey as much as the destination and wants to explore off the beaten track whilst you're there, then the big car ferries are perfect. Just think of it as a mini cruise.
Greece Transportation Tips
The standard overland public transport in Greece is the bus. Train networks are limited, even more so with recent cutbacks. Buses cover most primary routes on the mainland and provide basic connections on the islands. The best way to supplement buses is to rent a scooter, motorbike or car, especially on the islands where – in any substantial town or resort – you will find at least one rental outlet. Inter-island travel means taking ferries, catamarans or hydrofoils, which will eventually get you to any of the sixty-plus inhabited isles. Internal flights are relatively expensive, but can save literally days of travel: Athens – Rhodes is just two hours return, versus 28 hours by boat. Read more on "Greece Transportation Tips"
WHICH ARE THE ISLANDS TO VISIT?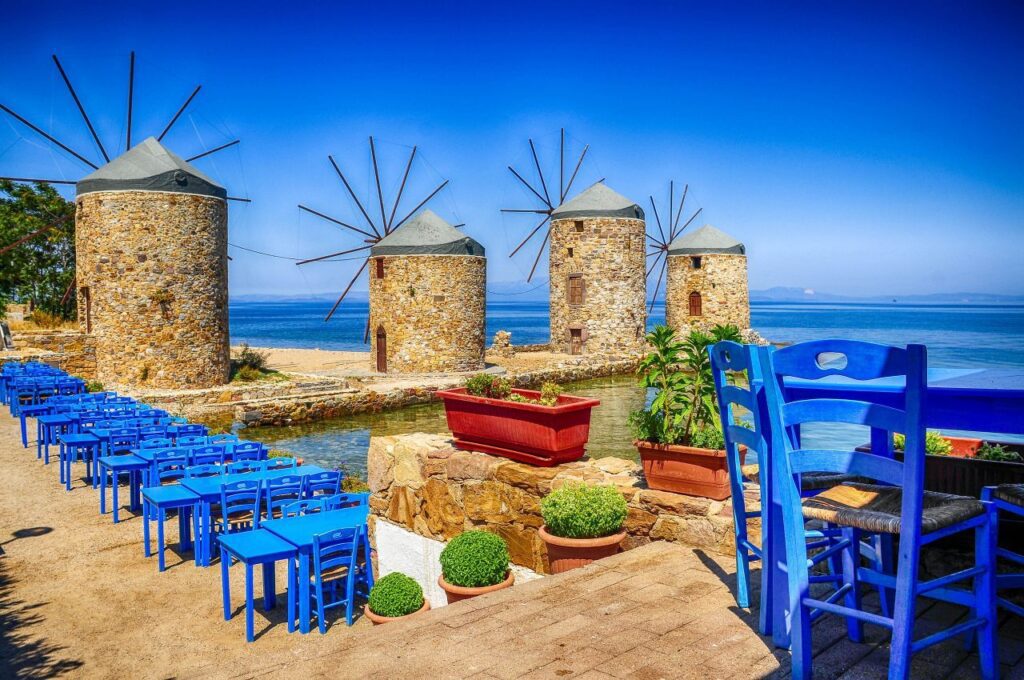 There are 7 main island groups in Greece, plus a few outliers.  Here's a rundown of what to expect in the different island groups: Many of these Greek beaches have been awarded the blue flag under the Blue Flags of Europe Program, providing not only swimming, but also scuba diving, snorkeling, water skiing, sailing and windsurfing. Some of the oldest European civilizations developed on the Greek islands (Cycladic, Minoan civilizations, etc.), so therefore the islands have unique archeological sites, a distinctive  architectural  heritage  and  the fascinating local traditions of a centuries-old and multifaceted civilization. The ideal climate, safe waters and small distances between ports and coasts, have made the Greek islands extremely popular among Greek and foreign visitors.
IONIAN ISLANDS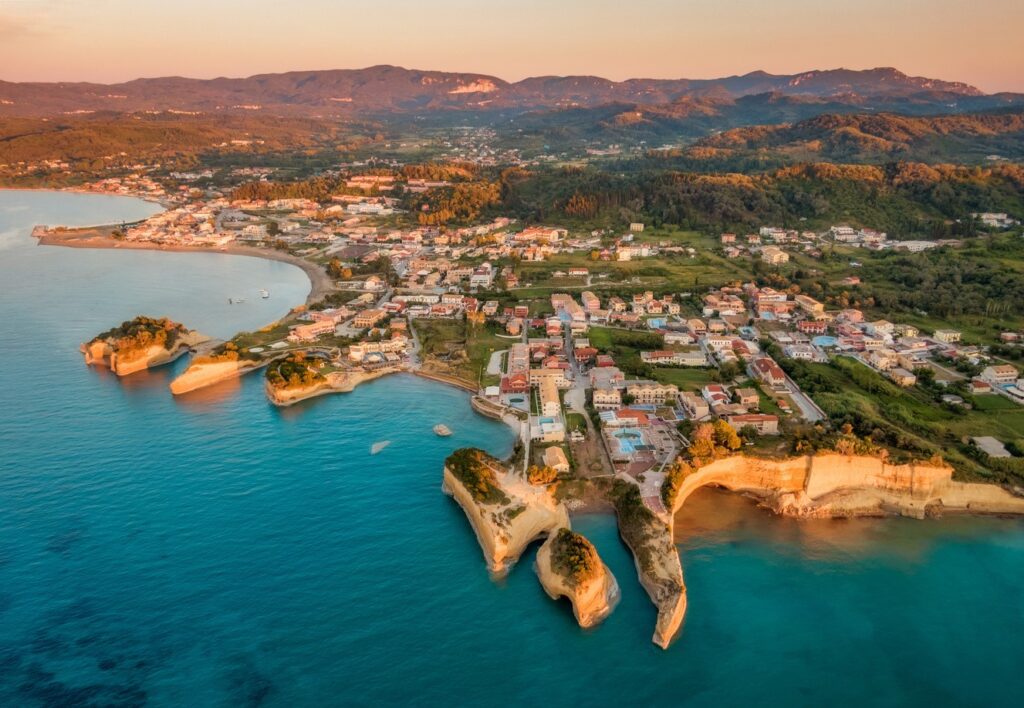 Over on the west coast of the Greek mainland, the Ionian islands have quite a different feel to the Aegean islands thanks to their Italian heritage and green landscapes. Some of the islands have two names – that's because they still go by both their Italian and Greek names. Travelling the islands by ferry is made difficult by the lack of connections between Corfu/Paxos and the rest of the islands. Instead, you must go via Igoumenitsa on the mainland. Connections between Kefalonia and Zakynthos also often go via the mainland. There are several ports on in use on most islands and they are not all served by public transport, services are geared towards locals with cars. If travelling to Corfu via the mainland then use the opportunity to visit nearby Parga and Syvota. Laganas on Zakynthos is the party capital of the Ionians if you're after nightlife.
Main Islands: Corfu (Kerkyra), Kefalonia, Zakynthos (Zante), Paxos, Ithaca, Lefkada, and technically Kythira – although it's nearer to Crete than the rest of the Ionians.
Tiny Islands:  Meganisi, Antipaxos, Antikythira, Diapondia islands, Echinades islands, Kastos, Kalamos.
Highlights: Corfu Town, Navagio Bay and Turtle Island on Zakynthos, Assos and Fiskardo on Kefalonia, the north coast of Corfu, Porto Katsiki and Egremni beaches on Lefkada, Myrtos beach on Kefalonia, Melissani blue cave on Kefalonia, boat trips and watersports.
Best for: Dramatic and lush mountainous scenery, fantastic sandy beaches, turtles, handsome Venetian architecture, wine, low key beach resorts, sailing and windsurfing.
Airports: The Ionians are well served by air, with international airports on Corfu, Kefalonia and Zakynthos, as well as nearby Preveza on the mainly (closest for Lefkada).
Need to know: Island hopping in the Ionians is not common. The presence of sandy beaches and airports means package tourism, with lots of purpose-built resorts.
AGRO-SARONIC ISLANDS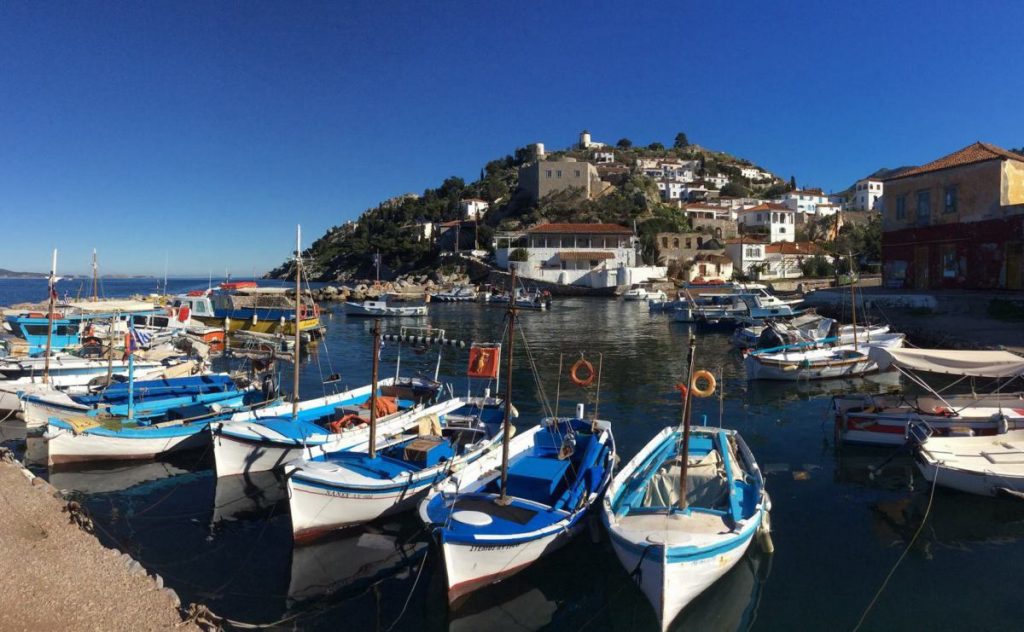 This refers to the islands in the Saronic and Argolic Gulfs, and these are the islands closest to Athens. Perfect if you're short of time or don't want to stray too far from the airport.
Islands: Salamina, Aegina, Agistri, Poros, Hydra, Spetses
Highlights: The Temple of Aphaia at Aegina. The car-free streets of Hydra and Spetses Town. Watching the ships pass Poros Town. Hiking on Hydra. Pine forests and snorkelling on Poros and Agistri.
Best for: proximity to Athens. You don't have to go far to feel the island vibe. Otherwise known as 'the ones near Athens', these islands are often skipped by visitors making a beeline for the Cyclades but less than an hour from Piraeus you can find pine-covered islands, ancient temples, pistachios, and some good beaches. The islands popular with weekending Athenians and yachties – Aegina and Hydra both have a lively nightlife in the summer months.
Need to know: Most of the ferry connections are high speed ferries – either hydrofoils or fast catamarans. There are no car ferries to Hydra at all. This is great news if you like to travel fast, but not so great if you're prone to seasickness. Poros is just 200m from the Greek mainland at its closest point and is connected by a bridge, so is ideal if you're worried about rough seas. Hydra and Spetses are the priciest of the islands.
Visit three islands in one day: The best way to see a lot in a short time is the One Day Island Cruise. It runs every day of the year and is one of the most popular day trips from Athens, stopping at Hydra, Poros and Aegina. It departs at 8 am and includes live music and a buffet lunch. Island stops are between 1-2.5 hours and there are extra excursions available at Hydra and Aegina.
CYCLADES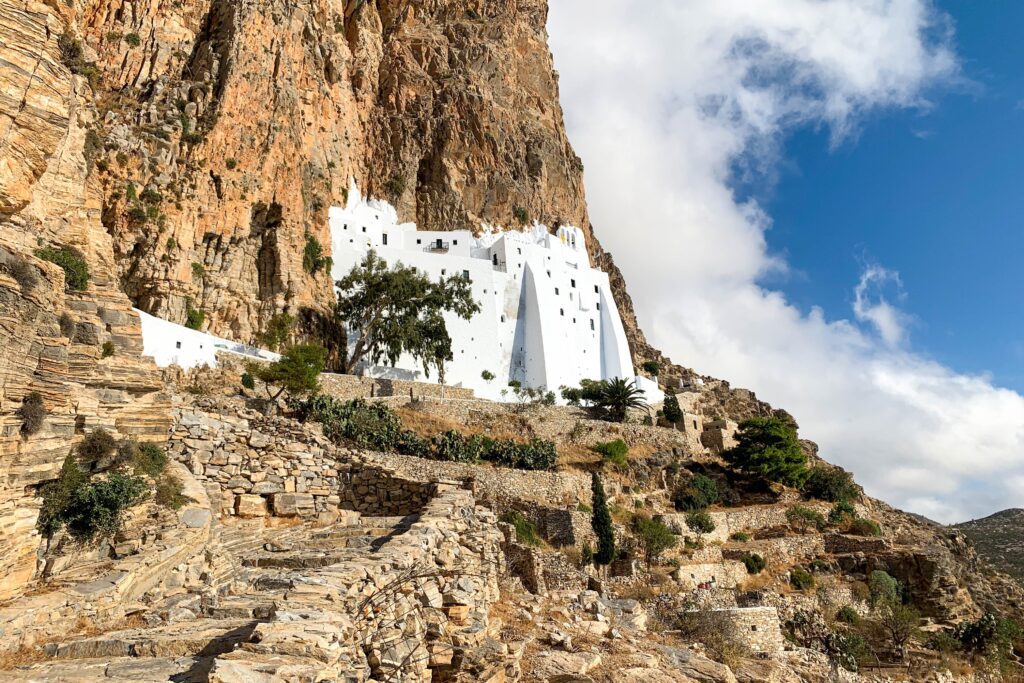 The most famous of the Greek island groups, the Cyclades are will fulfil all your romantic notions of a Greek vacation. Most tourists head straight to the most popular islands of Santorini and Mykonos, but there are plenty more islands to spread out and find your own piece of paradise.
Islands: Amorgos, Anafi, Andros, Antiparos, Delos, Ios, Kea, Kimolos, Kythnos, Milos, Mykonos, Naxos, Paros, Folegandros, Serifos, Sifnos, Sikinos, Syros, Tinos, and Santorini.
Tiny Islands: Koufonisia, Donousa, Iraklia, Schoinousa, Antiparos, Kimolos, Thirasia.
Highlights:  Santorini's iconic caldera villages, fancy nightlife on Mykonos, budget nightlife on Ios, the ancient island of Delos, handsome neoclassical Ermoupoli on Syros, whitewashed villages on Paros, volcanic rock formations on Milos, hiking on Andros, food on Serifos, the laid-back beaches on Naxos, a mini island hop around the Little Cyclades.
Best for: The famous vistas of white sugar-cube buildings, white sandy beaches, rugged barren landscapes, beach bars, easy island-hopping, jaw-dropping sunsets, hedonistic pleasures, scootering around to remote beaches, tiny white churches.
Airports: International – Santorini and Mykonos, domestic – Naxos, Paros, Syros
Need to know: Santorini and Mykonos are considerably more commercial and expensive than most other Greek islands, and heaving with tourists in the summer, but you will find the best hotels and clubs in Greece in both destinations.
CRETE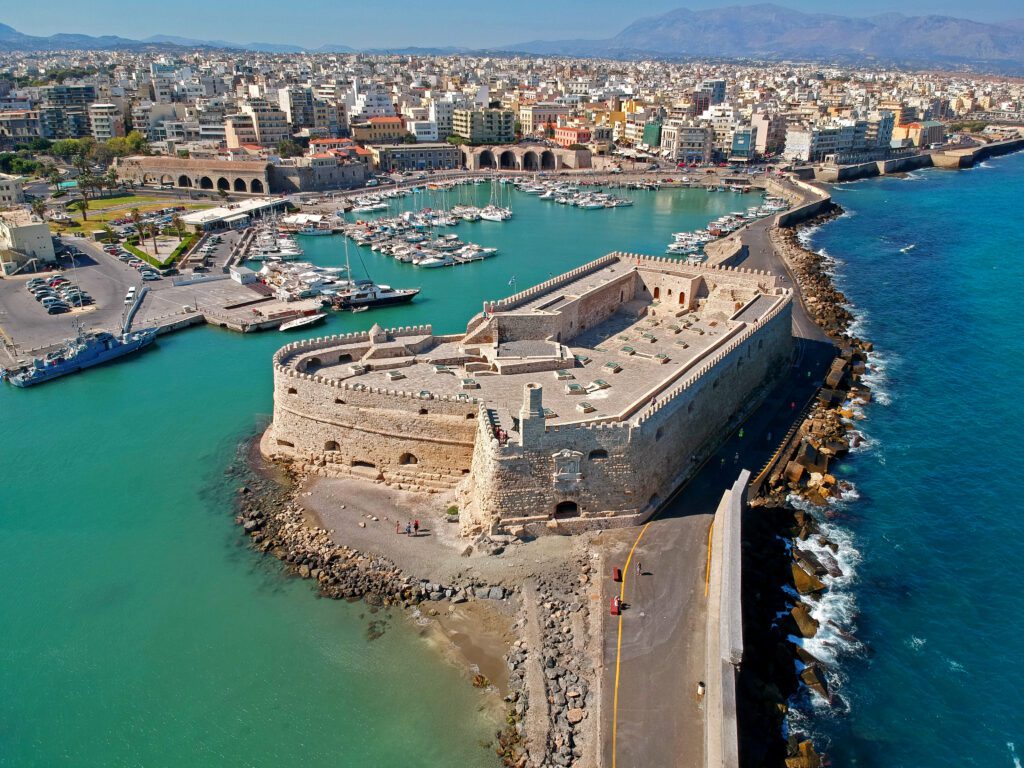 Crete is such a large island that it's worth its own section – it's the fifth largest island in the Mediterranean. It's a popular destination thanks to its beaches and history – it was home of the Minoans (the earliest known civilisation in Europe), and there are buildings from Venetian, Byzantine and Ottoman rule. Read more about Crete Island
Famous bits: The ancient Minoan Palace of Knossos. Beautiful Venetian cities Chania and Rethymnon. Walk the Samaria gorge. Lagoon beaches at Elafonisi and Balos – 2 of the best beaches in Greece – plus palm trees at Vai, and hippie vibes at Matala, Archaeological Museum in Heraklion.
Best for: Variety, incredible beaches, food, hiking, remote mountain villages, ancient palaces, traditional music, marine life, quiet plains, long summers and mild winters.
Airports: There are international airports at Chania, Heraklion, and a smaller airport at Sitia.
Ports: The main ferry ports are at Chania, Heraklion, Agios Nikolaos and Sitia, with some ferries also departing from Kissamos and Rethymnon.
DODECANESE ISLANDS
Dodecanese islands are in south-eastern Aegean and very close to Turkey mainland. It is also the sunniest corner in Greece. Twelve large islands and numerous smaller ones with crystal clear waters, sandy or pebbly beaches, important archaeological finds, imposing Byzantine and medieval monuments and unique traditional settlements are waiting to be discovered. If you are desperately seeking to discover lesser-known, unspoiled destinations visit Leros or Pserimos. But there is always Rhodes and Kos, larger and more cosmopolitan islands awaiting to offer you strong, and treasured memories. Just take your pick! Read more on Dodecanese ıslands
Main Islands: Astypalaia, Kalymnos, Karpathos, Kastellorizo, Leros, Nisyros, Patmos, Symi, Tilos, and Rhodes.
Tiny Islands: Agathonisi, Pserimos, Chalki, Arki, Kasos, Telendos, Marathi, Lipsi.
Highlights: Rhodes and its medieval old town. Beautiful neoclassical towns on Symi, Chalki and Kastellorizo. Rock climbing on Kalymnos. Crusader fortresses on Rhodes, Kos and Patmos. The volcanic landscape of Nisyros. Sandy beaches on Rhodes and Kos. The whitewashed hilltop Chora on remote Astypalea.
Best for: A variety of historic and geological influences. A good mix of popular and under-the-radar islands. Golden beaches and gulet trips in turquoise waters. Island hopping over to Turkey. Less crowds than the Cyclades (except Rhodes).
Airports. Kos and Rhodes have international airports. Karpathos, Leros and Kalymnos have domestic airports.. But it is better to come from Turkey. It will give you to visit both countries.
Need to know: Party fiends will find their flavour on Rhodes and Kos, where package tourism prevails (but it's still easy to get off the beaten path). Patmos is the boutique capital of the group, with smart restaurants and a serene vibe thanks to its religious legacy (the Book of Revelation was written here). The ferry journey to Athens is long, so consider booking a cabin or catching a flight.
SPORADES ISLANDS AND EVIA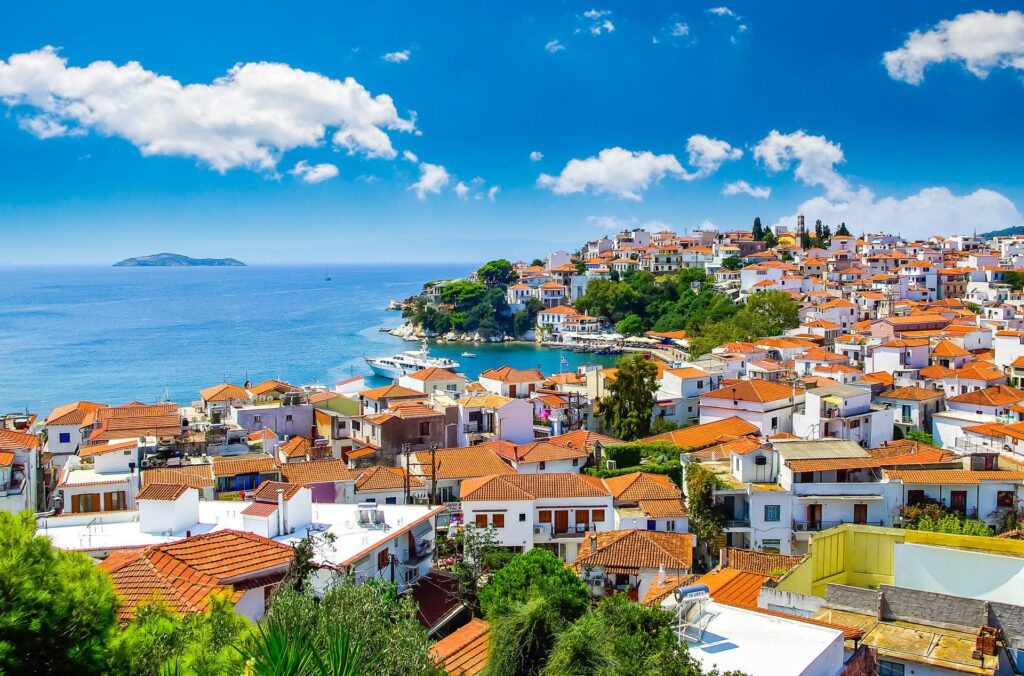 Charming and evergreen, the Sporades (meaning 'scattered') islands are situated north of the Cyclades. Largest island Skiathos is a prime destination for summer holidays thanks to its gorgeous sandy beaches and lively nightlife. Scenes from the film Mamma Mia were filmed on Skiathos and Skopelos, which have boosted the popularity of the area. Not far from the Sporades is Evia – the second largest island in Greece, and one of the least known (this is because you might mistake it as part of the mainland unless you're looking closely at the map). It's separated from the mainland by a small strait.  But the Sporades are difficult to combine with other islands. Ferries to the Sporades are from Volos, which is a 2hr drive from Athens – although most agents sell tickets which include the bus to Volos. The ferry to Skyros departs from Evia. Whilst you're in the area, don't miss the stunning Pelion Peninsula on the mainland.
Islands: Skiathos, Skyros, Skopelos, Alonnisos, Skyros (although you can only get there via Evia)
Highlights: Skiathos Town. Snorkelling in Alonnisos National Marine Park. The famous beaches of Vromolimnos, Koukounaries and Lalaria on Skiathos. Skopelos Town. Ayios Ioannis Kastri (the hilltop church from Mamma Mia). Dhimosari Gorge and the paradise beaches of Lichadonisia on Evia.
Airports: Skiathos has an international airport. Skyros has a domestic airport.
Best for: Mamma Mia fans, sailors, outdoors lovers and beach bums. Green islands, clear seas, great beaches, cute monasteries, and a smattering of lovely hiking trails. Skyros and Evia are quiet and mostly domestic tourists, alternative types and wild campers.
Need to know: Skiathos and Skopelos are fairly developed and close together – easy to hop between them and nearby Alonnisos too.
NORTHERN AEGEAN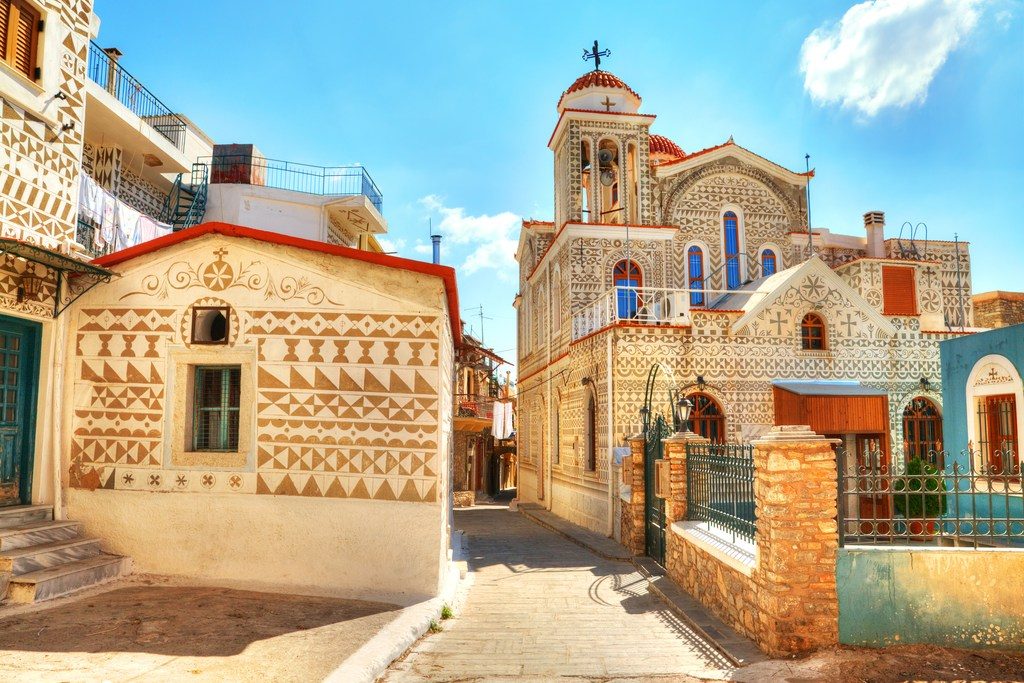 Not so much a chain of islands, as the collective name given to the remaining islands in the Aegean Sea. The long travel times involved in reaching these islands from Athens means they're a bit more off the beaten track. A bit more rustic. Chios, Lesvos and Samos have ferry crossings to Turkey.
Islands: Chios, Ikaria, Forni, Lesvos, Lemnos, Samos, Samothraki, Thassos, Psara
Highlights: Mytilene in Lesvos, Marble Beach on Thassos, the patterned village of Pyrgi on Chios, Ikaria's unique summer festivals, the sweet wines of Samos and Lesvos, hippie vibes on Lesvos and Samothraki. The towns of Pythagorion and Vathi on Samos. The strange Fascist utopia of Lakki, built during Italian rule.
Best for: Escaping the crowds. Alternative and slow travel, agritourism, and discovering foodie delights, waterfalls and a traditional way of life.
Need to know: Their dispersed nature means some planning is required for island hopping as ferry connections are not all that frequent in comparison to other island groups.
BEST ROUTES
Saronic Islands:
·         See this route: Athens – Aegina – Hydra- Poros in 1 Day
·         See this route: Agistri – Poros -Spetses -Hydra – Aegina
Cyclades:
·         See this route: Athens – Milos – Folegandros – Santorini in 11 Days
·         See this route: Athens – Mykonos – Santorini  in 10 Days
Cyclades and Crete:
·         See this route: Athens – Naxos – Santorini – Crete in 14 Days
Ionian Islands:
·         See this route:  Corfu – Kassiopi – Syvota – Parga – Paxos
·         See this route: Zante – Ithaca (Vathi) – Meganisi – Poros
Dodecanese Islands
·         See this route: Bodrum – Kos – Leros – Patmos – Lipsi – Kalymnos in 8 Days
·         See this route: Bodrum – Kos – Gyali – Nisyros -Symi – Rhodes in 8 Days
More on Greek Islands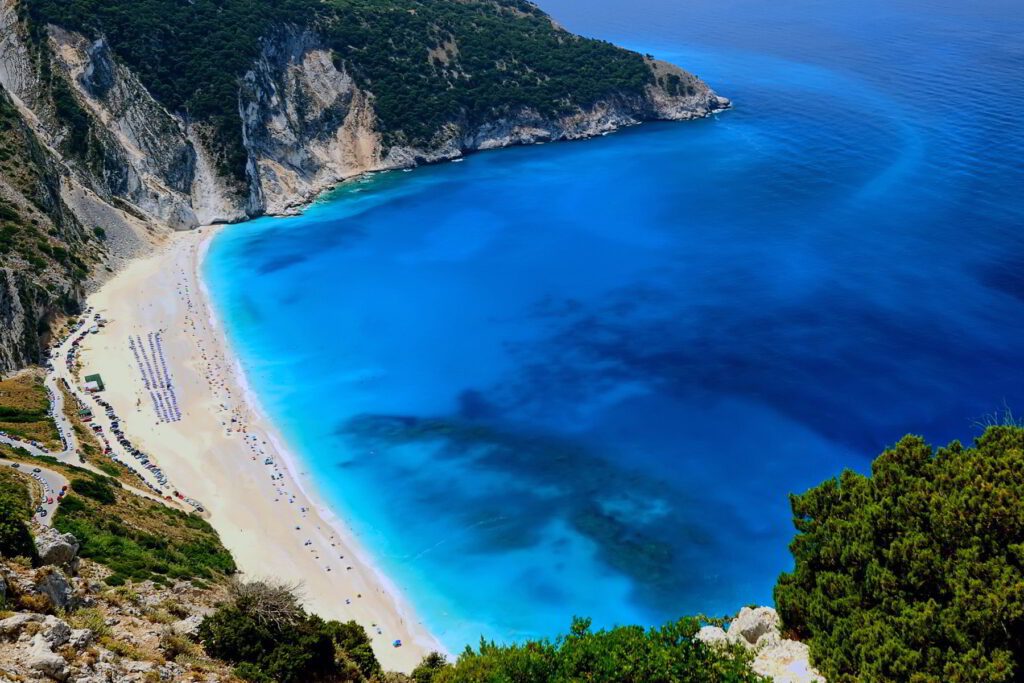 In high season, many of the islands have several daily connections, allowing the most daring to embark on a new adventure every day. And even though you may find island hopping packages available, you can still create your own itinerary.  There's nothing quite like spotting the shoreline from a sun-drenched ferry deck or sailing into a vibrant port. In Greece, getting there is an essential part of the adventure and, thankfully, island hopping is a breeze.
Honeymoons
Greece is among the world's most beautiful places, making it a favored honeymoon destination. In addition to visiting the capital Athens, where ancient and modern life exist side-by-side, you and your new spouse will want to explore the country's irregular coastline, discover its islands, swim and sun on remote beaches, pause to drink and dine at picturesque harbors and tavernas, and visit marketplaces, museums, and historic sites that reveal four millennia of civilization. Along with Greece's most romantic hotels, they await your arrival.
Read  Perfect Honeymoon in Santorini , Romantica – Honeymoon in Greece | 13 Days ,
Picturesque Villages
Greece & the Greek Islands are known for 3 things: ancient civilization, amazing landscapes and high developed tourism. Really beloved by people, Greece is so rich in culture and beauty that it never seems to be completely explored, no matter how many times you visit it. After all, this is one of the reasons that brought it on the list with the top 20 tourist destinations worldwide. It is all about Greece, from nature to locals, that makes people come back to this wonderful land every summer.  Traveling to Greece and the islands has become a must activity according to the modern lifestyle. Over the last decades, it has always been visited by jet setters, including politicians, musicians, actors, artists and other celebrities with a significant contribution to the popularity of Greece. Read more
Islands Close to Athens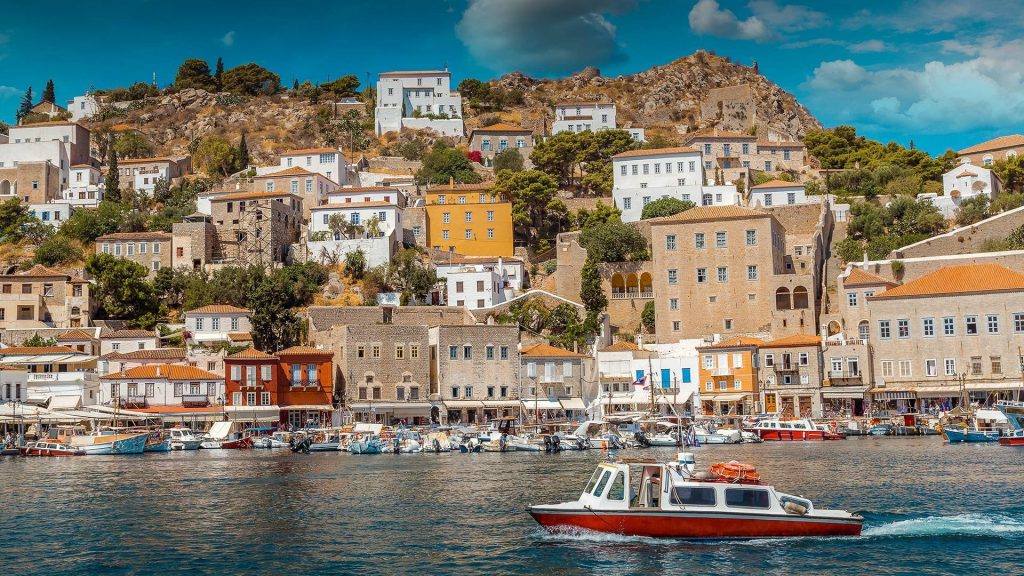 Hydra, Spetses, Poros, Aegina, Tzia/Kea: Islands Close to Athens, with history, style and distinguished visitors are ideal for a quick getaway all year round. Take your yacht or the hydrofoil from the port of Piraeus and get to know the charming little islands near Athens. A short distance from Athens, these heavenly islands offer stunning seaside landscapes, beautiful beaches, historic monuments, stately buildings and one-of-a-kind hospitality. Explore these heavenly islands close to Athens. Read more
Greece Cultural Events and Festivals
Predominantly rural, Greece is deeply attached to its locally produced food and wine, and chapels dotting the countryside serve as the focus for culinary, as well as religious, celebrations. Festivals of the Orthodox Church are deeply identified with Greekness, no more so than on 25 March, a date which commemorates both the Feast of the Annunciation and the start of the Independence uprising in 1821. Summer festivals are celebrated widely in rural villages, and expatriate Greeks return from across the globe. Organized arts events are a more recent phenomenon, paralleling the rise of tourism.  Read more
Gastronomy on the islands
You've come to a country blessed with a rare Mediterranean beauty, which unfolds in an extraordinary diversity of land and seascapes, opening your horizons to every possible kind of experience, not least gastronomical. Forget that the Greek sun and sea are there to put the finishing touches on our beaches. Think instead of the delicious things they produce, from the copious quantities of miraculous olive tree to the lowliest mollusk. If you love fresh ingredients, bold flavors, and a varied cuisine, Greek food will not disappoint. Expect briny olives from Kalamata, salty cheeses, fresh seafood, buttery lamb, peppery olive oils, and flaky treats wrapped in impossibly light phyllo dough. Greek cuisine epitomizes the bounty that the Mediterranean has to offer. Greek breakfast always involves rich coffee and something simple like tiropita (a cheese-filled pastry), yogurt and honey, or fresh bread. Lunch and dinner can be as easy as a pita filled with lamb gyro or souvlaki or can be a drawn-out affair: think an elaborate spread of mezze (hot and cold appetizers, bites and dips), followed by salad, roasted meats or casseroles, and fresh bread. Linger over your meal while you sip anise-flavored ouzo or raki, a glass of bold local wine, or a regional beer from the blossoming microbrew scene. In fact, grabbing a bite at a Greek bakery is one of our favorite ways to mingle with locals. Greece promises to be a gastronomy experience that you'll never forget. Here you'll take part in a game of discovering new tastes and aromas, new combinations of foods, new fruits of the earth. The gastronomy here will excite you: traditional Greek breakfast, colorful authentic Mediterranean cuisine, local products, fine wines, flavorful beers and local spirits.
Related Readings about Gastronomy in Greece : Gastronomy in Greece , Greek Gastronomy , Greek wine
Frequently Asked Questions
When to go to the Greek islands?
Greek Island Hopping : While the Greek islands are stunning at any time of year, aim for your visit to fall between Orthodox Easter (usually April) and the end of May, or from September to mid-October. During these times, services and amenities are up and running, temperatures are balmy and crowds are thinner. From June until the end of August, you will definitely have warm sea water and hot weather, but you'll be sharing it with the masses, paying top bill, and the meltemi (dry northerly wind) can play havoc with ferry schedules. In the low season, many ferry routes cease to operate and hotels and restaurants shut up shop. Depending on which Greek islands you're hoping to visit, it's a good idea to also check the local calendars for panigyria. These Greek summer festivals are unique cultural experiences that can be a lot of fun, but also might affect ferry schedules, opening hours at attractions, and produce crowds and parades that can otherwise complicate the logistics of getting around. Panigyria on Ikaria, for example, occur all summer long on various saint's days, and some of the festivities run from dusk till dawn.
Is Greece a good destination for kids?
Break out the beach toys and mythology books—Greece is a fantastic destination if you're traveling with little ones. The culture is warm and welcoming, and museums and historic sites offer ample kid-friendly programming. In fact, Greeks are so inclusive of youngsters that it's not uncommon to see tykes in tavernas at 11 pm. In addition to a number of aquatic activities and beach fun, there are medieval forts to explore in Corfu and Rhodes, a wonderful Natural History Museum on Crete, and hours of curated exhibits and play in Athens's many museums and ruins. Related readings : Family Holidays in Greece
Is the tap water safe to drink?
Tap water is safe to drink on the mainland in larger cities like Athens and Thessaloniki, but stick to bottled water if you're in a smaller town off the beaten track or if you're exploring the islands.
Are credit cards widely accepted on the islands?
Unlike other destinations in Europe, cash is king in Greece. While bigger hotels and many shops (especially in Athens and on more traveled islands) do accept credit cards, many restaurants and smaller businesses do not. In fact, some hotels may request a card to hold a reservation but require payment in cash, so be sure to check on payment process before you arrive. ATMs are widely available in airports and bigger cities, but small towns and villages may only have one machine, which may or may not accept your debit card. To avoid snafus, it's wise to travel with enough cash to get you through 24 hours. Greek ATMs also only accept 4-digit PINs; if yours is different, check with your bank to change your number before you depart.Also, be aware that Greece, like other countries in the EU, has started to phase out magnetic-strip credit cards in favor of new Chip-and-PIN "Smart Cards." If your magnetic-strip card is rejected, the cashier will manually enter your card number and will need the card's PIN; if you don't know yours offhand, contact your bank a few weeks before you head overseas, as some banks send PINs via snail mail. Island Hopping in Greece
Should I be concerned about safety?
According to the US State Department, Greece is considered safe and deemed a "Level One" destination, advising travelers to use "normal precautions." In other words, exercise the same level of awareness and savviness you would in any other European nation. Safeguard yourself from pickpockets: don't keep valuables in your back pocket, don't let anyone "help" you at an ATM, and keep your wits about you in busy areas or scooter-heavy thoroughfares. Do be aware of taxi scams, though. For some trips, particularly from the airport or the port of Piraeus, there are government-mandated fixed prices; however, sneaky drivers might quote you a different rate altogether. If traveling by cab, be sure to use legal yellow taxis, which have functioning meters and lights on their roofs. Beware drivers who say their meters are down, lest you have to shell out an exorbitant fee once you arrive at your destination. Play it safe by using official taxi queues at the airport, or download Beat, an app that will call a vetted cab for you in the city.
Standard mealtimes for restaurants
When planning meal times and restaurant reservations, keep in mind that Greeks eat late. For lunch, this means 2 pm at the earliest; for dinner, crowds start trickling in after 9 pm (and even later once the heat dies down in summer months).