Antalya Gulet Cruise
Antalya Gulet Cruise: A popular excursion from Antalya is a cruise on a gulet — the traditional Turkish sailboat. Sailing away, we marvel at the dramatic shoreline under snow-capped peaks. Resorts, park-like beaches, and ancient ruins clinging to cliffs are all tucked into this rugged-yet accessible Riviera playground.
What is a Gulet Cruise?
Imagine you are staying in a boutique hotel, but this one is moving from one lovely town to a paradise bay, from there to a blue flag sandy Turkish beaches, from there to near-by of an ancient site and you are always on the sea but never too far from the land and people. Blue cruises are exceptional holiday activities in the world peculiar to the South-Western cost of Turkey especially, and completely a different adventure when compared to the cruises with big ships which can never reach to these narrow bays. Besides, blue cruises are performed by relaxed short-distance sailings and they offer a perfect natural atmosphere, more personal touch, keep you away from exhausting city life, but do not totally isolate you from the real world of simple people.
Realted Readings: Gulet Holidays in Turkey, Gulet Cruises in Turkey, What is a Gulet Vacation in Turkey?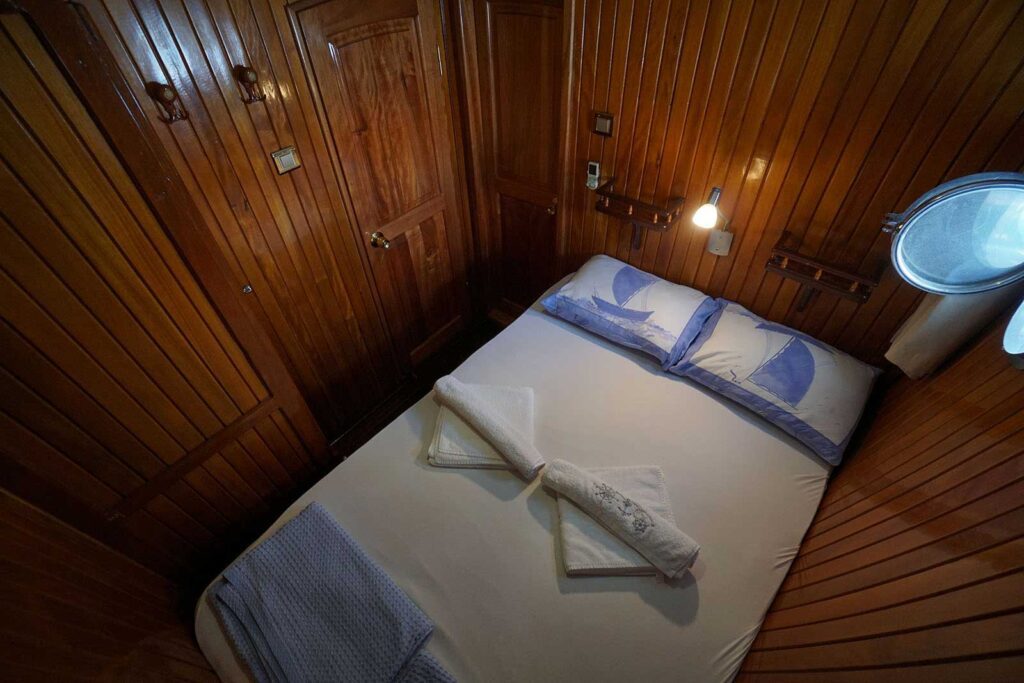 Antalya gulet cruise is the richest for historical purposes.
Lycian way has a big collection of ancient ruins scattered from Antalya to Fethiye that can be interesting for families with kids too. On the World UNESCO heritage list, Xanthos and Letoon are placed and we definitely recommend you check these places out. Nearby Tlos isn't as crowded with mass tourism but it is well recommended to go to this place for its Lycian tombs. Further, along with the coastline on the outskirts of the Antalya district, is the theatre and Lycian rock tombs of Myra that is also close to Demre and the church of Saint Nicholas (Santa Claus.) The settings of Olympos in a dense, overgrown forest promote a surreal fairy-tale setting, because of the unknown sarcophagus of Captain Euromos. It would take two months of walking to see all the historical ruins of the Lycian way, or a unique way to travel is on a gulet cruise from Fethiye to Olympos.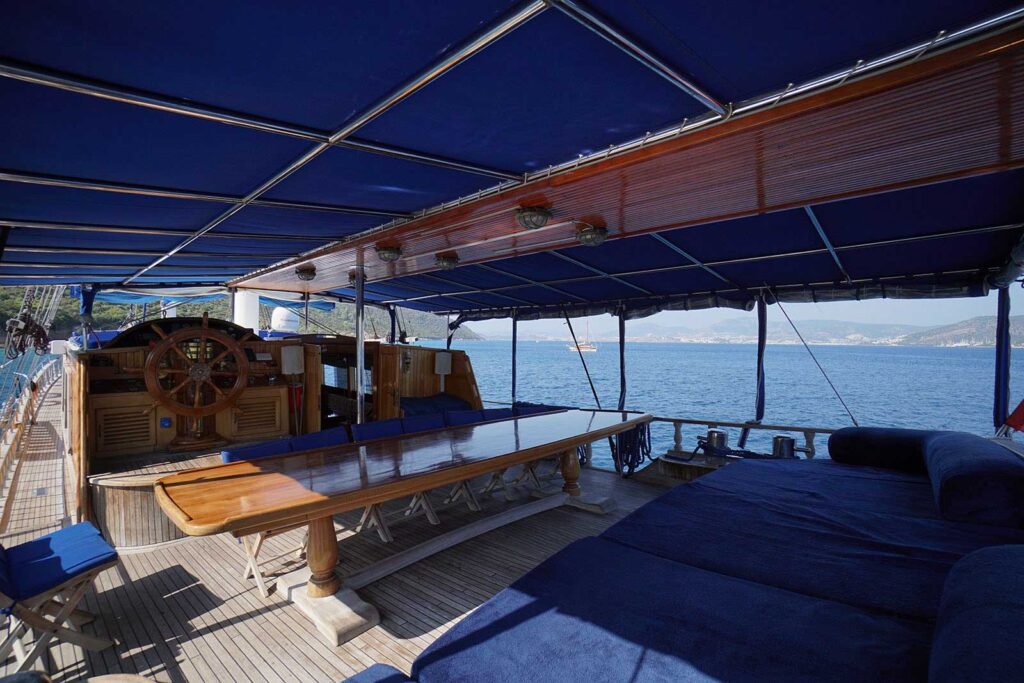 Antalya
Second most visited tourist destination in Turkey is Antalya. You will not be disappointed by the amount of historical ancient ruins. You can start your  exploration at Kaleci, the old town in Antalya city center. There you will come across the famous Hadrian's Gate, but also other artifacts. Some of these artifacts are also located in the Antalya Archaeological Museum you can visit.
Sunken City of Kekova
The Kekova region is protected from 1990. for the natural, cultural and geographic richness of the Kekova Islands. The area stretches for 260 km² and is managed by the Turkish Ministry of Environment. On the northern side of the island, you will find underwater ruins of Dolchiste, an ancient Lycian settlement.  This marvelous historic site is only accessible by water. Even though swimming is forbidden around the sunken ruins, you can still admire them and take a few photos. Swimming is forbidden due to the fact that many visitors in past would take parts of the remains as souvenirs.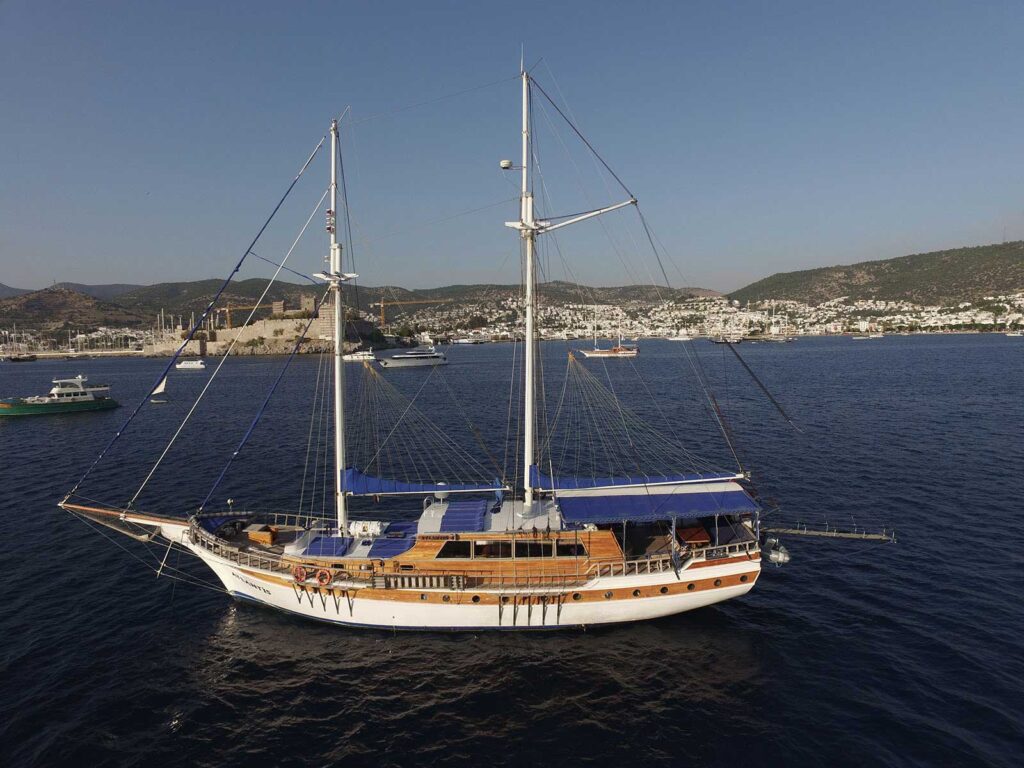 Myra
Myra was an ancient Greek town in Lycia, renamed Demre in 2005, in the Antalya Province. With gulet cruise, you can venture out and visit the ruins of Myra. The main attractions at Myra are the large theatre that could once hold 13000 visitors.
It is very impressive in its size, and quite well preserved. A second most popular attraction is the necropolis Lycian rock tombs. Even though you are not allowed to walk around the rock tombs, you can imagine the ancient Lycian culture and their beliefs how they once were. Lycian tombs were always placed at the top of hills or on the cliffs because by the dead would be transcending to another world by a wing liked creature.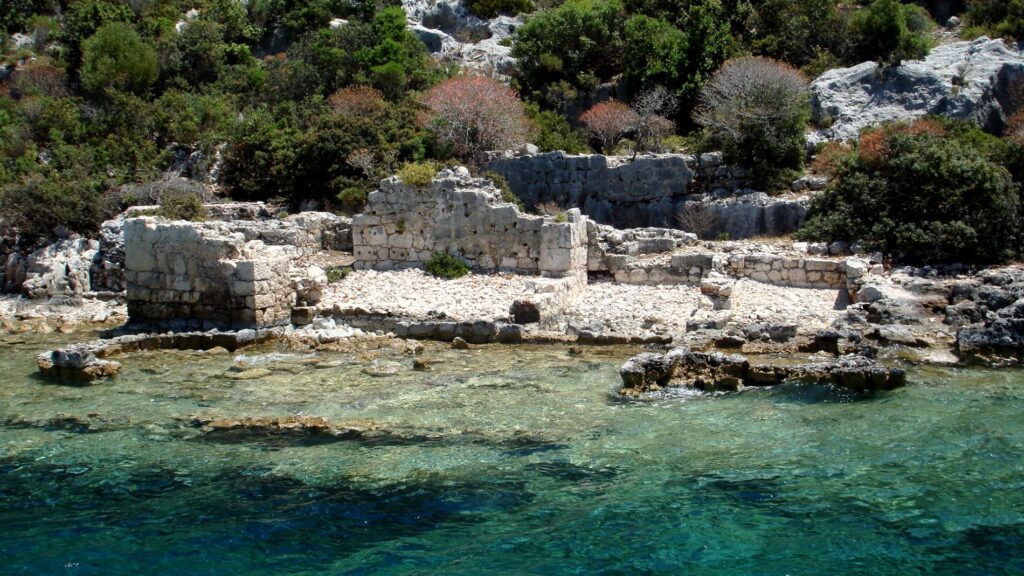 Saint Nicholas Church
Previously mentioned ancient Myra tombs and ruins can be combined with a trip to the home of Santa Claus, otherwise known as St Nicholas Church. As a former bishop of the town, locals very much appreciated his honorable deeds. He is also known as the protector of all sailors providing the calm sea for all who travel. For this reason, the church was built and the church today holds his sarcophagus. However, his remains were stolen by Italian soldiers in the 11th century.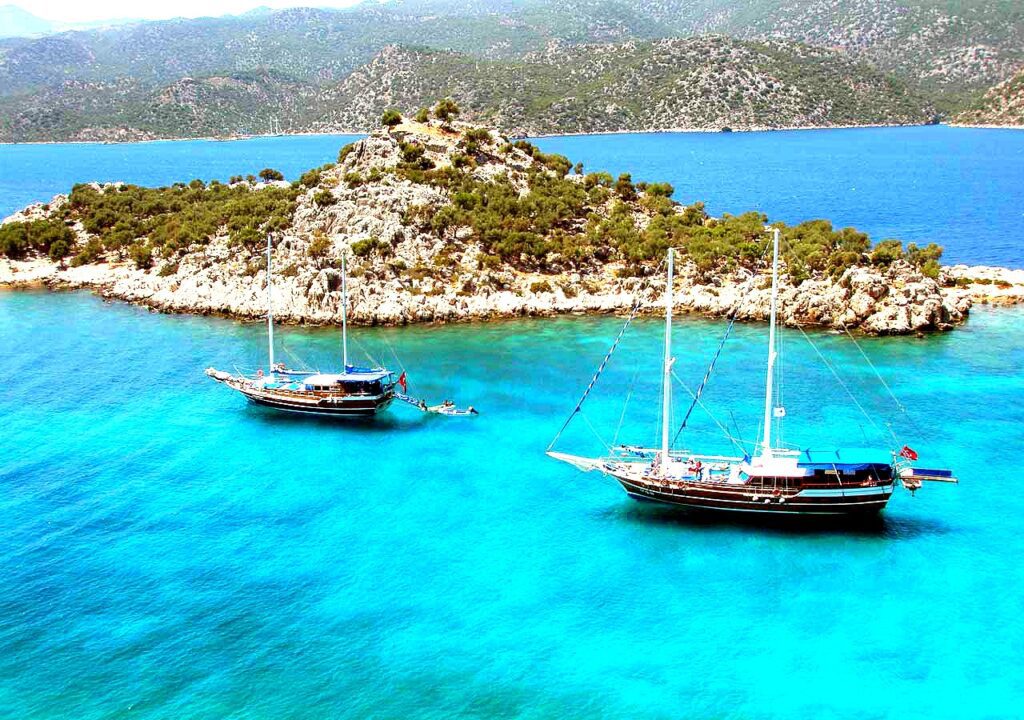 Olympos
Olympus or Olympos was a city in ancient Lycia. It was situated in a river valley near the coast. Its ruins are located south of the modern town Çıralı in the Kumluca district of Antalya Province, Turkey. Together with the sites of the ancient cities Phaselis and Idyros it is part of the Olympos Beydaglari National Park. The perpetual gas fires at Yanartaş are found a few kilometers to the northwest of the site.
Xanthos-Letoon, Turkey
Even today, the capital of Lycia gives you the impression that this was a civilisation that was able to do things on a grand scale. The twin sites of Xanthos and Letoon are only about 60 kilometres from Fethiye but are slightly tricky to get to if you don't know what you're doing.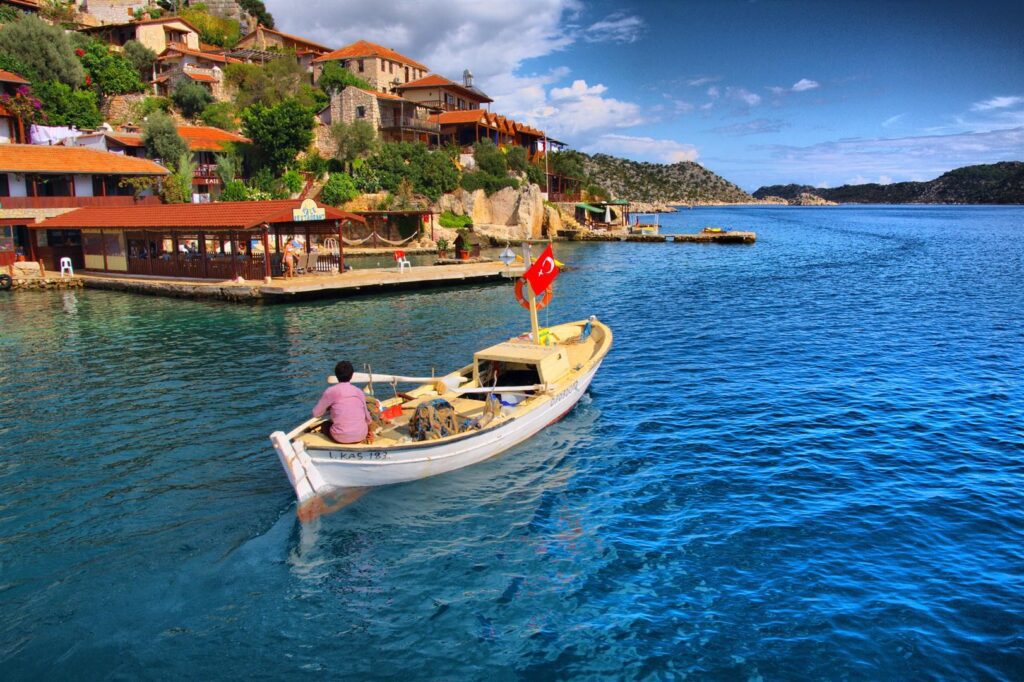 Not only are they an interesting insight into the Lycian culture but also they show the influences that came from both the west and east.
Phaselis
Phaselis is an ancient city ranged on a peninsula surrounded by three small, perfect bays, now protected within the grounds of a beautiful national park.
Located between Kemer and Olympos, and not all that far from Antalya (map), it's a perfect spot for a quiet rest and a splash in the sea from one of the small pebbly beaches. Excursion boats and yachts often drop anchor in the southern harbor for lunch, a swim, and a stroll through the ruins.
Two millennia ago in Roman times this was a thriving port town shipping rose oil and the perfumes made of it, as well as timber from the surrounding forests. Today the three bays and ruined aqueduct of golden limestone shaded by fragrant pines are a poignant reminder of once-prosperous Phaselis.
Best itinerary for Antalya Gulet Cruise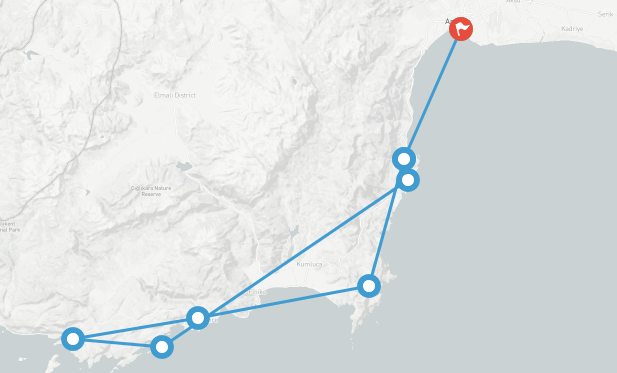 Day 1: Antalya Meet and Greet Day
Upon your arrival to Antalya International airport , meet and greet and transfer to Kemer (50 km – 1 Hour). Boarding will start by 15.30 pm. Service starts with dinner and an overnight stay will be in Kemer or a bay nearby.
Overnight: Kemer Meals: Dinner
Day 2: Olympos – Adrasan – Çavuş Bay
After breakfast, you will be informed about the cruise itinerary and the Gulet.
We will then sail to the ancient city of Olympos. Olympos, one of the most important port cities of Lycia, has been an element of mythological stories throughout history. 3200 meter long beautiful coast, endemic plantation, and its wooden houses used as pensions today. After lunch and a swimming break, we will be heading to Cavus Bay in Adrasan for dinner and overnight stay.
Overnight: Çavuş Bay Meals: Breakfast – Lunch – Dinner
Day 3: Demre – Çayağzı – Gökkaya Bay
Early in the morning, we will set sail to Demre. After a nice breakfast in Cayagzi, you can join the optional tour in Demre, to the ruins of Myra, a Lycia city which was also the city of the bishop St. Nicholas who was known as 'the protector' of the children, the poor, and the sailors in Byzantines' time and Andriake. Following this optional land tour, our yacht sails to Gokkaya Bay where we will anchor for dinner and an overnight stay.
Overnight: Gokkaya Bay Meals: Breakfast – Lunch – Dinner
Day 4: Tersane – Üçağız
After breakfast, we will cruise over Batik Sehir (Sunken City). We will be docking at Tersane Bay for lunch and a swimming break. For dinner and an overnight stay we will anchor at Ucagiz Bay. If you wish, you can join the optional Kas – Saklikent excursion which includes lunch in the program.
Overnight: Üçağız Meals: Breakfast – Lunch – Dinner
Day 5: Simena – Kekova
After having breakfast in Ucagiz, we will sail to Simena. You can take the chance to visit Genoese Castle and the ruins of a theatre with 3000 people capacity in Simena.
Overnight: Kekova Meals: Breakfast – Lunch – Dinner
Day 6: Porto Ceneviz – Phaselis
We will start our cruise early in the morning and arrive at Ceneviz (Genoese) Harbour or Sazak Bay. After lunch, we will anchor at Phaselis Bay. The city was also famous for the perfume trade in the ancient times. If you wish, you can walk around the antique town which is located on the seashore and full of antique ruins. Dinner and an overnight stay will be in this beautiful bay.
Overnight: Phaselis Meals: Breakfast – Lunch – Dinner
Day 7: Ayışığı Bay – Kemer
After breakfast, we will cruise to Ayisigi Bay for a swimming stop. Dinner and overnight stay will be in Kemer or a bay nearby.
Overnight: Kemer Meals: Breakfast – Lunch – Dinner
Day 8 : Farewell
Disembarkation by 10.30 am after breakfast. Transfer to Antalya Airport , end of our services
Book Now