Traditional Turkish Desserts
Introduction
Turkish Desserts – Among all the diversity and the culinary richness that you will find during your stay, don't miss Turkish desserts. In Turkey, desserts and sweets are often consumed between meals, in the afternoon, with tea or coffee (Turkish coffee, of course!). Such as many Turkish dishes,  most of the Turkish desserts can be found in other countries of the region (Greece, the Balkans, Armenia, Lebanon, Israel, and Syria) due to a common Byzantine and Ottoman past. Most of you probably know the famous baklavas and Turkish delights, and for some the künefe, but you will see that the Turkish cuisine also offers surprising desserts with pumpkin, cheese, and even chicken breast. Love it or not, Turkish desserts are worth tasting and will not let you indifferent. Here's an overview of the desserts that you can come across during your visit in Turkey.
Brief History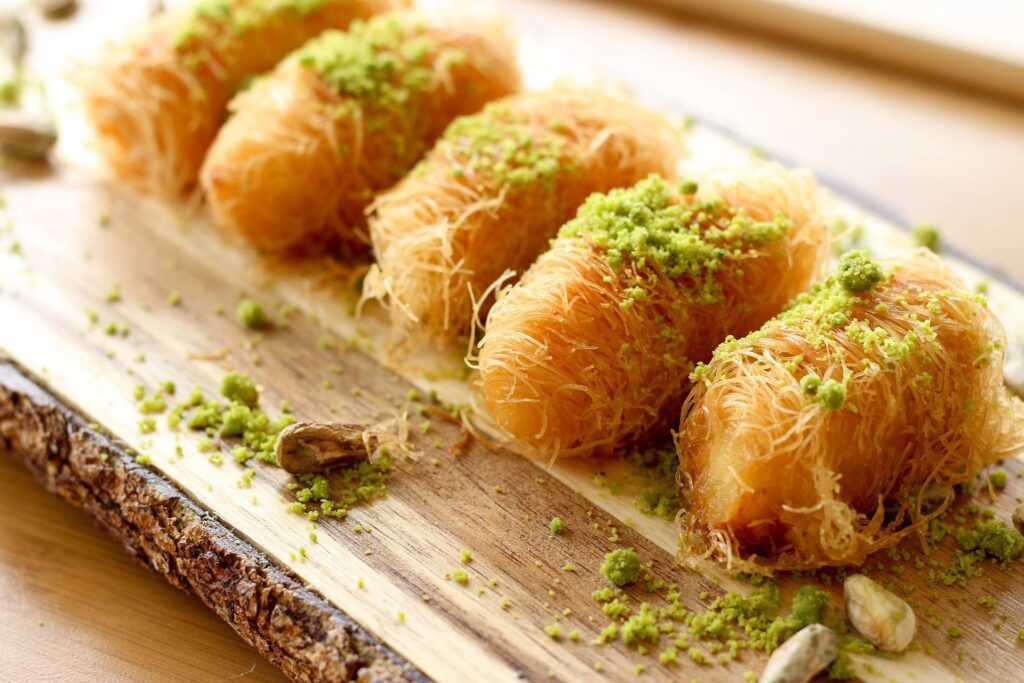 Turkish sweets have been indispensable in palace kitchens from the time of the Seljuk period, evolving throughout the Ottoman culture. It is not hard to understand why the dessert is dangerous. When plenty of flour, sugar, and calories come together, it means both great taste and you can gain weight. Our desserts are generally divided into two categories: syrupy and milky, but we can find many different types of desserts on our tables with a variety of presentation, taste, and content. Even though desserts are not on the forefront of cuisine culture in Central Asia, during the Seljuk period, desserts had a prominent place on the magnificent banquets that we call the palace cuisine. Especially in the Ottoman period, one-fifth of the 60-person palace culinary team consisted of confectioners. The desserts were served at the end of the meal, usually with syrup obtained by natural fruits. This tradition has reached our present day. Especially in recent Ramadan iftars, the traditional Turkish desserts are served with syrup again.
Turkish Desserts with Milk
Milk-based desserts are a favorite of home cooks, especially those with kids, but they're also loved by all. You'll even find them on the menus of the finest restaurants. Turkish puddings are usually thickened with flour, wheat or rice starch. They are sweetened with sugar and flavored with everything from saffron, rose water, and pine mastic to the vanilla, chocolate, and strawberries we all know and love. One popular dessert even contains finely shredded chicken breast!  Here are the best known and loved Turkish puddings, custards and milk desserts.
Sütlaç (Rice Pudding)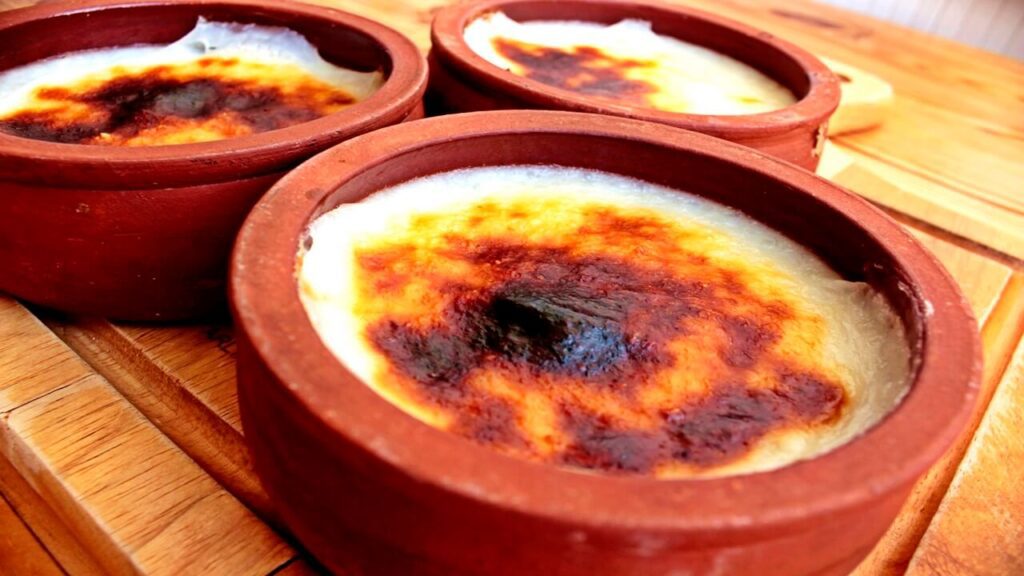 The rice pudding, which has been found on our tables since the Central Asian Period, is a wonderful kind of dessert composed of the words "milky food". Cinnamon is generally preferred as a sweetener for dessert where rice and milk are used in large amounts. The baked rice pudding attracts special attention with its unique aroma. Whole milk is gently scalded together with sugar, cooked white rice, and starch for thickening. Then it's baked in the oven, where it forms a golden, sometimes slightly charred skin on top.
Güllaç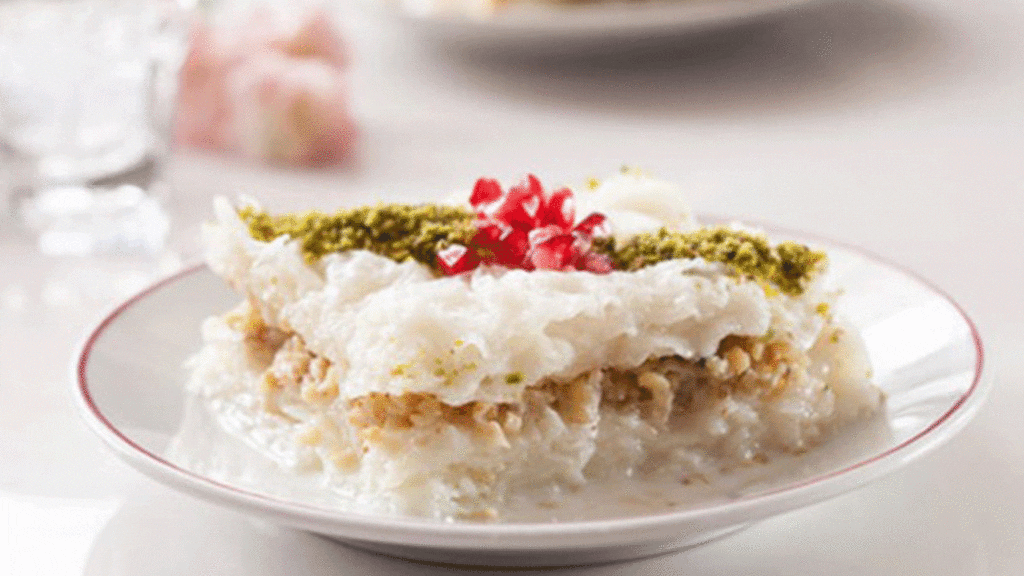 The güllaç is an Ottoman dessert that is found especially during the month of Ramadan, it is cited in a cookbook retracing the banquet celebrating the circumcision of the son of Suleiman the Magnificent in 1539. Considered as the ancestor of the baklava, the güllaç whose etymology comes from "güllü-aş" or "rose meal" has a unique texture with ingredients such as rose water, walnut, pomegranate, and milk. You can also find other fruits in some variants. To prepare güllaç you must dip very thin sheets of phyllo dough in some sweet milk, then once well softened, superimpose them in a plate. Once in every two or three sheets of phyllo dough, you sprinkle walnuts, hazelnuts, pistachios, ground almonds, or coconut powder. Then the dish is covered with the milk used for dipping, fragrant rosewater, and/or vanilla. Everything is usually decorated with a line of chopped pistachios and a candied cherry (or pomegranate seeds, if in season).
Tavuk Göğsü (Chicken Breast)
This is one of the most popular desserts in Turkey. It is very original because it is a kind of pudding made from chicken breast, rice, milk, sugar, and cinnamon. "Tavuk göğsü" means "chicken breast". The legend says that one night the Sultan was craving for something sweet but the cooks of the palace were in a panic because there were not enough ingredients to make a pastry. They had the idea to use chicken breasts to create this unusual dessert. In reality, tavuk göğüsü is very similar to blancmange, an English dessert from the Middle Ages. While this might seem unappetizing, we recommend you to taste one during your stay in Istanbul, you will be surprised!
Keşkül (Milk and almond pudding)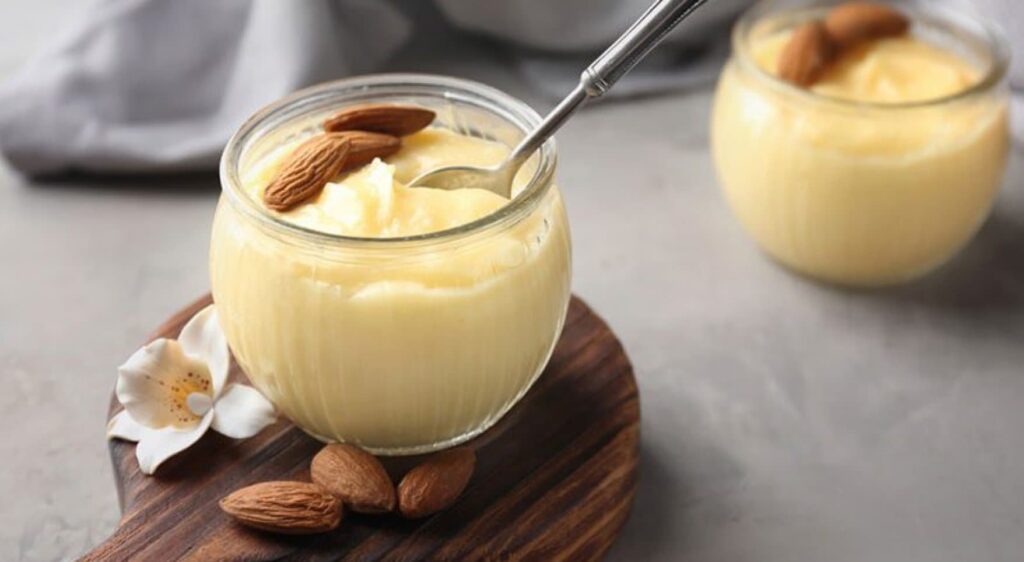 One of the desserts dating from the Ottoman cuisine to the present day, keşkül, achieves a beautiful aroma with the addition of almond and is also quite light compared to other desserts. In Ottoman times, keşkül was the name of the bowl that dervishes used to beg for money or any other goods in public. In that time, it was forbidden to beg without such a thing. Each dervish lodge had their own carvings and ornaments on their keşkül bowls, so if someone gave money or something else to the begging dervish, it would surely go to that specific lodge as a donation. The money collected with those bowls would then be used to make this milk pudding and served to the poor again using the same bowls. Therefore, the name of the pudding eventually got the name of the bowl, keşkül, coming from the Ottoman saying, "Keşkül-ü Fukara (Poor Man's Keşkül)". If you are at all familiar with the famous painting by Osman Hamdi Bey, an Ottoman artist and intellectual, called "The Tortoise Trainer", you can see a keşkül bowl carried by the trainer himself on his back. The painting dates from 1906 and 1907 (there are two versions) and it depicts an old man dressed in old clothes dating before Western reforms in late Ottoman period, attempting to train tortoises using his musical instrument, ney. It is a satire of the ineffective and slow attempts of reforming Ottoman Empire at the turn of 20th century.
Kazandibi (Caramelized Pudding)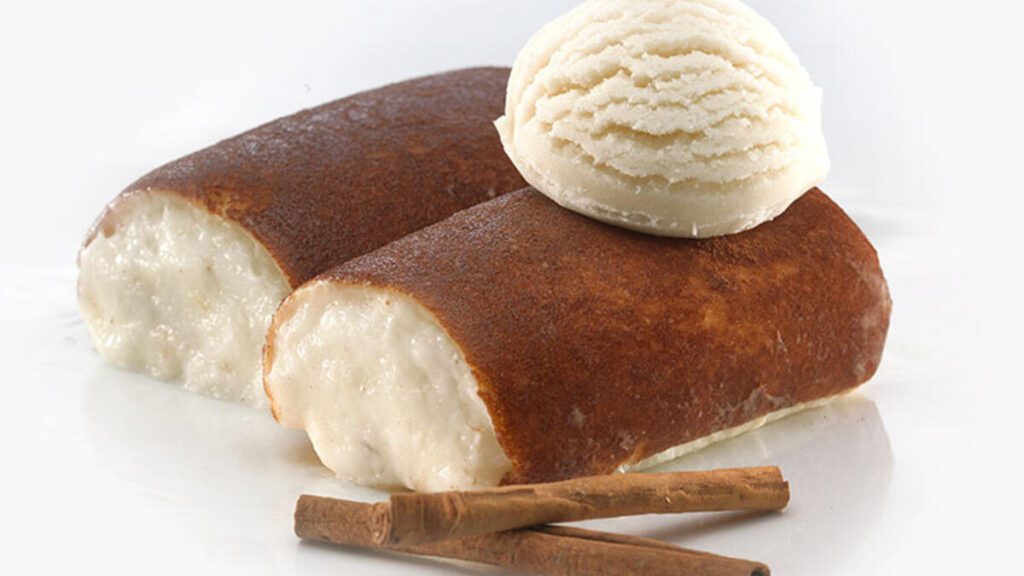 In Turkish kazandibi means "the very bottom of the pan." That's exactly where this dish comes from. Kazandibi is pudding caramelized on one side and is another Turkish dessert classic. 'Kazandibi' is actually Turkish 'chicken breast' dessert that is cooked a second time in a metal tray to caramelize one side of the pudding. It's very thick and usually eaten with a knife and fork.When the overcooked pudding is scraped off in long, wide strips, it's folded into portions with the darkened side up to make a roll. The caramelized outer layer gives the pudding a hearty, earthy flavor that contrasts well with the sweet, milky layer left on the inside. Like chicken breast pudding and other milk-based desserts Turkish cuisine is known for, kazandibi holds a special place in the hearts of adults and kids alike.
Where to try Milky Desserts
Turkish Desserts with Syrup
Baklava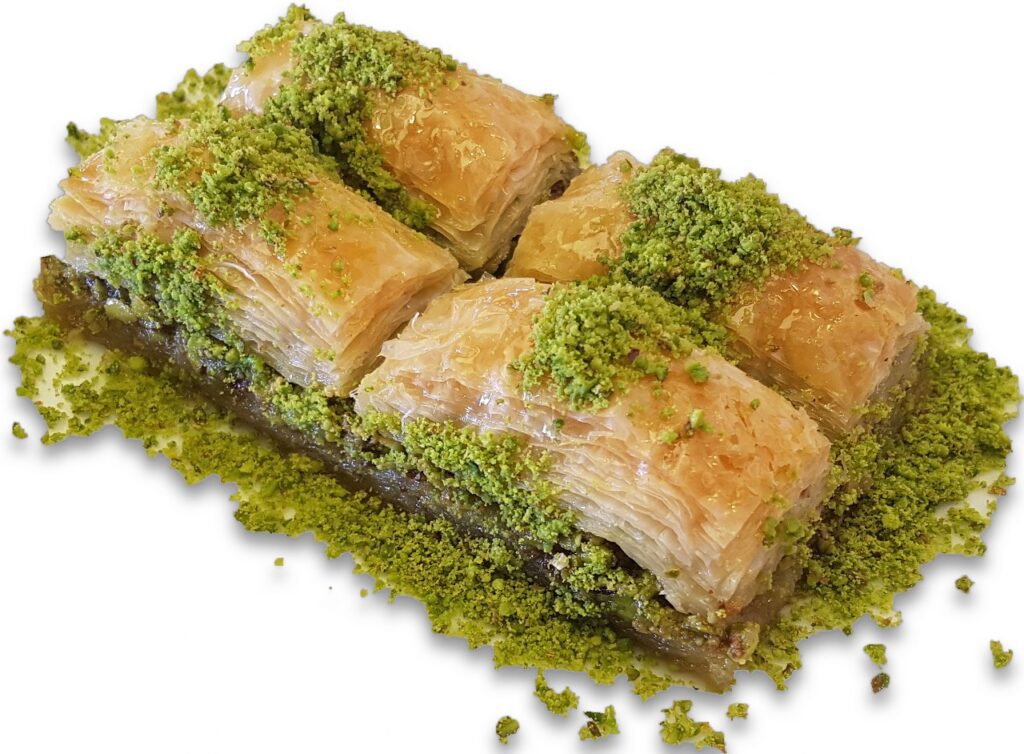 Baklava is made of wafer-pin phyllo and it is an indispensable dessert, especially for bayram (religious holidays). Even though it is known today that baklava is prominent in the Gaziantep region, different types of baklava are made in almost every part of Anatolia. Baklava with walnuts and pistachios, along with plenty of syrup, is one of the most dangerous desserts. Read more about ultimate baklava eating guide.
Kadayıf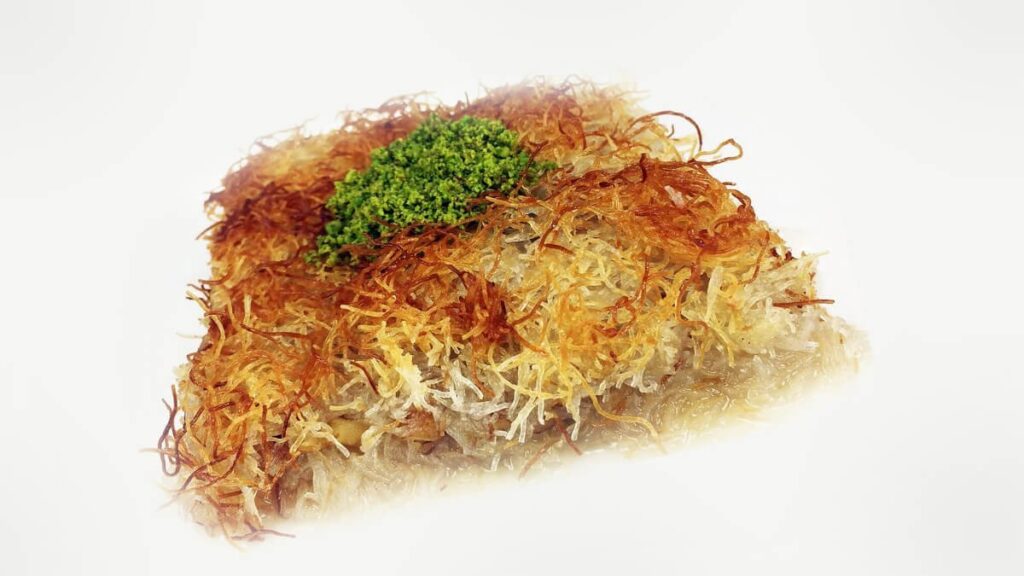 Kadayıf is a dessert with plenty of syrup and it is served with pistachio and ice cream. Varieties of kadayıf date back to the 10th century. Further, künefe that is famous in the Hatay region, is also made of kadayıf and cheese and served hot while kadayif is served cold.
Künefe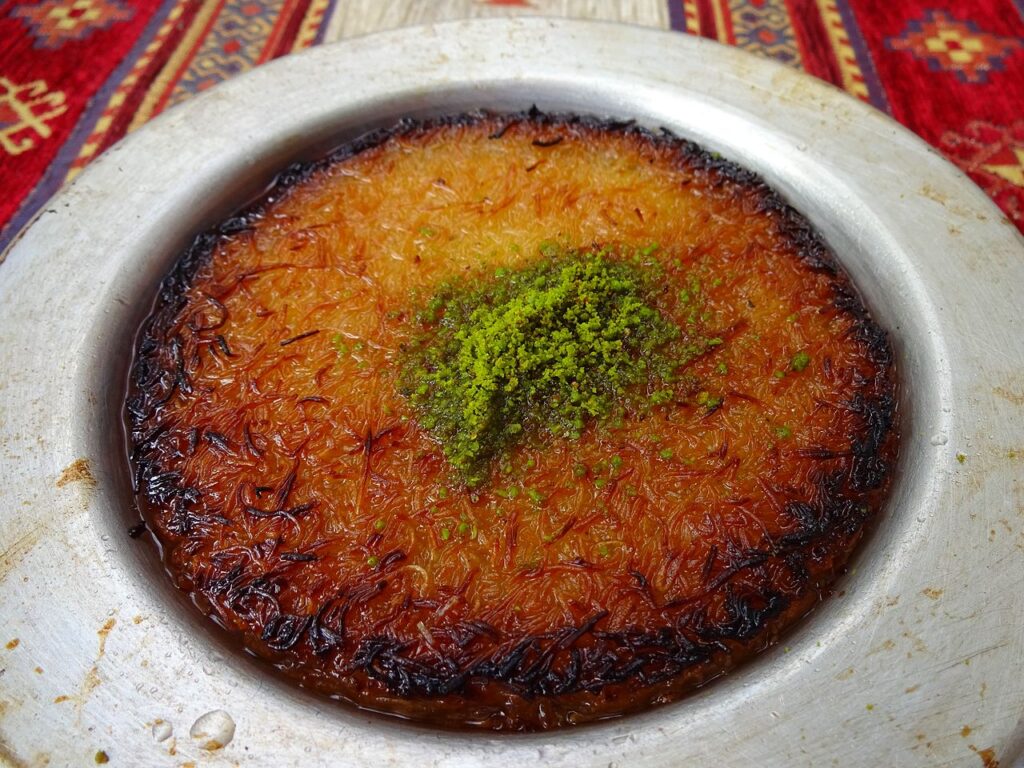 The künefe is a sort of kadayif dessert with cheese that is traditionally eaten in kebab restaurants. It is usually not found in pastries, because it must be eaten hot. Originally from the south of Turkey, it is made from angel hair, a Turkish cheese called dil peynir (local version of mozzarella) butter, and sugar syrup. We strongly recommend you to taste one with warm Turkish tea.
Revani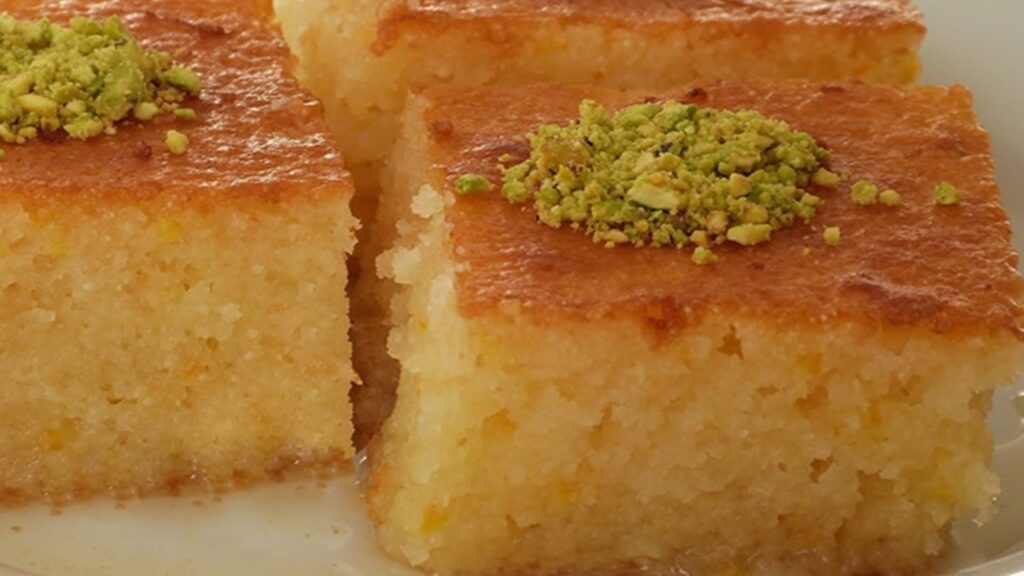 This cake consisting of a mixture of semolina, wheat flour, eggs, sugar, oil, yogurt and lemon zest is baked and sweetened with a syrup of water, sugar and lemon juice.
Şambaba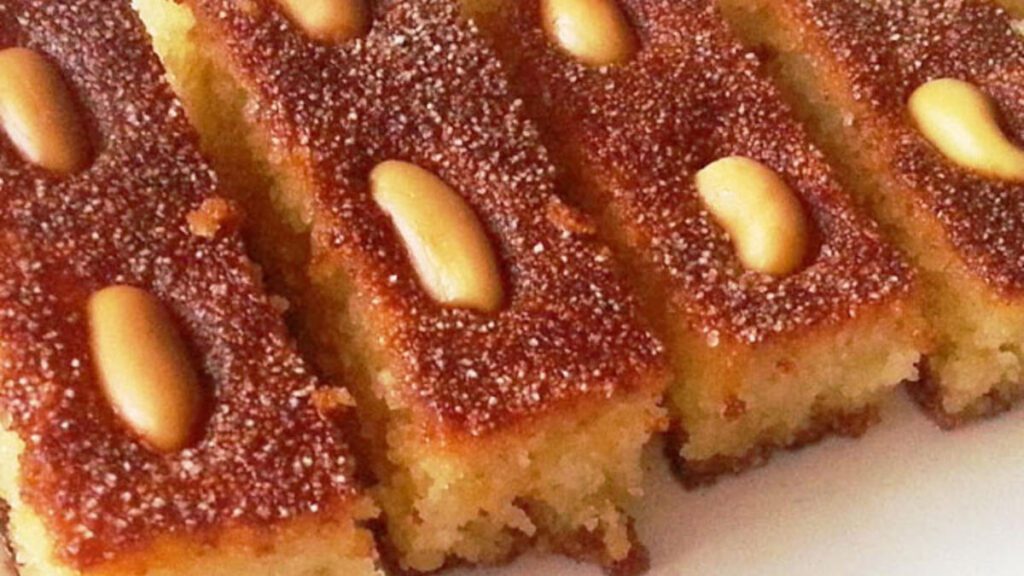 Şambaba dessert was sold frequently on the streets in in the past but its popularity slowly faded. Special care needs to be taken to get the consistency of the syrup right to enrich its aroma.
Dilber Dudağı (Sweetheart's lips)
A kind of baklava, re-spreading the imbricated dough that is used in making baklava makes Dilber Dudağı. It is very delicious with its crunchy consistency and hazelnut spread.
Kerebiç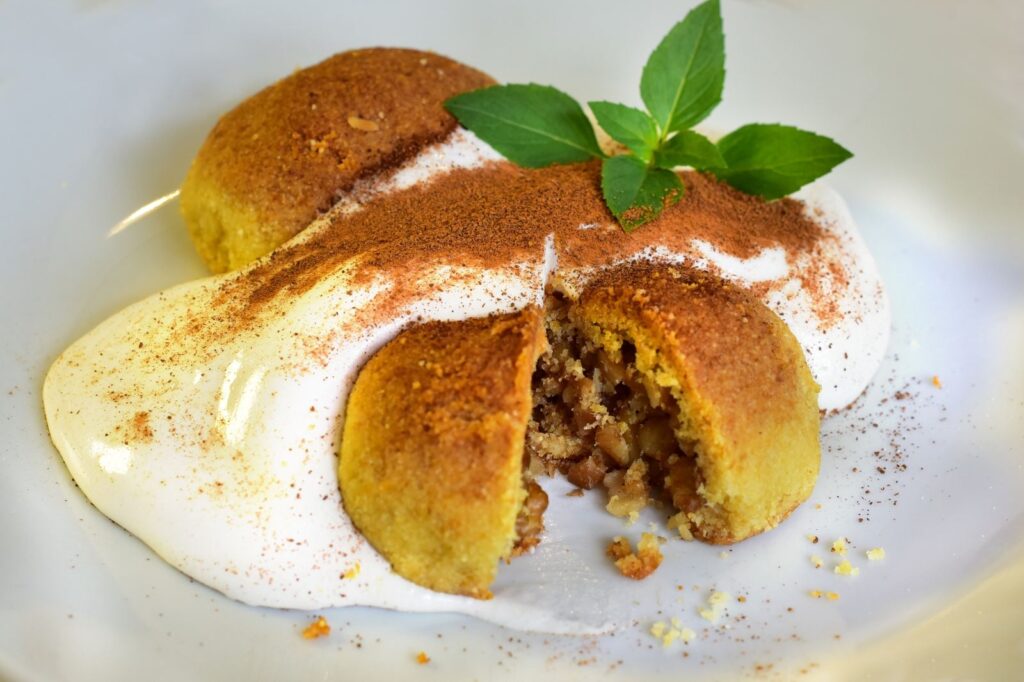 Among the authentic desserts with syrup is the kerebiç, which belongs to the Mersin region. It is served with the foam of soap root. In Gaziantep region, there is a dessert like this named gerebiç. In Mersin, kerebiç is still served in the local shops in a traditional manner, with a wooden spoon.
Kemalpaşa Dessert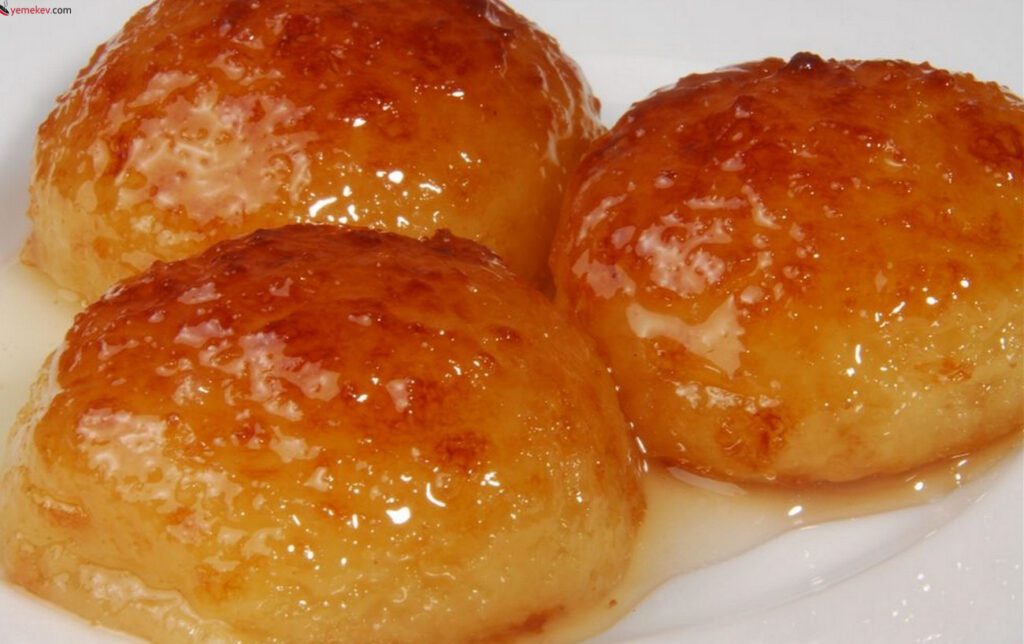 Kemalpaşa dessert is made of flour and semolina and is flavored with special cheese. It is delicious with its gummy consistency. If you go to the district of Kemalpaşa in Bursa, you need to taste this dessert.
Where to try desserts with syrup
Karaköy Güllüoğlu : The main place is in Karaköy. Karakoy Gulluoglu is the most famous baklava shop in Istanbul. If you want to eat the best baklava in Istanbul you should go to Karaköy Güllüoğlu.
Saray Muhallebicisi – Istiklal Avenue : Saray Muhallebicisi was opened in 1935 and it's one of the most popular dessert shops in Istanbul. It also has a branch on Istiklal Street. It's one of the good options to eat both delicious Turkish dishes and desserts if you go to Istiklal Avenue. It's one of my favorite restaurants that I visit during my tours too.
Baklavaci Ali Usta – Sirkeci : Although the name suggests it's a baklava shop, its kadayif (sweet and crispy phyllo dough) is equally delicious at Baklavaci Ali Usta. Especially, its milk kadayif is a great choice in the summer months. If you are not worried about how many calories your dessert contains, you can also try rolled kadayif with walnuts at Baklavaci Ali Usta too.
Very Special Sweet Tastes
Helva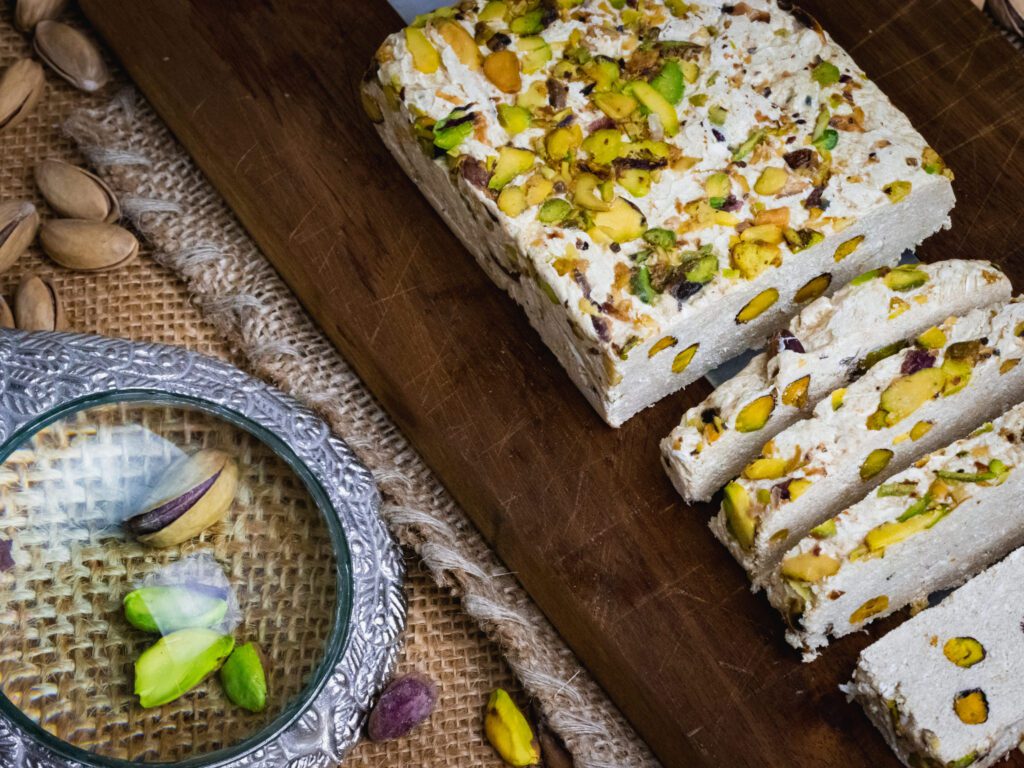 You can see it everywhere in Turkey, helva, whose etymology comes from the Arabic "halva" which means sweet, designates several desserts made with tahini (sesame paste). These are mostly consumed outside meals. The three types of most common helvas are :
Tahin helvası: it is a compact helva with a sesame base. It is usually sold in the markets and in candy shops.
İrmik helvası: it is a helva made of semolina also called the "winter helva", it is often served with a scoop of ice cream.
Un helvası: it is made from wheat flour. You won't find it in-store, as it is a homemade dessert. It is a Muslim tradition to prepare helva and distribute it to neighbors the 7th day, 40th day, and year following a death.
Pişmaniye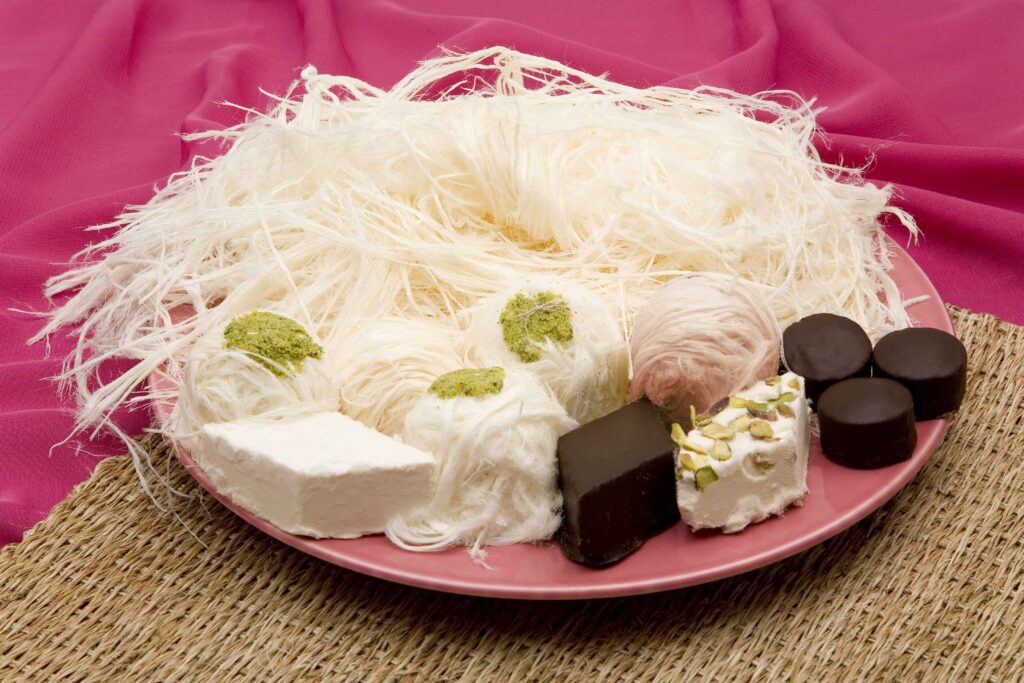 Piled in heaps like mesh-wire or rolled into snowball-sized spheres, pişmaniye typically comes in ready-made gift packages, ubiquitous at inter-city bus stations. It is basically hair-thin threads of candy tossed in a mix of roasted flour and melted butter, ending in a feathery light confection that is fun to eat. Pişmaniye, or its Ottoman period variations peşmek or peşmani, derives from the Persian word pashm, meaning wool (think pashmina scarves), which pays homage to its look. A common misconception is that the name is derived from pişman (regretful), given the vast amount of melt-in-your-mouth pişmaniye one can consume at a time.
Aşure (Noah's pudding)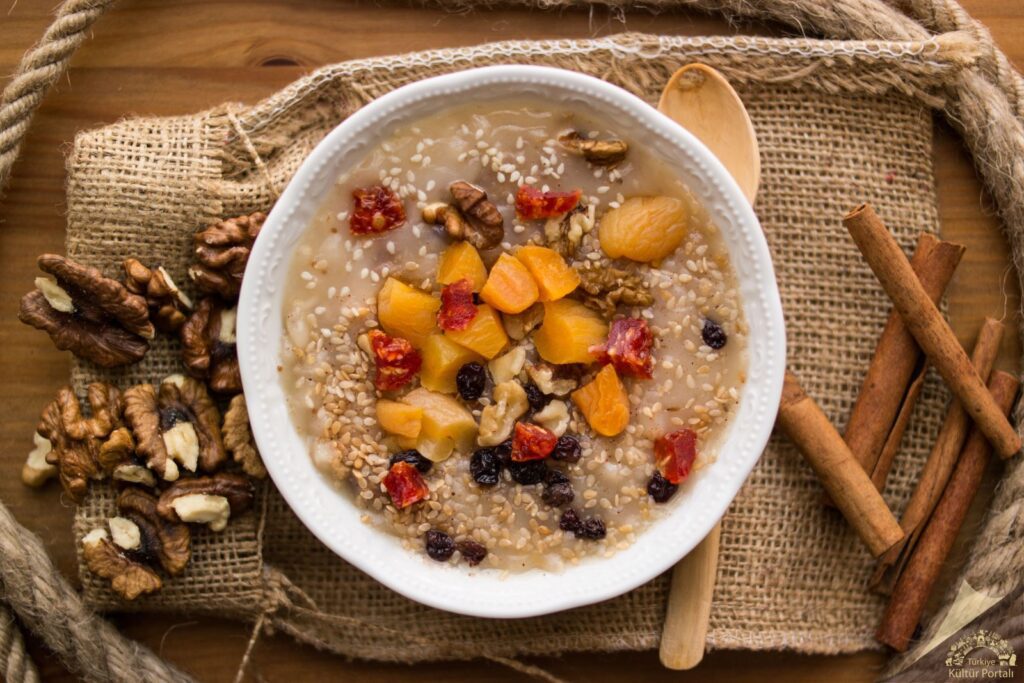 The story of aşure (read as ashoura) that occurred with a religious metaphor is quite interesting. When the Great Cataclysm occurred during the time of Noah, the food of those who remained on the ship gradually decreased. Descending supplies were brought together and a meal was cooked. In this way, the type of food that we call ashoura has been carried out in Anatolia with different traditions. In some places, mothers who have only daughters are cooking ashoura. With its unique taste and aroma, ashoura is one of our extraordinary desserts
Höşmerim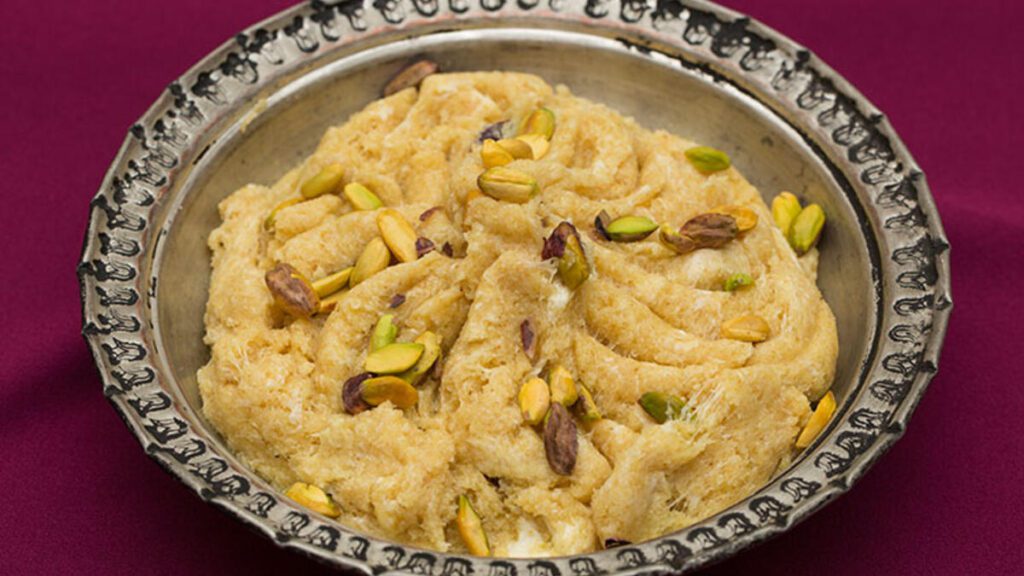 This over 500 year old dessert is from the west of Turkey, the city of Balıkesir. Roasted semolina is sweetened with a syrup of milk, water and sugar. The most important ingredient of höşmerim is dil peyniri, an unsalted mozzarella like cheese. It melts and mixes within the rest. The dressing elements are cream, almond, walnut, shredded coconuts or caster sugar.
Ayva Tatlısı (Quince Dessert)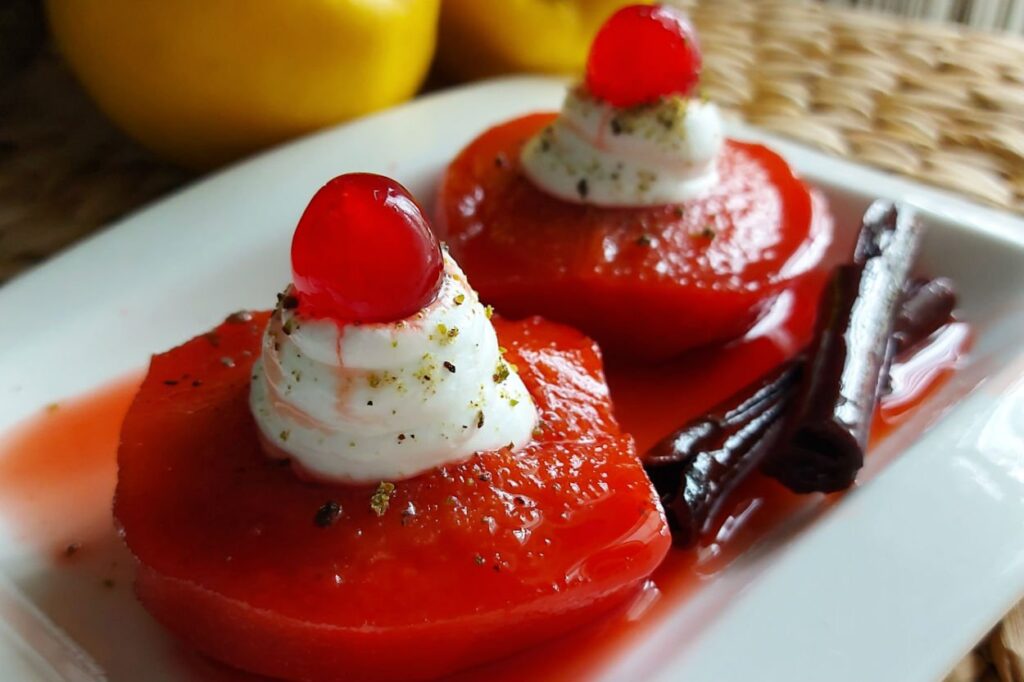 "Ayva tatlısı" means quince dessert. These are half quinces cooked in a light syrup, then in the oven, and finally into a thicker syrup. After over an hour of cooking, the quince is very tender and sweet, and is eaten with a spoon and always served with "kaymak" which is a delicious buffalo milk cream. It is also sprinkled with pistachios or walnuts. There is also an alternative version with pumpkins called "kabak tatlısı".
Kabak Tatlısı (Nut Pumpkin)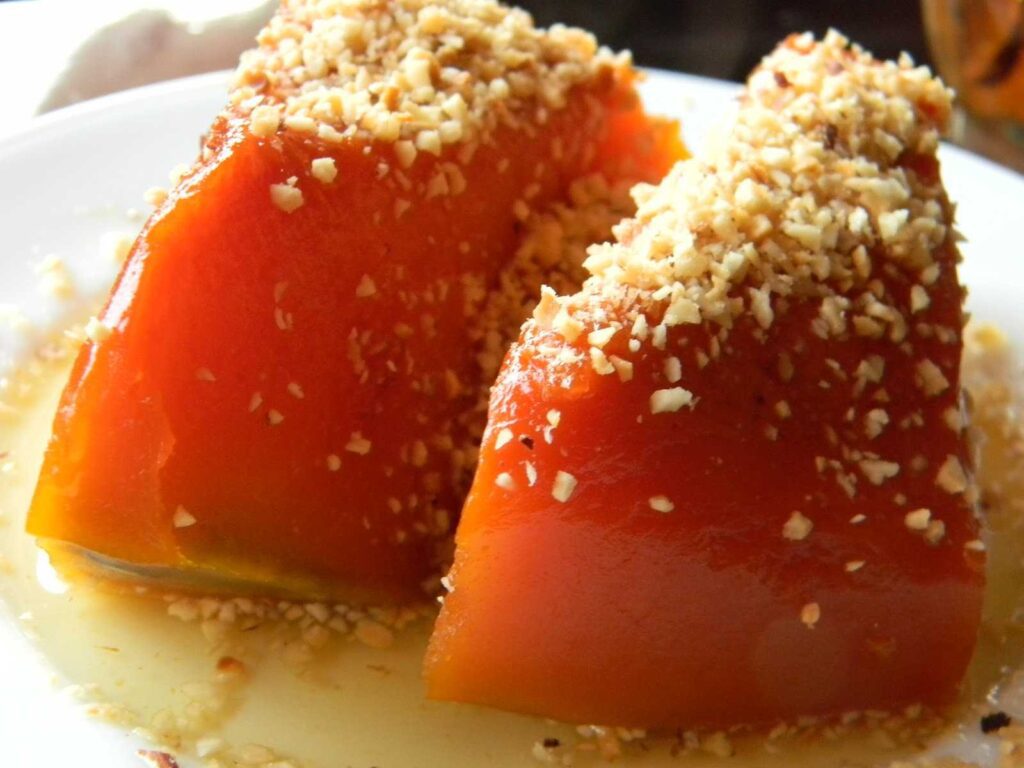 Anatolian people use the products of the geography very well. Nut pumpkin was commonly enjoyed at the palace table of Ottoman. Decorated with hazelnut and walnut, nut pumpkin is a delicious dessert.
Turkish Delights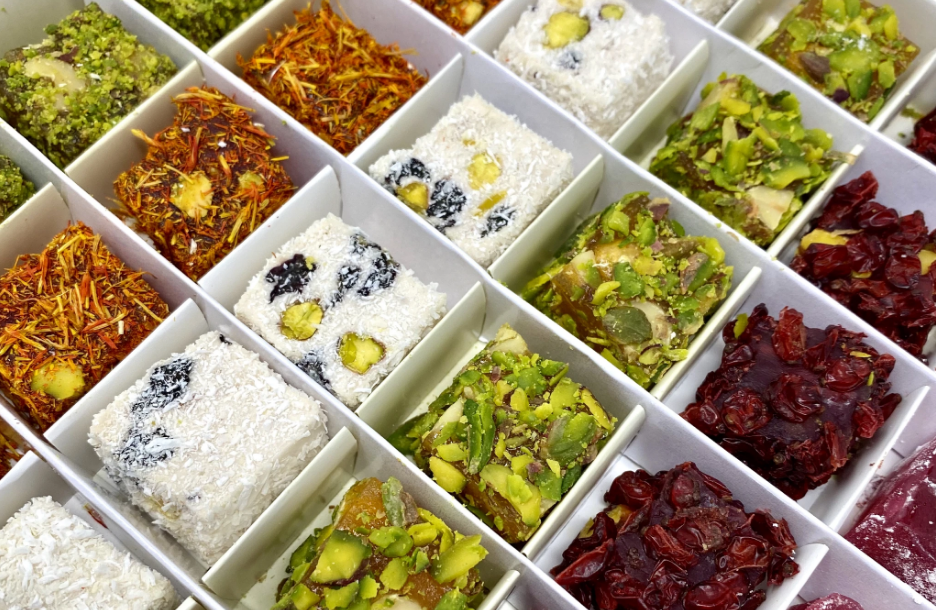 Turkish delights are sweets known worldwide and spread throughout the Mediterranean basin, but they are originally from Istanbul. They were invented in 1776 by the Ottoman confectioner: Hacı Bekir. First known as the "rahat lokum", meaning "rest of the throat" in Turkish, because these fluffy bites were nice to chew, the Turkish delight is made from cornstarch, sugar, and fruit paste or nuts. It was a widespread candy among the ladies of high society during their afternoon teas. Turkish delights were also used as a love proof among couples. Read our special article about Turkish Delight