Top Rated Islands in Turkey
Turkish Islands –  Turkey is a land of history and scenery. When you want to explore the country's strong connection to powerful empires of a long history, there's the mainland, with its historical ruins and grand buildings. But for those seeking a tranquil experience away from the chaos of daily life, the numerous idyllic islands surrounded by clear blue waters and magical sandy beaches offer such peace and beauty that you wouldn't want to leave.
The mild blue waters surrounded by virgin islands make for some of the best spots in the country.  Those needing some hiking, camping, or just some good old swimming while enjoying fresh unpolluted air will also love these islands.
These islands are perfect for strolling with their quiet cobblestone streets lined with charming houses and immaculate gardens. Many of these islands are so alluring that it is often difficult for visitors to choose which ones to explore.  Some islands are destinations within themselves for summer breaks, while others make interesting day trips while on your travels. Even the sprawling metropolis of Istanbul has an island group just a ferry ride away for those who need a breather from city slicker life.
Discover the Best Islands in Turkey with Eskapas
Turkey has around 500 islands, and these seven barely scratch the surface. Nonetheless, they are an excellent place to start if you want to explore Turkey's collection of enchanting islands.For a better touring experience of this beautiful country's islands and many other gems, book a tour with us today!
Choose the islands to add to your travel itinerary with our list of the best islands in Turkey
Princes' Islands
If you are familiar with Istanbul, you have probably heard of the Princes' Islands that sit in the Sea of Marmara. The islands are a famous escape from the hectic city life and have won both tourists and city residents' hearts with their quiet and peaceful aura.
The islands in the chain that are open to the public include Buyukada, Heybeliada, Burgazada, and Kinaliada. All islands have quiet streets perfect for strolling since no vehicles are allowed. Visitors here enjoy peaceful walks along streets lined with beautiful wooden Victorian-style mansions and decorated by gardens.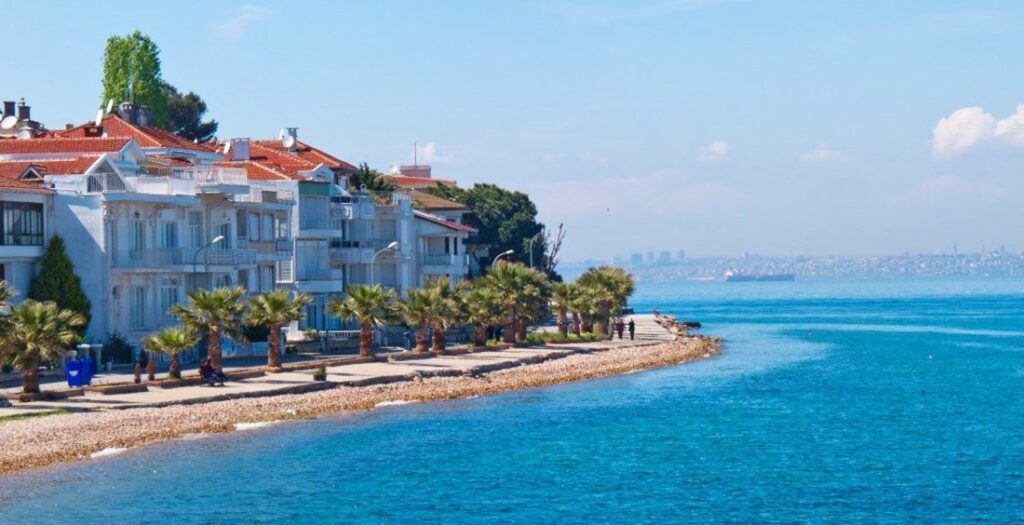 There are various lookout points in the islands that will give you panoramic views of the sea and Istanbul. Since motorized vehicles are not allowed on the island, it is a perfect opportunity to do cycling or hop on electric public transport to explore the exciting spots. For the best experience, avoid visiting the islands during the weekend since they are usually crowded.
How to get there: there are ferries connecting the islands to Istanbul.
Gokceada Island
Gokceada island is another Aegean Sea special only this one is famous for untouched natural beauty and a unique landscape. The island sits west off the coast of the Gallipoli Peninsula and treats island fans to nature's charm with a rural feel. Home to numerous multi-colored pines, dense olive groves, and clean waters, this island attracts foreign and domestic travelers alike. In the Iliad, Homer refers to Gokceada as the island of Poseidon.
During the summer, visitors enjoy the lovely Turkish beaches of Aydincik and Kapikaya. Windsurfers also get to surf the waters at Aydincik beach. In winter and spring, tourists get to spot the glamorous pink of flamingos at the island's Salt Lake. Mountain biking is also a popular way to explore the island.
Greek-style villages are also a thing here, but this is more of a nature-lover paradise. Those who manage to visit the island during the off-peak periods get to make the most of this peaceful place. However, this does not come easy! During the off-season, you need to keep an eye on the ferry schedule as they might get canceled for the whole day due to bad weather.
How to get there: regular car ferries from Kabatepe and a passenger-only ferry from Canakkale (twice a week).
When to visit: the summer months of June -September is ideal
Bozcaada Island
If you are all about the Grecian aesthetic while enjoying that laid-back island feel, Bozcaada Island is the place for you. One of the Turkish islands in the Aegean Sea, the former Greek island is Turkey's third-largest island. For Turkish city-siders looking for high-class, stylish beach vacations, this island in the Aegean Sea is a relaxed getaway heaven.
Once called by its Greek name of Tenedos, the island became part of the modern state of Turkey in 1923. Inter-communal violence during the 1960s and 70s forced most of its Greek residents to emigrate, but its Ottoman Greek heritage is still visible in the preserved architecture of Bozcaada Town. Bozcaada is rimmed by sandy shores and has an interior filled with vine-covered fields. With a year-round population of just 3,000, the island only kicks into high gear during the June to September tourist season.
On weekends during summer, Turks flock here to lounge on Ayazma beach on the island's southern coast or head to windy Cayir Beach, on the northern shore, for water sports like windsurfing.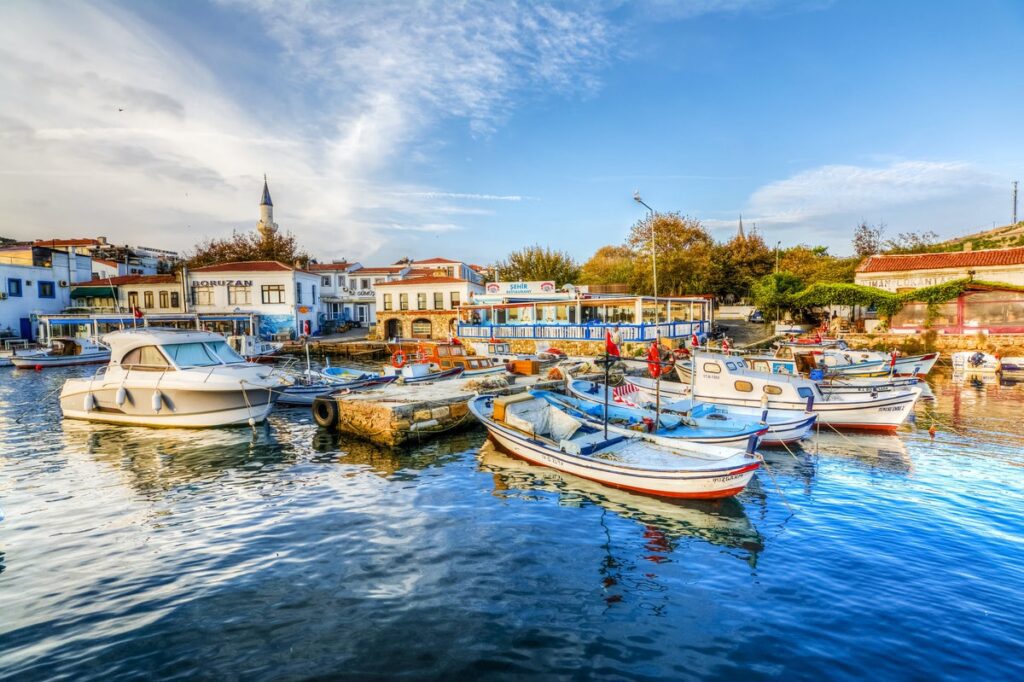 The island is famous for its gorgeous houses, windmills and vineyards, a few historical monuments, and captivating Turkish beaches next to the Aegean's cool, clear waters. Its streets are absolutely wonderful to stroll along, with colorful window panes on either side, enhancing the island's already picturesque look.
Bozcaada's famous vineyards are a source of a sweet wine culture that gives the island's visitors company during their stay. On top of this, you can enjoy a wide variety of seafood in the numerous restaurants that dot the town. The sandy shores and quiet coves next to the cold sea waters make for a great relaxing spot during summer. Bozcaada Island is also a must-visit when exploring the island.
How to get there: ferryboat transportation service from Canakkale.
When to visit: the summer months of June -September is ideal for enjoying the sandy beaches.
Cunda (Alibey) Island
Also called Alibey Island, Cunda sits just offshore from the North Aegean Coast town of Ayvalik and is linked to the mainland by a causeway. Cunda's Ottoman Greek residents were included in the Turkish-Greek population exchange of the 1920s, part of the peace treaty between the two nations. While they were forcibly moved to Greece, ethnic Muslims from Crete were forced to move here.
The island's historic old town contains many remnants of Ottoman Greek architecture and is prime aimless strolling territory. The finest building in town is the Greek Orthodox Church of the Archangels, which is now used as a museum. Many people make the short hop to the island from Ayvalik simply for the great dining-out scene. Plenty of the atmospheric cafés and restaurants (mostly clustered around the old town harbor) specialize in Aegean-style eating, blending elements of both traditional Cretan and Turkish fare.
Much of the island's western side is taken up by the protected Ayvalik Adalari Nature Park, where a trail leads through pine forest to the ruins of a Greek Orthodox monastery. The western coastline is home to the island's main beaches, which are popular swimming stops with boat tours from Ayvalik, as well as people staying on the island itself. Because of the proximity to Ayvalik, Cunda is often a day-trip destination, though it does have a range of small hotels, pensions, and a few boutique hotels.
Heading to Cunda, frequent ferries shuttle directly between Ayvalik harbor and Cunda harbor, which fronts the old town. Alternatively, you can hop on one of the frequent minibuses that zip between Ayvalik and Cunda via the causeway, heading to either the beaches or Cunda harbor.
How to get there: you can visit the island by a 15-minute boat ride from Avyalik. You can also get there on a minibus via the causeway connecting Ayvalik to Cunda.
Gemiler Island
Also called St. Nicholas Island, Gemiler is a popular stop on boat day-trip excursions from the beach resort of Ölüdeniz, as well as multi-day yacht tours heading along the coast from Fethiye. The ruins of five Byzantine-era churches sit in the rocky island hills, along with tombs and remnants of other religious-complex buildings. More history-minded travelers disembark to hike up to the ruins, though most visitors are happy to just view them from the sea.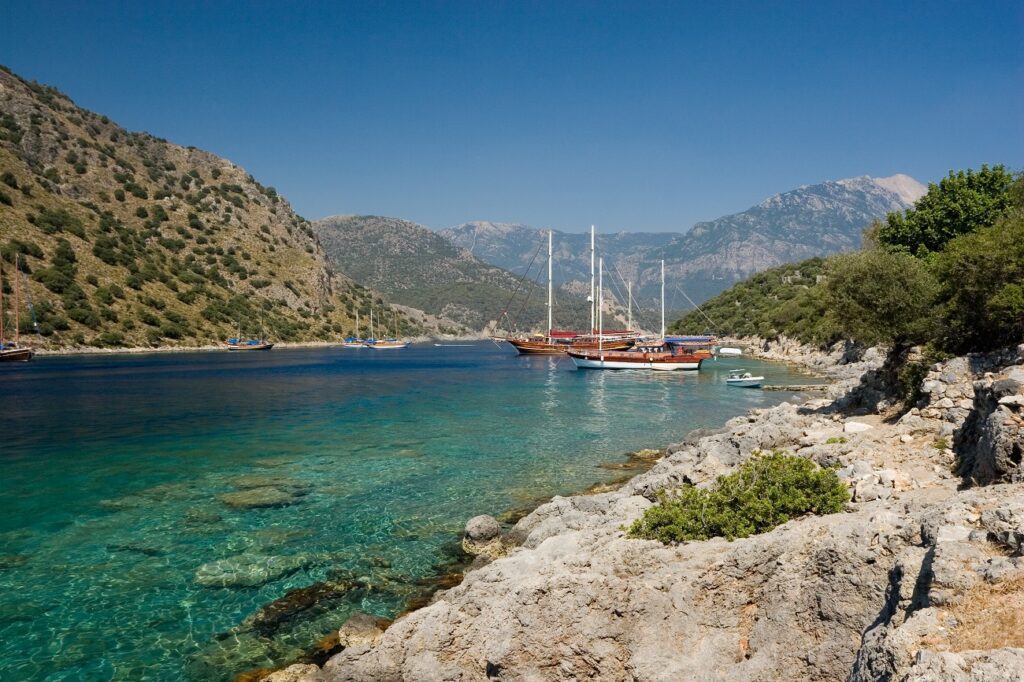 The island gets its English nickname, as it's believed by some historians that Gemiler may have been the location of the original tomb of St. Nicholas (aka Santa Claus), who was born in Patara and later became Bishop of Myra (modern-day Demre).
To get to the island without taking a group tour, head to stony Gemiler Beach, on the shore directly opposite the island, where small motorboats do return island trips, and kayaks can be hired
Kekova Island
People head to Kekova Island not for the island itself, but for what lies in the water along its shore. Boat and sea kayaking trips come here to view the submerged remnants of ancient Dolchiste (referred to today as simply "the sunken city") destroyed by an earthquake in the 2nd century.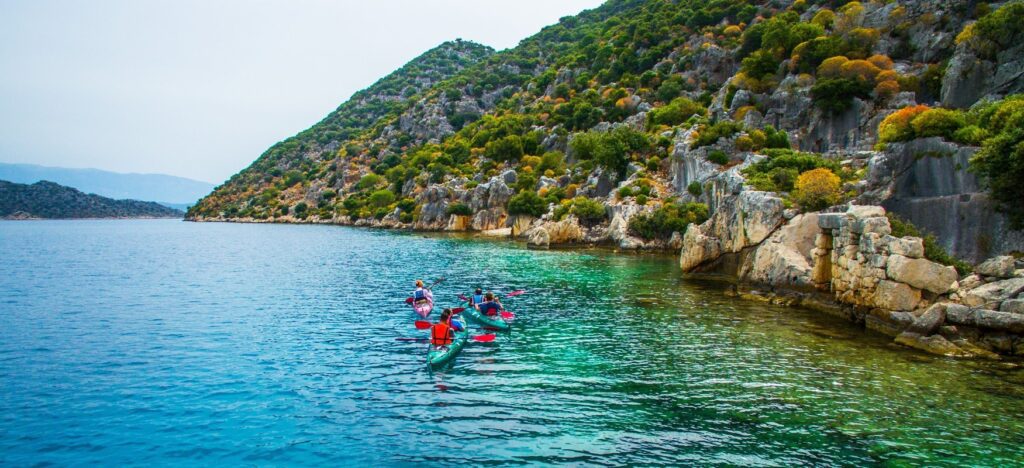 The entire surrounding area is fascinating to explore and one of Turkey's most astonishingly beautiful sections of coastline. Partially sunken tombs speckle the harbor waters of the village of Kaleköy, directly opposite the island. While Kaleköy itself is topped by a fortress and scattered with the ruins of ancient Simena.
Most people arrive on tours arranged in Kas, (33 kilometers to the west) but there is also a handful of boutique hotels and pensions in both Kaleköy and the nearby harbor village of Üçagiz (four kilometers west) if you're looking for a rural retreat.
Chios Island
Technically, Chios is a Greek island. But it's so close to Turkey – just four miles from the resort town of Cesme – you can practically swim to it. Chios has many stunning sights to see. Start by visiting Mavra Volia, a stunning black-pebble beach. The water is a beautiful shade of aquamarine, but be warned, it's a bit chilly. Up in the hills, you'll find the Nea Moni Monastery, another must-see. The 11th century Byzantine monastery is rich in history, and it's beautifully adorned in mosaics.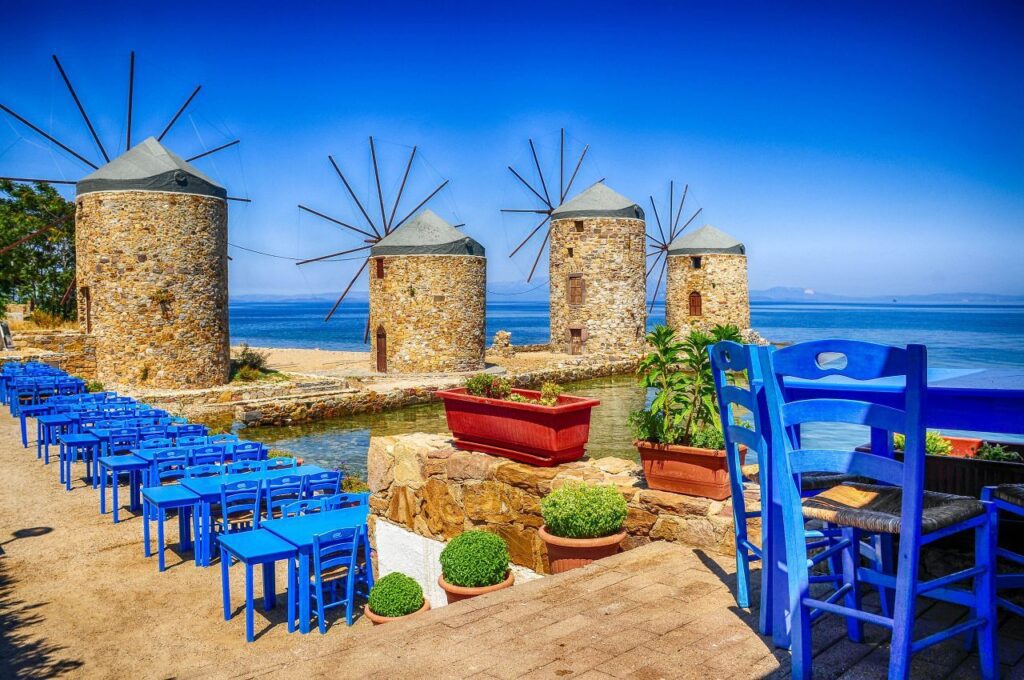 Where to Go: The most scenic beach on the island is Vroulidia Beach. Nestled against impressive limestone cliffs, the beach is known for its turquoise warm waters that are perfect for swimming.
Why It's Great: The closest Greek island to Turkey, Chios offers the perfect excuse for another stamp in your passport. The island is absolutely beautiful, as well, and offers something for everyone.
Meis Island
Although a Greek island (called by its Greek name Kastellorizo outside of Turkey), most visitors to Meis are day trippers from Turkey due to the island's position just offshore from the resort town of Kas. The island's pastel-washed village, hugging the harbor, is a photogenic delight, but most people disembarking from the ferry are here to take a boat trip to see and swim within the blue cave on the island's coast. For something more active, there are also hiking trails across the island's hilly interior, with stunning views and some old church ruins along the way.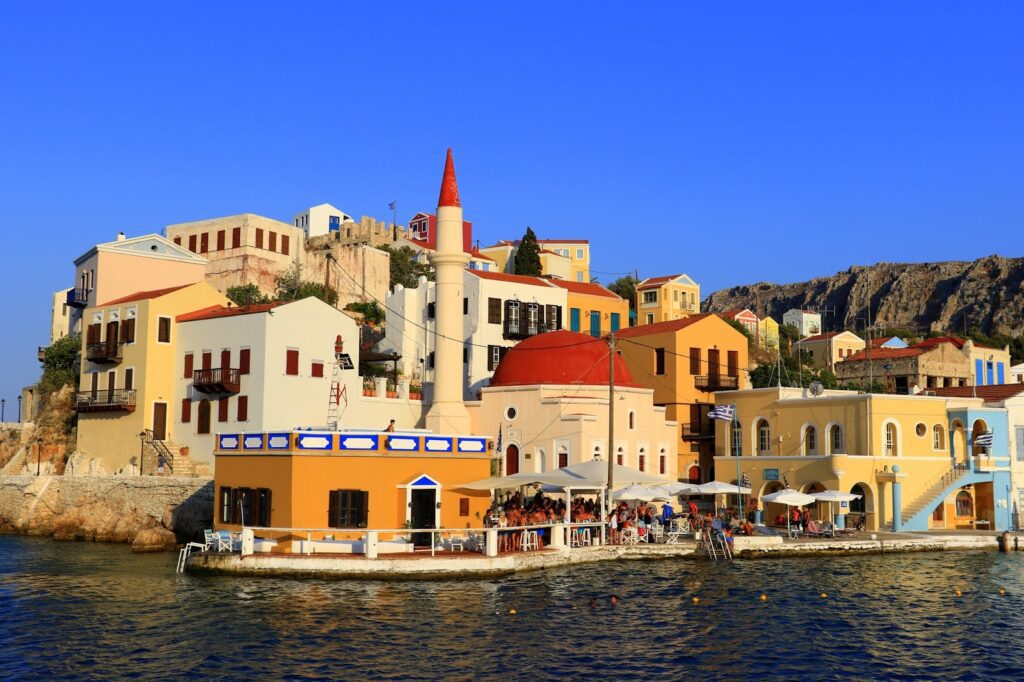 Daily return-trip ferries leave for Meis from Kas harbor, year-round. You need to bring your passport when you buy your ticket. Kas has a huge amount of accommodation, ranging from family-run pensions to stylish boutique hotel options.