Greece Family Tours : It is not easy to choose which island to visit in Greece with kids. After all, there are over 6000 and some of them are not suitable because of nudity, partying etc
Our top 3 Islands for family vacations in Greek Islands are Crete, Corfu, and Rhodes. These islands are the large Greek islands and incredibly popular with overseas visitors. They share a history of Venetian rule still visible in beautiful castles, historic towns and fortified ports. However, each island also has its own unique character and something different to offer.
Crete
Due to its size and sheer variety, Crete is our number one recommendation for family vacations in Greece. Crete is the largest island in Greece with something to do for everyone. There are hundreds of sandy beaches in Crete with shallow crystal clear water. If you prefer to be active and explore the great outdoors, you can go hiking, kayaking, or cycling. Archaeology fans will love the world-famous Minoan Palace of Knossos and other lesser-known archaeological sites such as Gortyna or Aptera. Crete also offers countless family workshops such as cooking classes, farm visits, and themed walking tours. The palace of Knossos is so famous, it doesn't really need much of an introduction. What perhaps does need mentioning, are our special family tours designed with kids in mind. Our carefully chosen guides use interactive games and puzzles to make visiting Knossos an experience your kids will always remember. They'll come away having learned a lot, and most importantly, having had fun!
Take your pick from these kid-friendly activities to do when visiting Crete during your next family vacation in Greece. Here's the best things to do in Crete with kids. Crete has a very different approach to catering for kids than other countries do. Instead of kid-friendly menus, you can expect tasty home-made cooking. Instead of fake theme parks, there's cultural experiences, and there's a general sense of social inclusion simply not found elsewhere.
Knossos and pottery workshop
Together with your guide you will see the oldest civilization unfold before your eyes and you will be able to get the best out of your visit of this magnificent structure. Under the guidance of a local crafts person, you will find out about the process of creating pots and vases, as well as having the opportunity to make your own. If you've never tried pottery before, this activity will prove to be a memorable experience, and the kids will absolutely love it.
Percy Jackson tour of Knossos
For the lovers of mythology and Hollywood Narrative this is the tour for you! Wander, touch see for yourself the paths where your mythical heroes lived and acted! Tridents of Poseidon, a Labyrinth, the stone throne of King Minos and ancient path to the sea walked by those brought to Knossos for the Minotaur!We also offer to the visitors of Knossos a mini iPad tablet which, virtual and augmented reality, can see a representation of the site as it was before, in real time. When the visitor is inside Knossos, can use a tablet and aiming towards the ruins of the site to see a complete matching of all the monuments around it, as it was in ancient times, in three dimensions and 360°. In addition, the user can enter virtual inside buildings even if the place cannot be visited or not there today. Related: Greece Family Tours
Greek National Football Museum in Chania
Are your kids football, or should we say soccer fans? If so, they will love the Greek National Football Museum in Chania! Whilst Greece have yet to win a World Cup, they have appeared in 3 finals, as well as numerous European competitions. This interesting museum documents the history of the national team, and contains shirts from the players, balls from significant matches, and more. A must for soccer fans, especially for families of Greek heritage!
Agia Marina Donkey Rescue Sanctuary
Located at the South West of Moires between the villages of Petrokefali and Sivas, the Donkey Sanctuary is on the road to Matala. This means you can visit here on the way to seeing the amazing Matala Caves. This is a wonderful project that supports rescued and abandoned donkeys. Your kids will have the chance to enjoy time with the animals, and of course any donation would be welcome in order to continue funding the sanctuary. Related: Greece Family Tours
Have fun on the beach
No family vacation in Crete would be complete without spending time on some of the incredible beaches! You can check out our top recommendations for family friendly beaches in Crete for inspiration, but make sure to visit Elafonissi beach – your kids will love the fabulous pink sands!
Corfu
Romantic Corfu is another great recommendation when looking for an island to visit in Greece with kids. If you are traveling with toddlers or teens, the Corfu old town and Aqualand Waterpark are great outings. The beautiful sandy beaches in Corfu and green bays will ensure a good time for everyone. Corfu is very popular with tourists and resort holidaymakers but it has retained its charm and historic character. Its visitors choose to return to year after year. To explore Corfu by foot or private vehicle, we recommend you to join one of Corfu Walking Food tour that takes you by foot and car to all the important monuments. Related: Greece Family Tours
Corfu walking food tour 
Around the scenic town of Corfu, experience Greek gastronomy at its best! A knowledgeable family friendly local guide will show you around the town's hidden attractions and gastronomical gems, while sharing stories about local traditions and food culture.  The tour starts with a traditional breakfast in a small pastry shop, serving the finest Greek pastries, such as cheese pies, 'Bougatsa' (Greek custard pie with phyllo) and 'Loukoumades' (honey puffs).  Try the local edition of Gingerbeer, introduced to the island by the British back in the 19th century, and Corfu's signature spirit, the internationally-acclaimed Kumquat liqueur. Visit a traditional grocery shop and try an array of Greek cheeses and cold cuts. Explore the central food market and sample local products & delicacies.
Experience one of Europe's best waterparks at Aqualand
With designers who worked on attractions for Disney behind dozens of its rides, Aqualand is among the most impressive waterparks in Europe. You'll find the huge site, which is set in 75 square kilometres of shady forest, right at the heart of Corfu. It's the perfect place to cool off when the temperatures skyrocket, with a total of 36 waterslides and 15 adventure pools. There is a lazy river, wave pool and black hole, plus family rafting, kayaking and multi-lane racers. Little ones have a pair of very shallow pools packed with waterfalls, fountains and miniature rides, while older thrill seekers can test their nerve in the 'extreme zone', where you'll find high-speed rides with sharp twists, spins and near-vertical freefalls – one of which is a stomach-jolting 24 metres high.
Take a scenic horse trek with  Trailriders
Corfu's olive grove and vineyard-scattered landscape deserves at least a day of exploring and there are few better ways to see it than from the back of a horse. With the historical village of Ano Korakiana and the foothills of Mount Pantokrator on their doorstep, the Trailriders riding stables are perfectly placed to offer guided horse treks. Run by a Brit who became an expert in caring for horses during a decade managing a cattle ranch in the US, the centre houses a dozen good-natured steeds. Anyone from six to 70-plus is welcome to take one of the scenic treks over farm tracks and through shady natural woodland. You'll also clip-clop through a picturesque local village, olive groves, vineyards and pastures occupied by grazing sheep.
Get up close with marine life at Corfu Aquarium
The compact Corfu Aquarium is a highly rated family attraction and the ideal spot for getting out of the sun during the hottest hours of the day. You can explore the aquarium at your own pace, discovering the variety of creatures that call Corfu's waters home. Alternatively, you can take a guided tour and go home a real expert in the island's marine life. The colourful tanks are filled with fish, lobsters and eels from local waters. Plus, there are a handful of reptile enclosures housing lizards, snakes and iguanas. If checking out sea life is your kid's thing, then pair your aquarium tickets with a glass-bottom boat ride – there is sometimes a special package offer available if you buy both at once.
While Corfu's aquarium allows you to see the island's underwater world up close, a glass-bottomed boat tour will showcase the same creatures in their home environment. From the comfort of the modern and luxurious Nautilus boat, you'll bob out into the Ionian Sea to discover what life looks like beneath the waves. A three-metre glass bottom reveals the seabed in all its colourful glory. And if some of the fish are being shy, the crew will don their scuba gear and dive beneath the boat with food to coax them out of hiding. It's not just the underwater vistas that make this tour worth taking; the team also talk you through the historical sites you pass above the water. Plus, they drop anchor in a pretty, secluded bay for you to have a swim followed by a glass of wine before heading home. For an extra special day out, your group can have the boat and crew to yourselves on a private tour.
Learn the art of olive oil production at Mavroudis
The small but perfectly formed Mavroudis museum is dedicated to the history of olive oil production in Corfu. The Mavroudis family has been making this liquid gold for generations and today own swathes of olive groves in Corfu. The museum is the result of years spent hunting down old olive oil making machinery and exhibits include lots of gems dating back as far as the mid-19th century. Drop in to learn how the island's humble olives are transformed into world-class oil, then enjoy an oil tasting session followed by a visit to the on-site shop where you can purchase your favourites. Tours are led with passion and enthusiasm and are frequently conducted by the owners themselves.
If your kids like European castles, head over to Rhodes! The Palace of the Grand Master of the Knights of Rhodes is a citadel dominating the main town and harbor of the island. It is a beautiful and very impressive fortification to explore. Besides its castle and old city walls, Rhodes also offers amazing beaches, ancient sites, water parks, and many outdoor activities. Rhodes has over 300 days of sunshine per year. Try to avoid visiting the island in the busy peak month of August. It can be very hot and crowded during this period. It's far better to visit in May or June or after the summer. Rhodes is suitable for holidays addressing the whole family by offering infrastructure for entertaining children regardless of age, from toddlers to teenagers, such as the Faliraki water park, riding schools, go karts, or numerous shallow and sandy beaches. Here are some tips and things to do in Rhodes for families with kids. Greece Family Tours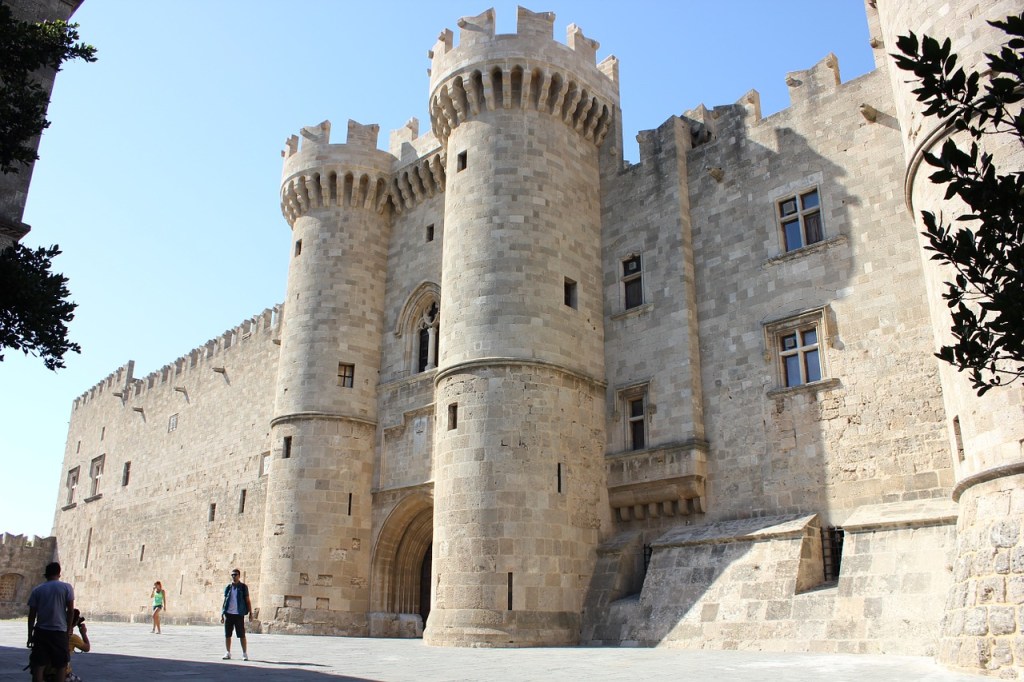 Medieval town of Rhodes
The Medieval town can be very interesting to kids also. It is situated on the north-east coast of the island. A large moat and a series of gardens and parks divides it from the modern city. It is one of the oldest inhabited medieval towns of Europe, a  UNESCO World Heritage Site and a popular tourist attraction. Some of  the highlights of Medieval town are:
Two Historical Museums
Various Exhibitions
Byzantine & Medieval buildings
Gothic Churches
Traditional Fountains
Oriental motifs & Mosques
All buildings above mentioned blend together to create a picturesque whole. The great palace of the Grandmasters, renovated by the Italians in 1940 is one of the best attractions of the town.
Valley of Butterflies, 27Km from Rhodes City
The Butterfly Valley is one of the most charming attractions in Rhodes, even for children. Walking through the narrow, forest surrounded valley, offers a sense of discovery. A creek runs all the way through, and offers extra cooling even during the hottest summer months. There are spots where you can rest and enjoy a coffee, soft drinks or ice cream. The highlight is, of course, the thousands of butterflies that fill the valley during mid July and August. Please note: instruct your children to not disturb the little creatures. They need all their energy in order to complete their reproductive cycle. You can read more about this on the page linked above. Related: Greece Family Tours
Marine Aquarium, In town
A stroll along the seaside pedestrian walk, in the city of Rhodes, leads to the northernmost edge of the island. This is where the Hydrobiological Station of Rhodes-Aquarium is located. Your kids will love this! Housed in a building of unique architectural style, the Aquarium is the ideal place for those wishing to get acquainted with the marine wealth of the Aegean and the Eastern Mediterranean sea. The Aquarium has been fashioned in the form of an underwater sea cave. Sinuous corridors, artfully decorated with natural sea-shells create a true underwater ambience. The Aquarium is located in the basement of the Hydro-Biological Station of Rhodes and offers the visitors the chance to have a close up view of the marine life of the Eastern Mediterranean, providing the impression of being underwater. You will find a wide range of interesting specimens of Mediterranean organisms such as reefs, sea flowers, octopuses, clams, decapods, turtles and numerous fishes. The experience of walking through the narrow, pebbly, stonewalled tunnels while gazing at the aquariums is quite unique. Related: Greece Family Tours
Eleousa, (37Km from Rhodes City)
Eleousa is located in the lush foothills of Mount Profitis Elias (Profitis Ilias). If you are traveling with children, you will appreciate the relaxing environment, the lush green nature, and the good food offered at the local taverns, since once you arrive there, you will find yourself in a tiny village surrounded by plane trees, in the heart of one of the most verdant parts of the island, offering pure country air and the purling sound of running waters. A couple of hundred meters towards the mountain, you will find a large round cistern, in which is home to a large population of Ghizani, a local, protected fish kind.
The Rhodos Toy Museum
For something completely different, check out the Rhodos Toy Museum. It contains about 5000 Greek made toys from the 1930's to late 1980's, traditional games, international toys, collectible items, paper documents, vintage video games, pinball machines, Juke-boxes and more! Concerts, plays, puppet shows, Karagiozis (traditional shadow theatre) art exhibitions and more activities are also part of this museum. The entrance is free! Related: Greece Family Tours
Waterpark Faliraki
Most hotels and resort in Rhodos have swimming pools and water parks. So did ours. But if you haven't got a pool at your hotel, head over to the Faliraki Water Park. Tickets for entrance and transport to the water park of Faliraki are sold everywhere around Rhodos city. This water park offers many pools, spectacular slides, lazy rivers, water attractions and a specially designed area for young kids. Transport to the water park is included in the entrance ticket and starting points are everywhere on the island!
Related Readings: Unesco Sites in Greece , Greece guaranteed departures , Solo travel tours to Greece, Greece city-breaks,  Escorted tours to Grece, Greece Mainland Tour,