Visit Greece in Winter time
Winter Vacations in Greece: Greece is so much more than just a summertime destination! Choose Greece for your winter holidays and enjoy the possibilities that open up before you! Winter in Greece is waiting for you to experience:
Sporting Activities in the Wild
Large areas of woodland with snow-capped peaks, forest trails and old pathways, fast-flowing rivers crowned with stone bridges and striking lakes create the ideal setting for having a truly memorable experience during your winter holidays.
The biggest ski resorts in the country are on Parnassos, Kalavryta, Kaimaktsalan, Vasilitsa, Tria-Pente Pigadia, Pelion and Mainalo Mountains and they will offer you unforgettable snowy adventures against an all-white setting.

You will enjoy the natural beauty of the mountainous areas with the numerous cloud –capped peaks and the wide network of signposted trails while you go hiking or mountaineering. If you love mountain biking, or you use a 4WD vehicle, you will discover many off road routes that will lead you deep into the heart of Greek nature.
You can practice water sports in lakes such as Orestiada, Ioanninon, Plastira, Kerkini, Vegoritida, or bird watching or simply go for a romantic stroll, enjoying the view of the snowed landscape reflected in their still waters.
Winter Trips to Greek Picture-Perfect Towns
Seasons may change yet the beauty of some destinations remains undiminished, only to be enhanced in winter! Kastoria, Ioannina, Metsovo and Karpenisi are four towns that serve to prove the above.
In Kastoria, one of Macedonia's gem towns, you will enjoy going on a tour of the lake's serene surroundings. Wander in the town's traditional neighbourhoods, see the Byzantine monuments and visit Dispilio (7km SE of Kastoria) a lake settlement of pile dwellings dating back to 5000 BC.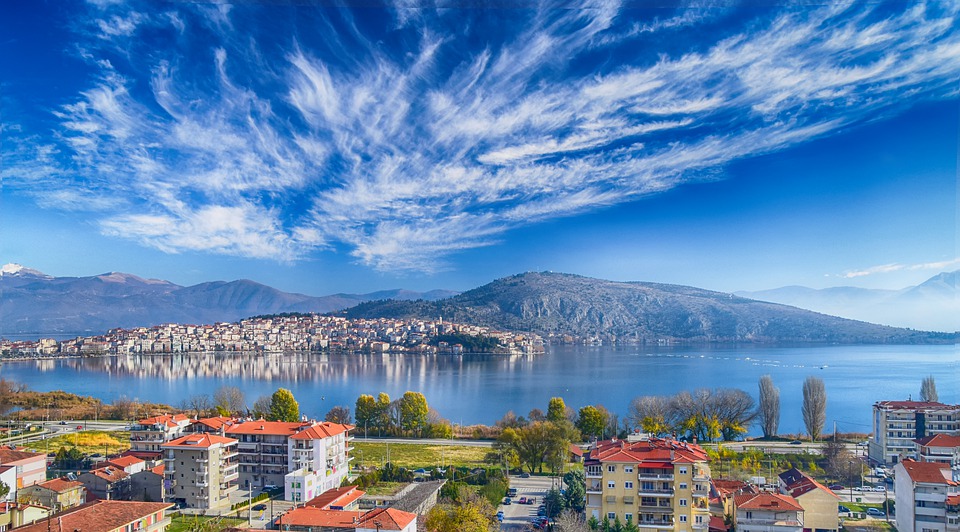 Ioannina, the capital of Epirus region is a beautiful old town with an amazing cultural heritage, imposing monuments and picturesque neighbourhoods. Visit Lake Pamvotida, one of the area's top sights and the picture-perfect islet of Kyra Frosyni located right in the centre of the lake. You will feel as if transported to the past, to an era of secrets and legends.
Metsovo is a traditional town, perched on a mountain slope and built according to the Epirus architectural style. Visit the impressive art and cultural sites, taste the famous local dishes and feel your energy levels rising as you practice sports in the area's forests and mountains.
Trendy Villages Full of Life
Dotting the Greek countryside, partly covered in clouds or lying under a cloak of pure white snow, these villages are the meeting point for those jet-setters who wish to enjoy their trip to the countryside as well as winter sports in style, and at the same time have lots of fun in night clubs until sunrise. Arachova in Central Greece and Palaios Agios Athanasios, a picture-perfect traditional village in Macedonia, are the most popular destinations at a stone's throw from ski resorts.

Nature's Embrace
Virgin forests, majestic mountains, impressive caves, deep shaded gorges, wetland habitats of rare beauty and other remarkable ecosystems enhance the loveliness of the Greek countryside.
You will see the beauty of Greek nature unfold in the National Parks on Pindus, Parnassos, Vikos, Parnitha, Olympus, Mainalo mountains and in the Forest of Dadia, as well as in habitats such as the ones in Lakes Kerkini, Prespes, Vegoritida and in Nestos River. The choice is yours…
Hidden Mountain Paradises
Wooded recesses lie nestled in mountainous areas, most of them seemingly defying the law of gravity and offering an unobstructed view that can take your breath away. Numerous paths are there for you to explore as the country's rugged terrain gradually unveils to you the beauty of the Greek highlands and offers many alternatives to thrill-seekers.
There is no match to the mountainous parts of Korinthia and Arcadia in the Peloponnese when it comes to areas of natural beauty that also share a rich history.
If you travel to the mountainous parts of Nafpaktia you will find there are more than 40 villages scattered on the area's seven mountains, nestled in forested peaks, next to winding trails on a wild terrain.
Visit Zagorochoria, a group of 48 traditional, stone-built villages in the centre of Epirus region. You will be captivated by the wonder works of nature and men.
If you choose Mt. Pelion, you will enjoy visiting the villages perched on the mountain slopes, as they are fine examples of the local traditional architecture. You will also find an interesting network of hiking trails under the breathtaking canopy of foliage on the mountain of the mythical Centaurs.
Greek Culture
The country is full of treasures related to its culture and bear witness to the ancient Greek past that has offered so much to humanity. There are more than 100 imposing archaeological sites, numerous monuments, and hundreds of museums, where this historic course unfolds – one that has been both continuous and impressive, over a span of 5000 years.
Avoid the crowds of tourists that flow here in the summer and visit Greece in the winter! You will be able to take your time while you tour the country that has been named 'the Cradle of Western Civilisation'.
Greek Culinary Treasures
The Greek mainland is a gastronomic paradise. Try the rich-flavoured meats either charcoal-grilled or flame-cooked or on a skewer, traditional types of pasta, savoury or sweet pies, delicious dairy, nutritious legumes, wines made from local varieties and distilled spirits. Your choice of flavours is a very wide one…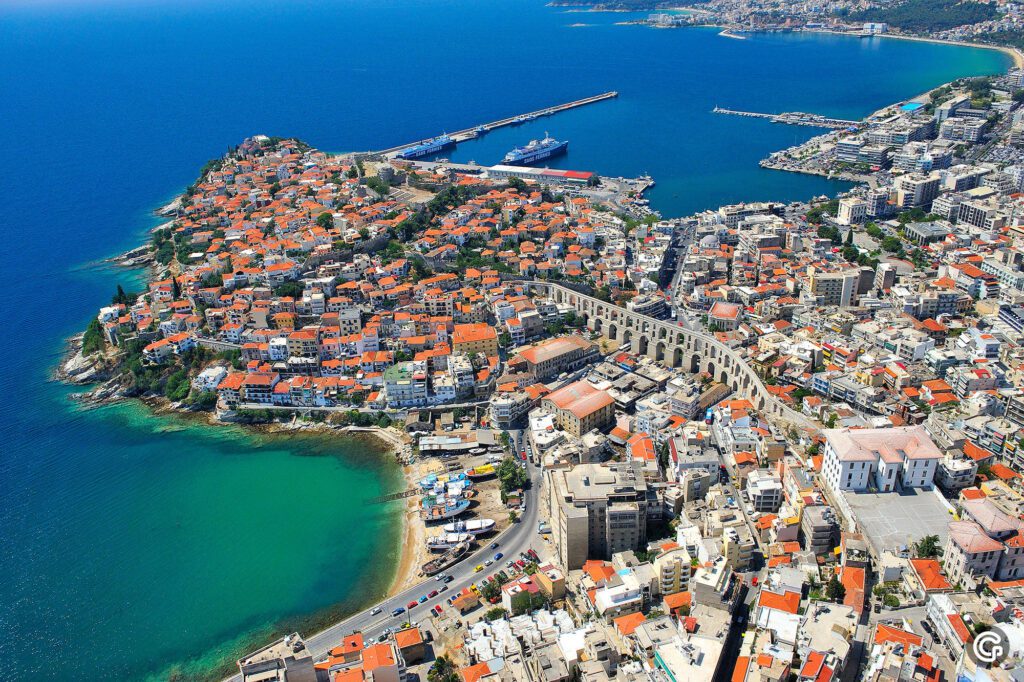 You will find that sweet temptations are equally difficult to resist! Taste the best custard-filled bougatsa in Thessaloniki and Serres, try kourabiedes (a shortbread type of confection covered in caster sugar) when you visit Kavala, spoon sweets on Mt. Pelion, ravani (a syrupy confection made with yogurt and semolina) if you travel to Veria, and baked sweet dishes soaked in syrup if you visit Ioannina and Xanthi.
Greek Nightlife
Greece is known across the world for offering countless options when it comes to nightlife. It will be the ideal destination for any of you who choose this way to have a great time, leaving your worries and problems behind. The nights last longer here and being in high spirits is a fine start for having a great time! As expected, Athens, Thessaloniki and Patras, the country's three biggest cities, are the leaders when it comes to nightlife in Greece. So, if clubbing is what you're after, you will definitely find the place that best suits you.
Local Traditions and Customs
Undoubtedly, the greatest holiday season in the winter is Christmas time, as numerous local traditions and customs come to the forefront come alive across the country. Decorated Christmas trees and little boats ornament houses and streets. Bells are ringing and children sing Christmas carols in towns and villages. Traditional practices come to the forefront such as 'Momogeroi' in many parts of Macedonia and Thrace, 'Ragoutsaria' in Kastoria town, a custom connected with ancient festivities in honour of the Greek god Dionysus, and bonfires in Florina town. On New Year's Day, there are customs for bringing good luck, like hanging a big onion bulb at the front door or breaking a pomegranate at the house's entrance door. On Theophany Day (the twelfth day of Christmas) running waters are sanctified during the morning mass, when the Cross is thrown by the priest in the waters, while men and women dive in the water and compete in trying to catch it!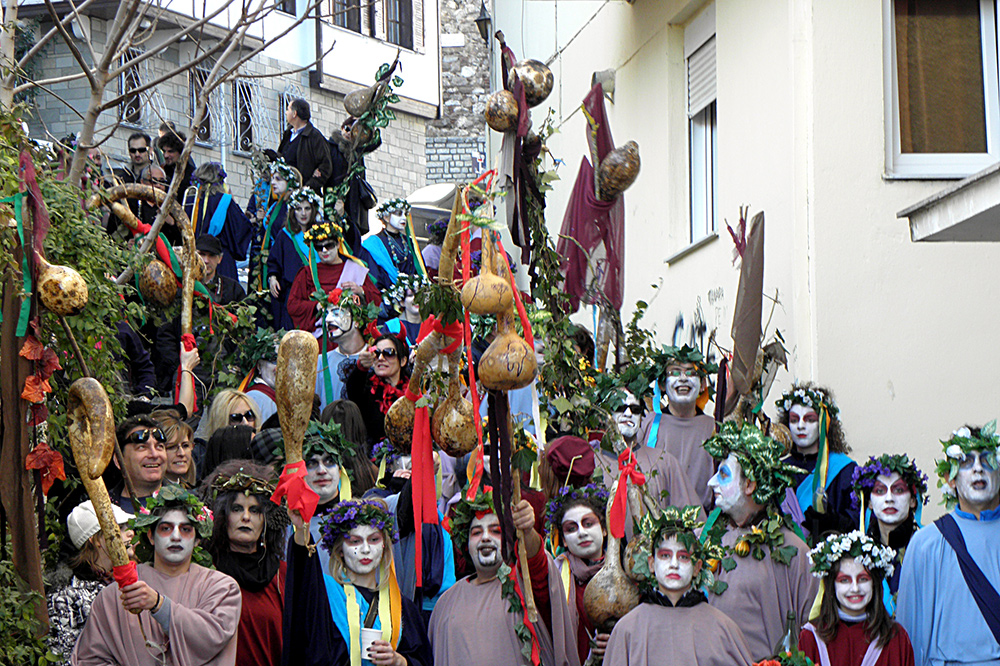 During the Greek Halloween period (Apokria), carnival parades take place, the biggest ones in Patras and Xanthi. Watch the customary reproductions of a 'vlach wedding' in Thebes, tzamales in Ioannina, gaitanaki in Livadeia, the burning of tzaros in Xanthi, boules in Naoussa, and alevromoutzouromata in Galaxidi.
Romantic Moments
If you are romantic by nature, take your better half by the hand and follow us:
Take a trip to Nafplio, a beautiful historic town; stroll around the side streets of the old town, up the castle at Palamidi and the much-photographed Bourtzi fortress built on Agioi Theodoroi islet. Visit the fortified town of Monemvasia, walk by the grand stone-built houses, the medieval towers, historic buildings and centuries-old churches. Stop by Galaxidi, the seafarers' town, and nearby Nafpaktos; these two towns are among the most romantic places in the Greek mainland.  Nymfaio village is located near Florina town, a place where you will see well-tended mansions and winding cobble-stone alleys, surrounded by a lush birch tree forest. If a winter resort is what you have in mind, visit Elati and Pertouli, you will enjoy your stay in these two lovely villages that are snow-covered during the cold season. Another option for you would be Papigo, one of the most popular traditional villages in west Zagori area.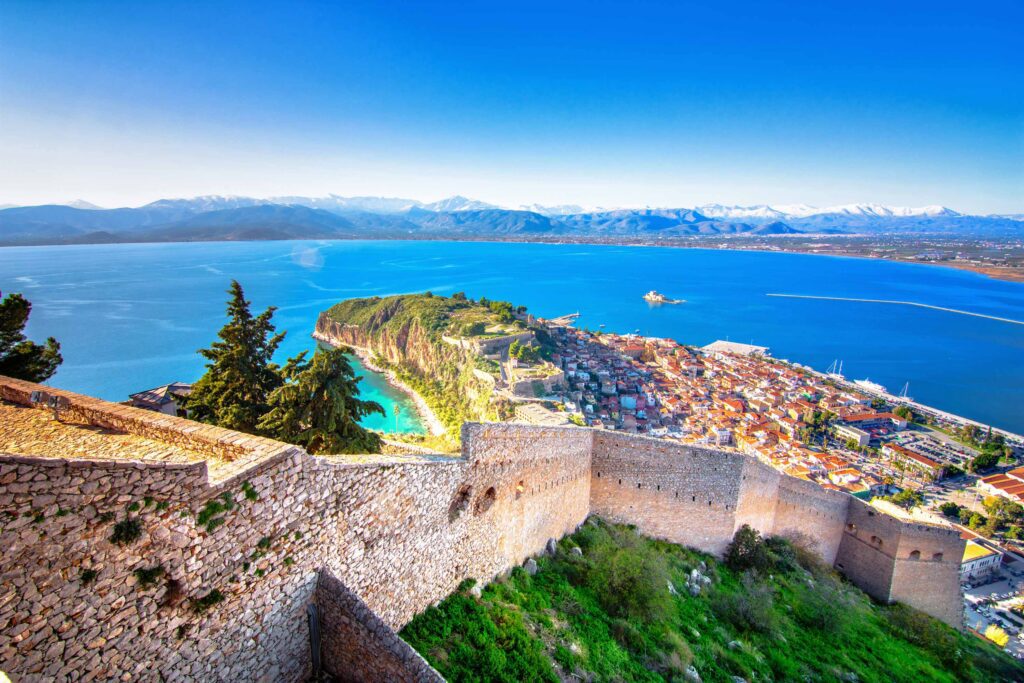 Last but not least, the big urban centres: Thessaloniki is Northern Greece's largest multi-cultured city, with a romantic atmosphere about it; as for the Greek capital, you will find it impossible to resist the allure of Athens' historic city centre.
Choose Greece for your winter holidays and discover the wintertime fascinating aspects of popular destinations.
Greece Top Winter Destinations
Mount Pelion
Where: Only a few kilometres away from the busy port of Volos in Thessaly stands mythical Mt. Pilion, which according to Greek mythology was the home of the mythical Centaurs, creatures who were half man and half horse. Ancient Greek heroes such as Achilles, Jason and Theseus came to Mount Pilion to master the arts taught by the Centaurs. Mount Pilion is home to 24 beautiful villages.
Why: The unique combination of superb natural surroundings, dense greenery, cascading waterfalls and gorges, romantic bays with crystal clear waters and outstanding local architecture make for a "four seasons' destination" that attracts visitors all year long.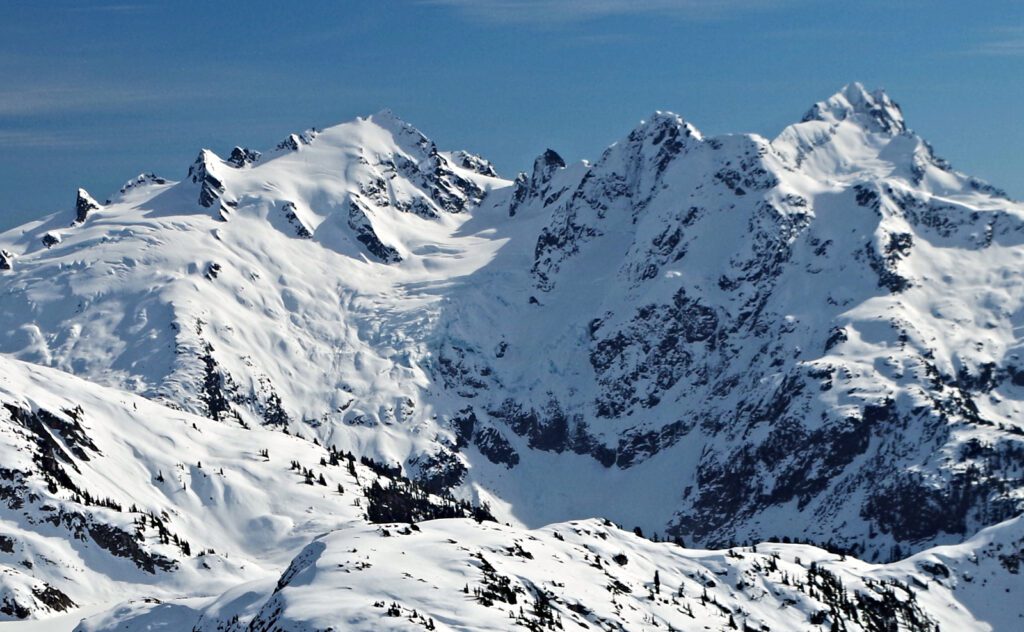 Must visit: Pilion boasts some of the most famous traditional villages in Greece; set against an idyllic backdrop of shimmering olive groves, dense forests and lush fruit orchards, these stone-built villages are the true gems of Pilion. Visit the lovely old village of Tsagaráda –home to a 1,000-year-old plane tree; Makrinitsa, the so-called balcony of Pilion, which affords magnificent views over the Aegean; Portaria, which thanks to its impressive traditional mansions has successfully managed to preserve its traditional colour untouched by time, and Chánia, with its famous ski centre.Winter Vacations in Greece
Activities on offer: Explore this unspoiled world on horseback! The horseback trip starts in Argalasti, an attractive village in the south of the peninsula. From here you can reach beaches on both sides of the peninsula – open sea or calm gulf. The cobblestone trails between villages lead you back through time and are ideal for rides on horseback. The main trails out of Argalasti lead to many interesting locations, such as Kalamos (6 km to the west) and Lefokastro (6 km to the NW). Ski down snowy slopes at the ski resort of Agriolefkes near the village of Chánia or walk along narrow winding cobbled paths known as calderimia. The Chánia-Kissós path is one of the most popular among trekking lovers.
Hot tips:
• Discover one of Pilion's best kept secrets: the tiny, exquisite cove of Fakistra; the highlight is a stream that springs from the mountain and flows into the sea. It is rather difficult to get down to it but it certainly worth it; even in winter the setting is very romantic; pure magic.
• Follow a scenic route from the village of Milies…by train! Take the legendary Pelion stream train, a narrow-gauge rail track built more than a century ago by the father of the surrealist painter Giorgio de Chirico, which crosses stone bridges and passes through rugged landscapes; all the stations are of unique architectural interest.
• Visit the village of Damouchari, where several scenes from the movie Mamma Mia were filmed!
Accommodation: Ancient old mansions of traditional Pelian architecture that used to belong to rich merchants have been turned into cosy guesthouses offering an exquisite atmosphere that is difficult to find anywhere else in Greece.
Famous local products: Taste mouth-watering pies and home-made "spoon sweets" (a traditional dessert consisting usually of fruit preserved in syrup) produced by local women's associations with all kinds of local fresh fruit!
Zagorochoria villages
Where: At the heart of Epirus, nestling among the steep and snowy slopes of the Týmfi mountain range.
Why: A complex of 46 picturesque traditional villages built in a magical setting amidst pine and fir trees with one of the most beautiful and diverse ecosystems in Europe. Its unique traditional architecture, impressive stone mansions and undulating, natural forest surroundings are the perfect ingredients for an unparalleled destination, ideal for action-packed holidays!
Must visit: Visit Zagóri's most picturesque villages; Monodéndri is a restored stone village. Stroll down its narrow streets past the village's stone courtyards; take the rocky trail starting from the central square that leads you to Vickos Gorge, which is awe-inspiringly deep! From there, admire the Monastery of St. Paraskevi nestling on a rock overlooking the Vickos Gorge. Mikro and Megalo Papigko, Aristi, Kipi and Dilofo are just some of the precious gems of Zagori. Gaze at the beautiful stone bridges which connect the villages. These are architectural masterpieces of superb craftsmanship which are often associated with legends and other local traditions.Winter Vacations in Greece
Activities on offer: Trekking lovers will have the chance to hit a variety of mountain trails in Zagorochoria. Cross the Vickos Gorge following the route from Monodéndri north to Vikos- Vikos to Pápigo, and Monodéndri south to Kipi, a traditional small village with old arched stone bridges. The route is quite long (it lasts at least 5 hours), but it is a very rewarding experience! Starting from Pápigo you can take a much easier, three-hour trail; follow the path leading to Astráka refuge and then head for the summits of Astráka and Lápatos.
Hit the trails that connect the villages Pápigo and Mikró Pápigo through the Vikos-Aoós National Forest; go for an invigorating swim in the two natural forest lakes. The village of Vovoúsa in eastern Zagori is ideal for bird watching as it is located near the National Park of Valia Kalda, a protected forest populated with rare species of flora and fauna.
Hot tips:
• Follow the mountain trails to Kípi, an ideal mountain tourism destination: cross its two rivers (Vikákis and Baniótikos) using the Kaloyerikó (or Plakidas), a three arch bridge with a serpentine deck.
• Explore the magical "Drakolimni", one of the three alpine lakes in the Pindus mountain range, which according to local legends used to be inhabited by dragons!
• Don't miss the opportunity to walk the famous Vradeto Stairs at the edge of Vickos Gorge. These stone 1,200 meter stairs connect the villages Vradéto and Kapésovo, and they were the only access to Vradéto village until 1973!
• Trekking through the Asprággeli, Dikóryfo, Manassís and Kaloutás villages, you will find the Kaloutás Bridge, which used to connect the village to with the Vissikoú Monastery (dedicated to the Dormition of the Virgin Mary). Winter Vacations in Greece
Accommodation: Traditional stone-built guesthouses offer a warm environment to rest in after your day has come to an end; enjoy a glass of fine wine by the fireplace before going to sleep or a delicious breakfast with fresh local products before starting your day!
Famous local products: Experience the true magic of Zayorohória: have a delicious meal in a mezedopoleío (local tavern) and taste the famous local pies accompanied by sweet local wine!
Mountainous Arcadia
Where: Among the steep slopes of Mt. Mainalo in the Peloponnese nestle the mountain villages of Dimitsána, Stemnítsa and Vytína.
Why: Get a deeper insight into Greek history by visiting the places where the Greek Revolution of 1821 against the Turks actually began; a place synonymous with legendary heroes, fierce battles and glorious achievements. Today thanks to its proximity to Athens and its striking beauty Mountainous Arcadia is one of the most popular winter destinations in Greece.
Must visit: The village of Dimitsána; built like an amphitheatre overlooking the Lousios River, Lousios valley and the plains of Megalopoli, Dimitsána is nicely surrounded by snow covered mountain tops and lush pine tree forests. Some of its most famous sights are the six remaining legendary Gunpowder Mills that used to produce gunpowder for the Revolutionary War, the Philosophou and Timiou Prodromou Monasteries; the archaeological site of Gortyna and the houses of heroes of the Revolution.
The village of Stemnitsa is a typical traditional Arcadian settlement set amidst ancient plane and fir trees. It boasts grand stone mansions, Byzantine churches, cobblestone paths, a beautiful square and an interesting Folklore Museum.
At the heart of Mountainous Arcadia, among the slopes of Mt. Mainalo, lies the most popular tourist destination in Arcadia, Vytina, famous for its unique architecture and blessed with a rugged landscape. Home to a number of legendary heroes of the Revolutionary War, Vytína faced the rage of the Turks many times and the village was burned down on 7 occasions! Vytína used to be an important centre of for the textile industry and woodcraft but today the economy is largely based on tourism.
Activities on offer: Go rafting down the Lousios River; if you are a trekking fan hit the mountain trails and take in the breathtaking scenery or glide down snowy mountain slopes at Mainalo ski resort, an ultra modern ski centre with first-class facilities.Winter Vacations in Greece
Hot tips:
• Visit the Open Air Water-Power Museum in Dimitsána, the only museum of its kind, which demonstrates basic pre-industrial techniques using water as the main source of energy to produce a variety of goods.
• Stroll around the picturesque district of Kastro in Stemnitsa and take in an amazing view of the Margaritsa Gorge sprawling below.
• Visit the Folklore Museum, the "Greek School" and the Library of Vytína, where you can admire rare books and manuscripts.
Accommodation: Impressive stone mansions turned into cosy family run guesthouses or first-class hotels offer a wide range of facilities and a cosy atmosphere to relax in with your family or to enjoy romantic moments by the fireplace with your other half.
Famous local products: Sample sweet-smelling honey, crunchy nuts, fresh dairy products, delicious local cheese or healing herbal infusions; don't forget to buy local folklore items like wooden sculptures or textiles before you leave.
Arachova
Where: Aráchova is a mountainous village nestling picturesquely at the foot of Mt. Parnassós in Viotia, Southern Greece
Why: Because it is the most cosmopolitan winter destination in Greece, a great favourite for passionate ski lovers and celebrities, or just first-time visitors who wish to relax in a dreamy mountainous setting with modern tourism facilities. Its modern ski resort, its close proximity to Athens, and its breathtaking mountainous landscape are the strongest reason why. Apart from the mountain activities, Aráchova is also famous for its bustling nightlife!
Must visit: The Byzantine churches of the village with their well preserved frescos.
Activities on offer: Get involved in outdoor activities such as hiking or ski down the slopes of Mt. Parnassós at the biggest downhill ski resort in Greece. The mountain's high altitude offers ski lovers long-lasting snow cover at the peaks.
Hot tips:
• Discover the traditional character of the village by taking leisurely walks through its narrow cobblestone streets. Enjoy hot and sweet or soft and fruity drinks in cafés, or traditional kafeneia (coffee shops).
• Stay up all night and enjoy the village's bustling nightlife. There are a plethora of bars and clubs up and down the streets of Aráhova.
• Visit the nearby archaeological site of Delphi.
Accommodation: Various elegant first-class hotels or traditional guest houses offer luxurious accommodation.
Famous local products: Aráhova offers a memorable gourmet experience; taste local specialties: kontosoúvli (big hunks of pork skewered and put on a rotisserie with onions, tomatoes, peppers and seasoned with salt and pepper, garlic and oregano), kokorétsi (the intestines of the lamb stuffed with offal), sarmádes (stuffed grape leaves), traditional pies, handmade trahanás (pasta soup, can be sweet or sour), and hilopites (egg noodles made in linguine-sized strips, cut into small pieces).
Aráhova also produces the famous cheese "formaéla", a sweet smelling hard rind cheese of with a relatively mild flavour that you should definitely taste!
Have a sip of the divine Parnassós local wine, the red "Mavroudi", which achieved Protected Designation of Origin status in 2006. The "Black Aráhova vine" is a full-bodied prolific variety that produces wines of a deep red hue with a high alcohol content.
Complete your meal with traditional "spoon-sweets", or even better, try yogurt with honey, a dessert served compliments of the house. Before you leave Aráhova, pick up some hand-made beautifully coloured woven carpets (flocati rugs) and textiles to take with you as a going-away present.
Karpenissi
Where: A mountain village situated in Evritania, Greece.
Why: Towering snow capped mountains; deep ravines; fast-flowing rivers and lakes; impressive gorges; Byzantine monasteries and tiny mountain villages make out an form an alpine landscape that promises to offer the ultimate winter experience!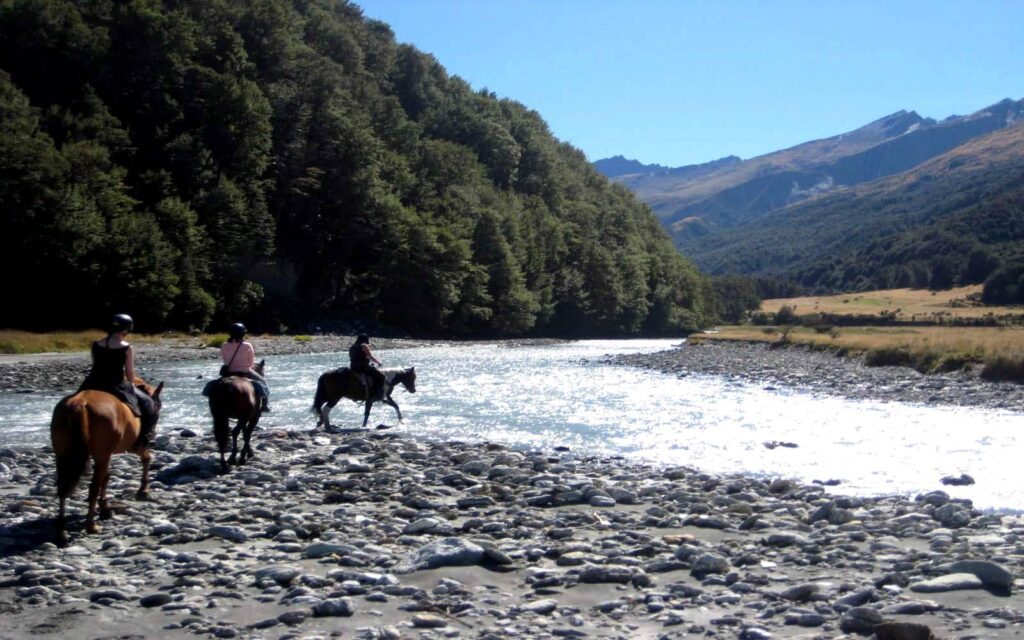 Must visit: The most popular sights of Karpenissi: The Byzantine Church of Agia Triada in Karpenissi, the Church of Panagia in Fousiana, Agia Paraskevi in Vraggiana and Proussos Monastery, the Library and the picturesque squares of Markos Botsaris and Katsantonis, both famous heroes of the Revolution.
Activities: Trekking along winding mountain paths; canoe-kayaking in Kremaston Lake; kayaking and rafting down the Aheloos, Tavropos and Trikeriotis rivers; horse riding; canoeing through the gorges of Viniani and Vothonas; jeep safari and skiing at the modern ski resort of Karpenissi, one of the biggest and most popular in Greece.
Follow scenic routes and admire the undulating natural surroundings. Two suggested routes are: Karpenissi – Gorgianades – Korishades – Klausi – Voutiro – Nostimo – Megalo Horio – Mikro Horio – Palio Mikro Horio – Proussos and Karpenissi – Viniani – Kerasohori – Marathos – Monastiraki – Epiniana – Agrafa – Tridendro – Trovato – Vraggiana – Agrafa.
Hot tip: Visit the beautifully preserved district of Korishades and tour its fascinating museums such as the National Resistance Museum; visit restored manor houses, Byzantine churches, schools transformed into museums and the arched bridges of the area, wonderful examples of local architecture.
Accommodation: Choose from among family run pensions, welcoming guesthouses or luxurious hotels!
Famous local products: Taste fried trout and mushrooms (morchella) in red sauce. Other exquisite local products on offer include Katiki, which is a Euritanian goat cheese, feta cheese, yoghurt and butter, local meat, beans, noodles, pasta, chestnuts and walnuts, berries, black cherries, crab apples, figs and kumquats, honey and superb "spoon sweets" as well as wine, tsipouro and liqueurs. Don't forget to buy folk art products, like handmade rugs and woven fabrics of exceptional quality. Winter Vacations in Greece
Other locations during winter period
Athens
Though sultry and hot in the summer months (which can make the city somewhat unpleasant to explore), in winter, Athens' charms remain. It's a cooler, quieter and perhaps more magical affair, with fewer tourists and less baking sun to hinder long days of discovering what the city has to offer. Visiting the Acropolis (which dates back to the 5th century BC) during the cooler months is different from seeing it in summer when there can be big crowds of people to contend with. You'll be able to take your time and get to learn the history in a calmer atmosphere.
The Ancient Agora is also open and much more pleasant to explore without the searing sunshine glaring down. You can take in this storied marketplace with its statues and monuments at a very comfortable pace. One thing to note, however, is that sites will have shorter opening times, closing around 5 p.m. rather than 7 p.m., for example.
Generally, everything from museum tickets to hotels and eateries will have cheaper rates than the peak months, meaning your budget will stretch even further.It's a good idea to pack a few layers and bring an umbrella (or waterproof jacket) in case of a downpour. There's no reason Athens can't be a winter destination — millions live, work, and play in the city all year round. Chances are you'll be able to get under the skin of the city a little more than in peak season.
Crete 
Located furthest south Crete has mild and sunny weather throughout winter; in fact, it has some of the warmest winter weather in Europe. This makes it easy to get out and see everything this ancient site has to offer. Museums remain open in Crete (maybe with shorter opening hours), and popular sites such as Knossos – usually crowded with tourists in-season – may feel like exclusive viewings.
The Cyclades Islands 
Santorini in winter is a lot quieter than other times a year but it's still good as a year-round destination. Views of the caldera remain stunning, the sunsets here stay beautiful, no matter what the temperature is — and all of that with fewer party-going crowds. It's still perfect for a romantic getaway. Syros, the Cyclades' capital and most populated island, also remains open for business, if somewhat quieter than usual; think cool breezes and bright winter skies. Other popular Cycladic islands such as Paros and Naxos are home to large permanent populations and life goes on for them all.
Many places will be closed but it is still possible to find a few rooms for rent and the taverna's and shops that remain open will be the ones that the locals all frequent so it makes for a very authentic experience, albeit a very different one for tourist season.
The Dodecanese Islands
Across the Aegean Sea, Lesvos — the "Island of Ouzo" — is also very much visitable during winter. This island is a go-to destination for bird-watchers and nature lovers; wildflowers and marshlands make this a beautiful place to base yourself. Rhodes also experiences mild winters (highs average around 15°C), which makes seeing its UNESCO-recognised Old Town – complete with Byzantine and Venetian architecture – very doable. Hiking is great on Rhodes, and pleasant when the temperatures aren't so hot, particularly around the pretty town of Lindos.
The Sporades Islands
The island of Skiathos calms down in winter after the nightlife of summer. It also offers you the chance to get in touch with local life. With tourist restaurants and souvenir shops shut, local tavernas will welcome you in, and you'll be able to get chatting to locals.
The Saronic Islands in Winter
Just off the coast of Athens, the Saronic Islands make for excellent day trips from the capital, even during the winter months, with sandy beaches, pine trees, history, and rustic, lively tavernas. They may be cooler than in summer, but they remain lovely; Spetses, for example, is home to around 5,000 permanent residents and is still very much alive in winter. You'll get to discover a different side of the Greek islands in winter, minus the party-goers and package tourists.
Thessaloniki 
Thessaloniki has average winter temperatures of around 10°C and lows of 1°C, with January being the coldest month. Since it's a northern city, Thessaloniki can also get an occasional dusting of snow. However, this just adds to its charm.  That charm is further enhanced by the fact that there are practically no tourists here during winter. The waterfront area of Thessaloniki becomes a wintery walkway, where you can duck into cafes to warm up with a hot chocolate, complete with views out across the sea. The city takes on a completely different character. The popular "Umbrellas" sculpture is crowded with Instagrammers and selfie-takers during the height of the season in summer, but in winter, it's deserted. That means it'll be your own spot for photoshoots and sunset seclusion; the abstract sculpture looks starkly stunning silhouetted on the red sky. Elsewhere in Thessaloniki in winter, the city's more historical sights are also quiet.
The iconic White Tower, with its Byzantine history, remains open, as does its museum. Again, the lack of crowds makes visiting a much less stressful experience. The charming Ano Poli — Thessaloniki's old city — is still bustling with residents. Yet the cobbled streets are quieter, meaning you'll be able to feel the historical atmosphere and character of the place more readily. The smell of wood fires burning in houses as you meander just adds to the allure. If you've had enough of wandering around in the cold and exploring outdoors, you (and your extremities!) will be pleased to note that Thessaloniki has a wealth of cafes offering warmth and good food.
Spend time people-watching, enjoying the environment, and maybe even chatting to a local. Sampling delicious Greek food is a given, with hearty delights such as moussaka providing a warming treat. The weather is generally cold, and it can get icy underfoot, so make sure you've got a sturdy pair of shoes for walking around the city streets. A warm scarf, gloves and a hat wouldn't go amiss in Thessaloniki's winters. A down jacket may be in order, too!
Thessaly and Meteora 
The region of Thessaly has the Aegean Sea — and the Sporades Islands — to the east, Macedonia to the north, Epirus to the west, and Central Greece to its south. It's a land of myths: the Plain of Thessaly is where the epic battle for supremacy between the Titans and the Olympians took place.  Thousands of years later, the region is yours to explore. Yes, even in the winter months.
Dubbed the "Breadbasket of Greece", the seasons in this region are very distinct here, but mainly split into just two: summer and winter. Summer is hot; winter is cold. The temperatures average between 10°C and zero, with chilly nights and snowfall a distinct possibility, especially in highland areas. In Thessaly, you'll find one of Greece's most celebrated attractions outside of its ancient wonders – Meteora.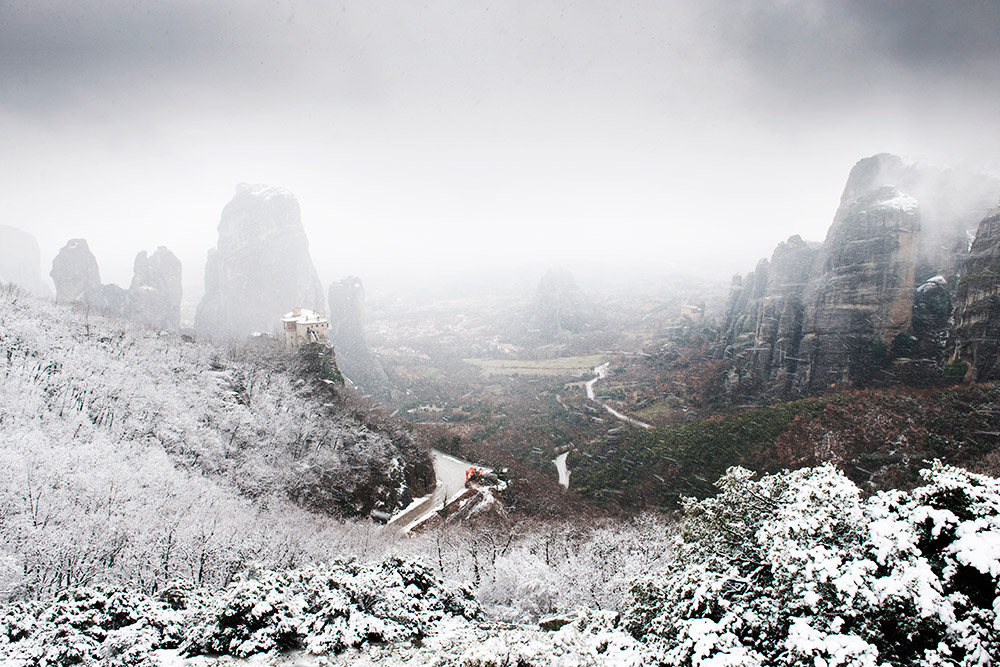 This incredible set of monasteries is set on a castle-like outcrop of rock, with a setting and history that resulted in them being made a UNESCO World Heritage Site. Though the date of its origin is unknown, there was a monastic state existing there in the 11th century. By the 14th century, hermit monks escaping the Turks had founded 20 monasteries in the area. Only six remain today – and thankfully, you can visit them. Meteora in winter means snow-dusted mountains, making for an even more mystical and surreal world.
It's a quiet place, much more subdued than summer with its tour groups and daytrippers; you can more easily feel the holiness of the region. Note, however, that opening times of the monasteries change in the winter months, so it's important to check ahead. Plan for cold weather when you're visiting Meteora in winter; make sure to bring layers and a good pair of walking shoes if you don't want to do a tour. It actually may be more pleasant in winter than in summer, as the trails can get sweaty in the summer heat. Thessaly's capital, Larissa, is an excellent place to base yourself. It can be a cosy winter getaway. Being the fourth biggest city in Greece, there's a choice of accommodation, and it makes for a good jumping-off point for skiing in Greece too.
Expore our guided tours in Greece