Short Breaks in Greece
Greece City Breaks
Greek cities combine all the elements needed to attract the demanding visitor. Each Greek city has its own special colour and its entirely own urban character. Even cities with only a short distance between them have completely different features and qualities.
Greek cities combine both morphologically as well as culturally, various features that make them very alluring. Most coastal cities are more often than not situated only a stone's throw from mountain destinations. Athens, Thessaloniki, Kavala, Alexandroupolis, Volos, Kalamata, Patras, Nafpaktos and many other cities are singular in that they combine proximity both to the sea as well as to the mountains. The visitor can enjoy countless experiences, become familiar with places of incomparable beauty and delight in totally different aspects of nature, in the minimum amount of time and by travelling only short distances.
The age-old history of each Greek city together with local traditions has created a richly-hued urban culture. Each city's monuments, suburban landscapes, the events it hosts throughout the year, their totally distinctive customs provide an enchanting, multicoloured 'canvas' that waits for each traveller to add his own colours.
From the historic sights to the picturesque scenery, this is a dream holiday!
Greece is the ideal place for city tourism. Discovering the soul of a Greek city is much more than a quick tour around its monuments and sightseeing. Greek cities are full of possibilities, easily accessible and visitor friendly around the year, offering a great sum of modern facilities and choices. Greek cities combine excellent conference facilities with unique museums, archaeological sites, shopping and nightlife.
Think of the perfect city break. And then visit a Greek city, where it will be planned and organized for you!
Kavala, for example, is a seaside city. Its seafront is inviting, enabling the traveller to enjoy the urban beaches and the picturesque harbour, as well as the shores stretching further out, like Palio, Nea Irakleitsa, Nea Peramos, and many others. At the same time, just a short distance away, are the archaeological site of Philippi and Mount Pangaion, a fascinating mountain teeming with ancient memories, celebrated Byzantine monasteries and traditional villages, amidst lush, self-sustaining nature. And if one wishes to explore the area even more, he may take the ferry boat and be on the island of Thasos in less than an hour.
THASSOS ISLAND
Greek cities are well-known for exciting combinations. Athens, a city renowned the world over, has many surprises in store. Its suburban forests are filled with myth and legend in the midst of unspoiled nature. Even a stroll in Kaisariani, just a few kilometres from the city centre, is a journey back in time. The area echoes to the sound of ancient hymns honouring Artemis Syssariani, its former name, monasteries such as Asteri nestle in the forest, and there are little chapels hewn out of the rock face, like Agios Antonios.
Strolling through Greek cities will give the visitor the sense that he is walking along enchanting, charm-filled pathways.
The veils of history
As Greek cities have been in existence for many centuries, they resemble a kaleidoscope of history and culture. Countless museum showcases hold priceless treasures, attracting many visitors. Ancient Greek monuments go hand in hand with Roman ones, Byzantine tradition with the 'aura' of Ottoman architecture, and westernized 19th century neo-classicism with present-day architectural reality, creating a fascinating urban melting-pot. Greek city sights maintain visitors' unflagging interest and place Greece in a prominent position in travel guides. Greece City Breaks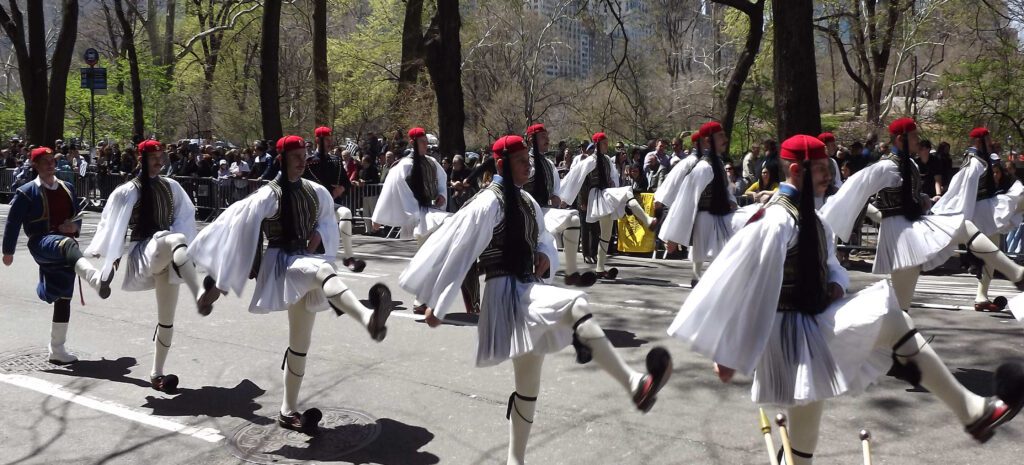 Cities of men
Greek culture is a never-ending process. Greek cities adore the arts, letters and sciences. Splendid festivals, prestigious conferences, tributes to great creators from the entire range of cultural activities, concerts and theatrical performances are everyday phenomena throughout Greece. The visitor thus has the opportunity to experience visual innovation, through great musical performers, through world-renowned theatrical companies, in some of the many cultural events continually being held; at the same time he will have a taste of modern reality full of optimism and glamour.  Greece City Breaks
Greek cities never sleep. Greeks' hospitality, their open-heartedness and anthropocentric outlook will make the visitor feel he is among friends. Attractive restaurants, nightclubs, luxury hotels and warm guesthouses create ideal conditions for one to enjoy staying in Greek cities. Greece City Breaks