A Guide to Best beaches in Mykonos
Introduction
Mykonos Beach Guide – Are you looking for the best beaches in Mykonos? Mykonos is probably will be your favorite Greek island. Here we've collected some  best Mykonos beaches, perfect to party, relax, enjoy sports… whatever, really!
Apart from its cosmopolitan nature and typical Cycladic aesthetic, Mykonos' landscape is breathtaking, while its beaches are known to be some of the most magical in the world. Here, we present to you a guide to Mykonos' beaches in order for you to experience the beauty of the island like a local. Mykonos is truly one of the best Greek islands to visit – it has amazing beaches, cute white houses, windmills, … and parties.
The Map of The Best Beaches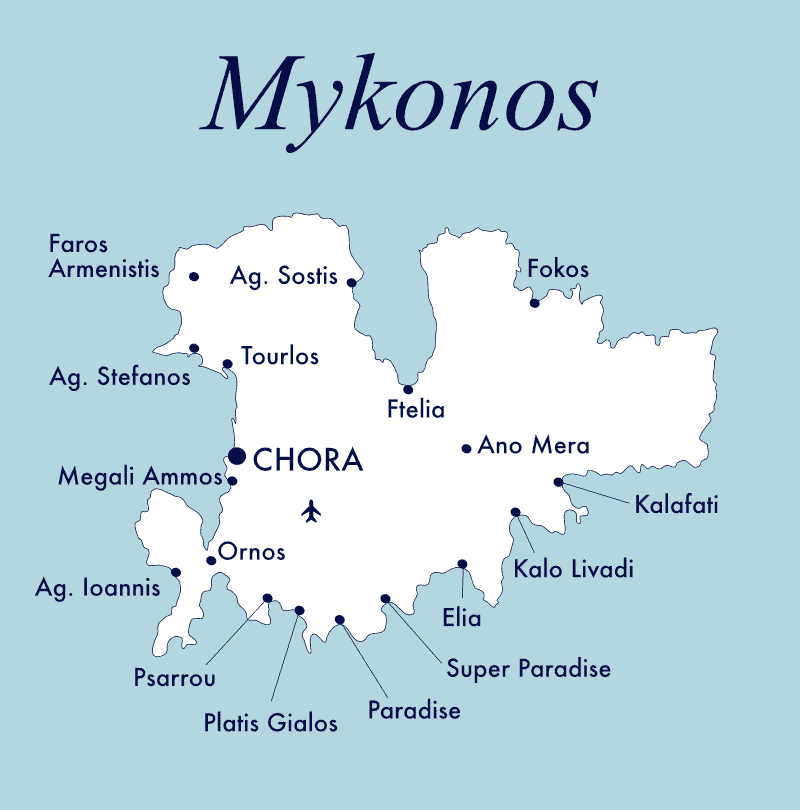 There's nothing better than lying on one of Mykonos's best beaches to rest and recuperate after a night of revelry, basking in the warm Greek sun and jumping for a dip in pristine Mediterranean waters when it all gets too much. Most beaches are located along the southern coast of Mykonos – the northern coast gets very windy in July and August, but having said that, if the crowds are too much for you, retreating to Mykonos's northern beaches is actually a great idea!
Looking for Mykonos Packages?
Mykonos West Coast
Ornos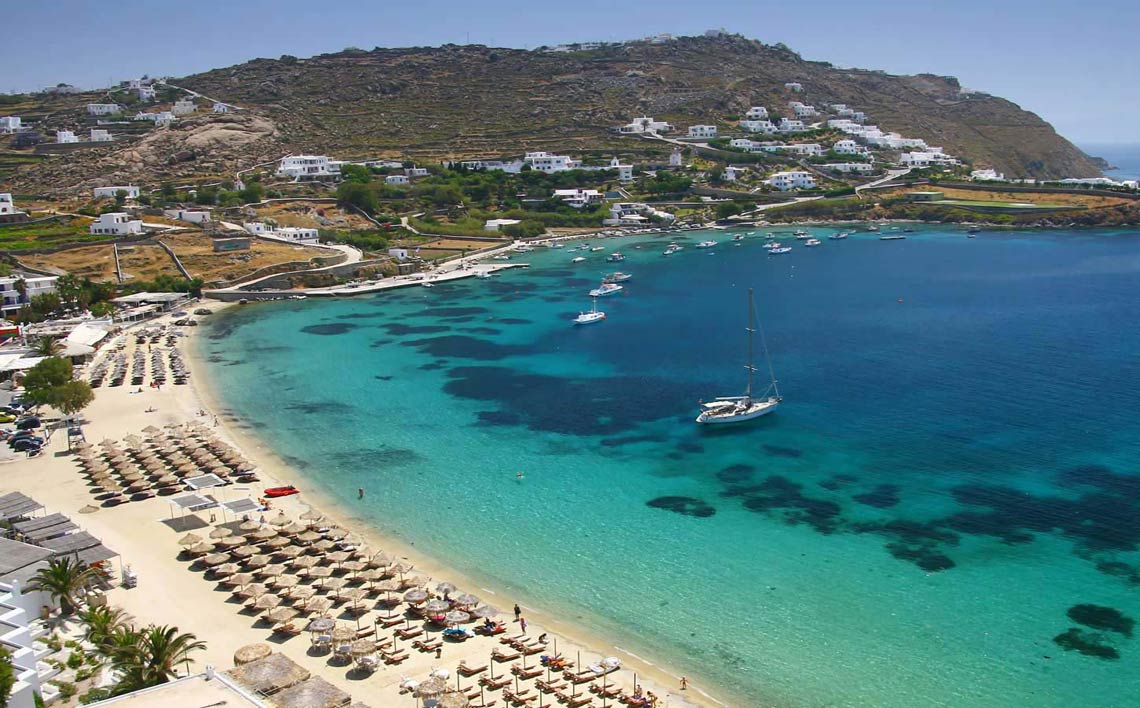 Protected from the strong winds the island is infamous for, Ornos beach is one of the most family-friendly Mykonos beaches of the island located just 2 km southwest of the lively town of Mykonos, in the picturesque setting of the village of Ornos, which has developed into one of the most popular tourist spots in recent years. The area offers an abundance of hotel rooms, cafes, taverns and fun activities, such as diving.  The beach itself is enchanting, with its turquoise waters and fine white sand charming its visitors. The waters are shallow and usually calm, which is why families with small children favor it, while due to it being an organized beach, islanders have the luxury of lazy sunbathing while enjoying snacks and drinks served to them on the beach.  Ornos beach is served by public transport and is easily accessible either by the new regional road or the provincial road linking Mykonos' town with Agios Ioannis village. Because of its popularity, Ornos beach can get overcrowded, especially during high-season months. Therefore, bookings for all amenities are necessary, while trying to avoid rush hours might be the way to go. If, however, you plan to visit Mykonos during low-season months, look carefully at the sea and have your camera at hand; if you're lucky you may encounter a seal!
Agios Ioannis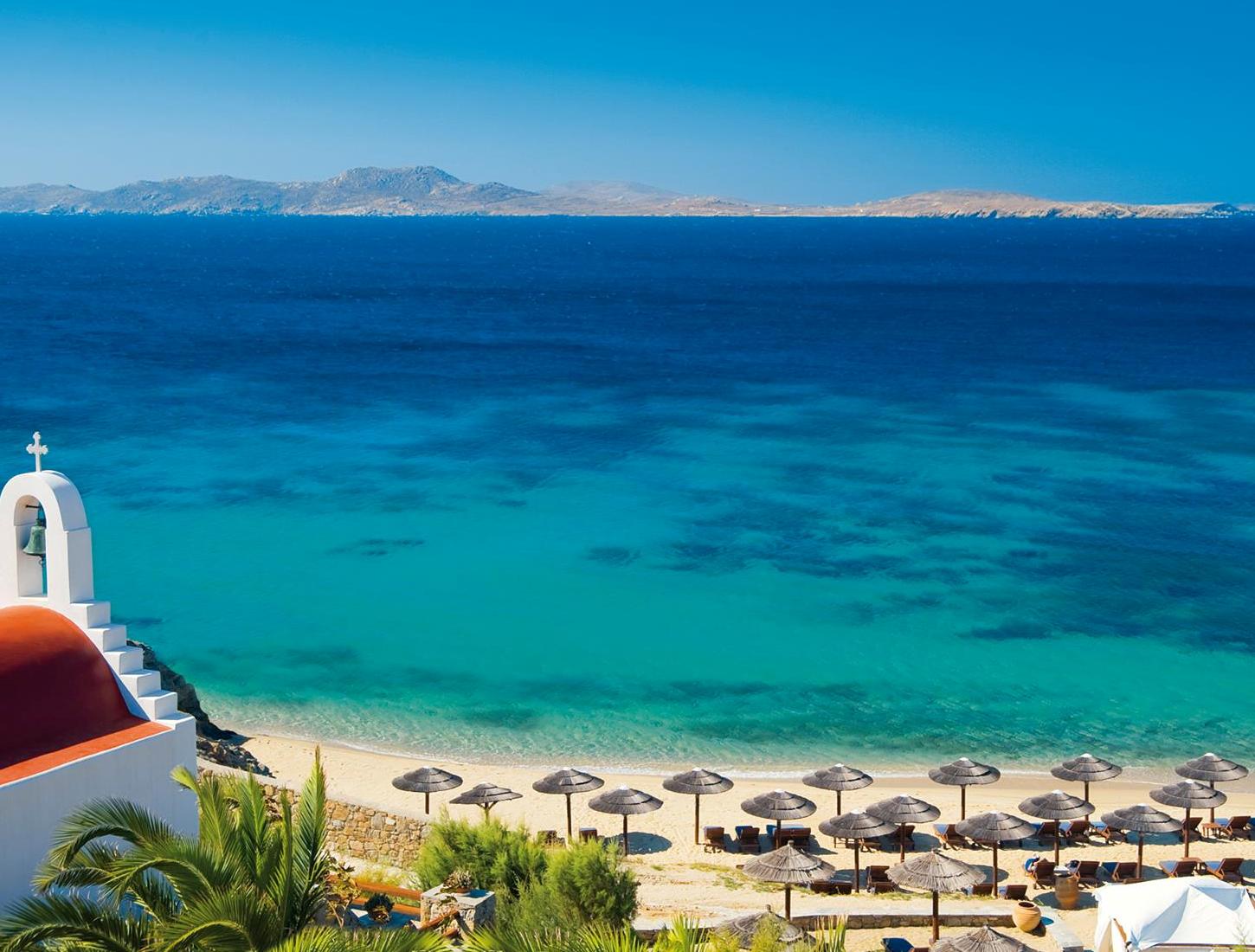 Hidden away on the southwest of the island, lovely Agios Ioannis beach is ideal for those looking for privacy and serenity even during high season. The beach is truly one of the best in Mykonos – it has splendid views of Delos island, the UNESCO-listed site just off the coast of Mykonos, Agios Ioannis also has green-blue waters perfect swimming and snorkelling, soft sand, and a couple of wonderful family-run tavernas. This is truly the perfect Mykonos beach to enjoy some quiet time under the sun. Getting there – Agios Ioannis is about 5 km west of Mykonos beach, about 10 minutes by car or bike. You can also get there by bus from Fabrika.
Agios Stefanos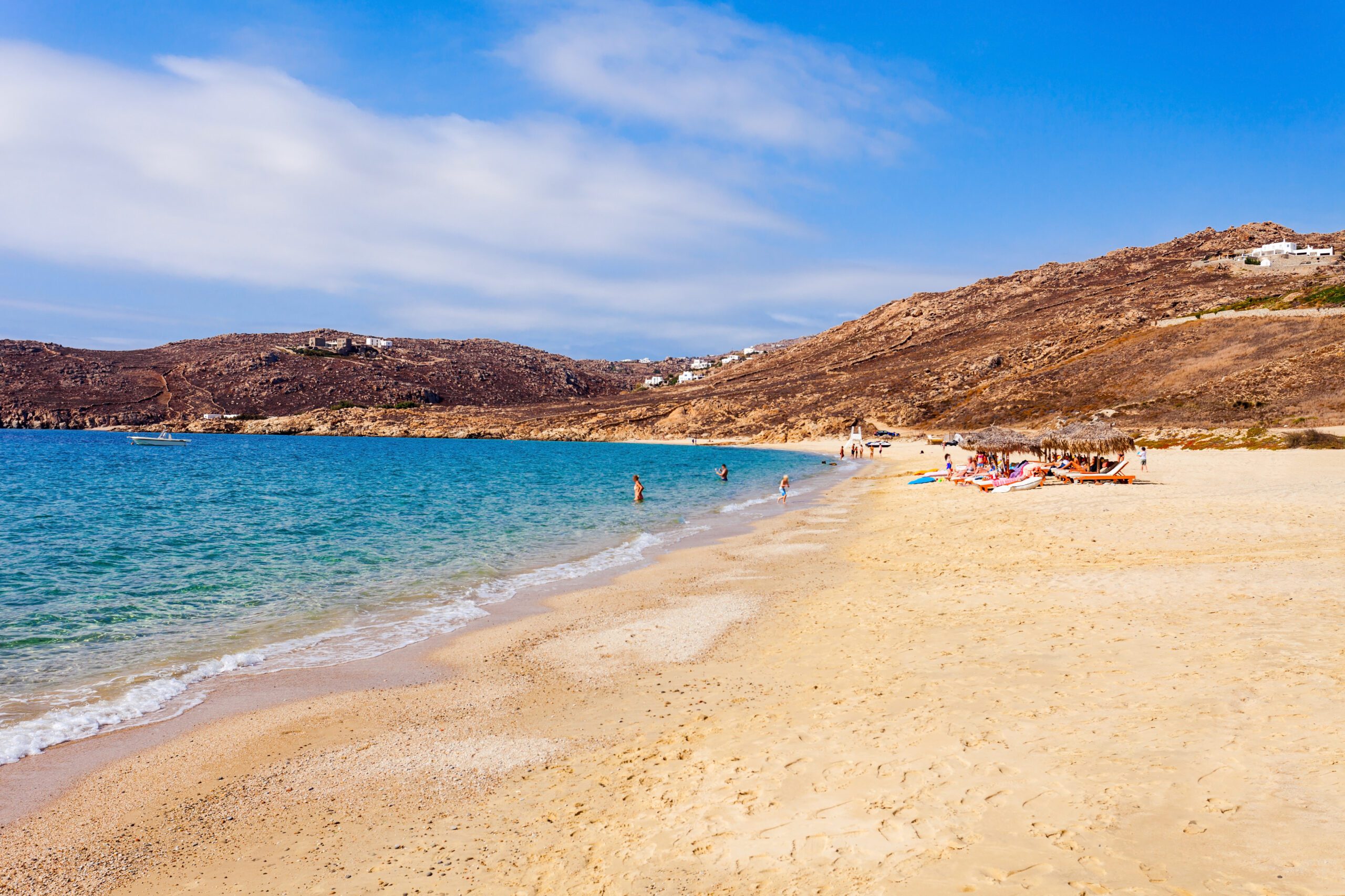 This beach is just around the corner from Tourlos, the new ferry terminal in Mykonos connecting the island to Delos, Paros, Naxos and other destinations in the Cyclades and beyond.  Besides being close to a harbour, the beach is really pretty, with spectacular sunset views over the islands of Rhenia and Delos. The flipside is that it does get busy, especially during the weekends. If you fancy something a little more hidden away, head to nearby Kapari, a beautiful nudist beach. Sun loungers are available for rent, and there are plenty of cafes and restaurants nearby. Tavern Limnios and Petran are two great options, serving good food at reasonable prices.
Mykonos North Coast
Megali Ammos Beach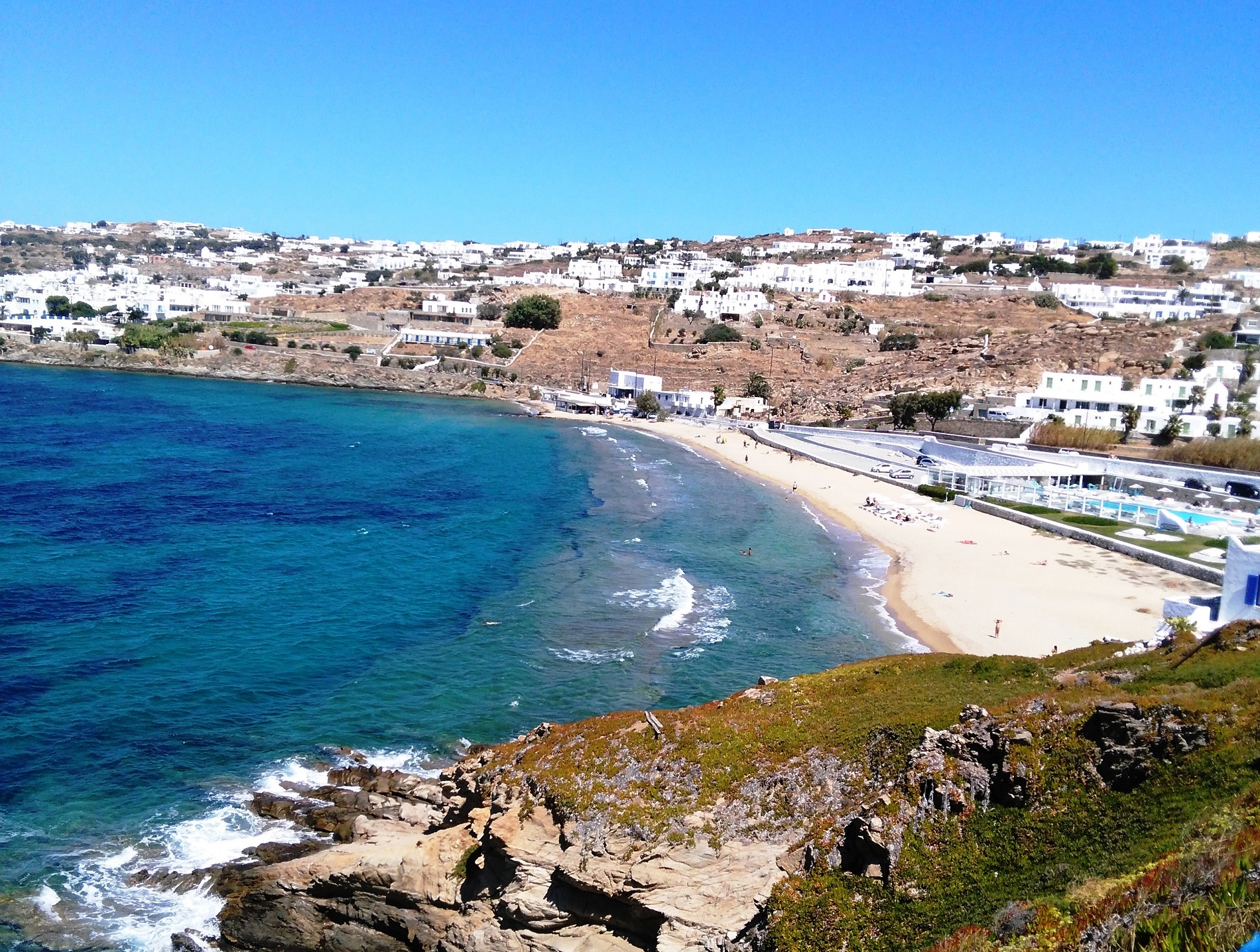 Windsurfing is one of the most popular water sports in Mykonos, and Megali Ammos is one of the best beaches in Mykonos for wind lovers. Those who just want to sunbathe and swim might feel a bit uncomfortable, as the wind is quite strong – but if it is wind you're looking for, this place is a good bet. Don't miss visiting Ioanna's Nikos Taverna on the beach – the home-cooked food is excellent!
Fokos Beach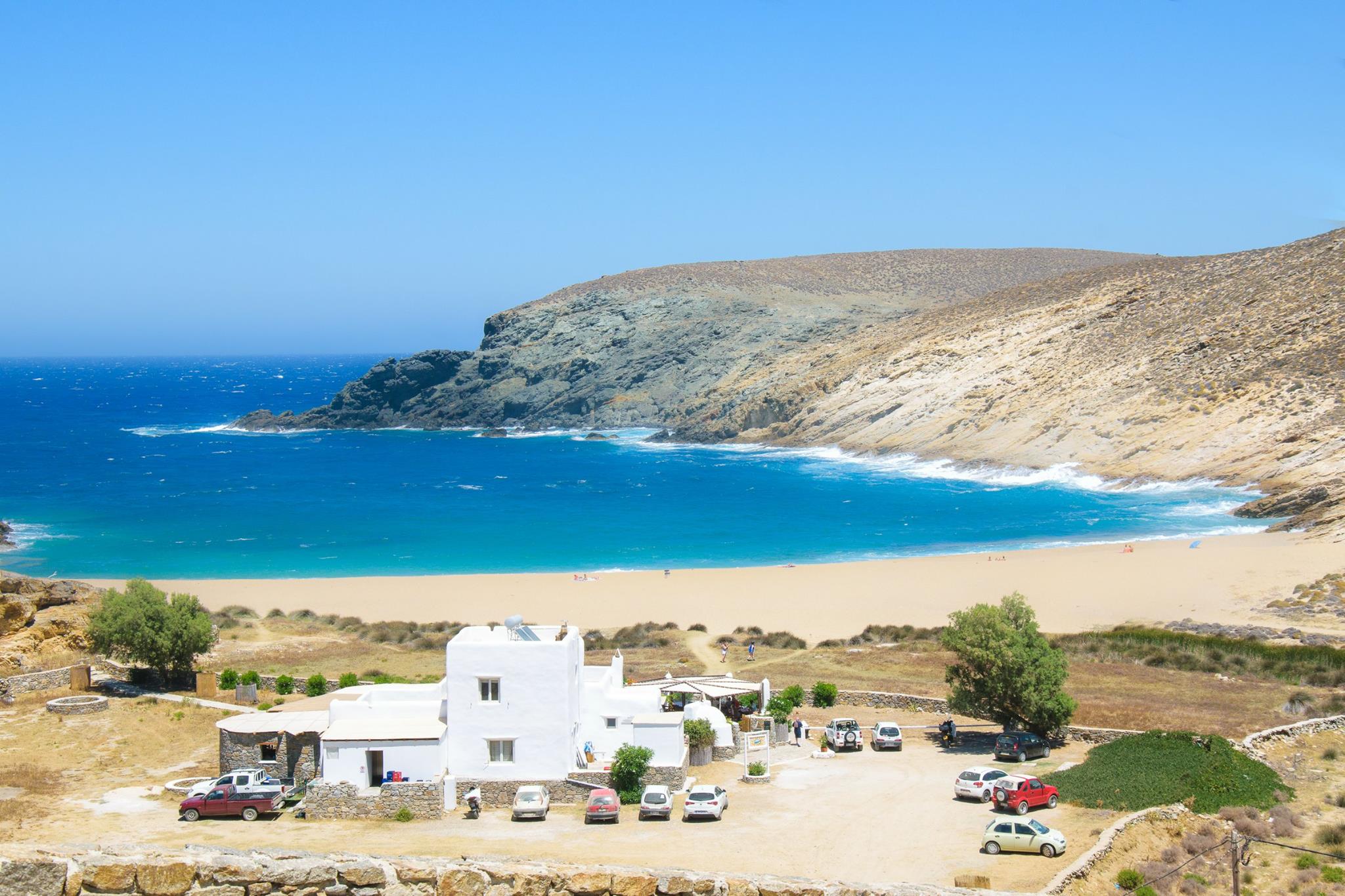 There's no public transport to Fokos Beach and no tourist infrastructure – if you're looking for the best secluded beach in Mykonos, you found it! There's also an excellent family-run taverna right on the beach, called Fokos Taverna. It may sound like a hassle to reach Fokos, but trust me, it's a great destination to escape the Mykonos crowds! Getting there – Fokos is 12 km northeast from Mykonos Town. Driving takes 20/25 minutes, and there is no public transport. A taxi should be 20/25 euros one way.
Agios Sostis Beach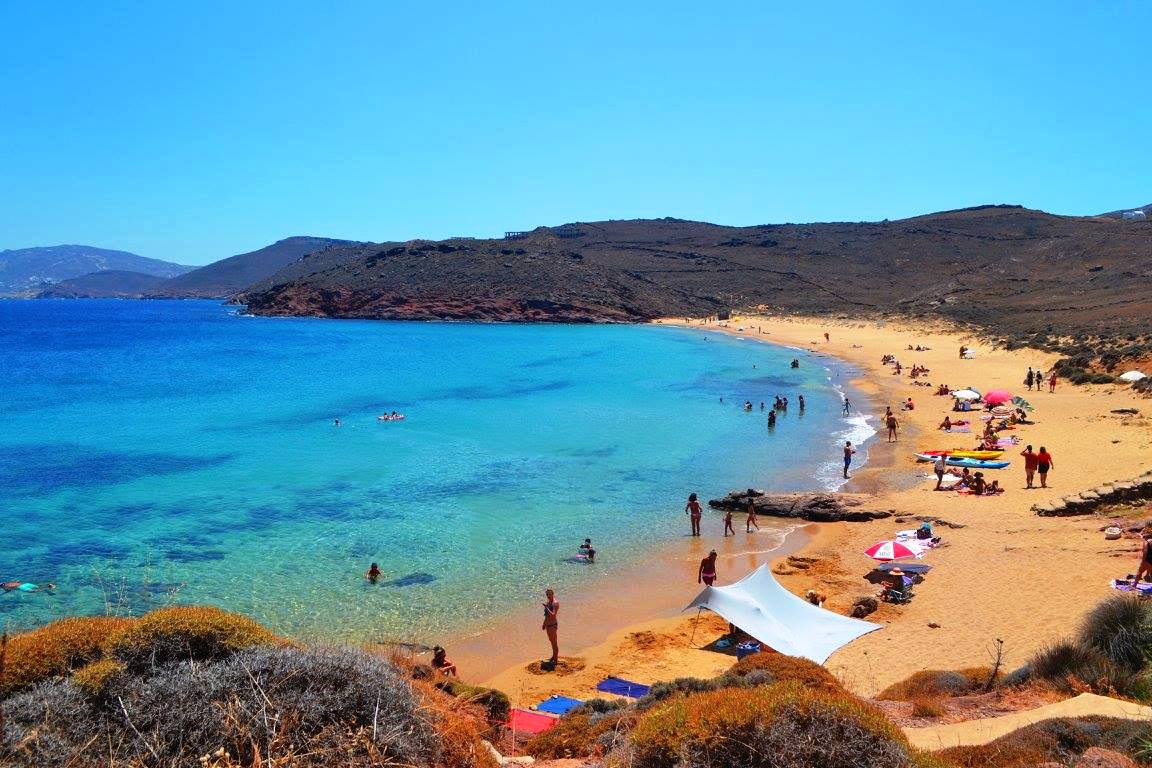 Agios Sostis is the best nudist beach in Mykonos, set in an idyllic, secluded location on the north of the island. There's fine sand, crystal-clear water and also a beach volleyball court. You can also rent sun loungers, but don't forget to bring food with you, as there are no bars and restaurants.  Getting there – this beach is 8 km north from Mykonos Town. There is no public transport, and parking space is limited, so a taxi is not a bad idea. It should cost about 15/20 euros each way.
Panormos Beach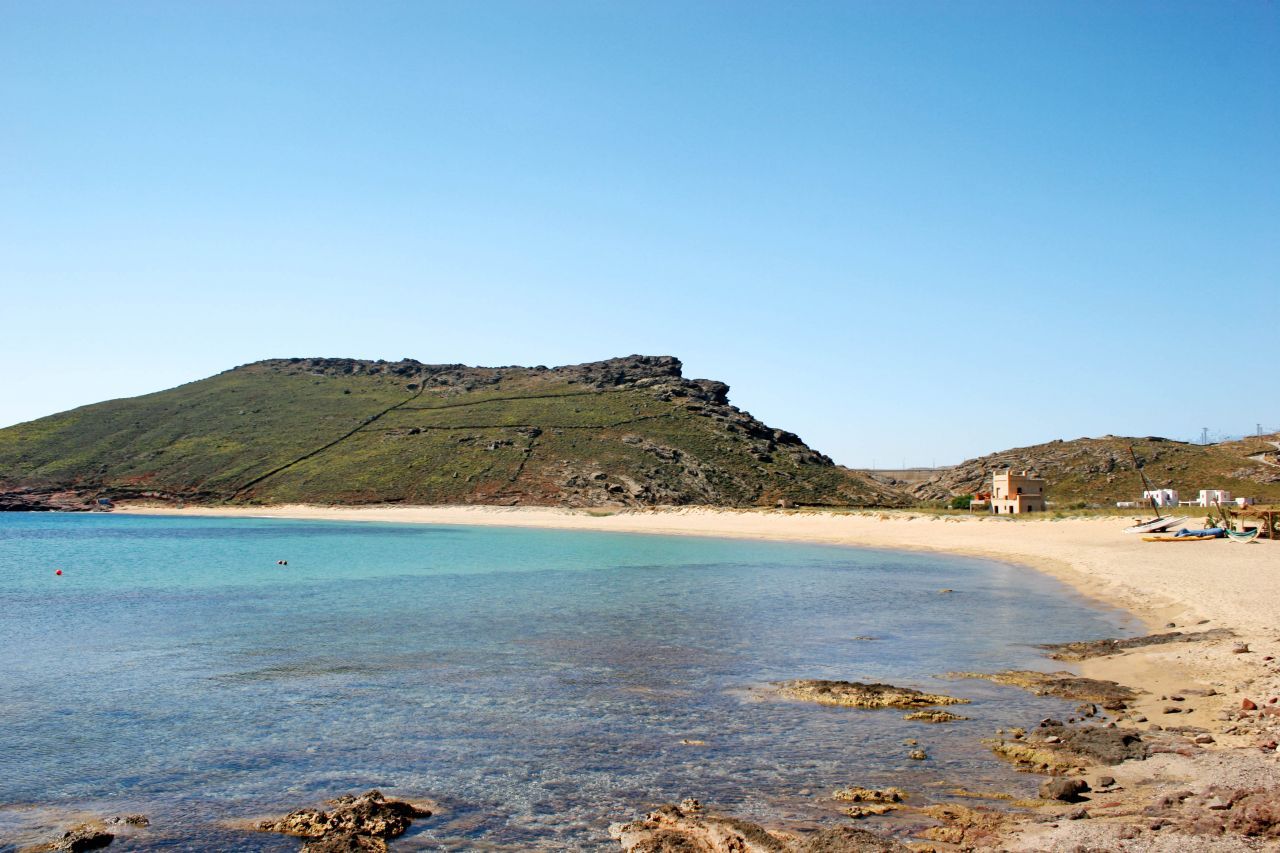 Panormos beach in Mykonos is one of the only beaches on the north side of the island where swimming is possible. Famous for its clean waters that are less cold than in the rest of Mykonos, Panormos manages to remain a low-profile beach that despite the fact that in recent years it has grown increasingly popular, it hasn't lost its peaceful vibe and carefree quality. Being on the southern part of Mykonos means that although being the optimum location for surfing and watersports in general, on a particularly windy day, you should probably stay away from it. It is an organized beach with the quirk that it doesn't provide its visitors with sun lounges, but only umbrellas.  On the area, you can also find two restaurants and a beach bar, which is convenient for a lazy lie-in. Once again, Panormos is not serviced by public buses, so in order to get there, you need a private vehicle. When visiting the beach, don't miss the opportunity to also explore the village of Panormos; a picturesque village where can indulge in local food and a lot of shopping!
Mersini Beach
This tiny beach is definitely one of the best in Mykonos, and a true hidden secret.   It's not far from Fokos Beach, which is already a good option if you're looking for a quiet Mykonos beach – but Mersini is even more secluded. The flipside? You'll have to bring everything you need, as there are no shops of any kind on or around the beach.
Ftelia Beach
This northern beach is a great option for windsurfers! It's located on the southern part of the same lagoon where you'll also find Panormos Beach, and due to its location, it's almost always windy!  Ftelia beach is wide and golden, and set up with umbrellas, sun beds and a really good restaurant. If it's not too windy, the lagoon is also a great swimming and snorkeling spot.
Mykonos South Coast
Paradise Beach 
This is one of the best known and most popular beaches in Mykonos. It's popular with young crowds, and offers a fantastic vibe just 6 km from Mykonos Town. Here, you can party non-stop, and also opt for a variety of water sports, or arrange a diving or snorkeling expedition. Paradise beach is surrounded by bars, and it gets lively from sunset onwards. It's traditionally the best gay friendly beach in Mykonos, but now it's frequented by all kinds of people. Also nudist-friendly.
Super Paradise Beach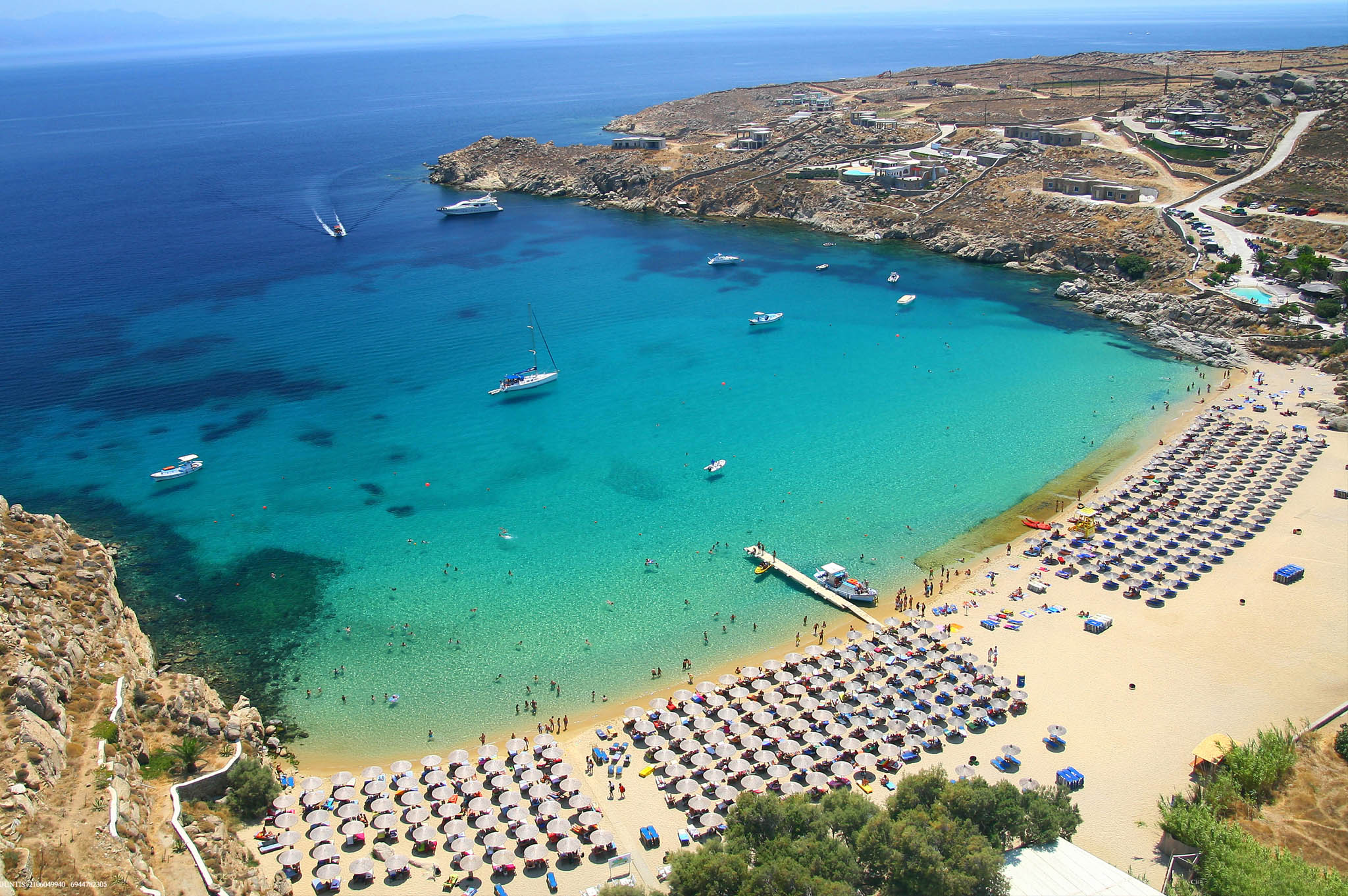 Not far from Paradise Beach, Super Paradise is truly picture-perfect – imagine a beach with soft, golden sand, turquoise waters and a nice atmosphere, truly a great place to spend the day. However, this all comes at a price – it's one of the busiest beaches in Mykonos! Just ensure you arrive early because it gets crowded quickly, especially during high season. It's a very, very lively party beach, with two beach clubs pumping out music all day – Coco Club on one side, and Super Paradise Beach Club on the other. If you're a party lover, don't miss it! Super Paradise is also one of the most nudist and gay friendly beaches in Mykonos, but families or couples in search of a secluded atmosphere may prefer other beaches.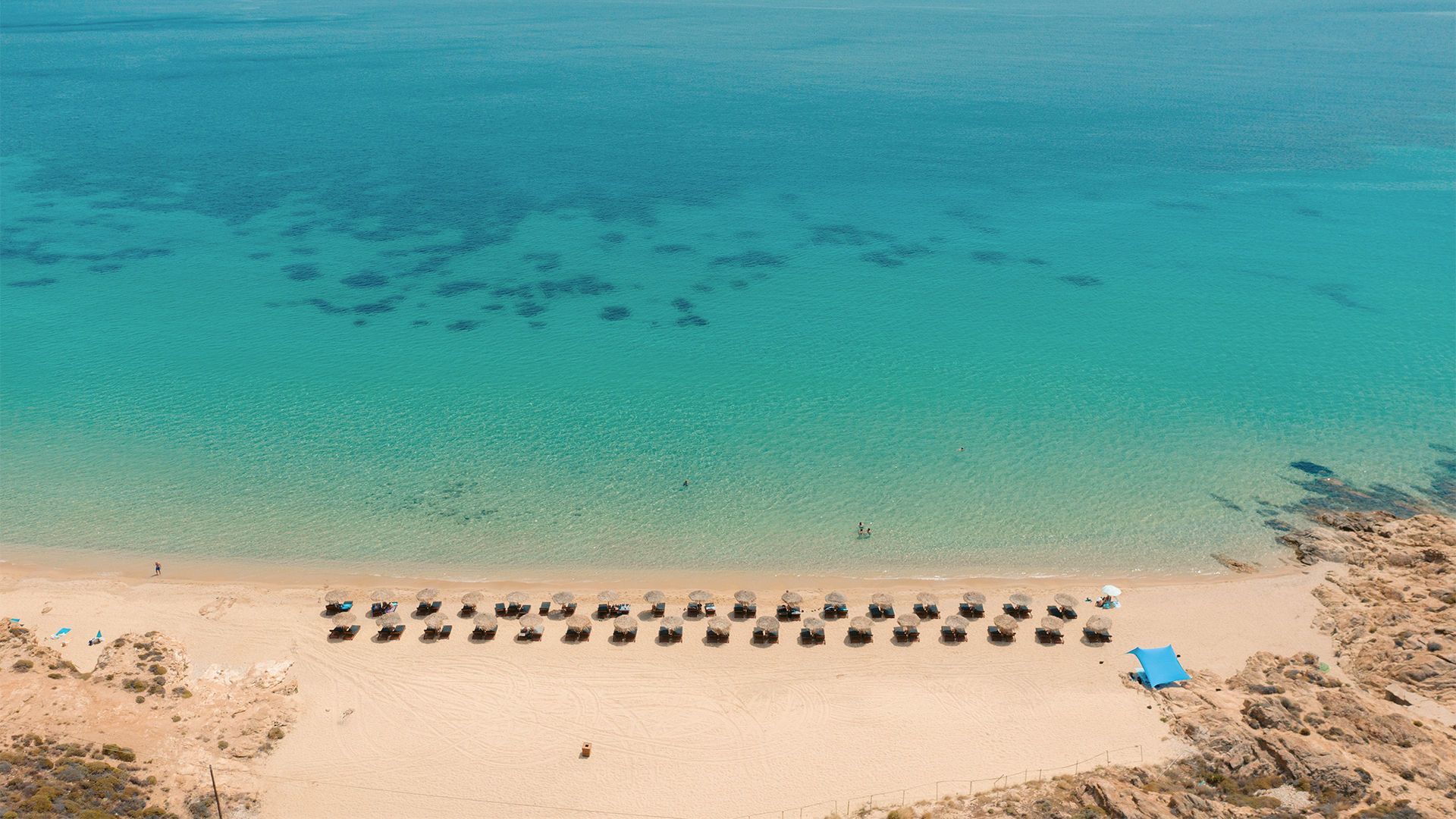 Elia is one of the longest beaches in Mykonos and offers lots of facilities, including beach bars with famous DJs often visiting. It's an excellent option for families and those loving parasailing, water skiing, and windsurfing, and also for those looking for beautiful views and a quieter atmosphere – the beach is located 11 km from Mykonos Town, and fewer people make it this far. Since it's very long and has many hidden coves, Elia Beach is also popular with nudists.
Agrari Beach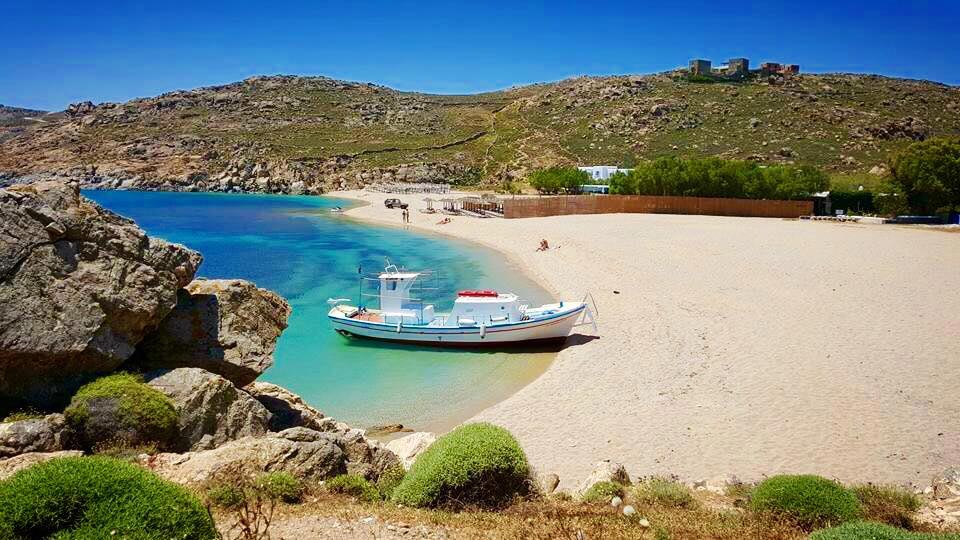 Another wonderful choice for those looking for a Mykonos beach with no crowds! There's no bus service to Agrari, it's necessary to walk from Elia, but those who do will be rewarded with soft white sand and cobalt sea. There are also some nice local restaurants just behind the beach, and you can rent umbrellas and sun loungers on the left side of the beach. This is probably the best beach in the southern part of Mykonos to escape the crowds!
Psarou Beach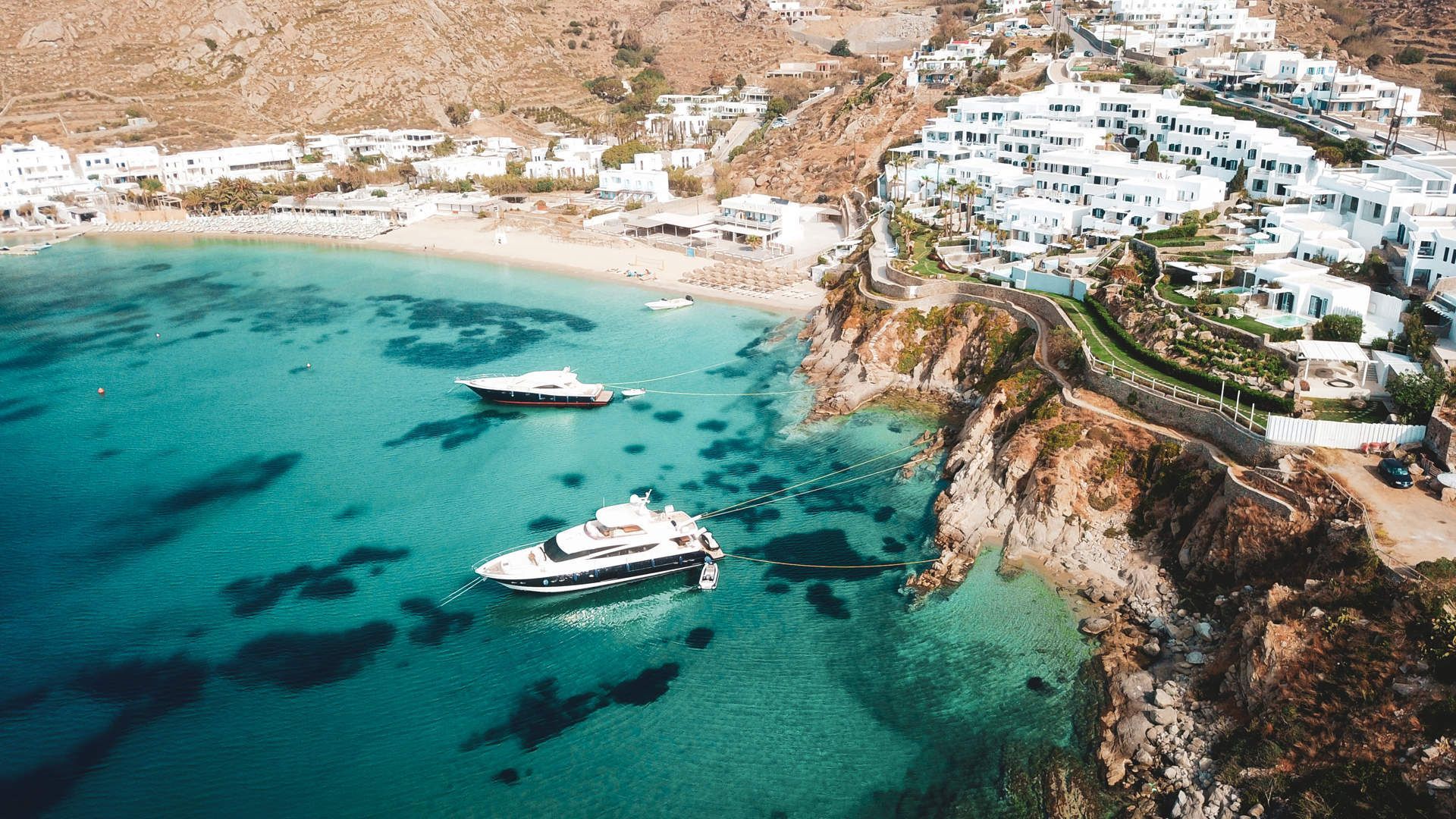 If it wasn't so expensive, Psarou would probably be the best beach in Mykonos! The stretch of sand will leave you speechless, with its stupendous bay, turquoise waters, and golden sand.  Things to do on Psarou beach include scuba diving and snorkelling, eating and drinking at the many bars and restaurants onsite, including the renowned Nammos beach bar and restaurant. This is not a cheap or quiet beach, but it's definitely worth visiting – at least once. Just bear in mind that it gets SUPER BUSY in July and August, and it's near impossible to get a sun lounger. If you're visiting off season, by all means try to visit!
Platis Gialos Beach 
Platis Gialos is a seaside settlement located on the south of Mykonos, 4.5 km from the Chora (town) of Mykonos. The beach of Platis Gialos is the longest beach on the island, with endless golden sand on its shore, crystal-clear waters and many facilities attracting water sports enthusiasts. It is a fully organized beach, with umbrellas, sun lounges, showers, a beach bar, a lifeguard and changing rooms, offering guests every comfort they can possibly want. Platis Gialos is considered to be a family-friendly beach due to the fact that it's easily accessible. The frequent bus service from the town of Mykonos along with its high-quality services and facilities, make Platis Gialos one of Mykonos' top destinations. Despite its large size, most of the beach is covered by sun lounges with barely any space left for people that would prefer lying on the sandy shore, while it is infamous among the locals for being packed during summer months. An important perk of Platis Gialos beach is that right next to it, you can find the departure point of ships operating as taxis, transporting visitors to almost all of Mykonos' beaches, including Kalo Livadi, Elia, Paradise, and Super Paradise!
Paraga Beach
A headland separates the two sandy beaches of Paraga, offering visitors two options, depending on what they are looking for – for this alone, Paraga Beach deserves to be mentioned as one of the best Mykonos beaches. The southern side is more quiet, and peaceful while the northern one is busier but also more organised, and it offers water sports, music, and tavernas. If you happen to be at Platis Gialos, Paraga Beach is only a 15-minute walk, making it ideal to experience two beaches in one day. It is also nudist-friendly.
Kalafati Beach
Kalafatis beach is located about 12 km east of Mykonos' town. Despite it also being an organized beach, it is considerably cheaper than most of Mykonos' beaches and gathers a much smaller crowd. It is a local favorite due to its blue-green water, golden sand, and idyllic landscape which includes lush trees decorating the beach perimetrically, while it is convenient for visitors who can find a number of hotels within walking distance.   The beach is exposed to the stongs winds, making it an ideal spot for windsurfing and multiple other water sports, with a diving school providing visitors with the opportunity to discover the mystic Aegean sea underwater! You can access Kalafatis beach by car or by bus. Whether you're looking for a fun relaxing time or an adrenaline rush, be sure that Kalafatis beach will satisfy your needs!
Agia Anna Beach
This is a tiny, secluded beach just to the side of Kalafati. You won't find beach clubs, water activities or music bars. Instead, you'll find something that is usually on short supply on Mykonos beaches – SILENCE!  There are umbrellas and sun loungers for rent, and a couple of stalls selling drinks, plus a really nice local restaurant. If you want the perfect Mykonos beach to enjoy peace and quiet, head to Agia Anna!
Lia Beach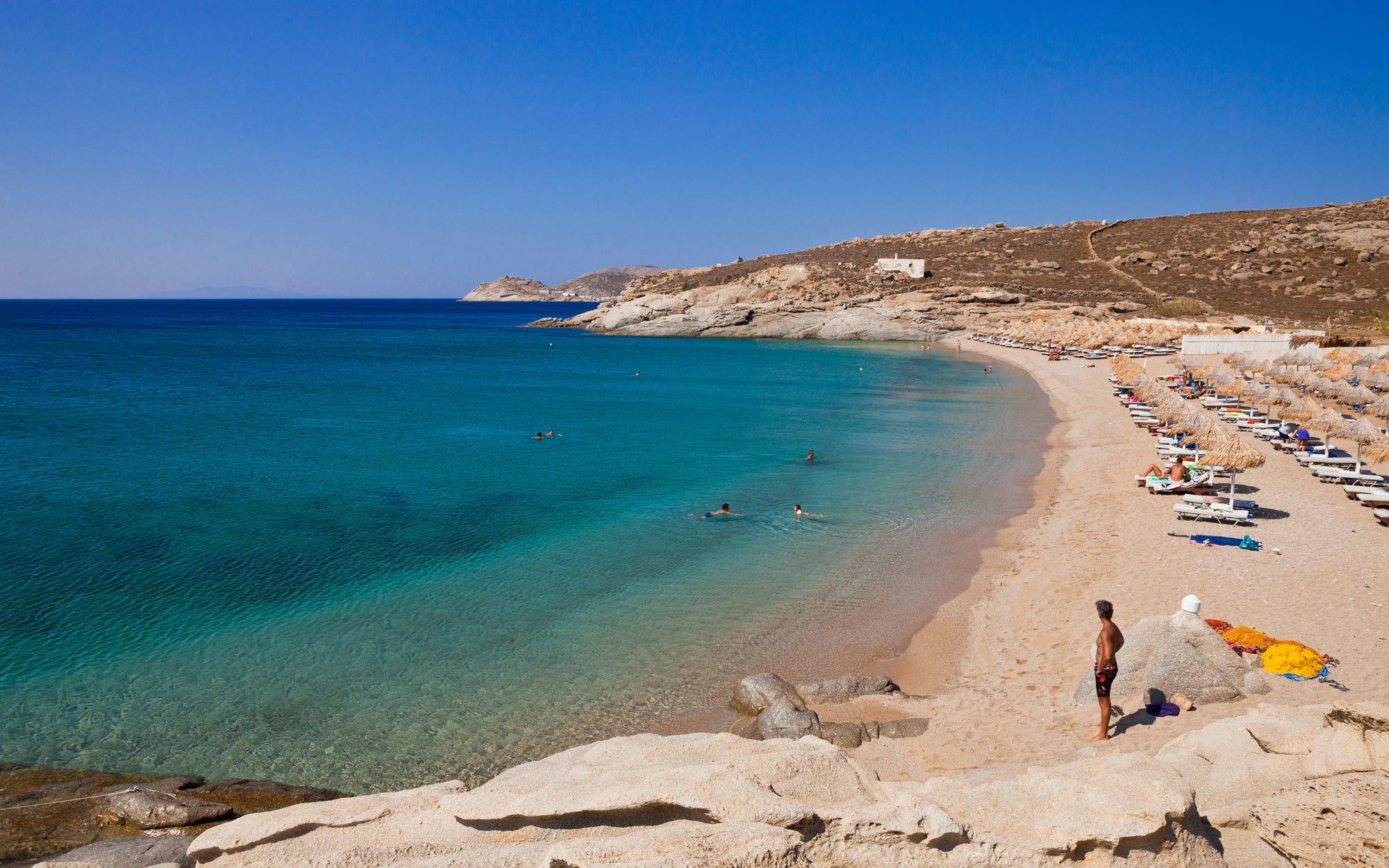 Another great option for those looking for a secluded atmosphere in Mykonos is Lia Beach, about 14 km from Mykonos town. The bay is sheltered and the turquoise water is always calm, making this one of the best swimming and snorkeling beaches in Mykonos. Don't miss it!